April 8, 1945
Tiefenthal, Germany
No. 27

Dear Folksies,        
            The last few days, instead of getting warmer daily, seemed to get colder, particularly in the early morns. The wind, too, has hardly let up at any time.
            Westdahl is now about in the same class as Stratte [in France]. He crossed the road today to take a picture of the hospital, and while he was in the act of snapping it he heard a noise behind him.  When he turned around he saw a German soldier, in uniform, walking towards him with his hands in the air.  Phil was a mighty surprised person!  He took the German right in and handed him over to Bishop.  Apparently the guy had been hiding out around here somewhere, for he was freshly shaven and neat and certainly wasn't surrendering because of necessity.  I imagine the fact that they will probably be shot as spies if caught after a certain date behind our lines is what brought this one in.
            The boys have gotten quite a few deer and some rabbits.  When one mamma rabbit was shot, Paul discovered a little baby right nearby and now "Little Hugo" goes wandering around Paul's tent all day long.  He's probably only about a week or two of age and has to be fed by dropper.  Last night he somehow climbed out of his one-foot high cardboard-box home and this morning they searched for quite a while before they found him right under Paul's bed.
            Hooray!!! One, or perhaps both, of our French cooks is returning. The Old Man finally got permission to bring them along, so someone went down yesterday to get them.  I doubt if the one with the big family will return, as they can not all be brought along.  But, I believe that the super-pastry-cook will be returning.  The boys are having the venison saved so that the Frenchman can cook it the way it should be cooked.
            Tom Flynn (Ag Alkire's husband) was here last nite – these guys from Headquarters always seem to be able to smell what we're having in our mess even before they leave their Hdq. early in the A.M.  Sure enough last nite was a steak night. Bill Dunn was here the other nite when we had chicken. They just never seem to drop around when C-rations or Spam are flowing over the mess stoves.
            It's been quite a thrill of late to see and talk to a few of the ex-POWs, i.e. Americans who were prisoners and who have now been liberated by our infantry or tanks.  Some of them have been in rotten shape, but their morale is pretty high, and the stories they tell of their experiences are almost unbelievable.  Even Hollywood would have a hard time putting them across, unless the audience saw the men who were doing the telling themselves, then one wouldn't doubt them at all.
                         Loads of love,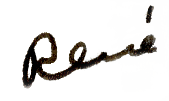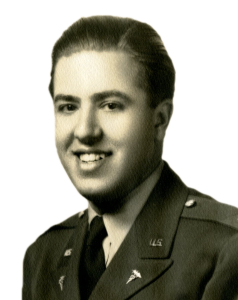 .