October 10, 1943
No 61
Palermo, Sicily
Dear Folksies,

          Last night Bob Treadwell, Fran and I were invited to dinner by some Yugoslav officers for whom we have done some things. Lois was working anyway, but not knowing how great were their facilities, we three went alone without Lois and Hal. It was a most interesting evening. They are well educated men, having been educated in both Paris and either Oxford or Cambridge. A British Captain was there for dinner also and he was likewise most interesting. One of the men spoke only Yugoslav and French, so I was able to give my French an airing and amazingly enough I think I did darn well!
          Strangely enough, also, one of the men was an ex-violinist who had heard both Mischa and Toscha at different times, but surprisingly enough, not Yehudi. They are all, including the British officer, coming out here Wednesday night to visit us.
          A couple of nights ago when we returned from a jaunt downtown, Lois walks into the dining room and almost falls over when she sees a friend of hers from St. Francis Hospital. This gal is with a General Hospital considerably back, but they, the lucky bums, get leaves varying from 8 to 14 days, and this gal got a plane ride to Sicily and dropped in on us. They had quite a time with "Old Home Night", but unfortunately with Lois working nights, she did not get too much of an opportunity to be with her.
          I wish I could write down all the funny things that happen around here from day to day, but somehow, when it comes to writing them down, my mind does not remember all the things we laughed at during the days. However, I had a prize today. Yesterday a horse wandered into our area and then proceeded to lie down and die before anybody noticed him. Then, the problem of getting rid of him came up, and, as usual we were given the run-around from all the various offices — somebody said to bury him here on our grounds (obviously nuts); somebody else said to call the food ration dump; then the Civil Affairs bunch said they would find out and then proceeded to do nothing as far as we can gather. We were all for taking him down to the headquarters building and dumping him on their steps, but I think that the boys got conservative finally, and took the poor horse out to some last-resting-place.
          Lois' goofy ward-boys had her going round and round last night. She made herself a cheese sandwich and then the boys came around and each in turn, while the others weren't in the room with her, told her that the piece of cheese had been lifted by one of them off the floor because the cock-roaches on it were getting too sick from eating it. She didn't know whether to believe them or not.
Loads of love,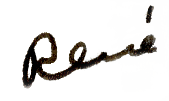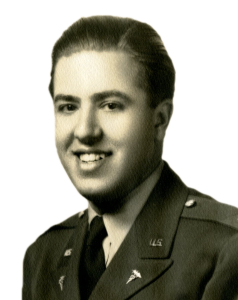 .
Watch for my next letter on
October 15, 1943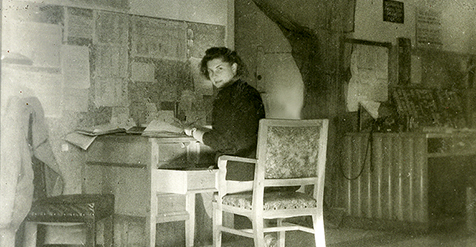 A nurse that Lois knew from St. Francis Hospital in San Francisco is visiting Sicily, but, René tells his parents that "unfortunately with Lois working nights, she did not get too much of an opportunity to be with her [friend]." The photo above shows Lois working the night shift.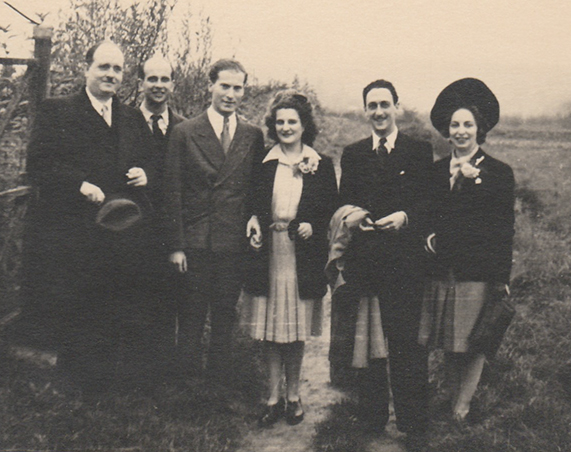 Unbeknownst to René or his parents, his beloved French cousin, Yvette Baumann married Jean-Guy Bernard on October 8. In this photo, taken on their wedding day, Jean-Guy and Yvette are the couple in the middle of the group of six, one of whom was the mayor of the town who performed the ceremony. Yvette and Jean-Guy were both important members of Combat – one of the Resistance groups working in France to defeat the Germans.

Unbeknownst to René, on January 28, 1944, Yvette Baumann Bernard (his second cousin) and her husband Jean-Guy Bernard were arrested by the Gestapo in their apartment in Paris.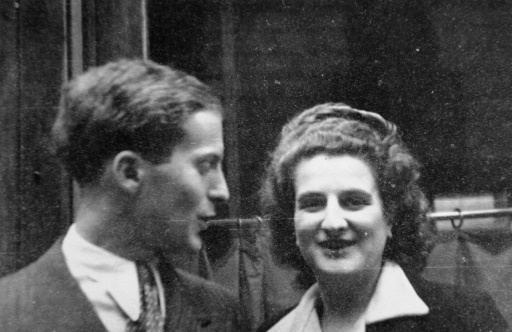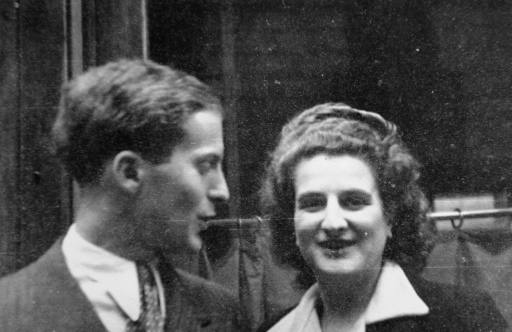 Both held senior positions in the Resistance, and Yvette, who was 25 years old, was 8 months pregnant.
---
In an interview in 1980, Yvette recounted what happened that night:
"When they knocked on the door, it was a Sunday night, the 28th of January 1944 in Paris. We were arrested at rue Boissy d'Anglas. Jean-Guy had a secretary who had been arrested three weeks earlier, so we had left the apartment. She was interrogated, but said nothing and we thought we could return. It is at that moment that she talked. I believe that she was horribly tortured. I never wanted to see her again and I could never bear to hear her name. It was not her fault, but she could have committed suicide – others had done that – it would have been better. 
Anyway, they knocked. I was in the kitchen and Jean-Guy opened the door. It was a very little apartment with two rooms and a kitchen. When I didn't hear anything, I went into the other room. Jean-Guy was sitting in a chair with his hands bound behind his back. I had three or four pistols pointed at me. They were plainclothes types, including a woman, and I realized afterwards that I had seen her before on the street. Some were French and one or two were Germans."
---
To read more about René's French relatives, click here.
Yvette Baumann Bernard and Jean-Guy Bernard on their wedding day– October 8, 1943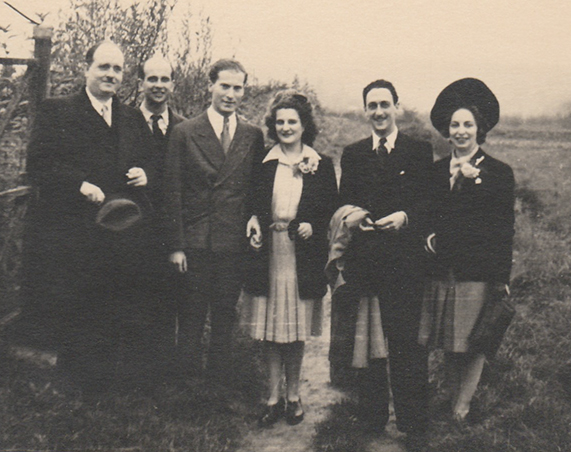 February 17, 1944
No. 4

Dear Folksies,
           The weather here has been rather invigorating of late, that is, if one has guts enough to stay out in it – it's nice and crisp and the wind that comes down off the snow on the mountains kind of freezes your exposed parts. But, personally, I am far happier with the weather this way than it was when we first got here – so bloomin' hot.
           Today, despite the rather changeable weather, I took a hike downtown and we experienced as many different changes of climate as one does in going from Sea Cliff to 22nd & Potrero in San Francisco. Luckily we had worn coats so were prepared for anything. We again visited a place that I had been in about 10 days ago, but found that the merchandise we had ordered was not as yet ready. I don't believe I told you about this place before – it is a place where, in peace-time, they made numerous of the typical Sicilian carts. Now, for the most part they are making small ones as souvenirs. They are all hand-painted and the workmanship that has gone into them is really something. I've ordered a small one, I guess 'tis about 10 in. long, for Amie.
           It seems that, in peace time, this particular shop was popular with travelers – I imagine partly because the owners (two elderly sisters) speak very excellent English. Anyway, they showed us a scrap book they had kept with some letters, pictures, and newspaper articles, sent to them by those who had bought some of the big carts. The total cost for the carts, for a donkey, and for the shipping of same to the U.S. was only $72. The buyers had sent her pictures of the carts and donkeys in their new homes in the U.S. – so we saw pictures of the Vanderbilts, Annhauser-Busch, Hertz (of "Drive-Yourself"), and also of Kathleen Norris and her Saratoga Home. 'Twas most interesting.
           Well, the basketball season is over and though the boys didn't end up at the tail end, they came pretty close to it. They only won four out of the fourteen games — ending up with a win over the Navy Officers' team, the latter being the lowest standing team in the league. The tournament was finally won by a troop carrier outfit, a team that was really good — they were speedy, had height, had team-work, excellent passing, and just couldn't miss the basket at any time. Their last game was a rip-snorter when they played the colored-boys' outfit.
          Our baseball team hasn't been able to function as yet because of "game called on account of rain," but we are hoping for good weather this next Sunday.
          George Wood, we heard today, is not just Chief of Surgical Services in his new unit, but the C.O. He apparently likes the outfit – hope that he continues to be happy there – he certainly hated to leave here. Phil Johnson finally left at the beginning of the week – he went to a Station Hospital, apparently a large one, and is supposed to be Chief of Surgical Service there. Wonder who the new majors are going to be?
           Serge and Bill Drew were able to get to Cairo on their leave and apparently had a fine time, however, on the way back, Serge had to leave Bill in a British hospital, as he became very ill. According to Serge, he apparently had either a dysentery or a para-T. Everybody is kind of worried about him, but I imagine he will be O.K. Bish and Bob Treadwell are going on their leave this week, and will be able to see Bill, so we shall not be without reports. Too bad that they couldn't have made it back here before he got so ill.
          Had a swell letter from George Davis yesterday. If ever there was a friend, he certainly is one! He's a funny guy. I wish you all knew him, but he is certainly tops as far as both Lois and I have been concerned, ever since the first day that I met him when he crawled into the bunk above me on that crowded trip over from N.Y.
                                                                                            Loads of love,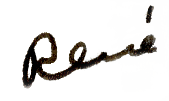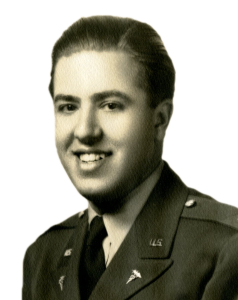 .
Watch for my next letter
February 19, 1944

Several views of Palermo…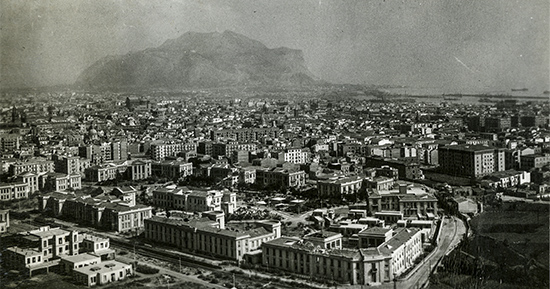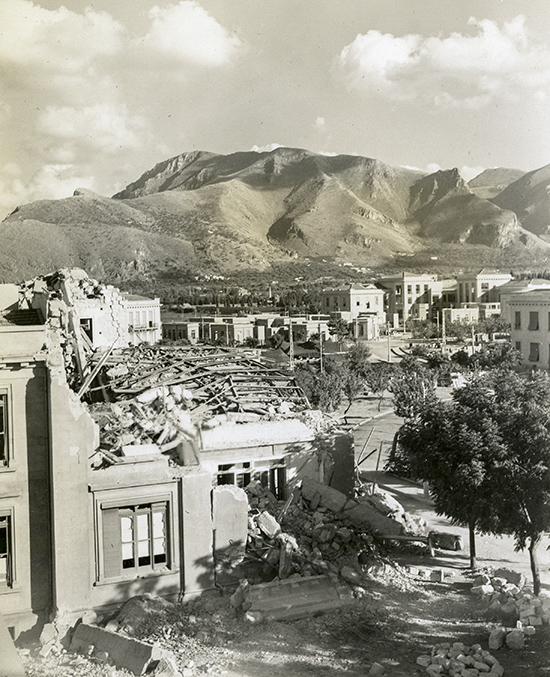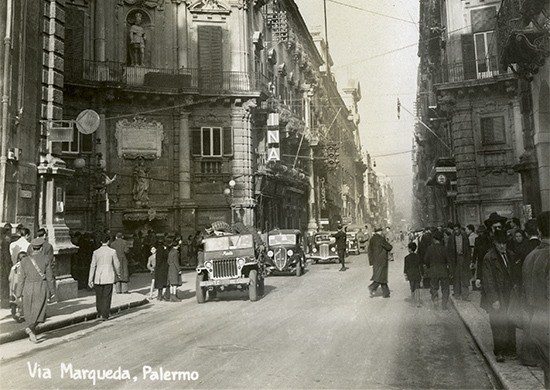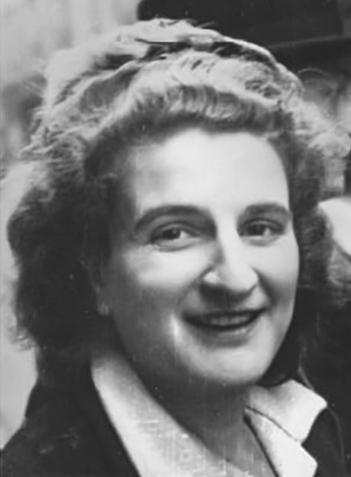 While René is touring around Palermo on February 17, he has no idea that his French cousin Yvette Baumann Bernard is in Drancy prison, where she has been since she and her husband Jean-Guy were arrested by the Gestapo on January 28. You can read the details of their arrest, which she provided in an interview in 1980, HERE. And in the same interview, she recounted the following about what happened to the unborn child she was carrying: "My baby died during the days following my arrest. I only gave birth on February 17, 1944, alone in a cell, to this baby who had been dead for at least a fortnight."

As reported earlier, unbeknownst to René, on January 28, 1944, Yvette Baumann Bernard (his second cousin) and her husband Jean-Guy Bernard were arrested by the Gestapo in their apartment in Paris. Both held senior positions in the Resistance, and Yvette, who was 25 years old, was 8 months pregnant. Alone in her cell, three weeks later, she delivered a still-born baby girl.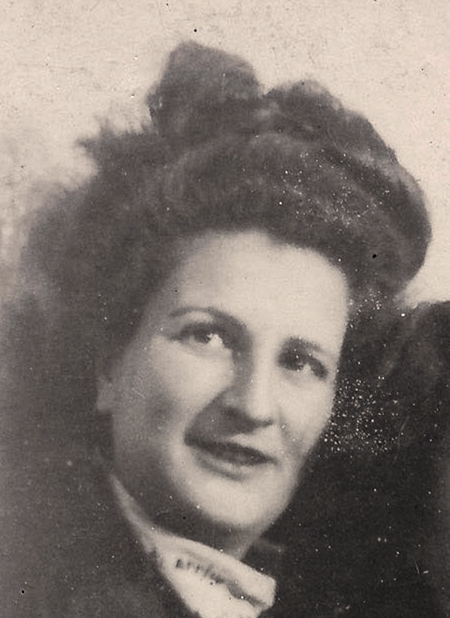 Now, on April 28, 1944, Yvette writes a letter and asks her friend Monique, to deliver it to her parents (Lilice and Georges Baumann). On the chance that the letter might be intercepted by the Germans, instead of talking about being arrested or tortured, Yvette says she is "ill," and instead of saying she is being transported to a concentration camp, she says she is going to a "sanatorium." Jean-Guy was not with her at the time, and she does not know where he is. Their arrest was three months prior, so it is unclear why she says she hasn't seen him in nearly 9 months.

---
April 28, 1944
My dear ones,
       I leave tomorrow morning* for a trip that is unpredictable. I, who loved adventures, have gotten one.
       I have thought a lot about you all, all these days. I am so happy to be the only one ill, and I hope with all my heart that I alone will know the diet of these sanatoria of which one speaks so much but that we don't really know until we have experienced. 
          I am worried sick for my darling love who I have not seen for nearly nine months. In what state will we find each other and, even, will we find ourselves alive? I try to rip these thoughts out of my mind and cannot do it completely.
       Finally, believe me, I am going on this trip full of courage, filled with an immense hope for a rapid cure. I love you all. Do not worry about me, everything has gone well so far.
       I have had news here of friends who are at this sanatorium, and say they are very well, which, in these times, is extremely reassuring."
---
* On April 29, Yvette is in a convoy headed to Auschwitz-Birkenau. Her registration number is 80583.
To read more about René's French relatives, click here.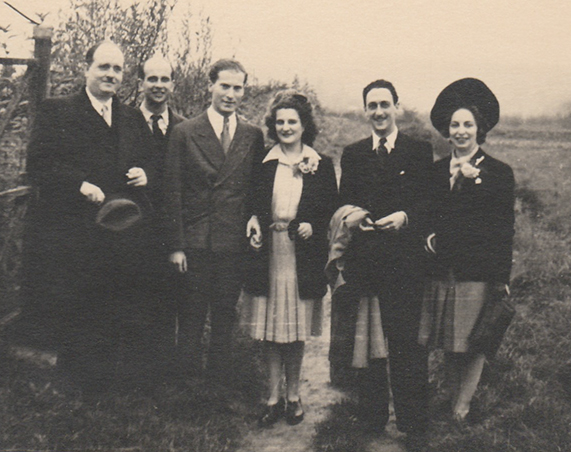 Yvette Baumann Bernard and Jean-Guy Bernard – (above) in October 1943 on their wedding day and (below) in December 1943.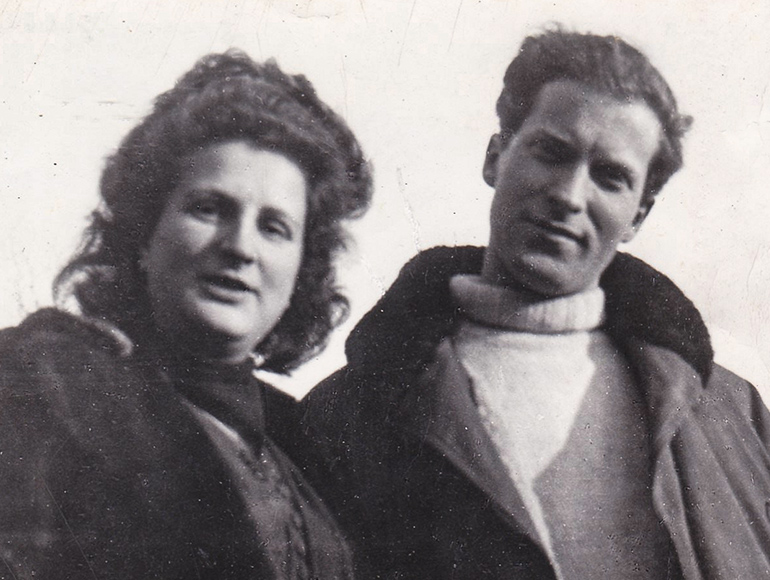 Unbeknownst to René, on July 31, 1944, Jean-Guy Bernard (the husband of René's second cousin  Yvette Baumann Bernard) was "deported" from Drancy Prison in northeastern France aboard Convoy No. 77. Destination: Auschwitz, Poland.
Passionate for aviation, Jean-Guy had enlisted as an aviation fighter in 1939. He is one of the few aviators to have bombed Berlin in 1940. After the armistice, he returned to the polytechnic school in Lyon. After working as an engineer during the winter of 1941-42, Jean-Guy joined Combat, one of the resistance movements in France. Over the next couple of years, he assumed successive leadership roles in various resistance groups. On October 8, 1943, he married Yvette, who was the head of the social service of Combat. On January 28, 1944, they were arrested in their Paris apartment by the Gestapo.
To read Yvette's account of the arrest, click HERE.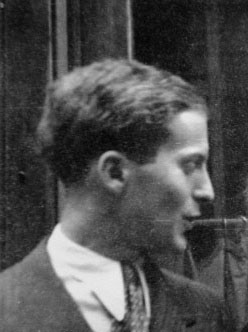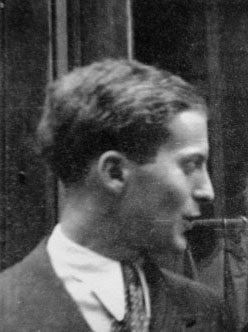 According to Sylviane Toporkoff, Yvette's daughter, "Upon his arrival at Auschwitz on August, 3, Jean-Guy was shot in the legs.  And because injured individuals were not allowed into the camp, he was sent directly into the gas chamber. He was 26 years old.
Around this time, someone told Yvette, who had been at Auschwitz since April 29, that a certain 'Bernard' had gone straight into the gas chamber. His description, red hair, etc. corresponded to Jean-Guy, but as she did not have the first name for sure, she clung to the idea that it was not him … but in fact she was certain of it."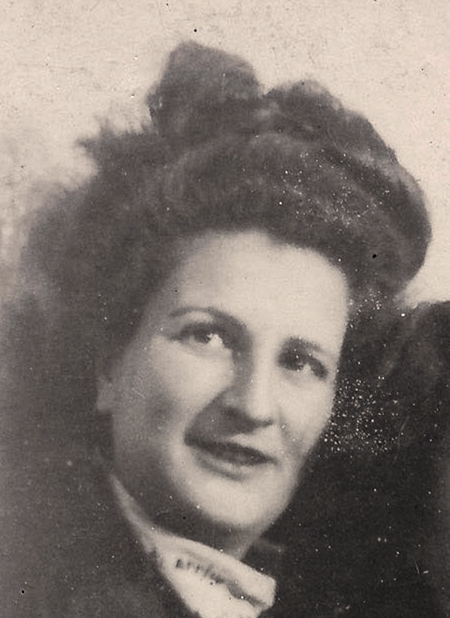 Many years later, Yvette wrote the following poem (English translation):
"How"
My love
More than the fact that you are dead
What is unbearable to me is how you died.
All of you, that you are dead is already quite frightful
But the way that you died is intolerable.
To read more about René's French relatives, click here.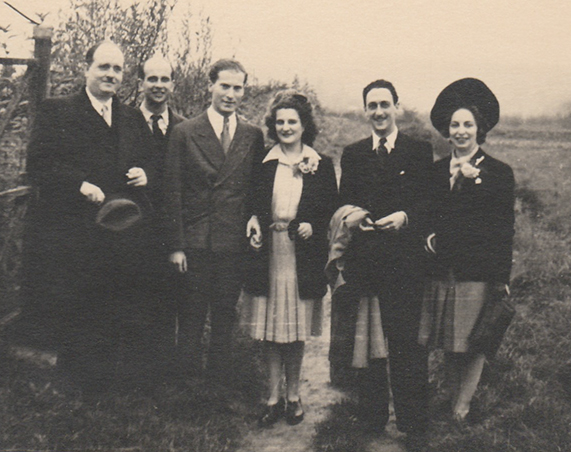 Yvette Baumann Bernard and Jean-Guy Bernard – (above) in October 1943 on their wedding day and (below) in December 1943. Yvette and Jean-Guy were both high-ranking members of the French resistance. They were arrested by the Gestapo on January 28, 1944.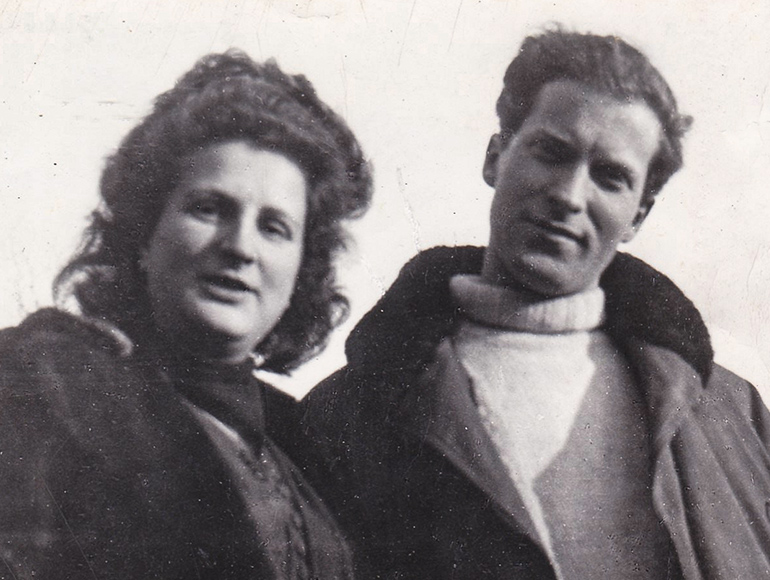 January 18, 1945
Epinal, France
No. 6

          And still we twiddle our thumbs. Very little snowing in the last days, but our blanket of white remains except over heavily travelled road-beds. Have become fairly well acclimated when outdoors and moving around, but when the steam-heat in our quarters goes on the fritz and we have to sit around, we do not appreciate it at all.  Chappie has a thermometer that he leaves outside his window and it isn't till one takes a squint at that that one realizes just how cold he should be feeling outside. This business of the mercury hovering around 0' and 5'. Below 0' is not at all to our liking – give us S.F. climate!
          Our Neuro-Surg team has left us, unfortunately. There is a need for them at another Evac within a few blocks of the one Roy is at with Ed. Since Byers is ill and was unable to go at present, it was arranged that Bill Newsom would go with Klemperer, at least until Byers can return to him. Bill, of course, is the only one here who is really especially interested in Neuro-Surg and it is a good break for him. We hope, too, that the fact that Bill is with Klemp will add a lot of weight to our getting the whole team back when we get busy again. We hate to see them go and they hated to leave – all have been most congenial both with officers and men and their enlisted men fitted in with ours perfectly, also.
          Everybody happy to hear the news of the Russian offensive once again. They seem to be doing mighty well. News from South Pacific also mighty encouraging.
          In other good news, Mattie is improving again.
                         Loads of love,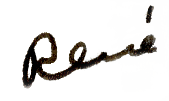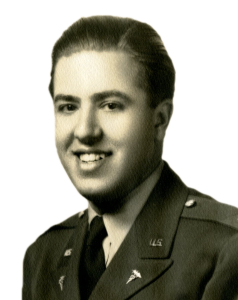 .
Watch for my next letter
January 22, 1945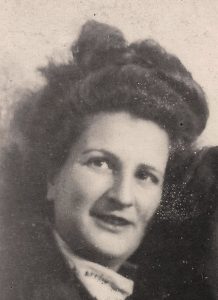 On August 18, 1945, René's cousin Yvette Baumann Bernard was one of the thousands of prisoners in the Auschwitz Concentration Camp in Poland who were forced to evacuate (in advance of the Russian army's impending arrival). More than 45 years later – on December 13, 1991 – Yvette wrote a poem, "The March" about her experiences on what is commonly called the Death March. Yvette eventually made it to the Ravensbruck Camp in Germany.

---
The March

Who will be able to, or who could understand?
Is there something to understand?
All of this, is it totally incomprehensible?
Or rather totally impossible to understand at all!
The eighteenth of January 1945 – I believe or I know…or perhaps I …
We found ourselves in a kind of corridor, naked.
A kind of metro corridor, in rows of five.
Terribly numerous, advancing by groups, quite slowly
And then, suddenly, after about two hours,
We were made to leave, always naked,
Thrown in a kind of clothes closet.
Each one took what she could.
I had the chance to recover two shoes
And especially a warm, lined jacket.
We were then put on a road, in rows of five
Cold, wind, snow from all sides.
On both sides of the road also, crushed skulls.
The laggards, a bullet in the head.
Red on the white of the snow, horror,
The snow was red with blood of cracked brains…
We must move forward, we must support ourselves.
We are walking.
In a village, some French prisoners, in French uniforms…
Some local residents pour buckets of water on us
They shout, "Down with the whores." Again, the horror,
The horror of not being able to say anything.
Our horrible horde is nothing, nothing, nothing!
On the third day, a kind of farm.
We could sleep here, on top of each other.
In the morning, a miracle: a hot bowl!
We are walking again.
There is a station and open cars.
It is minus twenty, minus twenty-five or minus thirty degrees.*
The deportees occupy half of a car.
The other half has the SS, the dogs, around a brazier.
Getting on the train, I discover my dress is soaked.
I take it off. I want to wring it out.
Frozen, it breaks in two.
The solidarity brings me a skirt and a knit pullover.
They are great.
We sat on the ice.
We will not die.
The ice, the cold, the wind,
Without having eaten anything except the snow.
For eight days, without bronchitis, without a cold.
We did not die. Why? How?

* In Fahrenheit that would have been -4, or -13 or -22 degrees.

René doesn't know it yet, but on May 30, 1945, his second cousin Yvette Baumann Bernard returned to Paris. Sixteen months earlier (on January 28, 1944) she and her husband Jean Guy Bernard, ranking members of the French Resistance, had been arrested by the Gestapo at their apartment in Paris.

Yvette spent 3 months in Drancy Prison in northeastern France before she was transported to Auschwitz, Poland, on April 29, 1944. She survived the Death March from Auschwitz to Ravensbruck, Germany, in January 1945, and was at a camp at Leimeritz, Czechovlakia, when it was liberated by Soviet troops on May 11, 1945.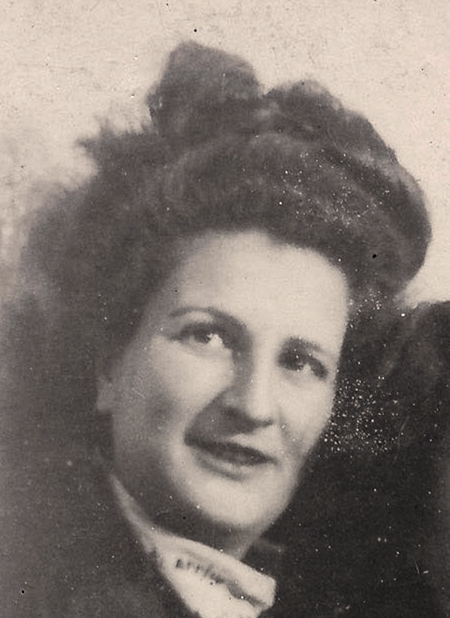 In an interview conducted in 1980, Yvette was asked to speak about her return to Paris. She responded,
"My return was awful because, when I was at camp, I had kept the hope that this Jean-Jacques was not really Jean-Guy*. But I wasn't sure about that.
When I got home, my sister was waiting for me on the sidewalk and she said, "Don't worry about Jean-Guy. Since he followed exactly the same journey as you, he will return."
There it was, I collapsed. I had fantasized, I still had hope, I had made so much effort to survive for that one hope. The return was more terrible for me than the deportation."
 * Around August 3, 1944,  someone told Yvette, who had been at Auschwitz since April 29, that a certain 'Bernard' had arrived and been sent straight into the gas chamber. His description, red hair, etc. corresponded to Jean-Guy, but as Yvette did not know the first name for sure (maybe Jean, maybe Jean-Jacques), she clung to the idea that it was not Jean-Guy. But, as she learned later, it actually was him.

To read more about René's French relatives, click here.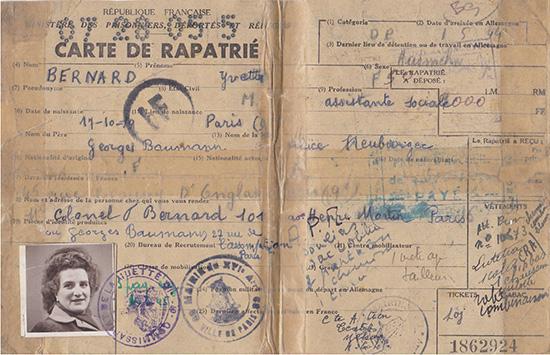 Yvette's "Carte de Repatriation" – documenting her return to Paris.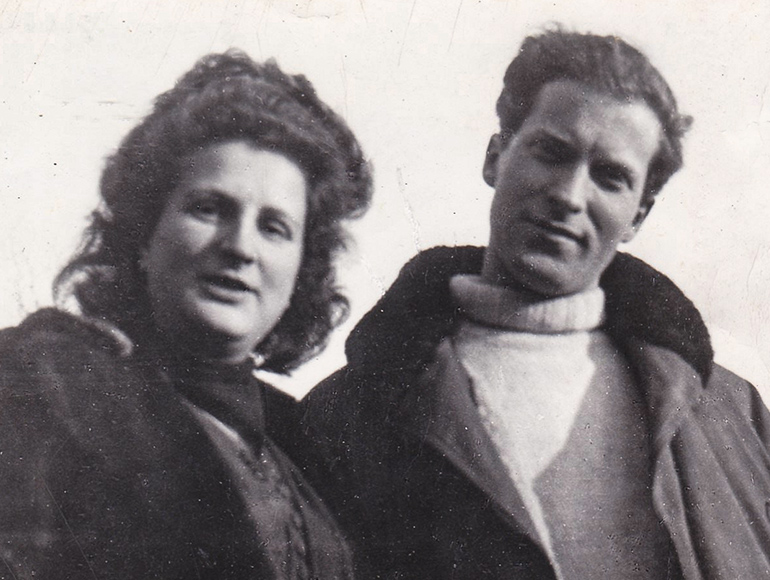 Yvette and Jean-Guy in December 1943. They were arrested in January 1944, and never saw each other again.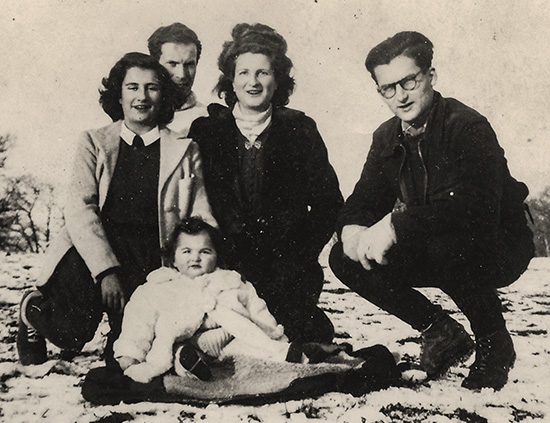 (From left to right) Claudine (Yvette's sister), Jean-Guy, Yvette and Giles (Claudine's husband). Dominique (the daughter of Claudine and Giles) is in front.