July 10, 1945
Wabern, Germany
No. 41

Dear Folksies,

       Time certainly flitted by again in a great big hurry and here I am writing now as a member of the 108th Evac. Hospital in the town of Wabern, Germany.   The closest big town is Kassel (about 30km north of here). Confusion is still raining!!! A.P.O is still the same, but the address is 108th Evac.
       On the afternoon of the 4th, Clint and I took the bus and went over to call for the band that was to play at the party that nite. We had to go to the 108th Div. Hdq. to get their band, some 45km away.
       The party turned out to be a pretty good one – the best feature of it as far as I was concerned, however, was the potato salad made by Vince Knotek. The party was held in the theater with the band on the stage, with an improvised bar in one corner and the buffet supper in another. There was quite a crowd there, for we had invited the 51st Evac. (the Sacramento boys) and also some of the 93rd, and, of course, some of the gang from the 7th Army Hdq., such as Skinny St. Claire, Tom Flynn, Bill Dunn, etc. Most of the gals invited boys from the 12th Armored Div. and a few from our old friends the 1st Div. and 1st Armored.
       The party got a little rough at one point when one of the outside officers got a bit rambunctious and had to be picked up and carried out. Otherwise it wasn't bad. It was pretty late by the time I got to bed, as I went back with Clint to take the band home.
       On the 5th, a small group of the men came up to get acquainted with things at the 108th, in preparation for the shift. Men from the 108th also came down to our place that day, and the more we heard the sadder we got.
                        Loads of love,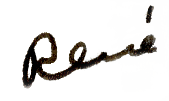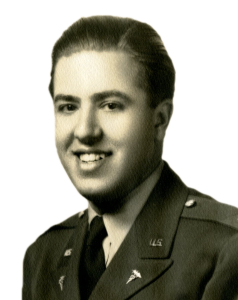 .
Watch for more of this letter
July 11, 1945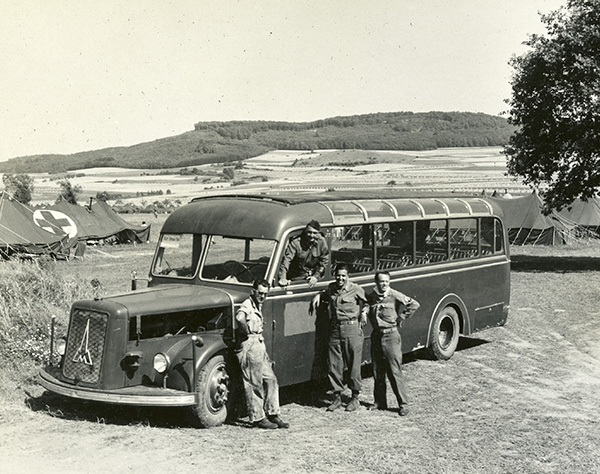 René (standing in the middle) and Clint Green (in the bus) took the bus to go pick up the band to play at a party.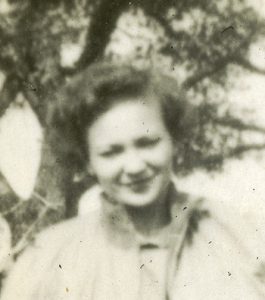 René says that the best feature of the party was the potato salad that Nurse Vince Knotek (above) made.

July 11, 1945
Wabern, Germany
No. 41 (continued)

Dear Folksies,

         On the nite of the 6th, when I was Receiving and Medical O.D. came the bombshell or bombshells!! I tried to get ahold of Bret Smart to see a case that was a possible appendicitis and instead I got ahold of Wally Greene on the phone, and he just didn't make any sense at all. Why? Well, undoubtedly by the time you get this you will know the reason for his state of confusion and why, too, I took some time before believing the line he seemed to be handing out to me. It seems that just a few minutes before, the order had come in by phone for the following men to report to Thionville on the 9th to go by plane to the U.S. Yes, the lucky bums! The men were: Gerbode, Greene, Smart, Bell, Brown, Malone, Stratte, Hodgson, and Waugh.
        You can imagine what a mad-house the place was that nite.  All those going home were up in the office at some time during the nite trying to send wires to their respective wives to "stay at home."
          Some of those going home had already loaded their equipment into the trucks or trailers that were heading for the 108th the following morning.  So they were scampering around trying to get their things out of the vehicles, and, of course, their stuff was always at the bottom of the pile. Then, too, Frank had to wire to Hodgson, who was at school in Paris, to come home immediately. Everyone was afraid that Marv would not make it at all, but it seems that the wire did reach him and he was able to fly down to a field near Ellwangen and was picked up the day before the gang took off for Thionville.
                        Loads of love,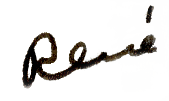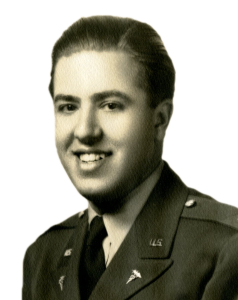 .
Watch for more of this letter
July 12, 1945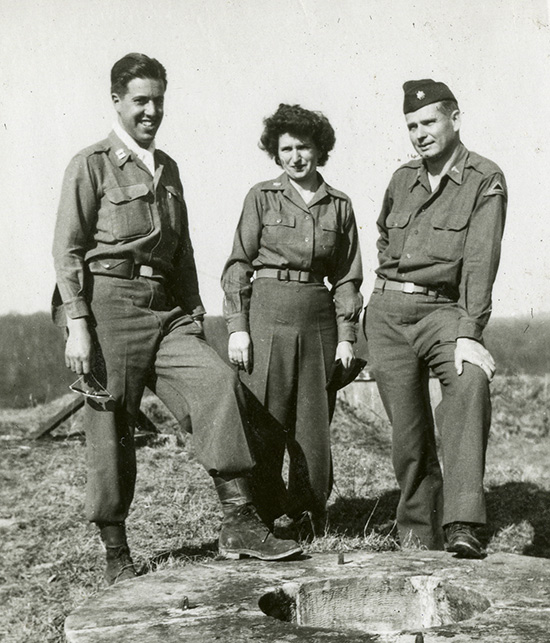 René tells his parents about the latest bombshells – nine of his fellow doctors in the 59th are going home! One of them is Bret Smart – shown above (at right) with René and Helen Baker.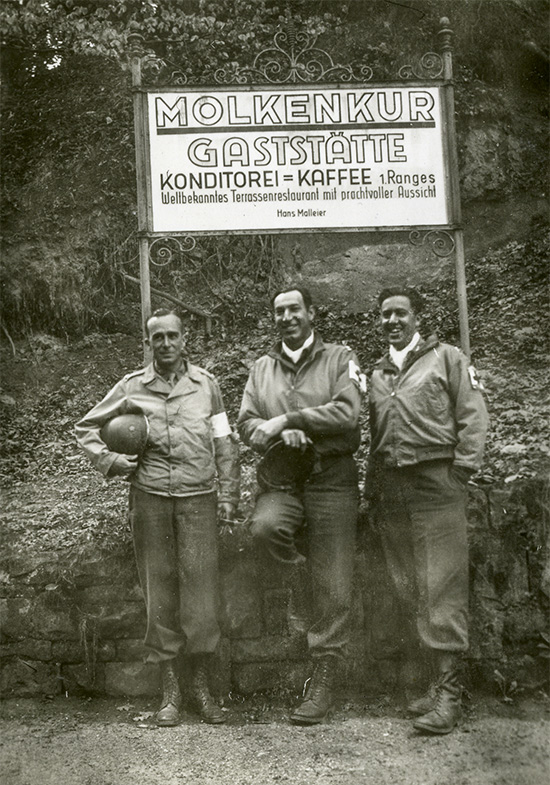 Wally Greene (at left above) is going home…but not Carroll Russell or René.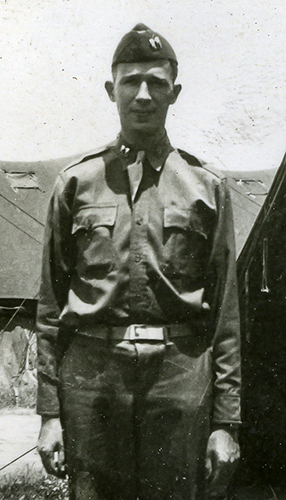 Marv Hodgson is also going to be on the plane back to the states.

July 12, 1945
Wabern, Germany
No. 41 (continued)

Dear Folksies,

          The morning of the 7th, all of us unfortunates who were heading for the 108th piled into various vehicles — the men into the trucks and the officers and nurses (9 officers and 11 nurses) piled into my bus.  Away we went!  That was really a pleasurable ride and I can well imagine what it would have been riding the same distance on the back of a 2-1/2. We had comfort-deluxe! Out of the ten trucks and one bus that left from Ellwangen, there was only one truck that beat us. We went some 265 miles in 9 hours and ten minutes, which included the 45 minutes we stopped for lunch just as we hit the autobahn outside of Mannheim. The old bus really travelled along sweetly without the least bit of trouble. We all arrived clean, comfortable, and hardly tired at all. The next day the gang that arrived via truck was quite a contrast – dirty, tired, etc.
            We were not a very happy bunch coming up here, but there was one thing that boosted our morale 100% as we traveled the last 30 or 40 miles. What was that?  Well, we began seeing those old familiar square signs with the blue and white diagonal stripes, and we knew that at least we would be close to some old friends — none other than our oldest friends and best-liked gang as far as divisions go — the good old 3rd Division!  In fact, as it turned out, we are in their occupational area and naturally there have been an abundance of blue and white patchers around here ever since we arrived.  We felt like putting up signs "108th Evac. Hospital, formerly the 59th Evac."
            When we saw the place this hospital is set up in, we didn't even want to get out of the bus — merely wanted to turn right around and go back to Ellwangen to our beautiful buildings that took us so long to get in good shape.  Here we saw nothing but tents in what appeared to be a wonderful potential mud-hole.  Whoever laid this hospital out was nuts — there is such a distance between the quarters and the rest of the hospital that if the ground were not so soft, we would be running our bus around the area on a regular schedule.  As it is, the motorcycles that various members have acquired do come in handy from time to time.
            The group that came up in the bus that day consisted of, as far as the officers were concerned: Chappie, Westdahl, Armanini, Joseph, Jobe, Chatley, Blasdel and Cy Johnson. As Chappie was the ranking officer and I was the only one who knew anything about the movement plans, about the supplies, the motor pool, etc., Chappie and I met the Col – Yarborough by name ("Yardbird") – a regular Army man who, we found, was hoping to be transferred to the 59th to stay with the majority of his old outfit. Apparently that has fallen thru, however, for he was supposed to have found out if he would be going there by last nite and no word came thru at all. The Chief of Surgery was Lt. Col. Richard Weeks who, however, was on the same order as Gerbode, Greene, etc., and consequently pulled out the morning after we arrived, likewise heading for Thionville. Chief of Medicine, remaining here with 85 points is a very nice guy by the name of Burlinghof, a Lt. Col.
            Found that the ranking major of the 108th who is staying behind was a Major McKee and, unfortunately, he outranked Lou Huff (Lou being our ranking major since Greene was going homeward) so he is now Chief of Surgery.
            There are only 4 other officers remaining behind from the old 108th. There are only a few of their nurses left here – just those over 40 years of age and those who are married.
                        Loads of love,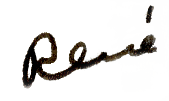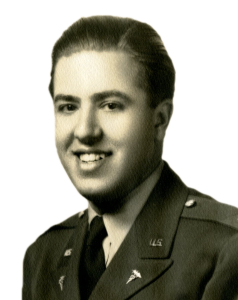 .
Watch for more of this letter
July 13, 1945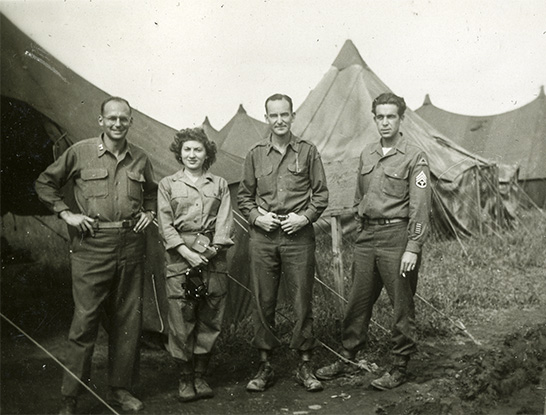 René tells his parents that no one is happy about the set-up at the 108th Evac., where they have been transferred. They had to give up beautiful buildings at Ellwangen for tents situated in "a wonderful potential mud-hole." Philip Westdahl, Liz Liss, Ed Blasdel and Knox Johnson pose in front of the tents at Wabern.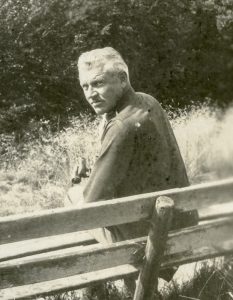 Chappie (Elmer Chappell) was the ranking officer among the group from the 59th when they arrived at the 108th.

July 13, 1945
Wabern, Germany
No. 41 (continued)

Dear Folksies,

        Yesterday afternoon I spent out hunting for buildings. Not very successful. Came home at 9:30P.M. to find a party in full swing – so celebrated my birthday that way. Pretty good party at that. [July 12, 1945 was René's 30th birthday.]

Of course all sorts of rumors have been rampant of late – for instance:
1) The gang that went home: Greene, Gerbode, etc. — after their leaves are over, are going to be assigned to the Veterans' Administration. Wouldn't surprise us a bit if true.
2) The 59th as such is scheduled to hit the staging area in a couple of weeks and be home in September and then re-outfit for the C.B.I. [China, Burma, Indonesia Theater] This seems to be pretty much the straight stuff, but we still don't know for sure.
       There is one good sign, however, and that is that tho' we are here in a Class 4 outfit (i.e. to be eventually disbanded), they are still taking some of our men out to go home, i.e. enlisted men – Dinsmore, Steinnes, and Davidson leave in a few days, apparently at the same time as a big gang from the 3rd Division takes off for home. So, you'll be seeing that blue and white patch around S.F. soon, no doubt, for a lot of those boys are California kids.
       We're pretty short-handed here, what with men away at school, and only a small number of nurses coming up here, etc.  And, by golly, we suddenly got a big load dumped onto us — we're servicing five different divisions for some reason or other.  Besides the 3rd, we've got the 78th, 5th Armored, 69th and one other.  As a result we've had beaucoup to do.  The boys still insist on playing with guns they know nothing about, and there isn't a day goes by but more than one accidental shooting comes in.  Luckily none have been too serious, though we have had chest and belly wounds among them.
       For a while I tho't I was going to be Supply Officer, since none of our doctors know anything about Supply, but since they are also short of doctors they first had me down as another anesthetist. Then I was about to decide that I would rather be Supply Officer than do just anesthesia. I spoke to the Chief of Surgery and found that the anesthetist gets to take Surgical O.D., in turn with the others, and consequently gets to do some surgical work. Well, anyway, he knew my sentiments regarding anesthesia and that very same nite when the existing surgical wards got filled and they had to open up another one, he decided that I should take that ward and not do any anesthesia at all. Sooo, actually, for once I got a break.
       The way things are here now, Jobe is Supply officer, with Gough (a 108th man) as Ass't Supply Officer, Chatley as Detachment CO and Motor Pool Officer, Kiernan as Registrar, Gough as PX and Special Services Officer, Dunlap as Adjunct and Bishop (when and if he arrives) as Exec. Bish has been bothered by a lousy fungus infection of his feet, and in the last two years they have gotten worse and nothing has helped him – including x-ray. So he figured this was a good time to try to get something done, so he has gone to one of the General Hospitals in Paris to see what can be done. I think, too, he is trying to fineegle to get home – he has 105 points and might stand a fair chance.
       The Medical Service consists of Col. Burlinghof as Chief, Charlie Stone as Ass't Chief, and Pete Joseph and Bill Newsom as other ward officers. Blasdel is Receiving Officer, Knox Johnson x-ray Officer, and the surgical ward officers are Westdahl, Capt. Sherman (108th man) and myself. The majors don't have wards, but Lou Huff is Ass't Chief of Service and the 4 majors rotate being on call for the day to make decisions and to do major cases.
       It's a screwy system, but gradually the 59th innovations are getting put over, particularly in the wards where our boys arranged things the 59th way and get things done – training their nurses in the right way, etc. It's sort of a ticklish situation all around, but is working out better daily. Our majors, at least, have been pitching in and helping in Receiving and on the wards, while Maj. McKee sits around and hasn't done anything as far as any of us can tell.

       On the books, this outfit has done a lot of work, but then one finds out that a great deal of the time they had Auxilliary Surgical teams attached, even had as many as 5 teams attached for a considerable period of time. When one hears more about them, one realizes why they had to have these teams. It seems that there were only Lt. Col Weeks, Maj. McKee and one other man capable of doing any real major surgery – i.e. more than simple debridements. Those three were the only ones who could go into a belly or a chest – compare that to our list of capable General Surgeons – Mattie, Greene, Cohn, Cressman, Huff, Armanini, Blasdel, Westdahl, Gerbode, Schwartz and Smart. Klein and even Carroll Russell could be put in that group. In fact, Carroll is and has been for weeks, down at the 54th Field Hosp. on detached service until they get someone in who is a surgeon. He has been doing all sorts of things there, for what they have as a surgeon is an ENT man. Klein is at the 11th Field and should be returning to us here soon.
       Anyway, as I said, I did get a break — got to do an appendectomy, doing it with Lou Huff assisting me, a couple of nights ago, and today I helped Ralph do a chest and did several smaller cases besides.  Keeping mighty busy, but enjoying it — though we all bitch about the set-up and the whole deal in general.
                        Loads of love,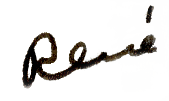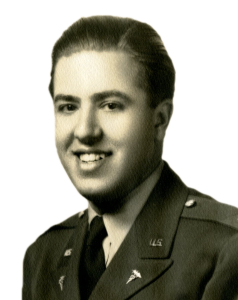 .
Watch for more of this letter
July 14, 1945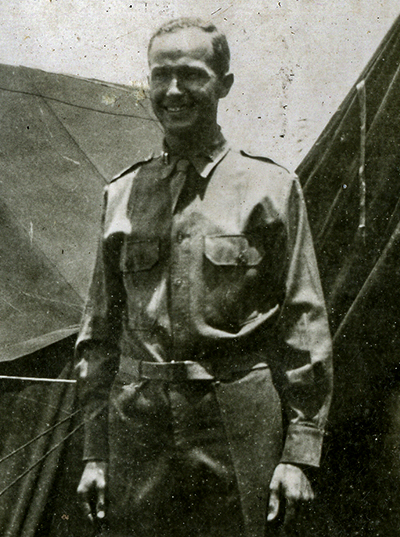 René tells his parents that he did an appendectomy with Lou Huff (above) and helped Ralph Cressman (below) do a chest surgery.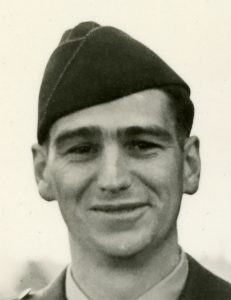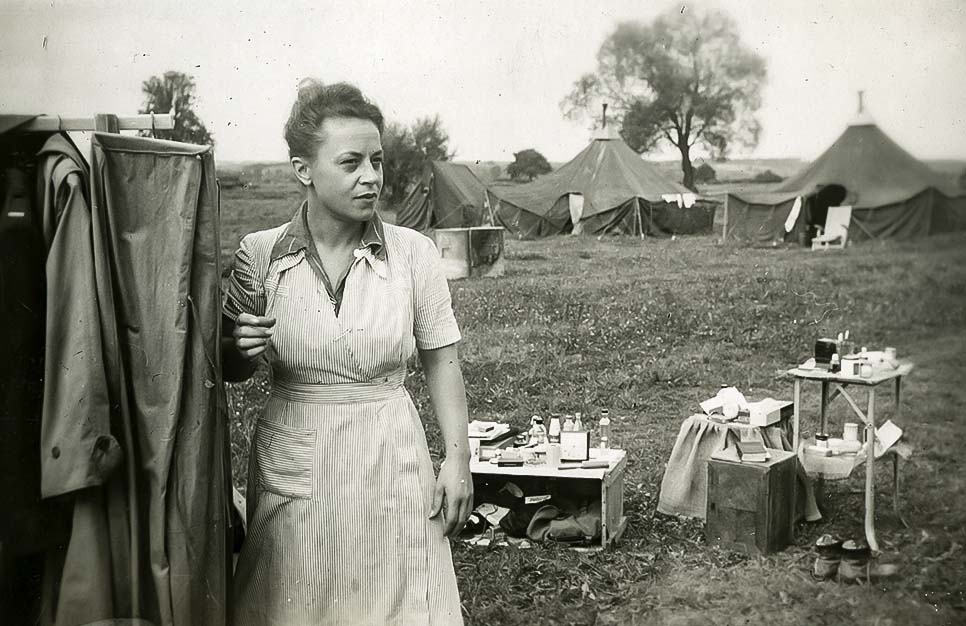 Nurse Norma Picchi at Wabern.

July 14, 1945
Wabern, Germany
No. 41 (continued)

Dear Folksies,

       One of the funniest things we heard about was the distribution of the so-called "Buddy-badge," the Bronze Star, amongst the members of this outfit. They gave out some 31 Bronze Stars just because they were there to be given out. What a deal! And the 59th gave out but one Legion of Merit and 3 Bronze Stars (Ray Carson got one just before we left Ellwangen).
       One of the first things I asked Col. Yarborough was whether or not we could keep the bus with us – since it was not signed out to the 59th at all. He said we certainly could. We were all mighty glad for I don't know what we would have done if we had had to give up that bus. Green, Hangar and I had it sort of figured out that we would take off and return the bus to the original owner, making a two-week trip out of the deal.
       We soon found out that the gang from the 108th, who were going to the 59th, had played a dirty trick on us — they had taken most of their equipment, i.e. hard to get stuff, with them, despite the fact that these things were on the books up here.  We found that there was no wire right off the bat and so I took Schnitkey with me and right to the 3rd Div. we went. Back we came with some wire in a short time – off the record stuff to be sure, but 'twas the wire we needed.
       When I walked into the Division C.P. and spoke to a Col. there and told him I was from the 108th, but formerly the 59th, he felt as badly as we did about the whole thing. In fact, one of his Junior officers sitting in the room immediately asked after one of our nurses. Soooo, naturally I knew we wouldn't have much trouble getting the things we needed. I, of course, immediately got them on the ball looking for buildings to put us in, for this business of being in tents with the war over, particularly from the patient stand-point, is a no-no. Surgery is hot as hell, full of flys, and all in all 'tis a bad situation.
       Then, too, this gang didn't have near the equipment that we had – of course we had picked up all sorts of things in the 2-1/2 years of scrounging around from the days of looting the Casablanca docks to recent days. We unfortunately had all the items picked up on the books from time to time, so that we could not bring them with us – things like the electric saws, electric welders, etc., etc. ad infinitum. Soo, we just don't have the tools with which to fix this place up decently, even if we are going to stay in tents. Things don't look too promising as far as buildings are concerned.  I've scouted a good deal and so far haven't seen any buildings or group of buildings in this area adequate for the hospital — but time will tell…
                        Loads of love,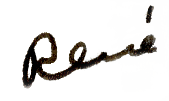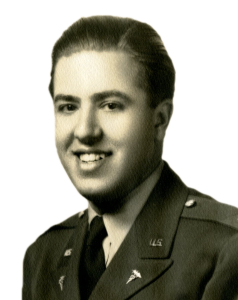 .
Watch for the conclusion of this letter
July 16, 1945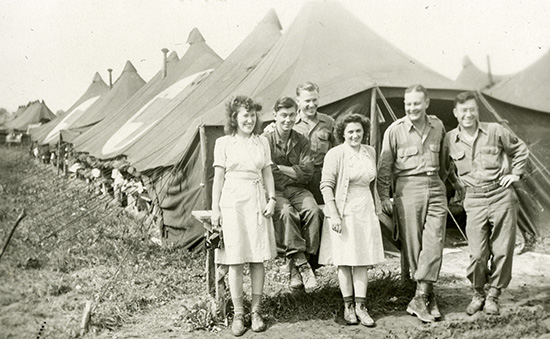 René tells his parents that "this business of being in tents with the war over, particularly from the patient stand-point is a no-no." Posing in front of the tents at Warbern are (left to right) Molly, Bernie Harrington, Harold Heinzerling, Jeanie Dooris, Chaplain Luckett and Hendricks.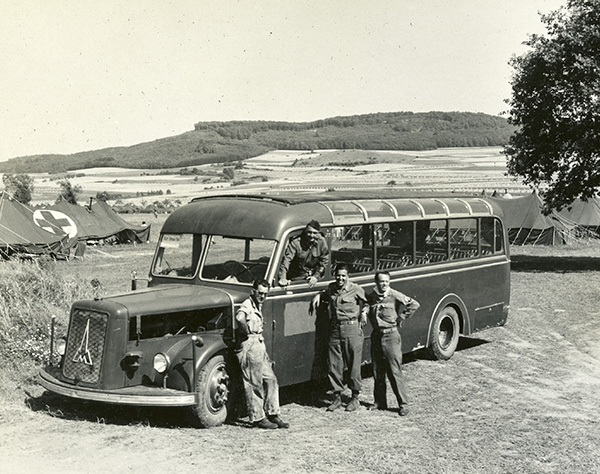 One piece of good news: the Colonel Yarborough of the 108th is letting René and his buddies keep the bus!

July 16, 1945
Wabern, Germany
No. 41 (conclusion)

Dear Folksies,

            We've already sent down two trucks to bring up things that were off the records at the 59th, so that this place could be made to function better — they had the men eating sitting on the ground, even!! We sent for tables and chairs.  Their shower unit was horrible, alternately hot and cold in the same few seconds.  We got the "mixer" off our shower unit at the 59th, something that it took Kuhl months to get at Casablanca — and now our showers are good.  I could go on with list after list, but what's the use — you get the idea anyway.  It just ain't the 59th!!
            Roy is the C.O. down at the 59th, and, from the looks of things, may stay as such until the unit gets to the U.S.  He's running the unit as a unit should be run, from all the reports that have come up from there.
            At the moment I'm living with Dunlap, Chappie and Pete Joseph. Cozy tent!
            I got in on an amazing story last night when I was visiting the Military Government Officer at Fritzlar.  I was sitting there talking about buildings when a stocky Jewish fellow of about 32 walked in and asked the M.G. Officer to see the Major, for he wanted permission to shoot a couple of Krauts. The M.G. Officer and I darn near fell over backwards in our seats! 
            It seems that this fellow was on a 48-hour pass from his outfit, some Air Corps Bunch, as he had business to attend to in Fritzlar.  In 1933, he and his family had been dispossessed from their home in Fritzlar, his father and mother are in a concentration camp, and he managed to get out and get to the U.S.  Sooo, he was back to re-claim his property and to find out where his father and mother had been taken. He knew most of the people in the town and was telling the Major all about the big Nazi guys that still remained sort of under-cover. He had recognized some just on the street. The soldier had been a cook in his outfit, and was in the 9th Division for quite a while before he got in the Air Corps (ground forces). It was quite an interesting story, and the Major is probably going to hang onto the fellow for information about things in the town, etc.  Kind of a little melodrama.
                        Loads of love,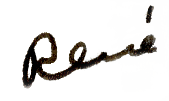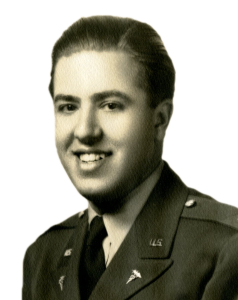 .
Watch for my next letter
July 19, 1945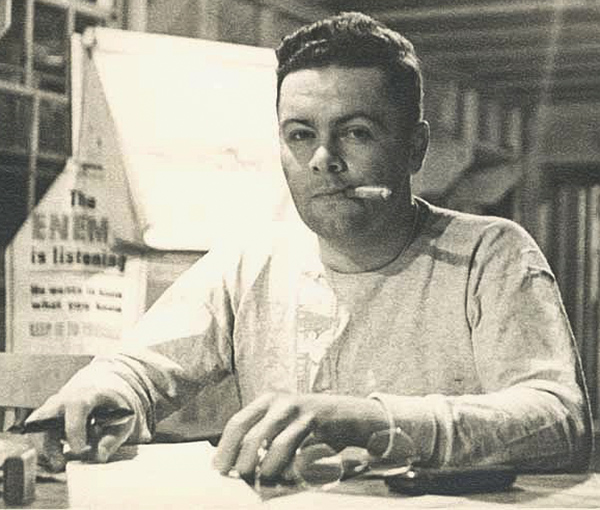 René tells his parents that Roy is C.O. down at the 59th and that he's "running the unit as a unit should be run."

René is rooming with Jack Dunlap, Chappie (Elmer Chappell) and Pete Joseph…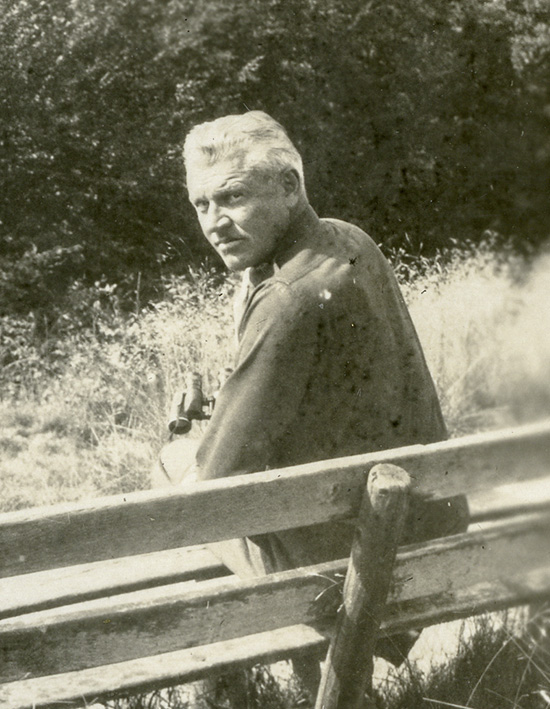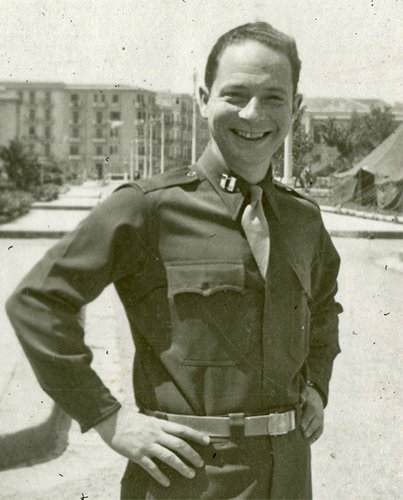 July 19, 1945
Wabern, Germany
No. 42

Dear Folksies,

                  In the last few days we have been mighty busy and it has been so bloomin' hot that it has been impossible to do much work, particularly around the noon hours.  At night one is pretty worn out from the heat and the work that has been done.  In buildings we wouldn't notice the heat nearly so much, of course.
            The building situation continues poor.  I have been out scouting a couple of times and nothing except the headquarters of the 3rd Division would be suitable.  And, really, we're not choosy.  I went through Kassel, or I should say, what is left of Kassel.  There are a few scattered buildings on its edge, but I think it actually qualifies as the most-damaged large city that I have seen, and this includes Bizerte and innumerable others.  Yes, it's a mess!!  The bombings there occurred many months ago, for one can notice there is vegetation growing up out of the ruins.
            Went with Chappie the other nite on a wild-goose chase, as Schmitty told me he had seen some swell looking buildings about a half a mile off the autobahn when he had been up to Kassel, but he had not had time to stop to investigate. He had noted that there were some windows out of the buildings, but tho't they were in otherwise good shape. Chappie and I took the Command Car and investigated. They were fine buildings, alright, but unfortunately they lacked windows, lacked doors, lacked stairways, and even lacked the flooring on the 2nd and 3rd floors. Just a bunch of uncompleted apartment buildings. They'd work out fine when and if finished.
            On one of my excursions to find buildings, I met and talked to the Surgeon of the 3rd Div., Col. Drake, and then when supper came along and Bill Gratopp and I found ourselves still in that area, we went to the 10th Engineers and fineegled a meal. And, what a meal!! They had wonderful roast beef and excellent marrow-ball soup, fresh lettuce salad, and ICE CREAM! They are living in a small ex-hotel and retained the chef to continue serving for them. He certainly does justice by those meals.
                        Loads of love,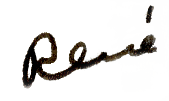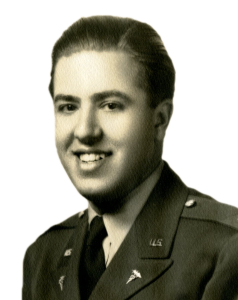 .
Watch for more of this letter
July 20, 1945

René went scouting for buildings in hopes that the 108th unit could move out of tents. He tells his parents that he "went through Kassel, or I should say, what is left of Kassel." Photos below are of Kassel at around the time René was there.