March 29, 1945
Tiefenthal, Germany
No. 24

Dear Folksies,        
       Have been plenty busy the last five days.  As you see by the above, we have hopped again and no sooner got a tent or two thrown up than we were up to our necks in work, and since only part of us were here at the time, we had beaucoup work to do and no sleep until the others got here, several hours later than expected.  Have, as a result, just managed to catch up on sleep today.  The "Gang-Greene" [surgical team of Wally Greene, Carroll Russell and René] is on the nite shift now, you see.
       I again managed to do a good deal of traveling a few days ago. Being in Germany we are no longer able to have our wonderful French Chef along with us — business of crossing borders, visas, safety for him, etc.  So, naturally, he and his family, the other cook, the laundry gals, and their kids — all had to be taken to their homes. They lived at the spot where we spent the majority of our time from October to March.  As it happened, I wanted to go there too because when Jack had picked me up, en route the week before, my laundry had been left behind since I had expected to return there, not expecting Jack to pick me up and whisk me off as he did. So, I planned to accompany the French people down in our truck, pick up my laundry and do some business down there for the outfit, also picking up some things on a requisition on the way back for Fadley.  Bob Escamilla decided he had to go down part of the way also, because he wanted to find out what the score was on his "temporary duty home" deal.
       The only available transportation being a weapons-carrier and a trailer, we had quite a load.  There were 12 of the French in the back of that poor weapons-carrier (seats eight) of whom one was a baby, one a two-year-old and one eight years old. And, on top of that, they had more baggage than you can imagine, including a baby-carriage, etc., etc.  Of course, all the latter was crowded into the trailer.  Clint Green (Sgt.) who was with us on the invasion, was the driver, and we had Escamilla between us. We finally took off after lunch and after the Chef and Henri (the pastry cook) had very weepily said good-bye to all the officers and nurses.  They really hated to go, every bit as much and maybe more than we hated to see them go.
       It was quite a ride.  The roads we had to go on are rough, but with the truck so jam-packed loaded, the vehicle held the road nicely and we didn't seem to mind the bumps at all.  In fact, the truck was so loaded that it seemed as if the front end was up off the road most of the time and riding in the air.
       We dumped Escamilla off where he needed to go and then went on and took the French home – golly they lived all over the place — and we had to take them to their respective homes.  After that, seeing one of our gals who was left behind in the hospital down there and who is returning in a few days, Clint and I took off again. Got to Lois' spot about 9 P.M., but tho' she is still in the hospital, she was not in – being out on pass for the evening!!
       Went over to get Fadley's requisition filled, with only a faint hope of succeeding, as the place, I knew, closed around 5 or 6 P.M.  We had hoped to get down there by that time but, having to make the circle, leaving Bob off, could not get there by that time and thought we would have to skip it altogether.  But, imagine our surprise and pleasure when, at 9:30 P.M. I was able to talk the "Charge of Quarters" into filling our requisition in view of the great distance we had come and still had to go, etc., etc. (Shades of some of the stuff George Davis and I pulled way back when in Africa!)
       Finally started off to pick up Bob, who we had arranged with to pick up at one of the hospitals in the town where he had been left.  We had no map but, tho' I had only been on the road once (on return from Paris) and Clint had never been on it, we saw no reason why we should have any trouble finding our way, even at night.  We kept going on the road until we were stopped by an officer who had a small convoy stopped on the side of the road.  He asked us if that was the road to such-and-such — he apparently didn't think it was for there had been no signs naming that town for several miles.  We said, "Sure it is!" and went on.  But, imagine our embarrassment when, about five minutes later we realized that it was the wrong road at that — at least a road that was not the main one, though it would eventually, we thought take us to where we wanted to go.  We wound around some small towns and soon realized about where we must be and were able to head for the place we wanted – we wondered, however, whether the poor officer with his convoy would be swearing at us — particularly if he didn't take the correct turns as we managed to do after we left him.
       Strangely enough, we were hailed by some soldiers who wanted a ride just to their headquarters (they were guarding a gas dump) and when they climbed aboard I wondered what nationality they were – they all talked the same, sort of unintelligibly, until I realized the accent. I asked one of the fellows where he was from – and of course he said "Puerto Rico".
       Picked up Bob and then started out on the real bumpy road that had been O.K. on the way down with the load — but golly what a road it was when we had nothing but Bob in the back of the truck!!  We jounced all over the place and how Bob managed to fall asleep in the back, I know not, but he did. And, incidentally, he told me he is to go home Monday – he gets 45 days in S.F. – probably before he starts back this way the war will be over!
       From the time we picked up Bob (as Clint was tired) I drove – we stopped and picked up the truck we needed to take back to the unit, and kept barreling on, arriving back well after midnight.
                         Loads of love,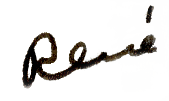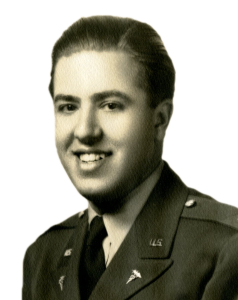 .
Watch for more of this letter
March 30, 1945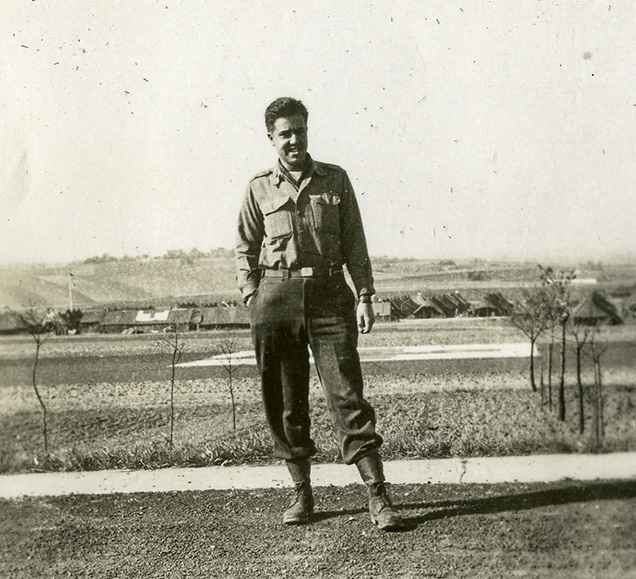 René in Tiefenthal, Germany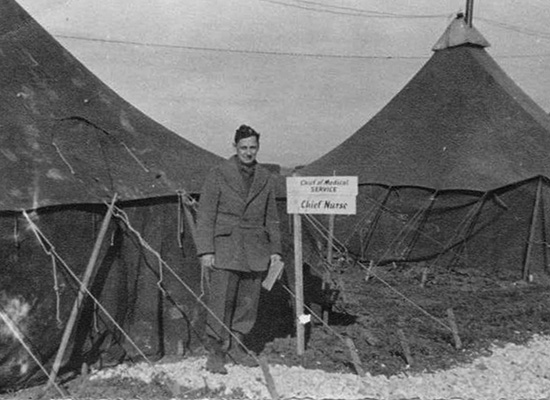 Bob Escamilla rode with René and his driver, Clint Green, on their way to Tiefenthal.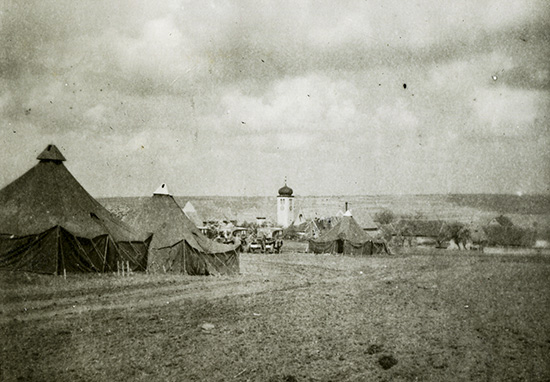 Tents of the 59th with the village of Tiefenthal in the background.

March 30, 1945
Tiefenthal, Germany
No. 24 (continued)

Dear Folksies,        
      Next A.M., up bright and early, and then at noontime we got word that we were going to have to take patients that night, despite the fact that the vehicles that were supposed to move us had just arrived in the area an hour before (we had sent our own trucks up the night before with a small amount of basic stuff).  So the Col. decided he better go up and warn Gerbode and Roy who were setting up in this new area.  I had been scheduled to take the next convoy out with Stan Jobe, but instead went with the Col. in his jeep and arrived here in time to help Roy and Frank get things in shape, put up signs, contact headquarters, etc.
        Three teams of officers and a few of the nurses arrived by supper time and the first part of the convoy got here a little after that, and by golly, we were ready to take patients, and did, at 7:30 P.M., tho' actually they didn't start shoving many to us until midnight. Our team was first on call, so we did all the work until 5 A.M., when the slew of patients arrived, and then all three teams worked until 4 P.M., when the rest of the officers arrived.  We tumbled into bed, and instead of the 8 P.M. that our shift was supposed to begin again at, we were allowed two hours grace and didn't come on until 10 P.M.
        So, you can see why yesterday and today we were trying to make up for lost sleep.  Isn't it funny how one can sleep almost for days on end, as we did when loafing, but a couple of nights of lost sleep still makes you plenty tired — you can't seem to build up sleep like a reserve fund.
        Yes, the "Gang-Greene" is still in it's old form – missed midnight chow last nite and resorted to some of my deviled ham on toast with some of Dottie Merrill's soup that she cooked up for us at 2:30 A.M. in Surgery. And then, today, we got to breakfast at 10 A.M. Same old routine of missed meals!!
        Golly, last nite the wind howled thru that Surgery tent something terrific. We have to have doors so litters can be brought in and out – and those doors consist of just flaps and blankets across the openings and they are not heavy enough to withstand this March wind. "Twas mighty breezy!
        Helen Nelson just arrived… Time to go to work.
                         Loads of love,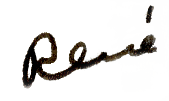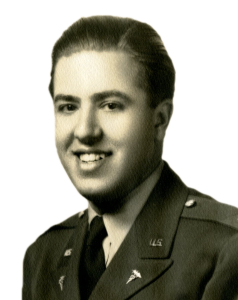 .
Watch for my next letter
April 2, 1945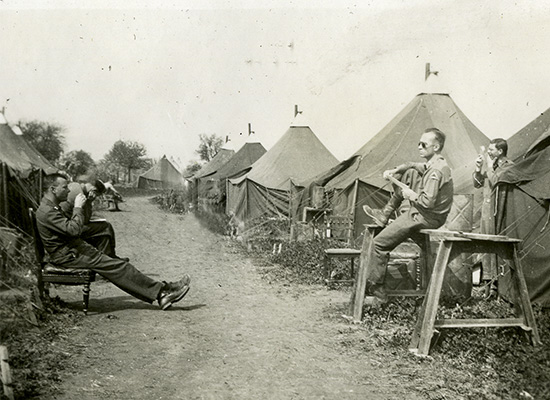 In today's letter, René mentions Dr. Frank Gerbode (shown above, standing at right) and "the Gang-Greene" — the surgical team led by Dr. Wally Greene, shown seated at right in the officers' area at  Tiefenthal, Germany. Also shown (seated at left) is Dr. David Waugh.

René also mentions Dr. Roy Cohn, who along with Frank Gerbode had set up their new area at Tiefenthal.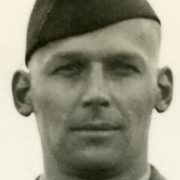 No letter from René on April 1, 1945. Here's an excerpt from the journal of Dr. Philip Westdahl about the conclusion of their 75-mile journey to Tiefenthal, Germany.

---
---



As we drove through the Saar toward the Rhine, we could feel the hostility in the air. The German men, women and children on the streets paused to stare at us with a hateful glare in their eyes, while others went about their business with an air of arrogant indifference. They did not have the appearance of a defeated people. Our problem in dealing with them will not be over when the last shot is fired in this war. It will continue until the last vestige of Nazism and Prussian militarism has disappeared, either by re-education or eventual dying out of those in whom it is inbred, and that group includes the children who have known nothing but Nazi teachings. Until that time we must deal with them severely but justly. Our purpose must not be one of revenge in this war, but of prevention of another.

The Saar territory is truly beautiful country. Vast stretches of fertile rolling hills and valleys, well cultivated. Irregularly scattered throughout the fields were German slit trenches, recently dug in their frantic retreat and defense, and already being filled in by the German men and women working in their fields. Incidentally, these people were all in the elderly age group, gray headed and bent over.

Our captured and wounded German prisoners told amazing stories of their retreat during the past week. They were ordered into Army trucks by their overbearing and desperate officers and dashed several miles further back into German territory and dumped out again in the middle of the night to dig their fox holes for another stand. They moved always at night to avoid strafing by our planes. The German townspeople and farmers begged them, and sometimes threatened them, to move on and not defend their town or farm for fear of bringing destruction upon it. White flags replaced the Swastika hanging from house windows.

At Kaiserlautern we first came upon one of the famous "Reichsauto-bahns," the Nazi super highway built by Hitler early in his career for purely military purposes. Little did he realize that it would some day be used so effectively against him; our tanks and trucks and other equipment are pouring over it in continuous streams day and night. The highway is a masterpiece of engineering. It consists of two lanes separated by a strip of grass, one lane for each direction of traffic. Each lane permits about two large vehicles abreast. They are constructed of concrete and are as smooth as glass. There are no crossings, the few intersections being underpasses. The highway extends for mile after mile, and in the region between Kaiserslautern and Grunstadt it runs through beautiful forests and farming land.

.

Watch for René's next letter on
April 2, 1945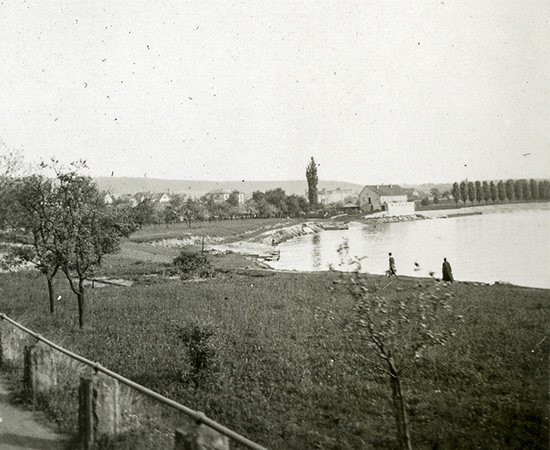 Phil Westdahl describes the "truly beautiful country" their convoy is driving through.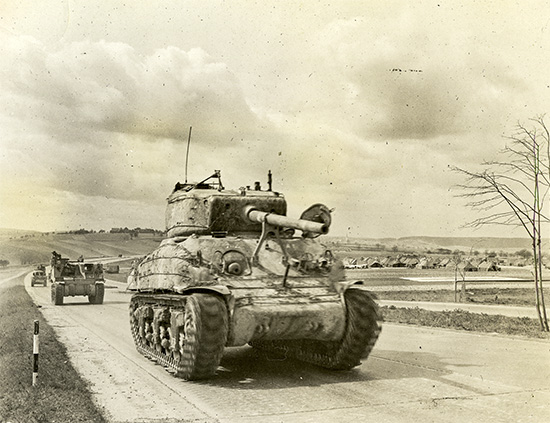 A tank and other vehicles on a section of the "Reichsauto-bahn".

April 2, 1945
Tiefenthal, Germany
No. 25

Dear Folksies,        
            The day after my last letter, things slackened off for us and we knew that some of our friends must have played leap-frog with us, as we had done with them just a few days before. As x-ray was quiet as a mouse, I developed 6 rolls of my film and 4 of Gert's. Now will have to go into production and do some printing of my pix. The one of Jeanne & Lilice together looks like a prize, and the one I had Wy take of me with the new jacket before taking off for Nancy looks O.K.
            We've been having company in our tent the past couple of nights. You see, there is a Recreation tent, but it is big and cold, and since the guys are not allowed in the gals' tents, the reverse is O.K. One night Helen Nelson and her C.O. and exec were here, along with Hattie Myren's friend Bill Dunn (Provost Marshall for this Army), who is a swell guy. Another night was a Red Cross Public Relations team made up of a photographer by the name of Al Taylor and a reporter by the name of Isabella Millier. The former just left the U.S. a matter of a few weeks ago, but the latter was over in England for some time and in France for several months. Polly Scholder brought her over and it turned out to be an interesting evening. Polly, the two guests, Jack, Gil and myself just sat around and for the most part listened to Miss Millier talk.
            It turned out that she had known Polly slightly before coming overseas, coming in fact, from Los Angeles where she had worked on the L.A. Times for a few years. We had a lot of fun listening to her for she had some choice expressions and a way of describing things that was different than any we had heard for a long time. One that we all howled at was the way she described the Dijon gin that was rationed out some time ago – saying it was like the "aroma of a hot and crowded night at Ocean Park".
            Yesterday, didn't do much of anything – snapped a few pix of the area when the sun came out for seconds only at a time, and did some reading the rest of the day.
          We're just off what we have christened "Hollywood Blvd." tho' some call it "Wilshire" "The Harrisburg-Pittsburg Highway", etc.  It's some highway — a divided one that doesn't go thru any of the cities or towns though there are various "ausfahrts" that one can take to get to the towns.  In the middle of the division strip sits our big sign. One can sure tell this is a California outfit by that sign. No other outfit has one quite as big nor have they been able to put theirs in such a conspicuous spot.  It's just like one of those roadside signs advertising a hot-dog stand or a drive-in.  In fact, Jack has suggested that we place signs up and down the highway, a la Burma-Shave, saying "Do you"– "have hemorrhoids?" — "have nasopharyngitis?" — "have measles?" — "have hepatitis?" — "have gonorrhea?" — "Stop at the 59th!" — "Service in your vehicle!" — "By 51 beautiful American girls!" — etc., etc. 
                         Loads of love,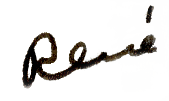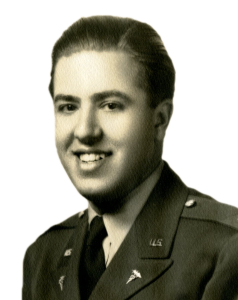 .
Watch for more of this letter
April 3, 1945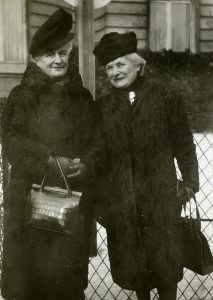 The X-Ray Department was quiet, so René had the chance to develop and print some photographs, including the one of French relatives Lilice Baumann and Jeanne Salomon (above) and one that Wy Wyzogski took of him in his "new jacket" (below).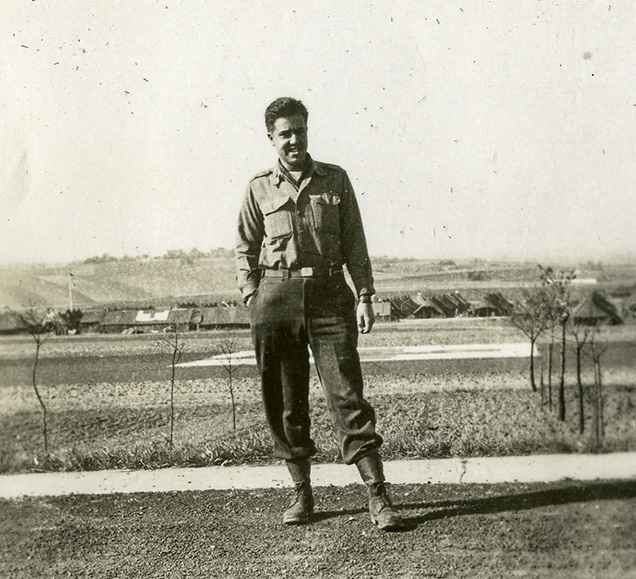 Someone (not René) took this picture of the nurses in their Easter Bonnets.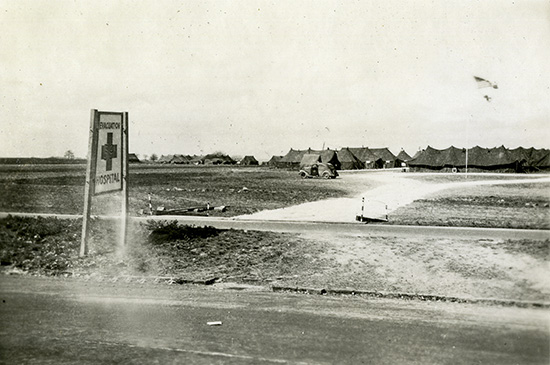 René's caption for this photograph reads, "Entrance from the autobahn (super-highway)."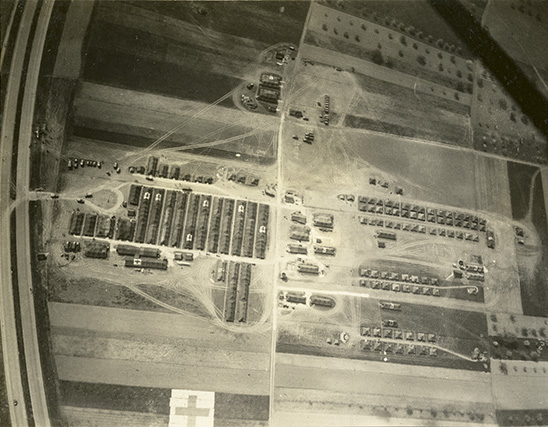 View from the air of the 59th's tents next to the autobahn near Tiefenthal.

April 3, 1945
Tiefenthal, Germany
No. 25 (continued)

Dear Folksies,        
        Strangest coincidence to occur as far as anyone in the outfit is concerned, is, I think, the one that happened to my friend Davidson about two weeks ago.  He's the one, you will remember my telling you about, who used to be General Patch's driver in the U.S. when the latter was Lt. Colonel, and when our Col. found out about that he made him his own driver. 
         Well, after we had moved out of the area where we were in with that other outfit (the one we had shocked on New Year's Eve) Davy had to go back there for some reason or other.  He was there at noon time, so he went into this other outfit's chow line before heading back.  Davy being from the South, whenever he hears someone with a southern drawl, he always asks them where they are from in the hopes that he might meet someone from near his home town.  Anyway, in the chow line he did hear someone saying "you-all," so he asked the kid where he was from.  When the kid said he was from Virginia, Davy said, "Where in Virginia?" and when the kid mentioned the name of the town, Davy said, "Why, that's my home town!  What's your name, fella?"  To which the somewhat be-whiskered 19-year-old replied, "My name's Davidson, I'm your brother!"  You can imagine Davy's surprise for he had last seen the kid when he was barely 16 years old, and hadn't even started to shave.  And tho' Davy knew the kid was in the Army he had no idea that he had come overseas as yet.  Top that one for coincidences if you can! Apparently the kid recognized Davy after the first question, but Davy hadn't the slightest idea that the fellow would turn out to be his brother!
        Just after supper when we started evacuating patients to an outfit along-side an air-strip, I decided to take a ride with the ambulances to see what I might see. And, I saw it! Passed an outfit I knew, so decided to find out if Lynn was there…and he was! Was sorry I hadn't known he was so close earlier in the day, for I could have spent the whole day there with him. I did have, however, an enjoyable, tho' short time with him. Incidentally, Lynn looks fine, in case any of his family are interested….
        Bob Escamilla left yesterday. He will undoubtedly call you up when he arrives in S.F. He gets 45 days home – the War should be over over here by then. Sewell is now acting Chief of Medical Services.
        The Old Man again took off to visit his son – this time at the tip of the Western Front. His son had humped across up there and the Old Man was worried about him till he located his gang by phone and then managed to get away to see his boy. Quite a long jaunt, which almost ended disastrously when an artillery shell landed mighty close to their jeep in one sector when they were closer to the firing than they realized.
                         Loads of love,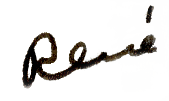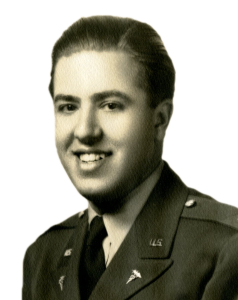 .
Watch for the conclusion of this letter
April 4, 1945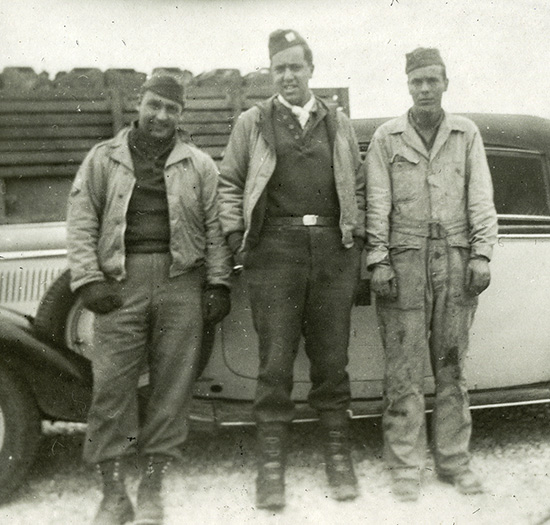 René tells his parents about the "strangest coincidence to occur as far as anyone in the outfit is concerned," that "happened to my friend Davidson" — referring to John Davidson, pictured above at right. Also pictured is Clint Greene (at left) and René (in the middle).
April 4, 1945
Tiefenthal, Germany
No. 25 (conclusion)

Dear Folksies,        
            An interesting P.O.W. patient the other night, who surprised us all by starting to talk in excellent English with all the high-school language trimmings.  It turned out that his story was that he had lived for 15 years in Springfield, Mass. (He's only about 20 now.) that his father had gotten pneumonia and after he had recovered had been advised to get away and take a trip somewhere for a rest.  So, the father had come over to Germany (his Fatherland) and while over here again got pneumonia.  As he was expected to die he sent for his family (wife, son and daughter) and they came over in a hurry, just at the tail end of '38 or the beginning of '39.  The father didn't die right away and before they knew it they were stuck over here.
            The kid went to school and thus stayed out of the army until last year, when he was pulled in, and after a short induction period, was put in an officer's training school.  He had just graduated as a cadet officer and was in his first day of combat when he was captured.  And he was mighty happy to have been captured and also to have gotten off so easy.  He said, but knowing the Germans and the stories we have heard from them in the past one takes them all with more than just a few grains of salt, that he was supposed to be firing on an American tank, but instead he wasn't even aiming at the tank and purposely made his bazooka backfire and thus sustained the burn for which he was hospitalized.  He told us that the thing he missed greatly over here was the inability to go down to the corner drug-store and get a milkshake or a package of gum anytime he felt like it.  They just don't have those things over here, he said.
            The wind has really been blowing today — had to get out and tighten up all the ropes on our tent and dig in some more pegs, etc. for fear the whole thing would take off and join the planes overhead.  Of course, being on the top of a hill gives the wind an excellent chance to work us over, but so far I haven't seen any of our tents go sailing.
                         Loads of love,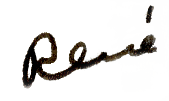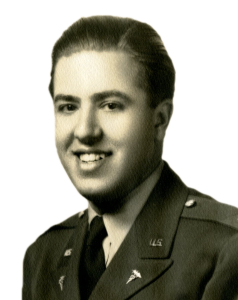 .
Watch for my next letter
April 5, 1945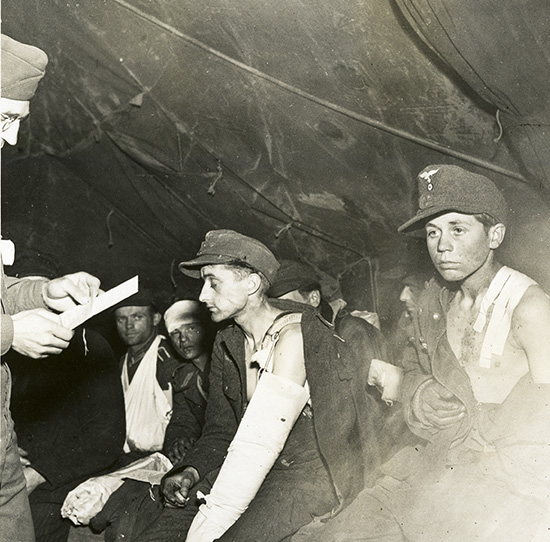 As René mentions in his letter, being in tents poses some challenges – especially when the wind is really blowing.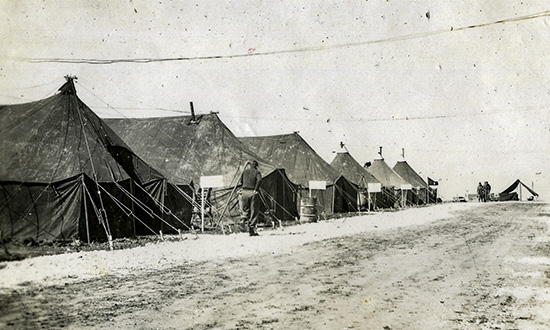 René's caption for this photo of tents reads: "Administrative Row."

April 5, 1945
Tiefenthal, Germany
No. 26

Dear Folksies,        
            Weather has been miserable around here the last few days and one never knows if it is going to rain one minute to the next. Luckily this ground absorbs the water well so that we haven't particularly been bothered by mud, anyway the rain hasn't been prolonged or hard at any time tho' the wind still continues to be an annoying factor.
            Have had quite a little work to do in the past few days, but nothing particularly pressing. For example, when we were on first call the last two days we worked most of the time and it was only for a short spell that the second team had to be called out. Today helped Wally and Carroll clean up a bunch of stuff on the ward, practically all Krauts.
            Mattie, Gerbode and the Old Man visited Heidelberg yesterday and, Frank said, they saw some of the people that Mattie knew when he had been there studying some years ago. Apparently the city is not damaged except minimally. Hope I get a chance to get over there sometime too, just to see the spots you have always talked about in the past, Dad.
         The gang are now going in for a new sport — deer hunting!  Of course, several of them have done a lot of hunting back home and they really have gone wild over here, particularly Paul, Mattie, Waugh, Chuck and a couple of others.  This area is apparently just filled with deer, a different species than we see in the U.S., most of them being smaller I believe. The boys have had good hunting and it is intended that we have considerable venison at the mess one of these nights.  They managed to get some German guns, not Army guns, but civilian hunting guns that had been confiscated by the Civil Affairs outfit, and from the results they have been having, the guns must be O.K.
            Probably will be hearing comments from you re: the article in the Saturday Evening Post entitled "Shock Nurse." How the glamour gal of the 27th got her pix in that article, which was all about another Evac, I know not. There sure were a lot of funny statements in that article. We run our "shock ward" differently than they do in the Evac. mentioned in the article. Our shock has, instead of the meager 20 beds they have, 50 beds. We use ours solely as a pre-op shock ward, whereas we have one other ward for the seriously ill, which consists of 60 beds and has all the bad cases, including all the brain cases. Not a pleasant ward to work in by any means…
            Dad, I'm glad to hear that S.F. has been kept cognizant of the 7th, at least of late. After all, particularly in this last month when the maps suddenly had to show a big portion of Germany suddenly becoming Allied territory, including that "impregnable" Sigfried Line, everyone had to realize there was a "7th".
                         Loads of love,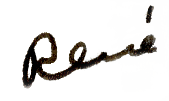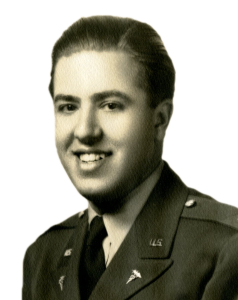 .
Watch for my next letter
April 8, 1945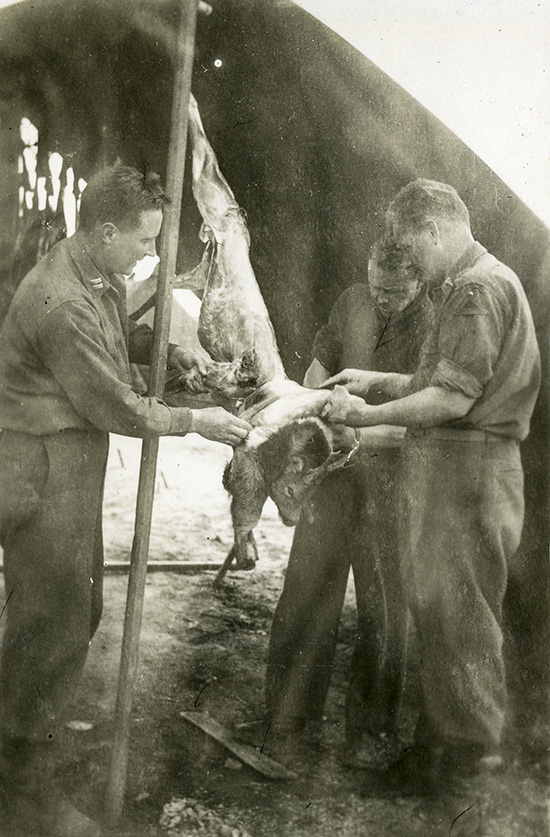 Chuck Schwartz, Paul Stratte and Bret Smart (left to right) after their successful deer hunting expedition.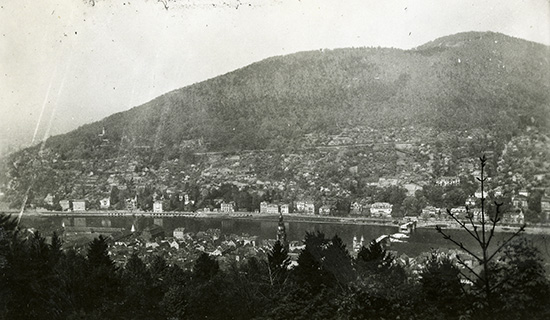 As René tells his parents that Mattie (Carleton Mathewson), Gerbode (Frank Gerbode) and the Old Man (Colonel Bolibaugh) visited Heidelberg — shown above.