June 12, 1944
End of No. 28

Dear Folksies,
           The next day we heard the Invasion [D-Day Invasion of Normandy] had started and were sort of griped to be sitting here and being attached to another bloomin' Base Section again. We are supposedly a part of another Army in another section, but so far that army hasn't shown any signs of doing anything.  We had a big pool on the date of the invasion and I missed it by only a few hours, having bet on your birthday Dad.  If the weather hadn't been bum and delayed the invasion 24 hours, I would have won the $167 we had in the pool.  Hope everything goes all right up there in France!  It would sure be nice, though damn near impossible, if things went as well there as they have been going here in the last week.
          That day we ran into numerous friends in our vicinity, including Leon Michels. He looked fine, well-fed and healthy. Two days after Rome had been taken, Leon and I took off starting out just to see a nearby town.  But we got a ride from a fellow who was going up near Rome, so naturally we couldn't refuse the invite and had quite a ride, but succeeded in visiting there for just a few hours.  A few of the other guys managed to pull the same trick the next day.  We didn't see the Vatican, but managed to cover quite a little ground, seeing the Coliseum, the King's palace where Mussolini has held forth and fifth.  We bumped into some other medics whom Leon knew, and found that they had walked into a German Hospital while the Germans' food was still on the tables in their officers' mess.
          We had a good meal in one of the best restaurants in town. That place is certainly in marked contrast to anyplace that we have so far been. The city is clean, not damaged at all, people are clean, clothes washed and they are clothed, even the kids; no beggars or street urchins.  It was all rather amazing to see.  I wish we had more time to stay there.  There were two parades going on while we were there, one by some Scottish Highlanders band and one by an Italian Army band.  Quite the stuff, eh? Bumped into some friends we had known at Ft. Ord, Lewis and other points.
          We have been mainly acting as a transfer station, more than anything else, but have had a few first-hand things to do. I was working with Roy and Russ Klein on the critically ill surgical ward, but tomorrow am shifted to a medical ward. I'm plenty mad, but they do not have enough business to warrant another officer there now. That's why I've taken time now to write – to hell with the ward!
          We had two good U.S.O. shows here in the last few days — before we really got going.  They were the first shows in this area despite the many months that outfits were here.  Of course, they may not have wanted them here because that would mean large gatherings, which would be dangerous, and anyway they really didn't have the time for them.  I saw Marlene Dietrich, who was no good, but the Master of Ceremonies, Danny Thomas from Chicago, was very good.
          The other show was far better, it was excellent in fact — put on by a New Zealand U.S.O. outfit — a rather large group, very good band, fancy drapes on the stage, good sets, and the prize finale: an opera take-off with fancy costumes, swords, the usual non-understandable rigmarole, and the usual final death scene. They all died!  Means of self poisoning: Atabrine!
          I had quite a talk with Bert Halter. He may possibly be going home on the rotation deal. His mother is dying. She had cancer of the uterus removed a year ago, but just recently developed a cancer, primary, of the sigmoid. The hell of it is that Bert might get home alright, but then it might be too late and then he would regret having gone back. He is still up in the air and so are the papers on his rotation.
                                                                                         Loads of love,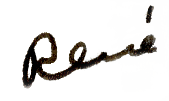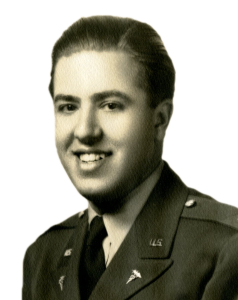 .
Watch for my next letter
June 13, 1944

René got a ride up to Rome and while there, he visited the Coliseum.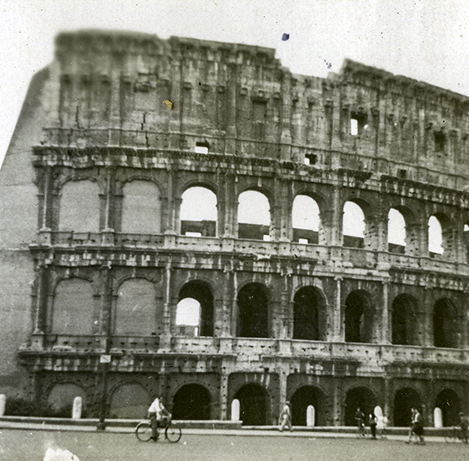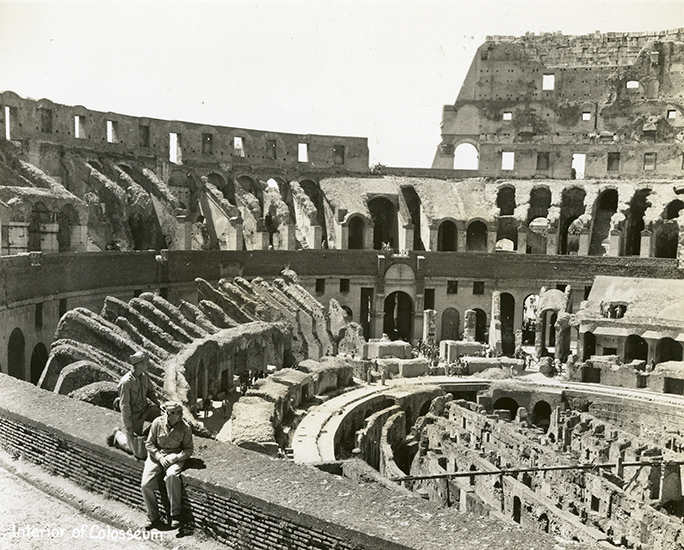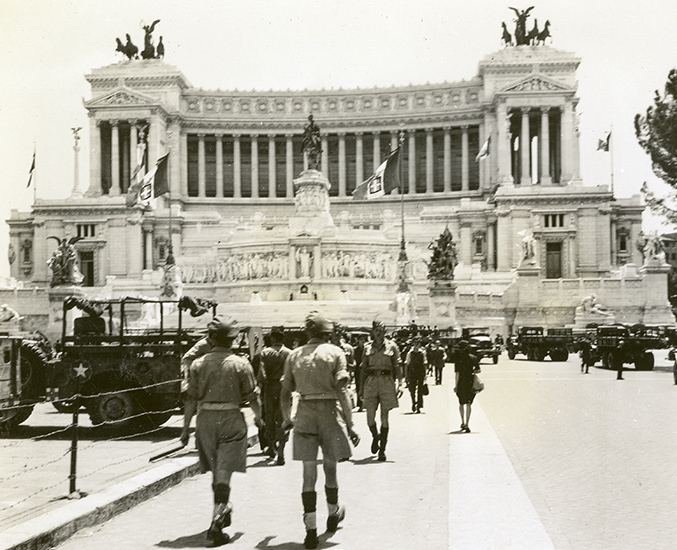 He also saw the palace of King Victor Emmanuel.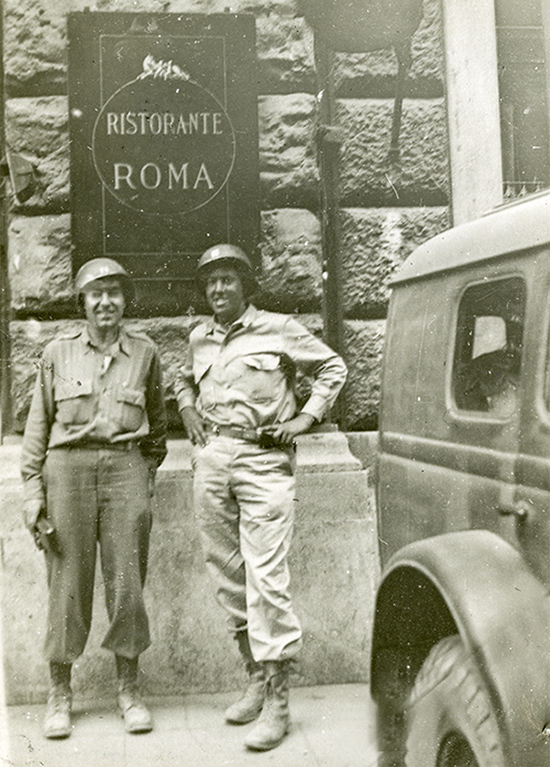 René (pictured above on the right) had "a good meal in one of the best restaurants in town."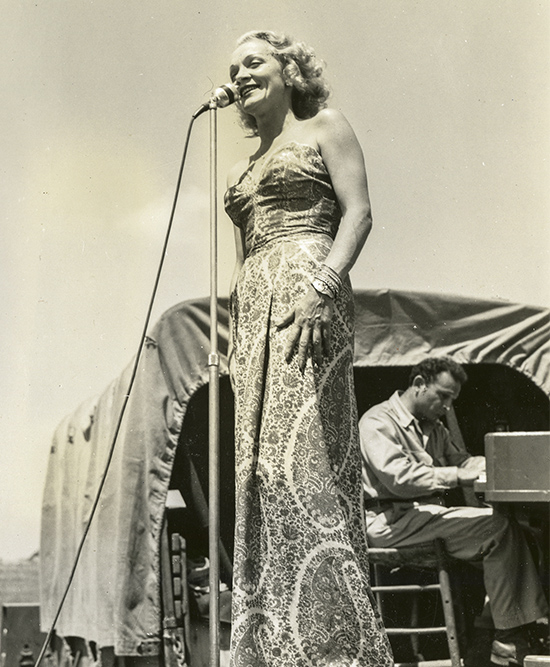 Back in Anzio, René saw Marlene Dietrich in a U.S.O. show. (above)
And, not to be outdone, the 59ths own Sargeant Sateja did his Carmen Miranda act (below)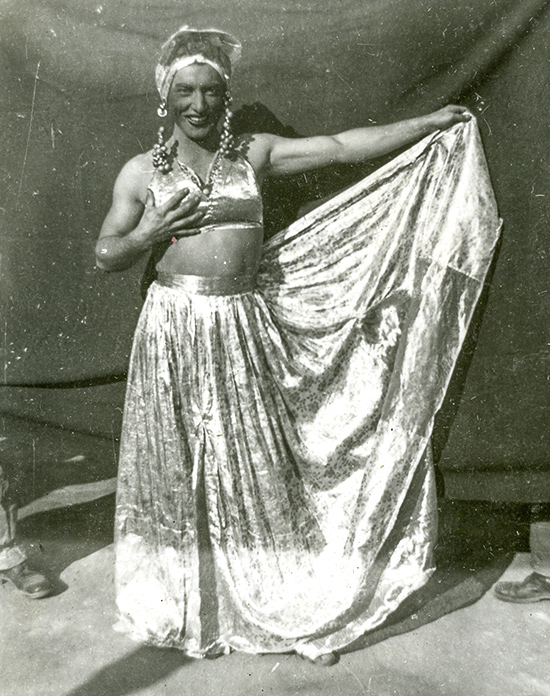 Click here to add your own text
June 29, 1944
No. 33
Anzio, Italy
Dear Folksies,
            A few days ago I had an opportunity to travel to Rome for a visit as Don Vallar had to go up there to pick up some things and the Old Man O.K.'d someone else going along.  Morduant went also sort of half and half on business and we had quite an enjoyable time.  We walked around the city a great deal, saw the muddy Tiber, and visited the Vatican.
            We had lunch with some of our former Sicily friends — intelligence guys — and then went to St. Peter's Cathedral.  What a joint that is!!  It certainly is tremendous and very beautiful with its mosaic copies of Michelangelo's paintings (the paintings being in the Sistine Chapel which was closed to visitors), its gold ornaments, columns, etc.  The statues, like all of Michelangelo's works, are very life-like with perfect anatomical shapes, as our guide repeatedly pointed out to us.  Incidentally, we were rather unlucky in the choice of guides, for the guy that picked on us was 73 years old, and had been a guide there for some 60 years.  His English might not have been too bad, but he had difficulty with any language — whether it was his false teeth or what, I know not, but in his halting, hissing and sputtering way, we managed to understand about 25% of what he was trying to tell us.  Some of the other guides we saw, of course, were considerably better — some left over from the Old Cook's Tour times. 
            When one looks upward toward the dome from the inside of the Cathedral one is amazed at the height of the building, but when one goes to the top and looks down, then one is even more stupefied by its height.  Looking upward into a cone it doesn't look nearly so high as it does when looking downward from that same cone.  Yes, we were foolish enough to go to the very tip-top, not quite realizing what a job that climb actually was.  One has to go round and round the circular staircase until, when the top is finally reached, one is so dizzy that he continues going around and around on the level top.  At the start of the climb one is rather deceived, for the steps were inclined gradually so that the height of the individual steps was no more than four inches.  But then, suddenly, all that changes and you are climbing up precipitous steps in a very tight and rapidly ascending circle.  In fact, near the top you had to walk bent over sideways at a 45 degree angle to conform to the shape of the dome.  We managed to get some pictures taken from the very top and sure hope they come out O.K., for they included the Tiber, the Vittorio Emanuele Monument, and most of Rome in them.
                                                                                        Loads of love,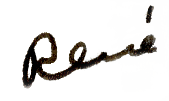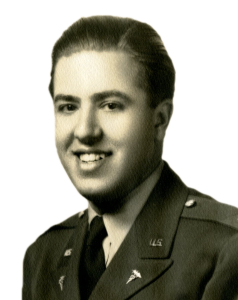 .
Watch for the conclusion of this letter
June 30, 1944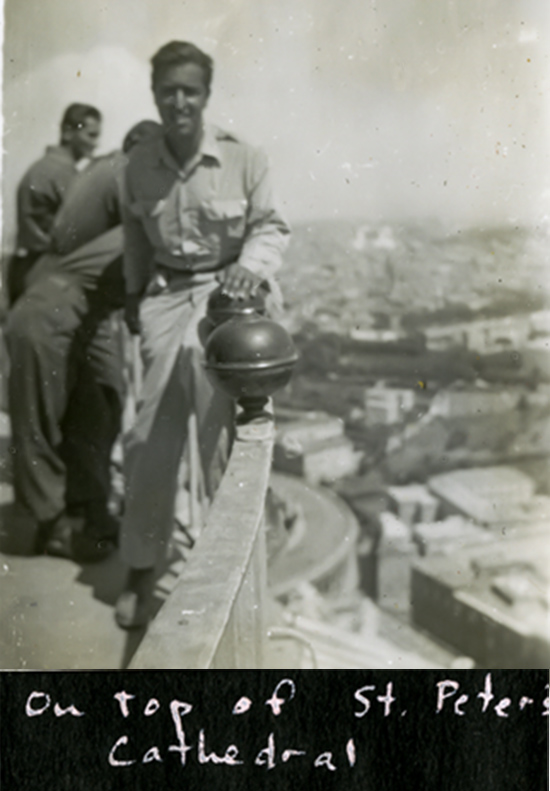 René tells his parents that a few days earlier he had the opportunity to travel to Rome for a visit – including going to the top of St. Peter's Cathedral.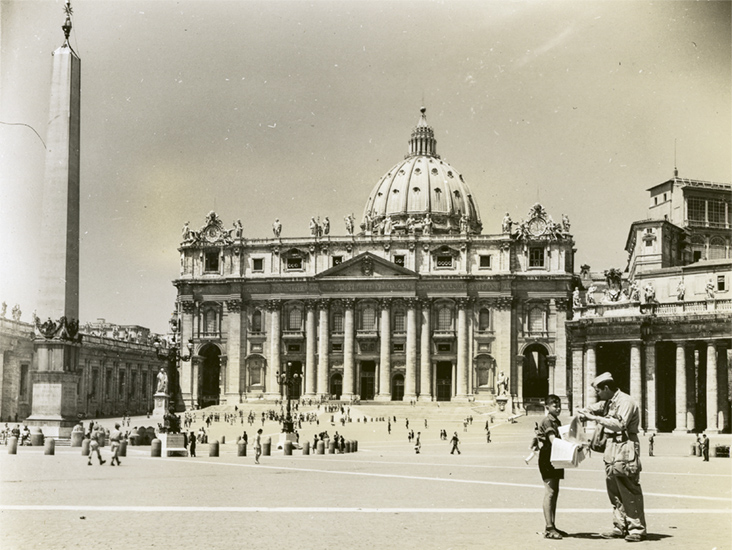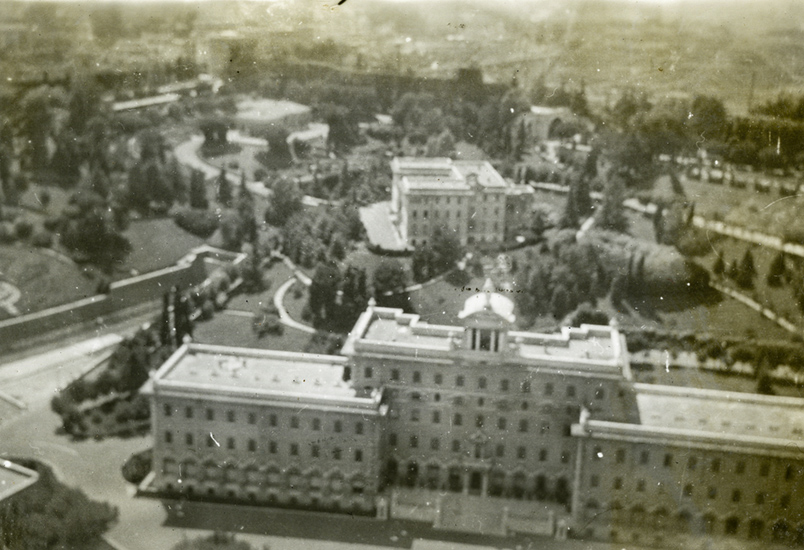 View from the top of St. Peter's.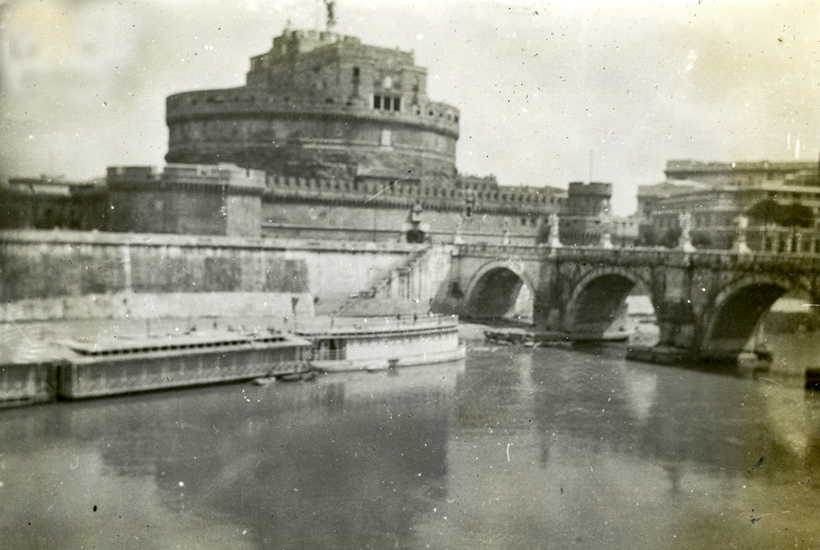 The Tiber River and Castel St. Angelo.

Click here to add your own text
July 2, 1944
Anzio, Italy
Dear Judy and Dave,
            For the last month I have been meaning to answer your very swell letter of May 9, which I received just before pulling stakes in Sicily and heading for this considerably fairer country.
            Sicily really wasn't too bad, despite its filth, squalor, beggars, etc. I managed to take a couple of trips around the Island accompanying the enlisted men, and saw most of the sights, but, by golly, give me California or, in fact, just give me Palo Alto, Tahoe and Yosemite and you can have the whole rest of the world!
            Italy, we have found, is considerably better than Sicily in many ways. Where we were first situated here, the countryside was very nice and in fact was reminiscent of the Los Gatos-Saratoga area. Now, however, we are a bit more exposed to the elements – trees only in the distance, but are luckily kept somewhat on the air-conditioned side by a mild breeze coming off the water.
            Rome, which I have been lucky enough to visit on two occasions now, was very fortunate in being only very, very slightly hit by bombs or gunfire, and that only in the very outskirts of town. In fact, there was no closing down of shops at all – -they were all functioning the first day that the Americans walked in – far different from the situation when we arrived in Sicily, for there it had taken weeks and even months for the people to even come out of the hills and back into town.
            Different too, from Sicily, are the things that they have for sale – whereas in Sicily they had practically nothing but hand work, linens, jewelry, etc., in Rome they had everything from the little things to luggage, hardware, furniture, etc. In fact, the large department stores (of which they had no such thing in Sicily) that they have seemed to have quite a stock. The Germans apparently didn't have time to take much with them from there.
            I visited St. Peters Cathedral and the Vatican and was duly impressed. But the Tiber was quite a disappointment for me.  If it were a clean river, it would undoubtedly be very pretty, but it is worse than the Mississippi, just as muddy as can be. But, by golly, the Italians do a lot of swimming in it, and right in Rome, too.  In fact, they even have houseboats and boat-houses on the river right under the bridges of the city, from which they do their swimming.  Not for me, thank you — it's got to be blue before I do my swimming!
            Outside of the Cathedral, the most impressive building was the Vic. Emanuel Monument, which is of a beautiful white stone and stands out all over the city. It looks down, too, on the balcony from which Mussolini did most of his screeching. The Coliseum, too, is rather an interesting spot.
            When first in our present spot, I bumped into Dad's ex-assistant, Leon Michels, and my first jaunt to the big town was with him, not too long after the place had been taken. 'Twas quite an experience. The people were jubilant and wanting to invite the soldiers and officers into their homes all over the place. They were mighty friendly. Now, however, some of that has cooled down and they are out to try to sell all they can at the highest prices they can.
            We are once again in tents, but actually it is sort of a welcome change – something to break what had become rather an appalling monotony back in Sicily. We'll never again have as nice a set-up, but after all, if we could keep busy we'd be satisfied in any set-up – it's only when not busy that one has time to complain about things. The only bad feature here at the moment is the sand that won't stay settled, despite the occasional hot rain, and all our clothes, our sleeping bags, and at times, our food, becomes well saturated with the sand. Actually, we moved right into some of the tents that another outfit left on the spot for us, when they moved out. We gave them tents in exchange for those they left standing for us, and we set up right over the same dugouts that they had been using for some time. See—we're still rear stuff!! Damn!!
            I'm hoping to be able to get another trip to Rome sometime in the not too distant future, as Irving Berlin's "This Is The Army" has been playing there, so we are told. Also Jascha Heifitz is supposed to be there soon.
            I enjoyed your letter greatly – in fact more than any letter I've had in a long time. It was so newsy and just like you two that it brought back swell memories.
                                                                                        Loads of love,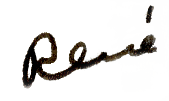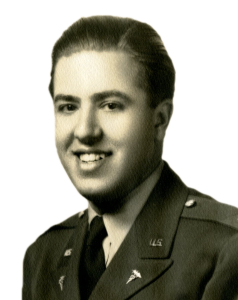 .
Watch for my next letter
July 4, 1944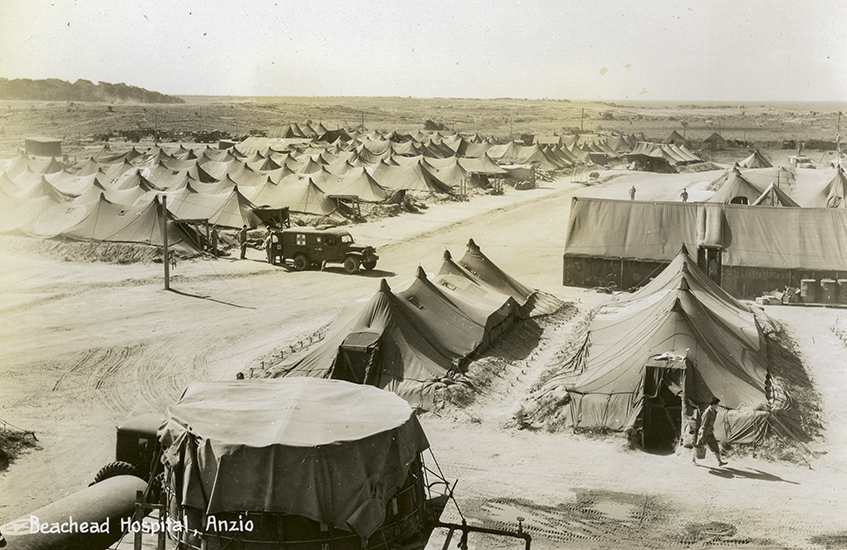 René tells Judy and Dave about the tents they are living in on the sand.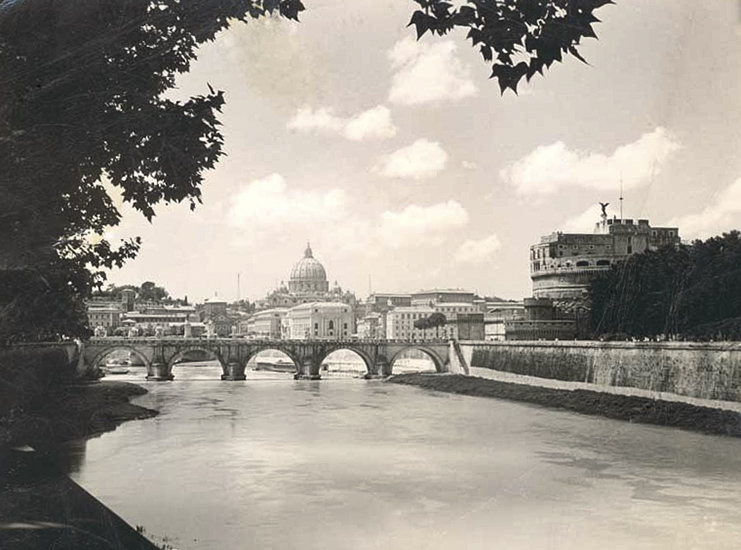 He also tells them about the sights he saw in Rome on his two trips – including the Arno and St. Peter's Cathedral (above).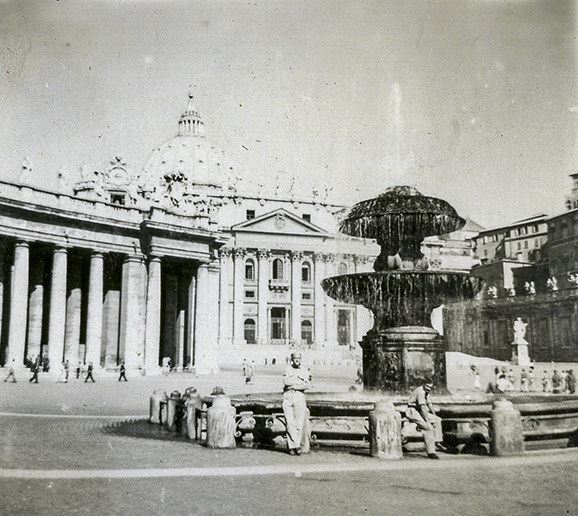 In front of St. Peter's Cathedral.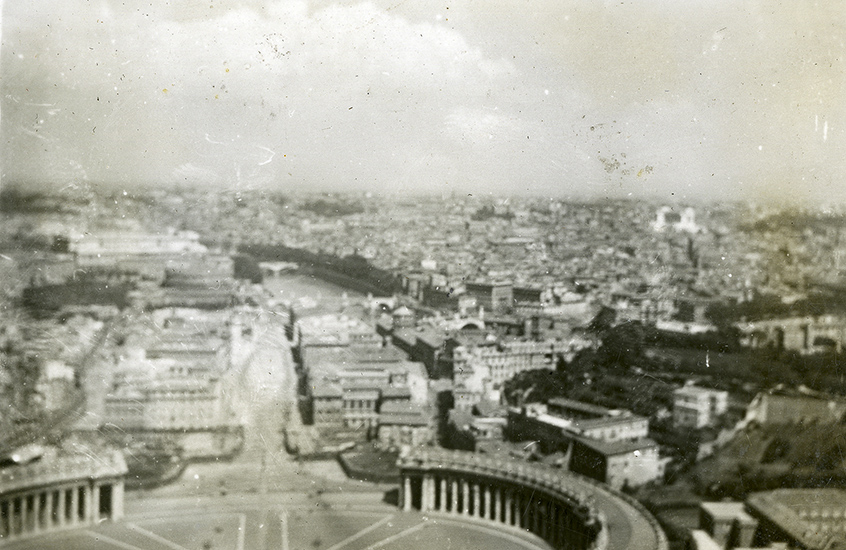 View from St. Peter's Cathedral.

Click here to add your own text