September 22, 1944
Rioz, France
No. 52 (continued)

Dear Folksies,
       The last few mornings I have been trying to catch up on the sleep I missed pounding the highways.  I wasn't actually so tired, but my eyes were rather sore from doing some typical California Skyline Highway driving at night — yep, fog!  There was so much fog that the only decent (and yet not really decent) way to move along was to ride with the windshield of the jeep fully up.  It was a bit wettish when the fog was mixed with rain, which was much too frequent for comfort.  Actually, the way the jeep is made I doubt if there is a colder vehicle, other than a motorcycle.  You're cold all over, even under your seat, so you can imagine how it is with the windshield up.  Another thing that is a little inconvenient is that they did not put automatic windshield wipers on them — the only Army vehicle without them.  So you can picture me driving in the dark, in the fog and rain, trying to make fairly decent time, and using one hand on the wheel and the other on the wiper — shades of trips to Tahoe before 1923!!
       Did more 2-1/2 ton truck driving – in fact considerable – but this time I was a jeep man mostly. The Col. and Capt. Jones had quite a disagreement about two weeks ago – the Col. objecting, right-fully, to Jones' extended trips around supposedly with requisitions. Jones is O.K. but he pulled a lot of things that he shouldn't have, and now he's going to be leaving. The Col. put him on a restriction so he cannot leave in any vehicle without first having the approval of the Col. Anyway, that was one of the reasons I was jeeping it – Fadley had one jeep and I had the other, while Roy had the 3rd at the new spot.
       Collie was with me for some of the time and we stopped by the side of the road in one little town for our supper of "K" rations.  We got a big kick out of the little girl who came out and was amazed that we were eating our meal without any bread and without any wine.  She was so flabbergasted that we could do such a thing, that she went around to all the French people who were around, telling them what remarkable and rather foolish people the Americans were as they eat their meals without either bread or wine.  The way she put it it just about sounded as if it were a treasonous act.  Of course, when bread was brought out by the little gal's mother, we couldn't rightfully refuse it.  We were surprised she didn't bring out wine also, but we had a little stove and had cooked up some hot bouillon, so were plenty satisfied.
                                                                                        Loads of love,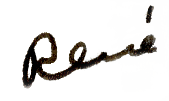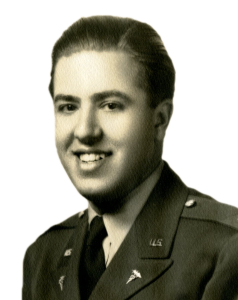 .
Watch for more of this letter
September 23, 1944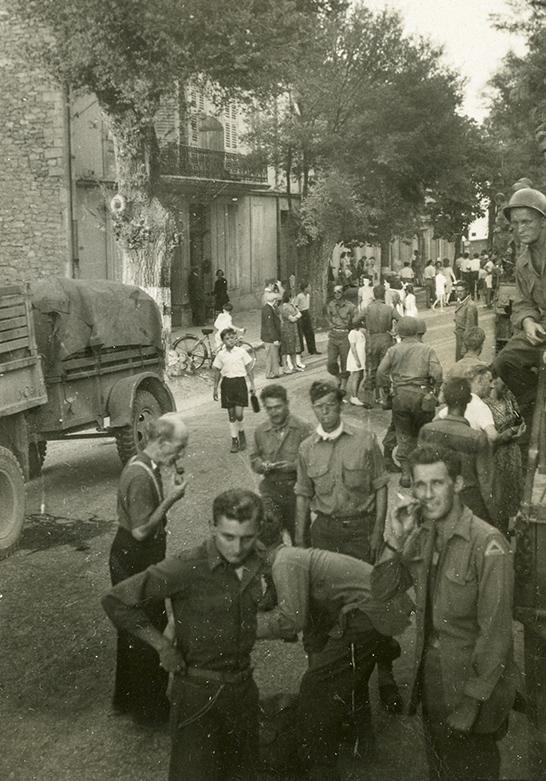 Convoy from Carpentras to Rioz.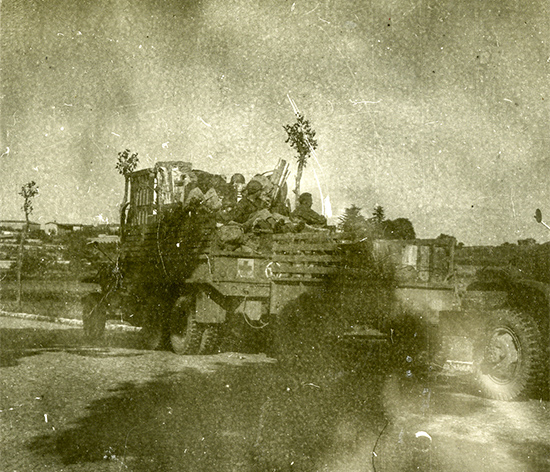 September 23, 1944
Rioz, France
No. 52 (continued)

Dear Folksies,
           I have seen some spots that are truly amazing.  I never thought that the sight of destruction would be a swell sight to see, but the places I saw were just that — for the wreckage was not of buildings in the towns, but wreckage of nothing but enemy vehicles and trains.  When you see enemy vehicles lined up bumper-to-bumper along long stretches of road and see trains nearby wrecked in similar manner (charred so that none is any good except as metal) with several railroad guns in a single stretch, it shows what our strafing planes can do.  It also shows the men that they have just that much less of the enemy equipment to contend with in their progress toward Berlin.
            Have been glad to see that only a small number of the towns and cities have been damaged much.  On the whole, to date, they haven't had it as bad as I expected them to have it.  I thought there would be many a small town flattened, but they're all in pretty good shape.  As the battle gets stiffer, however, I imagine that the towns in the way will take more and more of a beating.  But the Nazis seem to be just about backed up to their own border so that it will be their towns that take it on the chin rather than France and the other countries that Germany had occupied.
            Have seen a lot of places in the last week, but unfortunately haven't had time to stop long enough for more than a fleeting glance around me. Golly, I can see now how people could come over for a visit to France and decide to stay longer and longer.  What beautiful country I've gone through in the last week!!  I was amazed — beautiful sweeping green fields, poplar trees along the highways, excellent roads and typical, cute French villages along the highway and nestled against the mountainsides in wide, colorful valleys.  Have seen some breathtakingly beautiful scenes alright! 
           Another feature that makes this country so pretty is the plentifulness of rivers — real, honest-to-goodness rivers with numerous tributaries.  These rivers are not like those flowing mud-holes of Italy, but are clean, wide, and crossed in numerous spots by picturesque and efficient bridges (efficient except in the middle where one invariably finds a section blown out — however, rapidly repaired by our engineers).  At one point I could see six different bridges crossing the same river at different levels, and there wasn't a one that didn't have a whole section out of it.
                                                                                        Loads of love,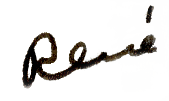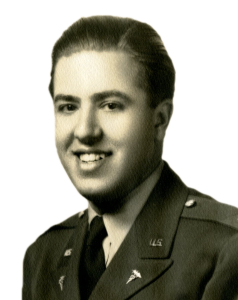 .
Watch for more of this letter
September 24, 1944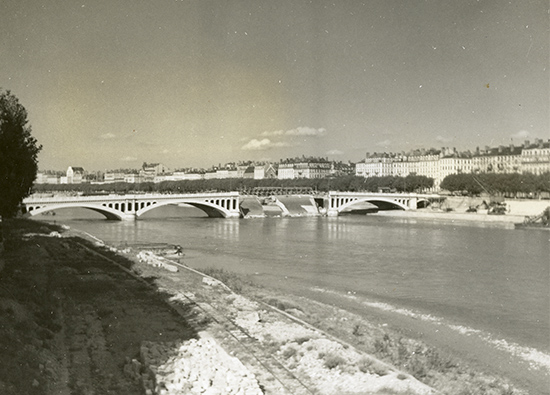 René told his family that a "feature that makes this country so pretty is the plentifulness of rivers — real, honest-to-goodness rivers." Shown above is the Rhone River with Lyon in the background.

September 24, 1944
Rioz, France
No. 52 (continued)

Dear Folksies,
          This kind of country would be, and probably was, wonderful golfing country.  There were so many spots I passed that would have made wonderful golf courses that I was all for starting one.  The funniest thing in that connection, however, was at one spot where I said to Collie that the area on our right would make a swell course.  He said, yes, and by golly, there was a good spot for a tee, high above a grassy spot.  I agreed and then pointed out a place that would be a good bunker and a trap.  Then he countered with a marshy spot for the golfer to lose his balls in.  And then, to our amazement, up popped a building and we realized that the place had actually been a golf course and would take little to put it in A-1 shape again.
            The spot we're in is nice and when the sun shines we have a swell view of the surrounding rolling countryside — miles of green, fertile fields with the farmhouses scattered around.  I can't say, however, that we are any too happy about the weather.  Remember the pictures of the soldiers slushing through the mud of France in the last war?  Well, we can now sympathize with them.  As a lot of the boys have been saying, their fathers told them that there would be days like these in France, but they didn't say that there would be so many of them!  Yes, it's a bit on the slushy side at times. 
          In fact, the outfit that Lynn Rudee is in set up in a nice field only to wake up and find that their shoes had floated away — as they set up in what was more or less a river-bed.  We're on a slope, so everything drains from our place down, instead of just into our own area.  The ground, however, never dries up, particularly the ground under the tents — it's moist all the time, even after hours of sunshine.  Thank goodness for boots!  They're the only type of shoes to wear these days.  Everyone has found that out — even the nurses are trying to fix up their high-shoes with extra tops to make them into boots.
            You know how wonderfully cool the white surgery uniforms are?  Well, you can imagine how breezy they are in this cold weather!  I've been forced to wear woolen longies (uppers and lowers) under the surgery suits and then still feel a bit coolish.  Now we have stoves in some of the tents — surgery, shock and receiving and x-ray.  The only trouble is that you have to be fairly close to be really warm — but they are a big help.
                                                                                        Loads of love,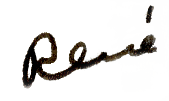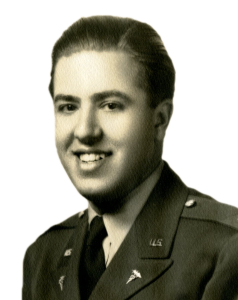 .
Watch for more of this letter
September 25, 1944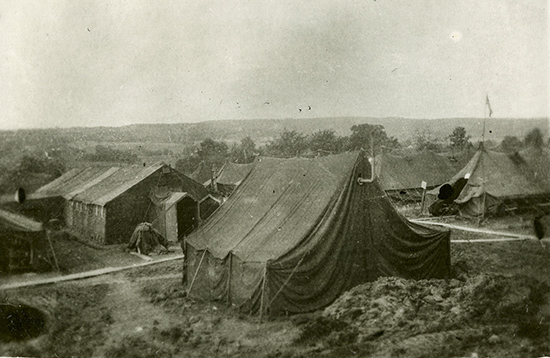 René captioned the photograph above of the cast room and surgery tent "Mud and More Mud."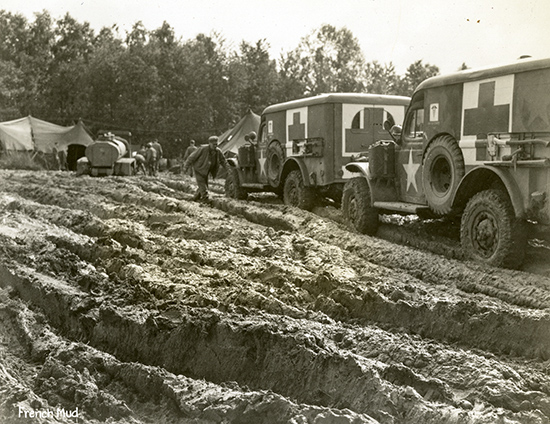 September 25, 1944
Rioz, France
No. 52 (continued)

Dear Folksies,
       I was sure glad the other day that I had my high English-type boots, for there I was in the middle of a river, stuck!! But, let me tell you more about that cute little incident. I had gone over this particular section of road (where there was a bridge out but a very good and dry road-bed that was used as a road) twice, once with trucks and once with jeep.  So, I led Fadley and his group of trucks up to this point the morning after I had crossed it, only to find that it had poured during the night, and that the spot was flooded nicely.  Well, I got through O.K. with the jeep and so did Fadley and so did all the trucks for that matter.  However, as I left Fadley and turned around to go back, the last of Fadley's trucks having gone off, I got into some of the holes that the big trucks had made, and as a consequence my poor jeep got the generator soaked and she stopped.  Stopped right in the middle. 
       There were some Frenchmen on one side and I yelled at them to pull me out with their truck, but they didn't want to even get one wheel in the water.  But they said they would go in search of a long rope to try to pull me out with.  Knowing that it was going to take some time and that Collie would probably send out a searching party for me before then, I did the best I could.  With my handkerchief I took as much of the engine apart as I could, and dried everything in sight.  I tried to start it again and she worked, only to get me just to the other edge and then conk out again.  However, after drying things out once more I was again successful and dashed back to camp.  Those boots-a-wading, in the river, got wet on the outside, but not inside.  As a matter of fact, I only had those boots off for a couple of hours in four days, having pounded the highways to the tune of over 1000 miles in three of those days.
                                                                                        Loads of love,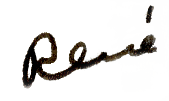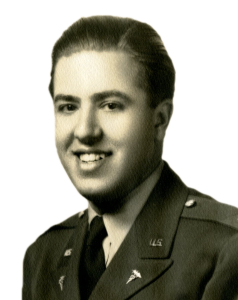 .
Watch for the conclusion of this letter
September 26, 1944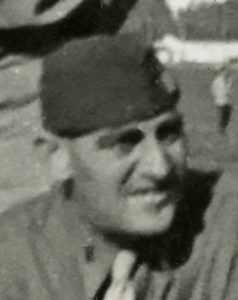 René tells his parents about a "cute little incident" involving Ken Fadley, some trucks and a jeep.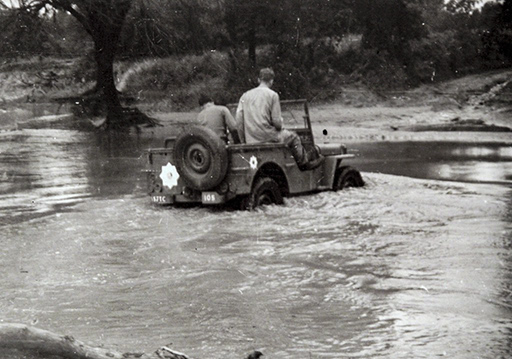 The "incident" involved René getting his jeep stuck in a river when the generator got soaked. It might have looked something like this.

September 26, 1944
Rioz, France
No. 52 (conclusion)

Dear Folksies,
         I've just heard the 10 P.M. news — sounds pretty good.  It looks as if the next big deal is going to be the Philippines.  A lot of people seem to feel that Germany is going to fold rapidly, but it looks to me as if, with their backs to the wall, they are going to put up a helluva battle for some months to come — particularly with bad weather coming on, making a defensive war easier.
            It's interesting to see the different attitudes that the prisoners have — there is quite a difference between the youngsters and the older, drafted soldiers.  We haven't had many in the middle group — they're either young or old for the most part.  The older ones are fed up with it all.  They hate the Russians but are just mad at the Americans.  Some couldn't understand why we bomb their homes, their towns, etc., killing civilians, but when asked why they did it to London, Rotterdam, etc., etc., well, they just don't have an answer.  Apparently they hadn't thought of it from the angle that they started the thing themselves.
            Interesting, too, are the stories obtained from civilians who have seen or who have been subjected to some of the brutality of the Germans while they were occupying France.  One who hasn't seen any of it finds such stories hard to believe — I know it is for us — but they're true, alright.  It's hard to understand how anyone, other than those mentally deranged, could carry out the methods of torture that the Nazis have apparently used on the civilians.
            The French, too, of course, have done their share of such reciprocation when they catch collaborators or the Germans themselves.  One can easily understand such things as taking a person out and shooting them or directly killing them with some other method, but torturing is something different.
                                                                                        Loads of love,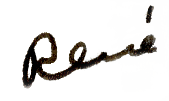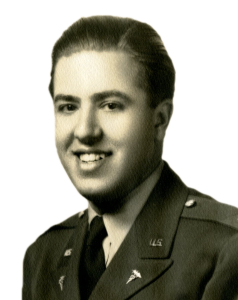 .
Watch for my next letter
September 27, 1944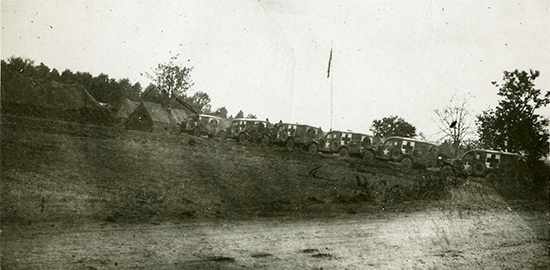 Stream of ambulances bringing casualties to the 59th Evac. Hospital in Rioz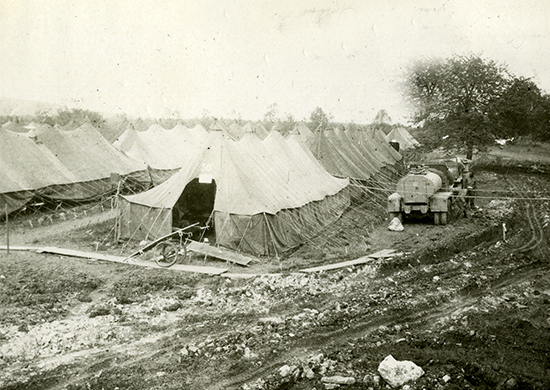 While René works in the wards (shown above and below) he talks to some of the German prisoners and notes the difference in attitude between the younger ones and the older ones.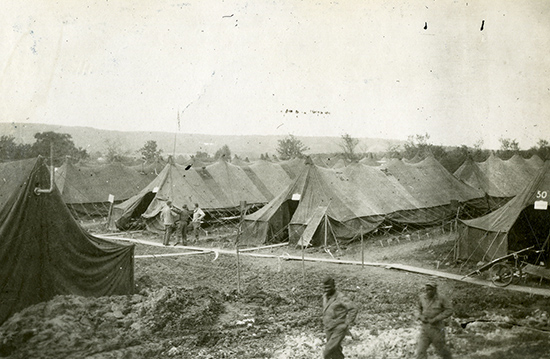 September 27, 1944
Rioz, France
No. 53

Dear Folksies,
          Another breathing spell, so another letter. Have been kept plenty busy anesthetizing for the team of Armanini & Russell. They're fun to work with as Russell has about the best and oddest sense of humor of any of the officers and Armanini is always the butt of jokes from every one of the officers. They make a good team (had worked together at Tulare County Hospital) but really Russell should be with Cressman, then there would be two real tall guys together. Poor Russell always has to be in the shape of a "U" whenever he is operating, unless he can sit down or if he can have a patient on stilts. We've been a pretty good team at that because I could anticipate what anesthesia they would want, when they were going to finish, and also help them in the operation at times. Then, too, I generally wrote up the charts for them on the typer while they were putting the finishing touches on the cases – and at times I was able to have the case written up before they had hardly started, depending on what kind of case it happened to be. When you have to write the same dope on 3 different pages, typer with carbons certainly speeds things up a lot.
          There have been some interesting cases through surgery the last few days. One young soldier was sent in as a possible appendicitis and turned out to have a perforated peptic ulcer (diagnosed in our Shock Tent before surgery). Another "Possible appendicitis" which got into surgery as such, and which, by chance, was operated on by Mattie himself, turned out to be a severe intussusception. Mattie had to resect about a foot and a half of small bowel.
        Another strange one was that of a German who was sent in as an "Exhaustion" because he wouldn't get up and walk. The story apparently was that, after some shooting, he tho't he was shot, but found that he hadn't been, and yet felt he could walk no longer. Apparently his wound was amazingly small, and in the back, so that it didn't bleed and he didn't know he really did have a wound. He was found to have a bullet in one lung, which had transected his spinal cord. Bullets will do strange things! We had one that went in almost straight over the sternum and we found the bullet in the back of the shoulder and there was no damage to the lung, vessels, or anything except a slight nick on the sternum.
        I did work with Mattie, assisting him as a surgical team with Paul anesthetizing for us, for a few hours the other A.M. You see, we have 7 surgical teams complete with anesthetists and have 4 working one shift and 3 the other. As our biggest load usually comes between noon and midnight the 4 regular teams work on that shift, and there are only 3 on the other shift – leaving room for the extra of either Mattie or Wally with either Paul or myself as assistant and with Chappell as anesthetist. It works out pretty well and we don't get behind too many cases at any one time – always being able to catch up completely in not too long a time.
        News items: a bit premature, perhaps, but 'tis on the way – First Lt. for Fran Trembley and Captaincy for Clarkie (now assistant Chief Nurse).
                                                                                        Loads of love,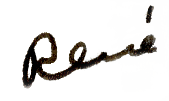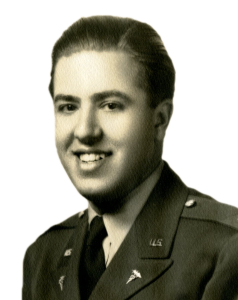 .
Watch for more of this letter
September 28, 1944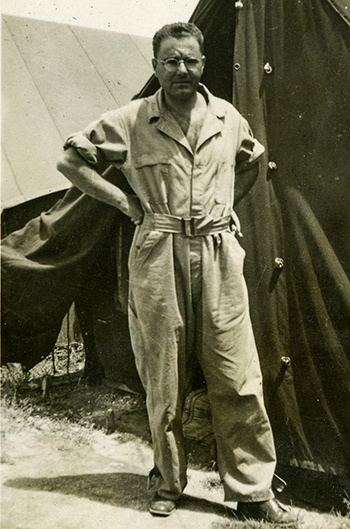 Rene has been "plenty busy anesthetizing for the team of Armanini & Russell" — George Armanini (above) and Carroll Russell (below)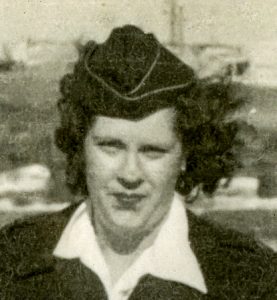 Fran Trembley (above) is being promoted to First Lieutenant and Doris Clarke (below) is being promoted to Captain.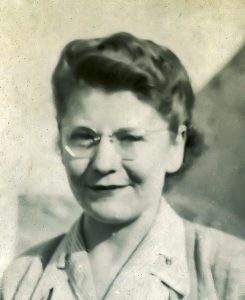 September 28, 1944
Rioz, France
No. 53 (continued)

Dear Folksies,
           Our "Planning Commission" of Gerbode Inc. picked out a decent enough area alright, but their fatal mistake was to fix the Mess Dept. and a couple of other spots that need vehicles coming to them, up on the top of the area, so that the water-truck and other vehicles that have to deliver things around the area do a very efficient job of churning up the ground throughout the area, so that after a very short period of time there were deep muddy furrows where once there were streets. Finally got wise and roped off most of the place, so that vehicles had to go around to get where they want to go, so as not to make the other places worse. But the damage had already been done! We now have some boards across various spots – lanes of traffic – but those boards are getting so slick that one of these times when someone attempts a crossing they are going to wish that they had walked in the mud and only gotten the mud up to their knees, instead of immersing their nether parts in it when they slip off the board entirely….oh, well….
          The places that have no vehicles over them are not so bad, but even in front of our own tent – in the doorway – we have had to put boards down so that we don't put one foot down and land not only inside the tent, but clear through and out the other end of it before lighting. At least we are able to change our clothes when they get wet and are able to dry our shoes out from time to time. The poor guys who are doing the fighting are the boys who really have it tough.
                                                                                        Loads of love,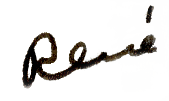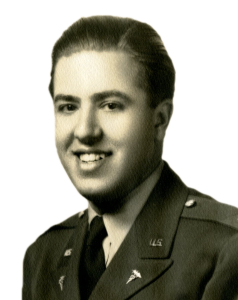 .
Watch for the rest of this letter
September 29, 1944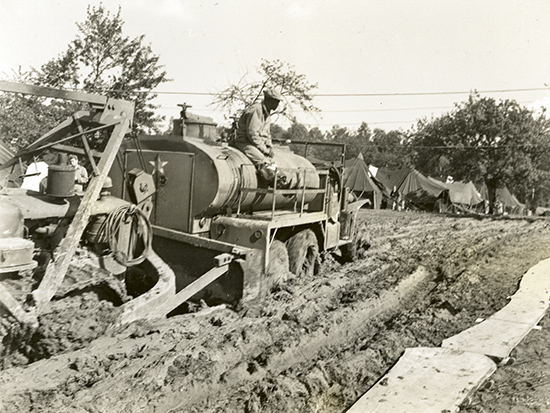 René tells his parents that it was a big mistake to allow the big trucks to drive all over the area because they created "deep muddy furrows."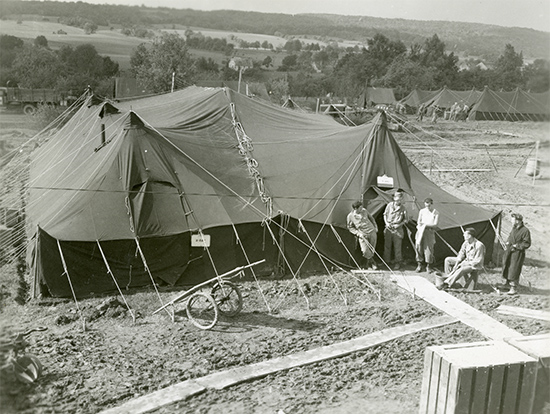 As a result of the deep mud, they had to put boards down so that people could walk from tent to tent.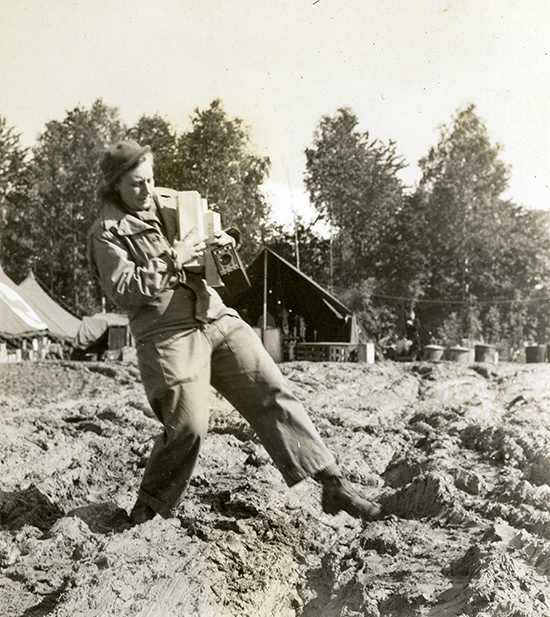 Evidently there weren't boards put down for every journey that needed to be made on foot.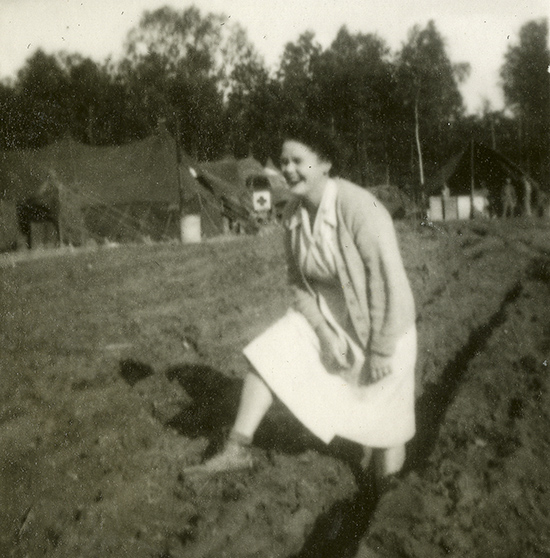 Margaret Woods in the mud.