January 27, 1945
Epinal, France
No. 9

Dear Folksies,

        I did it!  I made it to Paris!
        It all came about this-away, Serge and Ann Bryner had left for Paris (loaded with some things for the folks), three of the nurses were scheduled to have their leaves in Paris and the phone rings for me, 'tis the Colonel. Says he, "René would you be interested in going to Paris with a group of enlisted men?"
        When they picked me up off the floor, I managed to respond with a "Definitely!!!" I got some of the details from Bish and then hurried to see Del Peche and Pat Barry, who were leaving early the next morning. Del promised that she would phone Jeanne for me and warn her to be sure the family would be in town. I wanted to go up there and walk in on them all unexpectedly, but I was afraid that that might be too risky, for I might not find them at home.
        So, on Sunday, bright and early, (really shouldn't say 'bright' for none of the days lately have even approached being 'bright', and we actually left before dawn) we took off in our one and only closed weapons-carrier (3/4 ton).  There were five of our enlisted men, (Sateja, Dye, Vezie, Rogers & Cella) the driver (Harry Sharp) and myself, plus gas and rations and a barracks-bag apiece.  Besides that, we had to pick up supposedly two more men in another town from another outfit. When we got to this other town we found that there were actually four more men with orders to accompany us in our transportation. Somebody mixed things up somewhere, but we managed to pile all the fellows in and they were set in there like sardines.  The truck ordinarily holds eight people in the back with a minimum of equipment, so you can imagine how it was with nine and a considerable amount more than "minimum" equipment.  As a matter of fact, the gas took up most of the room — gas for the trip to and from.
         The day was plenty cold and we were driving through snow-storms a good part of the day.  The road, ordinarily a fine road in good weather, was piled on either side with snow and there was ice in the middle.  We were all dressed warmly, as we had expected the coldest possible weather, and so none of us suffered.  The boys in the back, of course, were packed so snugly that they couldn't possibly be cold, and Harry and I in front had the engine to warm us up slightly.  We even did some sweating, the two of us, when we would hit some of the icier spots and feel the rear end of the truck start a-swaying.  As a matter of fact, at one spot, we did find ourselves completely turned around and backing toward Paris before the truck decided to come to a halt.  We were mighty happy that there was a minimum of traffic on the road that whole day. Also, we were glad that the road was a good road to begin with — only one small section of mountains (hardly dignified by such a name in the U.S.) and nothing but shallow ditches on either side of the road, in case one did find oneself landing anywheres off the road.
           Anyway, we arrived in Paree, in very good time considering everything, and with no mishaps.  I had a small map of Paris, but I hadn't been able to find on it the street we wanted to get to — the street the American Express Building is on and where we had to report in.  After stopping and asking a couple of M.Ps and getting no aid, I decided that I'd head for the Place de la Concord and the Opera House, and though I couldn't find the street on the map, I knew it must be around there somewheres.  Sure enough 'twas!  Gee, everything we passed seemed so familiar that I was amazed!
          We got checked in and got the boys assigned to rooms in one hotel and myself to a room in another, the officers' one.  The Red Cross has done a mighty nice job there for the men coming to town on leaves.  They have taken over several hotels, have named them "such-and-such-Club," and have certain ones for the enlisted men, some for the officers and one or more for the nurses. The one I was at used to be the "Hotel des Deux Mondes" on rue de l'Opera. At each one of these hotels there are American Red Cross gals who dish out information, arrange tours, see that the men get tickets to tours, theaters, etc., that they are directed to the various places they want to get to, and they even arrange for shopping tours or walking sight-seeing tours with English-speaking French gals.
                         Loads of love,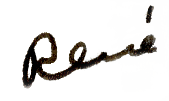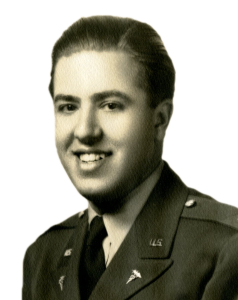 .
Watch for more of this letter
January 28, 1945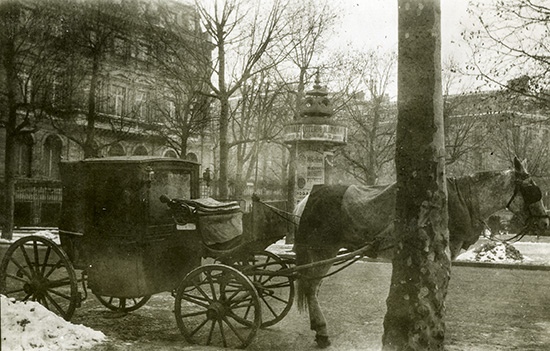 René finally made it to Paris — with a group of enlisted men on leave. This is a photo he took of a horse and carriage, near the Arc de Triomphe.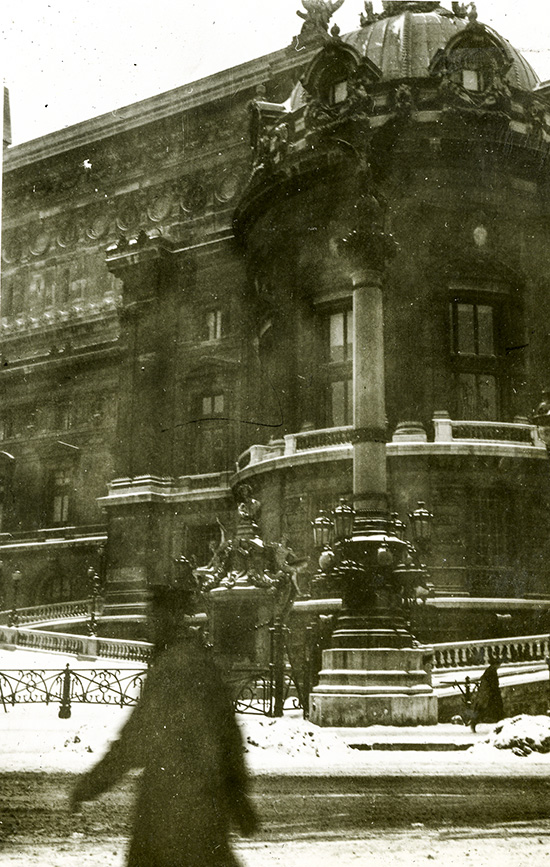 Driving through Paris, looking for the American Express Building, where they were supposed to report in, René headed for the Opera House, a landmark he remembered from his family's visit to Paris when he was a child.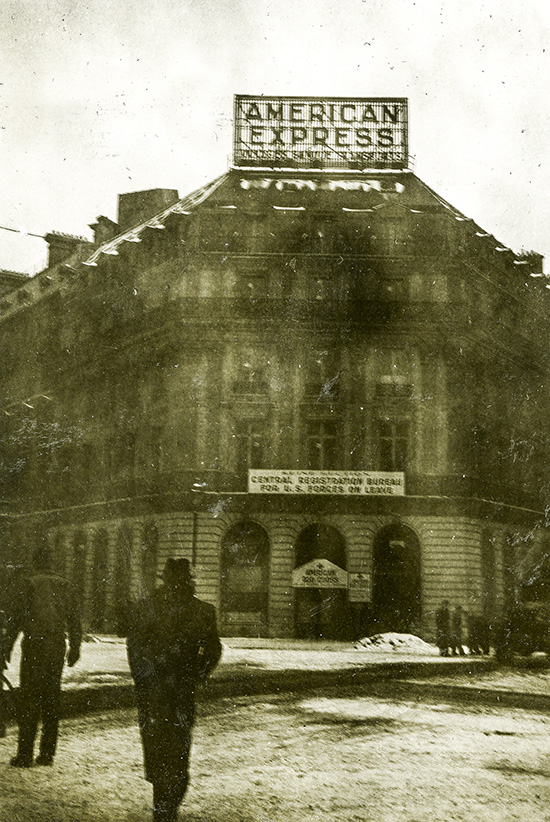 Ultimately they found the American Express Building, where they checked in and got their hotel assignments.

January 28, 1945
Epinal, France
No. 9 (continued)

Dear Folksies,

           After getting the boys settled in their hotel (a guide was furnished to show us where each hotel was) Harry drove me to mine and then took the truck and parked it for the period that we were in Paris, as you are not supposed to use it while there. I dumped my things, got slightly cleaner and took off via the subway to Jeanne's.  I had no trouble finding the place, getting there a little after 5 P.M.  I was greeted by a good-looking blonde gal and ushered into the living-room where, tho' there were several people there, I had no difficulty in recognizing David.  He was really glad to see me and we had quite a talk.  Jeanne was not at home, but they phoned her and it wasn't long before she came puffing into the room — she must have run all the way…
            I must say that David's appearance was a great shock to me.  I remember him as being a healthy-looking, dark, rather round-faced individual, with rather a robust figure.  Well, he is still dark, and that's about all.  He has some gray hairs, but not an awful lot.  His face is thin and drawn and he does not look well.  He said that he had lost some 40 pounds (over just what period I don't know) and he looks it.  He has been ill and at home now for some six weeks and regrets having come back to Paris, as Nice would have been much better for him in this weather.  Also, he feels badly that they are forced to impose upon their friends for lodging.
            Apparently, from what I could gather from David, he doesn't have any parts drastically injured, no conniption pins missing or the like, but the works just need a good winding up.  His principal symptoms are gall-bladder in nature and he also has had joint pains, low-grade fever, etc.  He is supposed to be on a fat-free diet (they have little fat anyway), takes belladonna and some extract of artichoke (something new to me!) He apparently has had x-rays that showed nothing more than the sand in his gall bladder, which he knew he had from x-rays in the U.S.
            As I told you before, his business had been kept up by his secretary — not exporting, of course, but selling things in France. He had, you see, sold the business (at least on paper) to his secretary and now she will sell it back to him the same way.  Their principle line at the moment is handkerchiefs.
            Financially, apparently they have enough to get along on very well.  David had been owed some money by a firm in New York and he had just received $500 from them a week or two before.  As a consequence, he said he absolutely did not need the $250 I offered him.  He said the others did not need it either.  As they all said, the things they need most at the moment we are unable to get them — that is wood and coal to keep them warm.
            Some things that David would enjoy are a couple of good American books. I am sending him my "Razor's Edge" as soon as some more of the gang venture up to Paris. I think Treadwell is going up next week.
            Whereas I was shocked at David's appearance, I was amazed by Jeanne's.  She really looks fine.  Her hair is all gray but she certainly does not show any of the results of the hardships they went through.  She claimed that if she had seen me in a crowd she still would have recognized me – not only from the pictures, but actually from her remembering me from way back.  She says I haven't changed in all this time, so if that is so, I guess you folks won't have much trouble recognizing me after all this business is over over here.
            Jeanne apparently is in good health, and from what David said, she was amazing all the way through, in the way she got them out of some tight places, etc.  I don't know whether you know it or not but before she, Jacqueline and the baby got out of Paris, they were in prison for 10 days. Then, later, in Nice, when she and David were taken, she got them out of a hot spot by acting cool, calm and collected and coming out with her snappiest remark.  It seems, when they stripped David to see whether or not he was circumcised, he still was able to deny that he was — sort of dumb Nazis, I should say. And then they tried to get Jeanne to admit that he was.  They said, "Why surely you must know that he has been circumcised!"  To which she replied, "Why?  How should I know? I haven't had anything for comparison!" And so they were let free!
                         Loads of love,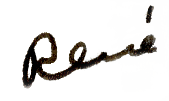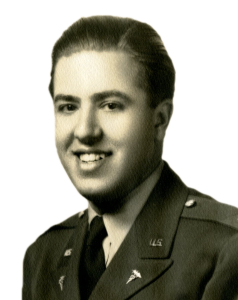 .
Watch for more of this letter
January 29, 1945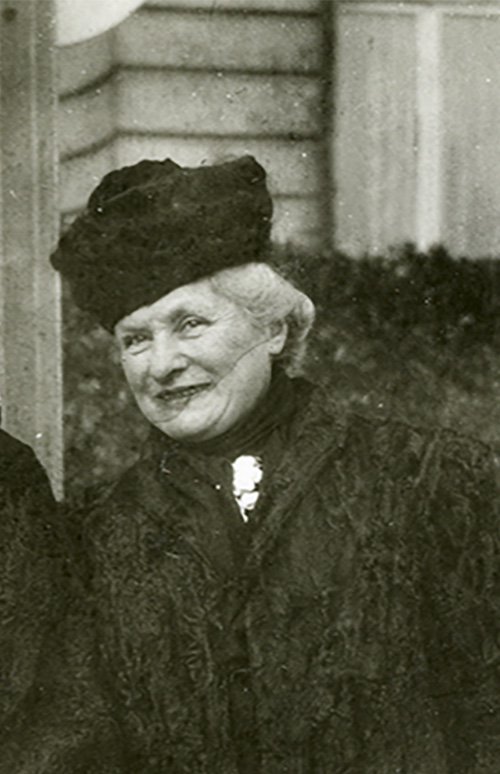 René tells his parents that he was amazed by the appearance of Jeanne Baumann Salomons, noting that "she really looks fine." René took this photo of her during his visit to Paris.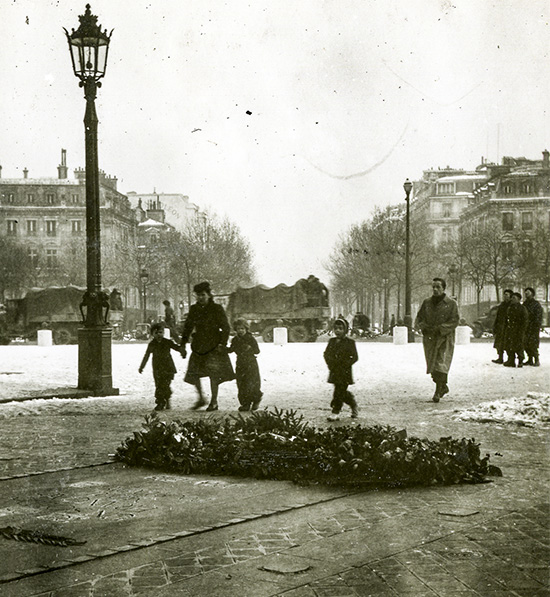 During his time in Paris, René took this photo at the Tomb of the Unknown Soldier.

January 29, 1945
Epinal, France
No. 9 (continued)

Dear Folksies,

         I had supper with them all [Jeanne and David Salomons, and The Weills, whose apartment they are living in temporarily] and remained there talking until time to catch the last subway back to my hotel — the subways run only until 11 P.M.  The food situation is the same as I wrote that Jean-Pierre had told me. The ration of meat per week is mighty small. Fresh vegetables are almost impossible to get. Potatoes they can get in not too little quantities. No butter.  Cheese very limited.  Actually any kind of vegetables (not just the fresh ones) are extremely hard to get.  They can be gotten occasionally in Black Market spots and pricey.  Unfortunately, the Black Market has a lot of things which, if put out on a decent ration would increase the amount of good things that the people would be able to get. This way, just those who can afford the Black-Market prices are able to procure such things.  It's a vicious circle.
          David had a small can of butter that Jacqueline had sent them from England, and 'twas the first butter they had tasted in gosh knows how long. Sooo, butter, peanut butter, etc. will be appreciated, you can see… You will have to check, but they said packages of 5 pounds and under could be sent from the U.S. as long as they don't have certain items, such as cigarettes, etc.
          As for heat and lighting — the electricity in most parts of Paris is off from 8:30A.M. to 5 P.M., so that even those who have little electric heaters are unable to use them except at night.  You can imagine what difficulties they have in preparing food and in keeping themselves from shivering all day long.
          I had, of course, gone to Paris prepared with pictures of all of you, and both Jeanne and David (and the others over the next few days) enjoyed seeing all of you that way. Mom, how you can stay so young-looking they are unable to figure out. They all said, however, that you should always smile, for you have the most beautiful smile and it makes you look ever so much younger in your pix when you smile. The one pix they liked so much was the one in your American Red Cross uniform, where you have a tremendous big smile on your face. Dad, they did not think you had changed. Gram, of course, they raved about also.
         Jeanne had, just about four days before, received your letter, Dad, of December 15th and at the same time she had received your letter written sometime in 1940!  She was naturally thrilled to have heard directly from you.
         After making arrangements for meeting the next day, I caught the subway and went back to my hotel, which was just as cold as other un-heated domiciles. Had enough blankets, however, as I had brought one along in my barracks bag. And so ended my first evening in Paris.
                         Loads of love,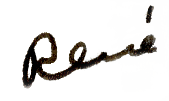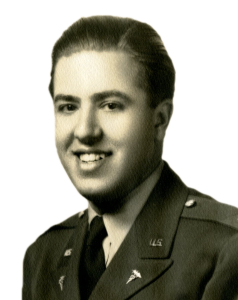 .
Watch for more of this letter
January 30, 1945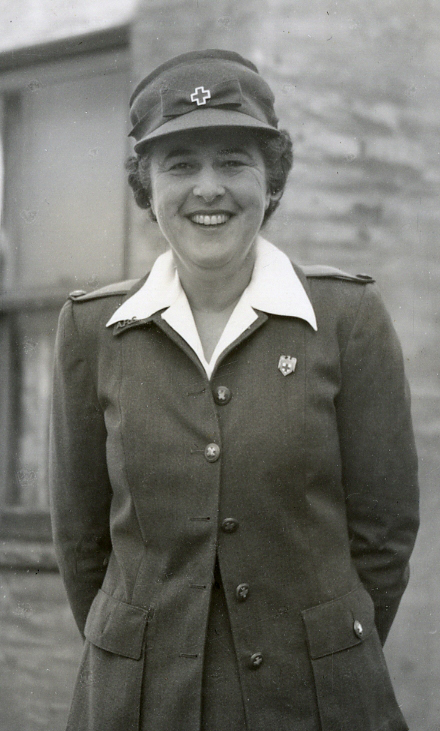 René tells his mother, Alma, that Jeanne and David were "unable to figure out" how she can "stay so young-looking" and they particularly liked this photo of Alma in her American Red Cross uniform, with a beautiful smile on her face. (Alma would have been in her early 50s when this photo was taken.)

Jeanne and David didn't think that René Sr. (above) had changed. And they "raved about" Gram — René's grandmother (below).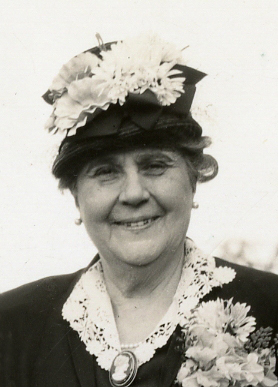 January 30, 1945
Epinal, France
No. 9 (continued)

Dear Folksies,

           Monday A.M. I got up and had breakfast at the hotel (regular G.I. mess) and then phoned Jeanne, making arrangements to meet her at 12:30 P.M. at her place.  It was fairly nice outdoors, cold but not too bad, so I started walking in search of a few things that I wanted to get and that I had promised to try to get for Bret and a couple of others.  Bumped into Ann Cameron, she used to be in the 59th, but is now in Lynn's outfit. Went with her and Vince Knotek to a couple of the PXs. Picked up candy rations (for the folks) and then went to the PX where they have things that men on leave from the combat areas alone are allowed to buy. Then I walked around the Opera and Place de la Concorde section until it was time for meeting Jeanne.
            Went out to Jeanne's and found Lilice there. She, too, looks fine. Perhaps not as well as Jeanne looks, but nevertheless very well. Also gray haired, in fact I should say they are almost white haired. Was rather surprised at how short both Jeanne and Lilice are (particularly Lilice). She is, of course, heartbroken about Yvette, but from what Jeanne and Jean-Pierre have said, I anticipated that she would avoid the subject. That was incorrect.
            The two little ladies took me out to lunch.  The prices at the restaurant to which they took me were absurd, obviously black-market stuff. 
            At the restaurant we met Raoul Aaron and his wife. He's the one who used to be a banker, I understand. Apparently they are mighty well-off. They stayed in Paris the whole time it seems. How they escaped trouble, I know not.
           After lunch, they took me to see the Hotel Dominion for old-time sake. Incidentally, those two are definitely the daughters of Jules Neuberger!! They walk all over at a great rate!! They even climb four or five flights of stairs without turning a hair.
           Jeanne left me to go back to David, and Lilice and I walked all over the rest of the afternoon — Arc de Triomphe, Champs Elysees, the Bois du Boulogne and past the Trocadero.
          Lilice then took me to 72 Avenue Henri Martin. When the maid asked who it was calling, Lilice said it was Dr. Rene Bine. Poor Alice Dreyfus was rather confused when she got that message and came out to see me. She was thrilled, however, as you can imagine, and, of course, wanted to know everything about everybody. Alice, for her age, certainly does not look badly and is apparently in pretty good health. Her husband Edouard is blind, has a fractured pelvis (I believe), and is rather discouraged and wanting to die. He's 88 or 89 and apparently has some severe pain most of the time.
           While I was there, Maude Bechman, their daughter, arrived. Her husband died some time ago, but her two daughters, age 21 and 22 are in the French Army – ambulance drivers who, more than likely, have in past months delivered patients to the 59th! Both had gone to Africa originally a long time ago, one going from there to England and coming over after the Normandy business with one French group. The other was in Rabat in Morocco until coming over through Southern France.
           Alice and Edouard apparently had no trouble during the occupation and their apartment stayed intact. They even have just about all their furniture left. It is remarkable that some were over looked, while some were looked over and taken.
                         Loads of love,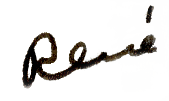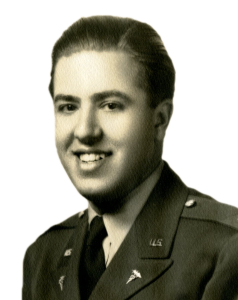 .
Watch for more of this letter
January 31, 1945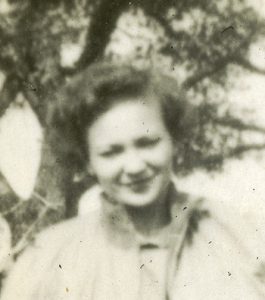 On the streets of Paris, René ran into Vince Knotek (a nurse on leave from the 59th) pictured above.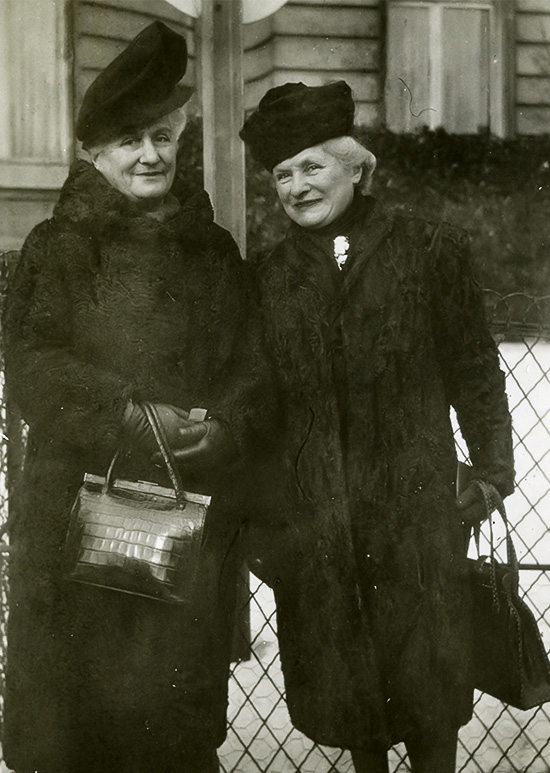 René tells his parents about seeing Lilice Baumann Bernard (left) at the apartment of her sister Jeanne Baumann Salomons (right). Later, "the two little ladies" took René out to lunch.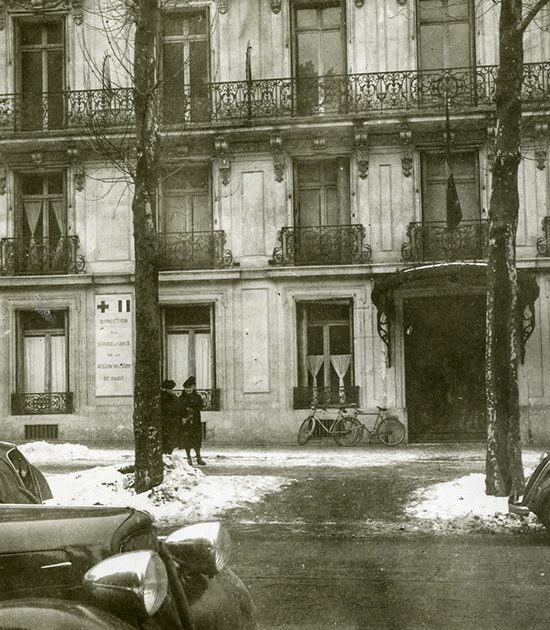 Lilice and Jeanne also took René to "see the Hotel Dominion for old-time sake." This is probably the hotel where René and his family stayed during their visit to Paris in the mid-1920s.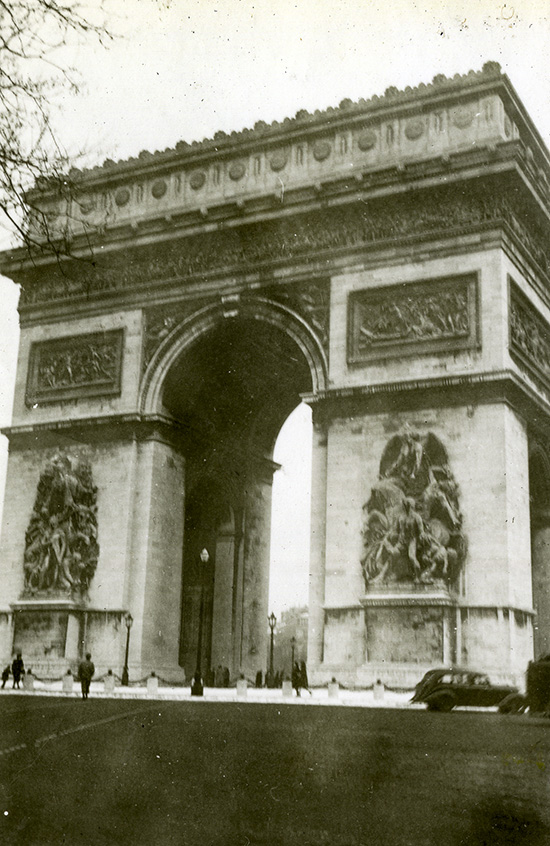 After lunch, Jeanne had to go back to take care of her husband, David, so Lilice and René "walked all over the rest of the afternoon – Arc de Triomphe (above), Champs Elysees, the Bois du Boulogne and past the Trocodero."

January 31, 1945
Epinal, France
No. 9 (continued)

Dear Folksies,

            Later we walked to Claudine's apartment. Lilice and George sleep in a hotel, but eat and spend most of their time at Claudine's, helping with the baby, cooking, etc. The apartment consists of three small rooms and a kitchen with a minimum of furniture. They had only the day before managed to get a small stove set up in the living-dining room, but what they burn in it I didn't find out. They also have an electric radiator in the room and that one room was about the only warm place I found in any of the homes.
            George, Claudine and Dominique were there awaiting our arrival. George is thin but does not look badly. Claudine, 21-plus, is small and pretty. She has small features, dark hair. She talks very good English, despite the fact that she thinks she doesn't. (Would that my French was nearly as good!)
            The cold has been so unusual, and, of course, the water is all cold, so that poor Claudine has developed a bad case of frost-bitten hands. They are red, swollen and have nasty-looking cracks around the knuckles. Jeanne, too, has some evidence of the same over the proximal phalanges on both hands.  Claudine is really a swell gal. I had a most enjoyable time that evening with them all. For some strange reason, Alain, they think a lot of you and are anxiously awaiting letters from you.
            Dominique is a cute little rascal. She is 2-years old, walks around and talks pretty well. She's really a darling. The doll, which you folks had sent, and which I had left at Jean-Pierre's for her, she adores and she takes it to bed with her every night. This trip I brought her the crayons, the little black cat and the two little dogs and also the plaster soldier, nurse and doctor you sent. She was crazy about them all – particularly the crayons! She immediately took them and started scribbling "a letter to Papa" with them. I finally told her that cousin Bobsy had sent the crayons and the doll. I showed her Bobsy, so she took the pix and kissed it. Did you feel it, Bobsy?
            They have, of course, quite a hard time getting correct food for Dominique. They are allowed a small amount of milk every couple of days for her and are allowed 2 eggs per month for her – if she were 3 years old, it would be 4 eggs per month. She looks like a pretty healthy little kid, however, tho' she did have a dribbly nose while I was there. They are unable to get any shoes for her anywhere. They just haven't made any for some reason – i.e. none for babies. Soooo, Mom, or any of you, if you can find any for her 'twould be very greatly appreciated by them.
            Dominique was really a kick when I gave her some chocolate. She loved it. Nevertheless she offered a bit of it to Claudine. (Needless to say I was well-stocked with that commodity, for besides my own supply, Fadley had added appreciably to it when he knew I was going up here.)
             Gilles arrived a little after I did and he seems like a mighty fine fellow.  He's a Lt. in the French Army now and apparently is a radio expert.  He is working in the office of the Minister of War in Paris right now.  During the occupation he was down as a registered operative (registered in London) and had a radio sending and receiving set with which he transmitted messages to England for the Maquis.  He was once caught with the radio sets in his car, but before the Gestapo Agent was able to turn him over to other authorities he managed, right in Paris, to strangle the guy and dump him out. He, Claudine, and the baby were around Grenoble most of the time, where there was a headquarters, and he told me of a hospital run by two doctors high up in the mountains there.  One medical man and one surgeon took care of all the Maquis gang in a place inaccessible to the Germans, primarily because of its height and the fact that one had to get up there by means of a form of ski-tow.
            I had dinner there and talked on and on and on. I heard again the story of Yvette and saw several pictures of her and her husband [Jean-Guy].  All, of course, are hoping that they might have been in one of the sections liberated by the Russians in their latest mad dash across Germany.  As a matter of fact, Lilice did hear, over the radio from Moscow, a young girl from Paris who had been liberated over there. They happened to know that particular girl, so naturally they are, as all of us are, hoping that Yvette and others will be among those freed before too long.  Yvette and her husband apparently did a terrific amount towards the liberation of France.
            Gee, I was really so sorry that my time up there was so limited, for I would have so liked to have stayed with each and every one of them so much longer.  Two days is definitely an awfully short time.  Nevertheless, I am pleased at the amount I was able to accomplish and the people I was able to see in that short time.
            After bidding the family farewell, I caught the subway back to the hotel, went up to the hotel and dumped my things and then went downstairs again. As I walked the length of the lobby, I chanced to hear some music coming from the dining room. Took a look in and sure enough a dance was going on. As I looked through the door into the dance-hall I immediately saw none other than little Bambino. Went in, put my hand over her eyes and, of course, she tho't that it must be one of the officers with whom she had been dancing a short while before. When she saw it was me, she darn near threw her arms around me. Spent a couple of hours with her, first at the dance and then over at her hotel in the one warm room – the Snack-Bar.
                         Loads of love,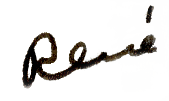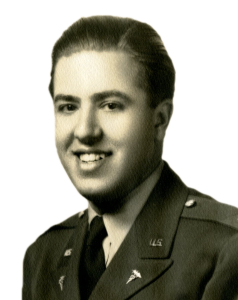 .
Watch for more of this letter
February 1, 1945

Lilice took René to visit her daughter, Claudine Baumann Aaronson (above).

René tells his parents that "Claudine is a really swell gal," and that her 2-year-old daughter, Dominique is "a cute little rascal."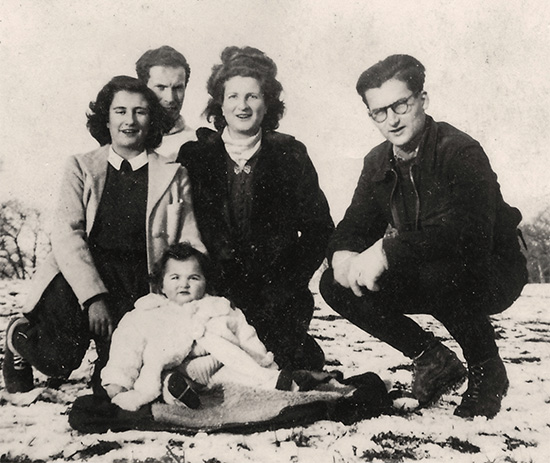 René meets Claudine's husband (Gilles Aaronson), who "seems like a mighty fine fellow." Gilles is pictured at far right in the photo above, taken near Grenoble in December 1943. Also pictured are Claudine (far left), her brother-in-law Jean-Guy Bernard, her sister Yvette Baumann Bernard and her daughter, Dominique Aaronson. This photo was taken about a month before Yvette and Jean-Guy were arrested by the Gestapo in their Paris apartment. Unbeknownst to anyone,  Jean-Guy died in Auschwitz on August 3, 1944. And after the Death March from Auschwitz earlier in the month, Yvette is currently at a concentration camp in Ravensbruck, Germany.
February 1, 1945
Epinal, France
No. 9 (continued)

Dear Folksies,

          Tuesday A.M., I had planned to go on one of the American Red Cross tours around the town with some of the enlisted men, but as luck would have it, the bus we were supposed to go in was completely frozen that A.M. and so the trip was off.  It was plenty cold that day and alternately snowed and rained, mostly rained. The streets and sidewalks were mighty slick and many a person found himself in a prone and undignified position that day. Anyway, I went sight-seeing by myself, going partly by subway but mostly walking. I had plenty of clothes on and it was O.K. outdoors, so when down in the subways with that much clothing on I felt too hot.
            I wandered around mostly in the area between the Opera and Notre Dame.  I went through Notre Dame, but unfortunately there is very little light there — the electricity being off in the daytime there as in other sections.  I saw the Treasure Room there, however. A number of the stained glass windows have been taken out, of course, but there are still a large number remaining.  I walked all over the little island on which Notre Dame stands. Then walked to La Place de la Bastille, back up through les Halles Centrales and the Bourse de Commerce.  Passed the Louvre, but there was no admittance there at this time — very little left in there anyway they say.  What wasn't taken has been hidden.  Saw Les Tuileries, which was under a good foot of snow, la Place Vendome, etc.
            Finally back at the hotel for a late lunch and then met there by Jeanne. We walked up to the front of Maison Blanc where we were soon met by Lilice and then by Monique! That sister of yours, Alain, is everything you ever said about her. She is wonderful! The picture she had sent me about a month ago did not do her justice at all. She's extremely pretty, looks fine tho' she is, apparently by nature, thin. She and Lilice, after we said good-bye to Jeanne, took me around town a bit more – to the Pantheon, thru the Sorbonne area, and then way out to Monique's apartment, which is way on one edge of town – the opposite edge from where Lilice and Jeanne live.
            Monique has apparently managed well. She was unmolested at any time – having the name Perotin, she was not liable to have a nasty investigation as much as those with more Jewish names. She's a plenty smart gal. Her apartment is spotless – she has a bedroom, bathroom, kitchen, and small dining-room-living-room. Everything seems to look new. As far as food is concerned, she has apparently not fared as badly as some of the others, for she seems to know all the tricks of buying, just when and where to buy things, etc. Of course, she had the advantage in that she remained in Paris the whole time and was able to get all that information and all the tricks over a long period of time, whereas most of the others were moving around a good deal, and did not have time to learn a great deal about any one community.
            Monique has not heard from Robert for some months now – apparently, too, the prison camp he was in was moved after the Russians started to advance nearby – he was near Vienna I believe she said – and since then she does not have any idea where he might be. Last she heard from him, however, he was O.K.
            Monique, for the benefit of those who have not seen her or her pix in past years, is rather short, thin, dark and vivacious. She had her dark black hair in screwy curls in front and, of course, had a typical nutty Paris hat somewhere stuck on the back of her head. She and Lilice talked so fast, as a matter of fact, that I had a helluva time trying to figure out what they were saying.
            When we reached the yard of the apt. house Monique lives in, the prize monkey came running towards us and jumped upon me with his arms around my neck. He had been warned of my impending arrival at noon that day, and apparently didn't get any work done at school that afternoon at all. He's 8 years old and goes all over by himself. He has to go to school by subway and apparently everyone in the neighborhood knows him very well. Monique says that frequently when she is introduced to someone they reply, "Oh, yes, you're Bernard's mother."
           He's just that kind of a kid. Most friendly, full of pep, and smart as the dickens. He's a good-looking kid too. He's small and wiry and never sitting still for a minute. He keeps dancing around, tagging, whirling around the tables or chairs, etc., etc. He was most disappointed that I didn't have any gun with me to show him. But his eyes darn near popped when he opened a box I bro't there and he saw all the chocolate and the gum. I think that if his mother had let him, he would have eaten all ten of the chocolate bars at once. He did put two pieces of gum in his mouth and started pulling it out in long strings. Looks like he's going to have plenty of fun with it.
            Had fun showing Bernard, on his geography map, just where you, Alain, are in N.Y., and where S.F. was. His map didn't have S.F. on it, but it does now. Had tea and cake there and 'twas mighty good. Both your other sisters, Alain, are fine, according to Monique, but I did not get a chance to see them.
                         Loads of love,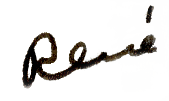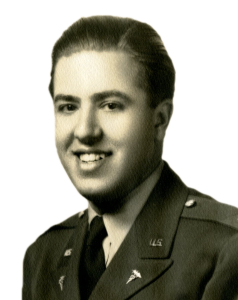 .
Watch for the conclusion of this letter
February 2, 1945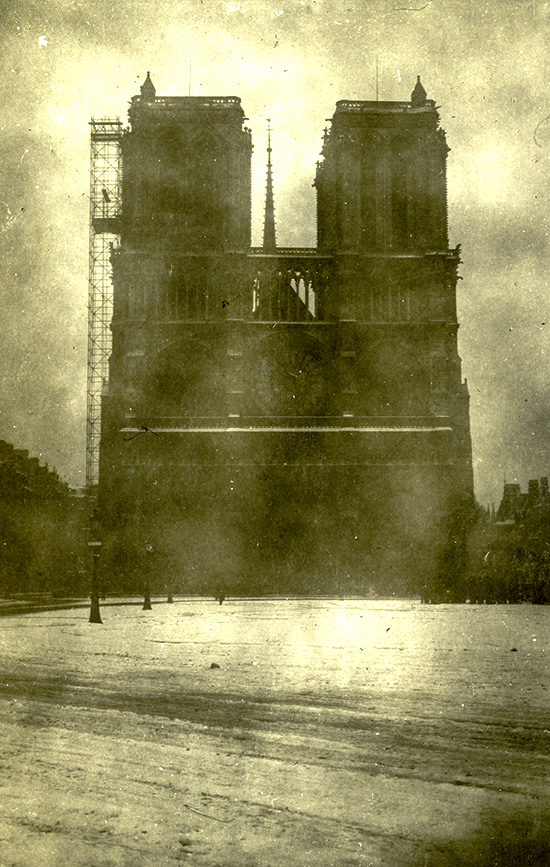 On Tuesday morning, René went sight seeing by himself, including visiting Notre Dame (above and below).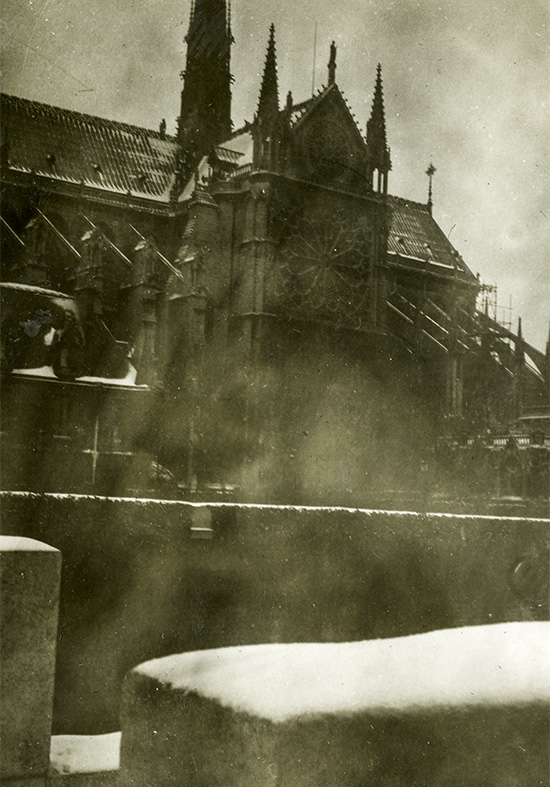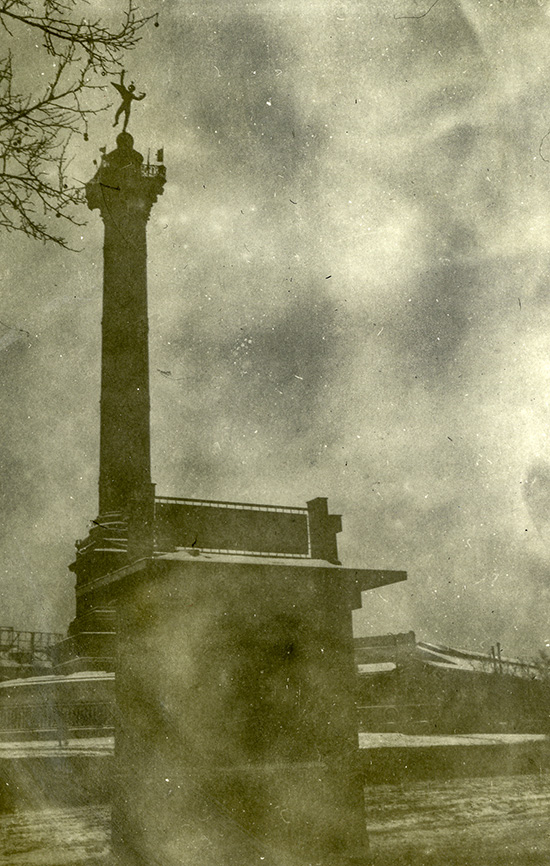 He also walked through Place de la Bastille (above) the Tuileries (below), which "was under a good foot of snow."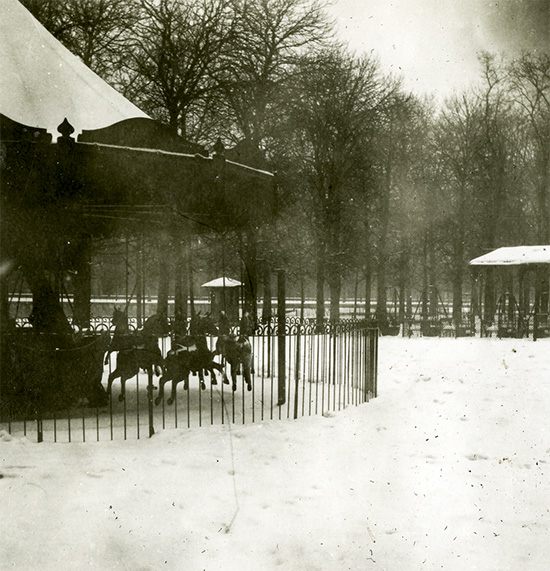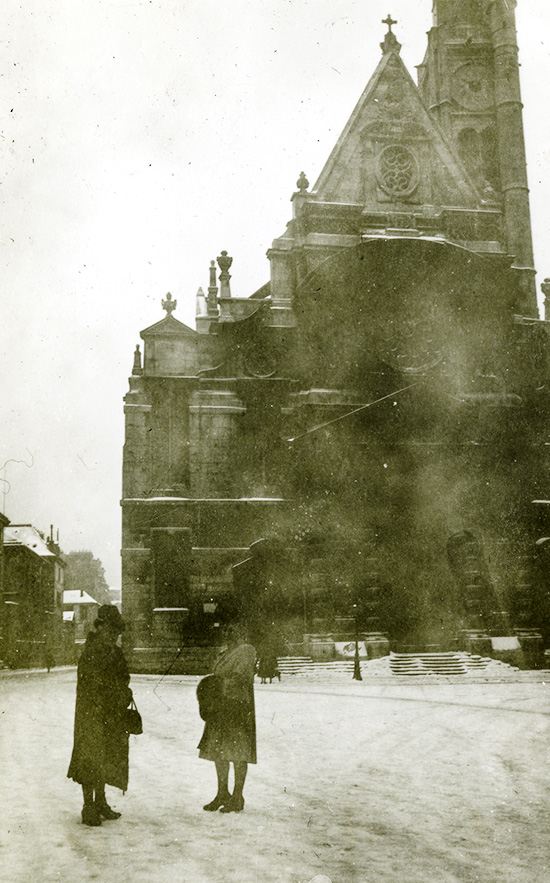 Later he met up with Lilice (left) and Monique Dreyfus Perotin (right) —  the sister of Alain Dreyfus.

February 2, 1945
Epinal, France
No. 9 (conclusion)

Dear Folksies,

         Left Monique's just in time to get back to my hotel to meet one of my boys, Harry Sharp, who had gotten tickets for the two of us to go to see the Folies Bergere.  He had gone the first night we were in Paris, but had been way in the back of the room, and he wanted to go again and sit closer up.  Everyone, including the gals, had recommended it. Sooo!!! It was pretty good, but not as good as the one we had in the World's Fair. It had some beautiful sets; some gals that were beautiful from a distance (we saw some of them later in the subway on the way home and, oh, my, yipes!) — and I repeat, from a distance; some wonderful color schemes, and a couple of good funny acts.
            The next morning we were up and off soon after breakfast.  We had a considerably warmer ride coming back than going up there for two reasons.  The weather was definitely warmer and also we had fixed some paper over the radiator of the car so that the engine heated up more and consequently we in front were kept warmer.  However, it rained practically the whole way home and we took longer getting home than going.
                I undoubtedly was given a good deal more information about family and people concerning whom you would be interested to hear, but I'm afraid that I did not absorb it all. If I think of more, I shall dish it out to you, otherwise, I think Jeanne or Lilice will manage to give it all to you in one of their letters. Needless to say, the trip was more than worthwhile, but 'tis definitely not the time of year to see Paris.
            Oh yes, another thing – it looks as if there will be a mass immigration to the U.S. after this is over. Lilice says she wants to spend her last years on the 2100 block of Post Street, and George, Claudine and Gilles are all for it. No vote was taken from Dominique.
              Well, if you've waded through all this and absorbed it all you're pretty good.  If only you could get half the enjoyment, vicariously this way, that I got being with all the family those all too few hours…..
             Gil just told Eddie Welles and myself that we were going out tomorrow A.M. on detached service as assistants on surgical teams to join and help the gang from Illinois University.  Ralph and Carroll are already up there and Serge Bryner and Bill Kuzell are helping out on the Medical Service there.  When we go that will leave an even 14 doctors back here — all the others are out helping at various spots.
                         Loads of love,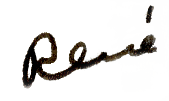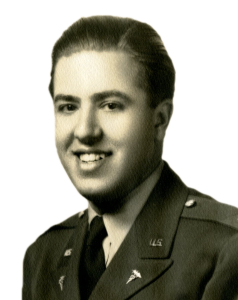 .
Watch for my next letter
February 5, 1945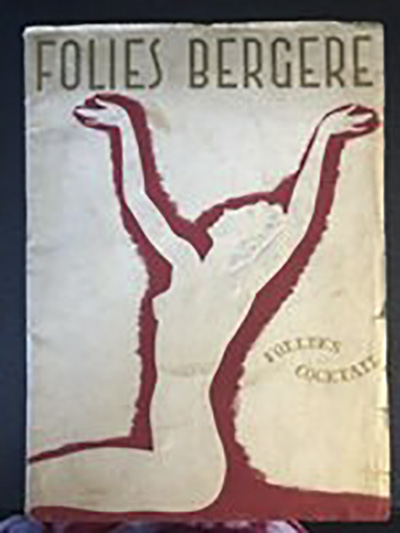 After an evening out at the Folies Bergere with Harry Sharp, René bids a fond farewell to Paris and heads back to Epinal and the 59th.