December 9, 1944
Mutzig, France
No. 71

Dear Folksies,
            The packages I've received in the last few days have managed to just about fill my barracks bag. I wasn't going to open them till Xmas, that is this last batch, but to conserve space, I thought I had better consolidate some of them. Even that, however, did not reduce the whole combined space very much.
            Soooo, thanks ever so much to Gram for the two boxes she sent, the one with candy, sardines and sugar and the other with all the swell soups, peanuts and the crushed pineapple. Thanks to youse folks for the preserves, deviled ham & of course to R.B. Sr. for the toilet paper.
            I really feel terrible that I have been unable to get anything as Xmas presents for you all – even had they been little things, but there just hasn't been the opportunity nor the things to purchase in the last couple of months. I am pretty sure, anyway, that all of you would have much rather that if anything were to be spent it would be spent on our cousins over here…
            Some interesting bits of news – gleaned from the Col. mostly when driving with him:
            1) It seems that he is very likely not going home after all. The whole thing was started some time ago by the Surgeon, Maj. Gen. Stayre, but either the latter forgot about it or found that he did not have the power he thought he had in such matters, no one really know. At least the Col. has not seen him since the offer and promise was made and the Col. does not care now. He is just as satisfied to remain till its all over over here, just as he had said some months ago.
            2) As soon as Bob Escamilla has 3 mos. in as Chief of Med. Service he will get his Lt. Colonelcy…in other words, some time in beginning of February.
            The gang had quite a party two nights ago – took over the room we had previously used for Receiving, and had the best bloomin' band we've ever run into – the same one that we have had at various affairs for the past year and a quarter. They started out just as a band of one Engineer Outfit, and they had to do other stuff too. But now they are nothing but a band and only do odd things at one of the headquarters. They're at home at the 59th actually.
           Apparently the party was a success.  I stayed only about an hour, as my foot was bothering me – have been nursing a small, yet persistent, little infection in the skin in the middle of the shaft of my second toe. If I were the barefoot boy, it would probably clear up in no time, but shoes do not do it any good. However, it has improved in the last few days.
                          Loads of love,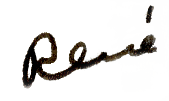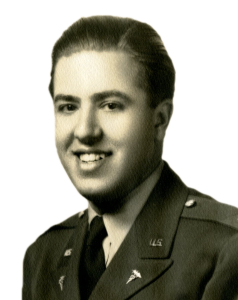 .
Watch for more of this letter
December 12, 1944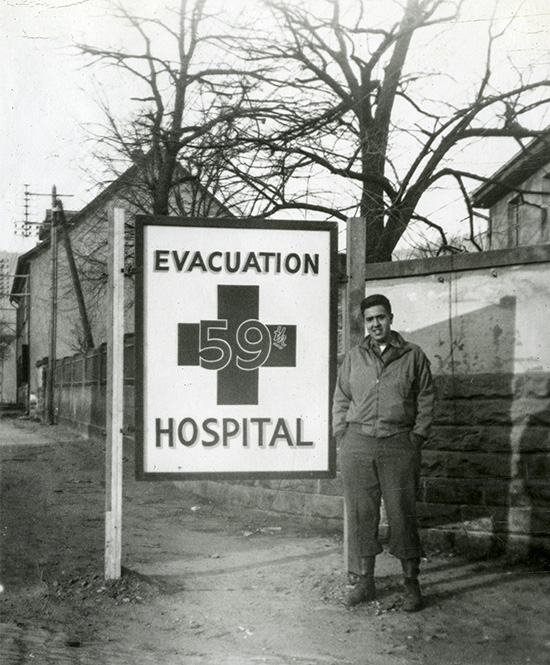 René is now writing to his parents from Mutzig, France – about 17 miles west of Strasbourg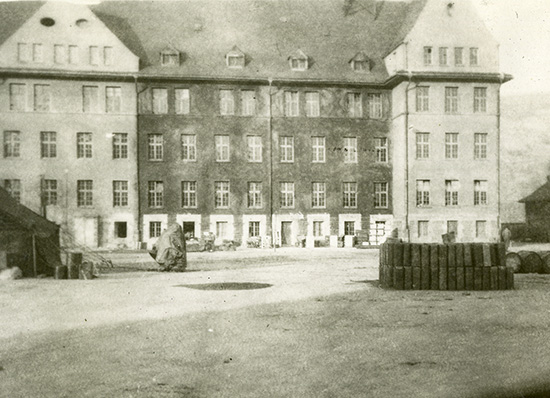 Their hospital building in Mutzig.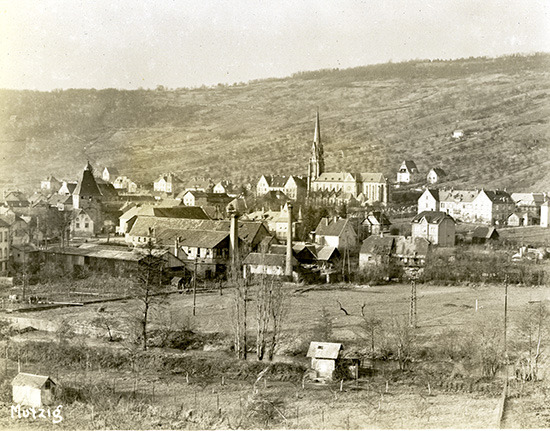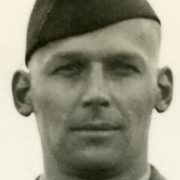 No letter from René on December 10, 1944. Here's an excerpt from the journal of Dr. Philip Westdahl, describing their move from Epinal to Mutzig, France.  In his personal journal, Phil was able to describe his experiences in the 59th Evac. with specifics (place names, information about the enemy) that, because of censorship rules, René was not able to disclose in his letters to his parents.

---
---



We left Epinal on "Pearl Harbor Day" December 7th, 1944. It was a terrifically cold day and we were grateful to be riding in ambulances. Our route took us East through all the hard-fought battle ground from which so many of our patients had come to us while in Epinal.

The Vosges mountain and forest area between Bruyeres and St. Die des Vosges resembled the type of country along the Skyline Boulevard down in the vicinity of the stretch between the Woodside turnoff and Saratoga. The signs of battle were quite evident along the way; hardly a tree failed to show a nick of some degree, and in many areas whole groups of trees were shattered completely, their frayed stumps standing up like so many bushels of corn. This was the country the boys described as "rugged", and from what we could see they were not exaggerating. Here and there we saw remains of German road blocks, piles of large logs baled together with heavy cable wire.

East of St. Die we became aware of the proximity to the German border. In spite of the innumerable French tri-color flags with their Free French "Cross of Lorraine," the names of the towns, as well as most of the signs within towns and along the road were all German.


We finally reached our destination, Mutzig, a small town about 12 miles west of Strasbourg. The town itself is insignificant, but it was the site of a large German garrison, which only 2 days before our arrival had been occupied by a pocket of resisting "Krauts" who had been dislodged by the ingenuity of our American infantrymen.

Our boys had loaded a captured German vehicle with "beaucoup" TNT and sent it on its way to drive a tremendous hole in the defenses of the fort adjoining the garrison. That proved to be the undoing and the "Krauts" surrendered. It was a wonderful strategic move, but the only difficulty was that it succeeded in shattering the windows and tile roofs of the barracks adjoining the fort, which was to be our hospital area. Consequently we spent our first day picking out quarters with an intact ceiling and proceeded to patch the shattered windows with cardboard. Once this was accomplished, our quarters were quite comfortable, complete with a stove in each room.

The largest of the buildings in the group that comprised the garrison was originally a French barracks, but had been occupied by the Germans for the past 5 years. It was an old 4-story building with the usual high, steep, slanting roof and innumerable little projecting attic windows.

Every hallway was liberally painted with German military insignia, flags, metals, such as the iron cross, crossed rifles with a German helmet at their crossing point, the Nazi swastika, and last but not least, mottoes of the German army. Typical of these was, "Deutchland ist da wo dete starke herze sind" (Germany is where the strong hearts are).

There were also signs indicating the direction of the air raid cellars "zum Luftschultz kellar." These cellars were quite comfortable spots, also painted, but with rather pretty scenes of German life, murals of the sort we might expect to find at home.


.

Watch for René's next letter on
December 12, 1944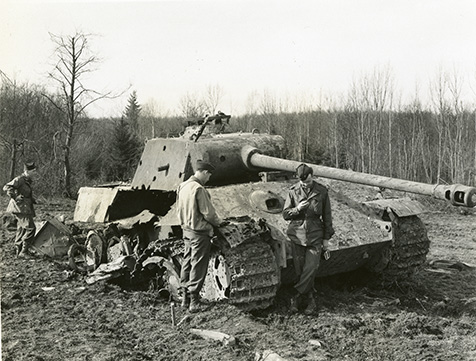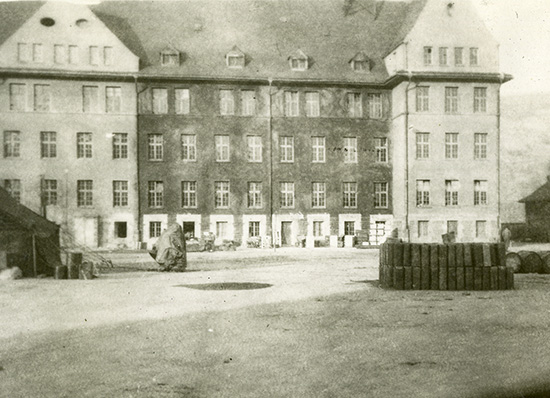 The new home of the 59th Evac. Hospital

December 12, 1944
Mutzig, France
No. 71 (continued)

Dear Folksies,
            I stopped writing three days ago because of the inability to adequately elevate my foot at the same time as I typed. Wally came in while I was writing and as my toes looked worse, he made me stop and soak and elevate. So I did that for a couple of days and today they are definitely well on the way to being mended.
            As I was saying, the party was a success despite the fact that one or two had indulged a bit too much prior to the party and had to be carried home to bed – namely our much-bemedalled one.
            We're all pretty much agreed that it takes more than just courage to be one of these front-line heroes – a guy is either cornered and has to do some things or he doesn't give a damn (no ties that mean anything to him at home, etc.) and besides that he is a bit nuts. Of course, perhaps if they let a number of the right kind of psychopaths out of the hospitals and asylums and put them in the line, this war would be over sooner. What about it?
            As I was saying before going off on a tangent – the party – oh, yes, one of the features of the party was the entrance of three comics – nurse comics – of the outfit, namely Bette Holmes, Edna Haertig & Bertha Moore. To appreciate their entrance, a little description is necessary. Bette is small, light tan-haired comic from Florida –fluffy hair. Edna is medium height, brown hair, medium thin, rather straight hair and not so much of it, but comes to shoulders, from Texas. Berta is 6 ft. red hair – cut short.
           Well, they came bouncing in to the room in rather droll attire. Bette had on a derby hat that came down so that it just about rested on her shoulders. Edna had a moth-eaten shawl that had the appearance of an elongated mop, but that was supposed to be a silver-fox fur, hair with fancy ribbon. Bertha had a regular top hat. And, all came in in regular patients' pajamas. They were quite a scream and then after a while they got the band to play "Strip Polka" and proceeded to hold the center of the floor and suit the motions to the music. Beneath the pajamas they had their regular O.D. shirts and slacks. They put on an excellent show alright. They are quite a combination.
           Fran left for home, as did Ag Alkire. Don't know for sure what the deal on Ag was.
           Rip Williams [Hal] is transferring –?? Where. He and Chappie do not get along – never have gotten along too well, but trouble between them more of recent months. They differ on methods of dentistry and Chappie being head of the dept., well… Schmitty and Chappie get along O.K. and Schmitty and Hal get along, but not Hal and Chappie.
          Have started "Leaves to Paris" for the Nurses only, however, at the moment!! Bret had it all fixed up for himself to get to Paris and 'twas O.K.'d once and then the Col. made him cancel it because of work impending – and then turns right around the lets 3 or 4 of the nurses go on a different deal, with the same number going when they come back – despite the fact that we have a few of the nurses in the hospital and Fran and Ag leaving without replacement for them as yet. No comprendrai!! Bret had a much better reason for going there, too, as his brother is stationed near there and he hasn't seen him for a lot longer time than some of the nurses haven't seen their boy-friends. We don't get it!
          Two packages last night – In fact, our room did well with a total of 7 packages. One, sort of crushed and consequently opened and almost all consumed today – Almonettes and Coffee-teens from Godchaux, for which many, many thanks. Other was the soups from M.L., for which also many, many thanks. Shall make very good use of them one of these cold nights. Bret Smart is our expert soup-cooker, so we shall have some fancy concoction I'm sure.
          Right now am rooming with Serge and Marv Hodgson with Chappie, Ed Blasdel & Smart on one side and Chuck and Phil across the hall, and Carroll and two members of another outfit in the room on the other side of us. Yes, we have a team attached to us – a Neuro-surgical team composed of Capts. Clemperer and Byers.
                          Loads of love,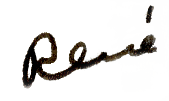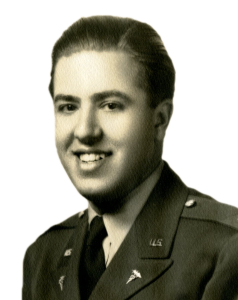 .
Watch for more of this letter
December 13, 1944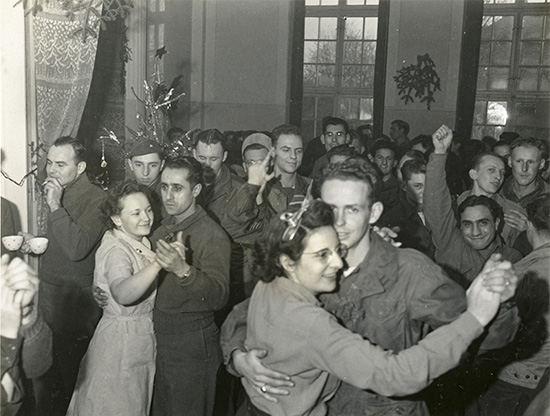 René tells his parents about a party a few nights before.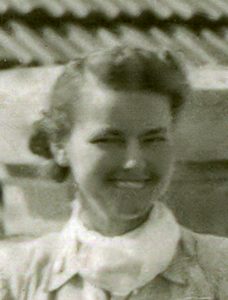 Bette Holmes was one of three "nurse comics" at the party.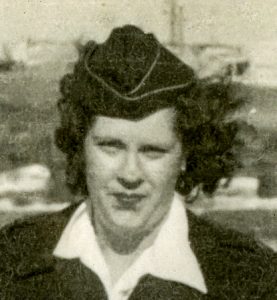 Fran Trembley recently left for home.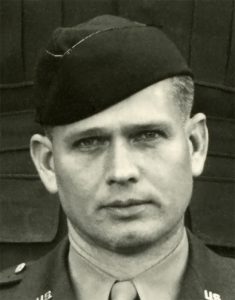 René doesn't understand why Bret Smart wasn't able to go to Paris to see his brother, but three nurses got to go on leave to Paris.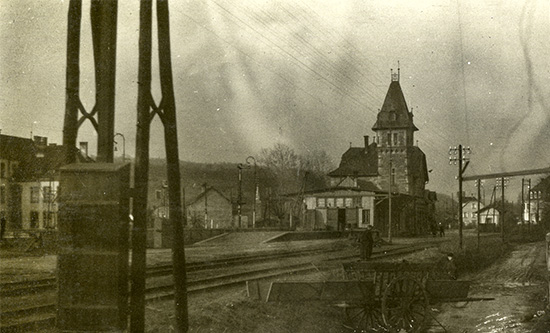 December 13, 1944
Mutzig, France
No. 71 (conclusion)

Dear Folksies,
          Well, we got put to work yesterday afternoon – I might have known that that would happen just soon after I got a letter started. Now have a new system whereby we work 6 days on days and then 6 days on nights and then have 48 hours off (during which time, of course, sleep must be had) and then 6 days on days again, etc. In that way only 3 teams work at a time, unless the Neuro-surg team works and then it would be 4 at a time, and one team is off all the time so that we don't quite have the grind that we did have for just about 2 mos. straight. Of course, at the moment we are having difficulties, for Mattie is abed with cystitis and Cressman has a moderately severe bronchitis, tho' the latter ought to be working in a few days.
        As I started to say above before interrupted by Wally, as usual, the "Brain-team" should be a big help, because those were the cases that usually held us up a great deal, and now it makes it possible for 3 teams to carry out the rest of the work without tying up one of them on the long brain stuff.
        As you may have gathered, we are again in a new spot — this time in a place where more German is spoken than is French. Again in buildings, but not nearly as nice. The place was filthy and there were considerable spots where there was unwanted ventilation. I got out of having anything to do with this move because of my poor tootsie, which, incidentally today looks fine and feels fine.
        The officers mess room is, however, quite nice – large and better table space, tho' we don't have the stoves that we had at the last spot. Quarters are more cramped in Surgery and shock, etc. and we actually do not have room to have 8 tables – just enough for 6 now. Our great planners, Gerbode Inc. may regret it yet. The poor litter-bearers too, do not appreciate the stairs they have to climb here tho' distances are not as long as they had before. Our motor-pool has an actual garage – a garage building that looks very much like the Stockton Street garage in S.F.
        The men, unfortunately, are, for the most part, housed in a large two-room building so that they do not have the privacy they had before – imagine trying to sleep in a room with 200 others – t'aint good. We have fairly good quarters. Room about the size of mine at home, perhaps a trifle longer, with our three beds – in fact, we did find some regular spring beds and hauled them down from the 3rd floor. Also have a good sized table and two closet-bureaus.
        Have no steam-heat fanciness at this spot, tho' the nurses do in their building. But we have a very efficient stove in each room, on which we keep water hot throughout the day and night. Have good lights – so what more could we want really?
         Our team set a record tonight — removing the largest foreign body from under any patient's skin since we have functioned.  It was the whole end of an artillery shell that had gone through the fellow's shoulder, just below the joint, really in the arm, and lodged in the axilla, and amazingly enough the only damage it did was to fracture the humerus (going clear thru it) and fracturing also one rib.  The vessels and nerves it missed somehow.  It was fully four inches long and two-and-a-half inches in diameter.  What a hunk!
         Today being Sunday, at noon Wally was asked if he had attended his religious services in the morning.  He said, well, yes and no — he had not actually attended church, but he had been in on a religious ceremony at least — he and Carroll had done a circumcision on one of our own men!!!
                          Loads of love,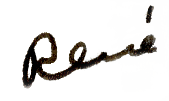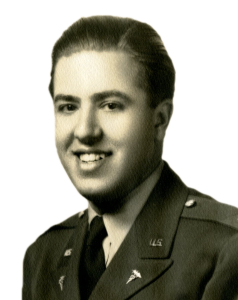 .
Watch for my next letter
December 16, 1944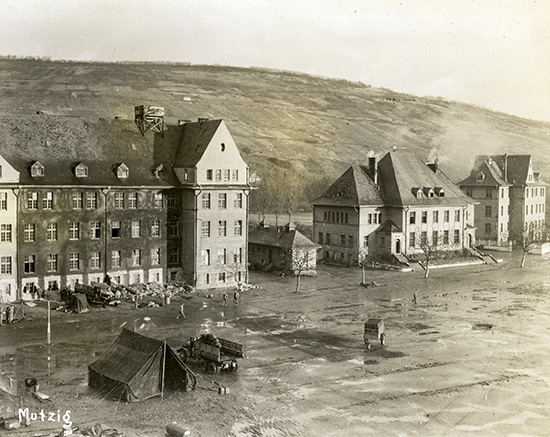 René tells his parents that they are "again in buildings, but not nearly as nice" as in the past.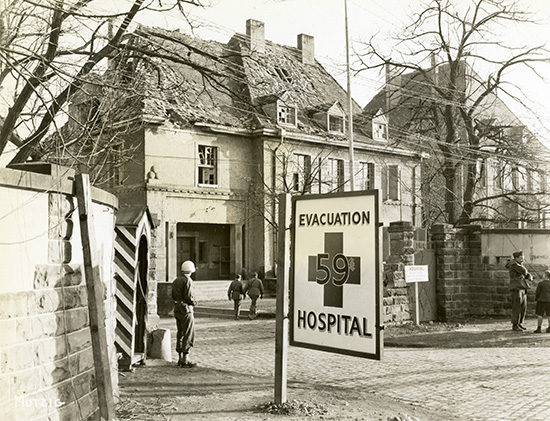 One of the problems with the current buildings is that there are "considerable spots where there was unwanted ventilation." Perhaps he was referring to the broken windows and roof of the building in the photo above.

December 16, 1944
Mutzig, France
No. 72

Dear Folksies,
           Am over in Surgery at the moment, we are on 3rd call tonight, and at the moment Shock and Receiving are empty — so it may be that what does come in will be able to be taken care of by Gerbode, as he is 1st call tonight. Hope so – but also, since my typer is on the fritz and this one is the only one conveniently available at the moment, I hope that even Frank doesn't have business, as he is a typer of histories also, since the time when Eddie Welles and I practically converted the whole surgical staff to this system.
           If we do not work tonight it will be the first night we've been un-busy since arriving at this spot.  Yes, have had a work-out again!  The volume has not been so terrific on our shift, at least, but we have had some dillies as far as cases are concerned.  One night we finished up with a six-year-old Alsatian girl on one table with a lousy looking compound wound of the wrist that was about three days old; and on the other table we had a 72-year-old Alsatian man with fractures of both wrists and wounds of both legs. The one wrist had gas-gangrene and Wally had to take off the forearm just below the elbow.  In fact, we had six people working on him at one time to shorten the time that he would have to be anesthetized. Russell and one of the corp-boys worked on one wrist,  Wally and another of the men worked on the other wrist and George Armanini and I worked on the legs while Ann Dunn (anesthetist for Geo's team) gave the anesthesia.  We did not expect the poor guy to last more than a few hours after the operation, but here it is three days now and he is fit as a fiddle, chipper, etc.  The little gal, too, is doing fine.  The wonders of surgery and Penicillin, eh?  Or is it just amazing human resistance?  Of course, we have had those who did not do so well, too.  In fact, a couple of nights ago we had a pretty sour night, boys with lousy wounds and in bad shock, etc. who just couldn't make the grade.
            As for me, my toes are completely cured. Have been flopping into bed each morning after breakfast and staying knocked out (with Nembutal once) until someone awakens me in time to eat supper and go to work.
            Tidbits of news: Dottie Collins was up here yesterday to go, along with three of our nurses and other nurses from the other hospitals in the area, to Paris for a 48 hr. leave there – i.e. they get 48 hrs. in Paris not counting the trip to and from. I think the men are getting to go to Paris in the near future too, and whether they are going to let the officers go in groups of three I know not, but perhaps they will do as they did in Sicily, i.e. have one or two officers accompany a group of enlisted men on each trip. Soooo, perhaps it won't be too long before I get a chance to go there.
            Had a letter from Monique. Says no news from her husband since August. Says Raoul's daughter, Colette, age 15, lives in Paris with her mother who is remarried. Also, more news from Jean-Pierre who says Claudine and also Lilice are going to Paris. Wonder if they are going to be able to find some place there to stay and wonder, too, if Jeanne and David are going back there. Hope so, so that I can get to see them all at once there, if I do get there soon.
            Funny thing happened last nite. As Carroll Russell and Ed Blasdel were walking thru Receiving coming to Surgery they were both hailed: "Dr. Russell! Dr. Blasdel!" They turned around rather startled and what do they see, on a litter, with a piece of shrapnel in his leg, but a fellow whom they know from the County Hosp. in Tulare. He, in fact, used to be their cast man at the hospital – now a Sgt. in the infantry. He was sure pleased to land at this hospital and to be operated on by Carroll! Coincidences.
            Cressman is well and back on the job tonite. Mattie is doing fine and will probably be cystoscoped before being allowed back on the job fully.
            Had another wedding here – and, of course, as usual, the "Gang-Greene" was not able to attend. We were busy as usual, tho' when Frank Gerbode came over after the wedding and reception and showed up empty-handed we put up such a squawk – yelling at him for not bringing us any of the goodies – so that he kindly went back and came over to Surgery with a platter full of sandwiches and specialties of our chef from the wedding reception.  Oh, who got married? 'Twas Bette Holmes to Capt. Richardson of a Signal outfit, I believe. Chaplain Daib has been around – and in fact performed the ceremony.
            The "Brain-Trust" – or rather "Team", consisting of Wolf Klemperer and Walt Byers — are really a couple of swell guys and we are extremely glad to have them with us, not only because of the work they do and take off the shoulders of the others, but also because they are swell to be with. Carroll has named them "Wolf-Gang"…
            Yeow, Wally has brought a case from the ward to do – an amputation, so shall have to quit this now.
                          Loads of love,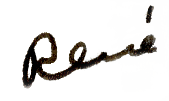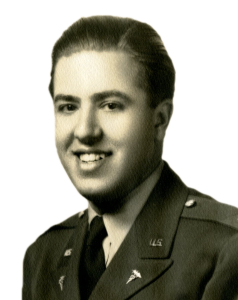 .
Watch for more of this letter
December 17, 1944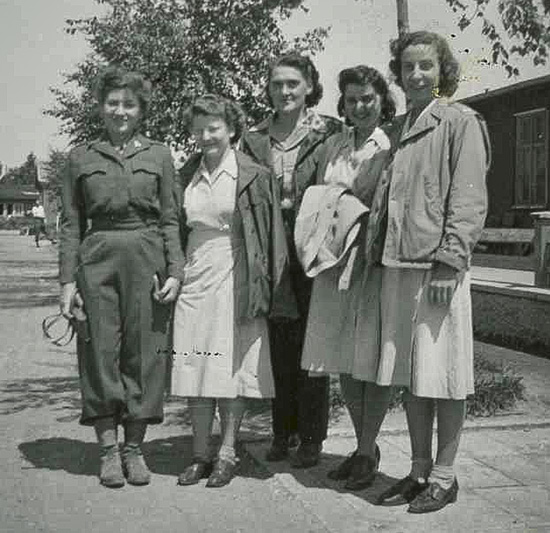 René tells his parents that Nurse Dottie Collins, who used to be with the 59th, stopped by the unit. She, along with three current 59th nurses and some  nurses from other hospitals in the area were headed to Paris. Pictured above (left to right) are: Liz Liss, Doris Clarke, Mac, Anne and Dottie Collins.
(Photo courtesy of Stephanie Moses, daughter of Liz Liss.)
René tells of surgeries they performed on two local residents in the Mutzig area – a six-year-old Alsatian girl with a compound wound of the wrist and a 72-year-old Alsatian man with fractures of both wrists and wounds of both legs. Above is a young Alsatian woman in traditional dress.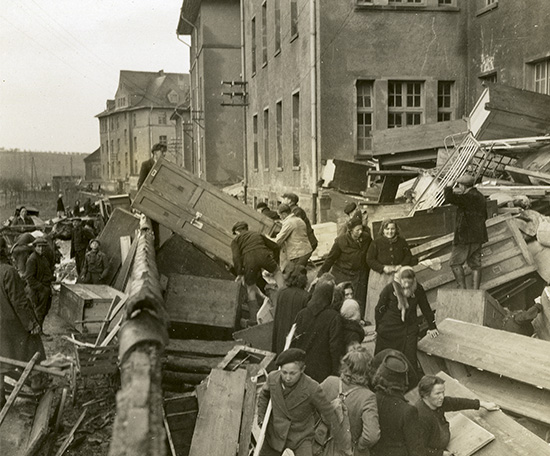 More residents of Mutzig – picking through the rubble (above) and doing laundry in the river (below).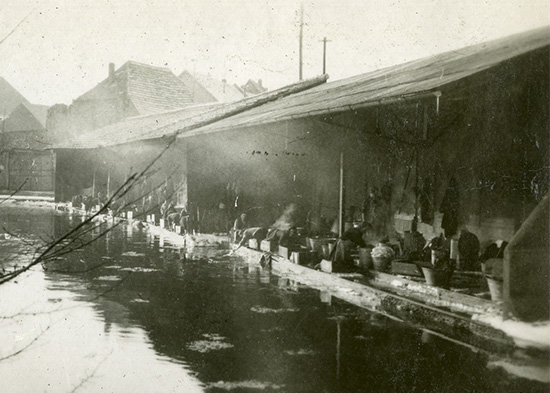 December 17, 1944
Mutzig, France
No. 72 (conclusion)

Dear Folksies,
            Today, as you see, is another day… After we got done with that case last night and worked up a couple of new cases on the ward, it was time for midnight chow, and then we turned in – not really thinking that we would be able to sleep the whole nite after that. But, by golly, we were not disturbed, tho' Smart, the 2nd team on call, was gotten up shortly after we had gone to bed. Slept till just before lunch.
            Received the book you sent me – all three of you – "The Razor's Edge". Thanks oodles. Had heard that it was good. Yes, I was bad and opened it when it came, but got another package from you yesterday and have so far refrained from opening it and probably will save it till Xmas. Also got pictures from Dave of himself, Gram and the poster at the Grove [Bohemian Grove].
            Mom, I'm glad to hear that you all had such a good time on Thanksgiving and you know full well that my thoughts too, were with all of you, as they will be on Xmas and New Years. Yes, it will be fun when all are together for these festivities once again.
            Rather surprised ourselves last night when counting up the cases in the Surgery book to find that, despite the fact that we have been only working 3 teams on a shift with the roving Brain-team, instead of the 3 day and 4 nite teams that we had been using before we came to this spot, we have had a greater daily average of cases thru Surgery than we had before. It must be that we're getting used to it and doing cases faster. I think that for one thing our anesthesia is getting faster and a couple of us have run two cases at once with pretty fair success. I believe our biggest 24 hr. period (i.e. 8 A.M. to 8 A.M.) was when we put through 120 cases. The average for our last spot was 62 per day. Not bad, eh?
            We are beginning to train a couple more nurses for the anesthesia job so that in a couple of months, when they are adequately trained, Paul, Ham, Johnny Malone and I will be able to alternate on two surgical teams. Hope it works out.
            Happy New Year!
                          Loads of love,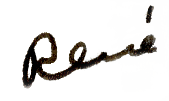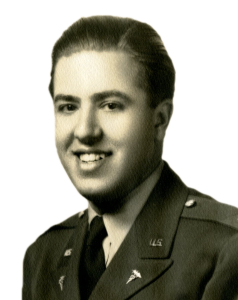 .
Watch for my next letter
December 18, 1944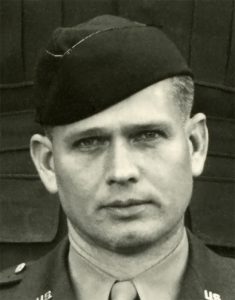 René tells his parents that, after finishing work in time for midnight chow, he was able to sleep straight through, until just before lunch. But Bret Smart (above) a member of the second team on call, had to get up to work on a case shortly after René had gone to bed.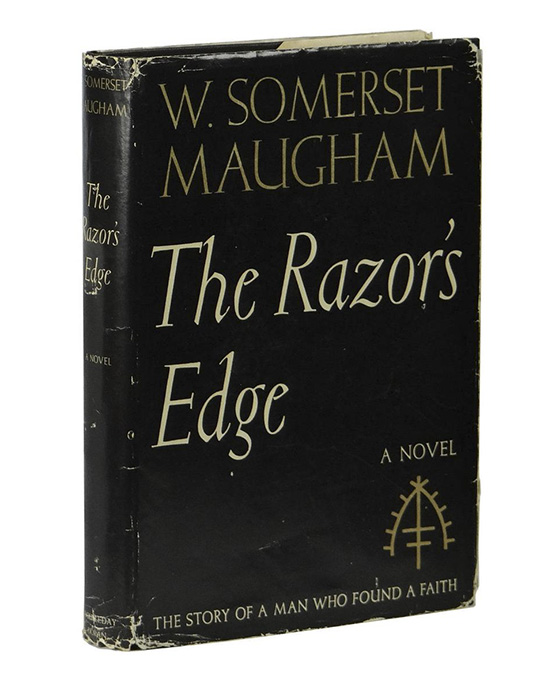 René sends thanks for the book – "The Razor's Edge" – that he got for Christmas, but didn't wait to open.

He also thanks his Uncle David (above) for the pictures David sent of himself and of Gram (below) – René's grandmother and David's mother-in-law.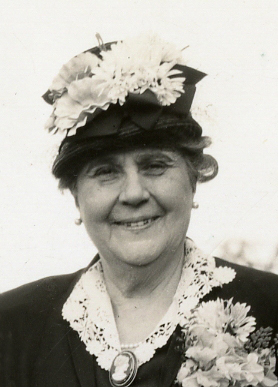 December 18, 1944
Mutzig, France
No. 73

Dear Folksies,
            Surprised that I should write again today, aren't you?? Well, I am! Have done a bit of writing and also reading in the last 24 hrs. Started reading the "Razor's Edge" last night and damn near couldn't put it down – read to the wee hours and then stayed in bed this A.M. until noon just reading it. Intend to go to bed after writing this tonight (it being 7 P.M. now) and may even finish the bloomin' book tonite. It is certainly written in an original manner with plenty of thought material there to digest.
            David and Jeanne are still looking for an apartment, but in the meantime are definitely staying at Mrs. Weill's. Lilice and Claudine and family will likewise be near Jeanne & David, so you see there ought to be a swell re-union in the not too distant future!!
            Paulette had returned to her mother's house and found my card to Sadie waiting there and consequently hurried to write to me. She, too, is returning with her kids. Raymond is in the army. She has heard from Anthony who apparently is still well and keeping his spirits up.
            Fadley just presented me with an interesting statistic! In one month, November, we used $57,000 worth of Penicillin right at our own hospital! Quite a figure, eh?
            Carroll and Klemp were going to visit Lynn yesterday, but they did not get there. It seems that they decided that the shortest distance between any two points was in a straight line, but when they saw some awfully big craters beside the road, on both sides, and saw fresh, un-travelled-on, dirt on top of the road, and were finally stopped…they realized their mistake and came hi-tailing it back home with not the slightest intention of trying the short-route that day. Carroll said that Klemp was so bloomin' scared that all Carroll could do was laugh at poor Klemp, and it wasn't until they were back that reaction set in on Carroll and he realized what a narrow squeak they had.
                          Loads of love,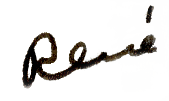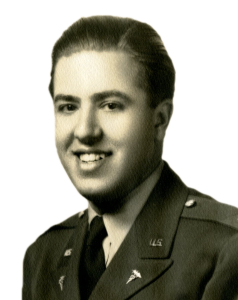 .
Watch for my next letter
December 23, 1944

René tells his parents about the mis-adventure of Carroll Russell (above) and Walt Klemperer. While it didn't involve a German tank (like the one in the photograph below, taken near Mutzig), it illustrated how close the 59th was to the fighting.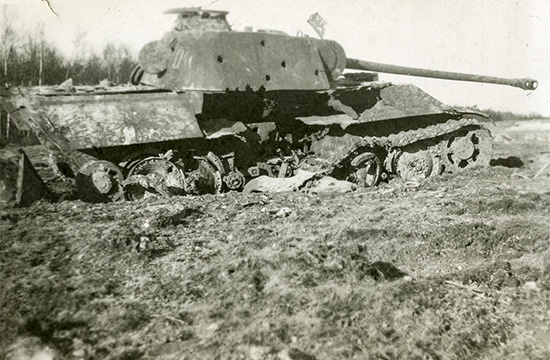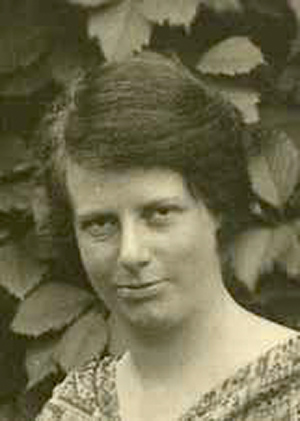 René says that he got a letter from Paulette Leon (above), who returned to the house in Paris where her mother (Sadie Bine Leon) had lived. Paulette wrote to René when she found a postcard from René to her mother. His postcard, mailed in November, never reached Sadie (below), who had been deported from Paris on June 30, and died in Auschwitz on July 15, 1944, at the age of 73.