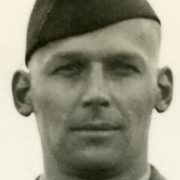 Today we have an excerpt from the journal of Philip Westdahl, about the 59th Evac. Unit's journey to Heidenheim.

---
---



Toward the latter part of April, it became evident that the Seventh Army was turning south into the German province of Bavaria, having gone as far east as Nuremberg and captured that famous Nazi city – the site of the much publicized Nazi stadium. The Third Army also turned south from Czechoslovakia's western border. Both armies seemed to be heading for Munich and Hitler's hideout of Berchtesgaden on the Austrian border. News was good on all fronts. The American First Army had linked up with the Russians south of Berlin, and that city was under siege. The British and Canadians were cleaning up in Holland and had taken Bremen.

The 59th was ordered to move up across the Rhine to the Bavarian city of Heidenheim to back up the Seventh Army drive on Munich. We left Grunstadt [Tiefenthal] on April 25, proceeded by way of the superhighway, crossing the Rhine at Ludwigshafen and Mannheim and thence to Heidelberg. Fortunately it was a beautiful day, and we were off to an early start, arriving in Heidelberg with the morning sun. The city was even more beautiful than I had seen it the week before. The sun was shining on the river and the bright sun alternated with dark shadows to bring out every detail of the surrounding hills and picturesque high-slanting red tile roofs.

From Heidelberg we drove up the Neckar River Valley, which is one of the most beautiful drives I have ever seen. The river twisted through beautiful wooded green hills and its banks were lined with the patchwork quilt-like areas of green and brown fields. Here and there a picturesque cluster of typical rustic Bavarian houses made up a town. Each town usually had its ancient castle high on the hill overlooking the river, and each town had its guesthouse for tourists. It was an ideal country for a leisurely bicycle trip, stopping whenever and wherever one pleased.


.

Watch for René's next letter on
April 27, 1945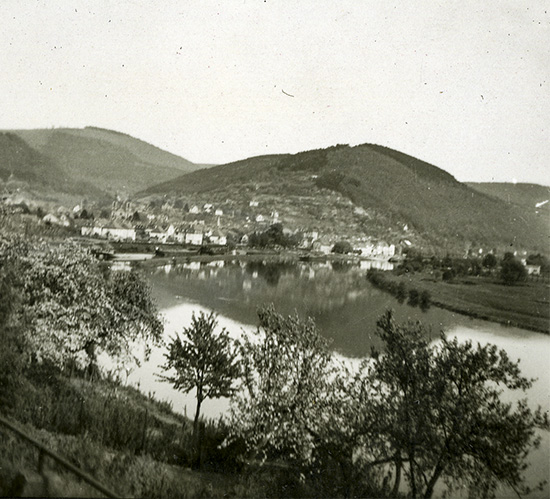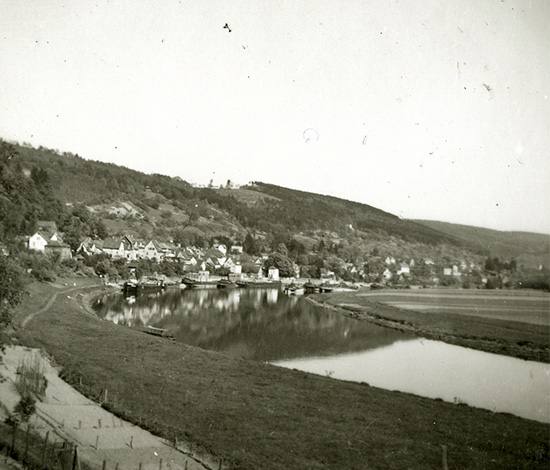 Phil Westdahl says in his journal that the drive through the Neckar River Valley was "one of the most beautiful drives I have ever seen."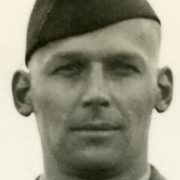 Today we hear more from Dr. Philip Westdahl about the unit's move to Heidenheim…

---
---



Most of the small villages along the route were flying white flags from a window of every house, as well as the church and city hall, and there was very little evidence of destruction. Here and there, however, one village would be extensively damaged, probably as a result of a German Army stand. We learned from wounded German prisoners that the local civilians were extremely hostile to them if they attempted to make a stand and thereby bring destruction to their city. Cities such as Crailsheim, a railroad center, were leveled and still smoking as we came through.

In spite of this destruction, the Bavarians did not seem as hostile to us as the Germans further north. Those in Heidenheim, the city where we established our hospital, seemed almost friendly in their attitude. All along the route, particularly in the industrial cities, displaced Polish and Russian civilians and released prisoners could be seen wandering the streets, enjoying their recently gained freedom. Many of them proved very capable as littler bearers in our hospital and enjoyed their first good food in years. 

Heidenheim is a fair sized city about 15 to 20 miles northwest of the Danube River and about 100 miles northwest of Munich. Our hospital was set up in a field just outside of town, through which runs the small Kocher river, a tributary to the Danube. We had our usual burst of activity for two days and nights, most of our patients being German prisoners. My most interesting case was a German with a 30-calibre rifle bullet in his brain, which I removed. He did very well, having only a slight facial weakness remaining after surgery.


.

Watch for René's next letter on
April 27, 1945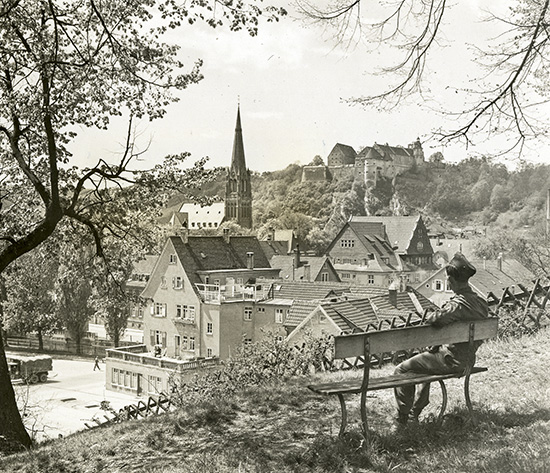 The latest location for the 59th Evacuation Hospital is outside of the town of Heidenheim, which Philip Westdahl describes as, "a fair sized city about 15 to 20 miles northwest of the Danube River and about 100 miles northwest of Munich."

April 27, 1945
Heidenheim, Germany
No. 32

Dear Folksies,        
         Almost a week since last writing and not a chance during all that time to sit down and get even a line off to you.  And strangely enough, only yesterday kept me busy in surgery.  Have, on the other days, been tearing around the country on one of those usual back-and-forth deals.  Things have been moving so fast over here, as you know, that it has been quite a problem to keep up with things, particularly when there is always the problem of getting enough vehicles to get us moved before the lines are once again miles and miles away.  Of course, it isn't only the 59th that is and has been in that predicament — it applies to all sorts of units. Some, however, have their own transportation, enough to get themselves moved in one echelon, but we're more on the spot when it comes to fast moving, for we have to rely on some outfit with enuf trucks to come and help us.
         I awoke one A.M. rather late and, still being only partially dressed, I bumped into the Col., who greeted me with, "Rene, how would you like to take a trip?" I was still in a rather confused state but said, "Sure." Soon found out that he wanted me to pick up some things at Hdq., and to drop in on our immediate bosses and find out what the prospects of our getting out of the spot we were in in a hurry, as we were already closed for business. It was quite a ways to go, so, besides the Col.'s driver (Davy), I took Treadwell and Chuck Schwartz with me for company and because they tho't they'd like to see the country, too. They didn't realize that it was going to be quite the lengthy trip that it turned out to be.
         Anyway, we did what we were supposed to do, also saw our friend Bill Dunn (the Provost Marshall friend of Hattie Myren's). On the way back we got a flat tire and decided to stop in at the Ordnance outfit to get the tire fixed before chancing some of the less used roads without another spare. While getting the tire fixed, the Lt. in charge asked us in for supper, which we readily accepted. When we introduced ourselves as being members of the 59th, we were greeted with, "Where are you guys?" It seems that out of the five officers at the table with us, two had been patients of ours in Sicily, one knew some of the nurses, and another was the APO fellow who had handled a good deal of our mail at various times.
         Got home rather late that evening, but the days are so long now that we had only a very short time when we had to use lights on the way back. When I got in the Col. was already asleep so, when I gave him the dope the next A.M. he sort of surprised us by asking how soon we (Bish & I) tho't we could get our trucks out on the road.
         Anyway, in very little time we got the trucks ready, the first echelon boys packed, Stan Jobe and myself packed, and Roy and Frank packed and off in the jeep.  Roy and Frank took off separately to go up and notify Col. Petefield (whom I had seen the day before) what we were doing, and I was leading our bunch down to a town where we were going to meet Frank and Roy. They had a lot more mileage to cover than we did, but we figured to meet in this town at about the same time – that is, both getting there about the same time. To make better time, Jobe and I divided the trucks into two groups. I took the first group, leading in a weapons-carrier and he did likewise with the second group.
         That ride was really beautiful, despite the fact that the weather was not good.  We paralleled a river for a considerable distance and with everything green, some wild yellow flowers of some kind in patches everywhere, and the usual spic and span German towns along the way, all was most picturesque.  It was really amazing to all of us to see what a beautiful and fertile country Germany really is.  Of all the places we have been overseas, the country and the towns in Germany have all the others beat.  Most of their towns are built up with houses rather uniform, and much as I hate to admit it, their streets and towns are considerably cleaner than even the French towns.  Why hadn't they just been satisfied with their own country, and not attempted to branch out and take over other countries that did not come up to their own in most respects?
            Even the towns that had been reduced to rubble were neat.  The people had gotten busy and straightened things out, cleared the roads and by-ways.  So, despite the devastation that was evident, the towns did not look as bad as they might have.  Most of the smaller towns were pretty intact, but the larger ones and those at strategic points were only shells of their former selves.
            All the way along it was evident that the Germans had systematically blown up all their bridges, whether they were large or small.  How they ever slipped up on the more important one on the Rhine and, more recently, on the Danube, I cannot figure.
            Our engineers certainly have done a wonderful job of getting bridges up in a hurry all over the place.  However, as we approached the town where we were going to meet Frank and Roy (we had agreed to meet in front of the largest church or in the town square or city-hall if there was one), what did we see before us but a chasm where there was no bridge and no markers of any kind.  Luckily Sgt. Jones (who was driving with me) had slowed down a short ways back, why, neither of us know, and the convoy was a good mile behind us.  We turned around, and found a place where we could get around the absent bridge by going out in the muddy field on the side.  Then after directing our trucks that way, we stopped long enough to put up road blocks on both sides of the road.  Also put up a sign, "Road block constructed by engineers of the 59th Evac. Hospital."  All the engineer outfits advertise when they put up bridges, so our boys figured we might as well also.
                         Loads of love,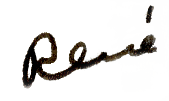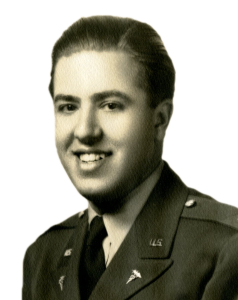 .
Watch for more of this letter
April 28, 1945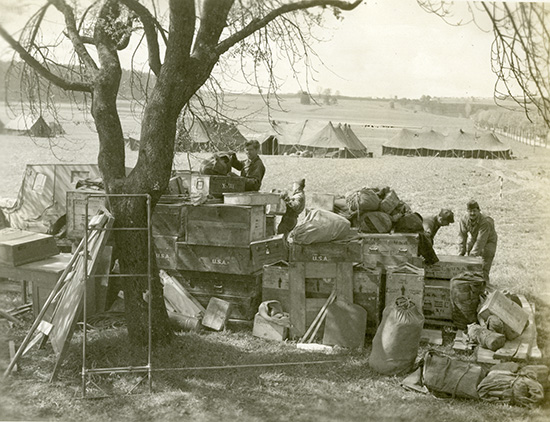 The 59th packing (or unpacking)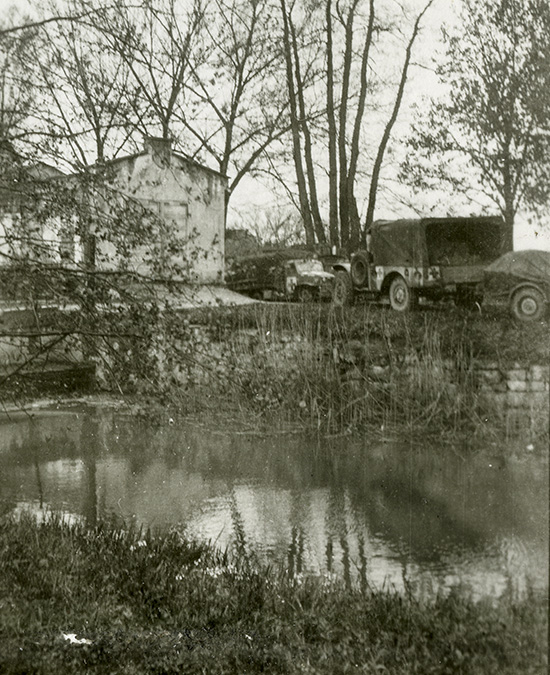 René's caption for this photo reads: "We bivouac overnite on edge of town with first echelon convoy. Got into this town ahead of the 21st Corp. headquarters (we had been told day before the town had been taken – it had been, but also lost once and recaptured just a couple of hours before we barged in.)"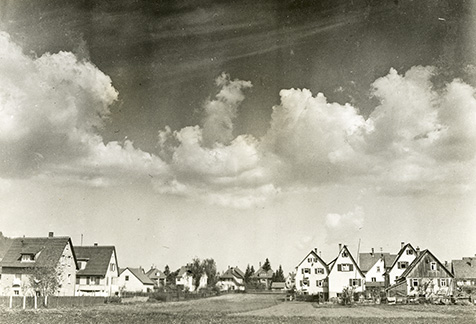 Reflecting on his recent travels through the German countryside, René says, "Of all the places we have been overseas, the country and the towns in Germany have all the others beat." And then he ponders, "Why hadn't they just been satisfied with their own country, and not attempted to branch out and take over other countries that did not come up to their own in most respects?"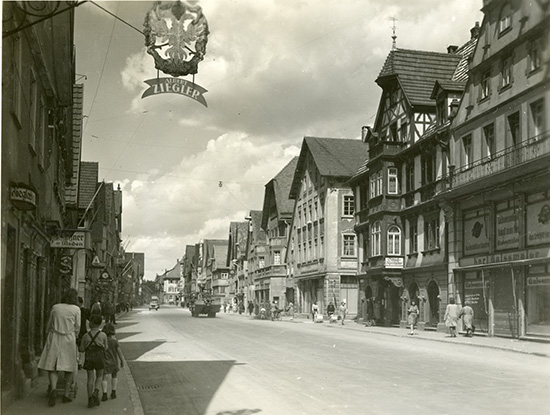 One of the "spic and span German towns," René probably saw during the drive he describes in today's letter.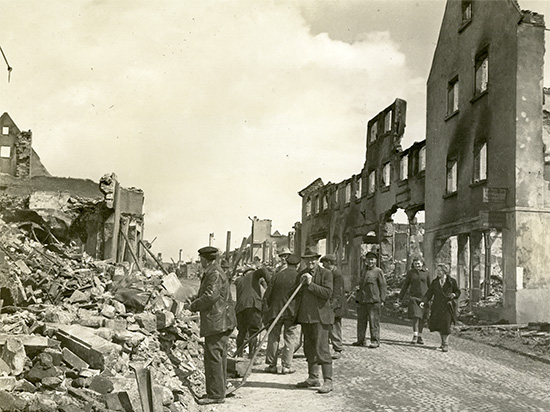 René tells his parents that, "Even the towns that had been reduced to rubble were neat."

April 28, 1945
Heidenheim, Germany
No. 32 (continued)

Dear Folksies,        
         When we got into the town I found that it was darned near impossible to get over to where the main section was — the town was a wreck, and, in fact, was still smoking.  Parked the vehicles in a small field by a grainary and had them break out things for supper while I notified M.P.s and the headquarters where we were, in case Frank could not find us. As it happened, while I was out doing that, Frank arrived and, by coming across a flimsy detour that I had been unable to find, had come to where we were parked.
         We found that the Army had moved so bloomin' rapidly that there was no point in dumping our stuff at that spot, but 'twas tho't that we could, the next day, go considerably further.  So, we all agreed to keep the things on the trucks and see what the morrow would bring.  That night we moved in on the grainary and had a comfortable nite's rest.
         It was a difficult area in which to find a suitable spot to set up, so after a little while, we decided that I better go back and let the Old Man know what we were doing and why the vehicles would be back later than all had anticipated.  Jobe was going to bring all the trucks back after they were unloaded.
         Sooo, back I went.  We had tho't that perhaps I might have been able to go back by Piper cub, but the weather was bad, and so Jones and I continued on to get more points towards the "Order of the Purple Seat."  It was the strangest day — we went through absolutely every possible kind of weather except fog.  It hailed, it snowed, it rained, the sun shone brightly, there were rainbows, etc.  What a day!  Jobe got in late that evening and we both took off again the next morning early, as soon as the trucks were loaded.  Still no news of the outside vehicles arriving to move us!
         That day we had good weather and the scenery through which we went, tho' of course it was the same as on the previous trip, looked much more beautiful.  Strangely enough, tho' we had had no trouble with vehicles getting lost on the first trip, everyone really got confused on that second one. We got down ¾ of the way in good time and everyone together, but at a Y turn, the second section of my group missed the marker we had up and turned right instead of left and the two following trucks, tho' they knew that that was wrong, went along with him to make sure the he got back on the right road at the next intersection.
         Then we got to a place where we had to ford a small stream, there was a Lincoln Zephyr (a captured vehicle taken over by our Army) stuck in the water, so everyone was tied up there for a while. But, I really howled when the driver of the Zephyr got out and turned around toward our side of the stream. It was none other than Bill Dunn. He and his assistant, Lt. Kelly, were actually on their way down to our new area, thinking that Hattie would be down there already. When Bill was finally hauled out of the stream, he stopped and I told him Hattie was still back at the old area. He decided he had better figure out a detour to get away from that stream, as he wasn't going to go back thru it. I tried to get him to tell the Col. for us that we would be back later than figured, because Bill had held us up for so long, but he didn't want to have to admit that he had gotten stuck that way, particularly since he had a nice sedan and the Col. was unable to get one for himself. Most of the boys knew Bill from his frequent visits to our place, and they all got a big kick out of the fact that the big-shot had gotten thusly stuck.
         The next A.M. a group of officers and nurses and men were going down in ambulances and the weapons-carriers, so off I went again, leading them down.  We got to the new area to find that Frank had already gone off to pick out still another area, as he and Roy had gotten impatient and had, that morning, early, gone to see Petefield themselves and gotten the O.K. to move on down.  Frank soon got back and told us the dope on the new area and I was all set to take off to go back and tell the Col. when the Col. arrived himself with the news that the outside vehicles had at last arrived, late that morning and were on their way.
         In the meantime, the boys had had so many flat tires that they had taken all the flats back to an Ordnance spot to fix them. In those three trips we had between 35 and 40 flat tires, all on the big trucks (and we only had 12 of them!)  So, when Frank and Roy were all set to take off for this area (the one we are now in) there weren't enough drivers left around to take the trucks down.  So, Roy grabbed me, we picked out a couple of other men whom I knew could drive, and, in one of the 2-1/2s I took the group of trucks on down while Roy and Frank went ahead to get the area staked out (i.e. where each tent should go, etc.)  We almost went on by the area because some of the town signs are confusing near here, and Frank hadn't realized that there are a couple of spots with the same name — actually, however, they have an additional word on the end.  It's sort of a county or department business — sort of like all taking the family name and the given names being the only ones different — yet there are a couple of Juniors also…
         We dumped all the stuff right away (it consisted of the things the trucks had brought down that A.M. from the old area – as we had not unloaded at all that day at the 1st area) and turned around. On the way back, I took our signs and took one of the boys with me to put them up at various cross-roads between this and that first area. When we got back, we just set up a cot and unrolled our bedrolls in the back of one of the trucks and went right off to sleep. It was plenty cold, however, as have been all the rest of the mornings here so far. The sun comes out in the daytime, but the nights are frosty and much too cold for this time of year.
                         Loads of love,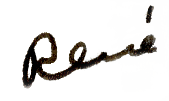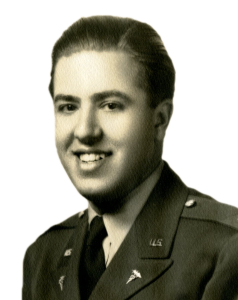 .
Watch for the conclusion of this letter
April 29, 1945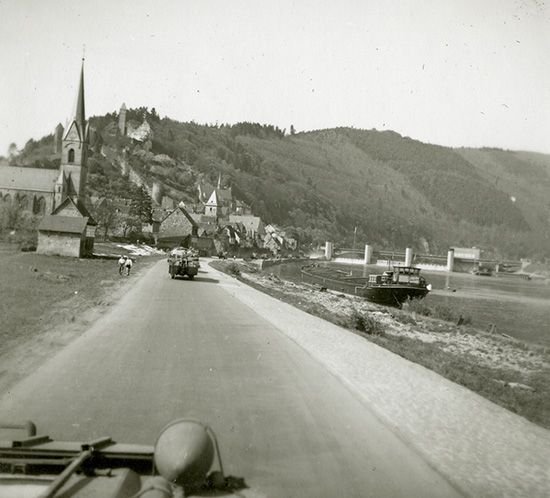 Photos above and below of an intact town along the Neckar River that René's convoy went through on the way to Heidenheim.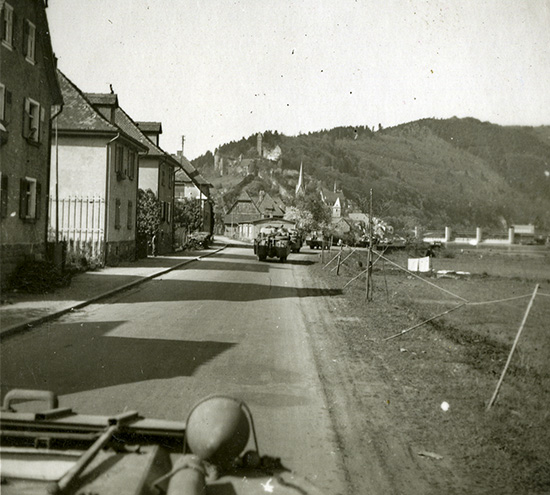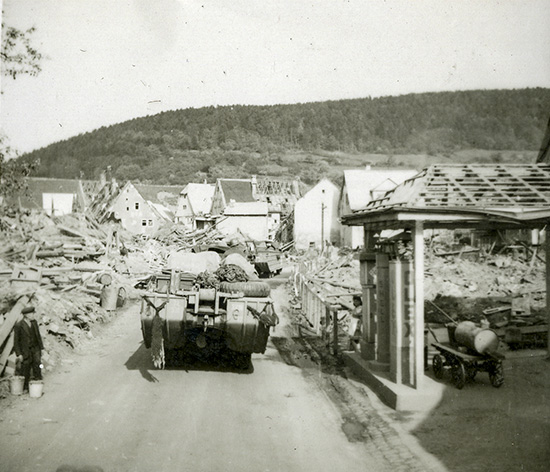 A ruined town along the route.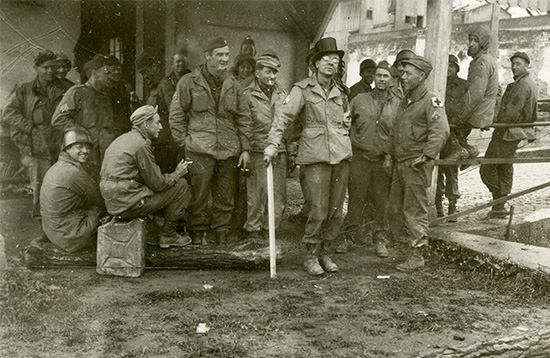 On the way to Heidenheim.

April 29, 1945
Heidenheim, Germany
No. 32 (conclusion)

Dear Folksies,        
           Finally, after getting another load of stuff (the things that we had brought down in the first echelon), the trucks made another trip down here. By that time, in fact the evening before, most of the outside vehicles had arrived so that all headed down here. However, that first area got chewed up pretty much and we had to use a winch to get about 8 of the trucks out of the mud.
            Unfortunately, our generators had been unloaded at that first area as the Old Man tho't we ought to unload and use the trucks – thinking, too, that we were going to finally get some trailers for them. Soo, again the usual job of having to get a wrecker to load them back in the trucks. I scoured the countryside trying to get one and when, finally I was promised one for within the hour, I stayed to guide him up to the first area. Had lunch, therefore, with that Ordnance outfit and was glad I did…for they had steaks, and I had two of them at that. The gang there were old friends of ours, in fact some were still with the outfit who knew us when they were with us in the summer of '42. They also had unloaded our generators at midnight the night we arrived in Sicily.
            Finally the wrecker returned from where it had been and I took it up to our area only to find that one generator was already loaded. What had happened was that when I did not return after a couple of hours (having had to go a lot further than we had figured to get a wrecker), Jobe had set out looking for one himself and had succeeded in getting the generator on (a smaller one) he found.
            All went well, with everything finally getting moved down to this area — except the generators.   We even had patients before the generators arrived.  In fact, surgery was waiting for the generators before starting on the first case.  The boys had done wonders in setting up.  Having started from scratch at 9 A.M. in the morning, they had patients at 4 P.M. and had everything that had arrived by that time up — i.e. all the tents up and ready to function.
            That night I got a good sleep and was surprised to find the next A.M. that the "Gang-Greene" was scheduled for that day off. The Col. soon found out, and as Gil and Jack were not as yet down from the old area, he had me go out on a couple of special missions. Also went with the Col. to see if we could get Klemperer back with us – i.e. Klemp and his Neuro-surg team. While at Klemp's headquarters, I had quite a talk with Leon Michels who was at his hdq. at the time, but was going out to one of the Field Hospitals the next day. He had just come back from an extensive tour of the country with his C.O., a Lt. Col. Sullivan. He had been thru Metz, Paris, Luxembourg, and the whole Aachen area. He really enjoyed it tremendously and said that of all the places, he liked Luxembourg the best.
            Worked all day yesterday, but things are slow today. Guess that even by double-jumping, as we did, that one cannot keep up with things these days. It is beginning to look as if the end is nearer than I imagined a few weeks ago.
            Our present area is situated nicely, in a valley, but unfortunately it is wet as the dickens.  It is pretty much marsh-land and the ground just never dries out.  In fact, when one digs a hole anywhere, it just fills up with water in no time.
            Letters in the last few days of considerable interest. The letter from Jeanne yesterday was the happiest yet, however. They have heard indirectly from Yvette. Some other returning women had seen her at one of the camps and she is in fine health. Strangely enough, too, she had bumped into and was with her sister-in-law!! It probably won't be more than a matter of days before she is back in Paris. Happy day!!
                         Loads of love,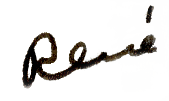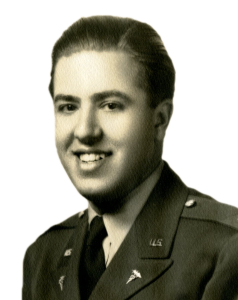 .
Watch for my next letter
May 4, 1945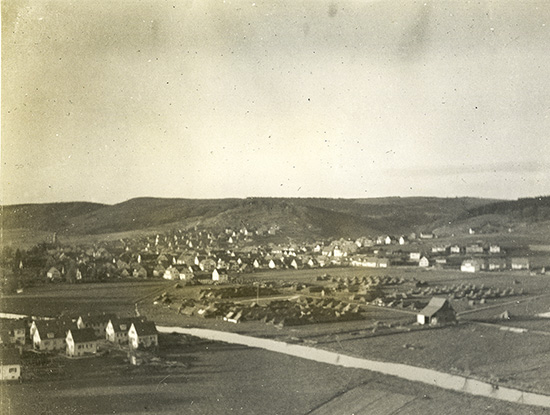 The tents of the 59th Evac. Hospital — with the town of Heidenheim in the background.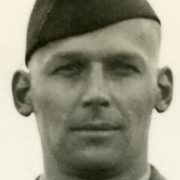 Here's an excerpt from the journal of Dr. Philip Westdahl …

---
---



During this period, the usual rumors of the war's end and the capture or death of Hitler were rife. The United Nations Conference was proceeding in San Francisco and Himler was supposed to have offered unconditional surrender to the U.S. and Britain, but not Russia. President Truman denied this.

Hitler was said to be dying as a result of a cerebral hemorrhage. One bit of news of worldwide interest was the announcement of the capture and hanging of Mussolini by Italian patriots. The first of the dictators had met his fate.

In the meantime, the war goes on – though German organized resistance was only sporadic.

.

Watch for René's next letter on
May 4, 1945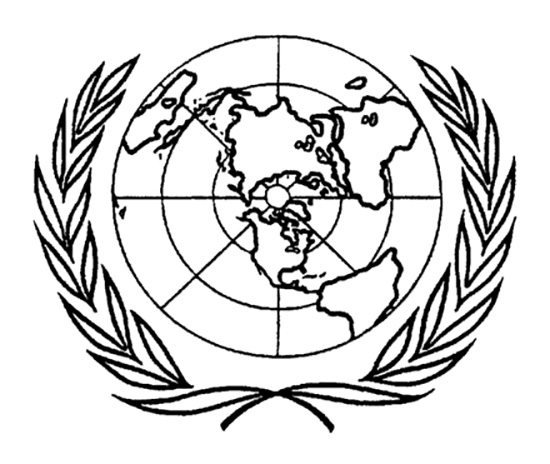 The idea for a United Nations organization began as part of the vision of Franklin D. Roosevelt, in which the United States, the Soviet Union, the United Kingdom and China would lead the post-World War II international order. The first United Nations Conference on International Organization (UNCIO), commonly known as the San Francisco Conference, began on April 25, 1945. Fifty allied nations participated in the convention, which resulted in the creation of the United Nations Charter. The conference was held at various San Francisco locations, primarily the War Memorial Opera House, while the Charter was signed at the Herbst Theatre on April 26. The nearby "UN Plaza" commemorates the conference.

May 4, 1945
Heidenheim, Germany
No. 33

Dear Folksies,        
       The past few days have certainly been filled with startling changes in the world.  The news has been amazing at almost every turn.  First comes Musso's demise [April 29] and then the announcement of Hitler's [April 30], followed rapidly by the capitulation in Italy [May 1] — the latter perhaps being the most surprising because of its speed.  Of course, the 7th's [the 7th Army's] rapid advance we do not consider as particularly surprising, particularly since our old stand-bys have been in the thick of it.
       It's an astounding thing, however, how an Army can keep up with itself on such rapid advances — only an American Army, I believe could do such a thing.  When one sees these usually rather stable outfits pick up and move umpty-umph miles after being set up for only a day or two, it's really a strange and wonderful thing.  I refer, particularly, to outfits such as ordnance, etc.  that have a good deal of equipment, a lot of shop equipment, etc.  Despite the hard work that it makes for everyone, nevertheless it is most gratifying to everyone to be able to pick up and move on forward — everyone knows that it just means that he is getting closer and closer to home.
       The weather the last few days has been miserable.  I never would have believed that we could have such awful weather in the month of May!  Why, strange as it may seem, I have driven thru snow-storms every day for the past four days.  They don't last long, but they are disturbing and darned cold to say the least.  And, when the snow lets up, the rain comes and continues on and on,  then suddenly the sun is out for five or ten minutes and everyone gets his hopes up, only to have them dashed to the ground again when the sun goes behind some dark clouds again and stays there!  Nuts!!
       Since there has been no business, I have been having fun touring around in search of things for the hospital and the Col. these last few days.  Sort of up to the old tricks that George and I had to pull something over two years ago. Have become acquainted with many a member of the Military Gov't and several Burgemeisters [Chief Magistrates of a town]. Have had as sort of an unofficial committee to assist me, Davy (the Col's driver – the Col. having driven himself the last few days on a trip with Mattie and Wally – more about that in a few minutes), Clint Green (who was with us on the Invasion), Spainhower (also a nite surgery fellow), and today Sgt. Jones. What a team we make!
       Came back two days ago with a swell little six-cylinder, convertible, two-door, sedan Mercedes Benz for the Col.  He is now authorized to have a civilian vehicle and so we got this for him. Boy, it really rides nicely — nice leather upholstery, good springs, and five speeds ahead.  It's a pleasure to drive.  It's painted a cream and black at the moment, but in a couple of days it will, of course, be G.I.
                         Loads of love,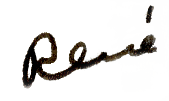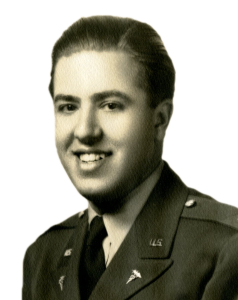 .
Watch for more of this letter
May 5, 1945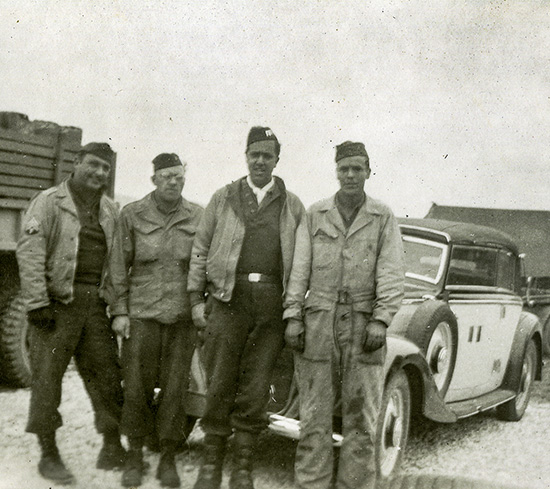 René's caption for these photos reads: "The Scavengers with Mercedes Benz found in Dilingen." Above (from left to right) Clint Green, Merrin Spainhower, René and John Davidson (Davy). Below (from left to right) Clint, René and John. "The Scavengers" found and came back with this Mercedes for Colonel Bolibaugh, who is now authorized to have a civilian vehicle.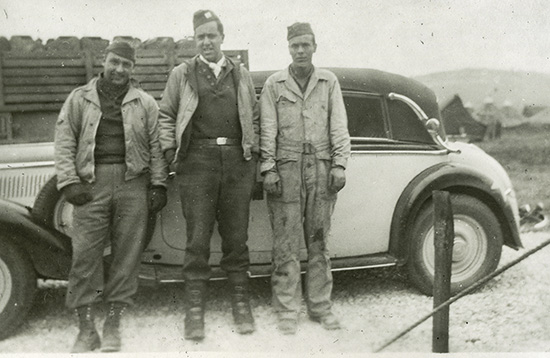 Here are some observations Dr. Phil Westdahl noted in his journal…

"On the evening of May 2nd, the 'Stars and Stripes' published the news of Hitler's death and simultaneously the B.B.C. announced the unconditional surrender of the German Armies in Italy. Surely the end is in sight. What a day this must be for those 5th and 8th Army boys who have been fighting in muddy, dirty Italy for the past 18 months. How justly they deserve the credit of being the first Allied front to achieve unconditional surrender.
 In the meantime, Munich has fallen and most of the German troops in southern Germany have either surrendered or been pushed into Austria. The Russians have virtually completed the occupation of Berlin. The 'Stars and Stripes' mentioned the possibility of surrender in Norway and Denmark."