August 24, 1945
Near Fritzlar, Germany
No. 48

Dear Folksies,

            Gee, five days has passed now since last writing, but as seems to have been the usual course of events here everything has changed and been re-changed so rapidly that no one knows just what is the score, or if there is a score in the first place.  If that first sentence confuses you adequately, then you are about ready to be entered into our classification.
            What has happened since then that is tangible and not just pure mixed up orders, rumors, etc.? Well, to begin with, I remember telling you that our area was getting somewhat on the muddy side.  Well, I was Surgical O.D. one nite, just which nite that was now I do not remember, but anyway it rained considerably during the nite. Got in a couple of minor cases and then a doubtful appendicitis. Ed Blasdel and I decided that we had to operate on the kid to make sure, because he had plenty of the signs, but one or two peculiar things in his story and physical exam that made us doubt that he actually had it. But we have seen so many screwy cases turn out to have red hot appendixes that we finally opened this boy up shortly after midnite. I did it. He didn't have appendicitis, but had quite an ileitis.
       Well, the following A.M. things looked pretty much the same in the whole area, tho' there was evidence of a little more mud than there had been.  But……at about 1 P.M., we noticed that there was quite a collection of water near the Officers' Mess tent and it seemed to be wending its way over towards the Pharmacy and Lab tent.  Sure enough, it got over there rather rapidly and they had to move the latter tent out completely onto higher ground.  What had happened, we soon found out, was that the water had backed up behind a dam in the river alongside of us and it was seeping right up in the soil under us — not coming direct from the river, but coming up in the low spots of our area.  (Of course, no one with any sense would have ever selected such an area in the first place, because of it being so low and because the natives warned us repeatedly that the place would be under three feet of water in the winter, as it always had been in the past.)
            The C.O. (still Maj. Mello) finally realized that we were in for it, and after doing a lot of frantic phoning, got permission to evacuate our patients to the 44th Evac. and 96th Evac. and to close shop and get out of our area as fast as we could.  Well, by the time this sage order came down it was 4:30 P.M., and we had to write up all the charts for evacuation and get the patients ready to move.  By this time, too, the water had risen to a startling level.  All of the wards had at least six inches of water on their floor, headquarters had about the same amount, and the men's area was nicely flooded — so that most of them moved up into the two driest ward tents, into Receiving, etc.  Surgery was nicely inundated.  At that point the officers' and nurses' areas were safe and sound.
            We got all but 15 of the patients out of the hospital and on the way to the other two hospitals by 9 P.M. that nite.  Our bus saved the day for some of the patients for, instead of transporting all the walking patients in the trucks, we were able to take 32 of them in the bus.  Clint Green drove over and tho' Hangar was with us, he was too excited to drive back, so I dood it.   
            We took the load that went over to the 44th Evac, so we could see some of our old friends – the 44th being made up of the old 93rd gang. When we dumped the patients there, Green and I went in and found that only a few of the old officers were left, some of the nurses were there, but Helen Nelson had left 2 days before to go home. This was quite a surprise to us for Jack had spoken to Helen on the phone just a few days before.
            You ask, why was Hangar so excited that he couldn't drive? Well, just before we took off with the patients, Schmitty had arrived back from the 7th Army Hdq. with the orders for the 105 Enlisted Men to report to the Staging Area in Thionville on the 23rd of August and Hangar, as well as Green and beaucoup others, were on that list – all the 99 pointers and above.
                           Loads of love,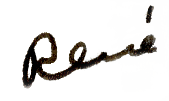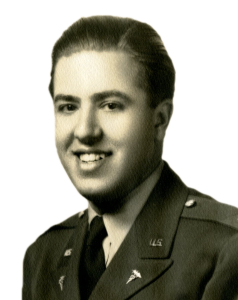 .
Watch for more of this letter
August 25, 1945

René's photos of the flood at Warbern, that lead to the evacuation of 250 patients…all but 15 of which they got out by 9PM that night and on their way to 2 different hospitals in the area.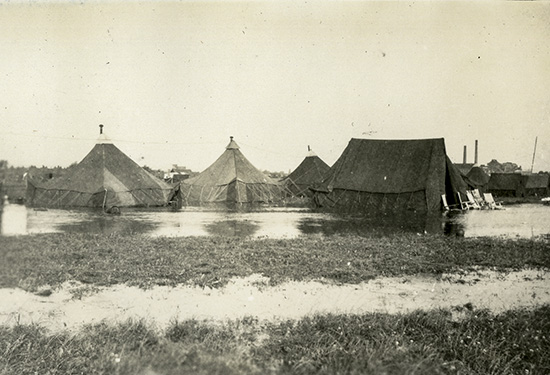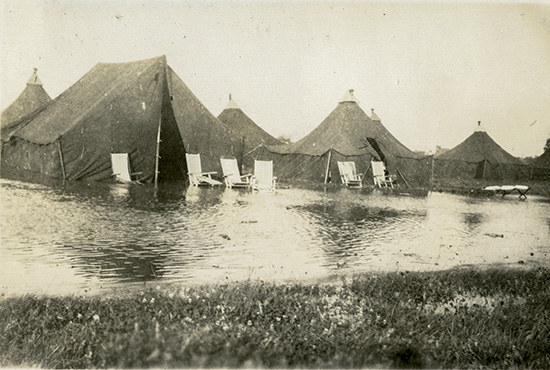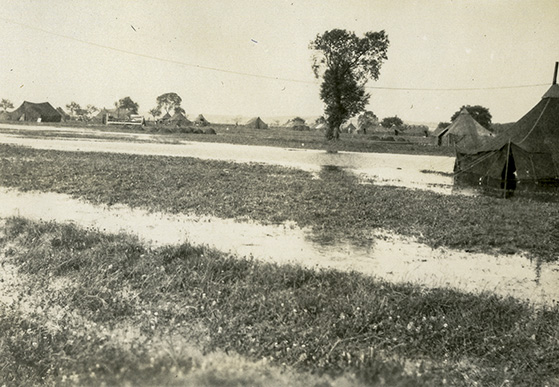 August 25, 1945
Near Fritzlar, Germany
No. 48 (continued)

Dear Folksies,

       That nite we slept perfectly o.k., but when we awakened we found that there was even more water in the area — the nurses area was inundated, Johnson's tent was under about a foot of water, Chatley's was under a good two feet, and even the tent next to ours was about 3 inches under — i.e. anything on the floor was wet.  We, at that point, were high and dry, but just as we started to get up, we noted a thin trickle in the corner under my bed.
       We went to breakfast and by the time we got back our whole flooring was wet.  Luckily we had gotten everything off the floor and managed to keep it all dry.  But, we moved out of there in a hurry.  The big-wigs had selected another spot to move to — another field, close to the river, but presumably high enough so that we would have no repeat of the "Flood of the 108th."
       We started moving at noon, finally – some of the trucks having been loaded by then and the various departments pretty well packed up. I was put in charge of the loading of things and clearing out the flooded area with Chatley to help while Jobe and Mitchell went to the new area to get things organized there.  The new area is only about four kilometers from the flooded one — just about 1/4 mile from the airport of Fritzlar.  It's sort of muddy, but at present isn't unbearable.  I thanked goodness that I had my overshoes for wading around that Wabern area, for the water even came up over the tops of them in spots. Most of the boys waded around bare-foot trying to get things out of the tents and loaded on trucks. It was a mess. The men didn't want to work at all—particularly the bunch going home—for they felt, and rightly, that the whole thing was unnecessary, that something should have been done about the whole situation long before. It was quite a job getting them to work.
       We finally got all of the new area cleared the following day, and what a mess everything was in — so much was wet that we just had to leave things out in the open until the sun came out so that they could dry off a bit. So much of the tentage is now just salvage material, for when they were rolled up they were soaking wet and they do not dry out unless hung up.
       Then, on the morn of the 23rd, the 105 happy men pulled out of here at 5:20 A.M.  What a gang!  Some of us (Chappie, Jack, Chatley, Schmitty and I) got up to see them off, and they were certainly a happy bunch. As a matter of fact Clint Green came in and woke me up and made me get up to see the bunch before they went.
                           Loads of love,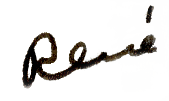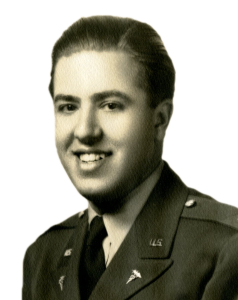 .
Watch for more of this letter
August 26, 1945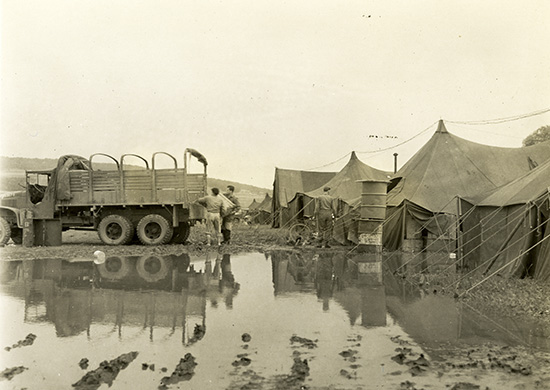 "Flood of the 108th" got worse the next day!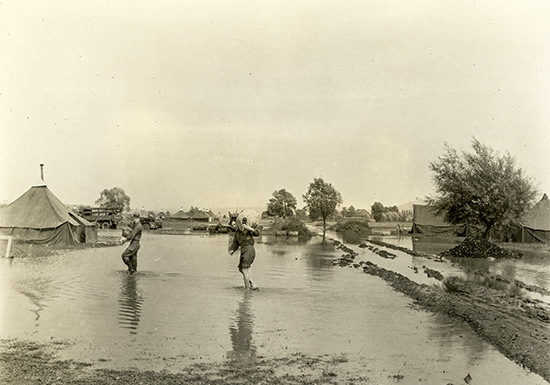 August 26, 1945
Near Fritzlar, Germany
No. 48 (continued)

Dear Folksies,

       On the nite of August 22nd, we got another surprise – two strangers arrived!! None other than Gil Bishop and Chuck Schwartz. Chuck had heard rumors that we were moving around, that big things were in the wind, etc., and decided that it was about time for him to return. Gil had been at the 46th Gen'l Hosp at Besancon and finally got his hands and feet under control (epidermophytosis and epidermophytid) and was discharged. He was supposed to come back thru a Repo depot, but when he got to the depot and found that it was going to be another 5 days before he would leave there and then about 4 days to make the trip by train up here, he got a 48 hr. pass to Paris and there chiseled a plane ride direct to the airport near here – so he was AWOL from the Depot and just now got a letter on his being AWOL.
       A few nites ago my friend Maj. Gish (of the Military Gov't) asked me to supper at his place and for me to bring a few of the gals and another officer or two if I wanted. Chuck happened to be with me when the invite was extended and so Chuck and I went, taking Liz Liss with us and 3 of the 108th gals for the M.G. officers. We had a wonderful supper complete with music furnished by Polish musicians from the D.P. camp in town. Had some little cheese cakes before supper and then a meal of soup, salad (sort of a cole-slaw) roast beef, French fried potatoes, venison, excellent chocolate layer cake, and both vanilla and chocolate ice-cream. I was so stuffed by the time we got to the dessert that I was only able to take two portions of the ice-cream. I was terribly ashamed of my lack of adequate capacity.
       We were served by a White Russian woman whose history was rather interesting. She had been in Paris at the time that war broke out and when the Krauts arrived they gave her the choice of going to work in Germany and bringing her 14 year old son and infant girl with her, or remaining in France and being separated from the kids. She chose the former and has been over in Germany since. The little girl isn't actually hers – she was the daughter of one of her best friends who had been killed. The kid is half French and half Italian. The kid is now 4 (was around till 11 P.M. that nite) and speaks four languages (German, French, Russian and English). She was a cute little blond and it was a kick to get her started talking, for she would so frequently mix the languages up so that you would only be able to get a few words out of a sentence. She was a smart little thing and we kept her talking for a long time.
       Maj. Gish, incidentally, used to be an Assoc. Professor at the Univ. of Wyoming, teaching "Structures".  He had spent 4 yrs. – from 1928 to 1932 – in Romania for the Std. Oil of N.J.
                           Loads of love,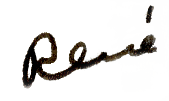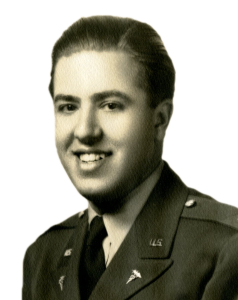 .
Watch for the conclusion of this letter
August 27, 1945

Chuck Schwartz (above) and Gil Bishop showed up on the night of August 22.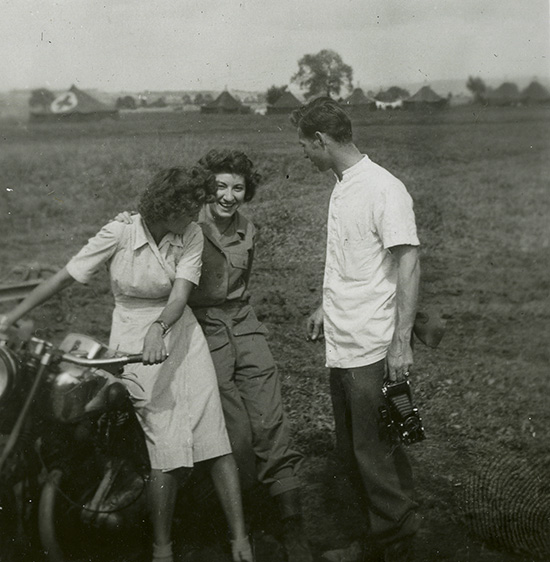 René was invited to dinner by his friend, Major Gish, and extended the invitation to Chuck Schwartz, Liz Liss (above center with Brenda Vencko and Hal Everton), and "3 of the 108th gals."

August 27, 1945
Near Fritzlar, Germany
No. 48 (conclusion)

Dear Folksies,

       Today, for the first time that I can remember overseas, we had fresh bananas!!! And were they good!!!
       Yesterday 70 more men left us.  This gang went to the 5th Armored Division for transportation with them homeward.  They should be home by the end of the month. With that gang leaving, it really stripped us down to about 29 men, so that we didn't even have enough drivers to take the trucks back after transporting the men to the 5th Armored Area.  Soooo, I took the bus and thus transported over 30 men up, saving two trucks. It was funny because all the Motor Pool boys piled into the bus to be driven on this, the last day with the 108th, the first leg of their journey home.
       And what are we doing with only 29 men, you ask?  We wonder that thing ourselves!!!  The latest dope is that we are to join with the 91st Evac., as they have beaucoup men and some nurses, but only a few officers.  What a deal!  The 91st is the gang that was in Sicily with us, on the hill above us, also in buildings of the Palermo Univ.  They had since been in England and then came over with the 1st Army.

   If we join them (they are at present not functioning and are also in tents) we will move over to Bad Wildungen into buildings presumably being vacated now by the Germany patients that are in them. The buildings are the same ones that Jobe and I inspected when we first came to this area, and we vetoed them even if we could have gotten them at the time. Sooo, you see what kind of a deal we're getting into. One never knows, however, what changes may come about at the last minute.
       Gil is leaving tomorrow or the next day – to go home. How he worked the deal, I know not, but he and Jack are the hi-point men of the outfit and, of course, Gil has pull down at Army thru all the friends he has made in the past many months. He is supposed to be flying home.
       I just came back from going to Kassel with Gil, as he was sending most of his stuff home by mail – a couple of foot-lockers. 'Tis a hot day for the second in a row.
       Yes, Bobsy, I was right with you on the pessimist side, but actually I'm glad that I was, now that it is all over – for none of the set-backs were particular surprises to me. But the way this ending came, it knocked not only me, but all of us, for a loop. Definitely things have changed now – that is, a speeding up of everything that had been planned, but how speeded up things are going to be, and where we were supposed to be on the home-going list, we know not. It is just a matter of sitting and waiting, how many months it will be before we see that Lady With The Torch, we can only guess.  One thing I think I can predict (possibly being optimistic for the first time), but I do feel certain that Xmas presents should be held and sent only to 15-26th Avenue.
                           Loads of love,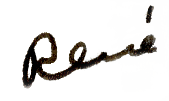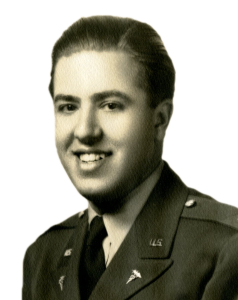 .
Watch for my next letter
August 28, 1945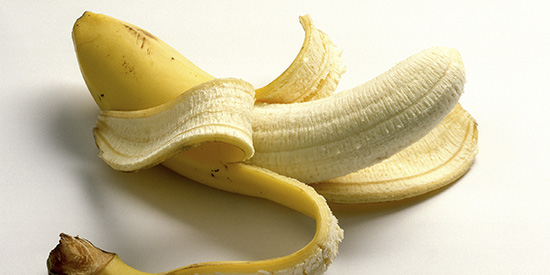 René reports, "Today for the first time that I can remember overseas, we had fresh bananas!!! And were they good!!!"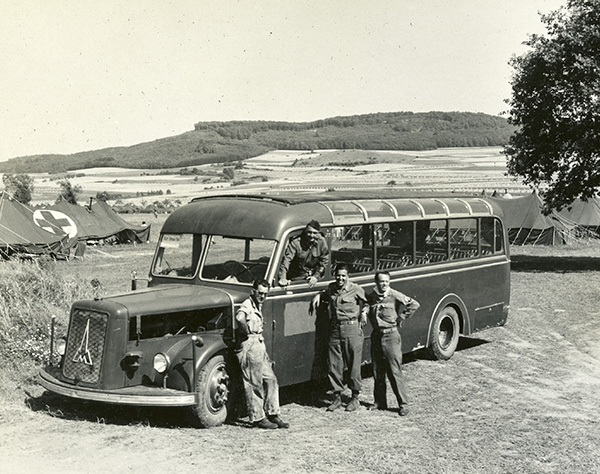 René used the famous bus to transport 30 enlisted men up to the 5th Armored Division — for transportation with them homeward.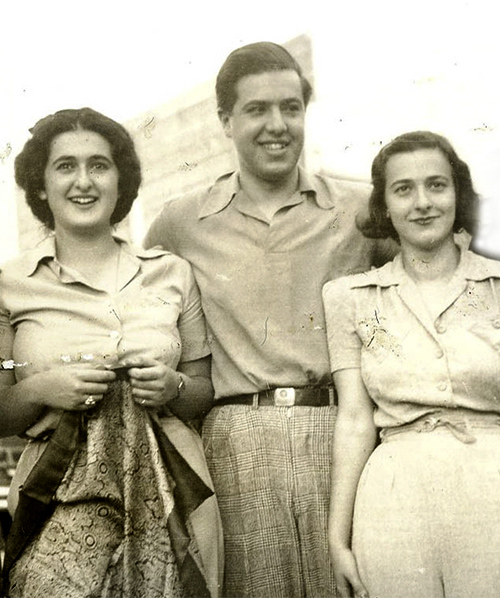 René tells his sister Bobsy (left) that he does "feel certain that Xmas presents should be held and sent only to 15-26th Avenue" (home).

August 28, 1945
Near Fritzlar, Germany
No. 49

Dear Folksies,

         I had been moaning for a long time about wanting to get back to Paris, and even had told Col. Yarborough when I first saw him that I wanted to get there if there were any chance.  Finally, with the hospital closed because of the flood, I figured the time was ripe. I, by chance, mentioned my desire to my friend Maj. Gish and he told me that if I could get the time off, he would lend me a car to get to Paris. When I saw him the next day, however, he suggested that he could fix me up with a plane ride, which would be better than taking a car. Sooo, I got things fixed up at the airport – i.e. introduced to the people that count – and had it all fixed up with Gil that I would go with him when he left on the 28th to do a staging area near Paris. The evening of the 27th, I told Maj. Mello I had everything fixed up for transportation if he would let me go and, by golly, after a little hemming and hawing, he o.k.'d it.
            Fixed up some screwy orders — making me go to Paris on official business for the hospital, air transportation authorized — and I was all set. 
            Tuesday the 28th dawned and turned out to be a nice day, and, in fact, darned hot. Gil and I went over to the airport and found that the only plane we might be able to get was the mail plane, i.e. if we talked sweetly to the pilot, for they are not supposed to carry passengers on the mail planes, tho' it is apparently commonly done at the discretion of the individual pilots. Actually at it turned out, one of the men whom Maj. G. had introduced me to did most of the talking for us. The plane was a C-47 which brought mail directly from Paris to this airfield at Fritzlar and picked up mail here to take to Paris direct, so it was really the best connection we could possibly make.
            The plane arrived about noon and we met the pilot and he agreed to take us along. Then we were all taken by the Lt. in the Operations Office over to eat before taking off for Paris. While eating and talking to the pilot I found out he was a Santa Rosa boy, just a young fellow who had been in the Army but one year. On the strength of his taking us to Paris, we made a date for meeting at the "Top of the Mark" sometime in the future.
          The trip to Paris took only 2-1/2 hours and wasn't bad except that it was terrifically hot and consequently stuffy inside the plane. It was a bit rough for a short time before landing at the field, which is at a "Villacoublay" — about half way between Paris and Versailles.  We had to take a bus from the field into Paris and were dumped off at Place Vendome.
         After making arrangements to get the appropriate passes for our stay, we made our way to the Lafayette Club, where I stayed in January. It is much nicer than it was back in January, in fact, it is now the best of the "Clubs". Better service, better food, etc. And it is definitely convenient, being near the Place de l'Opera.
         After we had dinner, we walked into the bar and whom do we see but Bill Kuzell. He, as you know, has been at school in Paris and has been doing some work over at the Univ. of Paris, making rounds, etc. I sure wish I had been able to get the deal he got. In fact, he was the only one of the gang that went to school that got anything out of it–  and besides got located in the best place for everything else besides work and learning.
        After we left Bill, three of us (Gil, his friend Red, and I) walked around town a bit, went to a couple of small nite-spots on the Champs Elysees and then ended up at a nite-club for officers, the "El Prado", which is near the Arc de Triomphe. The night finally ended by us missing the last metro back to our hotel and our getting there afoot with dragging feets….
                           Loads of love,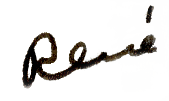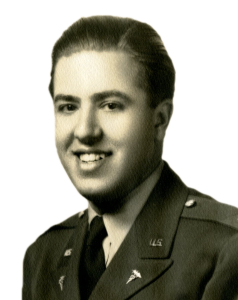 .
Watch for more of this letter
August 29, 1945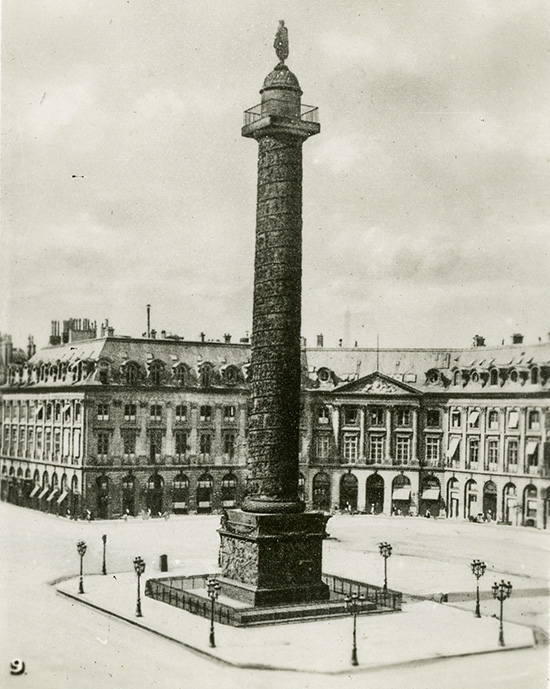 When René arrived in Paris, he was dropped off at Place Vendome.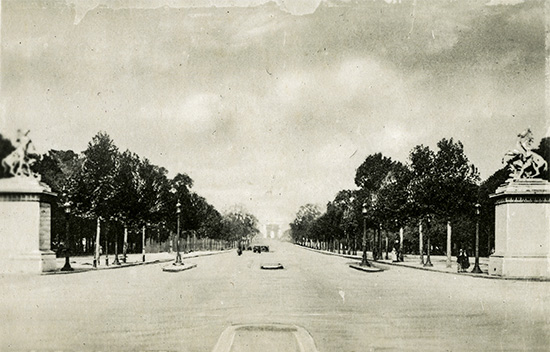 Later that night, René went with Gil and Red to a "couple of small nite-spots on the Champs Elysees."

August 29, 1945
Near Fritzlar, Germany
No. 49 (continued)

Dear Folksies,

          The next A.M., the 29th, I was a bit undecided as to which domicile I should head for first, fearing that some if not all of the family might be away on vacation. So, I finally decided on going to Claudine's home, feeling sure someone would be there. Arrived at the house and was greeted by an old servant, who apparently realized who I was and let me in to try and look up the phone numbers of the rest of the family. She told me that Claudine, Giles, and the baby Dominique were away on vacation and she thought Jeanne and David had already left for Belgium, and, furthermore that Jean-Pierre and Doude and the baby had gone back to Lyon. I had been afeered of something like that.
          I tried to get, by phone, David at the office, Yvette, and Monique, but without success, so finally just sat and waited for Lilice, who was scheduled to be home by noon, as she was out shopping.
          About noon-time Lilice arrived and was somewhat bowled over when I un-curled from her big armchair in the living room, as she came thru the door. She looked a lot better than she did in January and, naturally, was in 1000% better spirits than at that time.  We had a good long talk and soon George arrived and lunch was served. The change in George is even more startling.  He is at least 10-15 years younger in appearance than in January. The reason, of course, is obvious – the return of one of the greatest little woman in the world. But, more about her – probably volumes – later.
            Lilice confirmed some of what Marie (the cook) had told me, i.e. that Claudine and family are vacationing somewhere near Chamonix; that Jean-Pierre and family have returned to near Montelimar and Jean-Pierre goes into Lyon on business all the time. J.P., however, intends going back to Paris again pretty soon, to stay, but at present business is better for him where he is. Others on vacation, much to my sorrow, were Monique, Bernard, and her returned husband Robert. I would so much have liked to see them. Bernard, apparently, is able to walk o.k. again, his fractured femur having healed well.
            As Jeanne does not have a phone at her place, it was lucky and convenient that Lilice already had a date to meet her nearby in the middle of the afternoon, thus avoiding the complications which would have been necessary to contact Jeanne or David that day. On that score, I was lucky alright for they had not as yet left for Belgium tho' they had daily been expecting to leave.
            Oh yes, a strange coinkidinky had occurred just before Lilice had arrived home to find me in her living room. Lilice had gone to a local drug store to get something or other – a drugstore that she used to patronize a long time ago, but rarely has she had occasion to be in that neighborhood shopping before today. As she entered the drugstore she found herself surrounded by the strong arms of a rather large red-headed girl. 'Twas Antoinette Sternberg! She is working as an apprentice in a drugstore, preparatory to taking a degree in Pharmacy. It was in that way that Lilice knew that Paulette had arrived home in Paris only a few days before. So there, at least, my timing was good, I found out.
            Talked for quite a while with Paulette and arranged to go there for supper the next day, as Anthony works during the day and only returns to supper. Paulette filled me in on the little they know concerning Sadie. Apparently, Sadie had wanted to remain in Paris with her belongings after Henri died, with the idea that if she didn't stay, then Paulette would have nothing to come back to when the war was over. It would, it seems, have been very simple for her to have left Paris and to have joined Paulette and the kids whom she adored and missed terribly, in Rodez. It would also have been rather easy to have remained in Paris in some other section of town, not even under any other name, because the name of Leon was not a Jewish one.
            However, despite numerous pleas on the part of her friends, she remained in her own place.  She did give out various items of furniture and household things to friends to keep for her, but either she never made any note of to whom she gave these things, or the list was lost, for Paulette does not know who has any of Sadie's things — though a few people have come to her with things Sadie had left in their care. Apparently, too, Sadie had some sort of a warning three days before she was taken.  The Gestapo had come around to her house inquiring or looking for more quarters for the Germans.  Despite that, Sadie apparently did not want to leave her place and stuck to the bitter end.  She was taken in the convoy to Germany on the 30th of June '44, and someone reported having found her identification papers among things at Auschwitz.  From what Yvette told me, that might, or might not, mean anything, for they stripped the people of everything they had when they came there anyway, and little if anything was kept on one's person.  However, at that camp the old, and the very young, and the ill were immediately "selected," as they called it, and nothing more was heard from those people.
                           Loads of love,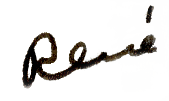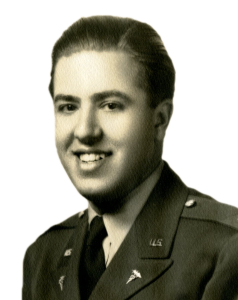 .
Watch for more of this letter
August 30, 1945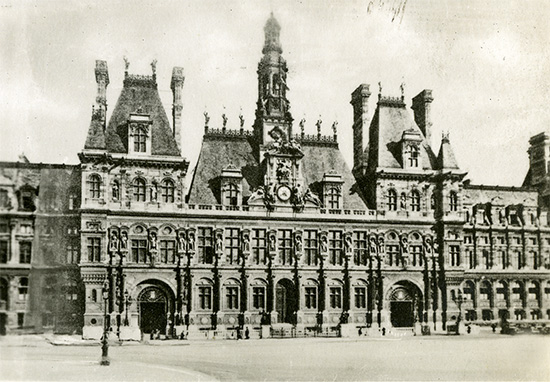 Paris Hôtel de Ville – City Hall.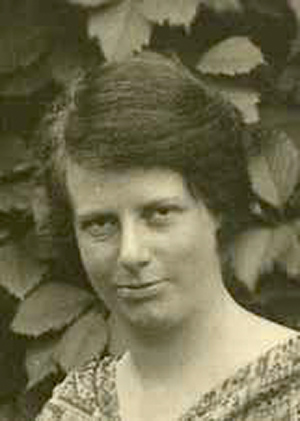 René is able to talk with Paulette Sternberg, shown above circa 1925.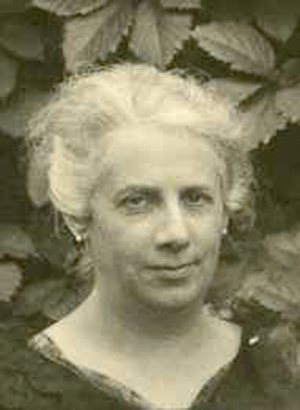 Paulette tells René details of the fate of her mother – Sadie Bine Leon (René Sr.'s first cousin) – who died in Auschwitz in 1944 at the age of 73. She is shown above in a photo taken in about 1925.

August 30, 1945
Near Fritzlar, Germany
No. 49 (continued)

Dear Folksies,

       Now I have to tell you about another unpleasant subject – about the tragic manner of Raymond's death. [Raymond Sternberg was the son of Paulette Leon Sternberg and Anthony Sternberg.] He had been in the Army but 6 months, and had just finished a patrol of the area he was in (near Strasbourg) at the time when there were quite a few Krauts around in civilian or even American uniforms. On these patrols, they naturally kept their firearms loaded.
           On his return from patrol, there was some sort of a formation and they were told to "stack-arms." When fire-arms are "stacked" they are hitched together in sort of the form of a tepee. For some reason, after they were "stacked," Raymond wasn't satisfied with the way his group was stacked and reached over the three or four rifles to straighten his rifle out a bit and in doing so, he apparently pulled the trigger – and he had forgotten to unload his rifle when he came in from patrol. From what they all said, he was a very calm person and difficult to excite, usually meticulous, and consequently that such an accident should happen to him was terrible.
       Paulette, of course, had a difficult task when she met Anthony. She had written to him about Raymond, and had thus hoped that by the time he returned the shock would have been over with. However, none of those letters reached Anthony and tho' some of his fellow officers had heard the sad news thru letters they received, none had mentioned it to Anthony, since he hadn't gotten direct news of Raymond himself. He did not even know that Raymond was in the Army. When a couple of these officers arrived home, ahead of Anthony, they called on Paulette and explained that Anthony had not received any word about Raymond, so that she was at least partially prepared for having to tell him.
       After leaving the Sternberg's, we walked back to Lilice's where I was to have supper.  Lilice had phoned Yvette to have her there for supper also.  At about 7:30P.M. Yvette arrived.  She has reddish-brown hair, does not look too much like the picture I sent you 6 months ago – she has obviously changed some. She doesn't look like either Claudine or Jean-Pierre, nor does she look like Lilice or George. She is husky and is rather short, coming an inch or maybe two above my shoulder.
       Here again I do not know just how much, how many details Lilice told you, but were I to attempt to tell you all about Yvette, I doubt if I would ever get done. During my all too short time in Paris, three and a half days, I spent 8 hours with Yvette and wished it could have been ten times that amount. She's a truly amazing person and I couldn't help but feel that it was a great honor to be able to be with her for even a minute.
       I'm going to quit for the moment, getting pretty tired – it's 10:30 P.M……shall continue tomorrow……
                           Loads of love,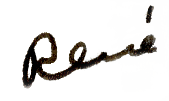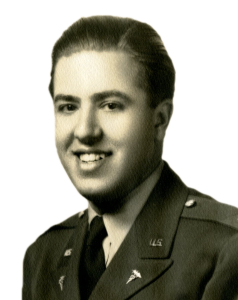 .
Watch for more of this letter
August 31, 1945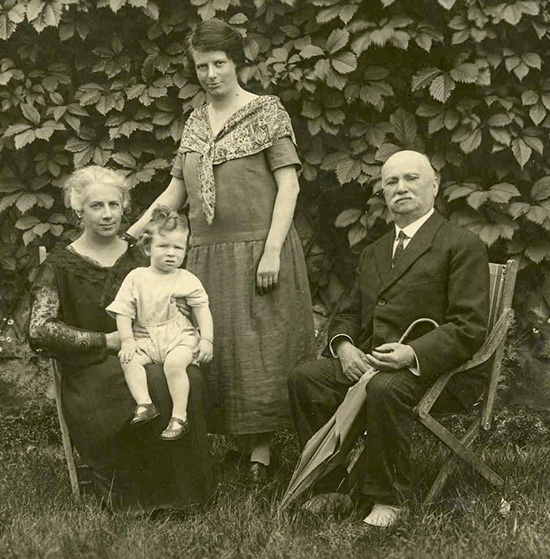 After telling his parents about the fate of Sadie Bine Leon who perished in Auschwitz in 1944,  René  has to tell them about the death of Sadie's grandson, Raymond Sternberg. The photo above, taken in about 1925, shows Sadie holding baby Raymond on her lap. Standing is Paulette Leon Sternberg, Sadie's daughter and Raymond's mother. Also shown is Solomon Bine, Sadie's father, who passed away well before the war.

René is finally able to see Yvette Baumann Bernard, his second cousin, who returned to Paris from Leitmeritz concentration camp in May, 1945. René tells his parents that Yvette is "rather short, coming an inch or maybe two above my shoulder," as evidenced by the photo above of the two of them.