June 27, 1945
Ellwangen, Germany
No. 39

Dear Folksies,

            Clint Green, Arnold Klopec and I had quite an adventure down near Salzberg, scouting for and finally locating a bus for transporting members of the 59th. The bus we found is much like a "Greyhound" with a long hood and capable of holding 34 people in it. It has a baggage compartment, which we use for extra Diesel oil, has big windows, comfortable seats and the soft top that rolls back for looking at scenery purposes. 'Tis a slick job.
            The bus needed fixing up, so we decided to stay overnight with the 112th Evac. The next day we had lunch with the Major and he fixed us up with a big "Authorized By Military Government" sticker for the bus. That lunch, incidentally, was quite something – had several courses, including some fresh trout. At lunch with the three of us and the Major were two other men – a Belgian and a Frenchman. They both had been in prison for a couple of years. The Frenchman was an FFIer from Paris and, strangely enough, owned the Commodore Hotel in Paris. According to him he was a "pal" of Jean Pierre Aumont!!! I gave him Jeanne's address and phone so he could tell them he met me and also find out more about his friend Pierre. He was quite an interesting fellow and he promised Green that when he got to Paris he would show him a good time, give him beaucoup wine, etc. He was going to go back to Paris as soon as the Major had another little German vehicle fixed up for him – there were four or five in that shop.
            Finally took off with Green driving the bus and me driving the 2-1/2, along with several civilian passengers in the bus – people that the Major asked us to transport to Munich, as they lived there and wanted to go there…and he wanted them off his hands. By golly, much to our amazement, that bus took off like nobody's business – on the upgrades it outdistanced the 2-1/2 without even trying. On the level stretches or downhills I was able to catch up with it, but going up it just ran away from me. After we were about half way back to Dachau, Clint and I switched places and I drove the bus the rest of the way. It was really fun – good road of course – and was amazingly easy to handle. It has air-brakes that bring it to a stop a lot faster than any 2-1/2 can stop.
            We rolled into Dachau, honked the horns, got no response, and then found out that the whole gang had pulled out only a few hours before. They had left our stuff in the house, left some food for us, and also left us a note that the hospital was moving to Ellwangen. We had arrived at Dachau shortly before 7 P.M., so we ate what we could find in the house – another outfit was already moving into the quarters we were vacating – loaded all our stuff, gassed up, and away we were once again. Clint and I again alternated, each driving part way – I drove from Dachau to Ulm and he drove from there (on the more bumpy and more turney-road) to Heidenheim.
            Before we had gotten to Heidenheim, we had decided that even if the gang had moved completely to Ellwangen we were not going to go any further that nite, that we would sleep in the bus at Heidenheim and go on the next day to find where the outfit had moved to. We did not feel like trying to find a new location at that time of nite.
            However, we arrived in Heidenheim at 11:30 P.M. (Having left Dachau finally at 9:20 P.M.) and found that none of the outfit had moved as yet. We still decided that we weren't going to bother to make up beds in any tents, so we piled our barracks bags in the aisle of the bus and unrolled our sleeping bags onto the seats, and had exceedingly comfortable beds for the nite.
            The next A.M., even before we were wide awake, a group of the men had gathered and were admiring our catch. Finally the Col. came around and approved, so that was all we needed.
            I started to take my things out of the bus and put them in our tent, when I was stopped by Gil, who said that I was to load all my stuff again on one of the trucks, as I was going with him and the rest of the Advance Party to the new area in Ellwangen within the hour. Of course, 'twas a surprise to me, but I was ready soon and it wasn't long after that we took off.
                        Loads of love,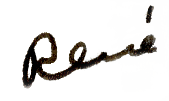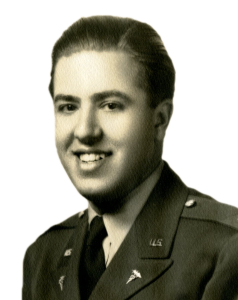 .
Watch for more of this letter
June 28, 1945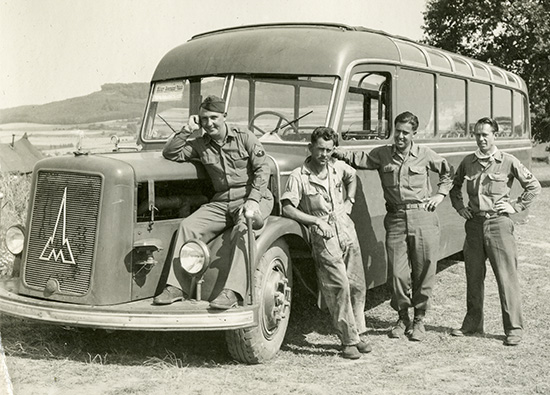 (Left to right) Clint Green, Roy Hangar, René and Ben Romine pose with the bus they found in Salzberg.

June 28, 1945
Ellwangen, Germany
No. 39 (continued)

Dear Folksies,

         The Advance Party consisted of Gil, Gerbode, Chatley (Mess Officer), Eddie Welles, Nelson Bell and myself. Chatley, of course, was in charge of setting up the mess and running the men, Eddie was put in charge of the insides of all the buildings, Bell had charge of the plumbing, sanitation, etc., while I had the job of getting the outside cleaned up, procuring all sorts of things, arranging things with the Military Gov't, etc.
         The place we moved into was a former SS barracks, and tho' it was plainly marked with Red Crosses, there was not the slightest indication that the place was used even for an infirmary.  Oh yes, in one small corner of one of the houses (where the nurses are housed now) there was a small clinic run for the wives and families of the SS officers.  That building wasn't even marked with red crosses, but the bigger one that had oodles of ammunition and all kinds of grenades and shells had red crosses all over.  The junk we had to haul out of here to put the place in order was amazing.  We burned up three dummy tanks, hauled away 8 wrecked civilian vehicles, and are still using our dump trucks to haul dirt, trash, etc. away.
         The men live on the whole top (3rd) floor of the main building. I'm living with Jack again. We have a nice room about the same size as my room at home, complete with green-flowered wall-paper. Bish lives up with the Lt. Col's and most of the Majors are in the Col's building.
         Tomorrow am going with the bus on its first real long trip since we brought it from near Salzburg – taking the boys to Strasbourg so they can catch the train to Paris.
         Am going to call it quits now – 'tis 11:30 P.M.  But before I close, other important items – shall enlarge upon in next letter, which, I promise you will be in the next 2 or 3 days:
Bert Halter showed up the other night.
Mattie has gone home re: his prostate trouble.
Jim Hamilton has gone home with bilateral hernia.
Bryner went home to get legally married – to stay in the East only and then return after 10 days in U.S.

The other day, I was called for, in Piper Cub, and flew to met Gen'l Wilson at the residence of Gen'l Frederick in the town of Grunwald, outside of Munich. Most enjoyable and interesting evening, staying there overnite.
                        Loads of love,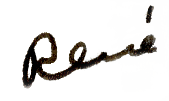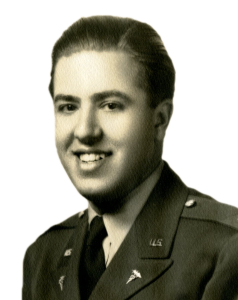 .
Watch for my next letter
June 30, 1945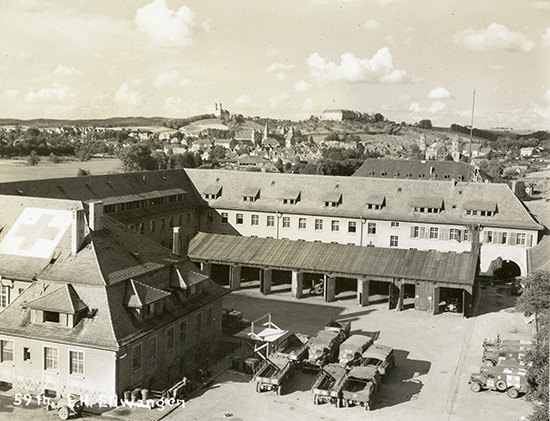 The 59th Evac. Hospital is now at Ellwangen – housed in former SS barracks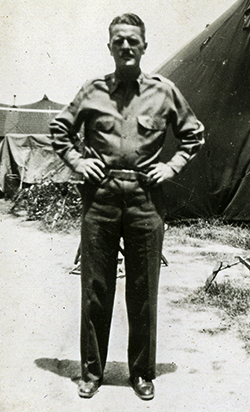 René gives his parents the latest about colleagues who have gone home, including Mattie (Carleton Mathewson) with prostate trouble.

Jim Hamilton has gone home with a bilateral hernia.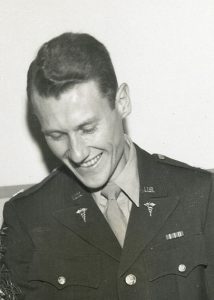 Serge Bryner has gone home (for 10 days) to get legally married.

June 30, 1945
Ellwangen, Germany
No. 40

Dear Folksies,

        Golly, an awful lot seems to happen in a few days around here every so often. I got back from Strasbourg night before last already to find some amazing things going on – but again let me annoy you by going at this a little systematically…
        I ended my last letter by giving you a few important items, so shall enlarge upon them here.
        1) Mattie had a flare up of his prostate trouble while we were still at Dachau and the day before I returned to Heidenheim it had been decided that Mattie should go home via hospital channels. He finally left after we had moved up here, going by air to Paris and then presumably will go home rather rapidly. We were all sorry to see him go, but it certainly meant a lot to him to be able to go home. Then, too, there was the brighter side in that it put everyone's friend, Wally Greene, in line for his Lt. Colonelcy – however promotions are frozen now, so we do not know if Wally will ever actually get it.
        2) On routine exam that we all got when the war was over, to determine whether a man should be kept in, etc., Jim Hamilton was found to have bilateral inguinal hernias. It really wasn't quite as stupid as all that – he did have symptoms for some time, but they had gotten worse of late and since he was in need of surgery, and no bilateral hernias are to be done in this theater, he too was scheduled for home to the U.S. for the operation. He went along with Mattie.
         3) Serge finally got his leave to the U.S. o.k.'d and he took off about the same time as did Mattie and Jim. He, however, will only get 10 days in the U.S. so will be going no further than the east coast. He will be returning back to us. Of course, it may take him a good long time to get home, as he could not get any air transportation authorized.
        4) Bert Halter drove up to our front door a few nites ago and, golly, we were ever glad to see him!! He had fineegled to get his C.O.'s Mercedes and came a-hunting us. He looks fine as ever, has gained some weight and is still the same old Bert. He is in the 85th Evac. Hosp.
        5) One day, a Capt. Meade showed up in the field across the highway from us (i.e. the baseball field) and asked if I could go down to meet General Wilson (a friend of Lois' family) in Munich that afternoon.  Meade had arrived by Piper at about 2 P.M., I had to finish attending to some business I had about Kraut workers, and arrange some things with the Military Government, before I finally was ready to take off.
            Meade was waiting here for transportation to come for him from Mannheim and I was to take the plane to fly to Munich to meet the General.  We left here at 3:55PM, stopped at Augsburg for gas and went on to Munich, arriving there at 5:30PM.  It was quite bumpy, despite the fact that it was a rather nice day — it was hot as blazes and the heat pockets made it rough in the air.  After phoning to where Wilson was supposed to be, I found that I had missed him there, so we had to fly on to the other place that Meade told us he would be. 
            The town was Grunwald, just south of Munich.  And, strangely and confusingly enough, there were two little Piper fields in that town, one on either side of the river, and there didn't seem to be any intact bridge across the river.  By pure luck we picked the correct field, saw Wilson's plane at the field and I was able to get a jeep to drive me to General Frederick's place from the field.  I walked into Frederick's place to find him in bathing trunks, and Wilson on the patio talking to Frederick's friend, a blond nurse from Bam's outfit. Found out that, strangely enough, tho' there is a river close by, Frederick had been swimming in the fish pond, which is about the size of my room at 15-26th Avenue, and only about 5 ft. deep. It had 13 large goldfish in it, too.
            The blonde, Linda Lee, had been with the 10th Field Hospital since it was in Africa. I surprised her when introduced, by saying that I knew she was from the 10th Fld. – of course, Bam had told me about Frederick, so it didn't take any guessing. But then, later, I had my turn to be surprised when Linda's friend, Rosemary Fink, also from the 10th, and also there at Frederick's place for supper (as partner for Wilson), called me "Rene". My first name had not been mentioned at all up to that point, so I was temporarily stopped, but then realized that she was Bam's roommate and when I had knocked at Bam's door the day I visited her, and had said 'twas Rene knocking, Bam had emphasized it with a repetition in loud and surprised voice…
                        Loads of love,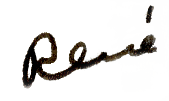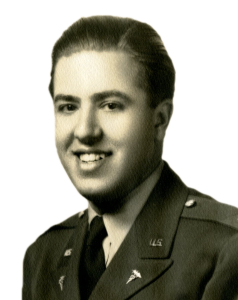 .
Watch for more of this letter
July 1, 1945

René was called to go meet with General Wilson in Munich and was transported there in a Piper Cub.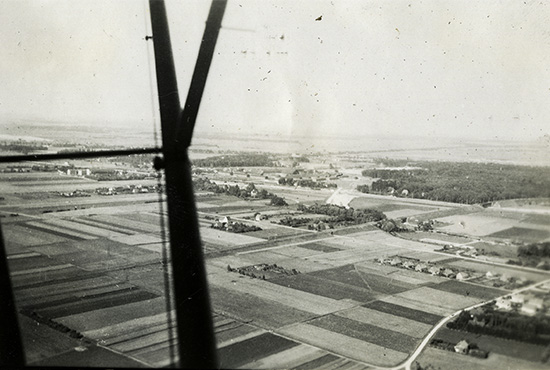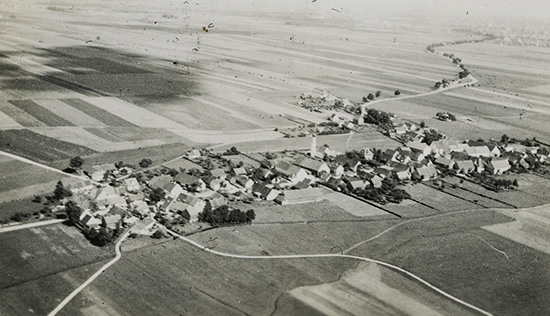 They left Ellwangen at 3:55PM – flying over the German countryside…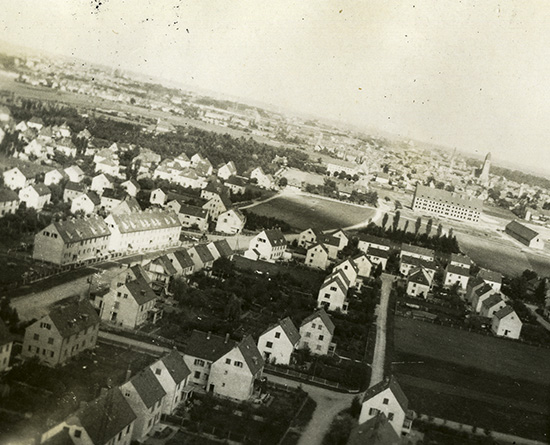 They stopped at Augsburg (pictured above from the air) for gas.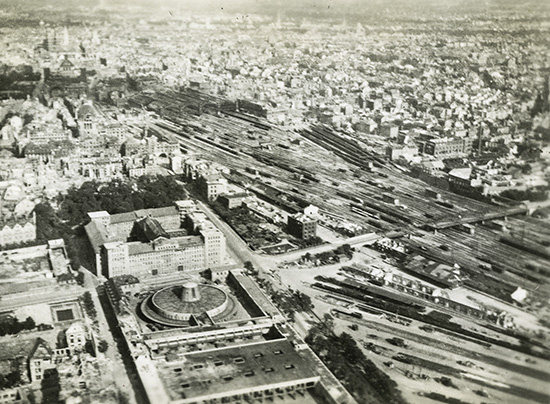 They arrived in Munich at 5:30PM. This is a view of Munich's railway station, which René noted in his photo caption was a lot more damaged than the aerial photo indicated.

July 1, 1945
Ellwangen, Germany
No. 40 (continued)

Dear Folksies,

          Had an interesting talk with General Wilson for a short while before supper and then again after supper.  I knew that he had known Lois' father some years ago, but did not know that he had been at U.C. with him, that he had known Lois when she was a few years old and, in fact, had actually gone out with the present Mrs. McFarland before she became Mrs. McFarland.
          He is quite a different person than I expected to find.  His administration in Casablanca, and again in Algiers and Naples, did not come in for any favorable comments from the multitude — there were always things such as fines for buttons open, with officers spotted around town to pick up violators of small, stupid rules, etc..  It was largely because of some of that stuff that the Base-Sections were hated by the combat men, because they ran into such nonsense when on a couple of days leave from the front.  Anyway, Wilson may never have seen a lot of those orders — they may have been perpetrated by his staff without his full knowledge.  Anyway, that is the impression one gets talking to him, for he seems like a pretty straightforward and not a "spit & polish" sort of guy.
           Regarding Lois, his story was interesting in that he didn't know much of the story until shortly before taking her home.  He had been given the impression by one of his staff that she had been transferred out of the 59th because she was in love with a Sgt. in the outfit, and it wasn't until he reached Dijon that he learned she was married.  And then it was partly he who encouraged her to come to see us when we were at Epinal in November. There are always a lot of "ifs."  He was angry with Lois for not having realized that he was her family's friend when we were in Casablanca, for had she done so and had we met him, he says he would have really fixed us up there, as he actually did do for some others, apparently.  He had several apartments, in fact, he bought two that he still owns in Casablanca, and had we only known him then, he would have given us one of these, given us a car, etc., etc., ad infinitum.  Then things might have been different — but, there is the big "if," as I said.
          We were talking about home-towns, etc. and I discovered that General Frederick was born on Nob Hill. He said that his father was Chief of Medicine at Stanford from 1916-1930.
           Had a scrumptious dinner consisting of fresh lettuce salad with excellent dressing, ham cooked perfectly, corn fritters with pineapple, and, to top it off, strawberry-shortcake made with strawberries from the garden in back of the house! Asked Frederick about his cook and found that said cook was a Chinese kid by the name of Quon – where from? San Francisco, of course! In fact Quon had been a cook in private places in S.F. before entering the Army.
          Wilson is a bosom friend of our new President, and, since he is supposed to have left today for the U.S., you will undoubtedly find that name added to Truman's White House Staff in some capacity.
          Had, all in all, a most pleasant evening.  Frederick had asked me to stay overnight at his house, and later in the evening was extremely embarrassed by a phone call that the Foreign Minister to Switzerland (anyway some sort of Minister to Switzerland) was on the way, so he had to make arrangements for me to stay over at headquarters rather than his residence.
          Frederick's Packard took me to the C.P. where I had a good sleep in a comfortable bed, and then the next morning Frederick sent me back here in a jeep.
                        Loads of love,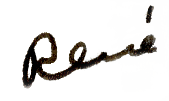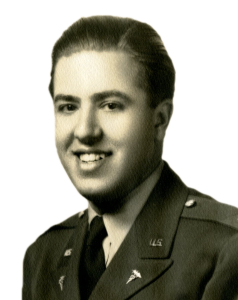 .
Watch for more of this letter
July 2, 1945

General Arthur R. Wilson (below) was a family friend of Lois McFarland (above), which evidently is why he invited René to dinner. Lois, a nurse in the 59th since its inception in spring 1942 was secretly married to René in fall 1942, before they left the U.S. for Casablanca. She broke up with him in Sicily in December 1943, and was subsequently transferred to another unit.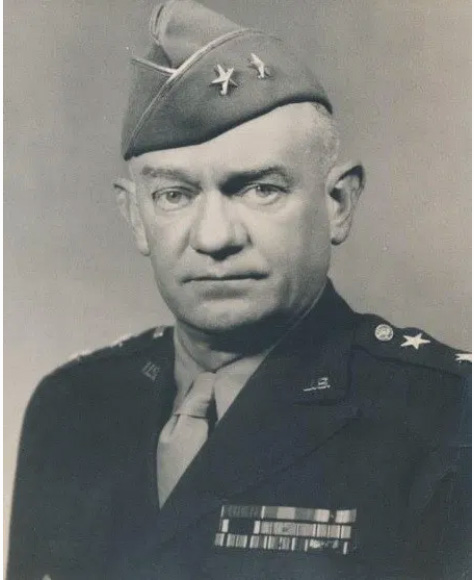 General Wilson was Commanding General, Services & Supply, Western Task Force, during Operation Torch, the English/American invasion of French North Africa in November 1942. By the beginning of January 1943, Wilson was appointed Commanding General, Atlantic & Mediterranean Base Sections, U.S. North African Theater of Operations. As such, he was responsible for the administration of supplies during the combat operations in those areas and held that command during the Allied invasion of Sicily in July-August 1943.
General Wilson was appointed Chief of Staff, Seventh Army, in November 1944. Wilson distinguished himself in this capacity and received an Army Distinguished Service Medal and Bronze Star Medal. He was also decorated with the Legion of Honour, Croix de Guerre with Palm by the Government of France and Order of the British Empire.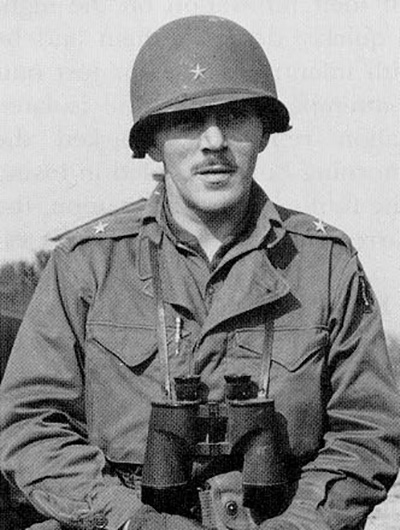 Robert T. Frederick became two-star Major General in December 1944 and was given command of the 45th Infantry Division.  Just 37 years old at the time, he was one of the two youngest division commanders in the U.S. Army during World War II.  The 45th, which he led until September 10, 1945,  saw heavy combat in French Alsace from December 1944 through to February 1945. In mid-March, it was assigned to pursue the final drive into Germany.
The division participated in heavy fighting in Aschaffenburg from March 28 to April 3 and then drove to Nuremberg, which was taken in heavy fighting from April 16–20. Moving south, the division crossed the Danube on April 26, and opened up the path for the U.S. 20th Armored Division to drive on Munich. Reaching Munich on April 29, the division shifted from combat to occupation.
The British Prime Minister, Sir Winston Churchill, declared that Robert Frederick was "the greatest fighting general of all time" and "if we had had a dozen more like him we would have smashed Hitler in 1942."
July 3, 1945
Ellwangen, Germany
No. 40 (continued)

Dear Folksies,

            Some of the men – the high pointers – have already started home. Have had about 12 go already. Losing our key personnel rapidly! The boys that have left so far all had over 110 points.
            Some of the officers are in Paris, Rheims, and London – going to various schools. Those on regular Medical Services got the first crack. Treadwell is in London (x-ray), Kuzell, Hodgson, Long, and Baldwin are in Paris or Rheims, which, I know not. Schwartz is in Rheims at some Surgical course.
            Some of the gals have gotten to the Riviera on leave – what a deal they have there!!
            Across from our area – across the highway and a little stream – there is a rather famous German circus that is getting its equipment all set up to go on the road on the 5th. Haven't been over there but understand it is quite a big show. Chuck Sateja, our "Stella from Fedala" etc., found that the members of one of the acts know his father and mother – from the time when the latter were over here with their circus troupe. Sateja's whole family is a circus family. A number of the members of the circus are Poles (so is Sateja).
            As I said in my last letter, I was going with the bus to take the Paris-bound gang to Strasbourg. As Clint Green was one of those getting a leave in Paris, we recruited Roy Hangar as assistant driver. There were 10 men going, four officers – Ralph Cressman, Sewell Brown, Pete Joseph & Bill Newsom. Besides that there were two men who went along for the ride. We left here at 7:40 A.M. and pulled into the Station at Strasbourg at 1:30 P.M. on the nose. Thus made as good time as the 2-1/2 usually do!! Boy what a difference going there in a bus than in a 2-1/2. The whole gang arrived there fresh, and most important of all, still clean!! They told me they'd assassinate me if the bus didn't call for them – it's scheduled to do so tomorrow.
            Instead of turning around and coming right back, we decided to stay overnite, so left the Paris-bound boys' luggage in the bus and I walked around town with Ralph and Sewell, seeing the cathedral and some of the other points of interest in the town until almost train time for them. Then went back to our old hide-out the "Hotel Mutzig" had dinner of K-rations supplemented by hot water for coffee for the boys and same for boullion for me. Walked around town after supper, almost went to a Laurel and Hardy movie – in French – "Fra Diablo", but couldn't get seats, so back to bed early.
            Next A.M. we took off at about 10:30 A.M. I drove some but Hangar drove most of the way, soon getting the hang of the bus. Actually it is a lot easier to drive than the 2-1/2, despite its length. You sit comfortably and do not shift as often, and it actually steers easily. Came back the mountainous way – thru the Black Forrest, thru Bad Freudenstadt and almost to Tubingen before turning north to Stuttgart.
       As we came thru Stuttgart, we saw the Col's car coming toward us. Harry Sharp was driving and he recognized us.  We slowed down, but apparently the Col. didn't realize he was passing us, or his mind was otherwise occupied, or I'm sure he would have stopped us for a minute.  Why?  Well, when we got home we found that at 10P.M. the nite before, the orders for the Col. to proceed to the U.S. came thru.  It was a tremendous surprise to all, tho' apparently the Col. knew it was in the offing.  I was terribly sorry not to have seen him before he left.  Apparently his last meal, at noon that day, was the time when he took his leave from the gang — all the nurses kissed him good-bye and he shook hands with all of the officers and every one of the men.  He was close to tears when he left. He was going to see his son at Vittel first and then was to fly to the U.S., so undoubtedly by the time you get this he will be home. What is in the offing for him there, we know not.
            Gerbode is now C.O.!  Temporarily, at least.
            Yesterday afternoon the soft-ball team had scheduled a game some 70 km. from here, so I went with them and the bus. It was a long way to go for a baseball game, but it was a good game and we won. Also saw part of a circus that was being shown in the town we went to – Jagsten, I think it was.
                        Loads of love,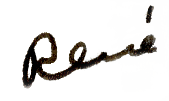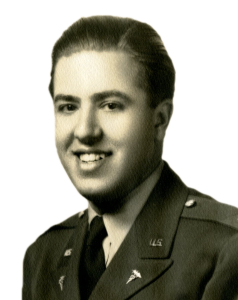 .
Watch for the conclusion of this letter
July 4, 1945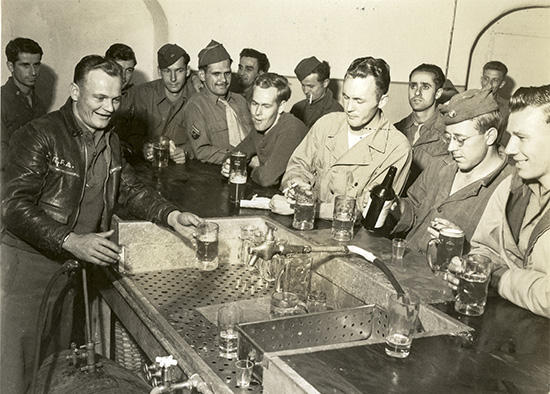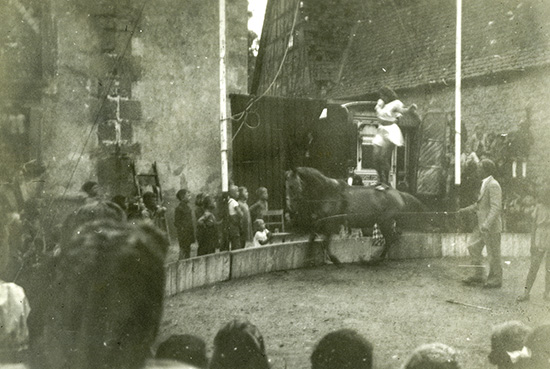 German circus in Ellwangen.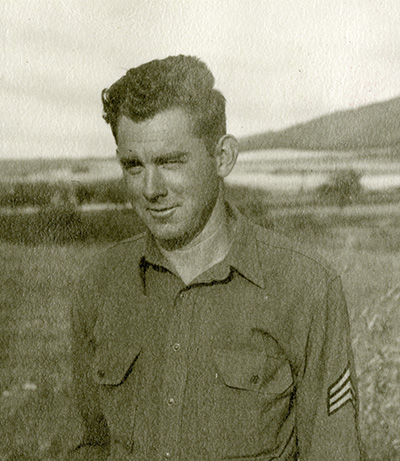 René and Roy Hangar took turns driving the bus on their way back from Strasbourg.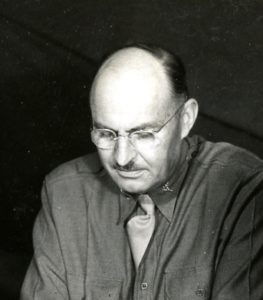 René was on the road, so wasn't able to say goodbye to Colonel Bolibaugh before he left the 59th on his way home to the U.S.

July 4, 1945
Ellwangen, Germany
No. 40 (conclusion)

Dear Folksies,

       Returned here to find another bomb-shell had dropped!  All members of the 59th, including officers and nurses, who have over 85 points are being transferred out to the 108th Evac. Hospital, and all personnel from that outfit who have under 85 points are being transferred to the 59th.  What a screwy deal!  Why it couldn't have been vice-versa, so that the smaller number could be transferred out of here and the 59th remain the 59th, no one knows — but that is the Army!!  Unless they want to keep the name of the 59th, despite the fact that darn near all of the unit will be swept clean of the original gang.  Some 220 men leave, and all but five officers leave.  Cohn stays, as he is classified as "Chest Surgeon" and such specialists are "essential."  Waugh likewise stays as he is an eye specialist.
       It is all a screwy deal and we don't know what the score is, but I wouldn't be at all surprised to find that the "59th" gets home long before we who will be in the 108th get there.  Of course, the 59th will then go to C.B.I. [China-Burma-India Theater] pretty pronto, but the 108th, gosh knows, will probably be sitting over here for another year.
       Frank is staying on as C.O. of the 59th until a new one arrives.  Whether the one from the 108th will come here or not we know not — it may be still another person and by the time things are straightened out here Frank may go to an entirely different outfit.  Everything, as you see, is up in the air right now.
       This new outfit is way the hell and gone in another part of Germany — up near Braunschweiss (near Hanover), so you see we have a long trek ahead of us in the next few days. We turn over all our equipment to the gang coming here and trade with them, as we understand it. Such is the way the Army works – here most of our equipment is unfit for more than a matter of months of operating over here – certainly not in condition for any China trip or work there – most of the things are well worn – too, we know what we have and how everything works, our vehicles, etc. and yet all that gets left behind. What we do with our overages – extras we have picked up in the past 3 years, we know not…confusion reigns and rains, and rains!!!!!
       Having a party here on the night of the 4th — invited the 51st over (the Sacramento gang) and it will probably be quite a party — the last for the 59th as a group!!
       Golly, we certainly hate to leave this place just to go somewhere else in Germany.  We won't find a better place and better quarters than we have here, especially after two weeks of working like dogs to get this place in nice shape — figuring we'd be here anyway a few months or until we sailed for the U.S.  NUTS!!!
       Oh, yes, don't think I told you that a couple of days before Mattie left, the Col. presented three medals – "Legion of Merit" to Mattie, Bronze Star to Eckie and one to Nelson Bell.
                        Loads of love,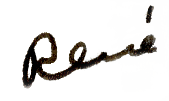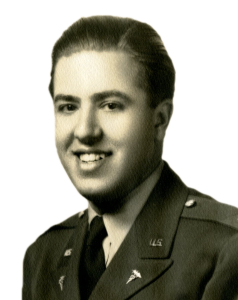 .
Watch for my next letter
July 10, 1945

With Colonel Bolibaugh on his way back to the States, Frank Gerbode is temporary Commanding Officer of the 59th…as it prepares to be split up.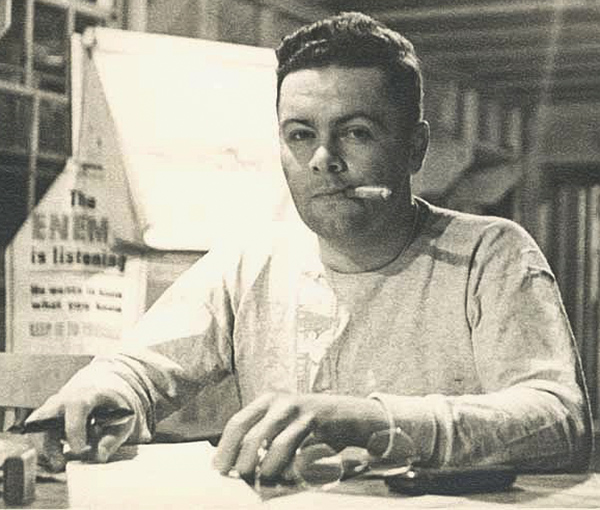 Roy Cohn is staying with the 59th – one of the few officers not getting reassigned to the 108th Evac Hospital.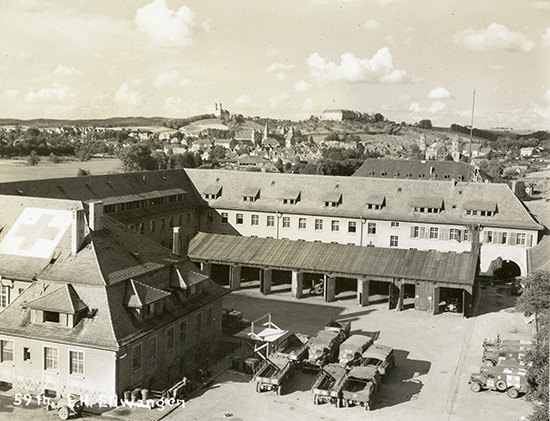 René, who will be relocating, is sorry to leave their current comfortable quarters in Ellwangen.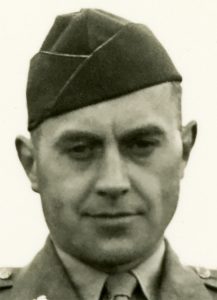 Before the Colonel left, he awarded Nelson Bell a bronze star.

Today we wish a Very Happy 104th Birthday to Louise Moon!!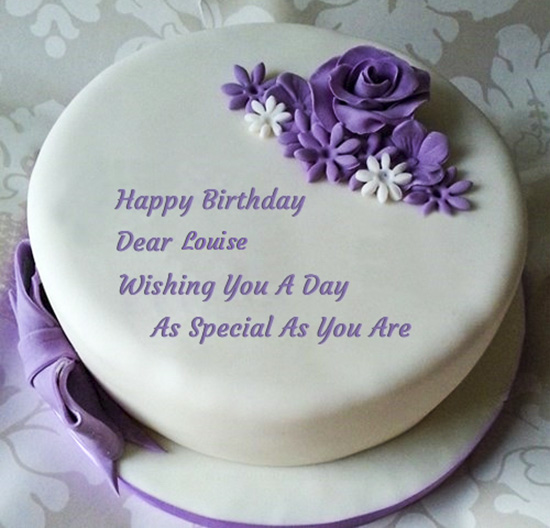 On July 9, 1945, while in Ellwangen, Germany, as a nurse with the 59th Evacuation Hospital, First Lieutenant Louise Moon celebrated her 29th birthday.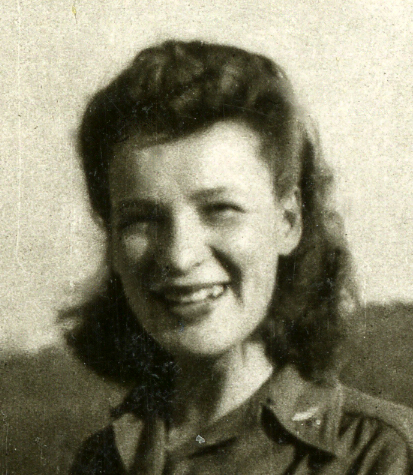 Seventy-five years later, her daughter, Jody reports that she is celebrating her 104th birthday on July 9, 2020, in Skillman, New Jersey.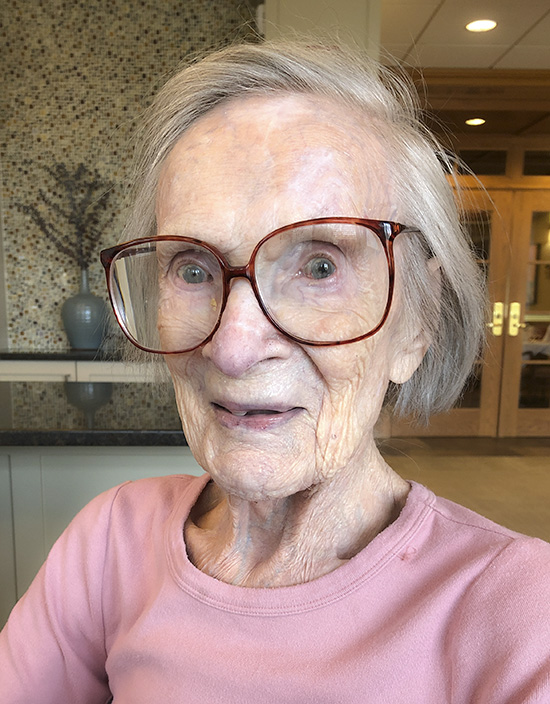 Email your birthday wishes to Louise to dearfolksies@gmail.com and we will forward them to her.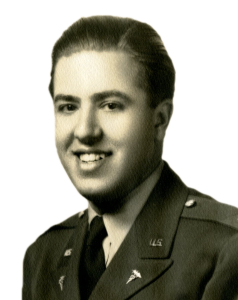 .
Watch for René's next letter
July 10, 1945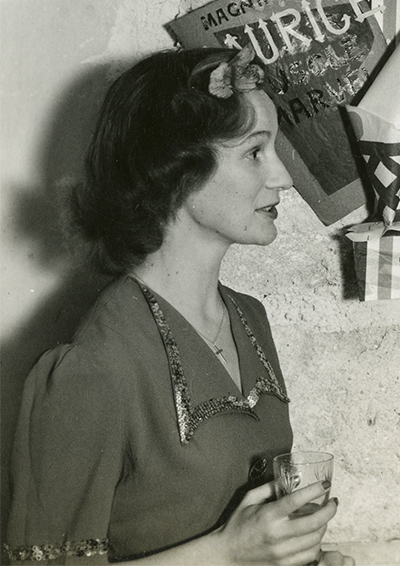 Louise Moon at a party in Sicily in 1943.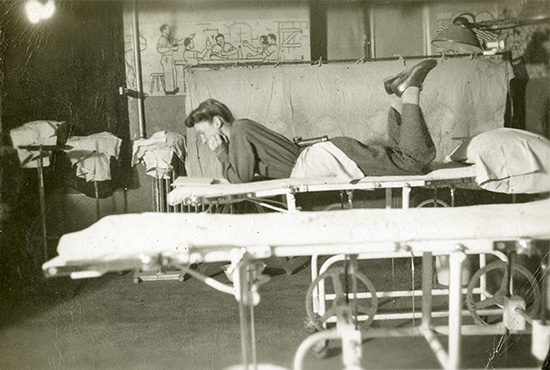 Louise in France in 1944.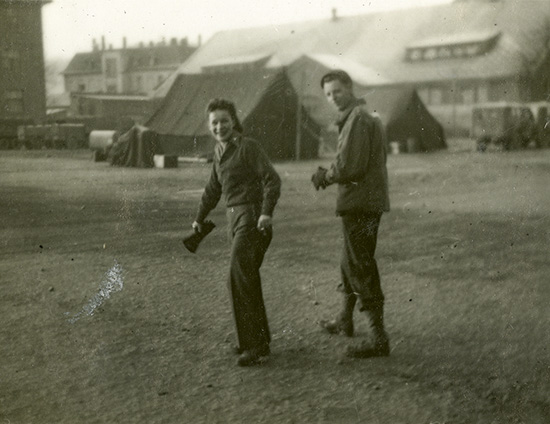 Louise with Al Maidens in France in 1944.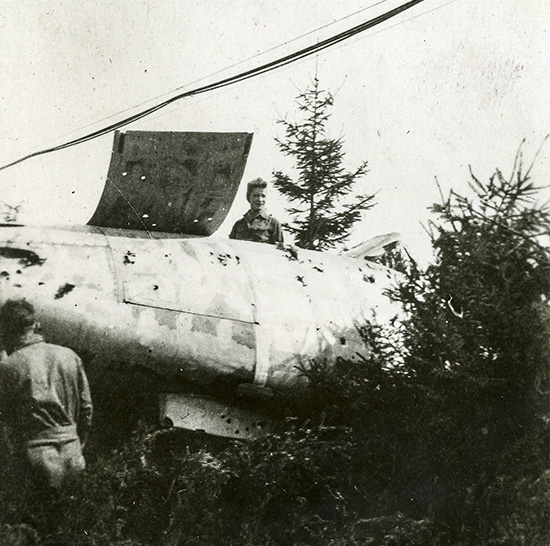 Louise in Germany in 1945.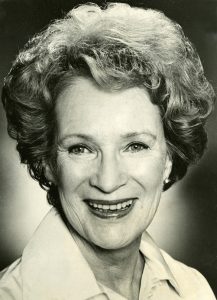 Louise Moon Miller in 1980.