René's journal entry for June 25, 1943…

---
---



            On the last day the convoy didn't leave so early, getting our start only at 7 A.M.   From there on in we began to see plenty of interesting things — bomb craters, cemeteries, and German, Italian and British tanks, trucks, etc. wrecked by the side of the road. There was very little British equipment and much less American equipment — apparently all of that had been hauled away already. But boy there were plenty of German tanks, trucks and planes to be seen. We passed several parties of prisoners working on the roads and they seemed to be doing a good repair job under the supervision of only one or two guards to any large group.

            We got to Bizerte shortly before 1 P.M. and when Roy inquired as to where we were supposed to go, the MPs as usual knew nothing at all. So, he had to wander around town until he found some sort of a headquarters at which he could get some information as to where the man was to whom we were supposed to report.

            While Roy was doing that hunting, we parked on a side-street and broke out the lunch. What a place Bizerte is — there is really nothing left of it. There can't be more than fifty of the natives living there anymore — there isn't one house that is anywheres near intact — and we saw all this those few minutes we were there. Our bombers really did a job there, and strangely enough they managed to miss the places that later were important for us, i.e. the harbor installations, barracks, roads, etc. Yes, those boys are O.K.

            Finally Roy came back and led us to the place we were to stay. It was right on the water-front in what used to be a hangar. There was plenty of evidence of bombing there, with mostly French and German wrecked planes all over the place. However, some semblance of order had been made and the wreckage was pretty well piled up in specific spots.

            We were given cots and the boys quickly set about putting them together, putting up their mosquito netting, and sweeping up the place. They really went at the work in a hurry – none of that gang afraid of work! Some of the boys made a bee-line for the water for a swim, but I kind of stuck around in the hangar to help get things organized, as Roy had gone off to find out all the dope he could.

            That evening we got a pretty good idea of what our duties were going to be. We saw some of the ships upon which we were to be put, and anticipated plenty of action. We were told to arrange things in groups of three men to one officer. Roy, it was decided, was to rather arbitrarily pick the men for each officer. He picked the cream of the crop for himself, but as all the boys that we brought with us are top men, it really worked no hardship on anyone.

            Despite the fact that we had been told that they had been having nightly air-raids, we were completely un-disturbed that first night in Bizerte.
Cohn's Courageous Commandos covered 1,312 miles on their 5-1/2-day journey from Casablanca, Morocco to Bizerte, Tunisia.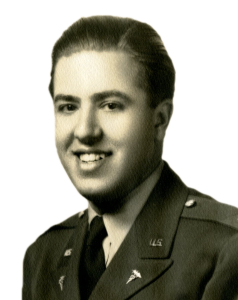 .

Watch for my next message on
June 26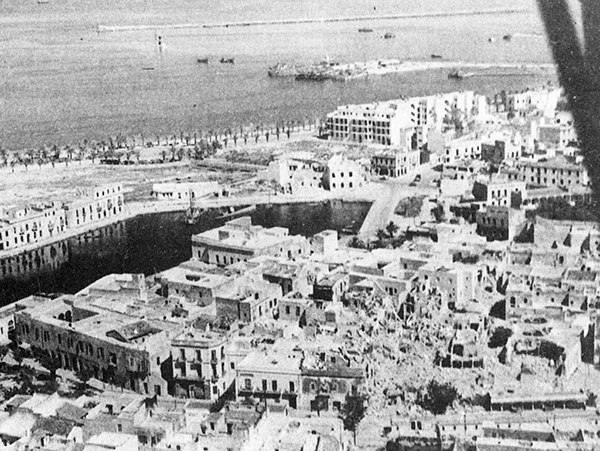 On June 25, Philip Westdahl (back in Casablanca) writes: "We are hit pretty hard by an epidemic of diarrhea most likely on a dysentary basis. Half of the remaining officers and about 20 men are sent to 66th Station hosp. today. In the meantime the rest of us continue to sit on our proverbial behinds waiting for the next move. All tents with the exception of actual living quarters and mess tents have been torn down and all equipment is packed and segregated into piles ready for loading."

René's journal entry for June 26, 1943…

---
---



            On the 26th, we loafed around and I turned in the extra rations we had and the quartermaster equipment. I got to see some more of the town that way and found it all the same – a total wreck.

           That afternoon we went swimming at a beautiful beach that was about seven miles or so from Bizerte, but to get there it took about 40 minutes because it was over a terrible road, through a couple of creeks, etc. But, boy, it was worth it. The sand was like Carmel, clean and white, and the water was a beautiful greenish-blue — calm, clear and no waves at all. It was really warm water — in fact almost too warm. Golly, it was really nice. We had brought two trucks down to the beach, one with men and the other, officers, and all were reluctant to leave the beach.

            That night we were assigned an air-raid shelter that was about a block and a half from our hanger. And, during the night, sure enough, came the air raid alarm. We dashed for the shelter and somewhere along the line the "all-clear" came but as we weren't used to it, and in fact, hardly knew what to expect, we missed it, and waited around in the shelter until Roy was able to get more information. Then a few hours later, the second alarm came and we hi-tailed it to the shelter, which was built underground and which smelled rather poorly. We all vowed that if another alert came we were going to remain in our beds, and to heck with the shelter.

            We were eating at a Navy mess on shore and though it was certainly a relief after the meals we had had en route, it was far from good, being strictly altered C-ration.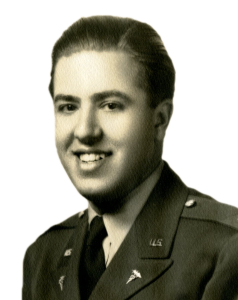 .

Watch for my next message on
June 27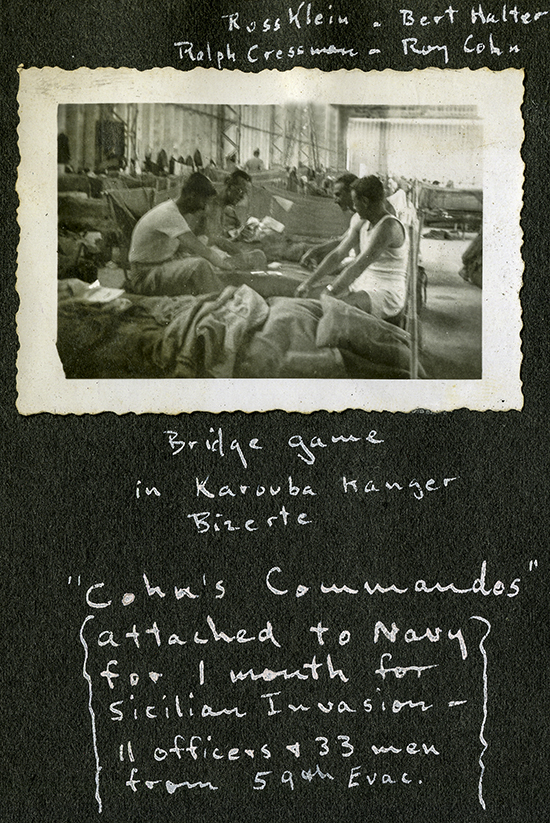 Hanger "Cohn's Commandos" were assigned to while in Bizerte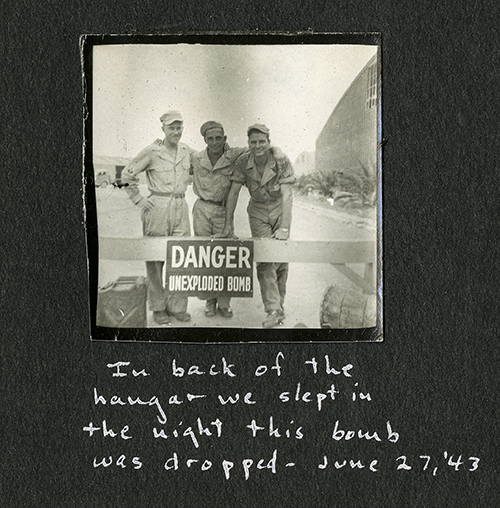 An un-exploded bomb from the air raid the night of June 26th.

René's journal entry for June 27, 1943…

---
---



            On the 27th, I took 3 of the trucks and the jeep in to the Ordnance office and turned them in. Then tried to find the dope on getting the men paid, but was unable to find anyone who knew anything about it. When I returned, I found I was scheduled to board a ship that afternoon with my men. The 8th men also were to board theirs, and Eddie Welles, also, but the rest weren't assigned yet. Naturally, I got my things together, prepared to store most of the stuff and take only barracks bag (an extra one I had) and musette bag aboard with me.

            In the afternoon, we piled into what is known as an LCT, and were taken out to Lake Bizerte where all the ships were anchored. On the ship (the 386) I was given swell quarters — a bunk with an inner spring mattresses — a lower, with no room-mate at the time. The room had a desk, a shelf, hangers, and what was more important, a fan. It was luxury itself. I had nothing to do on the ship except get acquainted with the Pharmacist Mate and the supplies that were already on board, and get acquainted with the officers and men. Carl, Bernie and Al Querhammer made themselves acquainted and settled in the crew's quarters. They had canvas three-decker bunks on the "troop compartment" deck, where it got awfully hot during the daytime but wasn't so awful at night.

            As soon as we got aboard, the difference in food was noted. It was good food well prepared and we had swell fresh bread that was made right on the ship. One day we even had chocolate ice-cream which, though flaky, was cold and most welcome. We had lemonade, iced, as often as we wanted it and on one occasion one of the colored mess attendants even brought a glass full of the lemonade out to Q and me while we were standing out by the rail.

            As our ship was scheduled to carry pontoons, the load of vehicles that we had on the top deck already had to come off, and as a consequence we were in at the dock considerably more often during the next week than were the other ships. I naturally spent some of that time with Roy and the rest, but on the 2nd that gang up and left and went to Tunis where they were to get on the LSTs that had been assigned to them. That left Eddie and myself as the only 59ers up at Bizerte. I saw Eddie a couple of times, but as his ship was out on the Lake most of the time, we didn't have much of an opportunity to really get together.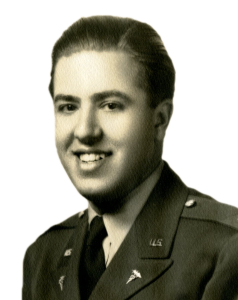 .

Watch for my next letter on
June 29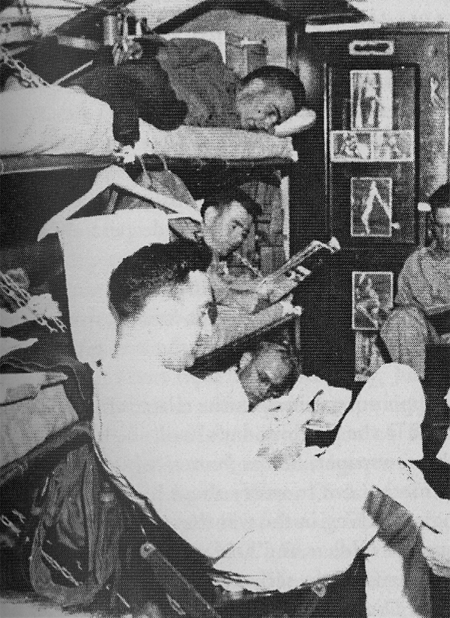 While René was given "swell quarters," with no roommate, the enlisted men were on the "troop compartment" deck with "three-decker bunks."

June 29, 1943
No. 44

Bizerte, Algeria
(His parents still think he is in Casablanca)
Dear Folksies,    
          Please excuse the delay in writing – it has been unavoidable. I imagine that Lois has written to you in the interim, so that you haven't been entirely without news from this side of the world.
          A couple of days ago I bumped into one of the boys from Lois' Uncle Tom's outfit. Tom is no longer with them, having been ill – overwork, his blood pressure, etc. He's been reclassified, and is now headed for Washington, where he is to have some pretty good position in the War Dept.
          Have been eating pretty darn well the last few days, but in general have taken things very easy. However, prior to these last few days I was kept plenty busy and consequently was not able to get any letters off to you. Roy kept us on the go pretty much, but naturally we didn't mind. He is really swell to work under.
          We've done some more swimming, once in nice fresh water, but more recently in water and sand similar to Carmel. Nice warm, clean water. There's nothing that makes one feel any better on these hot days than to be able to go swimming. How's the Tahoe water this year?
          Bumped into Stratte several days ago and he intended to rejoin the boys in a couple of days. He acquired a cute native pup who followed him all over the place.
                                                                                                                                                  Loads of love,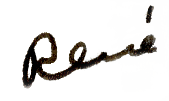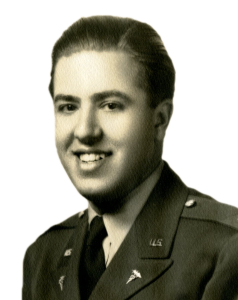 .
Watch for my next letter on
July 4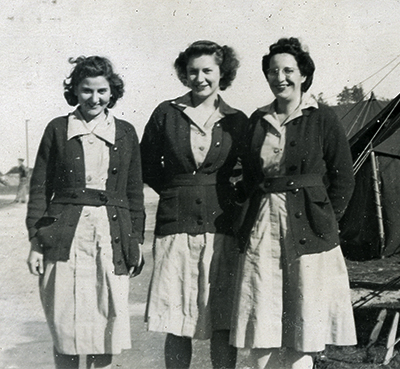 René can't't tell his parents that he is in Bizerte, Algeria while Lois is with the rest of the unit back in Casablanca. Surely René is missing Lois – pictured here in the middle with fellow nurses Ann Scheisman on the left and Gert Brazil on the right.

René tells his parents that he bumped into Paul Stratte, but he can't and doesn't tell him where he saw Paul.

René tells his parents that he went swimming at a beach with water and sand that reminded him of Carmel.

July 4, 1943
No. 45

Bizerte, Algeria
(His parents still think he is in Casablanca)
Dear Folksies,    
          Today being the 4th, I can remember "when" — when we were all much younger and everyone participated in the 4th of July games and contests on the lawn of the Feather River Inn — and then in the later years, the more sedate ping-pong tournaments at the Tahoe Tavern and the Bines watching the younger kids with their games. No, we never really became more sedate, but they just wouldn't let us in the kid's games anymore.
          I can just picture you today at the Tavern. As it is a weekend, and, despite tire-rationing, the San Francisco crowd has probably taken time off, the golf course is undoubtedly crowded so that this must be your day off from the course. I also have before me a picture of Mom and Dad comfortably reclining on their beds, reading. I sort of hope that what I see in their hands are letters from me, or perhaps from Lois. I've been wondering if there are going to be any auto races up there this year, but sort of imagine that the race fans would rather be using gas for things other than racing. Gee, I didn't know that I could lapse so, and become that reminiscent, but at that it does feel sort of good.
          We have been doing considerable resting, reading and sleeping the last few days. Have greatly enjoyed the book you sent me for Xmas, "This Is My Best". It really is swell and helps to pass the time away most comfortably.
          Yesterday, a funny coinkidinky, as Marie-Louise would call it, occurred. I was reading Robert Benchley's "Treasurer's Report" in that book and when I finished I remarked to the fellow next to me that Benchley really was a screwball. He replied that he certainly was, and then we both suddenly discovered that we had been reading the exact same story in different books – he in one of those Pocket Editions. Strange, eh?
          Yesterday I went with one of the officers who had to visit a nearby town for some materials, and it turned into quite a sight-seeing tour. We got into one spot, however, that felt as if it were the jaws of hell, 'twas so hot. There was a slight breeze, but it was so hot that it nearly burned the shirts off our backs. It has been hot, here, but when we got back yesterday, we welcomed this heat.
                                                                                                                                                  Loads of love,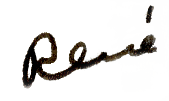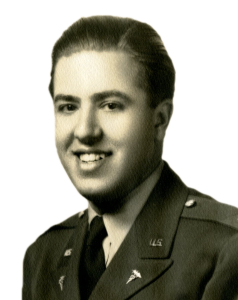 .
Watch for my next message on
July 5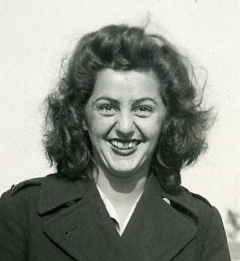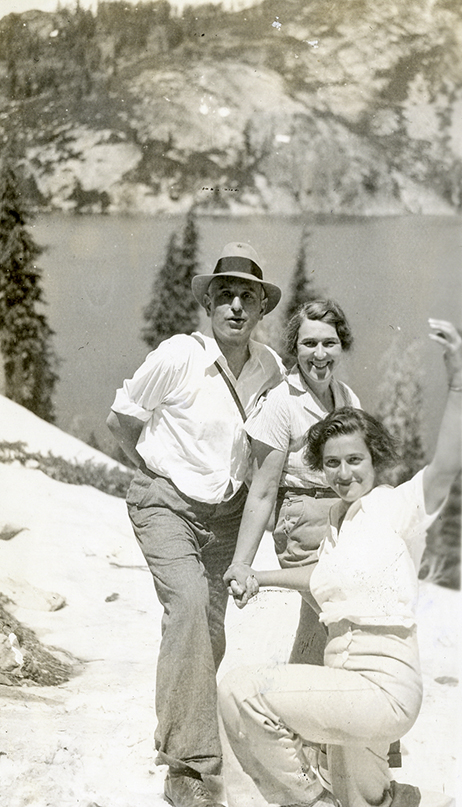 René reminisces about happier fourths of July –  when the family celebrated at Feather River or Lake Tahoe. Pictured here (left to right) are René Sr., Alma and Marie-Louise in 1935 at a lake near Feather River.

René's journal entry for July 5, 1943…

---
---



            After the pontoons on our ship were hoisted on the sides, it became obvious that the ship I was on was really the experimental ship, for they started building a "flight-deck" for Piper-cub planes. They had to build this forward of the cabins and wheel house and over the top of the ventilators. As they naturally had to extend it clear to the bow of the ship, this eliminated from action the 40mm gun on the bow, as the runway covered the gun. Finally, after they had the runway built, they put one plane up on it and we took the ship out on the lake for a trial launching of the plane to see whether it would be possible for the plane to actually take off.

           To prevent accidents or, rather, to prevent the pilot from great danger in case the flight wasn't successful, the Captain had fire-fighting parties on each side of the bow end of the ship and had Q and myself in the small boat out ahead of the ship to pick up the pilot in case he crashed. General Truscott came aboard to witness the performance. Then the young Captain who was to try the plane and runway out, climbed nonchalantly into his plane, and when the ship was going full speed into the wind, he set off in the plane. He used up the full length of the runway for his take-off, but he had told me that he intended to use the full length to impress the General with the difficulties of the situation. However, as he hit the end he took a little bounce downward and I thought for a second that I was going to have business. But, he kept on flying, went up nicely, circled around us a few times and then headed in to land on the field, while we headed back to the dock.

Click on images above to enlarge.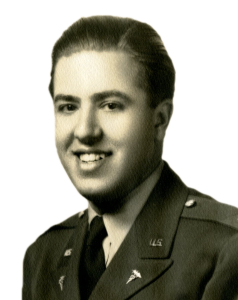 .

Watch for my next message on
July 6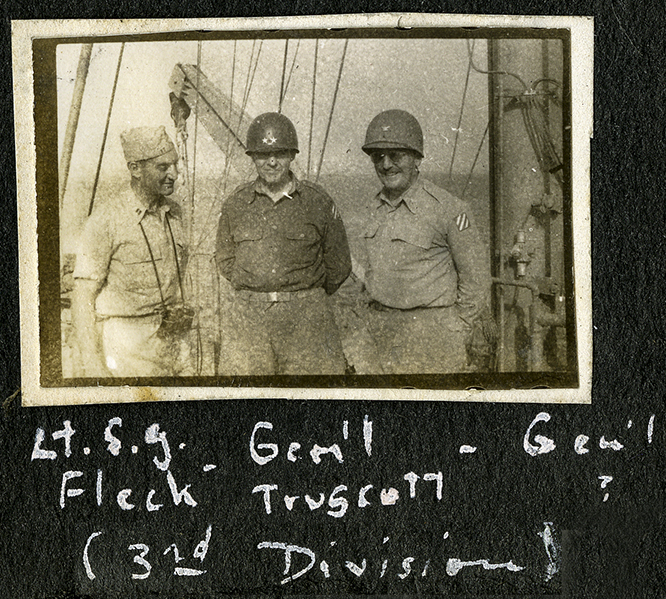 General Lucian King Truscott, Jr. pictured (center) above took command of the 3rd Infantry Division in March 1943, and oversaw preparations for the Allied invasion of Sicily, code-named Operation Husky. Between 1943–45, he successively commanded the 3rd Infantry Division, VI Corps, Fifteenth Army and Fifth Army.

The ship René was on was really an "experimental ship" with a "flight-deck for Piper-cub planes."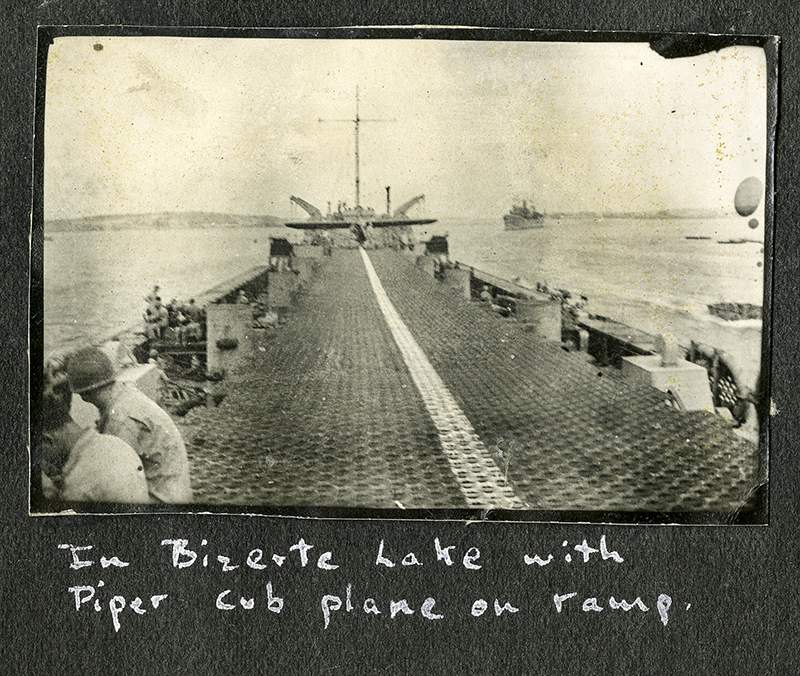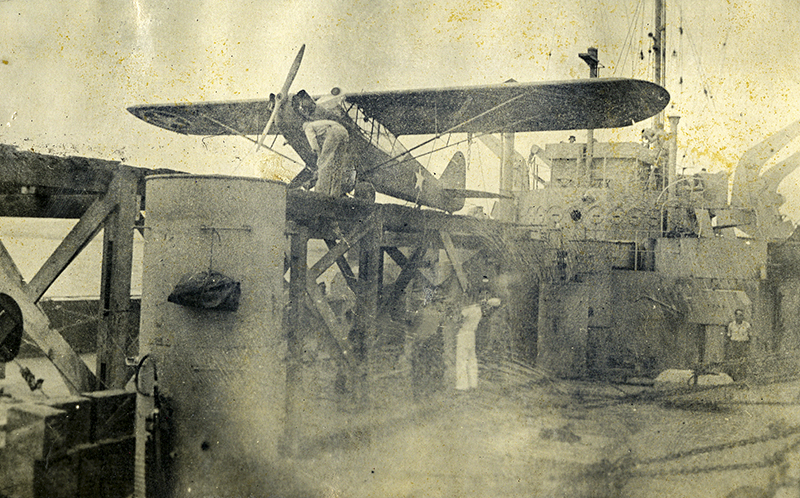 René's journal entry for July 6, 1943…

---
---



            We had several air-raid alarms, generally one or even two a night, and some during the daytime, but nothing happened until the early morning of the July 6th. "General-Quarters" sounded around 4 A.M. and it wasn't long before all hell broke loose. We were in at the dock, had a nice white line down the runway and made a very nice target. On top of that, the ship next to us was loaded with ammunition on her top deck and considerable gasoline below. A nice situation. We could see the planes in the spotlights and all the guns poured out the lead at them. We later heard that there were some 50 planes. When I heard a bomb come whistling down I ducked back inside, as did the other Army Officers who were aboard. That whistle was no pleasant sound. All the guns on our ship were cutting loose and it really jarred us plenty. There was such a din outside that if anyone were trying to think, he couldn't have even heard himself think.

            Soon, Mr. Mitchell (one of the Sea-Bee officers, who had been in the Coast Guard in San Diego and who was also a Construction Engineer) came running in saying that he had a wounded boy with him and that something had exploded up by the forward guns. I looked at the soldier he had brought back to the ward room, saw several shrapnel wounds in the back of his leg and then went off forward, amid all the din of the firing, to see what had happened up front.

          They already had one of the fellows down in the port troop compartment, and it didn't take more than a glimpse to see that he was finished. He had a wound over the left occipital region, had a wound on his face, near the nose, and also one by his neck. He breathed his last as I reached him.

          Then Cisco was brought in with a deep gash in his right groin. One of the boys had slapped a handkerchief above the wound as a tourniquet and the bleeding was thus controlled O.K. When the tourniquet was removed there was very little oozing, so we gave him some morphine sulfate and put a large bandage over the wound after the magic powder.

            Then, I was called to the other side where there was another fellow who had been hit. I found him with a big gash that took away most of his left ear and a good chunk out of his occipital and temporal bone, exposing the occipital lobe to view. He also had a penetrating wound in his right upper abdomen. He was breathing only spasmodically, about one per 20 seconds. I gave him some caffeine and then tried to get into his heart with some 1:1000 adrenalin. The needle, however, was woefully lacking in length and consequently could only give the adrenalin in the tissues. The caffeine worked temporarily, as it stimulated his respirations for a few minutes, but then he relapsed again and soon was finished.

            Then some of the smaller wounds started coming in, the firing having ceased as I remember, though, I'm not really sure what time the firing stopped. Lt. Jr. Mockbee (the executive officer, an old-time Navy man with 23 years in the Navy behind him) had a crease along the left side of his neck — a close call, and we were so busy with others, that it wasn't until things were all over that we got around to him. He also had a big tear in the back of his field jacket, and he later remembered that he had been knocked to the deck and must have hit his shoulder at that time.

            Just what landed up by that forward gun was never really figured out. There were shrapnel holes through the ammunition box there, and there were a couple of 20mm shells and also some Italian shells, but whether it was American or enemy shells that landed and caused the damage was never decided.

            Lt. Beddoe quickly got the tank-deck cleared enough so that a vehicle could transport the injured to the hospital, and he himself took the boys to the 56th.

            It was later found out that at least four planes had been shot down here and it is the consensus of opinion that our three-incher brought down one right in the harbor behind us. It was the only gun shooting at the time that the plane faltered and started down, and the boys were pretty proud of that. Some of the enemy pilots were later on picked up out in the outer harbor.

            Apparently our ship suffered the worst damage to personnel, though some of the others had wounds of various kinds also. Apparently numerous bombs had been dropped, one right behind the hangar where the boys had been sleeping when they were here — but this one turned out to be a dud. Others were dropped near various dumps, one exploding in the center of a ration dump but ignited only one pile of food.

            I went up to the 56th later in the morning and the boys there, Craven and Hurd, said that they had plenty of planes over them, but only some shrapnel landed near them. They were having plenty of business that morning – some 75 casualties from 4 A.M. to 11 A.M., five in all dead that were brought to them.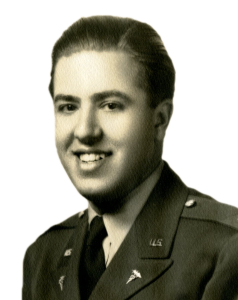 .

Watch for my next message on
July 7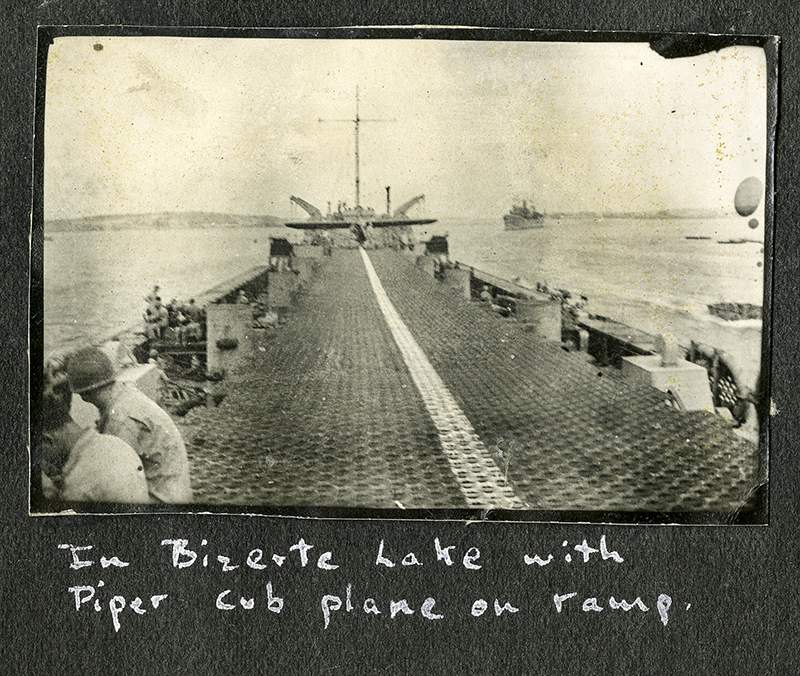 As René writes in his journal, "'General-Quarters' sounded around 4 A.M. and it wasn't long before all hell broke loose. We were in at the dock, had a nice white line down the runway and made a very nice target."