September 13, 1945
Bad Wildungen, Germany
No. 51

Dear Folksies,

        Well, today we finally moved!  We are now in the buildings we should have been in two months ago.  We are in the town of Bad Wildungen, which is 14 kilometers from our last spot, and is the town in which the 3rd Division Headquarters has been all the time, and in which the 23rd Corps Headquarters is also.  In other words, it's sort of a crowded town.
        We are in with the 91st Evac. Hosp. on sort of a screwy deal. We are running our own headquarters and our own mess for the detachment, but the officers and nurses are eating in the 91st mess and living in the same bldg. as the 91st officers and nurses. They haven't as yet opened up the hospital, but we will apparently be on D.S. (Detached Service) to them when they start taking patients.
          The officers' and nurses' quarters are in the "Kaiserhof Hotel" and most of the rooms are singles or doubles. Jack and I each have a single with intercommunicating door, so that we have beaucoup room. The mess is in a regular dining room, but if the two meals we had there are any example of coming events, we are certainly going to wish that we had kept our own mess and used the cooks that have been doing a noble job the last two and a half weeks. I don't believe that I have told you how much improved our mess has been since our regular cooks went home. We have had Al Rush (who used to cook for the patients) and Bill Kioski (who used to be a ward man, and a damn good one at that, who was one of the three boys with us on the So. France Invasion). These two boys have used a great deal of imagination and tho' the rations have been the same as usual or even poorer, they have done wonders and put out the most tasty meals that we have had in ages.
        The area we are now in over here was, up until about a week ago, a hospital for German soldiers, most of them with one or more limbs missing. They have since moved these patients to various other hospitals in the country.
        People have been going places, some permanently leaving, of late and 'tis hard to keep up with things from day to day. Pat Barry and Chrystal went to Ireland where Pat hopes to see family she visited 10 years ago. Picchi and Dottie Merrell left this A.M. for a tour of Switzerland (sponsored and run by the Red Cross).
        Delpech is leaving us in a couple of days. She is going to get married on the 15th of this month to a 1st Div. Officer. She is transferring to another hospital outfit so that she can stay over here for some time, as her husband-to-be will be in the Army of Occupation probably.
        Molly Warner left to go to a unit in Marseille where her husband is stationed.
        One of our boys, the cook mentioned above (Rush) is going to leave pretty soon also, as he is going to Epinal to get married to a French gal and then is going to stay in another unit, probably for Army of Occupation for a while.
        The bus is finally on the sick list! A cylinder cracked that day I took the gals to Frankfurt and the mechanic at the M.G. in Fritzlar is going to try to get parts to fix it. For a few days my friend Maj. Gish loaned me another car, a "Wanderer" sedan. It was O.K. once you got it going. However, the starter was on the fritz and, as a result, the car had to be shoved every time one wanted to start it. Fortunately, it was a light car and one person could actually shove it easily and it only took a few feet of shoving before one was able to start it.
         Can you imagine it? I had an exceptional night the other night.  Yes, I not only went to the services on the Eve of Rosh Hashanah, but also went to the morning services.  They were held in Kassel in the auditorium belonging to the Railway outfit that is working there.  The Rabbi was from the 3rd division.  The Cantor was excellent — he had a good voice and certainly knew his Hebrew.  There was quite a crowd at both services — I should judge that there were in the neighborhood of 300 men there. I went up with two of the officers we acquired from the 2nd Convalescent Hosp. about a month ago.
         Sent some things to the folks in Paris — some of my sun-tan pants and shirts that they can dye and use, heavy underwear, etc.
        Also, you have seen the last of my pounding on Ye Olde Faithful typer. Perhaps you will receive letters written on it, however. I sent it to Yvette, who needed one badly in her office.
        Lou Huff and George Armanini are going up to Paris tomorrow and I shall send a few more items with them.
        Very sweet letter from Monique today written while she and family were vacationing – unfortunately just at the time that I was in Paris. I would certainly have like do have seen her, Bernard and Robert. She has apparently been thrilled with the packages you folks have sent her.
                          Loads of love,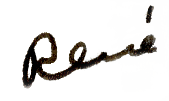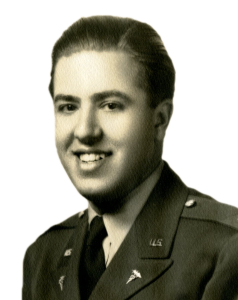 .
Watch for my next letter
September 14, 1945

René tells his parents that the officers and nurses are now living in the Kaiserhof Hotel in Bad Wildungen, Germany.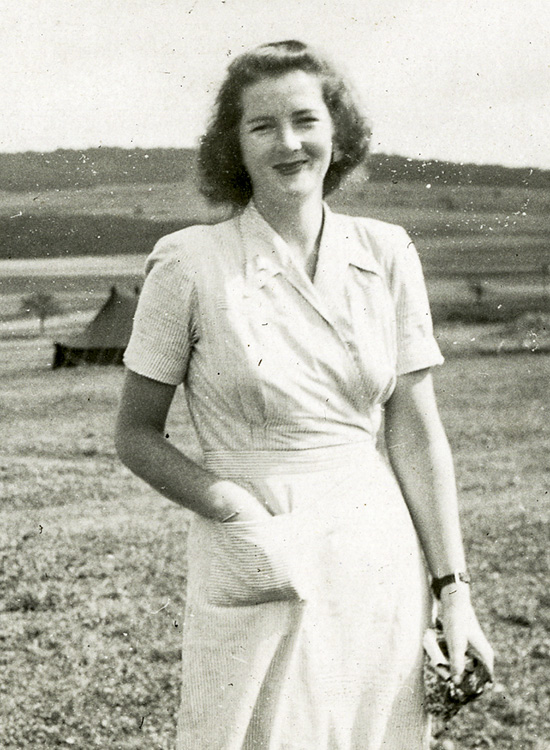 In other news, Pat Barry (above) and Chrystal went to Ireland, where Pat hopes to see family she visited 10 yeas ago.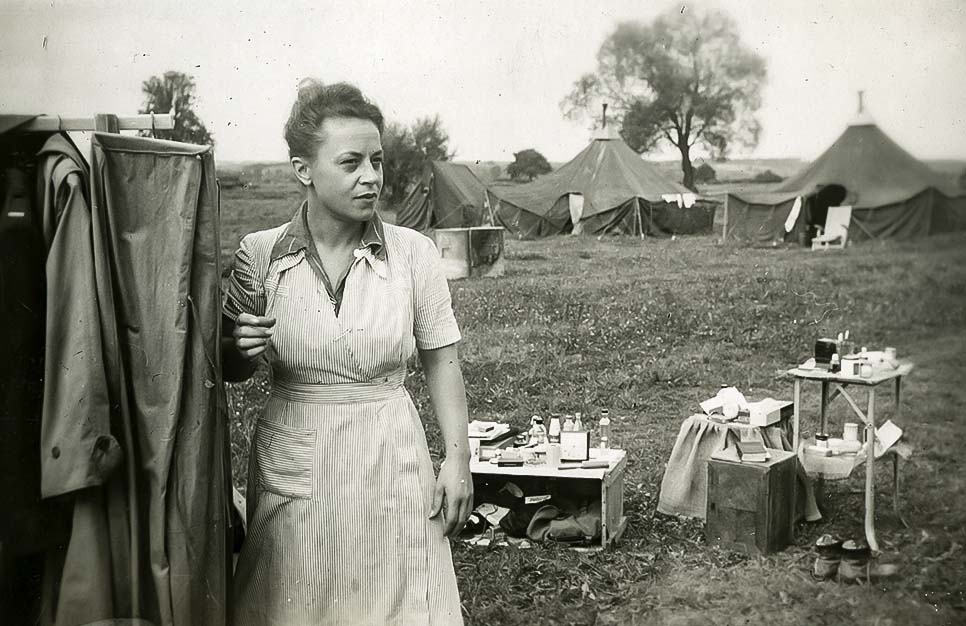 Norma Picchi (above) and Dottie Merrell left for a tour of Switzerland – sponsored and run by the Red Cross.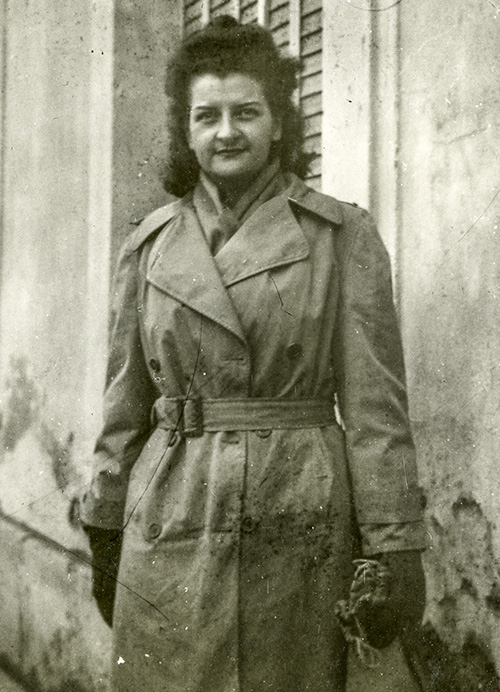 Paulette Delpeche is leaving in a couple of days to get married.

September 14, 1945
Bad Wildungen, Germany
No. 52

Dear Folksies,

       Everything is, as usual, a mass of confusion around here. We have now been brought up to strength as far as enlisted personnel are concerned. We received some 40 men from the 91st and then 140 from the 2nd Armored Div. We were supposed to have gotten some of the nurses from the 91st transferred to us, but as yet those orders have not come thru. Then, today we got 5 new officers, two captains and three Lt. Cols. Strange business!! A couple of these new men were former 11th Evac members (one of the oldies from Africa, etc.) but all 5 came to us just now from the 115th Evac. Apparently one of the Lt. Cols will be taking over command of the unit, tho' even that, as yet, we are not at all sure of.
       As you see, or can imagine as well as we can, something is in the wind, and it looks as if they may be really beginning to commence to think about sending us home before many months elapse.  Even, however, if we do leave this area it will mean two or three months before we actually get off the continent, because there are always hold-ups for various lengths of time in the "Assembly Area," and then again at the "Staging Area."  Witness the fact that the 45th Division started home the end of June and are still sweating it out at a port.
       Incidentally, the difference between an "Assembly" and a "Staging" area is that the "Staging Area" is at the port, whereas the "Assembly Area" is somewhere in the heart of France – either Rheims, Metz, or near Paris. If we leave here, we will undoubtedly have to go thru both types of "Areas." So, even if you get word not to send any more mail this-a-way, don't get high hopes, for it will only mean that we are on the first leg of that centipede — that journey home. Rather than have mail take a few weeks to catch up to a gang at the various areas, they are encouraging all to have those that write informed that we can do without mail for a couple of months. In other words, by the time you get the notification not to write anymore, we will have been on the way already about two weeks. So, if you had just written the day before, there will actually be 4 weeks of mail following us.
       Will try and let you know if and when we do start, what is going on – that is, as much as we will know about it. Perhaps I'm a bit optimistic in even mentioning all this at this time, but something is in the breeze and we hope it is what we suspect. But, even so, we know that the Army can do and undo things so darned rapidly that even if we do get orders to start on our way, we will not believe anything about it until we see those shores of the U.S.A. People have had orders written and rescinded so rapidly over here that it makes ones hair curl, so, even if we do start on our way, for cryin' out loud, don't go getting' high hopes of an early return.
       Enough of that optimism… Could it all be the result of the party we had last nite?? Yes, we had a pretty good shin-dig last nite, using the dining-room of the hotel as a dance-floor. Had a 5-piece band made up of some of the men of the 91st Evac (the men having formerly been of the 97th Evac). It was a party given by those of us in the 108th — with the 91st members as guests. Kind of a funny mix-up to say the least. Here we are sort of guests of the 91st and we give a party with their band, their dining room and the only thing ours was the liquor, which had been made into a rather good punch.
       I had quite a nice hike with Chappie yesterday.  We set out after lunch and took off through the woods and ended up on the highest peak around here.  Actually, it wasn't terribly high, but it was practically a straight-up climb and we had a swell view from the top.  When we started down, we took a more circuitous route, a narrow road that led from the top down, and we ended up walking quite a ways by the time we landed back in town.
       Mom, your encounter with Bret was certainly a smarty. Am surprised that he does not apparently have all the latest dope on the gang, whereas we, over here, have heard some more definite news than he gave you. We know definitely Brown and Stratte are civilians and we heard that Wally and Frank were getting out, and should by now be out.
                          Loads of love,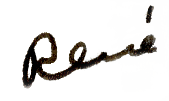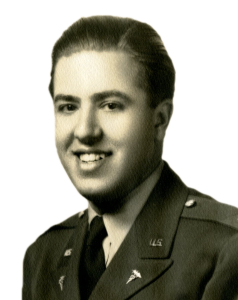 Watch for my next letter
October 7, 1945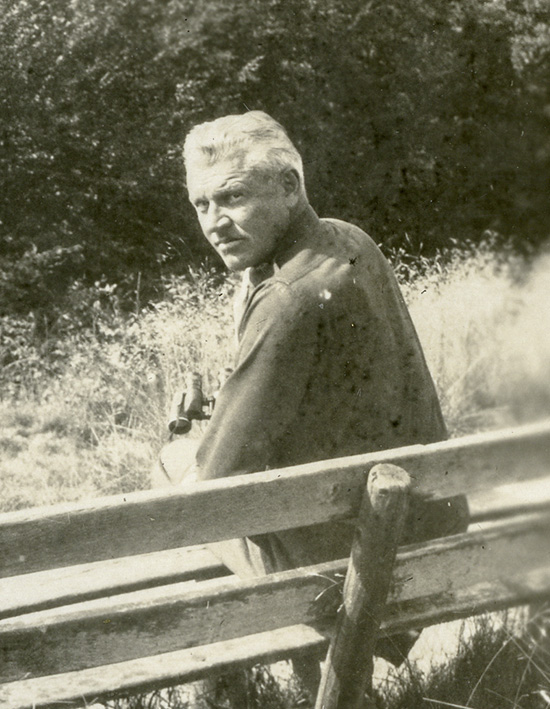 René tells his parents that he went on "quite a nice hike with Chappie" – Elmer Chappell.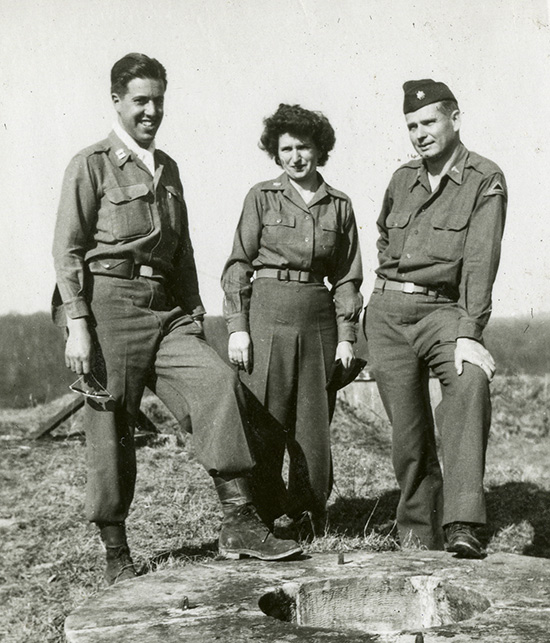 Evidently Bret Smart  (above right) with René and Helen Baker, went to visit René's mother, Alma.

Below is René's handwritten accounting of the surgical statistics of the 59th Evacuation Hospital – from Casablanca in December 1942 to Epinal II in January 1945.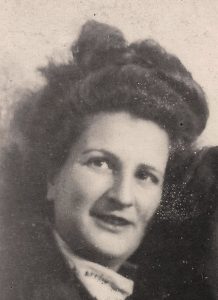 The following is a translation of an article written by Yvette Baumann Bernard, René's second cousin. A clipping of the original article, which was published in a French newspaper sometime in the second half of 1945, is reproduced in the sidebar.

The preface reads in part, "The following article, written by one of our comrades who experienced the horror of the Auschwitz camp, takes its place as an homage to those who experienced the same suffering."



A Sunday in Auschwitz
By Yvette Bernard
Four-thirty in the morning. Already some energetic blows from the stick had woken the eight women who are today on coffee duty and who slept, heaped one against the other, in their coya, a simple hole dug in the walls of the dormitory, and where a bench had been placed.
       It is Sunday, a beautiful summer Sunday…no, memories don't have the right to come flooding to us, lest all our beautiful courage will fall.
       In principle, we are free on this day to sleep, to wash ourselves, to wash our laundry, or go chat with our friends in other blocks. In reality, the Boches always manage to invent some sinister pleasantry that completely spoils our day: delousing, standing in place indefinitely, punishments on the knees the entire day, general roundups lasting four hours, sometimes more.
       Five o'clock. Whistle blasts; it's roll call.
       The Polish poignes rush us from the block, jostling us so much that the few gulps of coffee that we had in our bowls are spilled onto the backs of our comrades in front of us. We are lined up outside, the day is going to be beautiful. Marvelous heavens of the Haute-Silésie, you were the only thing pure and splendid that we were able to contemplate over the course of these atrocious days. The barbaric S.S. could not prevent that. The comfort that we found in it, you could not take that away, you who looked to develop in us the most vile instincts, to turn us into a frightened herd of crawling animals.
Punishment
       Eight o'clock. Roll call just finished, but we must stay lined up in rows of five while waiting for the capos to come get us for work. Good news: the whole camp is punished today! The men and the women. Why? Never ask why. Nobody knows. Probably because the commandant had bad digestion or had nightmares during the night… Thousands of women wait for the verdict, when we see the capos arrive.
     –In rows of five… Aber schnell! Quickly! The enormous herd put itself into motion. We are pushed, hurried, jostled. Where are we going? We are brought up to the interior track of the camp, where some men are unloading wagons full of bricks. We must jump into a ditch, each taking five bricks, back up the track, arrange ourselves again five by five, go off with gymnastic steps to deposit the bricks to a spot one and a half kilometers away, return each time in groups of five, running to get five more bricks, going, coming, going, coming. The blows rain down; our wrists, our arms bleed. It's heavy, much too heavy, some can't do it any more, but attention to those who fall; a kick gets them back up. If they can't get up, they will try to crawl along edges of the road and, maybe then, they might catch their breath for a few minutes.
       On our fourth trip, we see a train of deported Hungarian Jews arrive at the station. Men, women, children, old people leave the train. The selection is in progress: to the right, the large mass of women with children and the old people; to the left some young men, some young women. On us, the blows double. It must be shown to those who are arriving that they're not here in Paradise!
Happily You Don't Know
       But how much more excruciating is this spectacle for us: the convoy of 1,500 human beings who just arrived will become no more than, in just few hours, a hundred young inmates in the men's camp, a hundred new companions in misery among us. The others, women, children, old people, will become engulfed in the huge, insatiable mouth of the crematory oven. They will never enter the camp. They are there before us and they don't have more than an hour or two left to live.
       With what care this young mother protects her baby from the crowd. Happily, Madame, you don't know, you can't imagine that soon you will be taking a shower in a room where water does not run, but where the gas will suffocate you! Happily, Madame, you don't know that, last week, there was not enough gas for all the people who arrived, that the most feeble were chosen: the women and the children, and that they were pursued with flamethrowers up to the immense pit where they were hosed with kerosene before being set on fire. That's right, Madame. They don't separate families, but they unite them in death.
The Song Before Death
       We can do nothing for you. We wish only, in our cowardice, that we could not see you.
       Later, huge flames will come out of the glowing chimneys kissing the sky, and will tell us of your dreadful suffering. That is all that remains of the hundreds of children and women and old people; these Dantesque flames, this horrible odor of grilled flesh. But you don't know. You see in front of you these women harassed by the capos, and who proudly straighten up. They strike! We are used to it, we will try to smile at you. Maybe some looks still bright, some welcome calls will succeed to send you the messages from our hearts.
       Bravo, S.S., the general punishment has been discovered today! It is pretty, our Sunday. Your sadistic psychology has taught you that when morally we cannot take it any more, it is easier to use us physically. But this Sunday, in front of the train of death, you could not stop us from singing.
—————————
Watch for René's next letter on October 7, 1945