March 7, 1944
No. 8

Dear Folksies,          
            Last Thursday night, being rather tired, I went to bed early — somewhere around 9 P.M. Then it seemed only a matter of minutes when I suddenly was wide awake again, with a familiar voice in my ear telling me to get up and have something to eat with him. I started awake, opened my eyes, and it was none other than George Davis shaking me. Gee, was I glad to see him!! I looked at my watch and thought it said just 9 P.M., but when I looked at it a few minutes later I realized that it was not 9, but 11:45 P.M. So, we hopped over to the mess dept. and grabbed a midnight meal. And since then, George has been staying with us while he is carrying on his business in town. It sure has been nice to have him around again even though it is only for a matter of a few days.
            He is, you see, now the Motor Transport Inspector for the Allied Control Commission (formerly AMGOT) for Italy, Sicily and Sardinia, and as a consequence he is travelling around carrying out his duties at the moment.
            The day after George got here he picked up, temporarily, a swell Italian-made car, a "Lancia," which compares to our Packards or even Cadillacs. It was a swell long job, a convertible, low-slung sedan. What a bus! So, naturally we had a nice time just riding around in that car on Sunday afternoon. It certainly felt strange, but awfully good, riding around in a nice civilian car for a change. What a difference in the way it rides!
            Right now I am down in Wy's room, but — just so you won't be surprised at what I may put down here — we have quite a crowd in here. George is here and so are Wy, Bob Jones, Herman Kuhl, Herbie Ehrbacher, and Snuffy. Yes, it's quite a combination and almost anything is liable to come out of the air around here.
            Ye Gods, right now we are having a mock duel in here. Jones has a small rifle that the Italians had for the kids — it won't shoot — and it has a blunt bayonet on the end; he also has a nice looking saber. Well, George and "De 'erb" are "fighting it out," Herbie with the kid's gun and George with the saber. And while this is all going on I am pounding away on this, Wy is reclining on his bed trying to read, and Jonesie is at the other table in the middle of writing a letter also. Well, it was Jonesie's fault for getting out the toy gun to show George!!
                                                                                           Loads of love,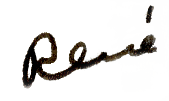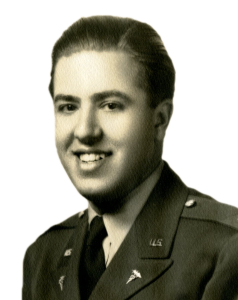 .