René's journal entry for July 20, 1943…
         Got back after midnight July 16, and stayed in the outer harbor until morn, coming in around 8 A.M.
            Again we loaded up after the many hours it took to clean out our tank deck – what a time they had shoveling out the sand and the hay. I had anticipated that the boys and I would not have to make another trip, particularly as there were actually so few of the ships bringing back patients. However, I was unable to get any info on it and so after loading that night, we pulled out around noon the next day, the 18th. This time we had a rather normal load – had some of the rear echelon bunch of the Rangers, some more of the 15th, the 10th and the 20th, and a couple of other odd outfits. Had nothing but big trucks, a few half-tracks and trailers.
            Had another uneventful trip, but somehow the commander of the convoy went awful slowly and we didn't get in until around 3:30 P.M. When we got in this time there were several ships still in the harbor and there were oodles of ships, all kinds, out off the beach about a half mile. I was surprised to see that several of the LST's that were in had diamonds on their sides and when I began searching carefully with my binoculars, I was able to pick out Bret's, Ham's, Pete's, Russ's and Ralphs' ships. I was able to pick out Bret on the bridge of his ship and also saw Pete on his.
            Finally, when it was dark, we were told to come into the harbor and this time we really unloaded in a hurry. 'Twas just under two hours. As it was too dark to venture forth, we just had to stay on the docks and weren't able to go up into the town at all.
            I was told by the Major who was Port Commander that the reason the diamond ships had been in Licata was that he had sent for them to come back up from their port at Gela to take a whole flock of prisoners back, as he didn't know whether we would be in again that day or the next and their stockade was getting awfully full. On the few ships that came in just before we were allowed in, he had loaded 3000 prisoners.
            The Major also told me about the taking of Porto Embadoquo. He said that after it was taken, it was thought that it had been well cleaned out, and as a consequence Major Miles and some Navy Captain went in to inspect the place. As they entered through a small pass, snipers opened up on them with a machine-gun, killing Major Miles and wounding the Captain. Some Lt. who was in the rear, went in with a jeep and brought both of them back, under fire of the snipers, but by then the Major was already dead. The captain was going to recover, they thought.
            We got out of the harbor in a hurry when we got a message that a torpedo-bomber was expected that night. We finally left around 2 A.M., having another uneventful return, getting back early in the A.M. on the 20th.
            During the whole third trip, the Captain had had difficulty with his digestion – having burning in his stomach, a hungry feeling, some nausea and then an episode of cramps and diarrhea. I gave him phenol and atropine and bisodol, but didn't seem to help much. Diagnosis: Gastric Neurosis. He was pretty well tired out, not used to such a strenuous ten days with so little sleep, and with his disposition it was pretty bad dealing with him – his poor officers had a hell of a time.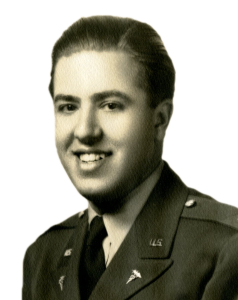 .