Unbeknownst to René, on January 28, 1944, Yvette Baumann Bernard (his second cousin) and her husband Jean-Guy Bernard were arrested by the Gestapo in their apartment in Paris.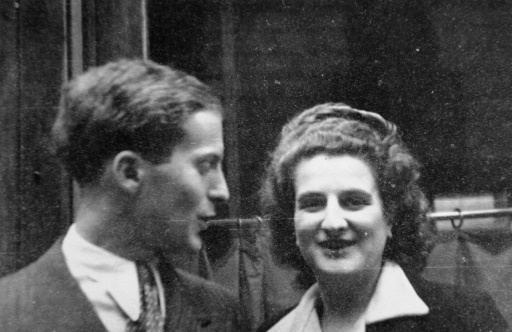 Both held senior positions in the Resistance, and Yvette, who was 25 years old, was 8 months pregnant.
---
In an interview in 1980, Yvette recounted what happened that night:
"When they knocked on the door, it was a Sunday night, the 28th of January 1944 in Paris. We were arrested at rue Boissy d'Anglas. Jean-Guy had a secretary who had been arrested three weeks earlier, so we had left the apartment. She was interrogated, but said nothing and we thought we could return. It is at that moment that she talked. I believe that she was horribly tortured. I never wanted to see her again and I could never bear to hear her name. It was not her fault, but she could have committed suicide – others had done that – it would have been better. 
Anyway, they knocked. I was in the kitchen and Jean-Guy opened the door. It was a very little apartment with two rooms and a kitchen. When I didn't hear anything, I went into the other room. Jean-Guy was sitting in a chair with his hands bound behind his back. I had three or four pistols pointed at me. They were plainclothes types, including a woman, and I realized afterwards that I had seen her before on the street. Some were French and one or two were Germans."
---
To read more about René's French relatives, click here.