January 8, 1944
No. 71 (continued)
Palermo, Sicily
Dear Folksies,
            The trip with the boys was quite a success. We took just one truck and there were 14 boys and myself. Left here at 6:30 A.M. on Monday and returned at 2 A.M. on Thursday, all rather tired but having had a fine time. We visited primarily, Catania, Taormina, and Messina, going through the heart of the island and then using the coastal route at night, for we knew that the latter road was O.K. except for the places where there were supposed to be bridges and then there weren't any. The interior of the island is interesting primarily because of the type of towns that they have. They are all built on the tops of mountains, as if they were started from the top down, and when you come upon them from a distance they have the appearance of gray ice-cream cones. Some of the towns are even built right out of the rock itself — the houses dug into the rock, i.e. carved out of the solid rock. Most of these towns are pretty small, population probably from a few hundred to a thousand, but they are not very far separated from each other. When they built these towns they had no idea that they would ever run a highway through them, for the main road goes through what seems to be the narrowest of narrow passageways. With a jeep it would be O.K., but with a 2-1/2 ton truck it is another story. We were very glad that we hadn't taken the trailer along as the other boys did the week before.
            There were some spots where we had to take the truck through rivers and we wondered at times whether we were going to have to dig ourselves out of the center of the river, but it never actually came to that. We brought our own rations along, but managed to only have to cook one full meal and two breakfasts, doing a bit of chiseling here and there for some of the rest and also eating in some of the better Sicilian spots. While in Catania, we ran into a Sicilian who came from Boston, and he gave us the lowdown on some places, so we managed to have a couple of good meals there.
              We got to Messina just in time to see Italy across the straits, for the weather closed in on us and it started to pour, so soon you couldn't see very far at all. It is really a very short distance from Messina across to Italy — just about like crossing the Bay to Oakland. On the way home we came through all kinds of weather — rain, hail, and snow, but we managed to do all right and arrived safely. We were certainly lucky as far as the weather was concerned for those first 2-1/2 days were just perfect — rather on the cool side, especially when we got near Mt. Etna and the wind came tearing down off its snowy slopes, but we were never really too cold. Of course, we all had been forewarned and wore our woollies, upper and lowers. I made good use of those wool gloves that you sent.
                                                                               Loads of love,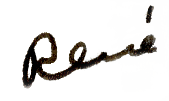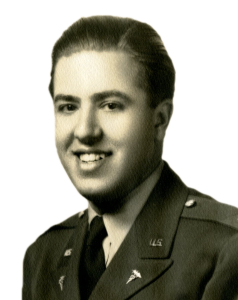 .
Watch for the rest of this letter on
January 9, 1944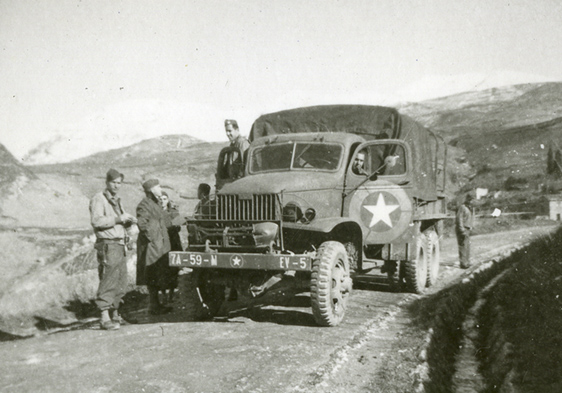 René (standing on the running board) and 14 enlisted men take a 2-1/2 ton truck on a 3-day road trip from Palermo through the center of Sicily to visit Messina, Taormina and Catania.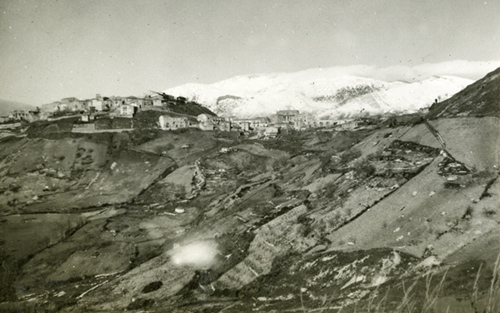 Hill-top town in the distance.

Eddie Accamando cooks up some "C" rations (above) and the gang joins the chow line (below).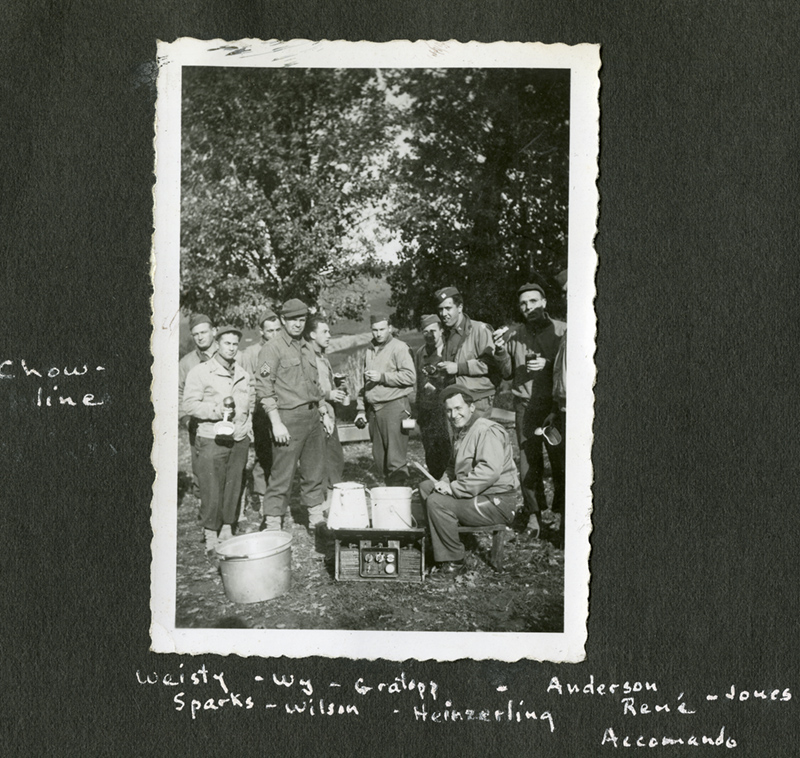 Standing are: Charlie Weistenberg "Weisty," Sparks, Wy Wyzogski, Wilson, Bill Gratopp, Harold Heinzerling, Anderson, René and Bob Jones with Accomando seated.

They have to stop the truck on a descent because of a "cart & stubborn horse" at the creek crossing. (Shown below)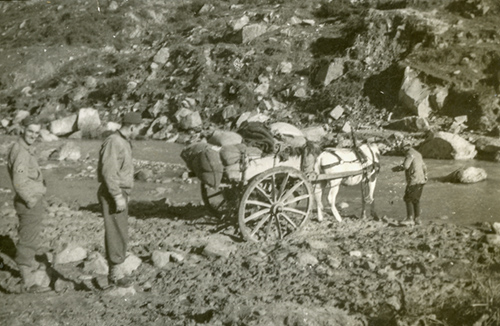 We were greatly shocked by the sudden death of one of our nurses — a most popular and previously healthy girl. She complained of a headache somewhat suggestive of migraine, which became so severe that she was sent into the ward to rest and be quiet. During the following week she noticed a transient numbness of her left arm, which disappeared the following day. For the next few days she felt quite well. Suddenly one night she had a sudden loss of consciousness with respiratory failure and all efforts to revive her proved futile and she expired. She was later found to have a brain tumor with secondary hemorrhage, so it was truly a blessing that she passed away so suddenly.

            She was greatly loved by all who knew her and as a consequence her military funeral was very touching. All officers, nurses and men attended in dress uniform. Flowers were heaped upon the flag-draped coffin as well as the altar. After the service the men lined the halls and staircase standing at attention while the honorary pallbearers, guard of honor and all officers and nurses followed behind.

            I'm sure that many eyes besides my own were filled with emotional tears.

.

Watch for René's next letter on
January 21

Funeral service for nurse Violet Bennicks



April 1, 1944

             During March several groups of officers took recreational trips around the island of Sicily. Chuck Schwartz and I took the trip together, which included five days. We started east along the northern coast passing through many of the former scenes of the Sicilian campaign.

            Hardly a railroad or vehicle bridge was left intact by the retreating Germans. Here and there along the coast a beached landing craft gave evidence of "end-run" invasion tactics. Strafed and burned railroad cars littered the stations and disabled tanks lined the streets, both our own and those of the enemy. It made me feel just a little weak in the stomach to realize that some of our boys who manned those tanks will never return to their native land. An American military cemetery near San Stefano also brought forth the same feeling, multiplied many fold.

            Most of the northern coast is quite beautiful. The shoreline in all but a few areas is rock and steep and the mountains rise abruptly a short distance back from the water's edge. It was quite a thrill to sight the toe of Italy across the Strait of Messina, most similar in appearance to looking over at Sausalito from San Francisco.

            We took a short side-trip over to Reggio in Italy, an act that precipitated a familiar question on the part of the British Captain in charge of the over-burdened transportation facilities, "Say, don't you American chaps know there's a war on?" I must confess I felt somewhat ashamed. Reggio was little different from Sicilian towns – a little cleaner perhaps, in the sections we saw. Oxen seem to have replaced the familiar little burro of Sicily.

            Messina is quite a beautiful town in the modern section, with wide spacious streets and fine looking buildings. However, the older sections are typically filthy and crowded. The waterfront area and railroad yards are practically leveled by bombs. As usual, the Fascist state buildings and the churches are by far the most pretentious.

         From Messina (the highlight of which was White Horse Scotch at 7 lire a drink at the British Officers Quarters) we drove south along the east coast to Taormina, a beautiful little resort town set high on the rocky sea shore with a beautiful view of Mt. Etna.

            Farther south we passed through Catania, now under British control, as is the entire east coast. It is interesting that our Italian "co-belligerants" in this area wear British uniforms. It was truly good for the soul to see that Uncle Sam is not the only Santa Claus in this crazy world, and quite surprising I might add.

            Just south of Catania in the low level fields there are innumerable relics of the now well-known battle for Catania – tanks, German "88" guns, abandoned enemy equipment of various types. From Catania we drove on to Syracuse. The country in this part of the island is much more favorable to agriculture than in the north. Orange, lemon, olive and almond orchards stretch for miles over low rolling foothills. Along the coast we could see numerous large convoys making their way to Italy.

            Syracuse was notable for its historic Greek Theater, Roman Coliseum and awe-inspiring ancient quarries known as Latomias. We were more impressed than our GI driver, who summed them up as "Just another pile of rocks."

            After leaving Syracuse we headed southwest through Ragusa, Comiso, and Gela and there again saw evidence of battle, and here again fertile fields and extensive vineyards. Asphalt and sulfur mines are also located in this vicinity, although not very active at this time.

            From Gela we started inland, passing through Enna, a cold, damp, crowded city perched on a hilltop above the fog.This inland section is the "breadbasket" of the island. It was a beautiful sight to behold the rolling fields of wheat and realize that the island will again become self-subsistant. In spite of the roominess of the country, the gregarious inhabitants live in their typically crowded, narrow, damp, unpaved filthy streets, usually on the hillside.

            From Enna we drove back to our starting point, Palermo.

.

Watch for René's next letter on
April 6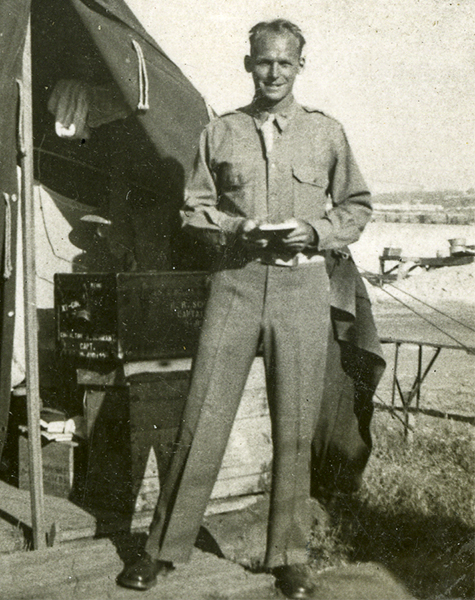 Philip Westdahl (above) went on a 5-day road-trip with Chuck Schwartz (below).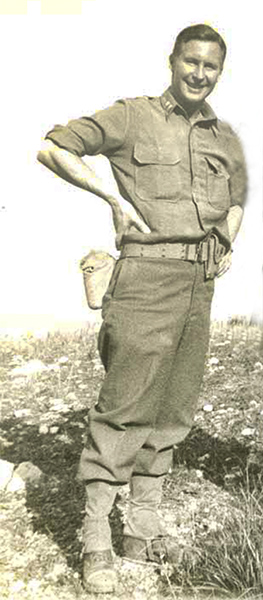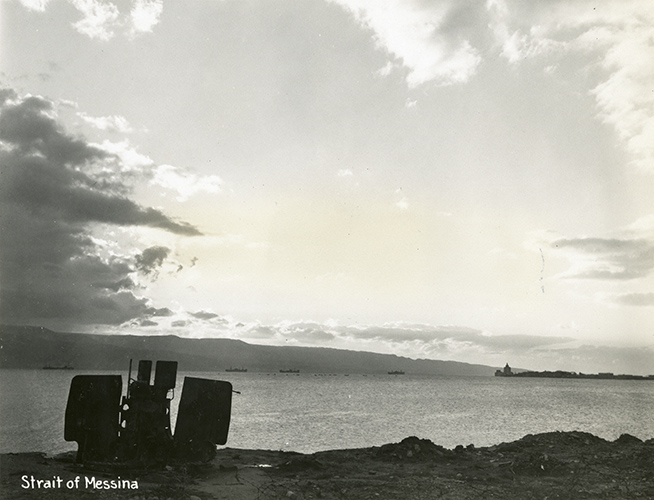 Phil particularly enjoyed looking across the Strait of Messina to the toe of Italy.