December 21, 1942

Dear Folksies,
       Here I am sitting on deck, on the wood padded by my life preserver, listening to the usual daily band concert. Lois is beside me and I notice she is also writing to you, so you may get some repetition. But since you haven't had any mail from this quarter for some time, 2 letters, even though they say the same thing will no doubt be welcome.
       Our trip to date has been O.K. though I must admit that my actions on the Leviathan 19 years ago were far more commendable than were my actions the first two days out this time. Yes, the first afternoon of motion kind of got me a bit unsteady and then waiting in line for dinner and crowded stairs where it was hot and stuffy put the finishing touches on everything, so I rapidly declined dinner and made for the rail.
       I wasn't much better off outdoors, so, though our rooms were pretty stuffy I felt much better flat on my bunk and consequently spent most of the next day in that position. That second day of motion I managed to eat and keep breakfast, but couldn't stay more than a few minutes for dinner. Though, on my bunk, I later enjoyed a couple of turkey sandwiches Lois brought me. Since that day, however, I've felt fine and have long since made up for the missed meals.
       Lois has been a regular sailoress and though she was bad for a couple of days, having a bum cold (which many have had), she has more than done justice to the ship's cook. We are served only two meals per day – our bunch gets in at the second sitting and the new head nurse and Marv Kahn got together and did some fineegling so that Lois and I are not only at the same table but are next to each other. We sit at a long table opposite Carroll Russell and Bret Smart – the latter two continually heckle Lois about her appetite. They kid her about getting fat and how she'd get stuck in a port hole if she tried to get out of the ship that way; how she'd better watch out or I won't marry her if she's fat, etc. It's really a kick and Lois is in hysterics through all the meals.
       At the other side of Lois are Fran, Gert and Bam and opposite them are Armanini, Halter, Drew and Bryner. Poor Halter has also taken somewhat of a ribbing about his lack of appetite and his peculiar taste. He eats all the queer things that appear on the menu daily, such as salted herring, tripe, codfish with pork scraps, etc. And not only for breakfast, but for dinner, too!! Of course, besides these things he never can make up his mind which of the entrees he wants, so he just naturally has to have both. Why, even Lois doesn't keep up with Halter!
       We have really had excellent meals all along: rare roast beef, turkey, veal, and even duck. We've also had ice-cream for dinner a couple of times, though jello has been the dessert a good part of the time. Dinner for us comes at 6:00PM and breakfast at 8:30AM, so we generally make a sandwich at breakfast for our luncheon, and with an apple or orange to add to that we manage to survive between meals.
       I'm in a cabin with Drew, Carlson, Bryner, Hamilton, George Davis, Cy Johnson an engineer (Geissler) and one other fellow. The bunks aren't bad at all, though at night it gets sorta stuffy.
       Fresh water is scarce and only used for drinking purposes, and occasionally for a little shaving or sponging. Taking a shower in cold salt water certainly leaves one nice and sticky and not feeling any cleaner, so we've all sort of had our nasal mucosa become less and less sensitive to such odors. And as we sit on the floor of the deck frequently (their being no chairs, of course) our clothes are beginning to stand up in the corner by themselves at night.
       We are able to be together for about 15 hours of the day and have spent almost all but our meal hours on deck. During the day we have played quite a bit of bridge, but every so often it gets a bit too windy and though so far we haven't lost any cards over the side, we have been forced to quit frequently when the ship changes its course and leaves our previously protected corner exposed to the elements. We also have played some chess and occasionally do some reading. We found a copy of Cyrano on the boat, and we've read some to each other, but it is a bum translation so not as enjoyable as it might be.
       The ship has a broadcasting set-up so that there is music from recordings heard most of the day. In the afternoon there is a band concert on deck and it is usually pretty good. In the evening there is always a program being broadcast over the boat (inside) – local talent performing, but I haven't heard much of this as it's been much too nice on deck to miss the fresh air available there.
       Several of the gals have been sick – some of them even spent a good part of the trip in the hospital. Ag Alkiere and Miss. Bell were the sickest and Chris Colletti likewise was pretty bum for a few days. All are now O.K. however.
       I imagine that by the time you get this, it will be well into the New Year. I hope all had a good Xmas and brought the new year in right. We will be thinking of you even more on these days.
       Well 'tis all for now.
                      With loads of love to all of you,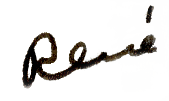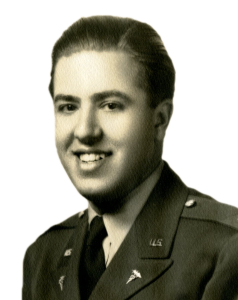 .
Watch for my next letter
December 30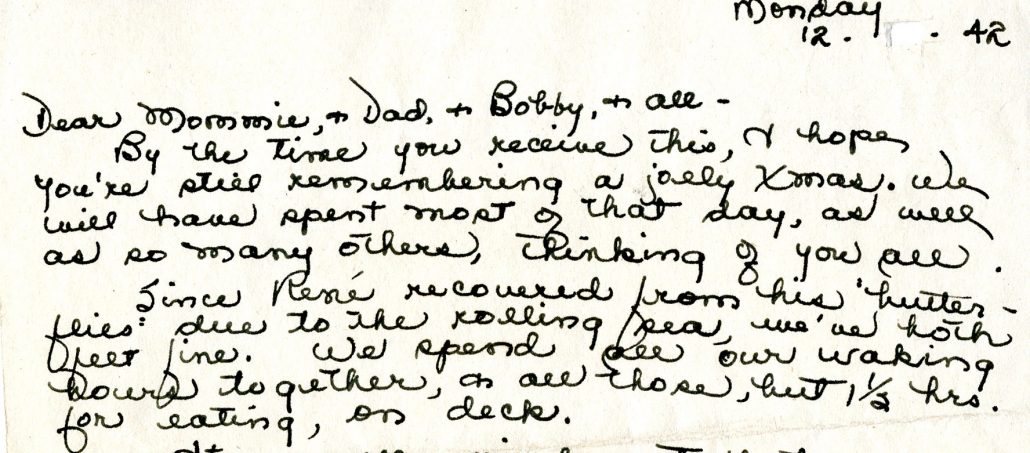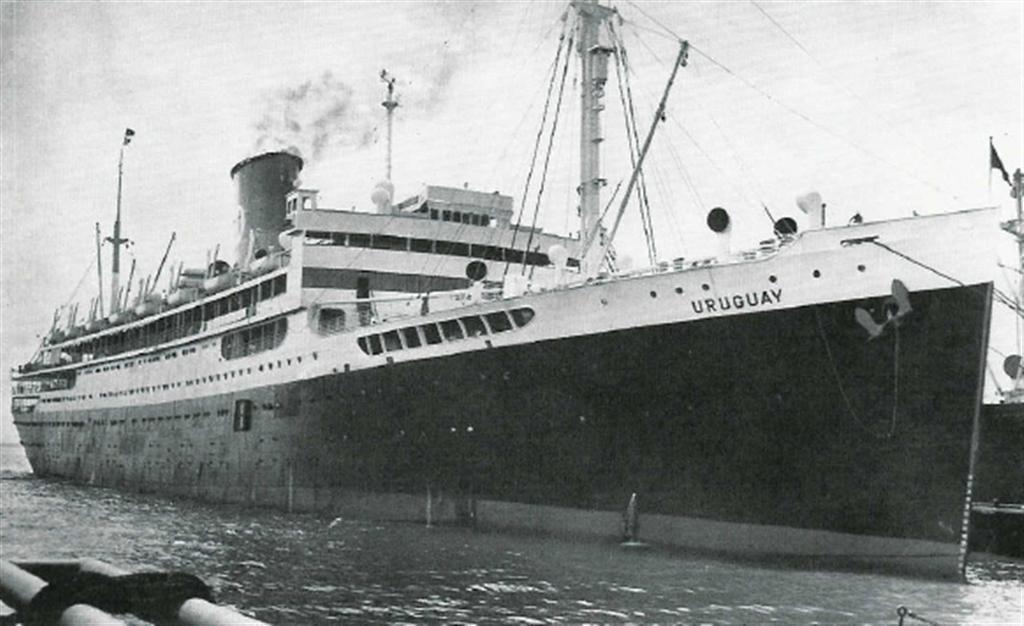 René, Lois and the rest of the 59th Evac. Unit departed from New York on December 12, 1942 on the Uruguay, heading for Casablanca, Morocco. When launched in 1927, the ship, originally dubbed SS California, was the world's first major ocean liner built with turbo-electric transmission and the largest merchant ship yet built in the United States. In 1938 the California was renamed Uruguay and from 1942 to 1946 she was operated as a United States Army Transport ship (USAT). She was returned to civilian service as SS Uruguay in 1948, laid up in 1954 and scrapped in 1964.
Here's are excerpts from a letter that Lois McFarland wrote to René's parents and his sister, Barbara (known as Bobsy).



January 28, 1943

        Last night was just like Xmas for us – oh golly – it was so exciting! I want to thank you all just squillions of times for the perfectly beautiful nightgown and the ever-so-much-needed white shirt. You are all darlings!
       René and I had planned on going out to dinner last nite, early. He was a little late in getting here, and then I delayed us even longer, for he'd brought oodles of mail for the nurses, and pitched in and helped sort it, so I could have all mine before we left. We finally started downtown, with about 25 unopened envelopes between us. The suspense was terrific — it'd been so long since we'd had any mail to speak of.
       When we were seated in the restaurant, they brought our consommé right away, so René said I had to eat it all before I could open any of the letters. So you can imagine how fast I downed it. And then we picked a few letters at random, and read them together, between courses. It was the mostest fun.
       After dinner, we sauntered home again thru the pitch darkness. When we got there, lots and lots of packages had arrived. I had four, and we tore into them with all the zest of Christmas Eve! Everything was so lovely and I was so excited I could hardly contain myself.
     First we sampled Bets' chocolates. Then came Tante Marie's and Uncle Lou's beautiful compact. Then your lovely gown. And Sally's and Grandmother's adorable p.j.s. Then my Nana's big box of "goodies" with fruit cake, nuts, raisins, candy, dried fruit and gum, with a little writing portfolio and some stockings tucked in. The white shirt you sent me came today — and we all enjoyed the "Don't open 'till Christmas" on the box!!
     Everyone in our quarters is hustling about getting packed. We move into tents with the rest of the unit early tomorrow a.m. I'm so used to this packing and moving business — seems that's about all I've done all my life — that I finished it all in very short order.
     We are sort of sorry to leave this beautiful building, but none of us mind moving into tents. It's what we expected when we volunteered for overseas service.

     We're trying to arrange to rent a car, a Plymouth 2-door sedan, for $2 a day. Just for the nurses, and we'll all chip in. We're hoping Col. B. will approve — he hasn't been approached yet. But we've no other means of transportation, since we're prohibited from riding bikes or riding in government vehicles except on official business.
                                              With loads of love,
                                                               Lois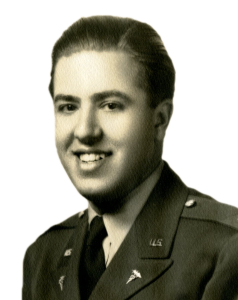 .
Watch for René's next letter
January 31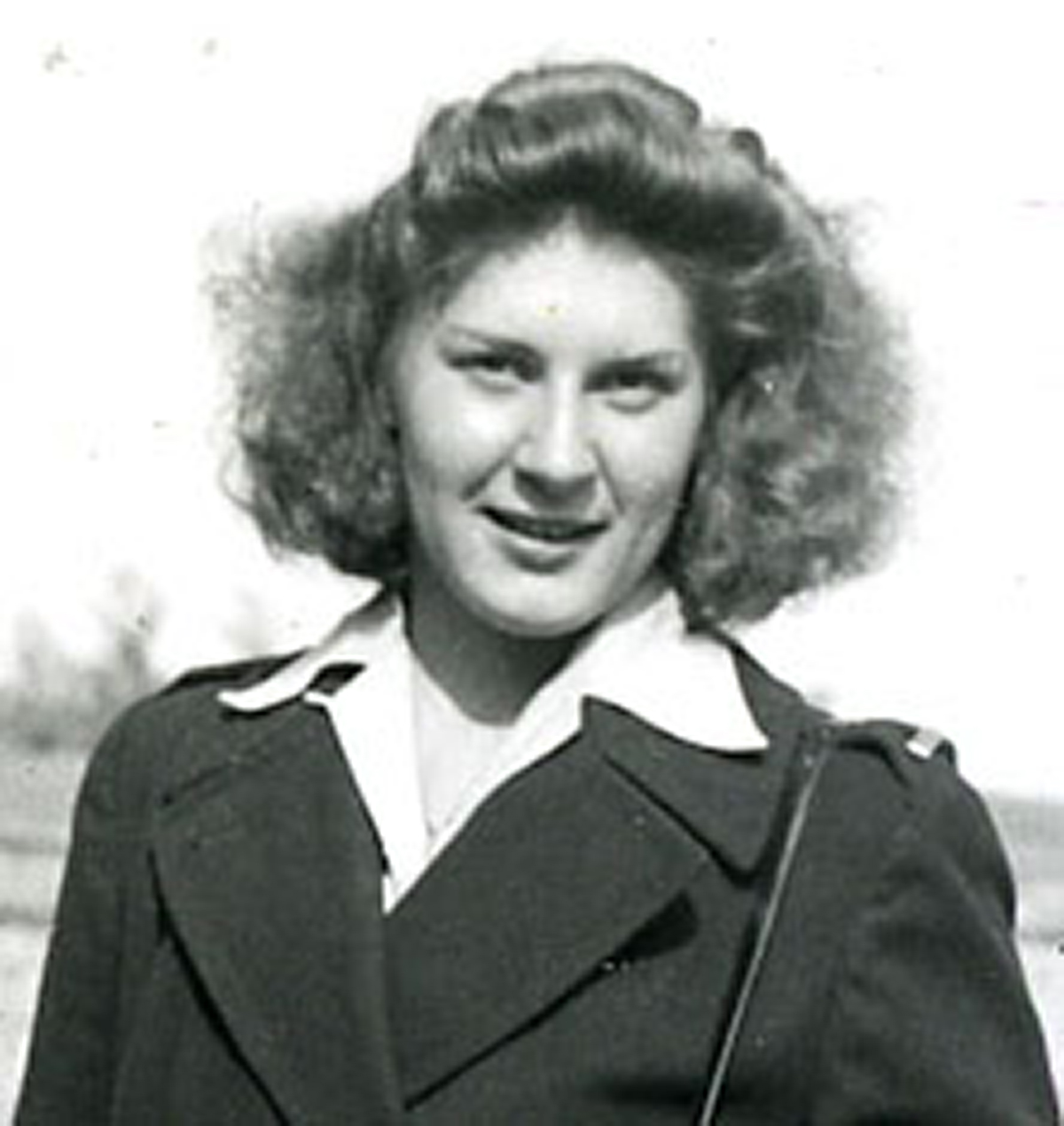 As far as the Army knew, Lois was René's fiancee, but they had been secretly married in Virginia in October 1942. Their marriage had to be kept a secret from the Colonel or, in accordance with Army regulations, he would have transferred Lois to another unit.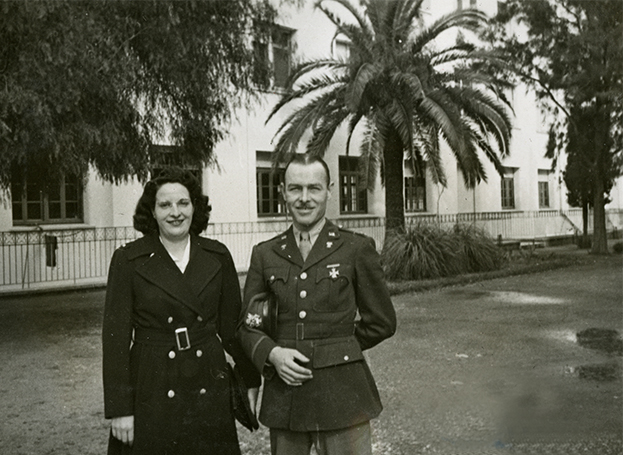 Gert Brazil and a friend in front of the Ecole des Jeunes Filles – the "beautiful building" Lois says she's "sort of sorry" to be leaving to move out to the hospital area. But as she comments, "None of us mind moving into tents. It's what we expected when we volunteered for overseas service."

Here's are excerpts from a letter that Lois wrote to René's parents and his sister, Barbara (known as Bobsy).



January 30, 1943

        Here we are, out in tents. It's not a bit bad. There are 5 of us in each one, and best friends are together. I'm in with Fran Trembley, Charlotte Bambino, Gertrude Brazil and Martha Morris. I wish there could've been 7 in a tent, so Pat Barry and Ag Alkire could be with us too.
       René & Col. B. & George Davis took a short trip yesterday on business, and while there had dinner with my Uncle, Tom Monroe. I wish I could've been with them. I'm awfully anxious to see him. Perhaps later…
     We eat our meals 30 min. before the officers. So far, I've seen no more of René out here, than when we were in town. We were together for a few minutes last nite, but only had time to exchange letters, and even then, I didn't finish reading all of his.
     Tonite is our nite out and I'm hoping we can do something. The Col. has given his O.K. on our riding into town in jeeps.
     I hope this finds you all well. René and I are both in the pink.
                                  With loads of love,
                                               Lois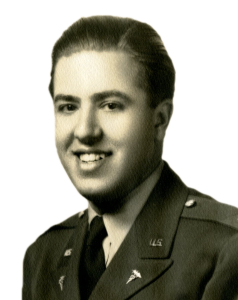 .
Watch for René's next letter
January 31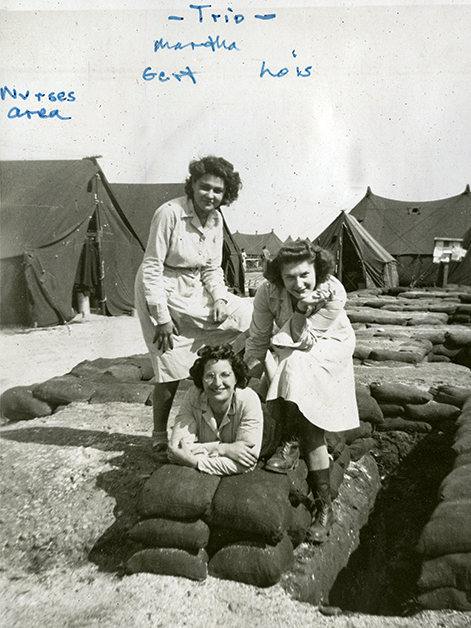 Three of the five nurses who shared a tent: Lois, Gert Brazil and Martha Morris.

March 12, 1943
No. 16

Dear Folksies,
       Tonight has been finally set aside for letter writing and I hope that it will actually turn into a letter writing night, instead of all good intentions going to h____ as they have in the past.
       I'm thrilled that the mail gets through as well as it has – of course, from time to time a letter shows up that was written a couple of months before, and 'tis certainly most confusing. But the post offices certainly have a tremendous job and they have done it well, I believe. There is certainly nothing like the mail and mess calls to pep up a gang of men.
       I'm sorry to hear that Gram has been ill, but glad that she is on the mend again. I've had a ticklish cough for a while – in fact darn near everyone has – probably because of changing weather. One minute sunny and hot as the deuce inside the tents, and then the next minute raining cats and dogs and cold with a chilly wind. Yep, 'tis a strange country alright.
       None of us are taking quinine as yet and I know of no ruling at the moment. We are instituting rather strict mosquito control, sleeping under individual netting, etc., but no medication as prophylactic is being used as yet.
       As to the Ghirardelli's, 'tis appreciated far more this way than it ever was back home. Besides that, Lois is a pretty good fudge maker. Oh oh, she is sitting beside me, using my typer on some other letters and she just made me admit that it is really more than pretty good. In fact, among the Supply crew she now has quite a reputation, so much so that one of our sergeants has called her on the phone asking for fudge for the 11 P.M. snack in their tent.
       You mention listening to the opera and that reminds me that we have some pretty good radio programs over here also – re-broadcasts of Bob Hope, Eddie Cantor, concerts, etc. Sometimes we have radio difficulty, but ordinarily it comes through pretty well.
       Since last writing, things have changed a bit around here. We have had to set up a Communicable Ward, and who was more qualified to run it but, yes, me. As a consequence I now have a regular medical ward and two isolation wards. It has been quite a stunt setting up an isolation ward in a tent, but we have managed pretty well. Have a few Liberty or is it now "V" measles cases, a couple of plain measles, a couple of mumps, a typhoid and a meningococcemia. 
       One of the most interesting cases was a soldier in his twenties who was well until getting off the ship, when he developed a headache, which persisted for 10 days, following which time he entered here showing nothing but a moderately sore throat. He had only a couple of tenths of a degree of fever, however, he soon refused to eat, became pretty unmanageable, getting up out of bed and doing things people should not do in polite society. Then, by golly, he became semi-comatose, would not swallow and wouldn't answer at all. Spinal revealed 44 cells, mostly lymphs, and a positive Kahn.

       He plugged along the same all that day, getting feedings through a stomach tube, and then late that afternoon back came the report from the lab that his spinal Kahn was negative but that his blood Kahn was very strongly positive. Well, rather than wait for a second Kahn on the blood – since I thought the man probably wouldn't be around much longer – I gave him some Mapharsen right then and there.
       The next morning there seemed to be improvement, and by that night, by golly, the guy was semi-conscious again, could see (oh yes, he had a facial paralysis the day the mapharsen was given) and responded somewhat to our talking. Yesterday he was even better. We took out the stomach tube and he took plenty by mouth. Today we could understand some of the things he was saying, he could move around sufficiently and, all in all, he seems to be on the mend. Cause and effect? You tell me!
       We've had two other strange cases. These two boys were on different wards and turned up with stories most suggestive of perinephric or subdiaphramatic abscesses, with right-upper-quadrant tenderness and palpable masses supposedly, and large livers. Stools completely negative and counts between 10,000 and 20,000. The first was given emetin for no very good reason. Result: cure. The second was operated on and nothing but a large, normal liver found. Got no better, emetin given. Result: cure.
       All three of these cases can't be coincidences, or can they? As Bill Reilly said this morning, we have to give ourselves and the drugs a little credit once in a while. We're certainly not curing these patients just by ward rounds – or maybe it's the lack of rounds.
 Loads of love,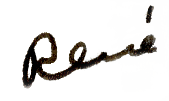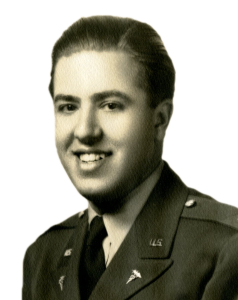 .
My letter continues tomorrow…
March 13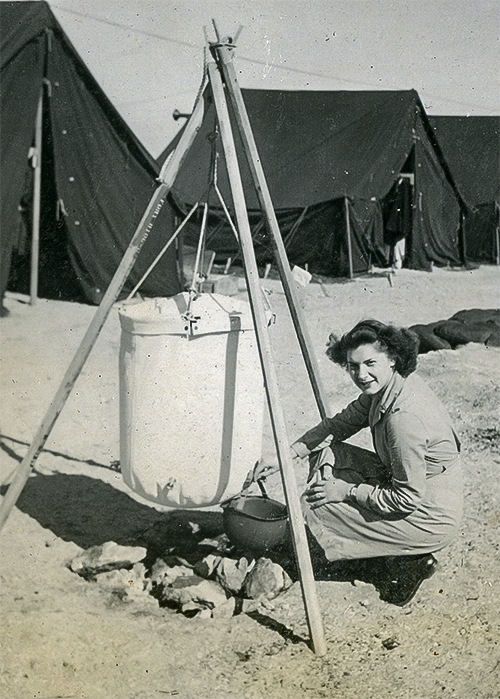 When she's not caring for patients or washing her clothes (as she's seen doing here) Lois might be found making delicious fudge to share with various members of the 59th Evac.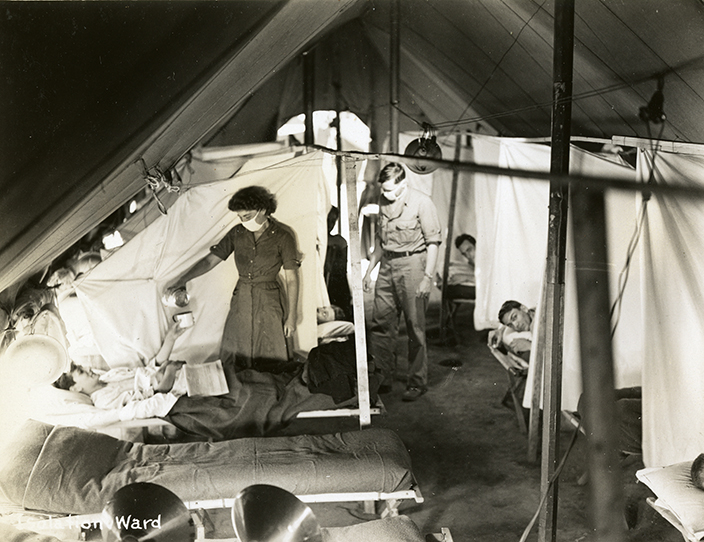 One of the two isolation wards that René is running (caring for patients with communicable diseases) in addition to his regular medical ward.

Here's are excerpts from a letter that Lois McFarland wrote to René's parents and his sister, Barbara (known as Bobsy).



April 6, 1943

Dear Mommie, Dad, Bobsy and all,
            Today is my day off, so I'm waiting for your son to finish up his work and sign out to someone, so we can go downtown for the afternoon. I haven't been in town for about 6 weeks now, and I'm anxious to get away from the hospital area for a little while.
            We're apparently getting some new personnel, so we can operate as a station hospital – 1000 beds instead of 750. At the moment, René is orienting a new doctor with his isolation wards, and then he will be able to go back to the surgical side. He's glad of that, and he'll undoubtedly still be called as a consultant on some communicable cases.
            By golly, even now, when we're trying to spend a quiet evening in the rec tent, every time the phone rings, I inwardly jump. And a too large percentage of the time it is for him. But that is one of the things I'll just have to get used to.
            Last nite we had a movie in the rec tent, "Son of Fury," with Tyrone Power. It was grand just having a movie again. We have a few big, comfortable leather chairs and Ren and I were sitting in one together. Then the phone rang, and he had to leave to do a spinal on a new meningitis case. But it was the most awful lonesome feeling, even in the crowded room, when René left. He was gone about 45 minutes and got back for the end of the picture. Right then and there I decided I'd have to put lots of effort into adapting myself to be a good doctor's wife!
            Today is the one-year anniversary of the unit's activation and the doctors' going to Ft. Lewis. So they are having a big stag dinner party tonite, with some native dancing girls for entertainment. So, René tells me – I'm a little skeptical, tho', because I'm forever being teased about this, that and the other thing, I never know when they're telling me something in seriousness, or just kidding. But René said he didn't care too much to go (honestly – I didn't say a thing, and wouldn't have minded in the least!) so he's taking calls for several of the others tonite. I fear he is going to be one busy cookie again.
            René looks just wonderful these days and has been exceptionally well. He was over his laryngitis in a few days and hasn't had nearly as many spells with his nose and sneezing as he had in the East. He looks a little thinner, but just as healthy as can be.
            I hope you're all well and happy and not worrying about us, or our hardships. Really, we have very few inconveniences, probably no more than you all are putting up with at home now.
                                              With loads of love,
                                                               Lois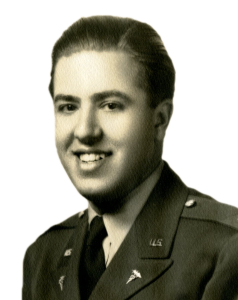 .
Watch for René's next letter
April 7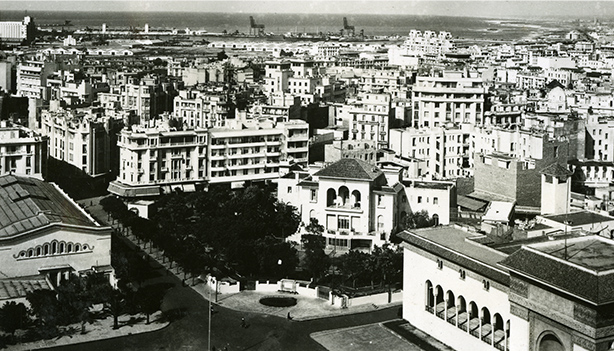 Lois is looking forward to going to downtown Casablanca with René, when he gets off duty this afternoon.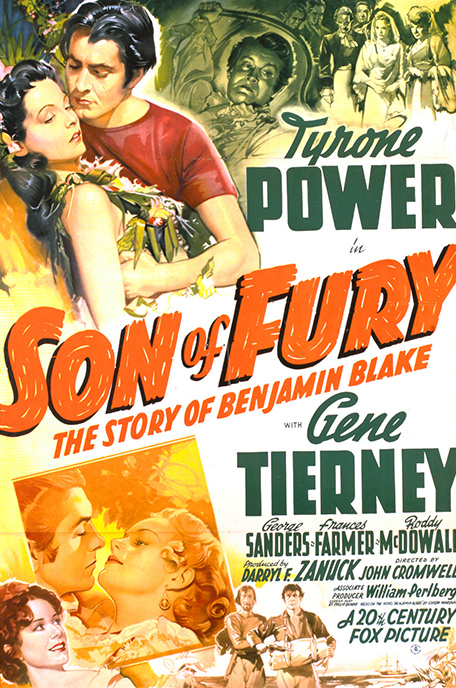 Lois and René watched "Son of Fury" in the "rec tent."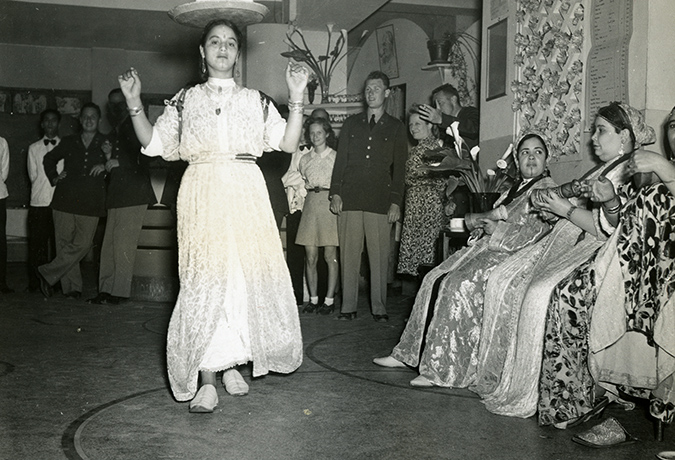 A big stag dinner party to celebrate the one-year anniversary of the activation of the 59th evac unit will feature native dancing girls for entertainment – or so Lois has been told.

Here are excerpts from a letter that Lois McFarland wrote to family back in California.



August 25, 1943
Palermo, Sicily
Dear Gang,
           I've been trying to write to you for ages, but, golly, we've been so, so busy. I never do anything but work, eat and sleep. And the whole night – from 7 to 7, I'm constantly on the go.  I'm still on nites, though I have hopes of coming off before long. At present, we have over 1,100 patients and the majority are malaria. I'm lucky to be on the surgical ward – for I like this work far better than medical – though we have some pretty gruesome cases. Ren is working in Receiving now and likes it better than having wards – though the hours are longer and the work harder. At the moment he's not feeling too well – has that famous G.I. upset (polite name) again. I've luckily escaped another bout with it since my first experience.
            Bob Hope was here the other day; but working nites, I missed his shows. Everyone who went enjoyed them greatly.
          I haven't had much sleep lately. Day before yesterday, I had 3 hours (10 to 1 off and on). Must've been the heat; but I simply couldn't stay in bed longer. And yesterday, Trudy, Buddy and myself, went to town after breakfast and didn't get back till 2:30, so I had about 2-1/2 hours sleep,
          'Twas the first time any of us had been out of the hospital area since our first day here, and we had a grand time. We started into town about 8:30, only a few blocks and peeked into every little shop we passed. There weren't many, but most of them were pure junk. Scads of religious pictures and wall hangings and statues; lots of confectionery shops with very little to offer; lemonade stands as frequent on the corners as in N.Y.C.; fruit, candy and pastry, and almond vendors parked on the sidewalks. The fruit is mostly grapes and prickly pears, then tiny plums (that look like apricots) and melons, and some green pears and peaches, and lots of figs and lemons. The candy is mostly a kind of almond brittle, only the caramel part always is dark and a little scorched, and always sticky because it's so hot. The pastry sold on the street is something that is deep-fat fried and looks like do-nuts and croquettes. Have been afraid to try any; and it's been so hot, it doesn't appeal to me.
They have quite a bit of ice-cream, but it's more like sherbet; and of non-descript flavor. You can only eat it on the Q.T. as it's against the rules now, and the M.P.s will pick you up.
           We stopped first at a little confectionery shop and bought a piece of candy apiece, the size of a cookie, for 7 lire. 'Twas very good, very sweet, a maple and chocolate flavor and full of chopped almonds. We stopped at another such shop and bought a piece of luscious-looking chocolate candy – only it was lousy. Tasted like a stale cookie. Then we saw several people eating ice cream cones, so we sherlocked around the corner into a little alley, 'till we found the source. The people were thick around the stand, and were buying them for 3 lire; and when we came up, the young fellow served us first – over the heads of the others and gave us each a double portion for 5 lire. The cones were nearly like at home.
            There are an amazing number of people who speak English here – having lived in the States several years. Or others that come up and try to tell you they have a brother in Brooklyn! Almost every other guy has a brother there, it seems!
           The people aren't a bit shy about staring at us – as we walked down the street, they'd stop in their tracks and stare. Or a group would stop chatting and all of them turn around and grin at us. One gal, with a child clutching her hand, came alongside us and walked there, her eyes glued to our faces and grinning from ear to ear.
            I can parles to the people just a little – by putting an Italian accent to my French. And I can understand them quite well, if they speak slowly enough – for so many of the words are very similar to French.
           Some of the girls are very attractive and well-dressed. Most wear shoes or sandals with about a 2" or more platform. The whole populace are short in stature, and I feel like a giant along side them.
            Oh, but the best looking thing here are the civil police. They're a handsome and romantic lot and taller than the average and very striking in their snappy uniforms. They derive their authority directly from the King and are non-political. The allies recognize their status and so they continue to hold their positions – and actually have been a tremendous aid to us in maintaining law and order in the City.
                                              My love to all,
                                                               Lois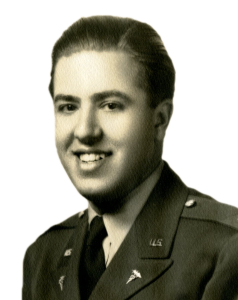 .
Watch for René's next letter
August 27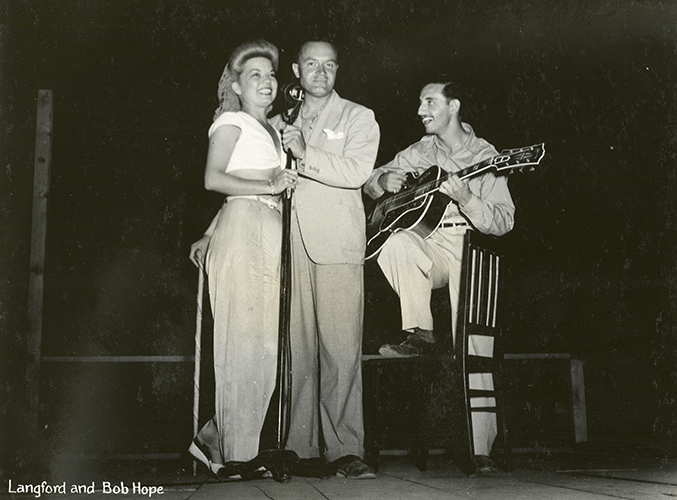 Because Lois has been working nights, she wasn't able to go see Bob Hope's show.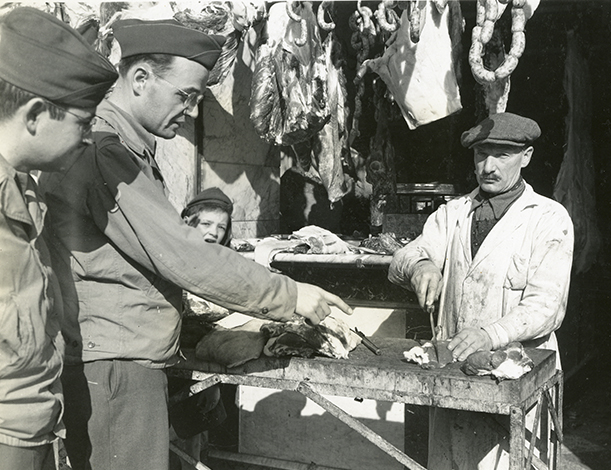 Lois tells her family about the various street vendors in Palermo.