June 16, 1942
Tuesday night

Ft. Ord, California

Dear Folksies,
       I think, perhaps, that one of the reasons for not having written sooner was that in the last week I have done so much typing for lectures, etc. that typing for letter writing appeared to be too much of a self-inflicted drudgery for the time being.
       I have lost complete track of the number of pages of material I have typed in the last week and a half. My little Remington has been getting a work-out, not to mention the work-out my fingers have gotten. The trouble is that when Drew, Blasdel and Kuzell were with us, the typing load wasn't so bad, but now the only men that type decent enough and fast enough to get the things done are Ed Welles, Marv Kahn, Frank Gerbode and myself. Actually, Ed and I have done practically all of it.
       This week I am one of the platoon leaders and consequently am being kept busy with the men, besides the extra lectures foisted on me due to the absence of some of the gang. Tomorrow we take the men swimming at the Del Monte pool for one hour. This is part of our amphibious training and is going to be a weekly affair from now on.
       Saturday afternoon we had a volleyball game and had 3 casualties. (1) The Col. broke his glasses, probably as a result of a collision with Sewell Brown. (2) Mattie sprained his thumb, as a result of a collision at the very top of the net with Sewell's hand, which was smashing down on the ball. (3) Sewell sprained his thumb, as a result of a collision, again at the top of the net, but this time, not with Mattie's thumb, but with Oscie Carlson's head. Oscie had just had a super Army haircut and consequently had no padding at all left on his head, so poor Sewell's finger suffered.
       Saturday P.M., around 2 P.M. I went over to the Red Cross Recreation Room at the Station Hospital as Yehudi was to play there for the patients first and then at 4 he was to play in the theater. At 1:55 P.M. Yehudi's car arrived, with Nola at the wheel, the pianist and his wife, and two Los Gatos-ites accompanying them. From then until 6:45 P.M. I was with them, sitting with Nola at both performances, having quite a little time to talk to both between the two performances and also after the second one.
       Yehudi played wonderfully and was most informal at both performances. Nola said that at lunch, on the sand dunes a short way north of Ord, Yehudi and the accompanist had argued as to what to play, each answering to the other's suggestion, "I don't think I can play that one, I don't know it well enough." The only thing that they played in both performances was the "Star Spangled Banner." The whole rest of the programs were different.
       At the Station Hospital, they played shorter and somewhat lighter pieces, plus Ave Maria. Yehudi asked the audience if there were any requests and some of the answers were really funny. One woman asked if Yehudi had the music to something she named by "Tetrazzini." God knows I don't know much about music, but I try not to show my ignorance that way, at least!
                    Loads of love,
Watch for my next letter
June 28
Yehudi Menuhin, a child prodigy on the violin who became a world famous violinist and conductor, was a childhood friend of René Jr.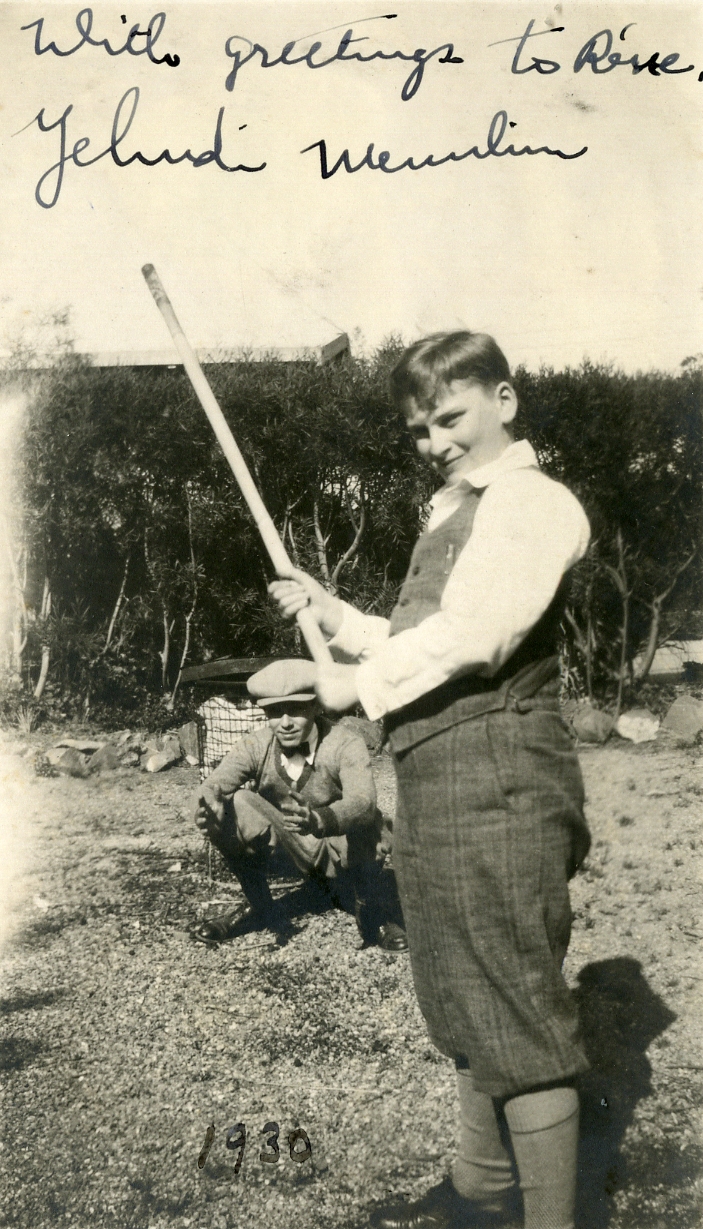 Yehudi Menuhin's photo greeting to René in 1930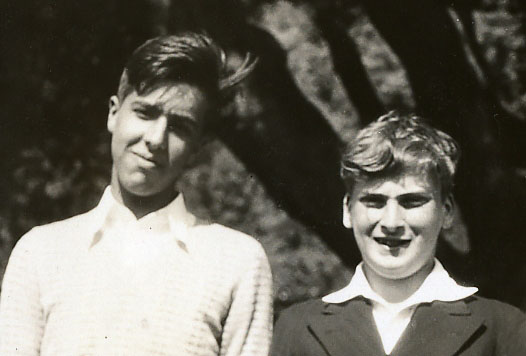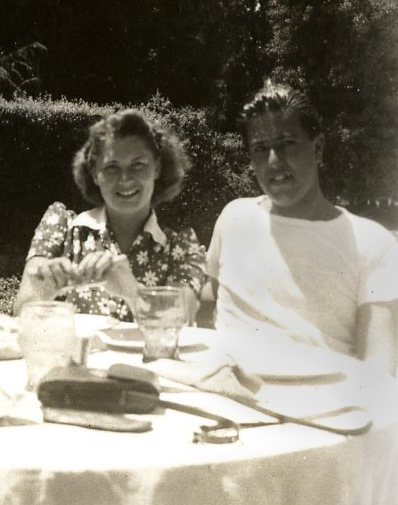 Five days after they met at the Officers' Club dance, René and Lois went on their first date — a double with Roy Cohn and his date.
June 28, 1942
Ft. Ord, California

Dear Folksies,
       This week has been a rather busy one, particularly for the four of us who were platoon leaders. I may as well go back to the beginning of the week and proceed in chronological order.
       First, thanks loads for the swell week-end. Our excursion to San Rafael was really fun, and certainly much better than walking on Lake Street or out to the beach.
       Monday, the platoon leaders were kept busy from A.M. to dinner with our platoons. We drilled and lectured all day long.
       Tuesday was the big day! Everybody had an early lunch and it was planned that we would all move out by trucks at 12:15 P.M. to the area selected for our hospital site, about 3 to 4 miles back of the main garrison. The 1st Medical Regiment had gone out earlier in the A.M. and were supposed to have Battalion Aid Stations, Collecting and Clearing Stations, and were supposed to ship us patients, the first to arrive at about 1:30 P.M.
       Things were a little slow in starting, so Mattie, Ed Welles and I went out in advance of the others in a jeep. On the way out to the selected site, we were stopped by a sentry on the road who told us we couldn't go in that area as one of the Artillery units was firing there. Mattie finally talked the sentry into letting us through to a certain point where we could get in touch with the Range Officer, as we had definitely been assigned that area for the two days.
       When we got to the site out tents were to be pitched on, we found the Artillery had a telephone exchange set up right on the spot. We got in touch with the Range Officer and straightened things out. As it happened, the Range Officer was a friend of Ed's from high school. Ed and I set up what equipment we had brought out ourselves and then waited. The rest of our trucks had some difficulty getting through the same sentries until Mattie and the Range Officer went back and cleared up the details. As a consequence of the delay, however, our tents were not set up at the scheduled time. Our tent was the first one up, but even at that, Ed and I had to handle about six patients out in front of the tent before it was up, as the 1st Medics' ambulances started coming.
       At the beginning, things in our tent functioned fairly smoothly, then suddenly we had 8 ambulances at our front door and we had one side of the tent full of ambulatory patients and the other side full of litter patients and the ambulances were still pulling up outside.
       What happened was that, since the 1st Medics had been functioning since 8 A.M. themselves, they had a Clearing Station that was full of patients and another Clearing Station that was getting patients at a normal rate. Consequently, when they got word that we were set up and ready to operate, they completely evacuated the one Clearing Station to us so that they could more elsewhere, and thus the deluge we received.
       The ambulatory patients were stringing out the front door when Col. B. arrived in our tent, and Ed and I breathed a sigh of relief when he gave us permission to split the personnel of the tent and move the ambulatory section of the Receiving Tent into the tent next door, which was only partly being used. Ed took charge of the Ambulatory section and I ran the Litter section. From the time we separated until the time the whole exercise was over we were never again bogged down and were able to operate pretty well.
       We did, however, make note of many, many features that we knew would have to be remedied if we were to actually handle sick patients. In these so-called "dry-runs" all we have been really doing, of course, is the paperwork that is connected with all the procedures. Naturally, in time of actual combat, our paperwork has to be a minimum and the actual handling of patients the most important thing.
       In the 3 hours of operation we ran approximately 130 patients through our tents. Of course, that number was not evacuated through our Evacuation Tent until about an hour or two after that.
       Our tents were set up under trees, trees that made pretty good camouflage. The only difficulty was that setting them up so that they were camouflaged, they were too close together and I know that I for one was always tripping over the tent pegs, trying to go between some of the tents that were especially close together. How the litter bearers managed to get around from tent to tent, with their patients, is still a mystery to me and the others.
       The first wave of patients ended at about 5:15 P.M. We all ate in two shifts and then waited around for more patients. The first patients had to be used over again, consequently there was a lag between the time we evacuated them out our back door until the time they started coming through from the 1st Medics again. Consequently, we didn't start getting the second batch until 8 P.M. The only lights we had in the tents were kerosene lamps and a few shaded flashlites, but they worked out fairly well. No lights were used between the tents and yet the litter bearers got around very well. Our last patients were through our tent at 3 A.M. and then we had some ham and cheese sandwiches and hot chocolate, then turned in at around 3:45 A.M.
       There had been 15 of the nurses with us on this maneuver and they left by truck and came back to their barracks at 3 A.M., sleeping till noon, while the rest of us were up again at 6:45 A.M. , had breakfast in the field, stayed around while the men packed up our equipment, took down the tents, policed the area, and finally left the camp site at about 10 A.M. We got back, took showers, had lunch, and then all collapsed for a couple of hours more sleep.
       Friday A.M. took the men swimming at Del Monte. Then in the P.M. while they were getting lectures from some of the other officers, we platoon leaders went over again to Del Monte and played badminton and swam some more. Even the Col. came over with us.
       Yesterday afternoon, read and slept after the Station Hospital Conference, which was a good one for a change. Serbu presented some unusual surgical cases and it was really interesting: a strange rupture of an abdominal aneurism, undiagnosed until autopsy; some elbow fractures; and attempted suicide by slashing of wrists; and a bullet wound in the chest.
       As to the jaundice cases: At the present moment there are 385 cases of jaundice in the hospital here. There have been no deaths here at Ord, but as far as I know there have definitely been two deaths at Letterman and supposedly 5 at Hoff General Hospital in Santa Barbara. I have seen no official reports but will see if I can find some.
                    Loads of love,
Watch for my next letter
July 9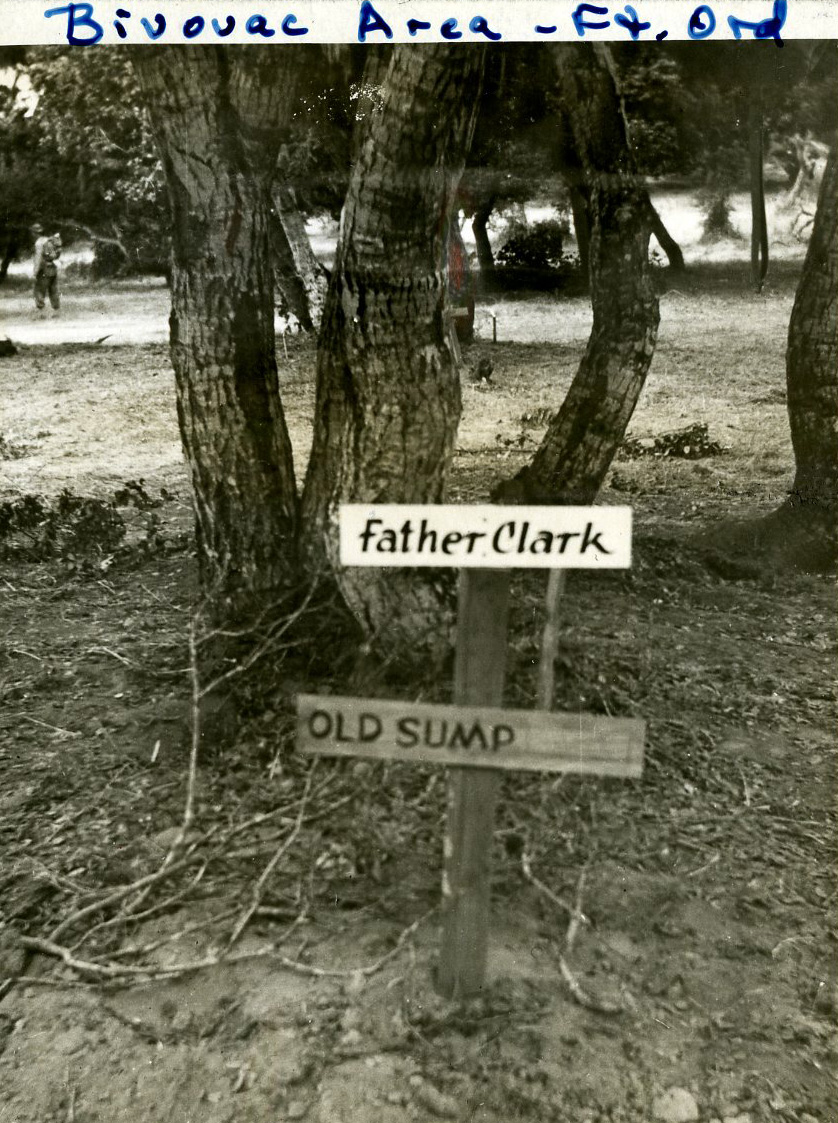 Nurses – Miss Gates & Miss Nelson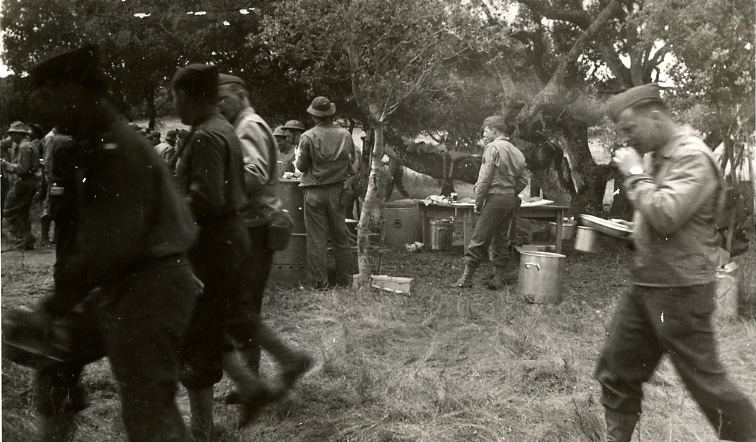 Nurses serving in the Army Nurse Corps at this time were not allowed to be married. Ultimately that rule was changed in October 1942, but a nurse was still not allowed to serve in the same unit as her husband — she would be required to transfer out to another unit.

July 9, 1942
Thursday

Ft. Ord, California

Dear Folksies,
       Thanks for the swell weekend last Sat. and Sun. I hope you all enjoyed it as much as I know I did.
       Monday I had a couple of lectures to give and was kept moderately occupied during the day making preparations for the next two days.
       Tuesday and yesterday we spent out in the field, running simulated patients through our hospital again, however the 1st Medics couldn't join us, so we had to run our own men through as patients and consequently ran only a total of 100 men through the period we worked. We didn't run into the night at all this time.
       Our new system for the Receiving Section works so smoothly that we were through in no time with each group of patients that they sent us. Of course, when we actually have ill patients we will be taking more time, examining them, etc. in that Section.
       For a change, we had good meals out in the field. In fact, they were better meals than many that we have at the barracks. We were in bed early on Tuesday night, all being asleep before 10 P.M. We found one big trouble, however, and that was that the site picked for us to pitch our tents was nothing but a beautiful poison-oak area. If no one in our outfit comes down with poison-oak we are going to be a muchly surprised outfit. You couldn't step 2 feet without crushing some poor, not-so-defenseless, poison-oak plant.
       Yesterday we returned about 2 P.M. and then proceeded to Del Monte for our amphibious training.
       Latest dope is that we will be desert rats for about 6 weeks in August and September. Just a lovely time of year for that stuff.
                    Loads of love,
Watch for my next letter
July 14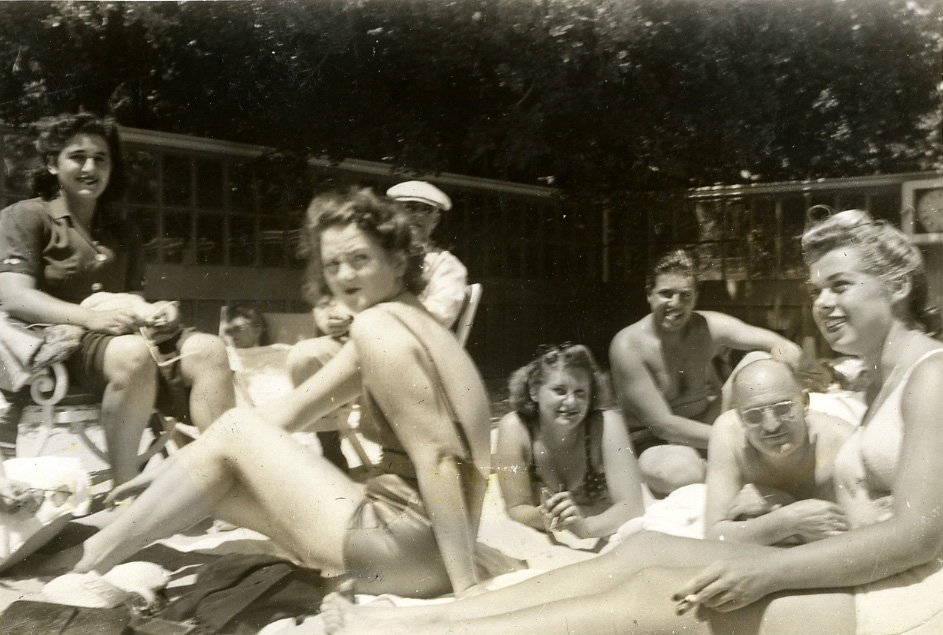 Amphibious training at Del Monte Hotel?
July 14, 1942
Ft. Ord, California

Dear Folksies,
      Just a short line to thank all for the good birthday wishes, check, and all. It was swell to have Bobsy here with Sal and Dave at Del Monte.
       Yesterday was kept busy as platoon leader again and trying to help Frank Gerbode for a while at the warehouse. This P.M. we have another overnight bivouac. Thursday we have a long hike, all day.
       We understand that two weeks ago we were scheduled to go to the Aleutians, but somebody's mind got changed so I guess the desert is still the place for the autumn.
                    Loads of love,
Watch for my next letter
August 5
David Eisenbach and Sally Kahn Eisenbach (Renê's uncle and aunt) with René at the Del Monte Hotel

August 5, 1942

Ft. Ord, California

Dear Folksies,
      First of all, thanks, Mom, for coming down here. It was swell to have you here, though in a way it is often just better to be able to leave without having to say good-bye.
       It is all very confusing, however, since rations for the train are ordered to be delivered before the weekend. Rumors are rampant and they change in character every few minutes. One thing is certain, however, New York it is!
       This is given us as o.k. to pass on to relatives now, so the place is no longer a secret, though the time naturally is. However, still stick to the original plan about the desert until we've definitely gone — it may be okay to tell the truth while we are en route though with our family it might be better to wait until you hear from New York.
     Incidentally, 7 days are figured for the trip. I will wire as soon as possible after arrival and then probably phone if we get to go into the City itself.
     Last night I was at Del Monte with Lois as Dr. Seeburt was treating us to dinner. He, as you probably know, has had 3 coronaries and now can only walk short distances and do very little work – no medicine. It seems that when he had his last and worst coronary Lois took care of him at St. Francis and since then they have been good friends, as he attributes his recovery to her.
                    Loads of love,
Watch for my next letter
August 7