October 9, 1942

Dear Folksies,
     Things around here are all mixed up and no one knows where anything stands. At the present moment I am not at all sure that we are going to be able to go to Richmond to see Mom and Marie-Louise. It may be necessary for them to come out here. Our leaves will either be O.K.'d or turned down by Col. Arnold, who has the say around here. All other requests for leaves have been turned down by him, but they have all been for greater distances and for greater lengths of time, so I am still hoping with every atom.
     The reason that there is the big question is that apparently they have some screwy plans for us again – they just can't leave us set too long in any one place – but will we ever get anywhere?? It certainly looks as if the answer is NO! At the moment we have orders to sew some new insignia on our sleeves. We had to take some off before we got to N.Y. Now, the fact that we are putting some on seems to indicate that we are going to be in the U.S. a while longer. Maybe the story that we are going to Hollywood to produce training films might not be such a bad one after all — but, nuts!!!!!
     One rumor has us going to Georgia or to Florida from here, but naturally no one knows – even our Col. doesn't seem to know a damn thing. We have started to get some of our equipment in from Toledo, but it is coming in by drubs and drabs at the moment. Apparently the fact that the leaves have been turned down means that we will not be here much longer.
     One of the choicest rumors that we definitely do not like is the same one that we had before we were supposedly going to the desert in California – that is, that the nurses are not going with us. Just what would we do then I don't quite know. Am just going on the assumption that that is a nasty rumor until proven otherwise.
     Don't take these too seriously for probably by the time you get this we will know definitely about most of these things and it won't do any good for you to be thinking about them too much.
     The last two days have not been so eventful. Work has gone along in the hospital, though I have been assigned to two other wards now and work with Roy Cohn. The funny thing is that Lois and Fran Trembly are working on one of the wards we have. Yesterday I gave two spinal anesthetics while some of our men operated.
     Tonight the 59th is giving a party to the Station Hospital Officers in their own club.
                    Loads of love,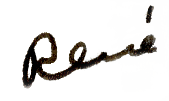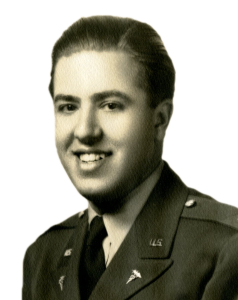 .
Watch for my next letter
October 10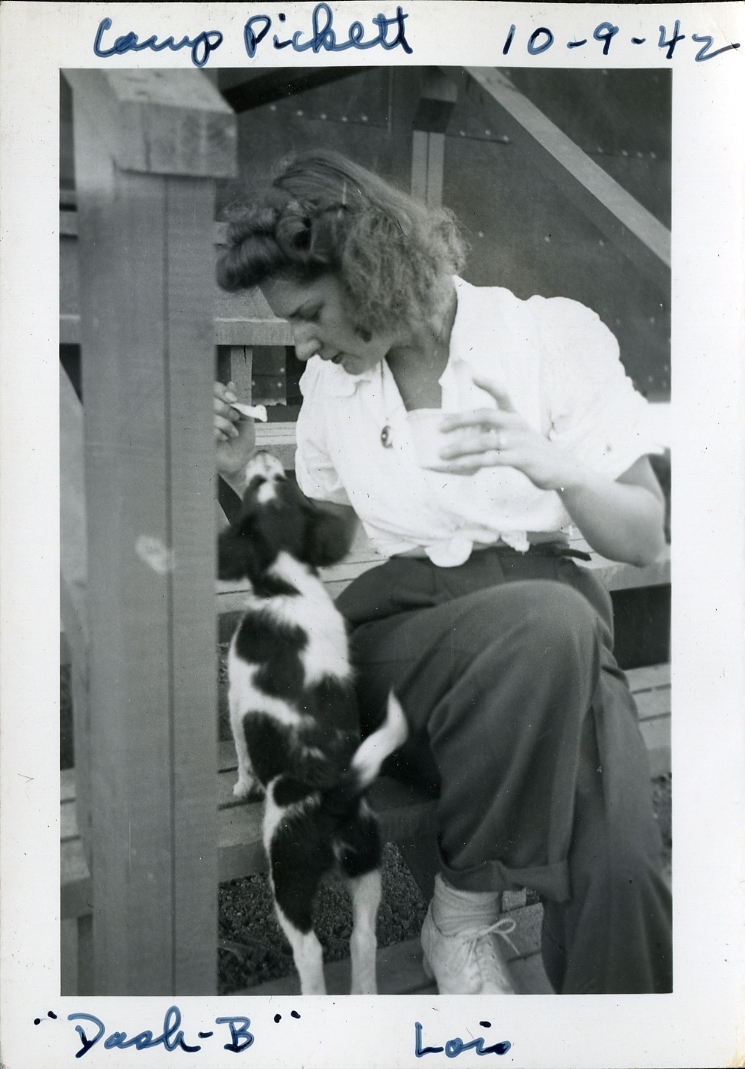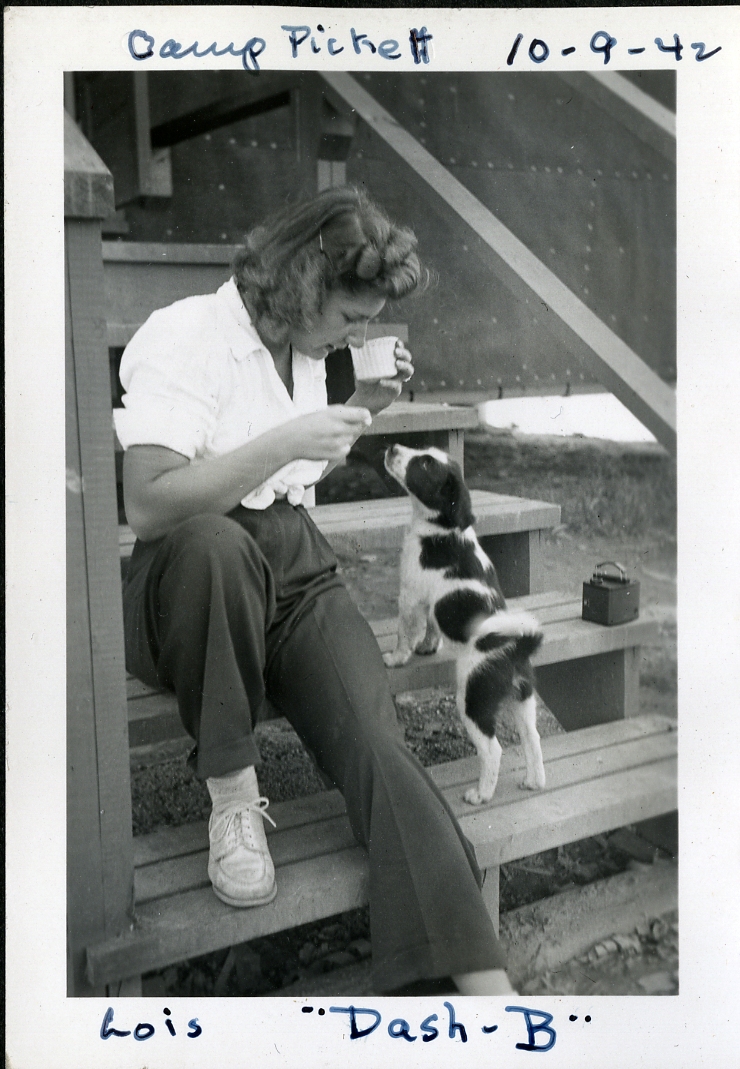 Not only did René get to work with Lois at the hospital today, he took some photos of her with the camp dog "Dash-B."

October 14, 1942

Dear Folksies,
       Yep, we were all kind of bad not writing at least a short chain letter to you while we were all together in Richmond. But, as you can imagine, the time that was not spent attending to Amie was taken up in a gab fest or in eating. Yes, they eat here, à la R.B.Sr. only more so, but more of that later.
       We were most fortunate to be granted the two day leave that we got. Even when we got the O.K. there still wasn't any indication that we might not be called back after one day, as no one really seemed to know what was going on.
       Saturday night we were invited to a 15th Infantry party by Lois' Uncle – Col. Monroe, and we went over thinking that it was just going to be a dance with drinks and a few sandwiches. Much to our surprise they had really almost a full dinner consisting of cold meats, cheese, and the most wonderful shrimps and shrimp sauce. The shrimps were cooked and flavored all by Col. Monroe himself and the sauce was made by Clara, his wife. It was really super. We stayed over there quite a while and met almost all the officers and wives of the 15th – quite a nice bunch.
       Sunday A.M. we got up at 5:15A.M. and got the bus into Blackstone. We were able to eat breakfast there and catch the 7:08 A.M. bus to Richmond. We have now come to the conclusion that the only way to travel around here is by bus – they run on time, by golly! We got to Richmond at about 9:15 A.M. and then went over to the John Marshall Hotel, dumped our suitcase, and proceeded to walk around the town a bit.
       Phoned Barbara around 11 A.M. and then told her we would meet the train that Mom might possibly have connected with in Washington, then would go back to the Hotel if we missed her there and would then meet the second train.
       Well, we went to the depot and were more than a bit confusssssseeed by the fact that the train stopped at both the Broad St. Station and the Main St. Station and we had no way of knowing which station they would get off at. We took a chance and waited at the Broad St. Station and when the train came in (at 12:45PM, instead of at 11:40AM) we decided just to wait till the second train, which was supposedly on time, would arrive at 1:40 P.M. We tried to have Mom paged at the Main St. Station but with out result, so concluded that they would be on the next train, which only stopped at the Broad St. Station. We waited and the next thing we knew, we were being paged. The message was to phone Barbara immediately, which we did and found that Mom had missed our paging at Main St. Station and was on her way to the Hotel. We promptly scooted to the Hotel.
       Mom was kind of pupped, but Marie-Louise and Amie were fine. The day in Chicago had been a little too much for Mom and she was still turning from the train. However, after she had a little more food in her, she felt considerably better so that night she was really O.K. again.
       After dinner Lois, Marie-Louise and I took a little walk while Mom attended to Amie and got herself into bed.
       Monday A.M. we slept kind of late and then I found a Medical Lab across the street, where I could get a syringe to give Marie-Louise her typhoid shot. I took M.L. over there and they boiled up a tuberculin luer for us and M.L. was O.K. She was all fidgety before the shot as she says she always is, but after was just relieved. I was a bit puzzled when Mom told me to give M.L. her shot and she said you hadn't given her any syringe with which to do it. How come?? How did you know I could get a hold of one?
       To get back to the above train of thought. After prettying up Amie, we took off for Barbara's for a 1 P.M. lunch. After we had gone a little ways in the taxi, Mom remembers that she forgot to bring the dietties, etc. that she had put in a special satchel (one of the 12) to bring with her. We had to turn around and go back and get it and finally arrived at Barbara's around 1:30 P.M. They live about 5 miles from the center of town in a beautiful residential district. The home is on 7 acres of land – beautifully green and despite the size of the place it is a most livable place. We had a lunch that they said was just left overs, but boy I wish the Army got such leftovers – we had chicken legs, tongue, hamburgers and buns, avocados, cottage cheese, cake and fruit jello.
       After lunch we sat around and talked and later Barbara took us for a ride around the neighborhood and to the Univ. of Richmond, which has a very beautiful campus. After that ride, we decided that we would have to revise our original opinion of Virginia, at least, if not the whole South. Yep, I think Virginia wouldn't be a bad place to live after all – the foliage is certainly pretty – of course it doesn't really compare with California, but of all the other states in the U.S. I've seen, I think Virginia may be second best.
       We stayed until 6:45 P.M. and then taxied back to the hotel. M.L. fed Amie and then we dined. After dinner we played bridge in the room. Mom and M.L. got into bed and Mom practically fell asleep playing a hand.
       Yesterday morning after breakfast we did a little shopping. Mom and I went and saw Mr. Thalhimer at the store and also saw the store, which is quite a place, incidentally.
       Lois and I took off about 12:30 P.M. for Camp. Arrived back here in the rain to find this place a true mud-hole. It is really funny. Today it is continuing to pour and getting slushier by the minute.
       Latest dope from the front when we arrived home was that our winter material had been taken from us. They took away our woolen caps, our over-shoes (goulashes) and our extra blanket. We also have gotten a lot of new equipment, including our own cars. Again, we are on the when and where rumors! Have given up thinking, however, and are just awaiting what will come, we hope, at last.
                    Loads of love,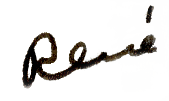 P.S. O.H. — O.H. — Marv Kahn starting in with symptoms and signs of appendicitis. It is now after dinner – a typical appendicitis dinner, as far as I'm concerned – beans – remember!!!!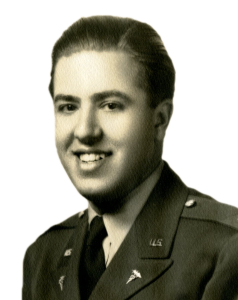 .
Watch for my next letter
October 15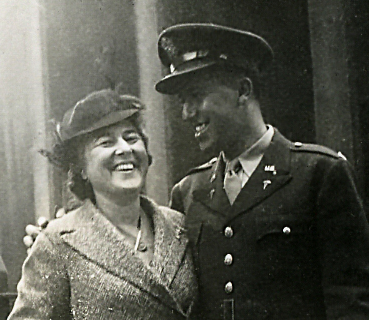 Alma and René in Richmond Virginia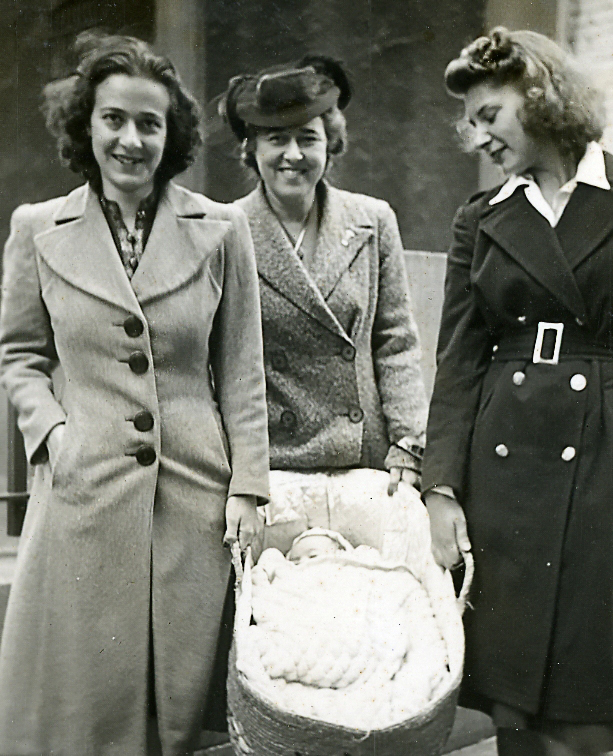 Rene´'s sister, Marie-Louise, Alma and Lois with Marie-Louise's new baby Alma (Amie).
Rene´'s with his sister Marie-Louise
October 15, 1942

Dear Folksies,
       Yes, still here, and probably will be for another four or five days anyway, maybe longer, who knows???
       We are continuing to get in equipment and we now have our own transportation – that is 8 vehicles that we were supposed to have had long ago. We have brand new vehicles and have pretty yellow stars painted on them. I now understand that all army vehicles are going to have these yellow stars – why, I know not as that just makes the cars more difficult to camouflage.
       Last night we had orders to buy the sun tan uniforms (summer stuff) again. I was glad that I had been unable to turn back some of my sun-tan stuff at Ord, as I only had to buy one more set now, instead of several sets as some have had to do. And the prices have gone up for some darn reason.
       Just what all this means we do not know, particularly in view of past escapades of the 59th. In all likelihood we are going to be going to some other camp before shoving off, but of course, no one knows anything. At the moment, we anticipate being here until at least next Thursday, as we sent out laundry yesterday that won't return until next Wednesday, and we are also scheduling a party on Wednesday night. Of course, all good plans of mice and men…..
       We have gotten in some better books now than we had at Ord – only about half of our supply has come in so far, however. We have a good two volume book on tropical medicine – a book that we lacked in the other supply. We have several small books on various specialized surgery, anesthesia, etc. Incidentally, one of the books might be of interest to you if you have not already heard about it – Jolly's Field Surgery in Total War (written about the Spanish War).
       Nothing much else that is new around here. It has been pouring on and off since we have been back – sort of incongruous after they took our over-shoes away!
                    Loads of love,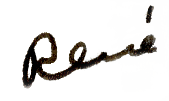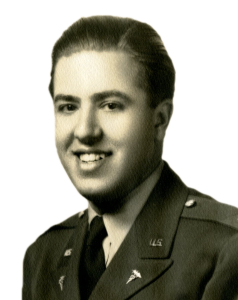 .
Watch for my next letter
October 19

October 25, 1942

Dear Folksies,
       The last couple of days have been rather uneventful. Friday night Lois and I went to a fair picture, "Get Hep to Love," with Gloria Jean and "The World at War." The latter was nothing but a series of newsreels but was pretty interesting, though on the morbid side. After the show we stopped in at the officers' club where there was a party in progress. We stayed only a little while then home to bed early.
       Alain is now in New York and he is working in an advertising firm for some South American stuff. He admits that business is pretty bum, but if they survive conditions now, then they ought to do pretty well. I don't quite get it – whether he put some money into it himself, or just what. On top of that he says that the draft board has told him to be ready for a physical exam within two weeks.
       Last night I was Officer of the Day (or Night) so couldn't go far. Instead, played bridge with Lois, Bam and Fran in their barracks.
       'Tis all for now. And please don't get too damn tired, Dad.
                    Loads of love,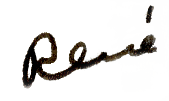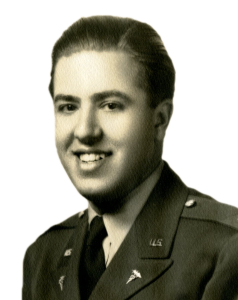 .
Watch for my next letter
October 28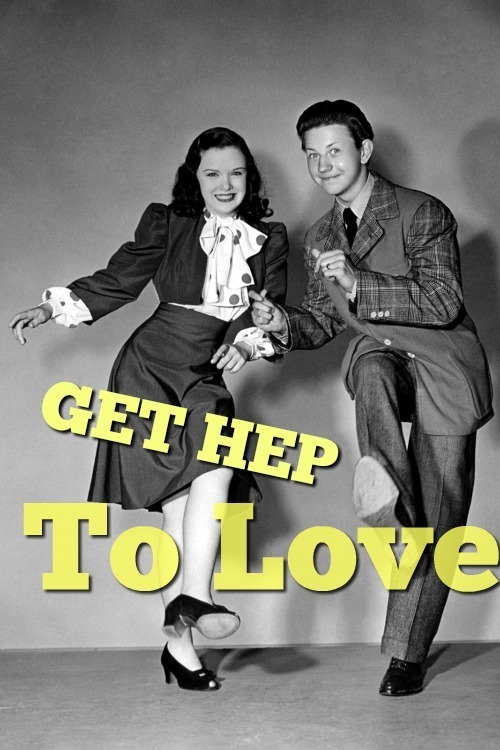 Gloria Jean and Donald O'Connor in "Get Hep to Love"
October 28, 1942

Dear Folksies,
We are rather definitely going to be here for a week or more I imagine. In fact, damn it, there are rumors circulating now that we might even be here for Thanksgiving and Christmas. What a life!
The Colonel, just returned from Washington D.C. where Roy Cohn and Frank Gerbode went with him on supposedly official business and Roy comes back with the story that he himself talked to someone in the Surgeon General's office who thought we were overseas or really didn't know that we were anywhere. Knowing Roy, and the lack of truth in his past rumors, I naturally discount about 80% now, but it all seems to make a good story if you saw one of the last New Yorkers in which there was a cartoon of a General in the War Department office saying to a file clerk, "Now, you don't mean to say that you have misplaced the 8th Armored Division, again, Miss Smithers?" You can readily realize that it applies to the 59th much more appropriately.
One of our sentries had a funny experience the other night. He was walking his post and it corresponded partially to the post walked by one of the M.P.'s of the Camp and the latter was supposedly guarding the nurses' barracks. Our man walked along with the M.P. for a short distance and in the course of conversation our boy told the M.P. about an autopsy that he had seen the day before, an autopsy of a man shot with a machine gun. I don't know just what details our boy used, but the next thing he knew he was just spouting to the cold thin air — he looked beside him and the M.P. was no longer there. The wonderful M.P. was flat on his face in the thick mud beside the road!! Our boy used his good First Aid training and soon brought the M.P. back to consciousness and they continued on their march without further details concerning the autopsy!!!
Which reminds me, we just heard that our 1st Sergeant is quite an author and has written a book about the 59th from the time of its beginning at Ft. Lewis to the present time. He apparently pans the officers a great deal all the way through. Naturally he has changed names all the way through, but apparently they are easily recognizable by anyone in the unit. It has been accepted by the publishers and will not come out until about April. What it will be called I know not, and whether it will be in his own name or a pen name, I also know not, but do imagine that he will use his own name which is Van Horn.
More about the above M.P. guard… It seems that about 2 weeks ago there was an unwanted visitor in the nurses barracks at the station hospital. One of the nurses was attacked and person escaped, unsuccessful. They put up a guard then around all nurses barracks and wouldn't allow anyone other than nurses in the barracks after 4 P.M. Someone got in past the guard at the station hospital on another night so they got stricter and wouldn't let anyone even up to the door of the nurses barracks. This was asinine as there was then no place for them to receive visitors, no way except to have cars honking outside. In fact, the guards wouldn't even go in and call the gals. Finally after the gals all protested, they then allowed men in up until midnight, which was worked out O.K. Anyway, it was one of those guards that was supposed to guard our nurses that collapsed on his face the other night. That's what he gets for talking to someone not in the line of duty while walking his post.
Every morning now, Bill and I are making rounds on the Orthopedic wards with the others and assisting in the Orthopedic Clinic. We have picked up a lot and had quite an interesting time.
Monday evening, saw "Girl Trouble" with Don Ameche and Joan Bennett. Only fair. Last night saw "The Glass Key" which was very good.
Monday night while we were in the show, the weather suddenly changed and it became beautiful and clear – no rain, but only the cold. There was a freezing wind that suddenly came up and by the time we got back to the barracks we had to look at each other to make sure that we still had ears and hadn't dropped them by the wayside on the way back.
Yesterday A.M. the temp. was supposedly 32 degrees and probably colder this A.M., as more frost was visible. Yesterday P.M. all officers took a hike, about 10 or 11 miles, and in the process we saw some machine gun firing and some mortars firing. We got so interested in the latter that Mattie almost forgot to have us start home. It had taken 1-1/2 hours to get out there and we came back in 55 minutes – as otherwise we would have been late for dinner. Cy Kiernan and I were out in the lead and we kept up quite a good pace all the way back.
                    Loads of love,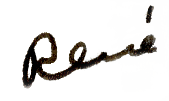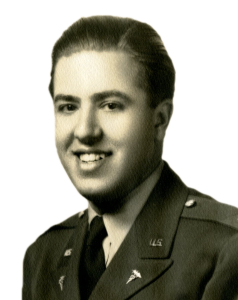 .
Watch for my next letter
October 31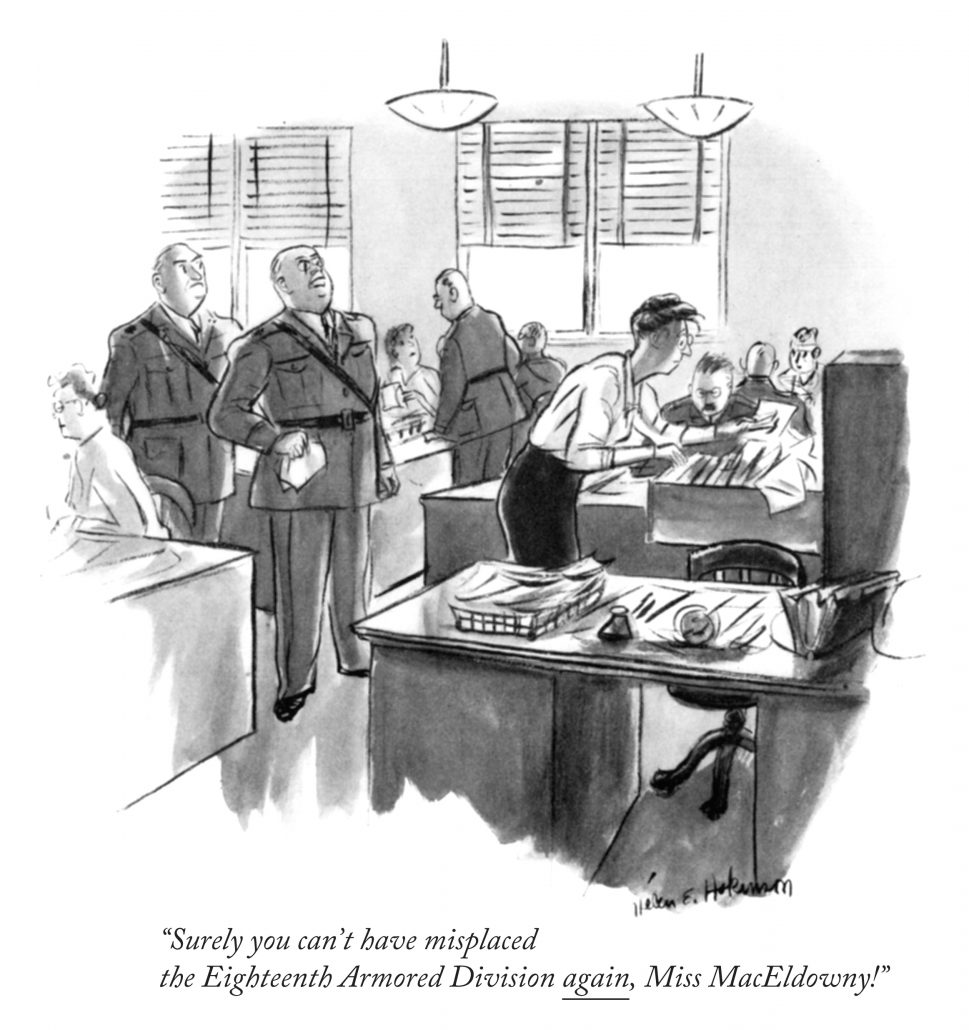 Caption: "Surely you can't have misplaced the Eighteenth Armored Division again, Miss MacEldowny!"
©Helen E. Hokinson/The New Yorker Collection/The Cartoon Bank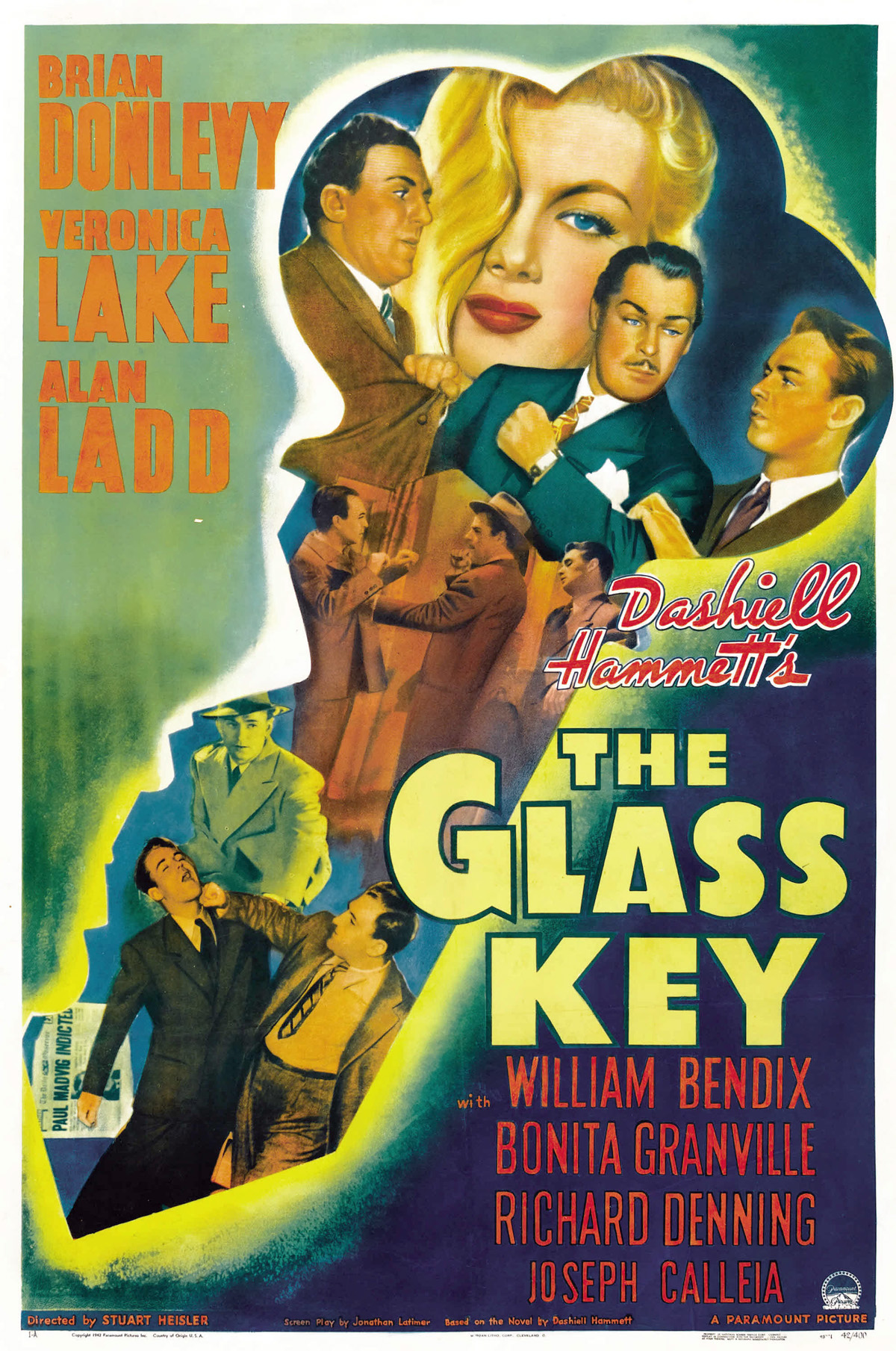 October 31, 1942

Dear Folksies,
Here I am about 10 miles out from camp, in a four-cot tent, living semi-rugged. Paul Stratte and I were sent out here yesterday to run a dispensary for four outfits that are here on bivouac for supposedly 10 days. So you can see, apparently the 59th isn't moving for at least that long.
We got the news on Thursday at about 5 P.M. that we were to pull out by 7:30 A.M. Friday. Paul and I had been selected because we were the only Lts who hadn't been off on some such duty before. The only difficulty was that Paul was in the midst of having Chappell make a bridge for his teeth and I had spent all of Thursday in bed with a bum cold. But Chappie worked on Paul until 1 A.M. and somehow I got rid of my cold by morning – so that both of us felt fine when awakened at 5:45 A.M.
We took two chests full of medical equipment, some Thomas leg splints and four of our own men – all good boys, including our favorite sergeant – and we went over at 7:20A.M. to the headquarters of the 2nd Army to meet the bunch we were joining. We had our equipment and bed rolls in our truck – transferred the stuff to their trucks and at 8 A.M., with musette bags on our backs, proceeded to march out with their four companies that were coming here to camp.
However, around 10:30 A.M. Col. Arnold came alongside the Company we were marching with and told the Capt. that some supposed para-troupers were landed in the neighborhood and we were to play "war" and capture them. As a consequence everyone dispersed – we camouflaged ourselves to some extent and then proceeded to fall sound asleep – the whole medical detachment of 6 men.
There was nothing for us to do but keep quiet while the rest searched for the "enemy" so we managed to sleep until our stomachs growled at about 1:30 P.M. The Capt. came around just about then and he and Paul went in to the camp site to see what the heck was going on. They came back about 2:30 P.M. finally and brought the food truck along with them.
After eating we convinced the Capt. that we should go in and set up the dispensary in case of any casualties from the "war." So, at least we got off the cold ground and come into camp. The rest of the "war" went on until about 9 P.M. but by that time we were snug in our tents and trying to sleep.
We had really expected to see nothing but pup tents — to be sleeping on the ground — and consequently were somewhat pleasantly surprised to find these four cot tents already set up. Each tent has a little stove that really can give off heat if wood is kept around to keep it going. Paul and I had one tent assigned just for the two of us and one tent for the dispensary. Our men were all supposed to sleep in the dispensary tent, but Paul and I got smart and invited our Sergeant – Sgt. Roy Housely – to come live with us so there would be more room in the dispensary tent for the dispensary set up and for the men. I say "we got smart" because this way we have someone to watch our stove and to get up a few minutes ahead of us in the morning to get the fire going. Besides that, this fellow is a good kid and good company. We know how Col. B. would shudder, however, if he knew what we were doing — but do we care, heck no!!
Got up at 6 A.M. – breakfast at 6:45 A.M. and then started getting patients at 7:45 A.M. Paul went back to Pickett with the Capt. to see about our men and ourselves getting paid – as today is pay day. I may be able to go in this afternoon for a little while, as there are some things we need for the dispensary and very little for us to do out here.
Well, here we'll sit for 10 days. If it doesn't rain, it won't be too bad…but knowing this country!!!
                    Loads of love,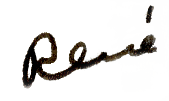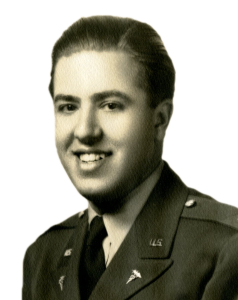 .
Watch for my next letter
November 1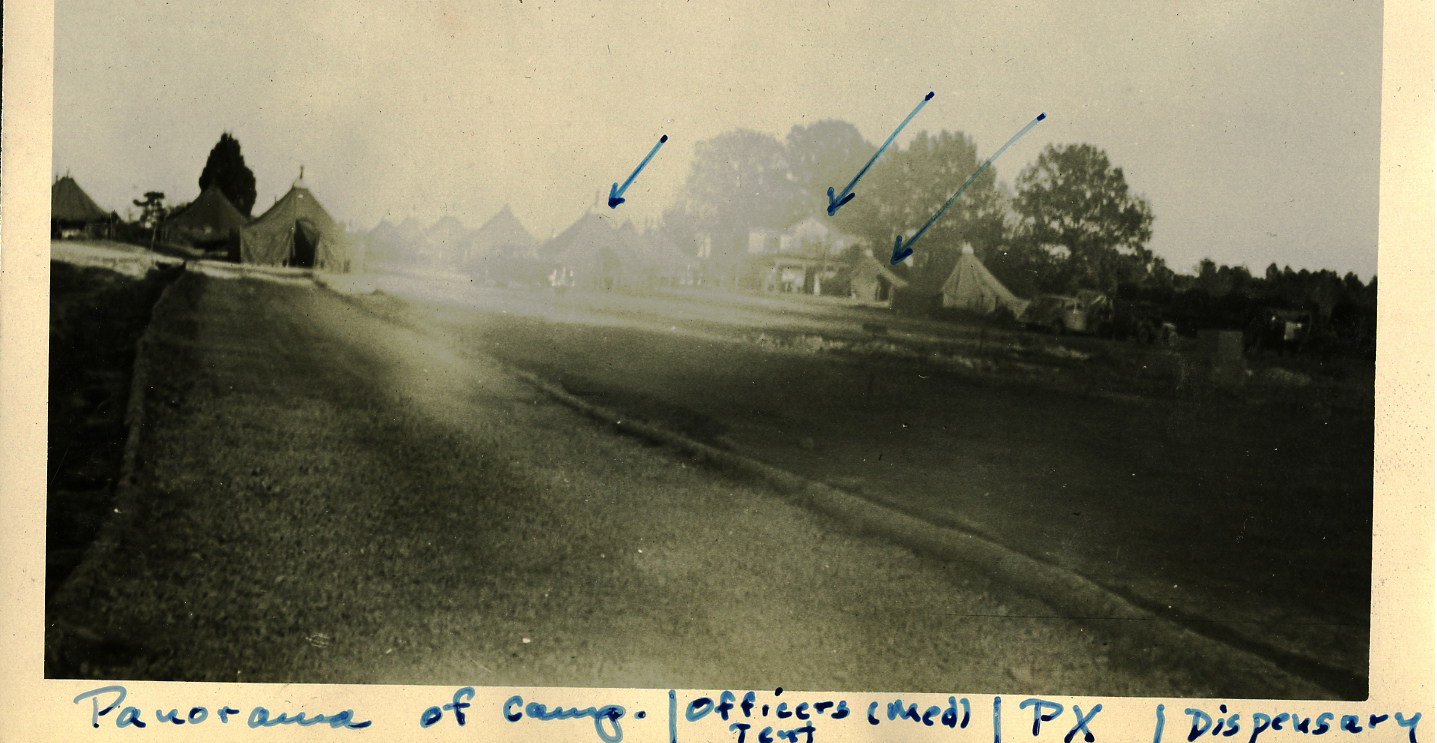 Paul Stratte and René were assigned to run the dispensary at Twin Lakes – an outpost of Camp Pickett.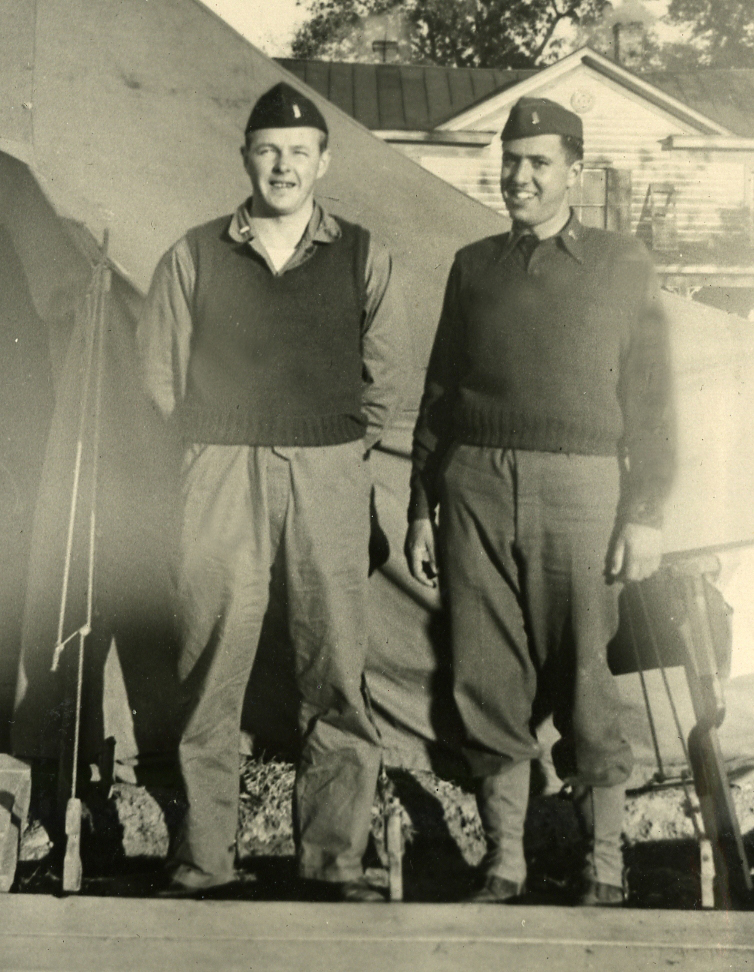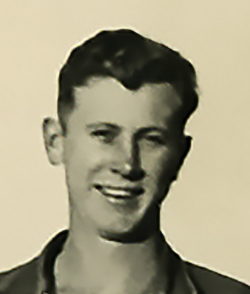 Sgt. Roy Housely – René and Paul invited him to join them in their tent at Twin Lakes

November 1, 1942

Dear Folksies,
       Yesterday P.M. I went in with a couple of the officers only to find that Lois had gone into Petersburg to do some shopping with Fran, as she did not expect that I would be able to get in before evening, if at all. I had to come back to camp before dinner, so didn't get a chance to see her.
       Last night it really poured here, but we remained nice and warm and dry in our tent. This morning it cleared up and now, though windy, is nice and sunny out.
       While Paul was gone this A.M. two of the officers decided on a little tour of reconnaissance in a jeep. One of the men and myself went with them and we went all over the neighboring fields in the darn jeep. We did fine as long as we kept off the roads, but just as soon as we started to go on one of the roads we hit trouble – the jeep got stuck really good, bogged down in mud so that the transmission was partly covered with it. We dug and dug and jacked the darn thing up and cut down trees so that we could try to hoist the jeep up a bit. And finally, after about an hour, we managed to get the darn thing backed out of the mud and slush. Some fun!!
                    Loads of love,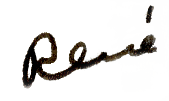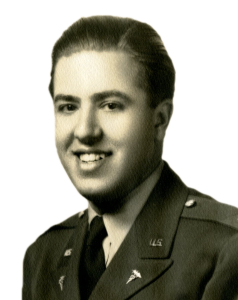 .
Watch for my next letter
November 3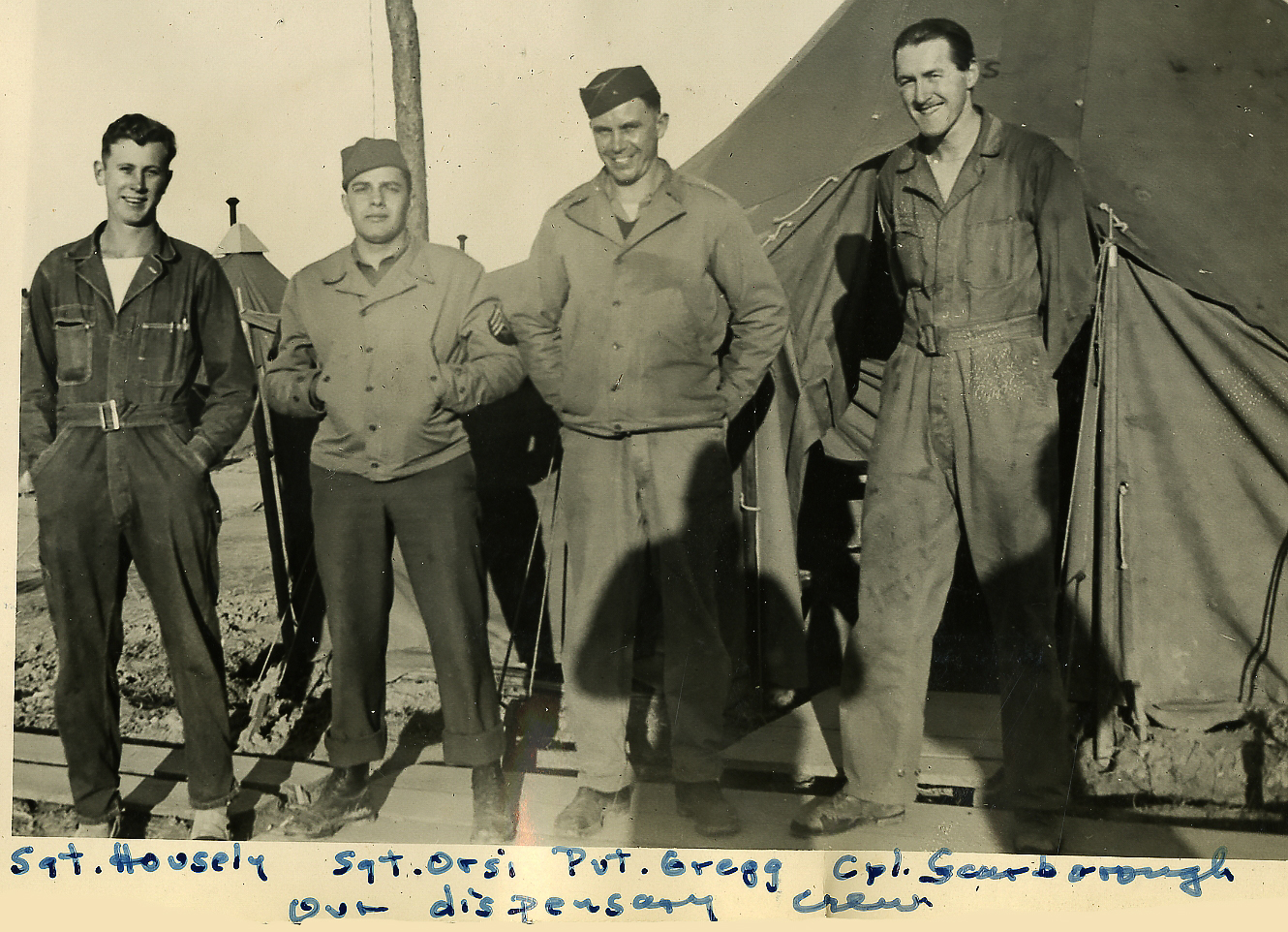 The Dispensary Crew: Sgt. Housely, Sgt. Orsi, Pvt. Gregg and Cpl. Scarborough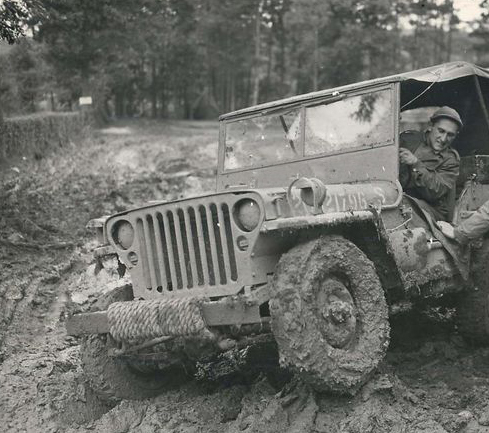 Another Army jeep stuck in the mud.