December 2, 1942

Dear Folksies,
       'Tis a cold and terrifically windy day today and the wind seems to blow right through the barracks. However, I'm glad to be able to say that my bloomin' sinuses have cleared up nicely in the last few days and my throat looks as good as new. It's sure swell to be feeling really good again after three darn weeks of feeling only fair and knowing my snozola and throat were on the blink.
       The meals here are worse than usual. Why, oh why, aren't some good cooks drafted to this joint here. This camp has improved greatly since we were hear last, in all respects, there being an officers' club here now, some good Post Exchanges with good selections of everything, including some food that officers can now buy (remember, before, an officer had to get an enlisted man to buy any food that was wanted at the PX – a screwy system which they finally changed after a few months of squacking).
       The cooking of the food, I must admit, has improved, but when you consider that when we were here before, even the hogs would have turned up their noses if it had been presented to them, you can see that any improvement gave them still a wide range before they got up to the really edible stage. Right now, about the only well cooked stuff we get is hot chocolate and ice cream. The meat the other day, pork chops, was either all fat or practically uncooked. But, so it goes!!
Gee, I didn't think that they were going to take us out on a hike yesterday afternoon, but, by golly they did, despite the freezing cold wind. I wore the helmet Mom made me, plus a muffler, plus the wind-proof goggles we were issued, and though I probably looked like the Man from Mars, I was certainly comfortable around my face – my whole face being protected. Everybody else was bundled up but, despite the fact that they made fun of me for the way I looked, they were plenty jealous because their noses and cheeks were frozen before we had gone more than a couple of hundred yards.
This time we hiked to New Brunswick, the long way – about 5 miles, and went to the Johnson & Johnson plant that is on the banks of the Raritan in New Brunswick. Bob Escamilla, as President of the Officers' Club of our bunch, had arranged for us to visit the plant and we enjoyed the visit very much. It took about 2 hours to go through with one of their men explaining everything we came to. 'Twas most interesting.
They make gauze, roller bandage, band-aid, cotton, adhesive plaster, plaster of Paris, sulfadiazine ointment, boric acid ointment, first aid bandages, muslin triangles, etc. Some of their processes were fascinating. We couldn't see how they make adhesive plaster as the Army won't let them have visitors in that section of the plant, but we saw most of the rest. We saw how they sterilize all of the bandage material – in the packages that you get them in, and how they clean all the cotton, put it up in rolls, etc.
Last night I played bridge over in Lois' barracks with Bam and Fran for a while, then back here early. No snow as yet, but all puddles nicely frozen solid. It was icy cold, but finally they got the heat going in our barracks last night – the pipes had been busted for 2 days and the place was freezing most of the time. Now 'tis warm as toast in most of the rooms.
                    Loads of love,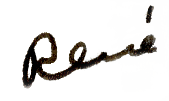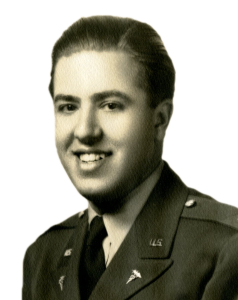 .
Watch for my next letter
December 3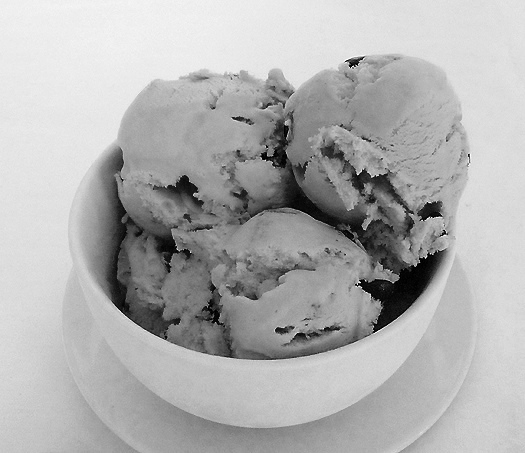 Despite the freezing cold weather, René enjoys the ice cream at Camp Kilmer more than anything, except maybe hot chocolate.

Photo by gordonramsaysubmissions, via Wikimedia Commons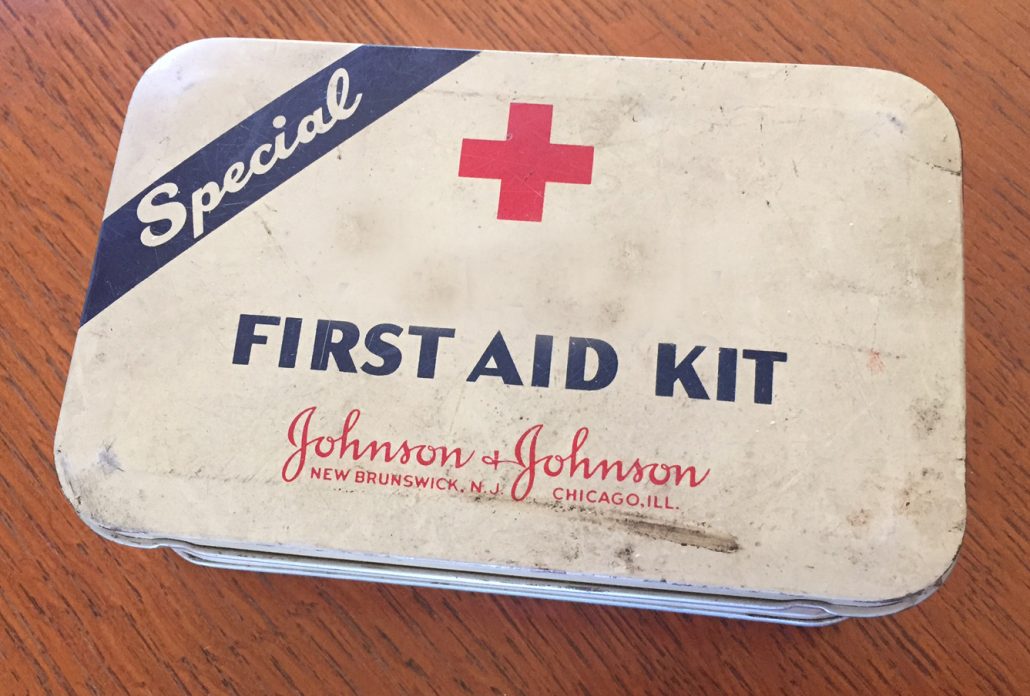 The officers took a hike to New Brunswick, NJ to tour the Johnson & Johnson plant.

December 3, 1942

Dear Folksies,
       Sunday night we went to bed early in preparation for an early start on Monday. I got up a little before 6 A.M. on Monday and after getting ready I walked over to Lois' barracks and with Lois, Bam, Fran, and Pat Barry and Gert Brazil, I took the bus to N.Y., leaving their area at 7 A.M. and arriving in N.Y. at about 9 A.M. We could have taken the train, but probably wouldn't have gotten to N.Y. much earlier. Furthermore, the nurses have been told some screwy thing about a rule that they are not to ride on trains except on Tuesday, Wednesday and Thursday. ??why??
       At any rate, we had breakfast, the 6 of us – me and my harem, at Toffenetti's on 42nd and Broadway. After breakfast we went shopping. The gals were looking for some raincoats and also some uniform dresses, so as I had nothing better to do, I went along with them.
       We traipsed around to a few places and then finally landed up at Sak's 5th Ave. where a couple of wholesale houses had referred them to. The store there had recently opened a new dept. for nurses uniforms, etc. and the woman who was in charge of the department was very nice.
       While I was sitting down and the gals were preparing to try on things, this manager came over and asked me where I was from. When I told him, "California" he asked, "Where in California?" When I said, "San Francisco," he proceeded to reel off a couple of names asking me if I knew those people. And, by golly, of course I did!! When I told the gals afterwards that the manager and I had had quite a conversation, they were amazed. The people this man knew were Jim Ransohoff, Bob Ransohoff, Jerry Simon, Harry Camp, and the Levi Strauss gang. 'Tis a small world, ain't it?
       After whopping around a bit and walking up Fifth Avenue, it got late in a hurry and so Lois and I went to the Essex House to meet Helen and Mischa. After a good lunch with swell oysters, we left and went looking in shops for a few other things that Lois wanted, shoes, slacks, etc. We also went to Macy's and got some groceries for the gals, as their food at their mess hall is so lousy they have taken to eating most of their meals in their barracks out of groceries that they get plus cookies, etc. They get their thermos bottles filled at the PX and manage pretty well. They go to maybe one meal a day, or at least some of them go and bring stuff back.
       At 6 P.M. we met the gang at the bus station and got back here at camp a little after 7 P.M.
       On Tuesday morning I loafed in bed until almost lunch-time. Then at 11 A.M. we all went over to the gas chamber and went through with our gas masks on. The man in charge wanted us to take off our masks and go through rapidly with them off, but as we had done that once at Ft. Ord, we very nicely refused. The gals took off their masks and went through, however, but they hadn't done it at Ord. The concentration of the gas in the chamber here was only about 1/10th of what it had been at Ord when we went through, and I remember how we cried for hours after that little experience.
       Tuesday afternoon we had a hike – about 9 – 10 miles, skirting the camp and going along the banks of the Raritan River for a while. It was pretty cold, but not terribly windy and we walked pretty rapidly so we kept warm enough. Wally Greene and I were in the lead and we kept up a good pace the whole time.
       Tuesday night we went over to the Officers' Club where there was quite a mob. The club is now a two-story affair, the second floor being a balcony all around the room. There was a juke box providing the dance music, but the pieces were old and bum, so it wasn't so good. However, for a change it was better than sitting around in the barracks playing bridge, etc.
                    Loads of love,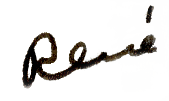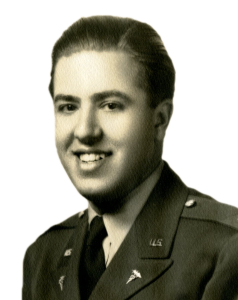 .
Watch for my next letter
December 8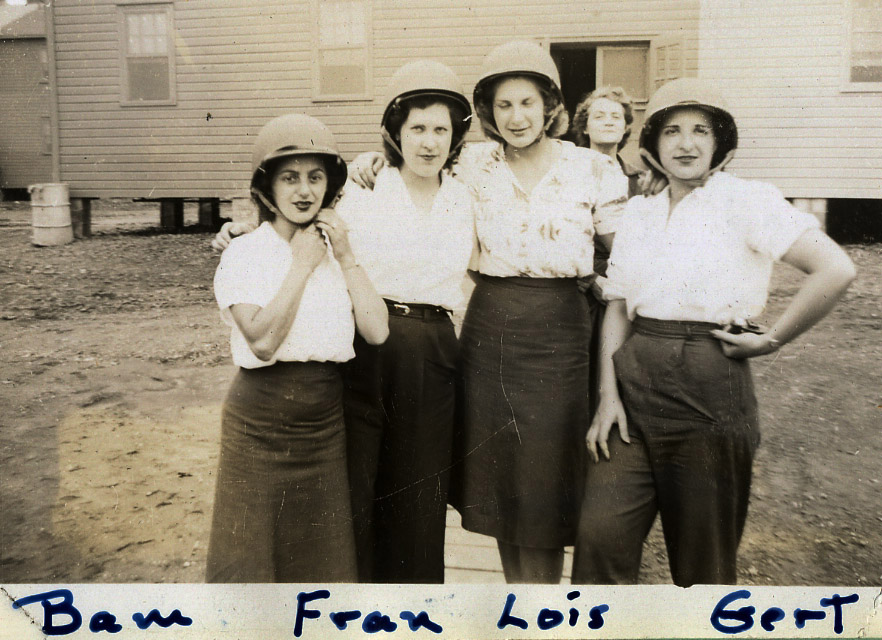 "René's Harem" – minus one. René went to New York City with nurses Bam (Charlotte Bambino), Fran (Trembley), Lois (McFarland) Gert (Brazil) … and Pat Barry (not pictured here).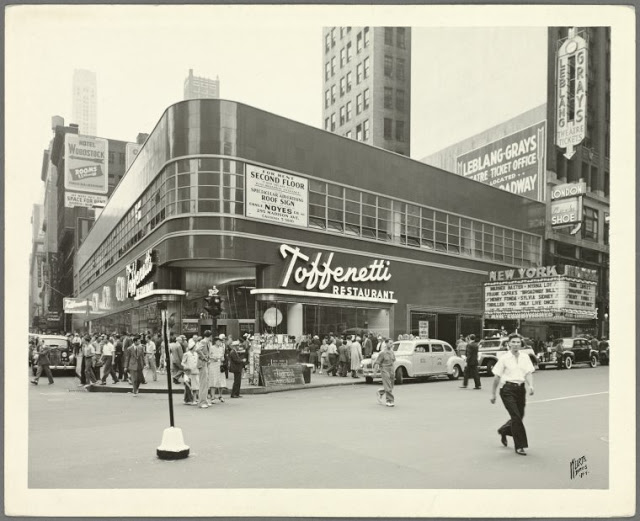 René and his "harem" had breakfast at Toffenetti's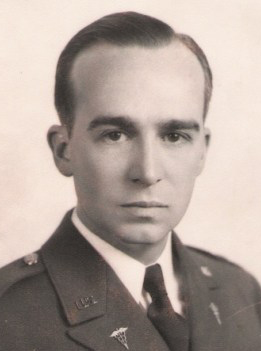 Wally Greene and René were at the head of the group all the way back from their hike.

December 8, 1942

Dear Folksies,
The nurses that were dropped have just been replaced in the last few days. However, we had a new blow yesterday – this time no doing of His Highness.
We all just wish we had gone overseas when we were here at Kilmer before – then everything would really have been O.K. We would have had George Sterba, Miss Nicholls and Frank Lusignan. Yes, Frank was the latest casualty, damn it.
Like fools, yesterday, instead of taking a hike, some of us decided to throw the football around for a while. The game started between our group and the group from the other barracks – also a hospital unit, from Syracuse, I believe. They were a bit on the rough side, and of course, someone of Frank's size and brittle bones should not be playing like that – he has no muscle or fat around his bones at all.
He went up in the air when blocked once, and landed down on his knee, being unable to get up. We thought at first it was just a cartilage injury and then it was decided that it might be the fibula, but no such good luck – he had a fractured condyle of his left tibia. As a consequence, of course, he will be laid up for from two to three months. The leg was set yesterday by Mattie and Bret Smart, and he is supposed to go to Walter Reed Hospital. But he is trying to go to Letterman in San Francisco and I believe he will be able to. If that isn't the damndest luck ever!! Also, he is not only the most valuable of our majors, but he is the nicest. What we are going to do without a neurosurgeon, I do not know. None of the others have ever done more than a very small amount of neurosurgery!
We had planned to go to N.Y. on Saturday and we were going to have dinner at Helen's and Alain was going to come over after. But, then, late Friday night we found out that there was going to be a restriction starting the next A.M. and we were sunk. All good plans gone to heck.
Saturday night we had a little party for Miss Nicholls – that is just a few of us, about 5 couples. There was a terrific mob over at the club, however, so we didn't stay there too long – went over to Nicky's suite, which she now has over at the Station Hosp.
Sunday we awoke to find snow all over the place. Some of it is still on the ground, though the sun has been shining brightly. We took some pictures of Newsom, Joseph and me, in various attire.
I don't know whether the income tax forms will be sent to me or to you. I understand that it may be wise to defer the paying of the income tax until the end of the war. Reason being that they may just cancel the income tax for those in the service during the war. The Army never used to pay income tax, and I hear that it was canceled in the last war – but of course anyone who had paid it already could get no refund. Therefore, as far as I am concerned, I believe it would be better to forget it for the time being.
Incidentally, there ought to be plenty in my bank for you to draw out. As I see it, unless I was to lose most of my clothes and have to buy new ones, I won't have any use for more than I am getting at the moment – that is the $65 or so, which, if we go overseas will be raised to about $80. Also, with the bill just passed, we are supposed to get $100 more for uniform allowance. Unless I'm wrong, there ought to be more than $1000 in the bank for your use. I have put no money in war bonds as yet, so if you want to take some of the money and use it for that, 'tis O.K. When overseas, I will either turn extra money into bonds or will cable it home to the bank.
We are now on 6 hour passes only and are going up to N.Y. tonight and plan to see Helen, Mischa, Therese, Horace, Babs, Lenny and Alain, all together, if possible. The phone have been so cluttered up that it has been darn near impossible to get ahold of one. I hope to be able to call you, also, but in case I don't succeed – well you know what we wish you all — A Merry Xmas and a Happier New Year.
                    Loads of love,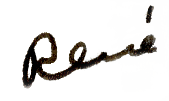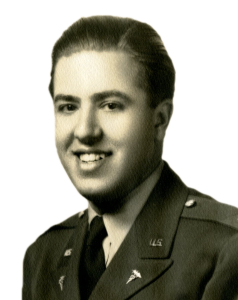 .
Watch for my next letter
December 9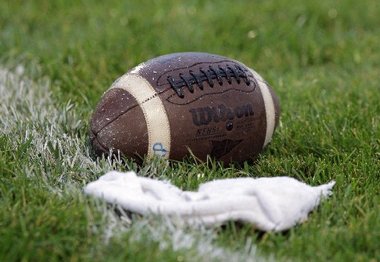 A football game puts Frank Lusignan out of commission.

Pearl Nicholls is leaving the unit.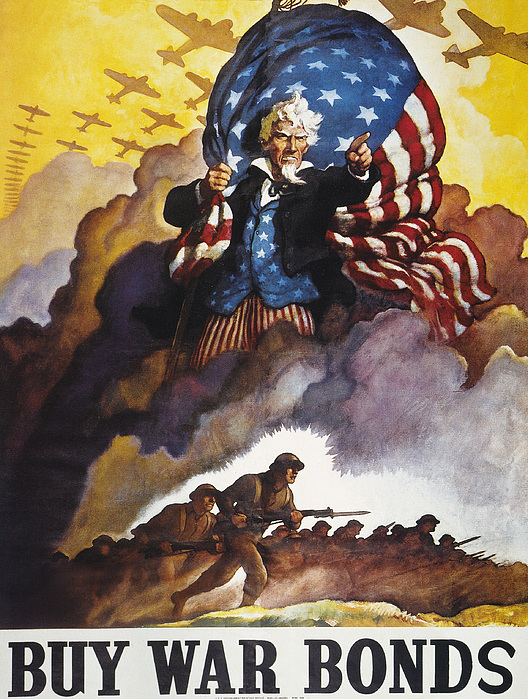 December 9, 1942

Dear Folksies,
       I was sure glad to be able to catch you last night from N.Y. When I called home at first, I was terribly disappointed because, as that was about 10:15 P.M. I knew that we only had about an hour more in which to try again. Then, as no one answered at home I figured that maybe you were at Sal's and I decided that if not there I would try also Gram's, Cerf's or Wildberg's, as I knew 'twas better to get you from N.Y. than from Camp, as it is darn near impossible to get a line around that time from here.
       I was thankful when I heard Minnie's voice say to the operator that you had just left there and were heading home. I was then praying that you weren't going to stop at Children's Hospital or Cerf's or some such place. It was certainly good to hear your voices. Just before getting you, we had called Lois' Mom and were lucky there, getting them easily.
       Since I wrote yesterday the only one in N.Y. that I was able to contact on the phone from camp was Therese. She agreed to try to round up the others and get them to her house. Then, just before leaving the camp at 4 P.M. I was able to get a call through to Alain. We called him again from Penn station and agreed to pick him up on the way to Therese's.
       This we did and when we entered Therese's apartment we saw she had done well. Besides Therese and Horace, there were Lenny and Babs and Helen. We stayed at Therese's until around 8 P.M. As Therese and Horace work on draft boards they gave Alain some advice as he was going up the next day for his physical exam.
       Before leaving Therese's we went over and picked up Nadia (who had already had dinner) and took her with us to Lindy's. As it was a meatless Tuesday we had some swell chicken and also had some wonderful oysters. I treated Alain for dinner as a birthday present for him, as his birthday is tomorrow.
       After dinner we went back to Nadia's and then started the phoning to California.
       As far as Xmas is concerned, the call last night would be enough of an Xmas gift – 'twas sure swell to be able to talk to you more or less on the eve.
                    Loads of love,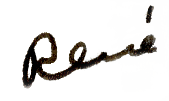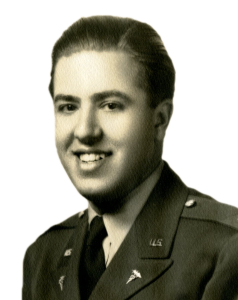 .
Watch for my next letter
December 21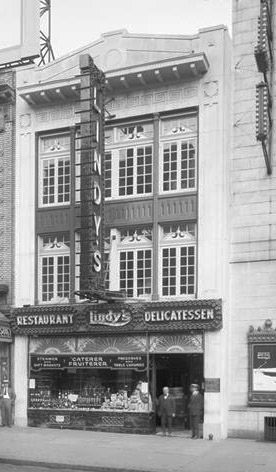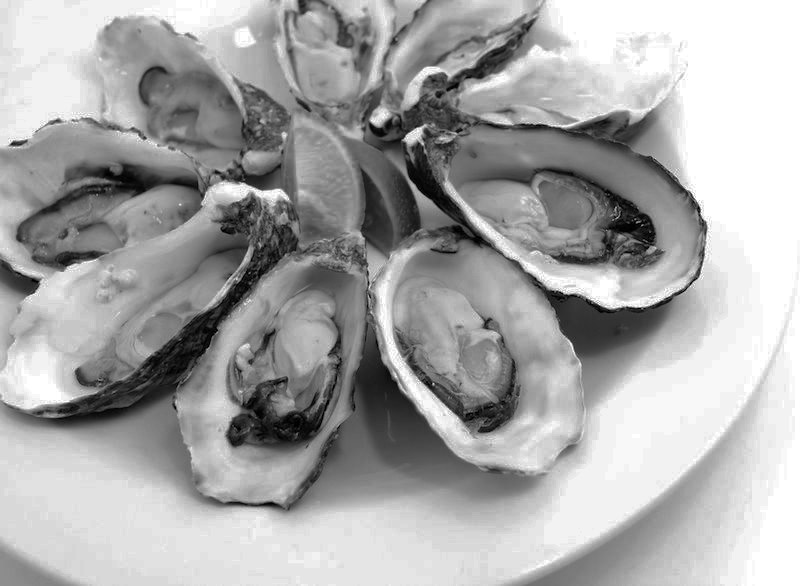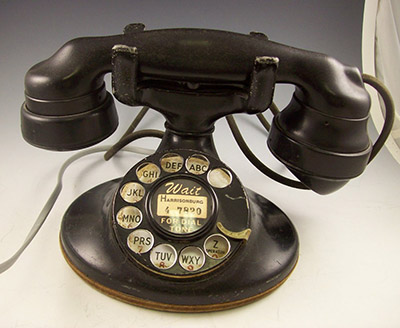 "As far as Xmas is concerned, the call last night would be enough of an Xmas gift – 'twas sure swell to be able to talk to you more or less on the eve." — René

No letter from René since December 9. Would his parents have known that he was on a ship heading across the Atlantic? They certainly would have been thinking of him, so here are some photos of him from 1919-1941.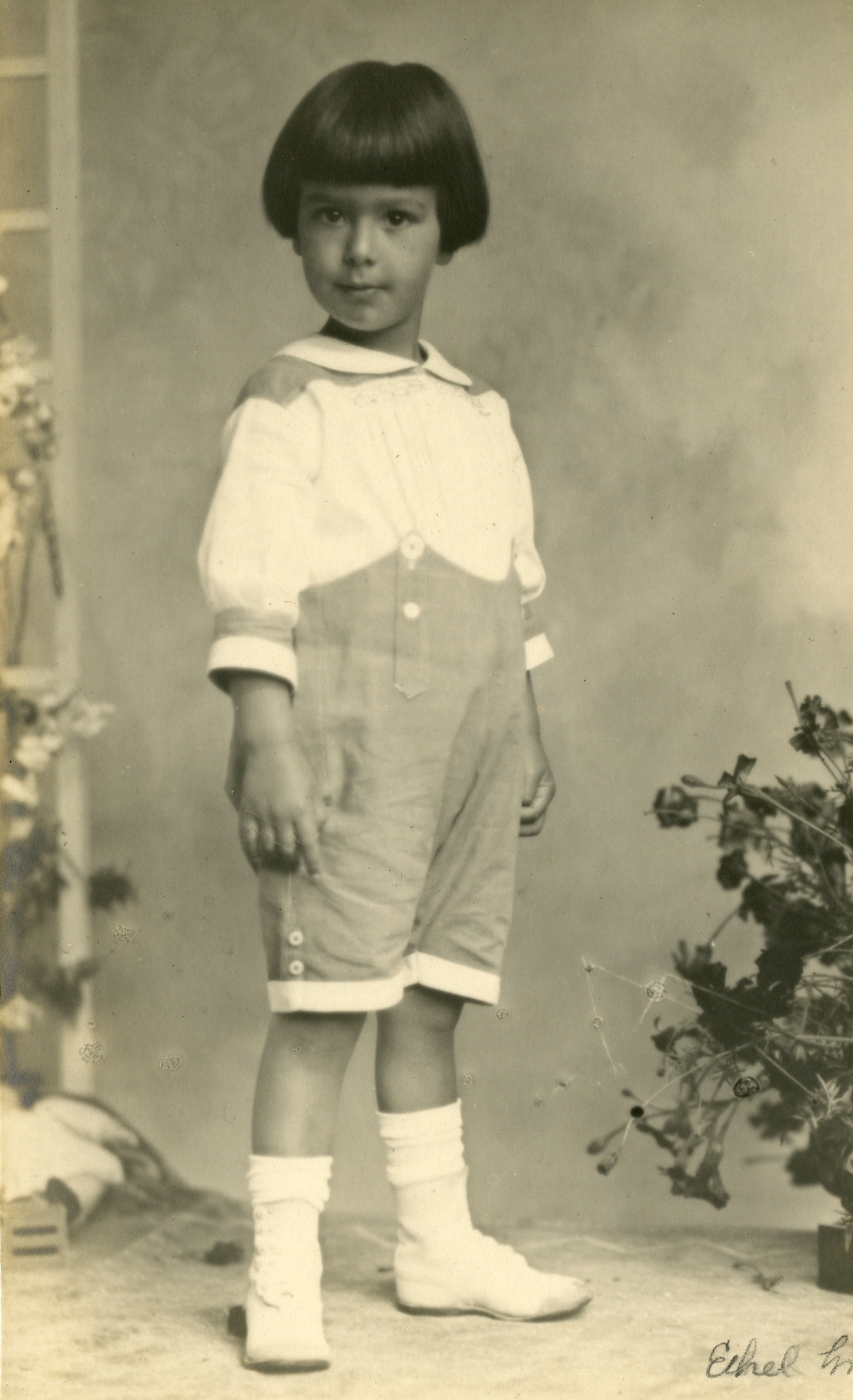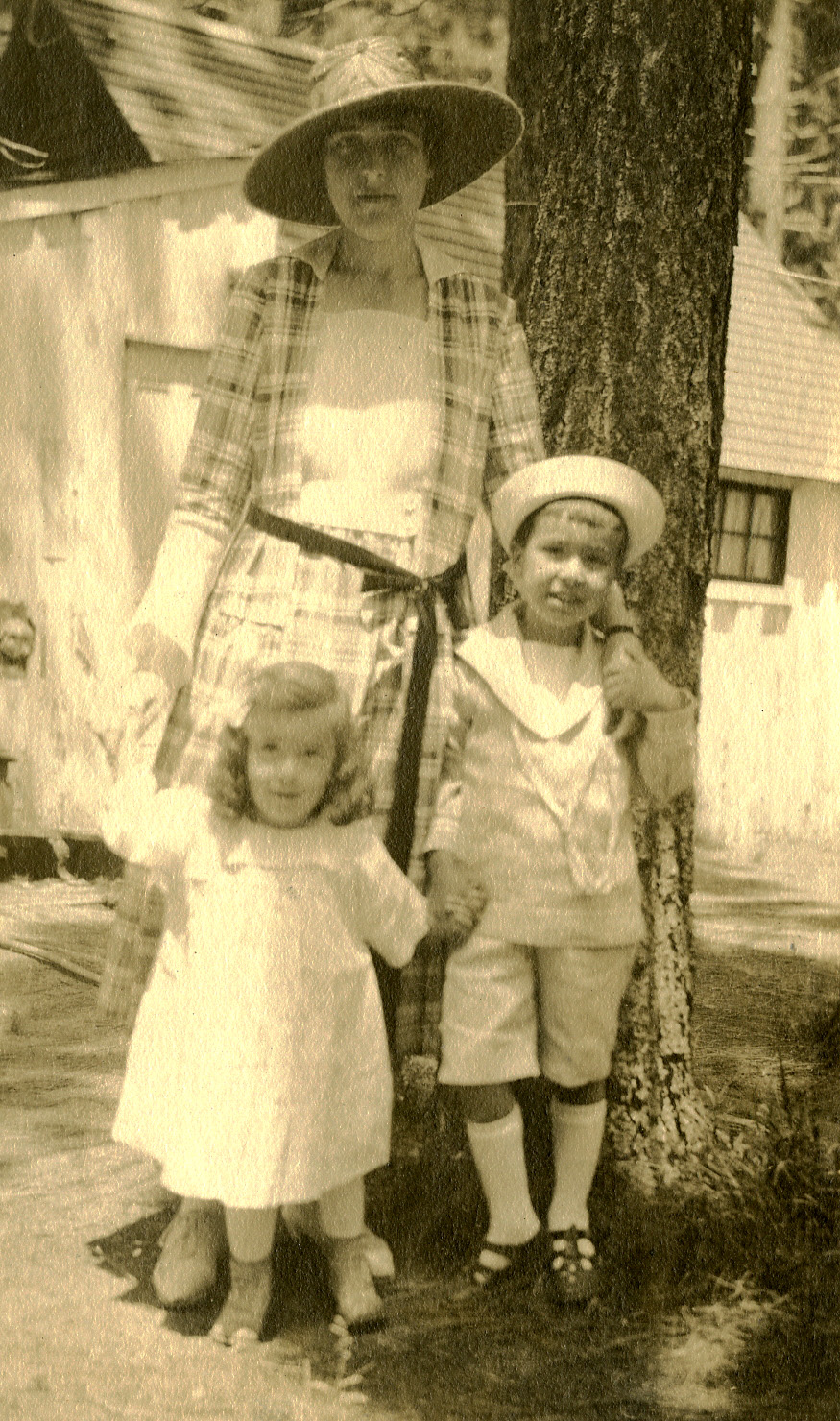 René with his mother, Alma, and sister, Marie-Louise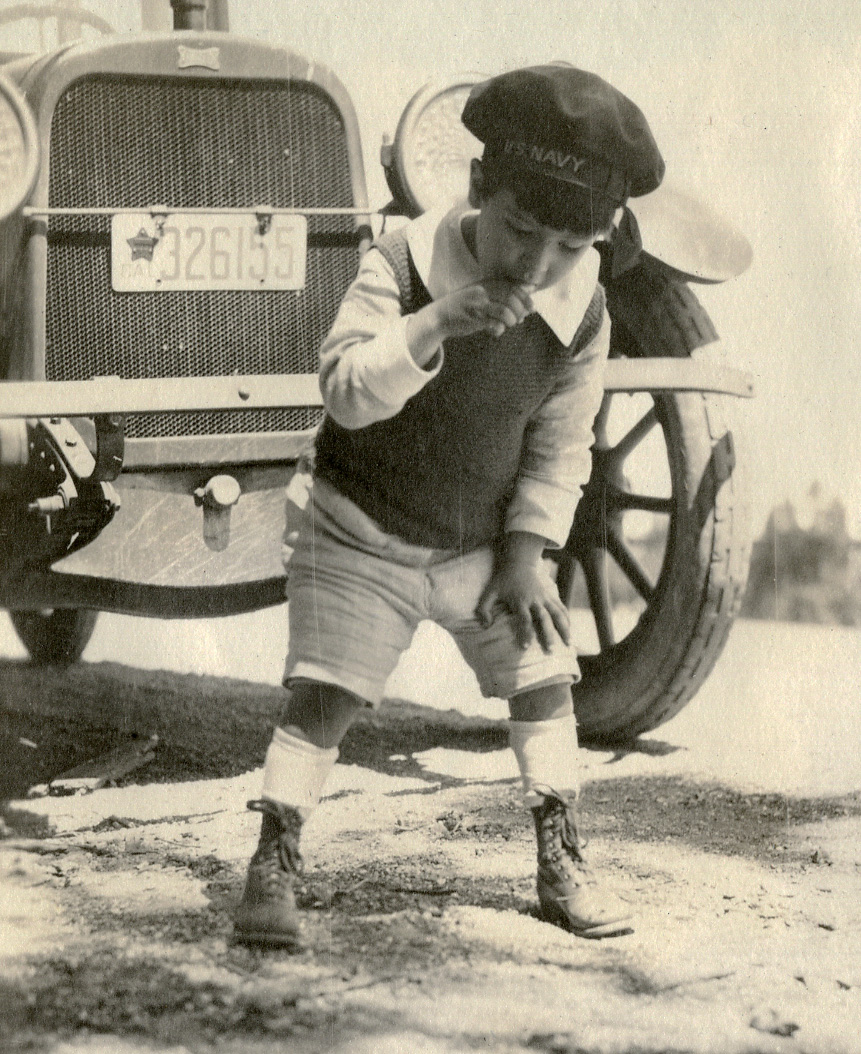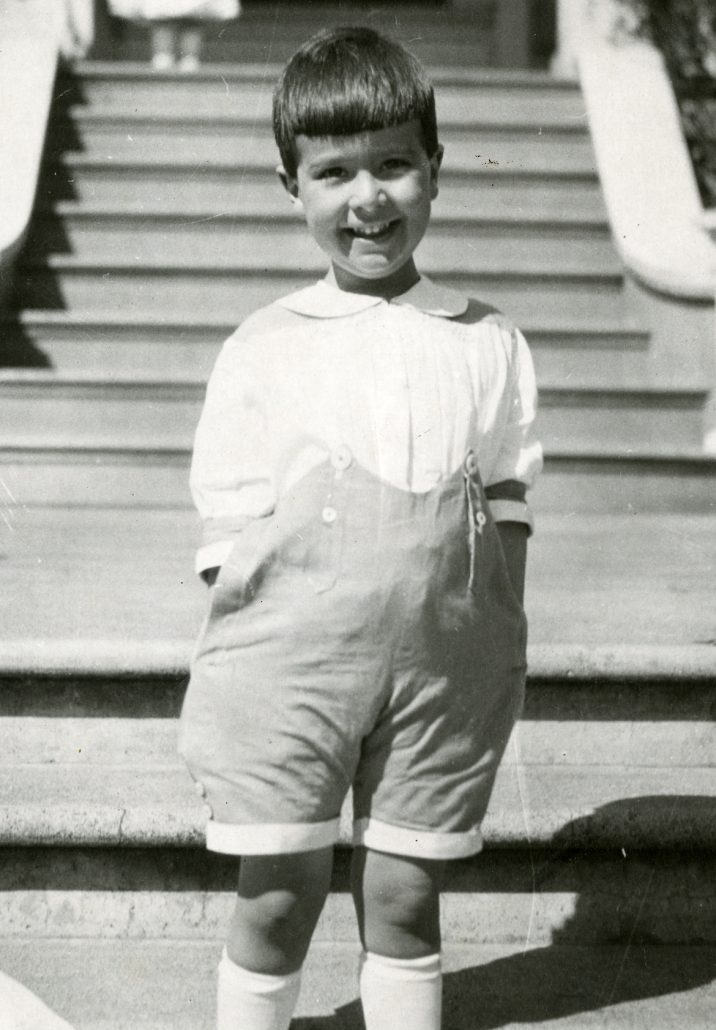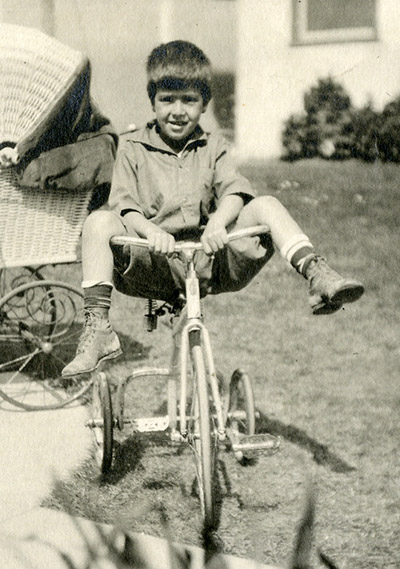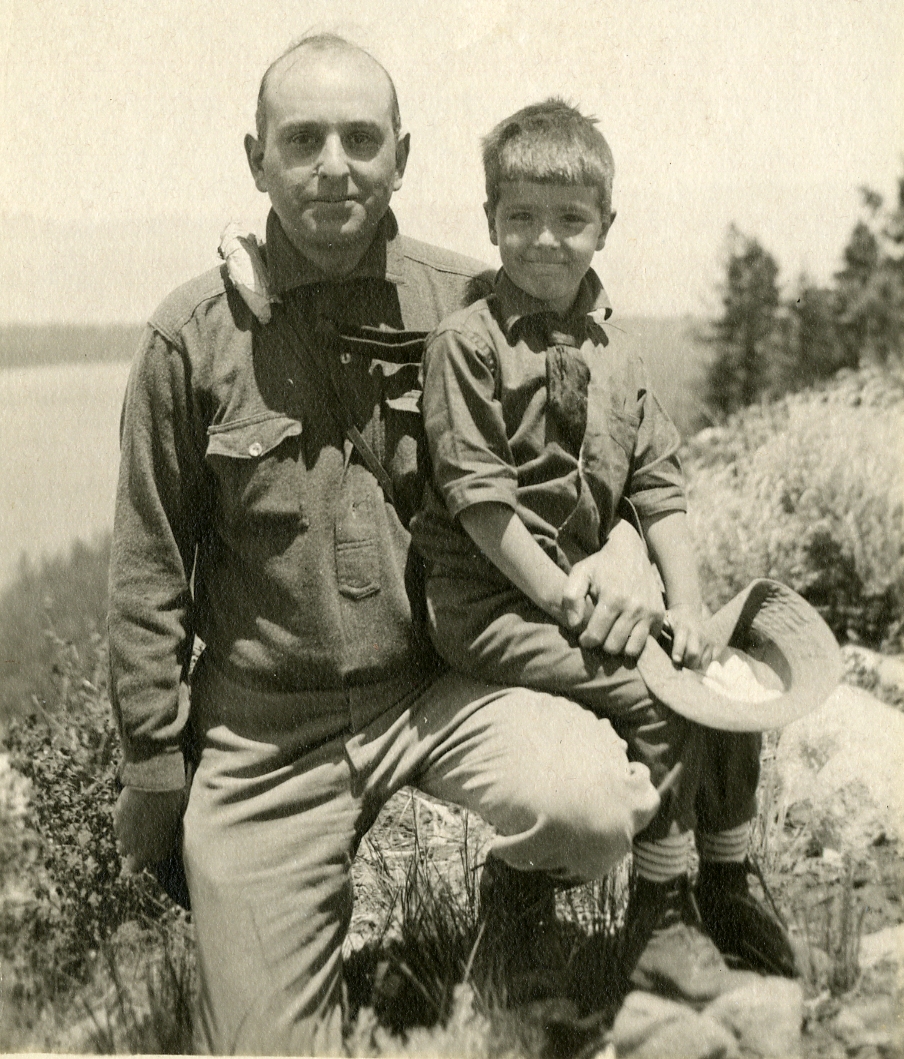 René with his father at Lake Tahoe.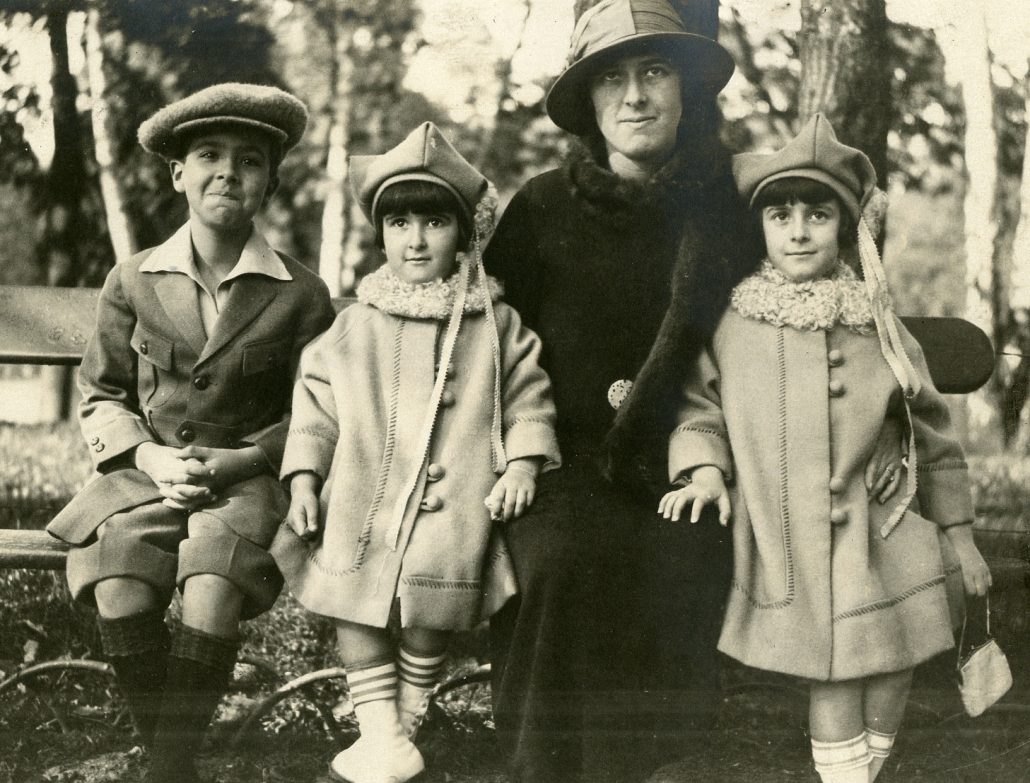 René with his sisters and mother in the Bois de Boulogne in Paris in 1923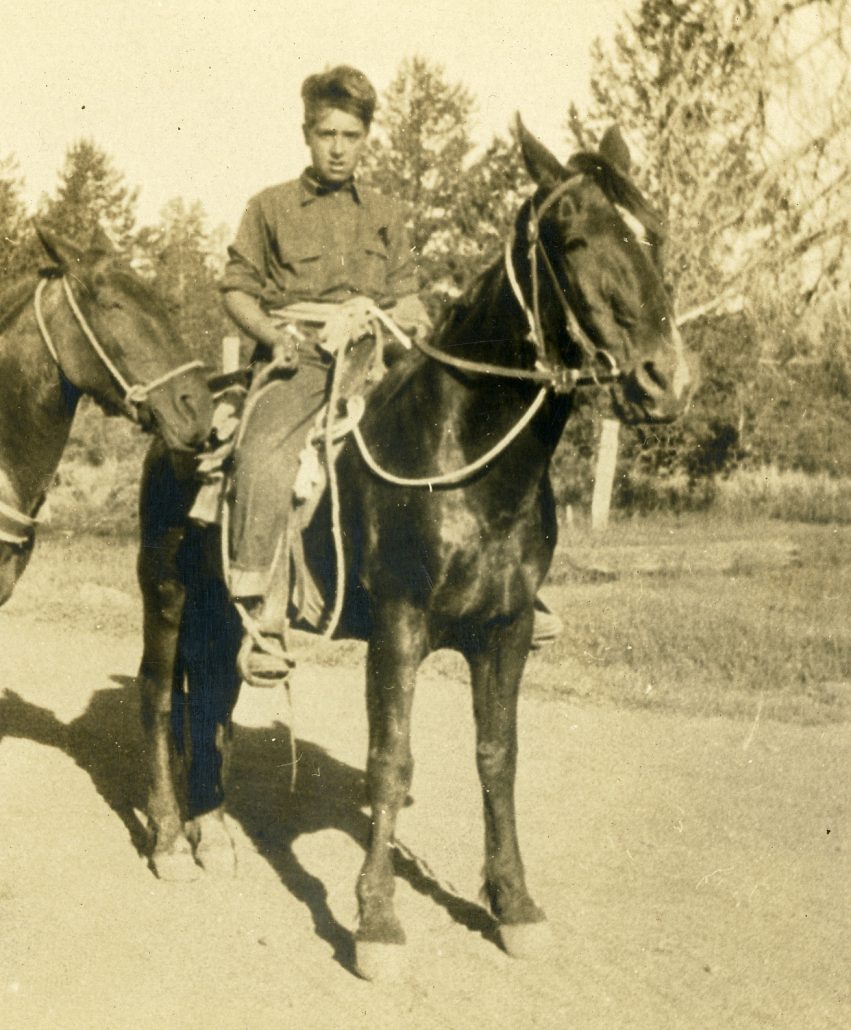 René at summer camp near Feather River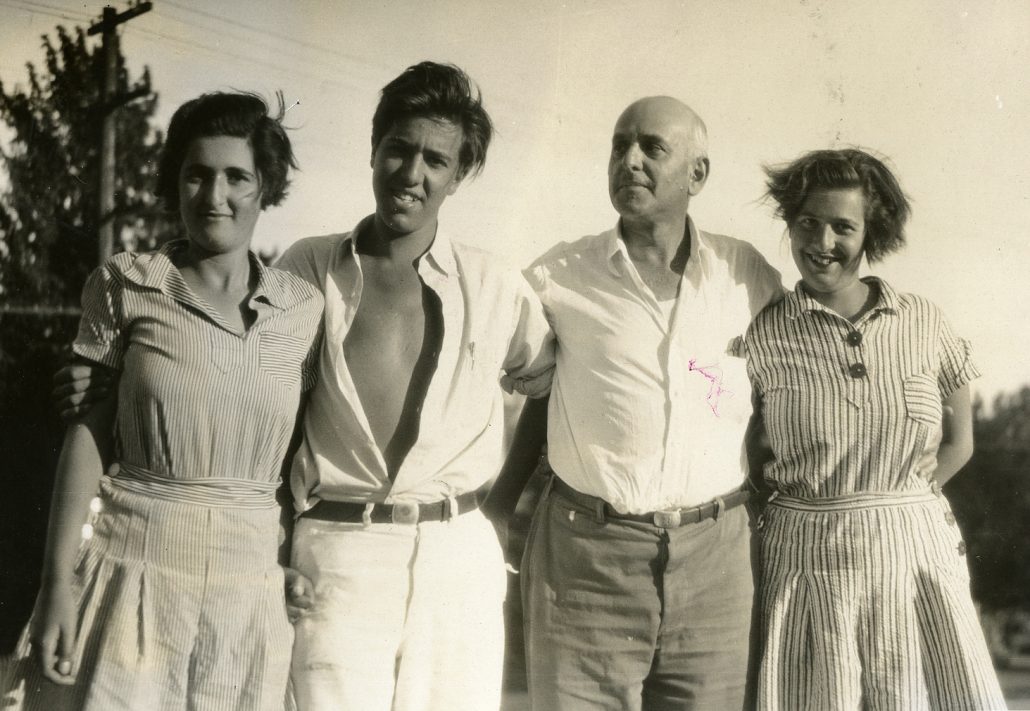 René with his father and sisters in Auburn

René as an intern in 1941