June 4, 1945
Somewhere in Germany
No. 37

Dear Folksies,

       Since last writing, numerous things have occurred. I shall attempt to give at least some of these in chronological order. Let's see, my last was written on the nite of May 25th. Fooled around on the 26th, rounding up a few items needed, trying to find a brewery closer than Munich to get beer for the men, and putting the finishing touches on the Old Man's trailer.
       As I was scheduled to pick up PX rations in Mannheim on the 28th, and as three of the officers had to go to Strasbourg on the afternoon of the 27th to catch the 6PM train to Paris for their two-day leave there, Dunlap and I decided 'twould be best to save transportation by combining the trips and consequently I left with Held driving, the PX boy (Klohann) and a friend of his, and Chappie, Schuster and Mitchell in the back of the 2-1/2. We left the area about 9:30 A.M. and by devious routes we arrived in Strasbourg shortly before 3 P.M. We had been undecided as to whether we would stay overnight in Strasbourg or go on to Mannheim and stay where we had stayed the week before.  But since we didn't have to pick up the PX stuff until after noon on the 28th, and since we didn't have too much else to do in Mannheim, and also since it kind of gave us all a different feeling being back in France instead of Germany, we voted to remain in Strasbourg if we could find the little hotel at which some of our drivers had stayed before when on similar trips.
       Despite the rather vague instructions and directions we had been given regarding the location of the "Hotel Mutzig," we managed to find it with a minimum of difficulty.
       After we took Chappie and the other two to the station, and found a French garrison that promised to watch our truck for us during the night, we proceeded back to our hotel for a beer and then headed out looking for a meal. We were successful and had a fair meal, following which we walked around the city until dark.
       One funny incident occurred while we were thus walking around.  As we started to cross one of the canal bridges, a French Colonial soldier, an Arab, came up to our group (complete with flowing Arab soldier uniform — those blankets that cover a multitude of sins) and said, "Me Arab. You Casablanca! Me Arab.  Americans good in Africa.  Me Arab, You Casablanca!  You give me pack of cigarettes!"  That sort of stopped us and was so startling that we didn't stop to think until later about the whole thing and wondered if that guy just tried that gag on all American soldiers in hope that it would work, particularly the "Casablanca" part, or whether he might actually have recognized one of our group. Anyway, Slota started reaching for some cigarettes to give the guy, and, thinking he was bringing forth the pack which had only two or three cigarettes in it, he brought out the full pack and it was barely visible as it came out of his shirt pocket when it suddenly disappeared out of his hand and under that Arab blanket.  There were profuse thanks and that was that.  We howled for an hour afterwards.
       Strasbourg seems like quite a city.  Unfortunately, it is rather badly wrecked in spots, even in places that were a good distance from the industrial centers, barracks, etc.  The cathedral, however, is virtually untouched.  The windows, of course, had long since been taken out and will no doubt be replaced before too long.  The spire of the cathedral stands out high above everything else in town and actually one can see it for some miles before one reaches the city limits.  We walked thru one of the parks not far from the cathedral and it was beautiful.
       Sleeping in those beds in the hotel was really funny.  We weren't used to comfortable mattresses in the first place, and on top of that they had those feather comforters over us — they sort of bury you and look terribly heavy when actually they are light — well, "light as a feather."
       The next A.M. we took off for Mannheim, going through the muchly damaged Karlsruhe on the way.  We surprised ourselves by getting to Manheim in just 3 hrs. We took a short cut home and made it before dark.
       Arrived and was surprised to find that Fadley had already returned. The hospital in Paris had given him a clean bill of health. His lesion was not malignant and had healed up nicely after excision without giving any x-ray.
                        Loads of love,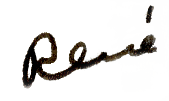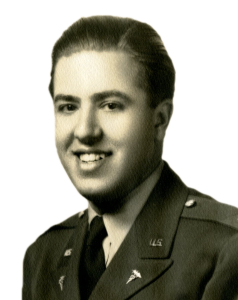 .