June 15, 1945
Dachau Concentration Camp, Germany
No. 38 (continued)

Dear Folksies,

            On June 8th, as Brown, Bell and Chuck Schwartz took off in the Mercedes for a tour around the country, Roy gave me the job of seeing that the hospital run by Capt. Sugranes was evacuated to the other hospitals, so that Sugranes' hospital could be closed down.  Sugranes actually had two hospitals in this area – they weren't hospitals like the one Kuzell has had (the latter was the SS hospital before), and gosh knows how many thousands were there originally. One unit was the so-called "Aryan Hospital" and the other the "Jewish Hospital". However, when I went there I found that there was actually quite a mixture in the "Aryan" one, for many from the "Jewish Hospital" had come over to the Aryan one because it was a better installation.
          According to Sugranes's last census report that Roy had, he had some 400 in his hospitals. However, in going around with him to evacuate them all, we found that a great number were just convalescents that were not in need of any hospital care, but were staying in the hospital because it was the best place to stay and they got hospital rations rather than D.P. rations (not much difference but a little more bread and milk means a lot to them.) Anyway, when we got thru evacuating, we found that there had only been 225 actually considered hospital patients.
            It took all day (9A.M. to 4P.M. with time-out for lunch) to move all those patients over to the main area. That hospital and compound was actually about 6-7 km from here – outside the town of "Allach" and was considered the "Allach Concentration Camp" tho' apart from the Dachau Area Camp. We moved all those patients to the 127th, the Tuberculosis Hospital, or Kuzell's hospital – both of which are right here at Dachau. I put a few patients in the 10th Field (where Bam is) as Roy wanted them to take all cases who still have typhus. Actually that amounted to only about 20 cases from that section.
             The whole procedure took so long because of various reasons.  One was that we had only 7 ambulances to use and since a number of the patients were litter cases, that meant that an ambulance load consisted of only 4 patients, and shuttling back and forth thus was rather slow.  However, when we moved the walkers, they were all so thin that we were able to put 11 in an ambulance that normally holds 8.
            Also, since so many patients were actually not hospital patients, and yet were on Sugrane's list of patients, we practically had to see every patient with the doctors of the various sections (i.e. Polish, Hungarian, etc.) and decide if they should be hospital cases, or whether they should go back to the regular non-hospital barrack, preparatory to being shipped to their own countries as fast as the various national groups could arrange for transportation.
            Then, too, we had every man sprayed before allowing him in the ambulance – i.e. sprayed with DDT.  I had myself sprayed twice during that day after being around those barracks and those poor people all day.
            That afternoon, when at the 10th Field to deliver a message to their Col., I saw Bambi and talked to her for a while. She had just returned from leave at the Riviera and was soon going on her second leave to Paree. When I heard that, I well understood what Gen'l Frederick meant about his not having felt sorry for that gang, as they had never really worked. Bam substantiated that view, as far as the Medical Officers were concerned, tho' she says the nurses have really worked at times. She also substantiated what Roy had to say when I told him about Frederick. Roy had said that no Gen'l goes in to appease an outfit as F. was doing, unless he had some galfriend in the unit. Roy's diagnosis was true.
                        Loads of love,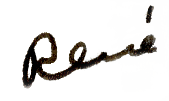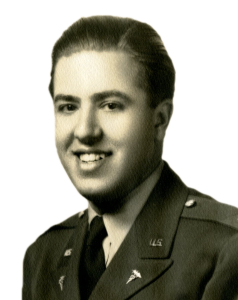 .