July 3, 1945
Ellwangen, Germany
No. 40 (continued)

Dear Folksies,

            Some of the men – the high pointers – have already started home. Have had about 12 go already. Losing our key personnel rapidly! The boys that have left so far all had over 110 points.
            Some of the officers are in Paris, Rheims, and London – going to various schools. Those on regular Medical Services got the first crack. Treadwell is in London (x-ray), Kuzell, Hodgson, Long, and Baldwin are in Paris or Rheims, which, I know not. Schwartz is in Rheims at some Surgical course.
            Some of the gals have gotten to the Riviera on leave – what a deal they have there!!
            Across from our area – across the highway and a little stream – there is a rather famous German circus that is getting its equipment all set up to go on the road on the 5th. Haven't been over there but understand it is quite a big show. Chuck Sateja, our "Stella from Fedala" etc., found that the members of one of the acts know his father and mother – from the time when the latter were over here with their circus troupe. Sateja's whole family is a circus family. A number of the members of the circus are Poles (so is Sateja).
            As I said in my last letter, I was going with the bus to take the Paris-bound gang to Strasbourg. As Clint Green was one of those getting a leave in Paris, we recruited Roy Hangar as assistant driver. There were 10 men going, four officers – Ralph Cressman, Sewell Brown, Pete Joseph & Bill Newsom. Besides that there were two men who went along for the ride. We left here at 7:40 A.M. and pulled into the Station at Strasbourg at 1:30 P.M. on the nose. Thus made as good time as the 2-1/2 usually do!! Boy what a difference going there in a bus than in a 2-1/2. The whole gang arrived there fresh, and most important of all, still clean!! They told me they'd assassinate me if the bus didn't call for them – it's scheduled to do so tomorrow.
            Instead of turning around and coming right back, we decided to stay overnite, so left the Paris-bound boys' luggage in the bus and I walked around town with Ralph and Sewell, seeing the cathedral and some of the other points of interest in the town until almost train time for them. Then went back to our old hide-out the "Hotel Mutzig" had dinner of K-rations supplemented by hot water for coffee for the boys and same for boullion for me. Walked around town after supper, almost went to a Laurel and Hardy movie – in French – "Fra Diablo", but couldn't get seats, so back to bed early.
            Next A.M. we took off at about 10:30 A.M. I drove some but Hangar drove most of the way, soon getting the hang of the bus. Actually it is a lot easier to drive than the 2-1/2, despite its length. You sit comfortably and do not shift as often, and it actually steers easily. Came back the mountainous way – thru the Black Forrest, thru Bad Freudenstadt and almost to Tubingen before turning north to Stuttgart.
       As we came thru Stuttgart, we saw the Col's car coming toward us. Harry Sharp was driving and he recognized us.  We slowed down, but apparently the Col. didn't realize he was passing us, or his mind was otherwise occupied, or I'm sure he would have stopped us for a minute.  Why?  Well, when we got home we found that at 10P.M. the nite before, the orders for the Col. to proceed to the U.S. came thru.  It was a tremendous surprise to all, tho' apparently the Col. knew it was in the offing.  I was terribly sorry not to have seen him before he left.  Apparently his last meal, at noon that day, was the time when he took his leave from the gang — all the nurses kissed him good-bye and he shook hands with all of the officers and every one of the men.  He was close to tears when he left. He was going to see his son at Vittel first and then was to fly to the U.S., so undoubtedly by the time you get this he will be home. What is in the offing for him there, we know not.
            Gerbode is now C.O.!  Temporarily, at least.
            Yesterday afternoon the soft-ball team had scheduled a game some 70 km. from here, so I went with them and the bus. It was a long way to go for a baseball game, but it was a good game and we won. Also saw part of a circus that was being shown in the town we went to – Jagsten, I think it was.
                        Loads of love,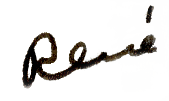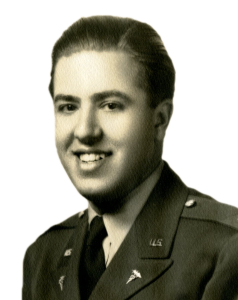 .