July 12, 1945
Wabern, Germany
No. 41 (continued)

Dear Folksies,

          The morning of the 7th, all of us unfortunates who were heading for the 108th piled into various vehicles — the men into the trucks and the officers and nurses (9 officers and 11 nurses) piled into my bus.  Away we went!  That was really a pleasurable ride and I can well imagine what it would have been riding the same distance on the back of a 2-1/2. We had comfort-deluxe! Out of the ten trucks and one bus that left from Ellwangen, there was only one truck that beat us. We went some 265 miles in 9 hours and ten minutes, which included the 45 minutes we stopped for lunch just as we hit the autobahn outside of Mannheim. The old bus really travelled along sweetly without the least bit of trouble. We all arrived clean, comfortable, and hardly tired at all. The next day the gang that arrived via truck was quite a contrast – dirty, tired, etc.
            We were not a very happy bunch coming up here, but there was one thing that boosted our morale 100% as we traveled the last 30 or 40 miles. What was that?  Well, we began seeing those old familiar square signs with the blue and white diagonal stripes, and we knew that at least we would be close to some old friends — none other than our oldest friends and best-liked gang as far as divisions go — the good old 3rd Division!  In fact, as it turned out, we are in their occupational area and naturally there have been an abundance of blue and white patchers around here ever since we arrived.  We felt like putting up signs "108th Evac. Hospital, formerly the 59th Evac."
            When we saw the place this hospital is set up in, we didn't even want to get out of the bus — merely wanted to turn right around and go back to Ellwangen to our beautiful buildings that took us so long to get in good shape.  Here we saw nothing but tents in what appeared to be a wonderful potential mud-hole.  Whoever laid this hospital out was nuts — there is such a distance between the quarters and the rest of the hospital that if the ground were not so soft, we would be running our bus around the area on a regular schedule.  As it is, the motorcycles that various members have acquired do come in handy from time to time.
            The group that came up in the bus that day consisted of, as far as the officers were concerned: Chappie, Westdahl, Armanini, Joseph, Jobe, Chatley, Blasdel and Cy Johnson. As Chappie was the ranking officer and I was the only one who knew anything about the movement plans, about the supplies, the motor pool, etc., Chappie and I met the Col – Yarborough by name ("Yardbird") – a regular Army man who, we found, was hoping to be transferred to the 59th to stay with the majority of his old outfit. Apparently that has fallen thru, however, for he was supposed to have found out if he would be going there by last nite and no word came thru at all. The Chief of Surgery was Lt. Col. Richard Weeks who, however, was on the same order as Gerbode, Greene, etc., and consequently pulled out the morning after we arrived, likewise heading for Thionville. Chief of Medicine, remaining here with 85 points is a very nice guy by the name of Burlinghof, a Lt. Col.
            Found that the ranking major of the 108th who is staying behind was a Major McKee and, unfortunately, he outranked Lou Huff (Lou being our ranking major since Greene was going homeward) so he is now Chief of Surgery.
            There are only 4 other officers remaining behind from the old 108th. There are only a few of their nurses left here – just those over 40 years of age and those who are married.
                        Loads of love,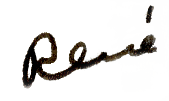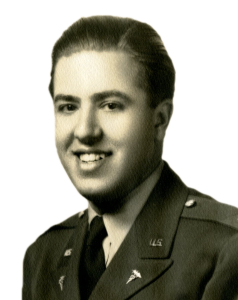 .