February 26, 1944
No. 6

Dear Folksies,
         Everything has been purty slow during this last week. Bill Kuzell and I had a rushing business for some days there, everything in that line has calmed down and we could consolidate our three wards into one if we so desired.
         Have felt fine, but having nothing better to do have loafed a good deal, read, and slept. Had the usual weekly walk downtown to pick up candy and cookie rations at the PX and also went to pick up the cart I'm getting for Amie, but, as usual it is the same old story — not ready yet. However, I expect to get it on Monday if I get a chance to go back there then.
         Have just had an intermission. Little "Snuffy" Thraves, our mail clerk, has been in here and we've had quite a talk. He certainly is a card — wish you could know him. For a time in Africa he worked on the wards, but he didn't like it much and he was put back as mail clerk. Then when we got here he was made a Sergeant. He is extremely reliable and takes an interest in everyone's mail personally. He's one heck of a good kid. He's really the "darling" of the outfit. He always has confided in a few of us — all his personal little troubles, and it is really a pleasure to talk to him. One would think that he is only about 15 years old, when actually he is all of 24. When he talks to you he usually inclines his head to one side and has quite a twinkle in his eyes, but talks most seriously.
         Another intermission: Kay Magee just called me over to pass judgment on two cases that turned out to have positive throat cultures for diphtheria and then, in passing through surgery I found they were doing a splenectomy – the first we have had in the whole time we have been working. There was too much of a crowd around the table to make it worthwhile staying, so will get the story in the A.M.
           Yesterday one of my ex-patients returned to see me – a young Lt. who is quite a good guy – despite being air-corps — he was one who had diphtheria. At one point during his treatment he had so much excess energy to let off that he did some exercising, 8 push-ups, proceeded to sit down on his bed and then passed out – hitting his head on the radiator and opening up a hole about 2 cm. long. It was just at that time that we had some nurses boarding over in that building, nurses from another outfit, and they had the room next door to the ward my Lt. was in. So, we proceeded to accuse him of having stuck his head into their room and having the gash in his head as a result of contact with a thrown shoe. Finally, we talked so much about it that that was the story he actually gave to everyone else that asked him about his gash from then on.
            Received the package of developing paper, Pop – Tanks a million. Did quite a bit of printing this afternoon – most of the trip for the gang of boys that had been on the trip.
           Today, we had ice-cream. Reilly brought it off one of the ships he visited — brought enough for all that came into the Club before dinner. It was vanilla and very good. That's the Navy!
           Ehrbacher tried something new the other day — a lemon-meringue pie — and it turned out to be mighty good. He just came in now and he and Wy are going to fry some eggs, so I don't think that this is going to be able to continue much longer — i.e. the letter — too much interference. Yeeooow, they just pulled my chair out from under me. This is getting to be too much!
          Herman Kuhl, our top Utility Sgt., all-around handy-man, etc. came out with a prize statement today. You see, Herbie Ehrbacher is quite a good cook besides being a baker. So Kuhl said today that he's "going to follow along with Herbie in the Army throughout the war, and when the war is over he is going to marry the guy." Well, the eggs are frying so I'm going to have to quit—–
                                                                                            Loads of love,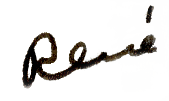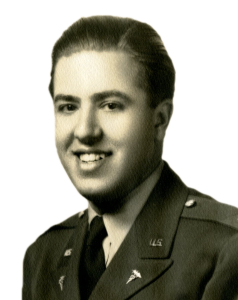 .