December 6, 1944
Epinal, France
No. 70 (continued)

Dear Folksies,
            Mathilde, as you know, died in Nice in March of this year. Jeanne and David were with her, but Lilice and family had already had to leave. Why Jeanne and David remained, Jean-Pierre knew not, but apparently they got away with it at first and then when they did try to get away, they could not, so they remained there – indoors practically the whole time.
            Jeanne and David only about a month ago went back to Paris where they were staying with Mme Weil, while looking for an apartment — everything of theirs having been taken long before. But then while I was with J.P., they got a letter from Lilice saying that Jeanne and David have gone back to Nice at the moment temporarily as they were unable to get any apartment in Paris!!
         Apparently David's business did not become a complete loss after all for, according to Jean Pierre, David had an excellent and loyal secretary who was able to continue with the business to some extent. It being primarily an importing and exporting business, I don't quite understand that, but probably there was more to it than that.  Anyway, Jean Pierre thought David would be able to go back into business without too much trouble.   
            While in Nice, after the Germans took over, and while dining with some friends, all were apprehended and when examined were told that they were Jews, which they denied — their name being at that time Salavan.  They were taken to the jail where one of the ladies with them announced that she would be seeing the others no longer as she had taken the poison that she always carried on her.  Jeanne and David had always done likewise, having a small concealed vial in their clothes somewhere, just in case of such an apprehension, but for some reason did not take the poison at that time.  And, for some reason that they cannot understand, they were released the same night.  They hurried to a drugstore and got something as an antidote for the poison and the other lady came out of it O.K.   
            Anthony, as you know, was a Captain in the French army, and has been a prisoner in Germany for several years.  Paulette, his wife, and her four kids are all O.K. and are somewhere in the center of France. 
            Henry Leon, as you know, died about a year ago. Sadie, as I told you in my last letter, was taken and deported to Germany not so many months ago.  Sometime in the spring, apparently.  She had never left Paris, had hung on to everything and tried to keep her home, her property, money etc., and was apparently bound to be taken.  However, she could not, at any time, be convinced that she should leave Paris as the others had.
                                                                                       Loads of love,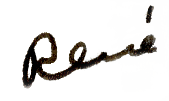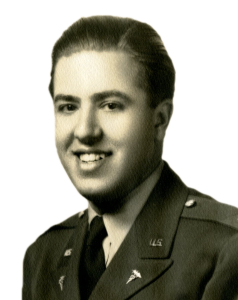 .