August 18, 1942

Camp Kilmer, New Jersey

Dear Folksies,
       I phoned Alain at noon yesterday and he drove here by 6:45 P.M. He is only about 25 miles away. He has a nice, rather new, Ford coupe. He has changed little, except in his viewpoint towards the Germans. He was most jovial, and in fact, got quite a kick out of our troubles last night when, in a drenching downpour, when the whole Post was a mass of large puddles, he drove into a 2 ft. deep ditch by the Nurses House, where we were going to pick up Lois.
       We couldn't get the car out of the ditch until we waded out of the car and bumped into one of our sergeants driving a truck. He pulled us out of the ditch but the motor was so wet we couldn't get it started.
       We decided to let the engine dry, so we went into the lobby of the Nurses House where Alain was most informative and not too reluctant to talk about some of his experiences. Most of what he told us was in his letter to you, but he added considerable concerning the German prison camps, the food, treatment, etc. – which, of course are considerably different from the concentration camps.
       Alain said he got out of Paris by having Raoul disguise him as a brakeman on a train and he was perched on top of a tank car, waving a lantern for 250-300 miles. But, how his grandmother ever got out (of Paris and made it to Nice) is beyond him. He said that David Salomon is also in Nice.
       Alain finally got his car started after we were shoved a few times and left here about 10 P.M. He will probably be with us, or vice versa, another day this week.
       Today we got our helmets – the new type that are in 2 parts – inside for protection against sun, and outside steel for protection against bullets, shrapnel, etc.
       It looks pretty much as if we'll be going pretty soon – within a week, possibly and the chances are probably 9 to 1 that we will be seeing the U.C. unit in the near future.
                    Loads of love,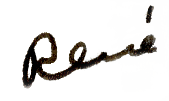 P.S. Start numbering your letters so I can know if I get them all. I will start numbering after we leave here.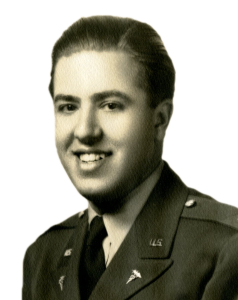 .