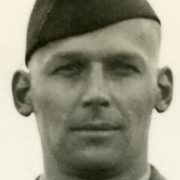 Here, on April 17, 1945, is Part Two of the entry from the journal of Dr. Philip Westdahl about his "good fortune to take part in one of those rare experiences of drama in every-day life."
We could find no criticism of the care the lad had received in the hands of the Germans. They had used sound surgical judgment and good nursing care. However, they had no penicillin and their supply of blood was very limited, and without these essential supplies the majority of their patients went on with wound infection and subsequent emaciation. We learned that this was the usual condition amongst patients, both German and American, who were found in captured German hospitals. The boy spoke well of the German doctors and nurses, and they in turn praised this American lad's spirit and patience.
After a careful examination it became evident that the boy's leg must be amputated as a life-saving measure. We gave him a transfusion to improve his condition to stand surgery and the resulting rise in his blood pressure produced another severe hemorrhage from his wound, the blood pouring out faster than we could put it in by transfusion. He was rushed to surgery and while receiving several transfusions, his leg was amputated without delay. His condition was very critical for a few hours, but during the course of the night, with the bleeding stopped and the badly infected leg removed, he improved remarkably.
The following day he was a different boy. His lips had regained their color, he felt stronger and was able to muster a cheerful smile. During the next few days, with further transfusions and a return of his strength, he was in much better condition and able to be transferred by air to an American Army hospital – the first step in his journey toward recovery and home.
I learned that the boy's parents lived in Alhambra, California and asked him if he would like me to write to Georgia [Phil's wife] and have her call on them. He was still smiling at this prospect of comforting his mother and father when I left him.
Before flying back to the 59th, Col. Mathewson [Mattie] and I had a brief opportunity of seeing the city of Heidelberg. Famous for its university and medical atmosphere and as the setting of the musical "The Student Prince," it was filled with tradition. We saw the ancient university and famous drinking clubs or beer halls with their picturesque beer mugs lining the walls, and tables carved with the initials of students of the past. The city is situated on the banks of the winding Neckar River. The streets in the older section of town close to the river are narrow and cobblestoned and lined by small, pointed-roofed houses. High on one bank an ancient and picturesque castle overlooks the city and river below. It is one of the prettiest cities I have seen overseas.

.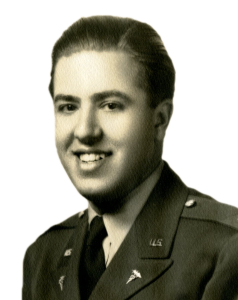 Next letter…