April 11, 1945
Tiefenthal, Germany
No. 28
Dear Folksies,        
       Am on 2nd call tonight and it looks as if Bret and Chuck are going to be able to handle things, so shall probably stay over here in Surgery a little while and write a couple of letters. The last two nites the "Gang-Greene" was on 1st call and we were kept busy thruout the nite. It always happens that way to us – not that we mind working, for that is what we'd much rather do anyway, but, like stoops, when shifting from the day-shift to the nite-shift, we assumed that things would happen to us as they had been happening to the others the past few nites, i.e. work till about midnight and then be able to sleep thereafter —sooo, instead of sleeping some during the day that we were going on nites, we did not, and by the time the A.M. rolled around we were somewhat pooped. But, we've made up for it pretty well by now.
       Last nite it wasn't the quantity but the quality that kept us going all nite long. In fact we only did 4 cases the whole nite and one of them we had Armanini and Westdahl working on the same guy at the same time. It was a Kraut who had been taken prisoner and had been marched back thru what was apparently his own town. So, I guess he decided to stop off and have some sauerkraut – well, now he is sour-kraut alright. He was riddled with three shots in his right arm, two in his left arm, two in his upper thigh and one almost squarely thru the upper part of his belly. Why the guard was such a bum shot, I know not. Out of all that, he only got two fractured ulnae, fractures of all metacarpals of his left hand, and, of course, the more serious belly complications. The bullet that went thru his belly lodged between the 2nd and 3rd vertebral bodies, thus not quite reaching the cord. In its path it only went thru the stomach, jejunum, duodenum, and the vena cava and left renal vein. Everyone, of course, is mighty interested in what the outcome is going to be if the guy should live. During the operation he was in such shock that we had to literally pump blood into him. During the 5-hour operation we gave him 4800 cc of good American blood. At the end, his pressure was still only 80/50, but tonight he seems to still be alive.
       The weather has been considerably better these last few days but the nites, or rather, I should say the early morns, are mighty chilly. Today was actually so hot that it was difficult sleeping in the tent until I raised the sides and let the wind whip thru a bit.
       Good movie tonite – Danny Kaye in "Up in Arms" – screwy but good…
       Two days ago I received the most amazing and interesting letter and since that time there have been at least 40 people who have read it.  I started out by showing it to one or two who knew the author of the letter, but soon found that the letter had gained fame by itself and now I have requests to "See that wonderful letter you got." To read the letter from René's friend Norm Stimmel, who has been serving in the Pacific Theater on the mine-sweeper the USS Scrimmage, click HERE.

       Walt Byers left us some days ago, as I may have told you – he was given his own Surgical Team and Klemperer got a new assistant. Walt, I believe, went to help Lynn's outfit. And now Klemp is gone, he and his full team, to one of the new Evacs that has OB men doing their surgery – sure they need him, but we will miss him greatly. He was swell to have around, not just for the work he did and saved the rest of us, but because of himself. He's quite a character and we all hope that he will return to us.
       Our French cooks both returned — a difference in the mess already!  Yes, Henri returned with his daughter and Eldes returned with his wife, leaving the kids behind this time.  They were mighty glad to return and we were certainly glad that we could have them back.
                         Loads of love,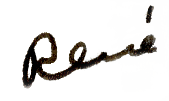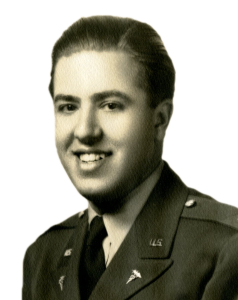 .