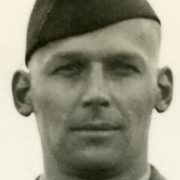 This excerpt from the journal of Dr. Philip Westdahl around March 25, 1944, tells the story about the unit's short stay at St. Avold, which René couldn't tell his parents due to censorship rules…
We worked day and night for six days before the breakthrough into Germany and our casualties became light. The casualties consisted for the most part of mine and shell fragment injuries resulting in multiple and frequently mutilating wounds. Being the first Evac. Hospital in the chain of evacuation from the front, we received the most severely wounded men, while others were sent further back. Consequently we had a good many chest and abdominal wounds.
Every night during our stay in St. Avold we could hear the continuous pounding of the artillery and see the sudden quick flash from the muzzle of guns that momentarily lighted the sky on the horizon. Now and then a German plane would come over, but only for observation. Air raids were almost a thing of the past. However, we operated under blackout conditions to be on the safe side. During the day, of course, our huge red cross identified us as a hospital. 
On March 26, we were on the move again, this time into Germany.
.