Here's are excerpts from a letter that Lois McFarland wrote, on January 28, 1943, to René's parents and his sister, Barbara (known as Bobsy).
January 28, 1943

        Last night was just like Xmas for us – oh golly – it was so exciting! I want to thank you all just squillions of times for the perfectly beautiful nightgown and the ever-so-much-needed white shirt. You are all darlings!
       René and I had planned on going out to dinner last nite, early. He was a little late in getting here, and then I delayed us even longer, for he'd brought oodles of mail for the nurses, and pitched in and helped sort it, so I could have all mine before we left. We finally started downtown, with about 25 unopened envelopes between us. The suspense was terrific — it'd been so long since we'd had any mail to speak of.
       When we were seated in the restaurant, they brought our consommé right away, so René said I had to eat it all before I could open any of the letters. So you can imagine how fast I downed it. And then we picked a few letters at random, and read them together, between courses. It was the mostest fun.
       After dinner, we sauntered home again thru the pitch darkness. When we got there, lots and lots of packages had arrived. I had four, and we tore into them with all the zest of Christmas Eve! Everything was so lovely and I was so excited I could hardly contain myself.
     First we sampled Bets' chocolates. Then came Tante Marie's and Uncle Lou's beautiful compact. Then your lovely gown. And Sally's and Grandmother's adorable p.j.s. Then my Nana's big box of "goodies" with fruit cake, nuts, raisins, candy, dried fruit and gum, with a little writing portfolio and some stockings tucked in. The white shirt you sent me came today — and we all enjoyed the "Don't open 'till Christmas" on the box!!
     Everyone in our quarters is hustling about getting packed. We move into tents with the rest of the unit early tomorrow a.m. I'm so used to this packing and moving business — seems that's about all I've done all my life — that I finished it all in very short order.
     We are sort of sorry to leave this beautiful building, but none of us mind moving into tents. It's what we expected when we volunteered for overseas service.

     We're trying to arrange to rent a car, a Plymouth 2-door sedan, for $2 a day. Just for the nurses, and we'll all chip in. We're hoping Col. B. will approve — he hasn't been approached yet. But we've no other means of transportation, since we're prohibited from riding bikes or riding in government vehicles except on official business.
                                              With loads of love,
                                                               Lois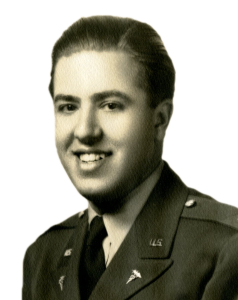 .