April 21, 1943
No. 22

Dear Folksies,
            I was kept busy all afternoon today, giving a couple of spinals and helping Bert put a cast on a leg that was nicely chewed up by bullets. Have been seeing quite a few of these and all are being treated by closed casts, leaving the wounds open for the most part – particularly when nothing else but leave them open can be done anyway. I know, Dad, that you're interested in the treatment of these, but the only difficulty we have along that line is that we don't know the final outcome in most of the cases we see. Those back home will know more about that than we will, as they will see the final results of the treatment given these patients initially and secondarily by us, etc., on back down the line.
            As for other cases, we have seen the usual run of twisted knees, fractured arms, etc. along with numerous low back pains. We had one of the latter the other day that undoubtedly was an intervertebral disc, but we are not allowed to do these – particularly as our x-ray is not equipped to take the specialized films needed. Here, again, we lose sight of the final thing because we have to turn them over to someone else.
            Paul Stratte dropped in the other day, having had quite a long drive with a fellow in the Red Cross that is at the same place he is. He is working in a dispensary and is going to be a captain in a couple of weeks, and will even have a junior officer as assistant and will be the Area Surgeon for the area he is in. He still has hopes, however, and so do we, for him, that he will return to the fold. Which reminds me, Ed Cane left us a couple of days ago, as I told you he probably would.
            Jim Hamilton heard last night the he is the proud papa of a gal. Another gal, by golly, to be added to the "59th Kiddies Club." Hal Williams and Lou Huff are the 59ths only hope right now. They have each got one (that's all, they hope) cooking, and, in fact, Hal is a little over due as far as hearing about it is concerned. We've been kidding him that we have had apparitions and that he is going to not only have a boy, but it will be two boys. As I think I have told you before, that since the 59th has been organized a little over a year go, there have only been two boys born to the clan and both of those were to enlisted men.
            As I told you, the non-com's were to have a party last night. Well, they did, and what a party it was. Davis, Fadley, Shapiro, Russell, the Col., and I were the only officers there and it really was a kick watching that mob. There were about 75 men, 25 nurses, and 15-20 French girls (student nurses). There was plenty of wine but only a few of the men had too much, and we handled them o.k. Otherwise it was a really good and hilarious party. The band was a Negro soldier band and they were good. They only had short intermissions, so those poor nurses really had a work-out. They didn't have much of a chance to sit down and because of the greater number of men there was continual cutting in going on. So much so that George and I figured out this morning that during the whole evening we each got less than one minute of actual dancing in with our gals.
 Loads of love,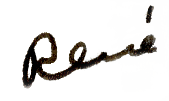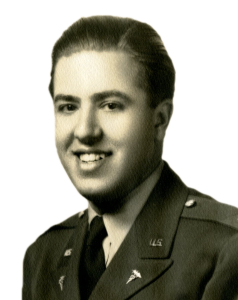 .