April 12, 1943
Continuation of No. 19

Dear Folksies,
       I have about $180 plus $40 in Traveler's Checks on hand, so I shall wait a little and then send some on. I am waiting to see what new stuff might have to be bought when we change into summer clothing, instead of the woolens that we are still wearing.
       The PX here is getting things rather adequately and I really can't think of many things that I would want that they aren't able to get here. However, one thing I would like is a good pair of dark glasses – I have mine but I recently split the frame and have it taped together. So, if you can manage to pick up a good pair, I would like one. Good camera film and printing paper for films are hard to get, and in fact impossible to get now, so the more of that you can pick up, the better.
       Pete Joseph is doing better, as is Cy Johnson. Gee, I don't believe I told you about Cy. He has a nice duodenal ulcer, and though 'tis a reason for sending men home, he doesn't want to and they are treating him conservatively at the hospital. Boston therapy I guess. Anyway, he is doing fairly well. This morning, George Wood had his gall-bladder and two nice-sized stones yanked out of him at the same place. He wanted Mattie to do the job, but the other C.O. wouldn't allow such an interchange. George has been bothered for a few weeks and Mattie said that when opened he had a subacute gall bladder with two fairly large stones, none in the duct and no swelling of the duct, but some minor thickening of the head of the pancreas, probably from the inflammation.
       George Davis' promotion party that we had was really pretty good. Those there were: The Col., Collie, Cane, Cohn, Fadley, Chappell, Davis and me. The females were, in order of "withs": Irene Gallagher, Johnson, Bambino, Delpech, Ann Dunn, Liz and Lois. We had a large table at one of the restaurants out a ways, had specially cooked steaks an all-around specially cooked meal. Had plenty of wine and some champagne.
       Hamilton, Bill Newsom and I rotate being on call for anesthetics for 24 hours in a row, and thus we only work there one of our 3 days – from one noon to another. The other day the phone rang and Roy Cohn had a case he wanted some Pentothal given to, so he could manipulate a fractured femur. I barely got done with that when Mattie had an appendix that needed a spinal. And so it goes.
       Besides being on anesthesia call and besides having the one ward that I have now, I am Louis Huff's assistant on the surgical team that is on call about once every 7 days. The other night I fixed up a gunshot wound of the foot and a dislocated elbow, but otherwise nothing exciting happened.
       Down in Isolation they now have about 4 different guys running the place and things have slacked off somewhat. I'm glad that I'm out of there now, but it was good activity for a while. While I'm on that kind of a subject, I thought you'd be interested to know what Chuck Schwartz said to me the other day. He told me that he'd rather have Lois on his ward than anyone else, because she isn't afraid to do anything on her own on the ward, and now all he has to do is order I.V.'s to be gotten and though the officers give them on all the other wards, Lois is the official I.V. giver on the wards she works on – and it seems she never misses.
 Loads of love,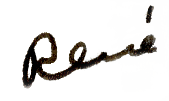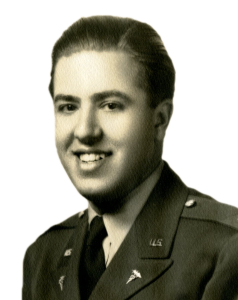 .
Click here to add your own text