July 4, 1944
No. 34
Anzio, Italy
Dear Folksies,

           Nothing of much consequence in the last few days. Continuing with slow business and also continuing with the usual civilian stuff. Have just now finished giving my French a work-out talking to a couple of French Lieutenants concerning a couple of their patients that I have. They both came from the petticoats of Paris, originally.
            They've finally gotten some sense when it comes to the showing of movies in our area. Rather than have everyone swelter in the tent for an indoor showing, and then having to show it two or three times to let all the people a chance to see it, they have now built an outdoor stage and screen and things are so shaded that it does not violate blackout rules. There is, therefore, plenty of room for all to see the show. The only difficulty, however, is that it keeps everyone up somewhat later than they should be, because the show cannot be started until it gets at least partially dark. The moon at this time of the month, too, is no added help, as it has been darn near full. One thing, the days are getting shorter now, rather than longer and we can gradually advance the time of the showing as time goes on.
            Have a good Tahoe Time for me.
                                                                                        Loads of love,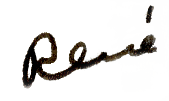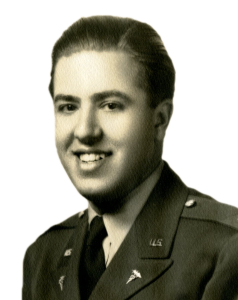 .
Watch for my next letter
July 20, 1944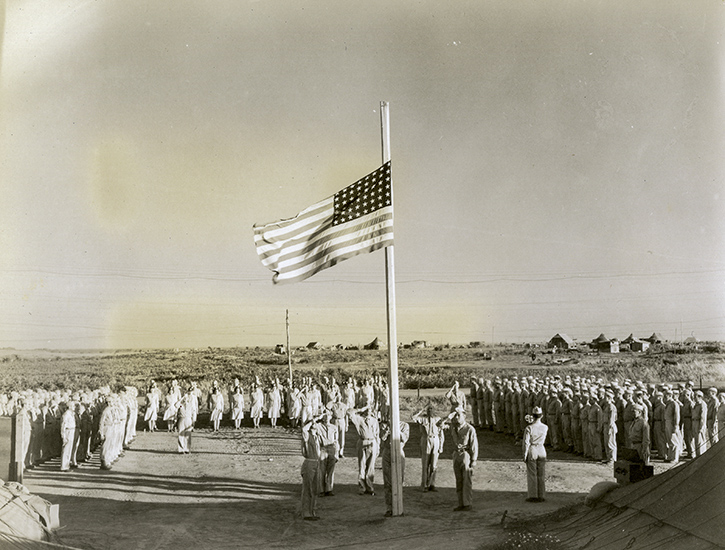 Click here to add your own text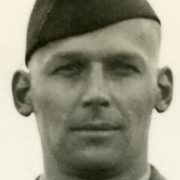 Today is Rene's 29th birthday, but since we don't have a letter from him, here's an excerpt from the journal of Dr. Philip Westdahl about the unit's departure from Anzio.

---
---



       By July 12, the day of our departure from Anzio, the old beach head had become a desolate spot, far out of the way of the war. Only the innumerable foxholes and occasional abandoned and wrecked guns and planes remained as landmarks to tell the story of what was once the site of very bitter fighting.

       As usual, when units leave an area, all sorts of old, but usable, equipment was left behind, such as helmets, cans of oil, innumerable gasoline cans, torn, but repairable tents, lumber in abundance. All of these things are small in themselves, but when multiplied by the thousands, their cost – to be borne by taxation for decades to come – becomes a mighty personal problem.

       Our route took us through Littoria into a now famous Highway 7 (the Appian Way) through Itri and Terrancinia and Formia, still masses of rubble, but slowly witnessing the return of their inhabitants. We passed through the Pontine marsh area, and noted that the acres and acres of farmland flooded when the retreating Nazis opened the flood gates were gradually showing their soil above water. Watermarks midway up on the walls of farmhouses served as markers of the ruthless desperation of the enemy.

       Wherever the water had receded, even though it be only a few square yards of soil, the civilian occupants had started its cultivation. Where bridges once crossed the large drainage canals, industrious old men now ferried the traffic across on crude, flat-bottomed boats – carefully avoiding collision with the partially submerged concrete and steel of the former bridge.

       On all major highways the efficient work of our own Army engineers had restored all railroad and highway bridges to accommodate even the heaviest loads. Such familiar landmarks as the Mussolini Canal and Volturno River, scenes of well-known battles, were the sites of our most impressive bridge construction.

.

Watch for René's next letter on
July 20, 1944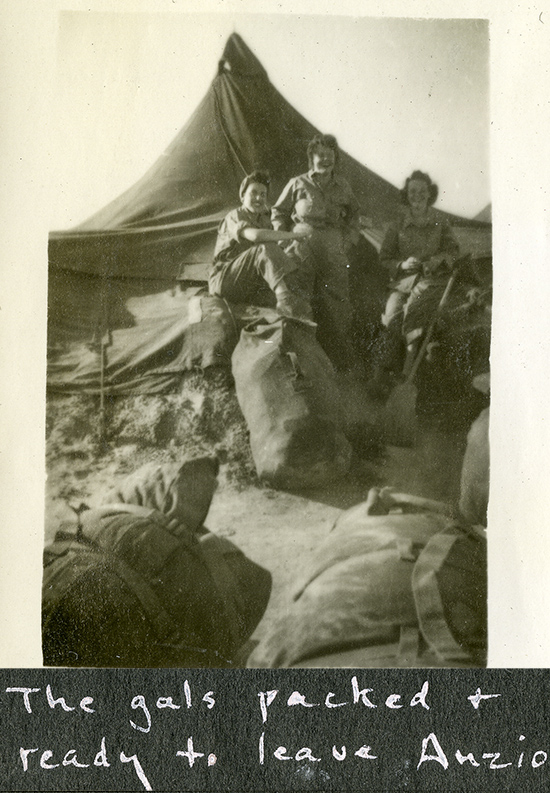 Three of the "gals" (nurses) packed and ready to leave Anzio.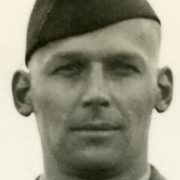 No letter from René on July 18, 1944, so here's an excerpt from the journal of Dr. Philip Westdahl about the unit's new locale – "a field between Battipaglia and Paestum" – about 30 miles south of the Amalfi Coast.

---
---



       Salerno, like so many cities on the coast of Italy, as well as Sicily, is built on the side of a moderately steep mountain arising from a very picturesque crescent-shaped bay. It is a much smaller city than Naples – having only one main street which is the highway through town. The adjoining side streets are quite narrow, as in most Italian towns, barely admitting the passage of one-way traffic.

       The chief attraction of Salerno is its beach, a picturesque spot thickly covered with rickety painted bath houses. The naval vessels in the harbor add a war-like atmosphere to the otherwise peaceful summer resort.

       The actual Salerno landing took place on the beach at Paestum, a small town about 35 miles south of Salerno. Here the beach is long and flat and sandy and ideal for an amphibious invasion.

       Paestum is the site of some ancient Greek ruins, the temples of which are in a remarkable state of preservation. Ironically, one of these is the Temple of Peace.

       Shortly after our arrival in this area and before setting up our hospital, I went swimming on the same beach which many months before had been the scene of very bitter fighting. A few battered landing craft lay half buried in the sand and the mast and stack of a Liberty ship protruded from the waves as reminders of the occasion.

       The 59th [currently is functioning] in a field between Battipaglia and Paestum [and we are] quite active, taking care of illnesses and casualties of the troops on maneuvers in the area.

.

Watch for René's next letter on
July 20, 1944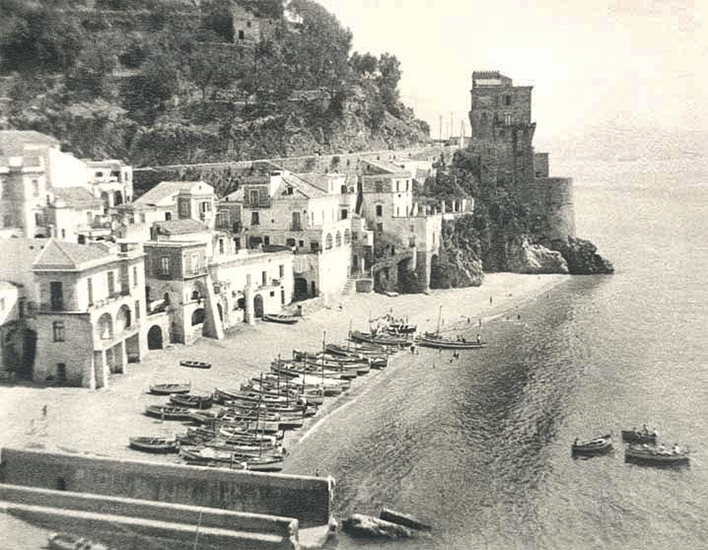 The unit is currently stationed about 30 miles south of the Amalfi Coast.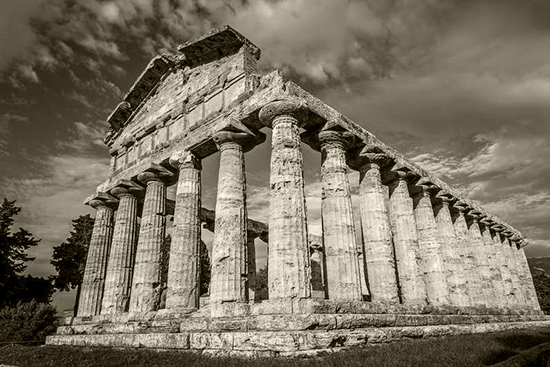 The 59th is now located not far from the ancient Greek temples at Paestum.

July 20, 1944
Battapaglia, Italy
No. 35
Dear Folksies,

            Yep, I've been a bad boy again, but unfortunately due to circumstances beyond my control for the most part. I admit that I could have scrawled a short note to you by writing on the fender of the command car, but it would not have been mailed until two days ago anyway, so 'twould have been almost useless. Every day I kept thinking, well, tomorrow I'll be where I can get a typer and then I can write, but things were most exasperating, as I shall forthwith describe.
            At the last station I continued busy with the V.D.s and occasionally busy at nights as Receiving O.D., swimming a few times, reading and sweltering. I managed to make a couple of more trips to Rome, but did not have time to do much sight-seeing.
            Just a few days after writing the last letter, things started popping and we started cleaning house rapidly, but this time we went in reverse — it's the first time that the gang has retreated or retraced footsteps. Things were messed up again this time, though nothing like when we first got to Italy. This time the fault was not really with our outfit, but with the bunch that was supposed to move us. Of course, with Collie and then Vallar as Forward Party this time, along with Morduant (the latter did O.K.) everything in the new area was sort of a jumble. Result: a shake-up. Bishop is now Detachment Commander in place of Vallar. Jack Dunlap is Adjunct. Bish is instituting several new things in his new capacity, some good, but also some not quite to the taste of the men. One Sgt., a damn good one, already turned in his stripes, as he can't get along with Bishop. But…I'm getting ahead of my story.
            As I started to say two paragraphs up, transportation was our main difficulty. I happened to be playing bridge with the Col., Bell & the Padre when the Col. got the call about us being on the go. Mattie, Gerbode & Cohn were up near the front at the time, visiting our former neighbors from Africa. The Col. decided that I should be the rear echelon along with Fadley and Dunlap, so soon all the officers and a good part of the men had gone. However, the Old Man decided to stay awhile himself until he got enough transportation to move at least a good percentage of our stuff. He figured that with rank on that end of the wire, it would be better than just a Capt. yelling for transportation if there was any trouble.
            But the funny part of that was that one day when no transportation was in sight – after the officers had gone, he decided to take off sight-seeing to Rome with Jack, as neither had been able to sight-see there at all. While he was away, Fadley and I decided to try our luck with the phone. Finally, after several hours of trying to get through, we managed to succeed and got a promise of transportation. All without the aid of the Old Man's rank. Actually, the Col. was swell while he was here the few days, with just the three of us other officers. It all went to prove to us, at least, that if we were able to get rid of that burr (Collie) that is always sticking under the saddle and needling the Col., everything would be 100% better and the Old Man wouldn't be a bad egg to get along with. Fad and I were very greatly surprised too, when it came time to load, when the transportation finally arrived, that the Col. didn't even come around – no suggestions made, and it was all left up to Ken and me.
            Then, when the greater percentage of our stuff was on its way, the Col. took off with Jack in his command car, leaving Ken and me with a command car and a small group of men. We expected to be able to get out the following day, so what do we do, but have all tents down, move out of our sleeping places to the area where we had the one truck and the command car parked, near the remaining equipment. Were we ever fooled! Instead of sleeping there, out in the open, the one night, we were in the same spot for some 4 days. It was really a scream! Each a.m. we would pack up our sleeping bags, fold up the cots and stuff things into the command car and then that night, with still no transportation in sight, we would have to unfold and set up the cots and sleeping bags again. Naturally, as such things happen, when we finally got disgusted and in the a.m. said, "To Hell with it, we'll leave our stuff set up today as we probably won't leave today!" sure enough, we were out of the place just after noon.
            We had quite a long ride, but it was pretty comfortable in the command car, top down. Ken and I had gotten pretty darn black in those last few days and the wind on the way down served to intensify that blackness, so that they were ready to put us with the Goumes when we arrived. Of course, we were kidded because of our supposed "furlough" while all others had been down here straightening things out and working pretty hard.
            One thing we had those last days there alone was excellent food. Our Mess Sgt. had, just before the biggest share of the gang left, drawn enough food for that big a group and a little more — and as a consequence we few that were left lived like kings as far as food was concerned. We managed to have eggs fresh, fried, for absolutely every meal for several days – breakfast, lunch, supper and evening snack if so desired. And, what's more, we didn't just have two eggs per sitting but from 3 to 5 eggs per sitting. Those were the first eggs we had had since leaving Sicily and even the 5 per meal didn't make us tire of them. (If I get hardening of the arteries, now, you'll know why!)
                                                                                        Loads of love,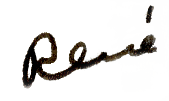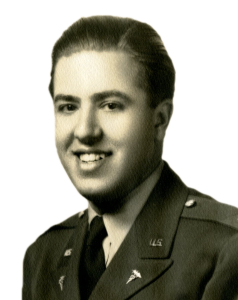 .
Watch for more of this letter
July 21, 1944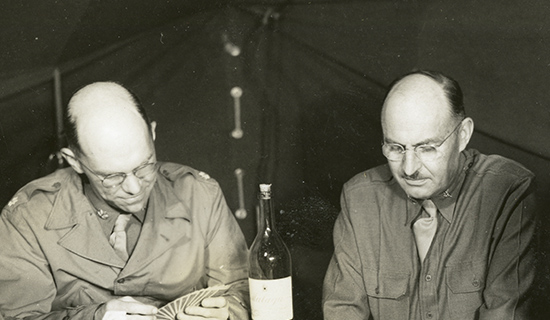 René tells his parents that when William Collie (shown above at left) "that burr…always sticking under the saddle," was away, the "Old Man" (Colonel Oral Bolibaugh, shown above at right) was "not a bad egg".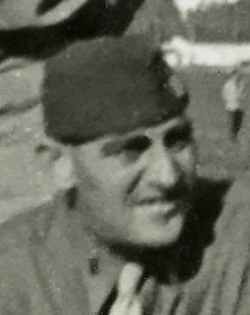 René and Ken Fadley had quite a time together waiting for transportation to the 59th's next location in Italy.

Click here to add your own text
July 21, 1944
Battapaglia, Italy
No. 35 (continued)
Dear Folksies,

           Well, we can't say that we haven't been in spots that at least were once hot-spots – but we get there after things have cooled down considerably – doggone cool, as far as this spot is concerned. I don't mean to infer that we aren't busy, here, however. But primarily with medical and V.D. stuff. We took over where another gang was leaving and things were in a royal mess. Patients in some wards hadn't been seen for a couple of days and things were in a general state of confusion. For a few days after we took over, we were finding patients that we didn't even know we had – sometimes we would find a patient without a chart and sometimes a chart without a patient.
            But, now, and, in fact, in the last couple of days, things have been running smoothly as far as the medical and surgical end of it is concerned. Since so much of the stuff is medical, some of the surgical captains are again on the medical service, as they were in Sicily. I've got the V.D. still and for number of patients I have about twice as many as anyone else. But with Sgt. St. Marie and two other excellent workers, things run smoothly and all I have to do is see the patient, write history, orders, and finito for the most part.
            We've got things down to quite a system. When a patient comes in that office, they go through a regular production line – à la Charlie Chaplain movie of many a year ago. For diagnosis, line-of-duty, type of treatment, date, discharge to duty, etc., we have stamps made — so all I have to do after the history and physical is written is start the stamps agoing. It really is a tremendous time-saver.

            Had our first malaria death last night. Another darned interesting thing we have run into here is the black-widow spider. We have had quite a number of cases and I don't know of any type of patient that has as much pain as those patients do. Even the acutest renal colic cannot touch these. The patients come in usually a couple of hours after a bite with an absolutely board-like abdomen, pain (burning) in the soles of the feet, pain in the legs, back, head, and most of them with severe tremors. We give them fluids I.V., Morphine, even I.V at times, calcium gluconate, Pentothal, Nembutal, plasma and just about everything in the book. Some are dramatically relieved by the calcium, but most of them we have to keep giving it to them and Morphine also. Nothing whatsoever seems to relieve the burning pain, which is awfully severe, in the feet. So far, all are well, with the exception of a sort of exhaustion state, after 3 days. But, during those three days, everybody is sweating blood trying to give the patient some relief.
                                                                                        Loads of love,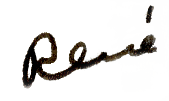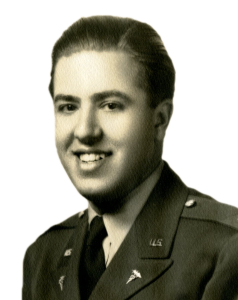 .
Watch for the conclusion of this letter
July 22, 1944

Officers' tents in Battapaglia.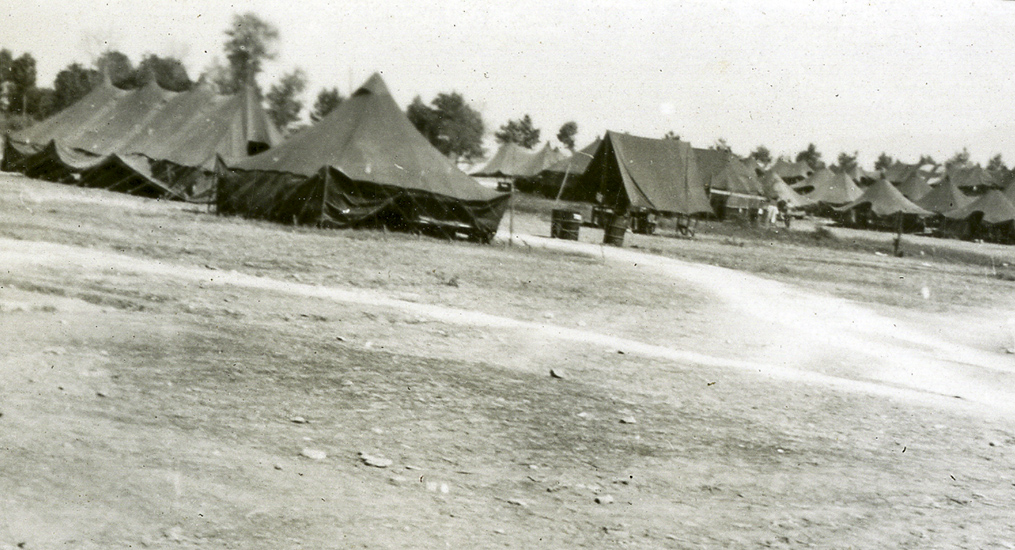 Battapaglia hospital tents.

Click here to add your own text
July 22, 1944
Battapaglia, Italy
No. 35 (conclusion)
Dear Folksies,

           Today is another day and here I am back at my own typer. Nothing particularly new today, except for a few improvements in our ward routine – now we are the Kaiser production plant of the 59th. We run our patients through so fast that it would almost make Henry Kaiser blink his eyes. Now, anybody with G.C. [gonorrhea] who comes in before 8 P.M. gets treated with penicillin and is out the following morning, no later than 8 A.M. Results are good too – of course, not all are cured in that time, but they return and are O.K. after a second or possible third course in 99% of them.
             Oh yes, incidentally, Collie got his Lt. Colonelcy sans congratulations from any but the Col. As Mattie put it, he couldn't have congratulated him with a straight face, so 'twas better not to at all – that's the way all the rest feel.
             Finally got a rapid-fire glimpse of Pompeii and also a better look at Naples. Think I've had pretty much my fill of sight-seeing, however. As I've said, before, again and again, I'll take Tahoe!!
            Dad, I'm interested and agree with your comments regarding the war, but do not quite understand what you mean by France not helping much. It seems to me that at the moment they are doing pretty well, considering what odds they are facing in France. Over here, they are apparently doing a good job, i.e. the combat troops. Their men take to jeeps like a duck to water and they go scooting all over the place – it's funny to see.
                                                                                        Loads of love,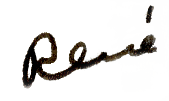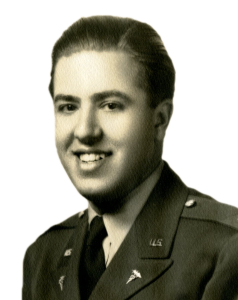 .
Watch for my next letter
July 24, 1944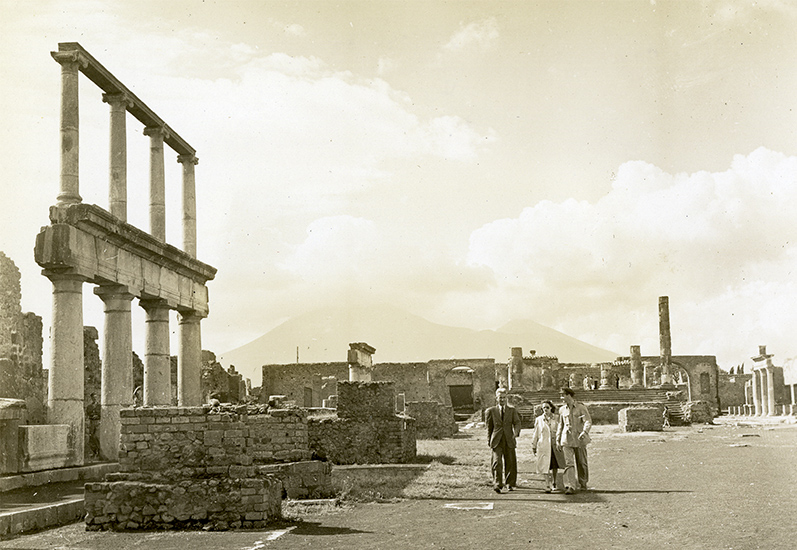 René tells his parents that he "finally got a rapid-fire glimpse of Pompeii."

Click here to add your own text
July 24, 1944
Battapaglia, Italy
No. 36

Dear Folksies,

          Things continue to hum along pretty much the same, but we all have become accustomed to listening to the radio news several times a day lately. Things seems to be happening so fast and furiously up in Prussia and now internally in Germany, that there are many bets flying around that this thing will be over in a matter of days, rather than a matter of months.  I had not felt in the past that the end over here was going to come with any dramatic suddenness, but I may be wrong.  The advance that the Russians have been making, and making steadily, is almost unbelievable!  Who knows, we may be set up here actually for the last time?
          There seems to be some undercurrent of internal combustion going on in the outfit right now, but just what the score is I know not. I know that there are to be some transfers, but who or when, I know not – some nurses, apparently, and likely a couple of officers. Don't know what the dope is??
          Our set-up here is pretty nice in many ways – the principal one being that there is little or no sand or dust, as the ground that is not trampled continually under foot is somewhat on the grassy side – at least weedy! Our quarters are in pyramidical tents and I am living with Eddie Welles, Serge Bryner and Bob Jones. We have our super-fine shower unit with us and it was with this same shower unit that for the last time, a month and a half ago, we got the best shower that we had had since leaving the U.S. – plenty of force, plenty of water, and consistently hot – not alternately scalding, luke-warm and cool, as we have had to have most of the time.
          Had beer and coca-colas issued to us (10 cents per bottle) for the very first time since the U.S.  Shoooor tasted good, too!  We haven't gotten it all yet — they started with 2 bottles of beer last night and we're supposed to get 4 more apiece tomorrow.  Not bad, but we've waited a long time for this. Yes, 'tis American beer, not just the stuff they have been bottling here in Italy under U.S. supervision.
                                                                                        Loads of love,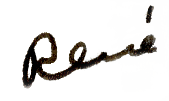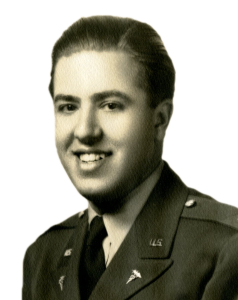 .
Watch for my next letter
July 30, 1944

René tells his parents that he is sharing a tent with Eddie Welles (above), Serge Bryner (below) and Bob Jones.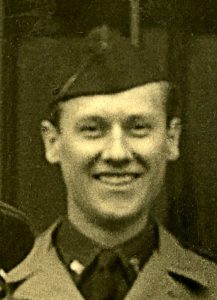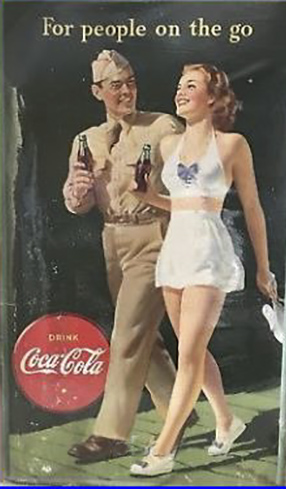 René tells his parents that he "had beer and coca-colas…for the very first time since the U.S."

Click here to add your own text
Please send me an email when a new Dear Folksies letter is posted.