May 11, 1944
No. 23

Dear Folksies,
            Well, the so-called Sirroco wind has gone, thank goodness. We are now back on a Spring basis once again – late Spring, however. At least we are once again to sleep at nite, and, in fact, can find adequate use for one blanket. We continue to be rather physically active, and we all feel much better for it, not that our muscles are losing their aching and soreness.
            Monday evening had a good dinner with Fran & Hal and then we walked to the show, but soon walked out on it for it was one of the lousier "Blondie" shows and not only that, the theater was almost suffocating. Came home, walking, and Hal & I proceeded to quench our thirst and whet down our parched mouths by taking first two big glasses of orange juice. That not being enough, 2 big glasses of lemonade, and then resorting to water to fill the remaining space.
            Tuesday afternoon we went to the beach and had a fine time. There was such a mob there from the 59th that it took 4 trucks to cart all of us out there. A gang of us went out in the sailing boats, 20 in our boat and about 9 in another. We had quite a race and it was funny what a difference was made when someone shifted position in the front of the boat from one side to another or from front to back.
            While we were in the boat, some of the guys got the inspiration that they could go fishing out in the sea in one of these boats, so they made arrangements with the Sicilian who ran the boat, to take them fishing the next A.M. After the boating, we loafed on the beach, swam some, and became progressively tanner, or blacker in my case, so they say – I cannot see my back, but Mattie is pretty darn mahogany himself, and they say that I am some shades blacker.
            Yesterday morn, the fishermen, Sewell Brown, Mattie, Morduant, Schmitz, Cressman, Huff, Smart, Treadwell got up long before dawn cracked, at 2:30 A.M. to be exact, grabbed some breakfast, made some sandwiches for their late breakfast, took a few thermoses, and set off. The left in the boat shortly before 4 A.M. and went out some 12 miles off shore. They had to row part of the way because of lack of wind, but finally got out to the fishing grounds O.K. They didn't do so badly, catching three fair-sized fish and several small mackerel. The large ones were flat fish with big mouths, somewhat like suckers and they apparently gave no fight at all. In fact, they said that these fish swallowed the sardines they used for bait and you could pull the bait right out of their mouths, for they were not able to close their big mouths adequately.
            Apparently those that enjoyed the trip and those that did not enjoy it were evenly divided. Schmitty got rather sea-sick, as did Morduant and Treadwell, and Cressman and Huff didn't feel too well either. I can't see getting up at that hour and spending all that time and energy on that sport.
            Those of us who did not go fishing were led in calisthenics yesterday by Reilly. He didn't do too badly, getting at least one series of exercises done correctly. And, when he gave "To the rear march!" on the correct foot, many got crossed up just out of shear surprise that he should do it correctly.
                                                                                         Loads of love,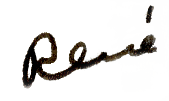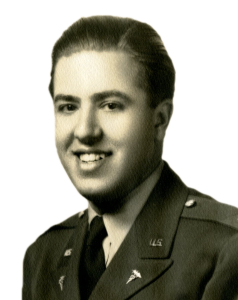 .
Watch for the rest of this letter
May 12. 1944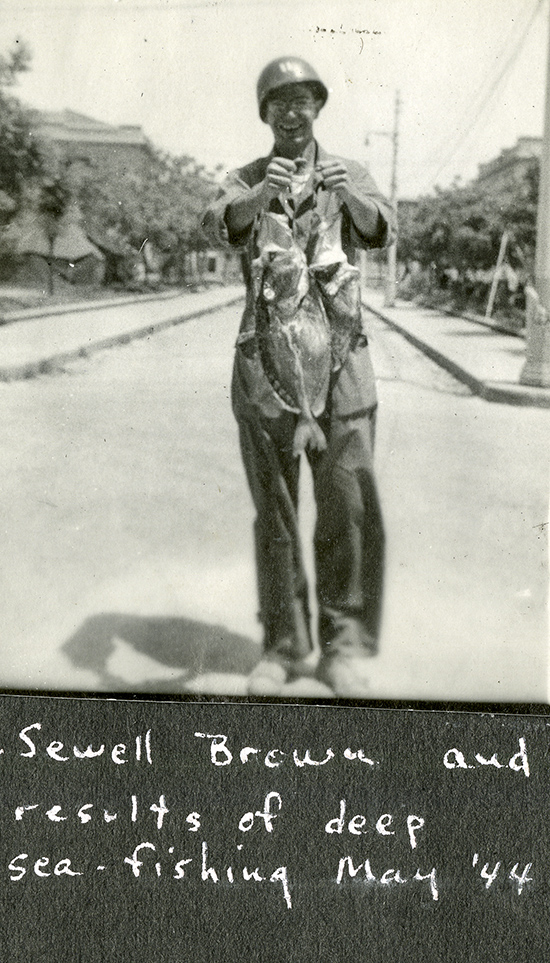 While eight of René's compatriots got up at 2:30AM to go fishing 12 miles off shore, he and the rest of the doctors in the unit slept in. A little later in the morning, they were led in calisthenics by Bill Reilly (below).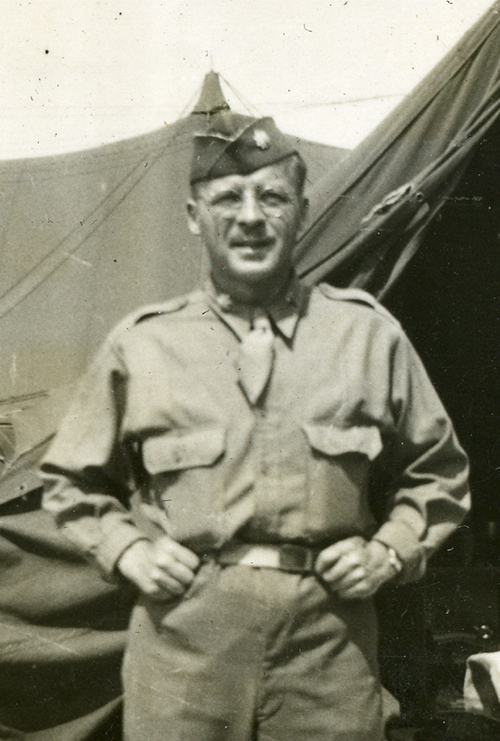 Click here to add your own text
May 12, 1944
Continuation of No. 23

Dear Folksies,
         Tuesday evening I went walking with Chappie before the show and we walked for a little over two hours, before wending our way back toward the theater. 'Twas a swell walk. Show only fair, but we stuck it out and then walked home after it.
            Had an Officers' Club election and Roy Cohn started off the nominations for President by nominating Roberto Escamilla. But he was soon crossed up—it backfired and Cohn himself was then nominated and, in the end, elected. The others were Russell as Vice President, Gerbode as Secretary and Kuzell as Treasurer.
             We had a good baseball game again in the A.M. – two teams of Officers against each other. We had quite a work-out—then to the showers. In the afternoon, again to the beach, baking and bathing. Last nite saw that good show, "Hello Frisco, Hello!" There was quite an S.F. turnout. The plot is similar to a whole flock of other pictures about the same subject, but it's in Technicolor and Alice Faye is very good, there are some good songs, and all in all 'tis entertaining.
            This afternoon we played volleyball for about an hour and a half. Had some of the gals playing with us and a couple of them were darn good. After a shower I walked to the PX with Sewell – they now give us two big Hershey bars per week and have had some Planters' Peanuts in also. Not bad!
            Tomorrow night we are planning a beach party for the evening, in conjunction with the nurses – sort of like old-time San Francisco Hospital Weenie Roasts at Stern Grove.
            Well, the afternoon baseball game will soon be starting so will sign off for now.
                                                                                         Loads of love,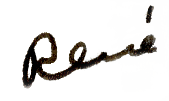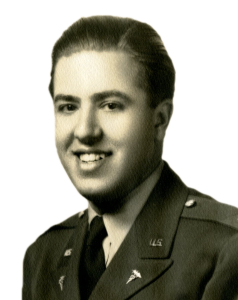 .
Watch for my next letter
May 15. 1944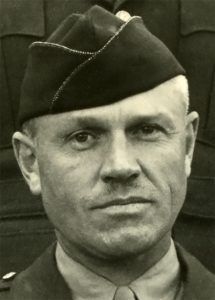 René took a long walk with Chappie (Elmer Chappell) and then went to a show.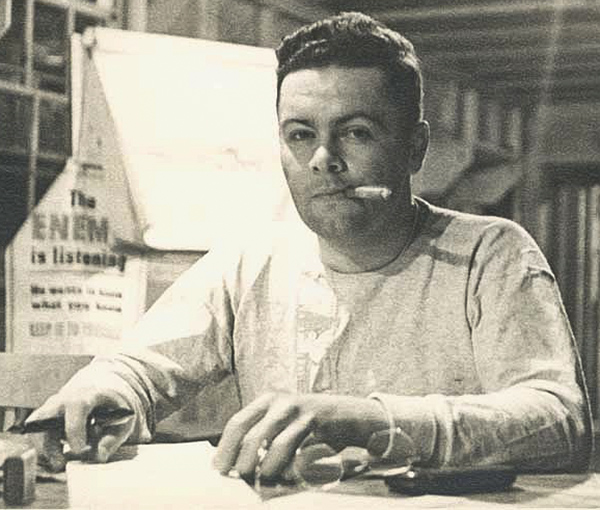 René tells his parents that Roy Cohn (pictured above) nominated Bob Escamilla as president of their Officers' Club, but Roy ended up getting elected instead.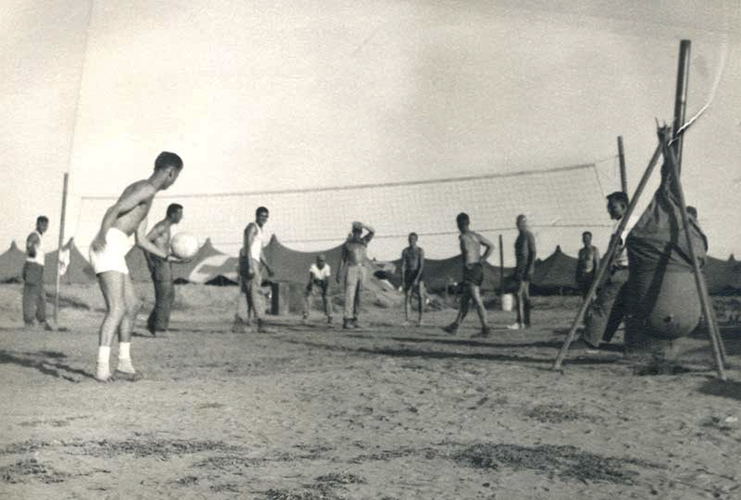 Click here to add your own text
May 15, 1944
No. 24

Dear Folksies,
            Had a nice letter from George Wood and also from George Davis.
            Thursday nite had good dinner with Fran & Hal and Serge & Ann. Had some good raviolis with good sauce and cheese, and also had some small mackerel that were very good. We sat around, loafed, listened to the radio and talked for most of the evening.
            Yesterday had a pretty good baseball game and stuck around in the afternoon working some. Left here at 5 P.M. for the picnic at the beach. It was kind of a cool day, so only a few went swimming. But actually it wasn't bad at all and I wished I had brought my suit out there with me, too. We did go boating, however, and the water was nice and calm. In fact, so calm, that at one point Russ Klein and the Col. had to row in their boat.
            Had hot-dogs, buns, an excellent salad with lobster (you would have liked it, Dad) and some good mocha ice-cream. Danced after supper to the tunes of the photograph, as no band had been available for the evening. The funniest sight was when Bette Holmes and Bill Reilly put on an excellent jitter-bug act. Reilly really did O.K. There was quite a good mob at the party and tho' some felt it wasn't successful because the punch ran out too early, the majority had a very good time.
                                                                                         Loads of love,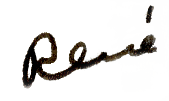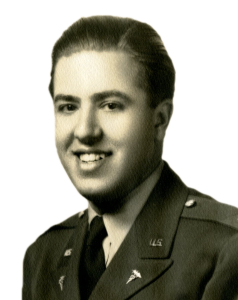 .
Watch for my next letter
May 16. 1944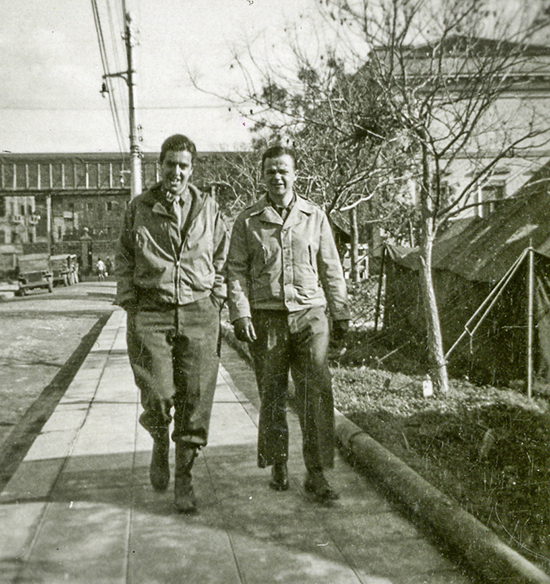 René got nice letters from two of his pals who left the 59th for other units: George Wood (shown above with René) and George Davis (below).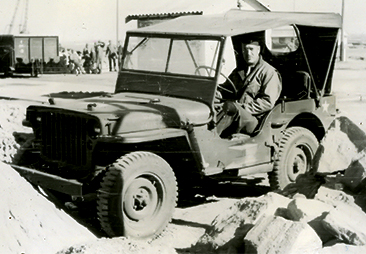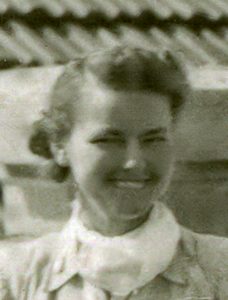 After a picnic dinner at the beach, "the funniest sight was when Bette Holmes and Bill Reilly put on an excellent jitter-bug act." Bette is shown above and Bill is shown below.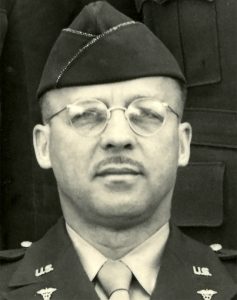 Click here to add your own text
May 16, 1944
No. 25

Dear Folksies,
         Saturday afternoon we had a good baseball game with the same Headquarters outfit that beat us the first day that we played. This time we did better, coming from behind to whip them in the last inning. They've challenged us to another game, and we will undoubtedly oblige.
         Sunday I baked on the beach in the P.M. and yesterday was out there again. Now they have put a raft out quite a ways and one can swim out there, relax for a while and then swim back in.
         Today am taking things easy. The men are having a hard-ball baseball game this afternoon, so will probably watch them.
                                                                                         Loads of love,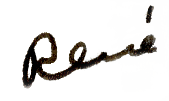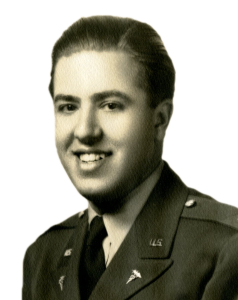 .
Watch for the rest of this letter
May 18. 1944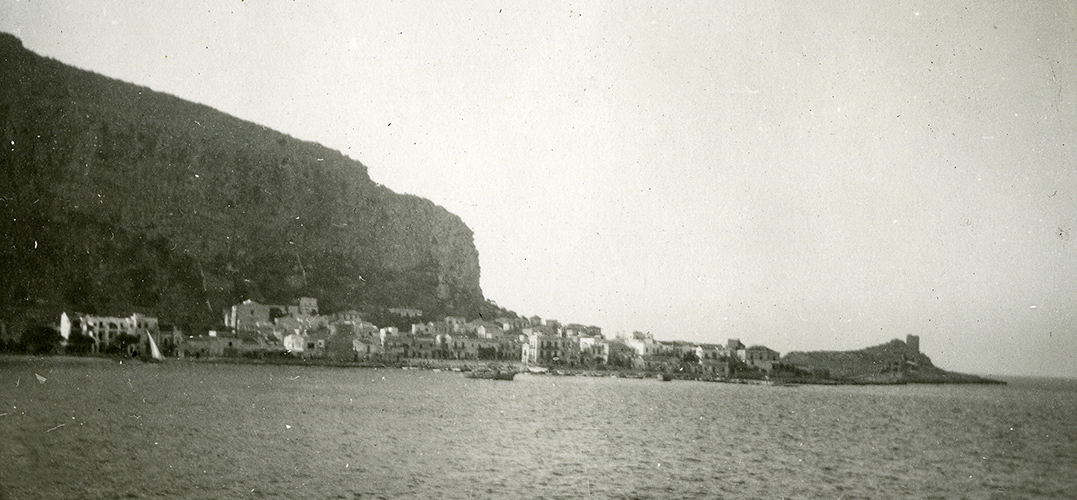 Philip Westdahl writes in his journal about this fallow period after the 59th Evac Unit turned the hospital over to the 154th station group. "[We passed} the time as best we could by playing ball, swimming at Mondello beach, going to shows or reading and writing at night. I know of no more frustrating feeling than to be left behind sitting around doing nothing while there are men fighting at the front, and hospitals almost too busy to handle the volume of casualties, who would be grateful for a relief. During our civilian days we would have given anything for just a few free evenings and a week-end or two with our wives, and now that we have this time we are in such a position that we can't enjoy it and are more than anxious to get buried in work. We continue to hope that we will have our opportunity."

Click here to add your own text
May 18, 1944
Conclusion of No. 25

Dear Folksies,
         I'm Medical O.D. today so have to stick around and it has been most boring. Have caught up on all my reading and nothing else is handy.
         The baseball game the other afternoon was really a good one. Wy played his first game since wrecking his knee and he pitched, pitching a swell game. In fact, he put those balls in so fast that poor Joe Plummer who caught for him has had a sore and swollen hand ever since.
          Yesterday in the P.M. went to the beach and stayed out longer than the rest for Cy Kiernan and I were invited over to the beach club run by the Headquarters gang from town, including Bob Loeb.
            You know, it is funny the number of people we have met who have become convinced that after the war they are going to go out to California and probably settle there. Bob (who is from Charleston, West Virginia) feels that way and Cy Kiernan (from New Jersey) says that he is going to have to move to California out of self-defense because all of his friends will be there.
            I got a letter from Alain yesterday who says that Ilse thinks that the places we've been in here in Sicily are very beautiful and that she likes it even better than the Riviera. Where she gets these ideas I know not??
                                                                                         Loads of love,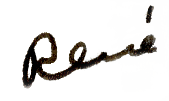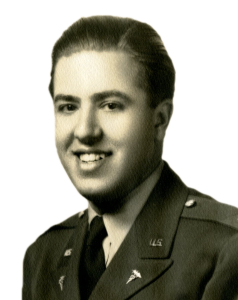 .
Watch for my next letter
May 21, 1944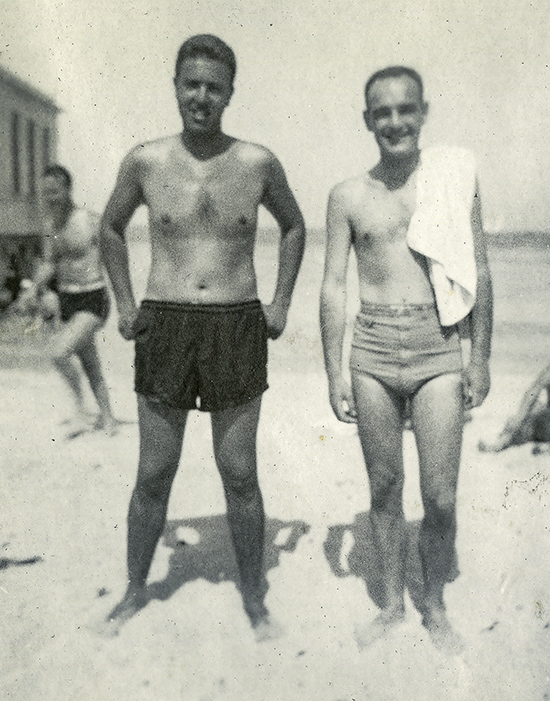 René and Cy Kiernan at the beach.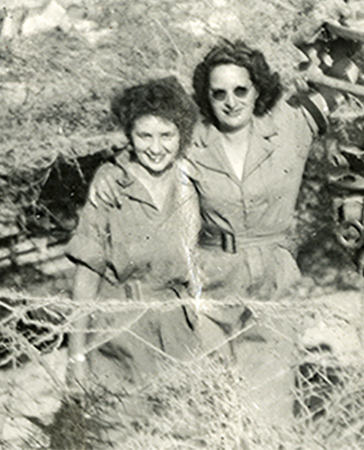 While the doctors were playing baseball and going to the beach, nurses Gert Brazil (on the right in the photo above) and Marion Switzer (on the left) went on an adventure.
Gert told the story years later: "Marion and I were given a week's leave and we were supposed to be in North Africa on leave. Instead, all of the action was in Italy and we wanted to go see some action, because we hadn't seen very much.
Marion said she knew of a Colonel who was running a hotel in Naples, Italy. So, we bummed a ride and got over there. I was scared, because I had never done anything like that — I usually went by the book. But Marion was a darling; she was quite a gal. We would go out to dinner some place and every day was her birthday, so we had to celebrate and sing happy birthday to her.
We finally got to this hotel in Naples. It was a big old place. We stayed there and, of course, there was an air raid that very night. I was worried that if we got bombed out there, no one would know where we were and it would be a real mess."
Click here to add your own text
May 21, 1944
No. 26

Dear Folksies,
            Sorry to hear, Dad, that you have again had teeth trouble. How many does that leave you, anyhoo? Yes, our food is O.K. though there are forever grumbles that one has gotten to take as routine. But then, maybe I'm not so particular as some of the rest – and anyway what good does it do?
            One thing that seems odd, however, regarding food, is that we seem to get practically nothing but fat on the pork chops with only an iota of meat on the bones. It's a wonder that the Army buys that stuff for 'twould seem far wiser for such animals to be sold for lard rather than meat.
            Regarding malaria, we have seen all varieties though very very few of the more serious type – practically all were mild cases of Vivax. Don't remember having had any atabrine-psychoses, I don't think we've had any, despite some pretty good doses in therapy.
            As for rheumatic fevers, we have had relatively few – but, of course, the outdoor life of the soldier overseas is less conducive to that disease than is the city life for those who had previously been in the country – and, of course, barracks like in the U.S. are more city-ish than pup tents, etc.
            As far as eating in local eateries is concerned, it is and it isn't safe. It depends on the place. For a time, every eating place was off limits and then for a while it was O.K. But more recently the former state of affairs has prevailed again. It depends, of course, on the cleanliness of the joint more than anything else. I've never gone in any place without having a look a their kitchen first.
           On our trips, however, we did our own cooking, mostly on that first one, except for two meals at really clean places where other Army or Navy officers had eaten and recommended. On the second trip, however, we ate at the hotel at which we stayed and used our own food supplemented by things that the owners of the hotel got for us. Accomando supervised the stuff before and during cooking, so that we knew we were pretty safe. And, surprisingly enough, in our own outfit we have had little trouble from anything that could be caused by food. Have had only two amebic cases – the one nurse and one of the enlisted men – and no one has ever returned sick from any of the trips we took.
          That, I think, was somewhat of a surprise to all, but it was one of the factors influential in keeping up the trips for as long as we did. Yes, there have been occasional individual outburst of diarrhea, but nothing serious, and certainly not more than would be expected in a normal population of this number.
          No, you are right regarding the parachute jumps: the higher the safer, for it gives plenty of time for the parachute to open. And if the first one doesn't open, then they still have time to have their emergency front chute to open. If they jump from too low an altitude then their goose is cooked rather soon. They also cannot let the chute open too close to the plane, either for of it getting fouled up in the plane. Chuck went off, I believe, from about 900 or 1000 feet just above a field, along with a flock of others.
          Today there is the "All Stars" baseball game – stars of one league against the stars of the other league. Wy and Lefty will be playing, so shall be going out to see them.
            We've taken over the beach club that Skinny St. Claire and Bob Loeb used to have with their gang. It isn't really a club, but a house on the beach, and now our Club runs it with the others still able to use it too, of course. It is a two-story house of about 6 of 7 rooms, a front porch, a back-garden with badminton court, dart games, etc.
          I sort of imagine that this will arrive just shortly before your birthday, Pop, so may I wish you a HAPPY BOIDAY AND MANY MANY MORE.
                                                                                         Loads of love,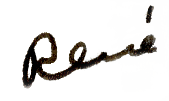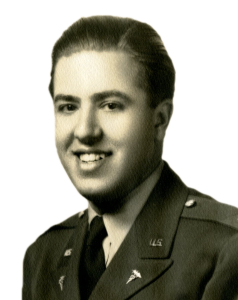 .
Watch for my next letter
June 5, 1944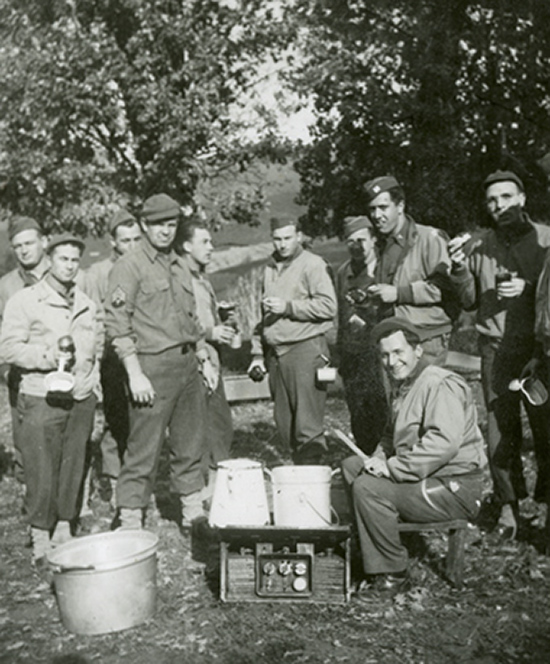 René tells his parents that while local eateries in Palermo may be safe or not, no one got sick on their "road-trips" around the island. Either they ate their own food (above) or Eddie Accomando (shown below standing at the left of the frame while René is seated at the table) supervised the food preparation at local restaurants or hotels.

René is planning to go to the "All Stars" baseball game after he finishes writing his letter home.

Click here to add your own text



            On May 23rd, Bill Drew left this world suddenly and tragically. One of the most likeable, capable and popular young fellows I ever hope to know, his death was profoundly shocking to us and we all felt his loss very keenly. Even as I write this account it is almost unbelievable that he is no longer with us.

            I felt quite close to Bill, having known him since high school days, and was grateful to act as an honorary pall bearer at his funeral. The services were held in a Catholic Church in Palermo, and the presence of the American flag covering Bill's coffin seemed a fine and fitting tribute to a fine fellow.

          At the military cemetery in Palermo, Bill was given the three gun salute of a military burial. Although I like to think of Bill as he was during life, my last memory of him shall be associated with the flag and salute with which he parted from our presence.


.

Watch for René's next letter on
June 5, 1944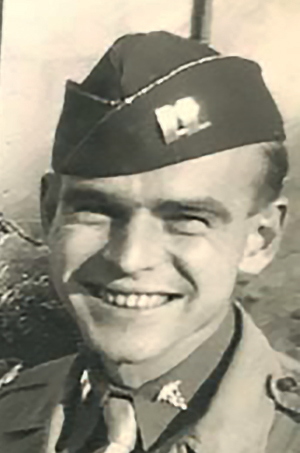 Dr. William F. Drew, known as Bill — shown as Dr. Westdahl wanted to remember him.
This is what Gertrude Brazil remembered about the untimely death of Dr. Bill Drew: "He was getting up at five or six o'clock in the morning to go do calisthenics. Part of the place the doctors were living was bombed out. The staircase was bombed and I guess he fell off and was injured and died."
René will tell his parents more details in his June 13th letter.
Gravesite for Captain William F. Drew at the Sicily-Rome American Cemetery and Memorial in Nettuno, Italy (near Rome).
Photo by John "Jack" Richter
Please send me an email when a new Dear Folksies letter is posted.