February 26, 1944
No. 6

Dear Folksies,
         Everything has been purty slow during this last week. Bill Kuzell and I had a rushing business for some days there, everything in that line has calmed down and we could consolidate our three wards into one if we so desired.
         Have felt fine, but having nothing better to do have loafed a good deal, read, and slept. Had the usual weekly walk downtown to pick up candy and cookie rations at the PX and also went to pick up the cart I'm getting for Amie, but, as usual it is the same old story — not ready yet. However, I expect to get it on Monday if I get a chance to go back there then.
         Have just had an intermission. Little "Snuffy" Thraves, our mail clerk, has been in here and we've had quite a talk. He certainly is a card — wish you could know him. For a time in Africa he worked on the wards, but he didn't like it much and he was put back as mail clerk. Then when we got here he was made a Sergeant. He is extremely reliable and takes an interest in everyone's mail personally. He's one heck of a good kid. He's really the "darling" of the outfit. He always has confided in a few of us — all his personal little troubles, and it is really a pleasure to talk to him. One would think that he is only about 15 years old, when actually he is all of 24. When he talks to you he usually inclines his head to one side and has quite a twinkle in his eyes, but talks most seriously.
         Another intermission: Kay Magee just called me over to pass judgment on two cases that turned out to have positive throat cultures for diphtheria and then, in passing through surgery I found they were doing a splenectomy – the first we have had in the whole time we have been working. There was too much of a crowd around the table to make it worthwhile staying, so will get the story in the A.M.
           Yesterday one of my ex-patients returned to see me – a young Lt. who is quite a good guy – despite being air-corps — he was one who had diphtheria. At one point during his treatment he had so much excess energy to let off that he did some exercising, 8 push-ups, proceeded to sit down on his bed and then passed out – hitting his head on the radiator and opening up a hole about 2 cm. long. It was just at that time that we had some nurses boarding over in that building, nurses from another outfit, and they had the room next door to the ward my Lt. was in. So, we proceeded to accuse him of having stuck his head into their room and having the gash in his head as a result of contact with a thrown shoe. Finally, we talked so much about it that that was the story he actually gave to everyone else that asked him about his gash from then on.
            Received the package of developing paper, Pop – Tanks a million. Did quite a bit of printing this afternoon – most of the trip for the gang of boys that had been on the trip.
           Today, we had ice-cream. Reilly brought it off one of the ships he visited — brought enough for all that came into the Club before dinner. It was vanilla and very good. That's the Navy!
           Ehrbacher tried something new the other day — a lemon-meringue pie — and it turned out to be mighty good. He just came in now and he and Wy are going to fry some eggs, so I don't think that this is going to be able to continue much longer — i.e. the letter — too much interference. Yeeooow, they just pulled my chair out from under me. This is getting to be too much!
          Herman Kuhl, our top Utility Sgt., all-around handy-man, etc. came out with a prize statement today. You see, Herbie Ehrbacher is quite a good cook besides being a baker. So Kuhl said today that he's "going to follow along with Herbie in the Army throughout the war, and when the war is over he is going to marry the guy." Well, the eggs are frying so I'm going to have to quit—–
                                                                                            Loads of love,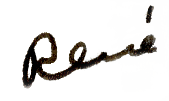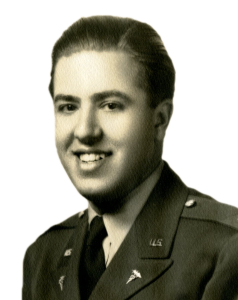 .
Watch for the rest of this letter
February 27, 1944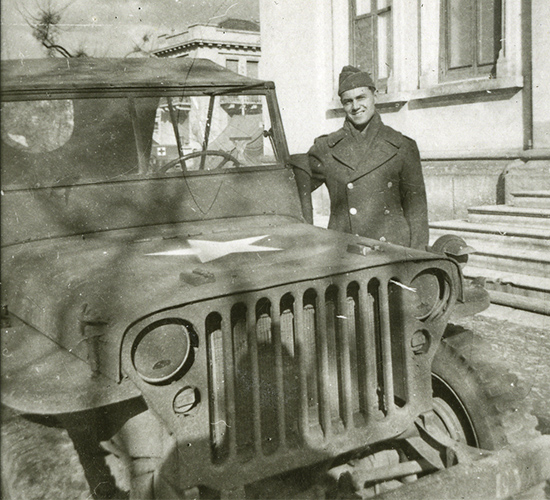 "Snuffy" Thraves – mail clerk for the 59th Evac Hospital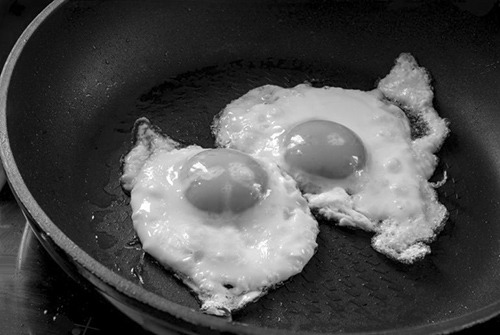 René has to take a break from writing his letter to go eat the eggs that Ehrbacher and Wy have just fried up.
February 27, 1944
Continuation of No. 6

Dear Folksies,
            Our boys finally had their baseball game with our friends the rival hospital. The latter expected us to be easy pickings, and, after our pitcher walked the first three men purposely, they were even more convinced that it would be a cinch. Imagine their chagrin and surprise when they ended up on the short-end of a 17 to 3 score!
            Bill Drew got back last night after having spent some time in a British Hospital. He had gone to Cairo with Serge on leave, but on his return trip he became extremely ill, temp 104', diarrhea, somewhat delirious, and other symptoms. Apparently some G.I. thing, though Bill thinks he had a virus pneumonia. The British labeled it "The Rigors." Anyway, Bill is O.K. now tho' he has weight to gain back again – and you know Bill, he had very little he could safely lose in the first place.
            Bill Newsom got frisky the other day, went out with the baseball team, put someone out at first base and returned with a fractured radial styloid in his left wrist. Fracture is in a good position – in fact, is not out of position at all. So, now he is packing a nice cast around and it sort of puts a crimp in our anesthesia rotation system. There used to be five of us, and that leaves four. But, now, Jim Hamilton is leaving us for a month to go to a General Hospital to get some special anesthesia training, particularly intra-tracheal stuff for chest cases, something we have sadly lacked the information on. Jim, of all of us, has been most interested in anesthesia and as a consequence knows more than the rest of us do about it – so it's his good plugging that has gotten him this nice assignment. He ought to come back with plenty of good information for us — we've been strictly amateurs, all of us, all along.
             So, where there were originally five, and then four "little blackbirds," now there are but three. But, hold on, this next week there will really only be two, Paul Stratte and I — for Pete Joseph is going on his leave with Hal Williams. Of course, with work as it is, Paul and I will definitely not be over-worked.
             New innovation at the "Club". We now have artichokes at 15 cents apiece with some sort of garlic dressing. They taste just like our own artichokes at home (I don't mean the dressing, however), and the last few nights they have made good appetizers before dinner. They remind me, however, of those little artichoke hearts that are extra-special good and wonder if perhaps you could sometime send a small can of them over, and while you are at it, a small can of Del Monte asparagus tips. Just for a taste – don't try to send more than one can of each. We really get plenty to eat, but having been reminded of those things, well, right now my mouth waters a bit for them.
                                                                                            Loads of love,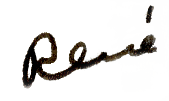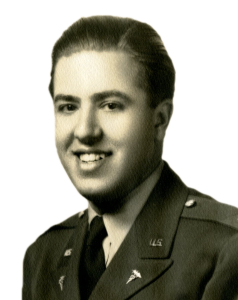 .
Watch for my next letter
March 1, 1944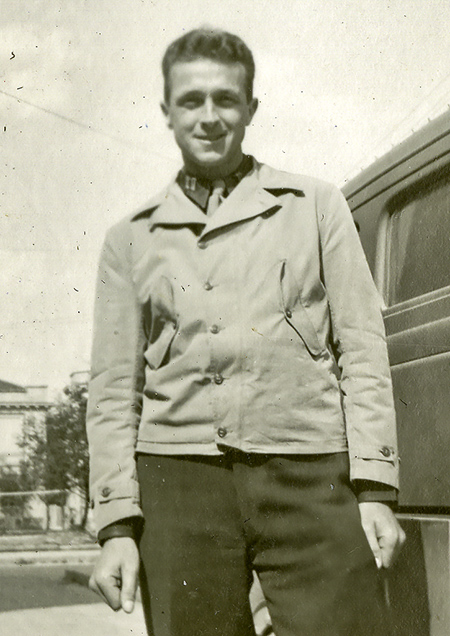 Dr. Bill Newsom broke his wrist in a baseball game.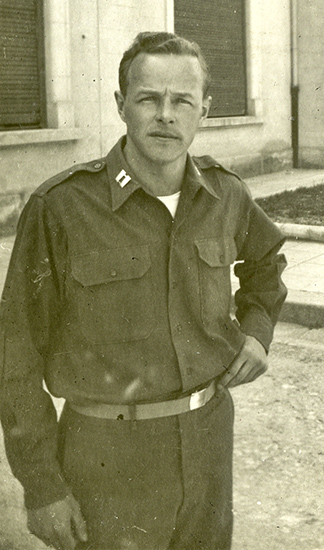 René tells his parents that next week he and Dr. Paul Stratte (shown above) will be the only two doctors on anesthesia rotation.
March 1, 1944
No. 7

Dear Folksies,
            Don't be surprised at what might come out of this typer today, for it is the Chaplain's typer, Wy being busy on some sort of requisitions on his typer – so I am not only using Daib's typer but am closeted in his study while he is back in our room sound asleep.
             While I am on the subject of the Chaplain, it reminds me of a story he told me last night after having been out to the Jugoslav camp on a visit. We have had many of their patients, and Daib, since he speaks German well, has made some interesting contacts, and as a consequence has visited their camp several times.
             On this particular occasion when he was there they happened to have arranged for an English class, and so he was invited to listen in.   The authorities had gotten an Italian professor of English to volunteer to teach English to them. Apparently, from Daib's standpoint it was really a scream! The professor would jabber for about two minutes in rapid-fire-machine-gun Italian and then he would say an English word and write it on the blackboard. Anyway, the professor ended up by writing an English sentence, to wit: "Have not Charlie the book?" To the best of this typewriter's ability, the pronunciation was something like this: "Haaf nought Shaaaarlie de booocht?" At that point, the wife of one of the Jugoslav lawyers turned to the Chaplain, and, in German, said to him, "Now you know why all of us understand a foreigner when he talks English, but never can seem to understand the English and Americans when they do."
           Our Bar-man, of whom I have spoken before, Rudolpho, the cousin of Valentino, was ousted the other day after they caught him selling some things that did not belong to him – things that somehow got into his possession from some of the officers' rooms.
         A few of the enlisted men were mighty happy yesterday—they are headed home on the rotation plan—all three of them are up in the practically over-age group. As they left the area they came out with a big whoop and holler that could be heard almost to the other end of the city.
         In other news, the two new majors-to-be are Louis Huff and Ralph Cressman, and Bob Jones is getting his Captaincy – these three ought to be through in a few days. Louis and Ralph are the oldest and most experienced of our original captains and are certainly the ones who deserve the majorities.
         Mom, you ask about Miss Diffley – I don't know whether I told you or not, but she recently got her Captaincy. We had lots of fun kidding her for several days about, "Good Morning, Captain," etc.
                                                                                            Loads of love,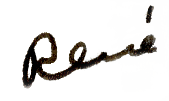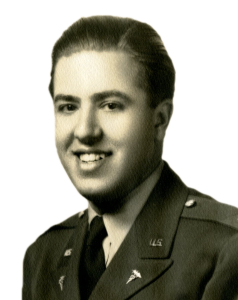 .
Watch for the rest of this letter
March 3, 1944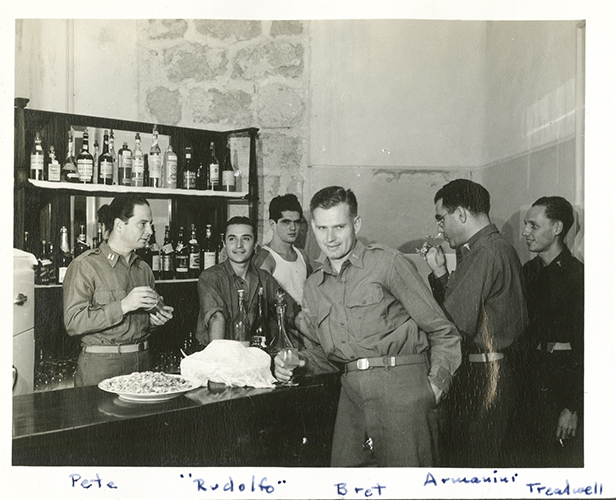 René tells his parents that Rudolpho (the Bar-man) was "ousted'.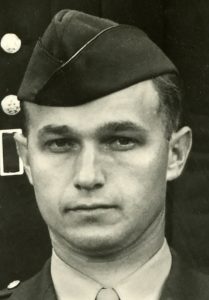 Dr. Louis Huff is one of "two new majors-to-be."
Dr. Ralph Cressman is the other "major-to-be."
March 3, 1944
Continuation of No. 7

Dear Folksies,
            Remember a few months ago I was going to send my watch home to be fixed, well, I waited and waited and finally the other day when the stem on the watch Lois had her mother send me for my birthday last year came out, I decided to take both watches down and see what could be done at a place where some of the boys have had considerable success.
            One the way, however, I bumped into our ex-sgt. Morrill who insisted that he could get them fixed safely for me. So, I gave him both watches and now both are fixed, running in perfect order and I feel like a plutocrat again with two watches.
          Morrill is quite a guy. He used to work in Surgery in Africa, but was always getting into trouble downtown, in fights, staying out a long time, etc. and finally after they busted him to private, they let him transfer out. Nevertheless, he's O.K. and would do anything for anyone he likes. He's happy as a lark in his new position for, despite being a pvt., he has quite a little responsibility and is able to run around in a jeep a good deal of the time. He's the one who used to help George Davis and I in Africa by running errands on a motorcycle that we had borrowed for a while. Of course, Morrill almost broke his own neck a few times on that bike, but he got a big kick out of it. He was quite a favorite with Lois and vice-versa.
          Lois apparently likes her new spot very much. Have had but one letter from her, but Fran had a note via the nurse who transferred here from the outfit Lois went to – it was an exchange transfer. They have mighty easy hours, like a station hospital in the U.S., are right near a beach, only 2 nurses are on for the whole hospital at night, they have a lot of convalescent patients awaiting transfer to the U.S., all the personnel are very congenial and though they are in tents, things are very nice. They have a Club right off the beach where things are mighty swanky and comfortable what with plenty of beer and ice-cream, fireplaces, etc.
          Bob Treadwell and Gil Bishop just returned a few days ago from their leave and had a fine time, despite their difficulties in travel. They were able to spend 4 days in Cairo tho' they admitted that they could have seen all they wanted to and done all they wanted to there in two days, and, if they hadn't been rather tired on their arrival there they might have gone on to Palestine besides. However, with transportation so uncertain, one never knows if one is going to get back from wherever one gets to.
                                                                                           Loads of love,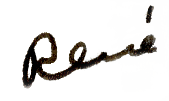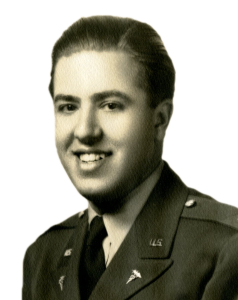 .
Watch for my next letter
March 7, 1944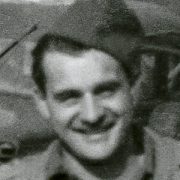 René tells his parents that the unit's ex-sergeant Ed Morrill arranged to have his two broken watches fixed.
René has received just one letter from Lois, but has heard a bit more about her from Fran Trembley.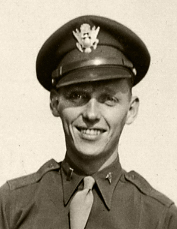 Dr. Bob Treadwell just got back from leave in Cairo
March 7, 1944
No. 8

Dear Folksies,          
            Last Thursday night, being rather tired, I went to bed early — somewhere around 9 P.M. Then it seemed only a matter of minutes when I suddenly was wide awake again, with a familiar voice in my ear telling me to get up and have something to eat with him. I started awake, opened my eyes, and it was none other than George Davis shaking me. Gee, was I glad to see him!! I looked at my watch and thought it said just 9 P.M., but when I looked at it a few minutes later I realized that it was not 9, but 11:45 P.M. So, we hopped over to the mess dept. and grabbed a midnight meal. And since then, George has been staying with us while he is carrying on his business in town. It sure has been nice to have him around again even though it is only for a matter of a few days.
            He is, you see, now the Motor Transport Inspector for the Allied Control Commission (formerly AMGOT) for Italy, Sicily and Sardinia, and as a consequence he is travelling around carrying out his duties at the moment.
            The day after George got here he picked up, temporarily, a swell Italian-made car, a "Lancia," which compares to our Packards or even Cadillacs. It was a swell long job, a convertible, low-slung sedan. What a bus! So, naturally we had a nice time just riding around in that car on Sunday afternoon. It certainly felt strange, but awfully good, riding around in a nice civilian car for a change. What a difference in the way it rides!
            Right now I am down in Wy's room, but — just so you won't be surprised at what I may put down here — we have quite a crowd in here. George is here and so are Wy, Bob Jones, Herman Kuhl, Herbie Ehrbacher, and Snuffy. Yes, it's quite a combination and almost anything is liable to come out of the air around here.
            Ye Gods, right now we are having a mock duel in here. Jones has a small rifle that the Italians had for the kids — it won't shoot — and it has a blunt bayonet on the end; he also has a nice looking saber. Well, George and "De 'erb" are "fighting it out," Herbie with the kid's gun and George with the saber. And while this is all going on I am pounding away on this, Wy is reclining on his bed trying to read, and Jonesie is at the other table in the middle of writing a letter also. Well, it was Jonesie's fault for getting out the toy gun to show George!!
                                                                                           Loads of love,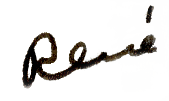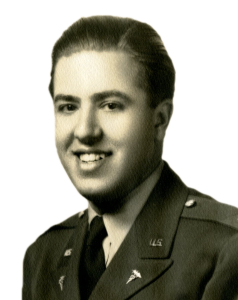 .
Watch for the conclusion of this letter
March 10, 1944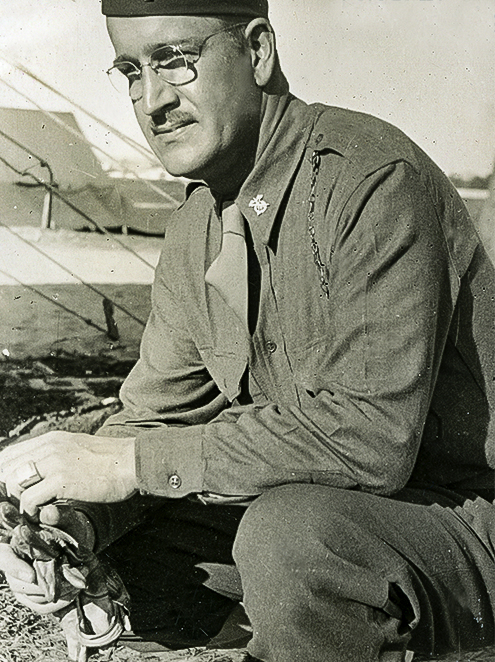 George Davis surprised René and the "gang" by staying with them for a few days – on this travels as the Motor Transport Inspector for the Allied Control Commission.
March 10, 1944
Conclusion of No. 8

Dear Folksies,          
          Some of the gals have gotten their first Lts. In the last week. Those that have arrived to date are: Danielson, French, Myren, Dottie Merrill and Ann Schleisman. There are several more to come yet, however. Incidentally, had Lois remained, she would have been one of them.
          The dog that the boys brought all the way from Africa and which has been with us for almost a year now, just recently had pups. She had six pups and all are seemingly doing fine, though "Suzie" the mom, almost died a few days ago, apparently from some sort of food-poisoning. When asked what type of dog the pups are, the boys all say they are "Half African and Half Sicilian." They appear to be little wire-haired devils and are white with black spots.
          Had an extremely nice letter from George Wood a few days ago. He is no longer the C.O. of his outfit, but is happier tho' he apparently enjoyed the power he had for the 10 days, as he was able to bring about numerous good changes in that time. He says his outfit serves the air-corps.
          Liz Liss and Martha Morris just got back from Cairo today and they had a really marvelous time. They apparently bumped into a few high-ranking officers and even rode in their plane part of the way and then were shown all over Cairo by them. They really were royally entertained and saw all the sights. Apparently they were about the only females there in town, and they practically had to fight off the officers that tried to beat a path to their door. Liz brought me back a very nice black wallet. The one I got in Casa had started to come apart.
          It seems that Cairo has practically everything that one can want, everything is expensive but they have it. It seems sort of an outrage, however, that things such as candy bars are so plentiful there, and yet up closer to the front they are almost unheard of. For instance, the ration of candy bars here is one per week and at Cairo it was 5 per day. Then, too, they had just oodles of Coca-colas, and we've seen only one since leaving N.Y. But, that's the way things go!
                                                                                           Loads of love,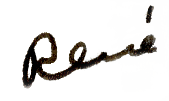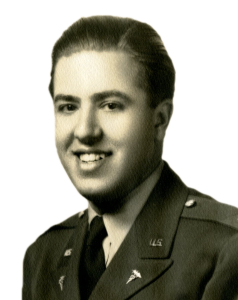 .
Watch for my next letter
March 14, 1944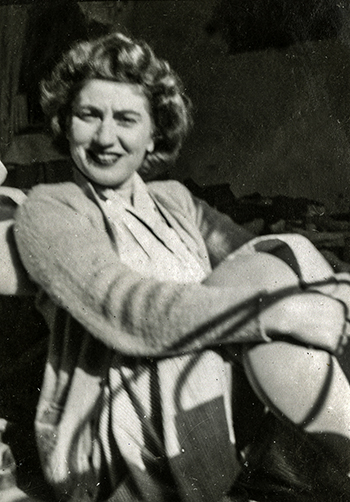 René tells his parents that Liz Liss (pictured above) and Martha Morris (pictured below) had a wonderful time visiting Cairo, Egypt together.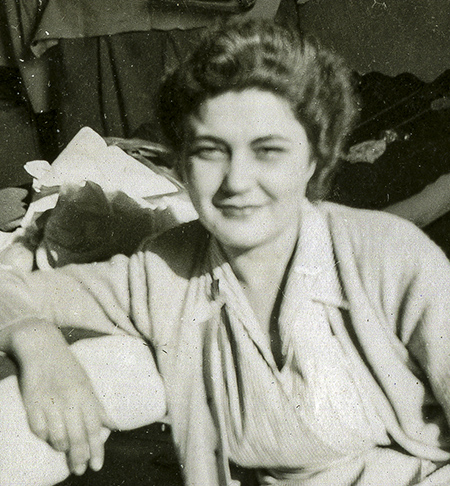 March 14, 1944
No. 9

Dear Folksies,          
             George is still here, but we haven't done anything very exciting at all during the week. In fact, we have spent most of our time just relaxing, reading and talking.
            The last two days, however, have been busy, for I have had to make rounds on my wards before 8 A.M. and after 5 P.M. The time in between has been taken up by attendance at a so-called "Malaria Control School." Bill Collie and I have been in the course given this week and Kuzell and Schwartz are to attend next week. However, we have been greatly disappointed. This "school" is supposed to be from 8:30-11:30 A.M. and then 1:30-5:00 P.M. Well, out of all that time there has been just an hour that has been worthwhile – that hour was excellent, but the rest of the time could have just as profitably been spent reading the funny papers.
            Hal and Pete are arriving tomorrow, just a week late. Wonder what their story is going to be. Transportation is undoubtedly difficult, but no one thought it would be that hard, tho' I know that they wouldn't pull anything like that purposely.
            Had quite a birthday party down here the other nite. It was Ehrbacher's birthday, Dinsmore's birthday the day before, Bergstrom's the week before, and Weistenberger's a few days before that. The boys had fried eggs, potatoes, raw green onion, spaghetti, chocolate cake and lemon meringue pie. What a feast!!
            Of course, George and I, innocently sitting here writing letters, had to be let in on the feast, and when we finally left the basement we were really full to the gills. The whole thing was really a comical show.
                                                                                           Loads of love,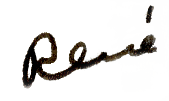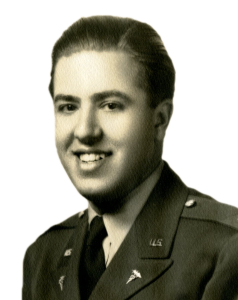 .
Watch for my next letter
March 19, 1944

René tells his parents that there was a big birthday party for Herbie Ehrbacher (upper left), Harold Dinsmore (bottom right), Bergstrom (bottom left) and Charlie Weistenberger (not pictured here) – who all had birthdays in the previous 10 days. Also in this photo are Spudkowski (upper middle) and Newell (upper right). 
Please send me an email when a new Dear Folksies letter is posted.