January 26, 1944
Conclusion of No. 1

Dear Folksies,
        You'll be interested to know that we have had weekly medical conferences here, the job of presenting the conferences being alternated between hospitals. Our last one was a really good one, given by Mattie, Bret, Wally and Frank. Heard one at another place last week, and decided I better look up our diphtheria figures, as they do not agree with theirs. Incidentally, we have had two cases of cutaneous diphtheria, which have been very interesting. Russ Klein and George Armanini are writing them up. I have one diptheria myocarditis, which, if I can induce the Sicilians to let me get an EKG, may also be of writable interest.
          Jack Dunlap, who was our Lab Tech Sgt. in Africa, has been one of my roommates here. He's an Evac. Officer and now has a new job, which is that of liaison officer between the unit and the Italian unit we have attached to us – i.e. they were originally prisoners working here under guard, but now they are an Italian service unit. They have three of their own officers staying with us, but, unfortunately, none of the officers speak English and Jack doesn't speak Italian, so it all still has to be done via interpreters.
            I had a little side-trip the other evening — went with Roy Hangar and Al Querhammer. Roy is the Sgt. who went around with me most of the time in my Supply days in Africa and Al is the night man on in Surgery – a former Chicago funeral director, embalmer, etc. Anyway, we set out of here in the old jeep, which has recently had a coat of paint, and went to the town of Tripani where, among other things, we visited the little town of Erice — the "City in the Clouds" as described by Bob Ripley in one of his "Believe it or Not" cartoons. We were there just before the moon came up. It was plenty dark and we couldn't find a thing, but finally we found a door part-way open and a little light coming out of the crack. So Hangar opens the door further and sees a bar with some men (Sicilians) around it so he asked "Does anyone talk English here?" expecting that someone would make a feeble attempt. He gets the answer, "What do you want?" in perfect English and was rather astounded. It turned out that one of the men was the postmaster of the little town (a 1300 B.C. town) and he was formerly of Detroit Michigan and intended going back there after the war. Yes, funny things do happen.
            Yes, Mom, I have picked up some Italian here and there and do fairly well with it at times. I know how the shortage is at home, but deviled ham is always welcome, Mom. However, don't for a minute think that we don't get enough to eat. It is little things like that, however, that do make a difference from time to time. Right now, with our Club, we are living in luxury for we have a couple of little electric plates right in the Bar and though eggs are expensive (15 cents apiece) we manage to get a goodly supply, and at night we have been having fried eggs with or without toast. Have also been having toasted cheese sandwiches, which we make on our own toaster – Bret Smart's invention – taking two small electric heaters and turning one upside down and bolting it about 2-inches above the other one – so both sides of the bread get toasted at the same time. 'Tis really neat, and, as I have said before, we are considered to have the best Officers' Club Bar and Snack Room in the whole area.
                                                                                            Loads of love,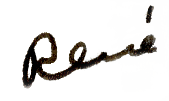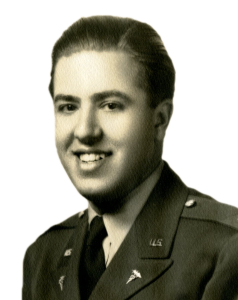 .
Watch for my next letter
on February 5, 1944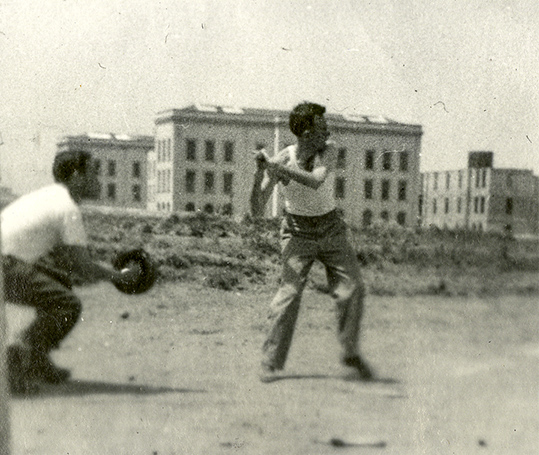 Russell Klein recently wrote up two cases of cutaneous diptheria, but still had time to take his turn at bat in the baseball game.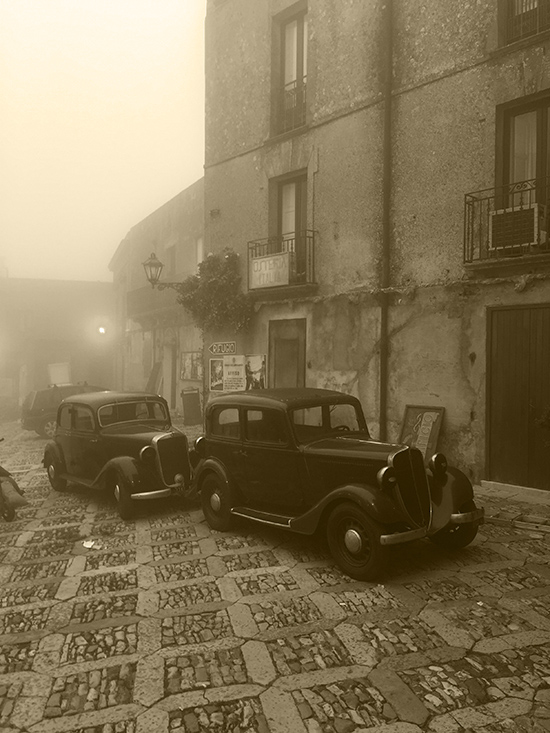 One evening Roy Hangar, Al Querhammer and René took a jeep to go visit the "little town of Erice — the 'City in the Clouds.'"
(Photo courtesy of James Campbell)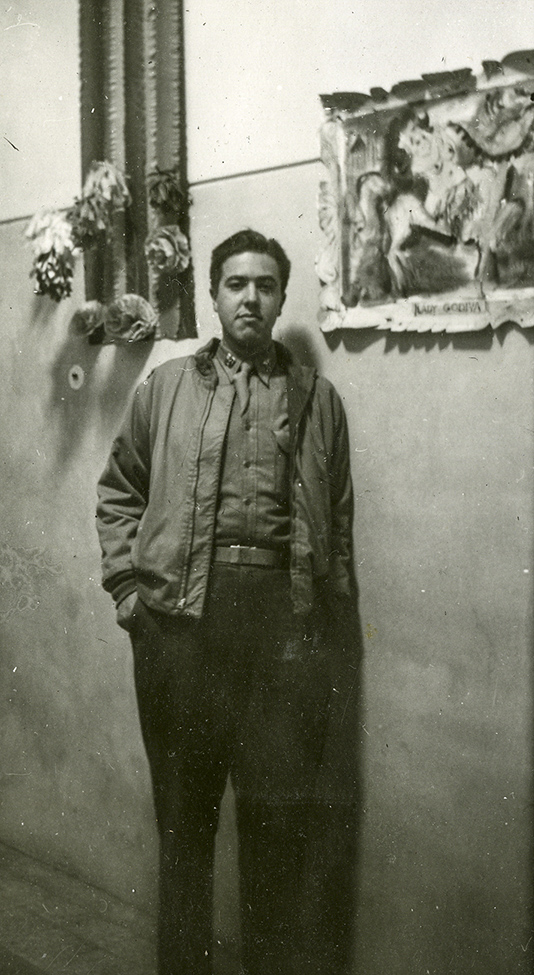 René at the Officers' Club.

Unbeknownst to René, on January 28, 1944, Yvette Baumann Bernard (his second cousin) and her husband Jean-Guy Bernard were arrested by the Gestapo in their apartment in Paris.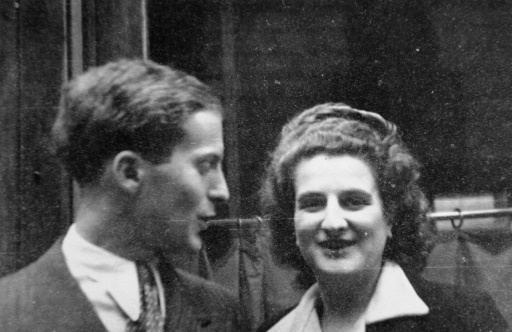 Both held senior positions in the Resistance, and Yvette, who was 25 years old, was 8 months pregnant.
---
In an interview in 1980, Yvette recounted what happened that night:
"When they knocked on the door, it was a Sunday night, the 28th of January 1944 in Paris. We were arrested at rue Boissy d'Anglas. Jean-Guy had a secretary who had been arrested three weeks earlier, so we had left the apartment. She was interrogated, but said nothing and we thought we could return. It is at that moment that she talked. I believe that she was horribly tortured. I never wanted to see her again and I could never bear to hear her name. It was not her fault, but she could have committed suicide – others had done that – it would have been better. 
Anyway, they knocked. I was in the kitchen and Jean-Guy opened the door. It was a very little apartment with two rooms and a kitchen. When I didn't hear anything, I went into the other room. Jean-Guy was sitting in a chair with his hands bound behind his back. I had three or four pistols pointed at me. They were plainclothes types, including a woman, and I realized afterwards that I had seen her before on the street. Some were French and one or two were Germans."
---
To read more about René's French relatives, click here.
Yvette Baumann Bernard and Jean-Guy Bernard on their wedding day– October 8, 1943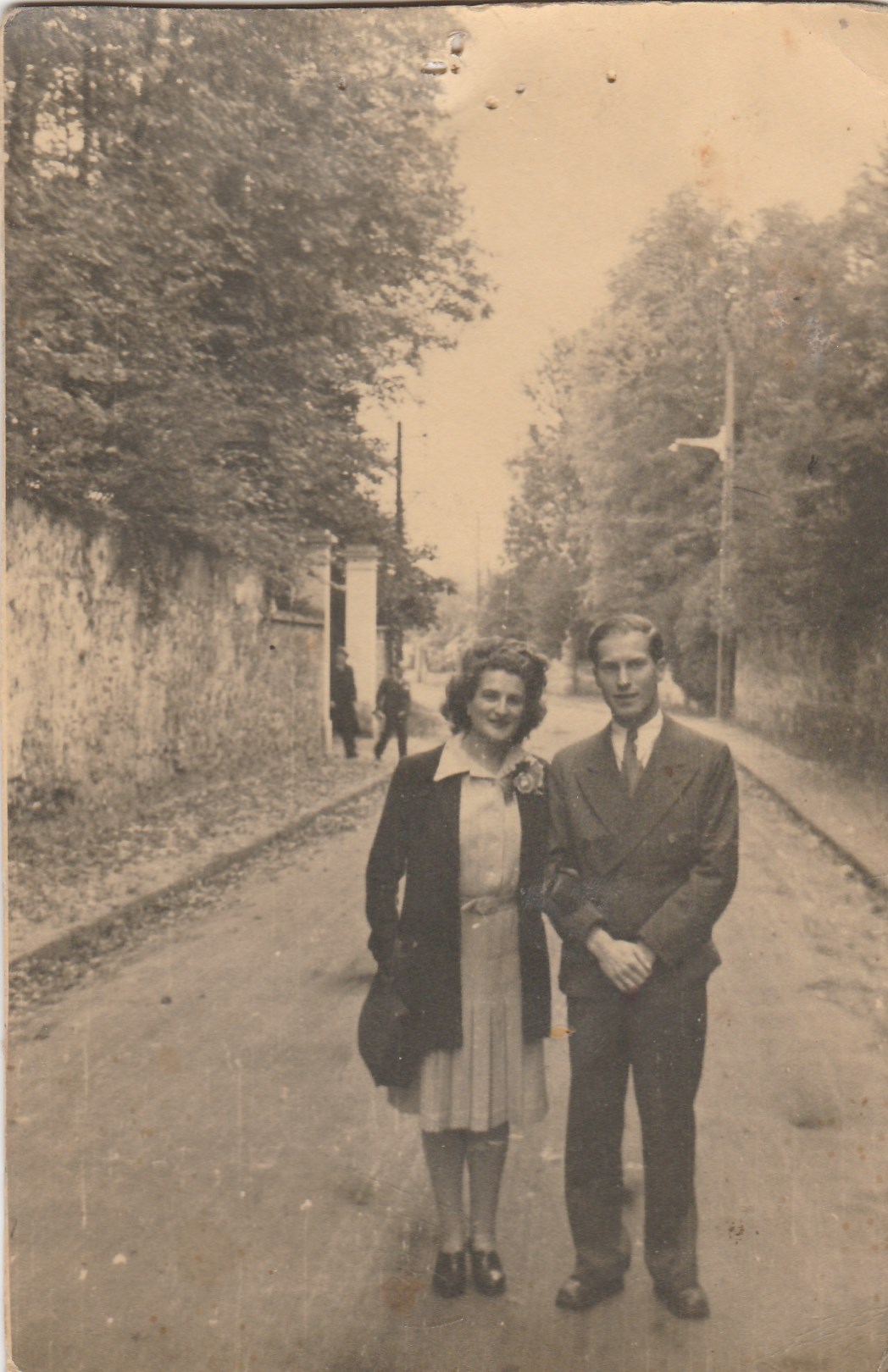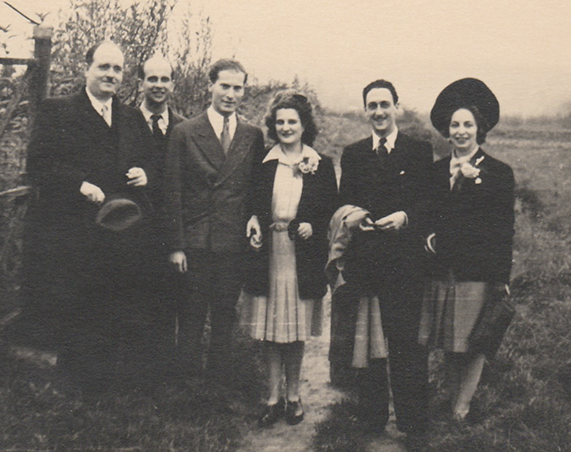 February 5, 1944
No. 2

Dear Folksies,
            Gee, I didn't realize that so much time had elapsed since my last epistle to you, but I have really been kept plenty busy. Tho' most of the hospital has been going along pretty much on an even keel, I, for some reason or other managed to get some cases that kept me hopping (more of these in a minute), and then I was working on a survey of our diphtheria cases (ie. all that we have classified as such in the last 4 mos.) and had to present a paper on this subject, along with the two cases of cutaneous diphtheria, before the assembled multitude of other M.D.'s at our conference on Tuesday of this week.
            Needless to say, I cannot give you figures, but our biggest difficulty has been in deciding just what to call some of the cases. We have had so many cases where the patient does not have clinical diphtheria, yet has a positive throat culture and positive fermentation and virulence test. Then, again, there have been cases that have been very definitely clinical diphtheria with positive cultures, fermentation & virulence tests, and yet these same people are definitely known to have negative Schick tests. Why?
            The other cases that have kept me busy were a couple of pneumonia cases – virus type – that, of course, didn't respond to sulfa, but strangely enough had terrific headaches until the day that we stopped the sulfa…and then they made a most dramatic recovery symptomatically, despite the fact that during the whole course of sulfa (6 days) their chest findings and chest x-ray findings increased startlingly — so that whereas when they came in they had minimal amount of pneumonitis, after all that sulfa, they had each one a whole lobe involved.
           Our basketball team has kept me sort of busy, as they have played about three nights per week — unfortunately they have not done very well. They seem to do the best against the good teams and then proceed to take a real beating from the teams that they should beat easily. As a consequence we are pretty low on the list.
           George Wood was transferred to a Field Hospital, to be Surgical Chief. He will likely get a promotion, but he didn't care about that and wanted to stay here. Why the transfer, je ne sais pas? George has always been a quiet one and has not made a noise about anything at any time, as Cohn has. I really feel terrible, for George had become quite a good friend in the last few months and I shall miss him greatly.
          Also, of the Majors he was by far the best liked by the enlisted men, with the possible exception of Wally Greene. George was plenty unhappy about the transfer. He had asked for one almost a year ago, but had since become very happy here and didn't want to leave.
            On the other hand, Roy has asked and asked and asked, but to no avail – the Col. won't let him go. I imagine the main reason he won't let Roy go is that if anything happened to Mattie, actually none of the others have the push to do the things Roy would do if he had to take over. Despite the fact that he is always griping about something, Roy is one smart cookie, and darn few ever disagree with him medically and find themselves right. On other subjects, well – I won't go into that here.
                                                                                            Loads of love,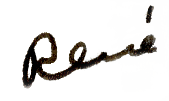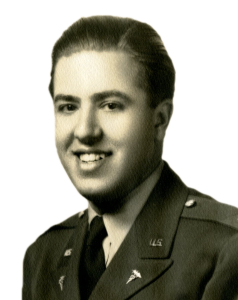 .
Watch for the rest of this letter
on February 8, 1944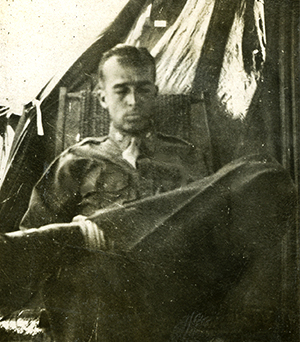 René says that the enlisted men's most well liked Major is Dr. Wally Greene.

René is going to miss George Wood, who is being transferred to a Field Hospital to be Surgical Chief – a move George evidently doesn't want to make.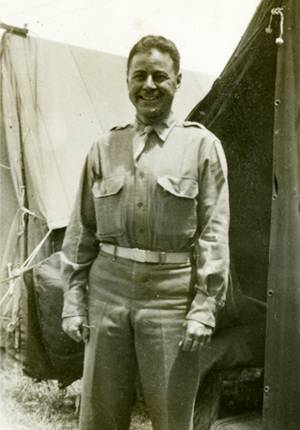 Meanwhile, Roy Cohn has been asking for a transfer, but Colonel Bolibaugh won't let him leave the 59th.

February 8, 1944
Conclusion of No. 2

Dear Folksies,
            You should have seen me the other night. Not having slept well, and having been up rather late for several nights in a row, I decided that I would take some sodium amytal and go to bed early and get a good sleep, a restful one. So, I took 3 grs. of sodium amytal at about 8:45 P.M. Then, just before getting to bed I remember that I wanted to tell Kay Magee something, so I hike over to her office, and while there I find that there have been reports of 3 more positive Diptheria cultures on wards other than mine, so that those three cases had to be transferred to my ward that night.
             So I decide I better take a look at them to decide whether to give antitoxin or not – Bill Drew was medical O.D., but I figured I better do my own looking, so I call Liz on the phone and have her skin test the one case that I knew was the only one really sick, i.e. test him for sensitivity to antitoxin. And then I went up to the ward and after looking all three over I decided I wouldn't give any of them the A-T that night. I finally went to bed at 10:15 P.M., a bit groggy from the sod-amytal.
             Then, at 4 A.M. one of the boys comes over with a note from Liz, saying that one of my patients was having difficulty breathing and questioned whether she should give him antitoxin. Well, I was going to write to tell her to go ahead and give it, but then thought of the case at SF Hospital that I had had, where the kid stopped breathing just after getting the A-T and how susceptible the laryngeal dips are to such a thing, so decided to go over and have another look at him and to stay there while he got his antitoxin. So, while Liz gave it, I lay down on the desk — soon was fast asleep.
             Kay Magee came around and put a blanket over me, and the next thing I knew it was 6:55 A.M. and the day shift was just coming to work. Liz said that she was just going to let me sleep there, right on into the day shift, if I hadn't awakened by myself. She even put me on the "Night Report" that went into Miss Diffley: reporting the bed number as "table-top," my complaints as being "not being served breakfast in bed," etc. Rather surprised that Miss D. hasn't said anything about it, but have heard that she got a big kick out of it.
            We have been using Penicillin recently, and Carroll Russell gave a short paper on some of our results the other day when we had the Conference. So far, results in G.C.'s have been rather disappointing, however, since the potency differs in different lots and different manufacturers' products. Perhaps with larger doses we may find it to be truly effective. Certainly, so far, there is nothing at all startling.
             Regarding leave — I find that the three days with the men doesn't count as "leave" at all, so I may take one sometime in the future. Right now I have no desire to. When you talk of responsibility in that set-up, however, well, there really was darn little. I knew the gang I took, knew them very well, and knew just what to expect all the way along. In fact, two of them are far better friends than any of the officers could ever be.
                                                                                            Loads of love,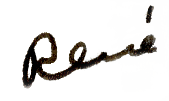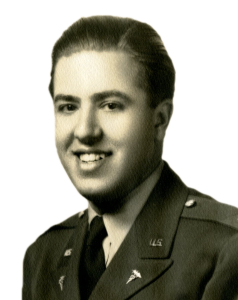 .
Watch for my next letter
February 12, 1944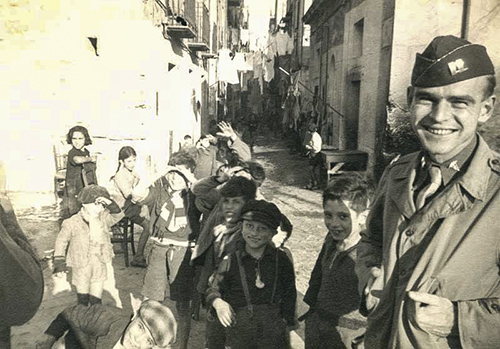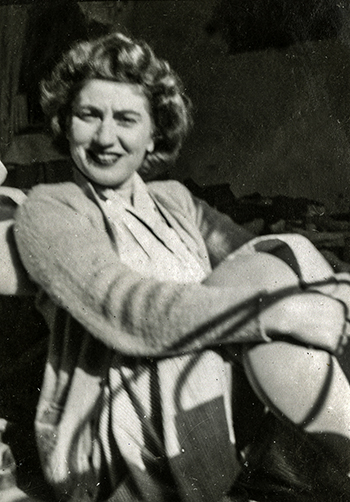 February 12, 1944
No. 3

Dear Folksies,
            This week our basketball team didn't do so badly. They won a game for a change and then proceeded to give the M.P.'s a good fight, only to lose by a few points. However, that M.P. game was really not much of a basketball game, for the M.P.s used a combination of M.P. and football tactics and it was a plenty rough and dirty game.
            Phil Johnson is leaving us in a couple of days – going to a Station Hospital. I haven't heard from George Wood as yet. We finally got what we should have had for a long time, and that is an EENT man. His name is Capt. Earl Slaughter and he seems quite nice and apparently is a very good man. He hails from somewhere in the middle-west.
         Yes, Mom, I would like some more deviled ham, not, however, too much, but just enough for an occasional taste, therefore the small cans are better. As for candy, I'd just as leave wait a bit, as we are now getting some at the PX. And though not much, it is enough to keep us going, particularly since the food of recent weeks has been pretty good.
            Dad, your letter certainly did an excellent job of cheering-up and I certainly don't see what more you could say or how anyone could ever say it any better.
           Mom, It is difficult to express just how much I appreciated the thoughts in your recent letter. In reading both yours and Dad's letters I felt that, gosh, after all, these many thousands of miles that separate us physically are really not so far after all.
            Lois left here a few days ago and is now somewhere back in Africa at a small station hospital. This place is no longer the same and Isolation is no longer running smoothly as it had under her hands.
            As far as saying things to others [about Lois], well, I think it better be done. You'd better tell the Cerfs, Eisenbachs, Gram and Henriette, since I think that Lois said something in postals she wrote them thanking them for presents. I hope that those postals do not beat this letter. Perhaps they have. Those are the only ones I know of to whom she wrote, so the subject can just be dropped as far as others are concerned and they will soon forget it undoubtedly.
                                                                                            Loads of love,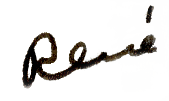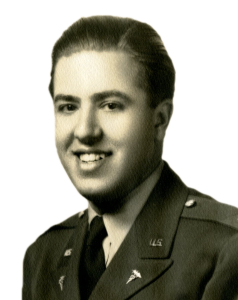 .
Watch for my next letter
February 17, 1944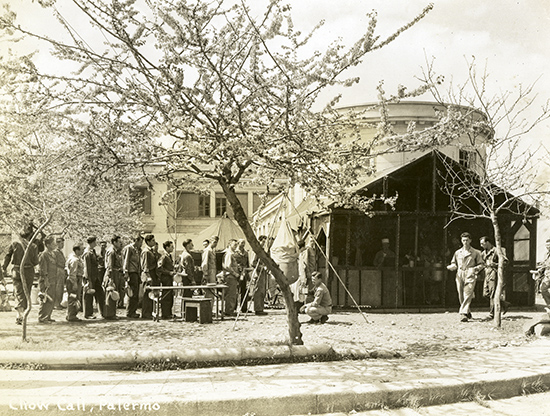 René tells his parents that "the food of recent weeks has been pretty good."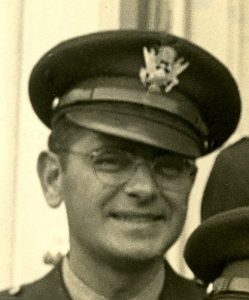 René tells his parents that Phil Johnson is leaving the 59th Evac. Hospital to go work at a Station Hospital.

February 17, 1944
No. 4

Dear Folksies,
           The weather here has been rather invigorating of late, that is, if one has guts enough to stay out in it – it's nice and crisp and the wind that comes down off the snow on the mountains kind of freezes your exposed parts. But, personally, I am far happier with the weather this way than it was when we first got here – so bloomin' hot.
           Today, despite the rather changeable weather, I took a hike downtown and we experienced as many different changes of climate as one does in going from Sea Cliff to 22nd & Potrero in San Francisco. Luckily we had worn coats so were prepared for anything. We again visited a place that I had been in about 10 days ago, but found that the merchandise we had ordered was not as yet ready. I don't believe I told you about this place before – it is a place where, in peace-time, they made numerous of the typical Sicilian carts. Now, for the most part they are making small ones as souvenirs. They are all hand-painted and the workmanship that has gone into them is really something. I've ordered a small one, I guess 'tis about 10 in. long, for Amie.
           It seems that, in peace time, this particular shop was popular with travelers – I imagine partly because the owners (two elderly sisters) speak very excellent English. Anyway, they showed us a scrap book they had kept with some letters, pictures, and newspaper articles, sent to them by those who had bought some of the big carts. The total cost for the carts, for a donkey, and for the shipping of same to the U.S. was only $72. The buyers had sent her pictures of the carts and donkeys in their new homes in the U.S. – so we saw pictures of the Vanderbilts, Annhauser-Busch, Hertz (of "Drive-Yourself"), and also of Kathleen Norris and her Saratoga Home. 'Twas most interesting.
           Well, the basketball season is over and though the boys didn't end up at the tail end, they came pretty close to it. They only won four out of the fourteen games — ending up with a win over the Navy Officers' team, the latter being the lowest standing team in the league. The tournament was finally won by a troop carrier outfit, a team that was really good — they were speedy, had height, had team-work, excellent passing, and just couldn't miss the basket at any time. Their last game was a rip-snorter when they played the colored-boys' outfit.
          Our baseball team hasn't been able to function as yet because of "game called on account of rain," but we are hoping for good weather this next Sunday.
          George Wood, we heard today, is not just Chief of Surgical Services in his new unit, but the C.O. He apparently likes the outfit – hope that he continues to be happy there – he certainly hated to leave here. Phil Johnson finally left at the beginning of the week – he went to a Station Hospital, apparently a large one, and is supposed to be Chief of Surgical Service there. Wonder who the new majors are going to be?
           Serge and Bill Drew were able to get to Cairo on their leave and apparently had a fine time, however, on the way back, Serge had to leave Bill in a British hospital, as he became very ill. According to Serge, he apparently had either a dysentery or a para-T. Everybody is kind of worried about him, but I imagine he will be O.K. Bish and Bob Treadwell are going on their leave this week, and will be able to see Bill, so we shall not be without reports. Too bad that they couldn't have made it back here before he got so ill.
          Had a swell letter from George Davis yesterday. If ever there was a friend, he certainly is one! He's a funny guy. I wish you all knew him, but he is certainly tops as far as both Lois and I have been concerned, ever since the first day that I met him when he crawled into the bunk above me on that crowded trip over from N.Y.
                                                                                            Loads of love,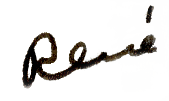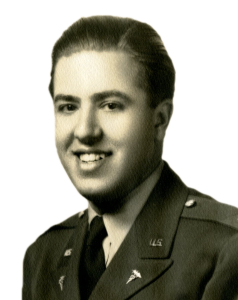 .
Watch for my next letter
February 19, 1944

Several views of Palermo…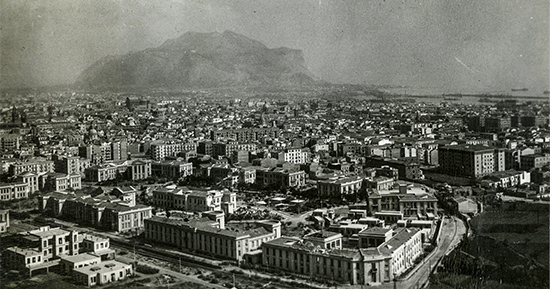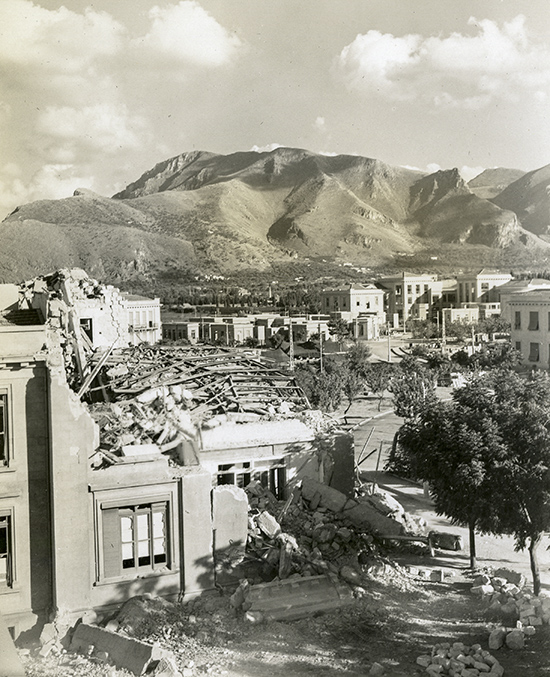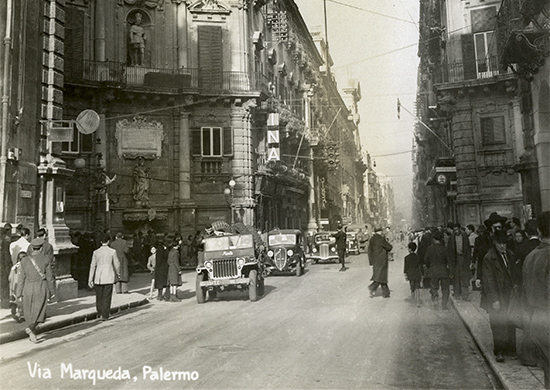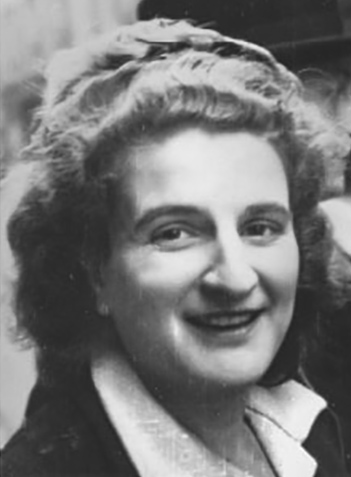 While René is touring around Palermo on February 17, he has no idea that his French cousin Yvette Baumann Bernard is in Drancy prison, where she has been since she and her husband Jean-Guy were arrested by the Gestapo on January 28. You can read the details of their arrest, which she provided in an interview in 1980, HERE. And in the same interview, she recounted the following about what happened to the unborn child she was carrying: "My baby died during the days following my arrest. I only gave birth on February 17, 1944, alone in a cell, to this baby who had been dead for at least a fortnight."

February 19, 1944
No. 5

Dear Folksies,
            When it rains it pours – and it has been doing just that of late, (i.e. on and off with occasional startling snow) – I wrote that we had finally gotten an ENT man – yes, but that isn't all. We got another new Capt. yesterday and the Col, greeted him, hoping that he was a psychiatrist, only to find that he is an Eye man. He was originally supposed to come to us way back in early December, but because he was ill at the time, his orders were cancelled, and then, for some reason, he found himself finally traveling here anyway. Name: Capt. Waugh, from Brooklyn. I do not know his first name at the moment.
            So, now, we have dignified things by the fact that we have attached to us, or rather, as part of us, an "Otorhinolaryngologist" and an "Opthalmologist". The boys have been slinging those words around for the last couple of days and have managed to baffle each other. They have set up their clinics and are now in full swing.
            Dad, I'm glad you finally had your B.P. checked – don't let it get higher! And I'm interested in the penicillin success you mention – let me know more when you know more. So far, except for one other case, only our V.D.'s have gotten it.
                                                                                            Loads of love,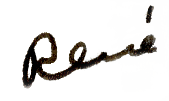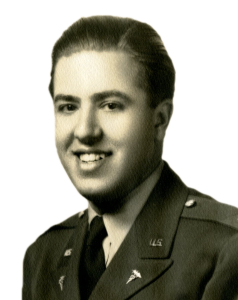 .
Watch for my next letter
February 26, 1944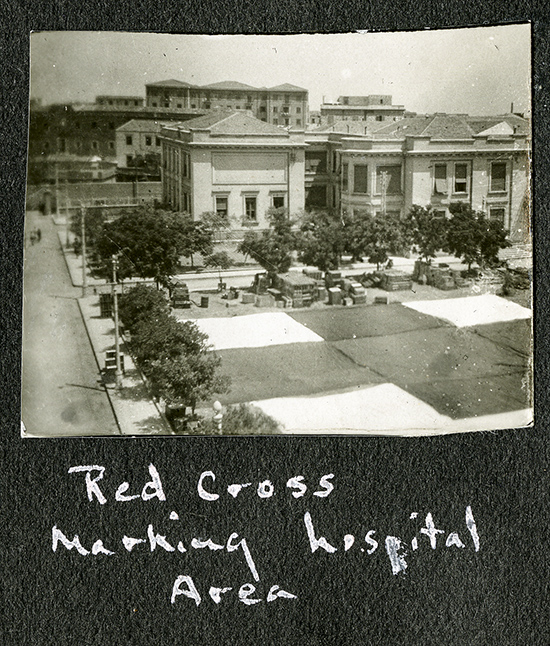 The Red Cross on the ground marks the buildings as a hospital.

Dr. Philip Westdahl writes in his journal, "During February I have been managing the venereal disease wards. The problem had become quite acute both in the Army and civilian circles as is true of all war occupied zones. Most of our cases are resistant to sulfa drugs and we have been fortunate in being able to obtain penicillin for treatment. We have treated about 100 patients with this drug, giving about 100,000 units intra-muscularly. Our results have been about 35-40% cures, another 40% definitely improved and about 15-20% unimproved. However, we have not solved the problem of preventing exposure." Then, he added a note, "Later, experience with penicillin has increased the improved and presumably cured rate up to about 85-90%. Apparently the individual drug lot varies considerably, some producing far more satisfactory response than others."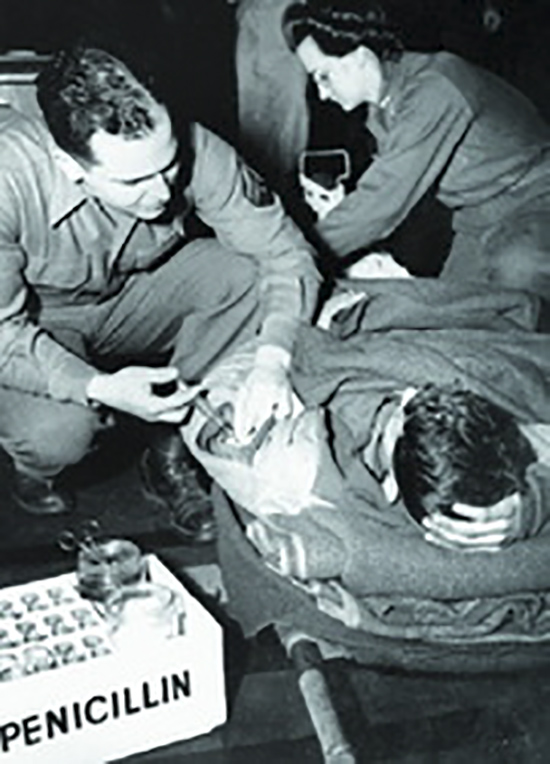 Please send me an email when a new Dear Folksies letter is posted.