August 25, 1944
Southern France
No. 46

Dear Folksies,
            Lazy day – loafed around the whole time, sleeping and reading. Weather comfortable instead of scorching as yesterday, so it was possible to sleep without too much difficulty.
            Paul and Chuck just returned from an unsuccessful hunt for grouse, rabbits, boar or whatever they might have been able to run into. Apparently some of this section used to be part of the hunting preserve belonging to a hunting club, for things are fixed up pretty nicely.
            Had a couple of good meals today – our Helen is doing a good job here – swell cantaloupe for breakfast, a piece of which at lunch greatly enhanced the canned fruit cocktail dessert, which has been given us so much that it is no longer liked. Also had some fine fresh tomatoes for lunch and the string-beans at supper were fixed in a different manner than this outfit had ever had them. Yes, Helen's getting favorable comments all over here, and, of course, every time we get a chance we put in an extra plug for her. Wish our Col. had given her a free hand in our gang, like the Col. here is doing.
            Henry Stanford, the chest surgeon here (Harvard 1920) has continued to live in our tent with us. And he's quite an interesting fellow.
            The radio brings more and more good news. [René is probably referring to the Liberation of Paris on this date.]
                                                                                        Loads of love,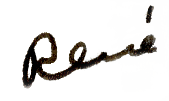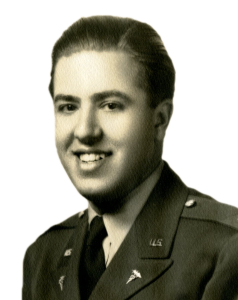 .
Watch for my next letter
August 27, 1944

While René was loafing on August 25, 1944, Paris was being liberated.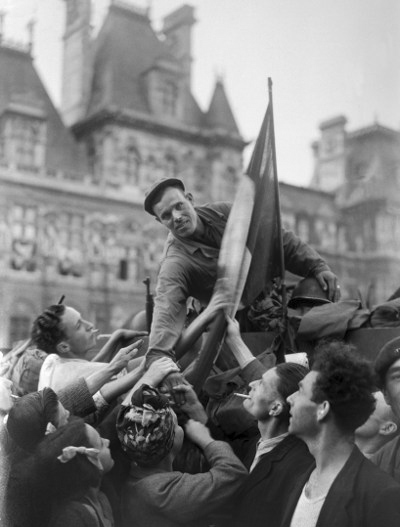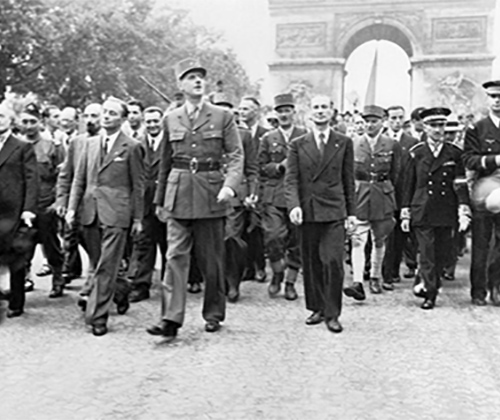 Click here to add your own text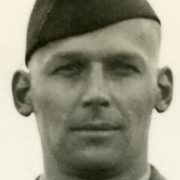 No letter from René today. Here's an excerpt from the journal of Dr. Philip Westdahl about his arrival (and that of the rest of the 59th Evac. Unit) to the South of France on August 25 and their move to Carpentras on August 26, 1944.

---
---



    On Friday morning August 25, we sighted the southern coast of France, a glorious land to behold, not only for its beauty but because somehow it represented a step closer to home. Even from a distance we could see the low-lying hills covered liberally by beautiful green trees, quite a contrast to the treeless country of Africa, Sicily and Italy.   

    We made our way into a very colorful bay with the town of St. Tropez on one side and Saint Maxime on the other. The former was comprised of very picturesque tiled-roofed homes partially hidden by the green pines so abundant throughout the entire region. A few beautiful hotels indicated that this must be a resort of some sort. Saint Maxime, on the other hand, was a compact, small, typical old European town.

     The bay itself was a beehive of activity, ships moving in and out at a great pace. We soon found our own LST heading straight for a sandy beach at two-thirds speed. We must have hit the beach at about 10 knots, sending up a small tidal wave ahead of us. It was a perfect landing with hardly a jar. Down came the ramp and the vehicles poured out without loss of a minute.

     Several of the LSTs in our convoy were loaded with French troops. We were all anxious to see what their reaction would be on setting foot on French soil. As might be expected, they practically dove off the ramp before the ship landed. Once ashore many of them kneeled down and kissed the sand on the beach. It was quite a sight. They have a lot to fight for and appear full of fire and enthusiasm.

     The roads in the vicinity were well paved and wide and the bridges and power-lines were intact, as though the Germans evacuated in too great a hurry to carry out their usual process of destruction. Railroad tracks were also intact.

     We spent our first night on French soil bivouacked in a pine forest, a vast improvement on the dust-impregnated olive and lemon orchards of Sicily and Italy. The following morning we learned that we would be on our way to the front by the end of the day, possibly traveling 100 to 150 miles.

      Our trip to Carpentras, where we first set up our hospital on French soil [on August 26], was most eventful and enjoyable. The country along the coast showed evidence of considerable shelling and battle. Several of our tanks lay crippled on the beach in one spot, but the German vehicles littering the roadside all along the route more than compensated for our own losses.

     The coastal drive reminded me a great deal of the 17-mile drive at Carmel, and the rolling fields inland resembled those of Sonoma county. Our route took us through the towns of Aix and Apt, about 30 miles east of Avignon. Fortunately all of these towns had been spared the devastation so prevalent in Italy. Only occasional shell holes were evident in occasional houses. All of the little towns were wonderfully clean and picturesque, in marked contrast to those of Sicily and Italy. The French people also were clean and relatively well dressed. Almost all of the civilians in this section of the country are the friendly, dependable rural type, the backbone of the country. They immediately captured our admiration and respect – the feeling was apparently a mutual one.  

.

Watch for René's next letter on
August 27, 1944

Photographs of the landing of the 59th Evac Hospital and others on August 25, 1944.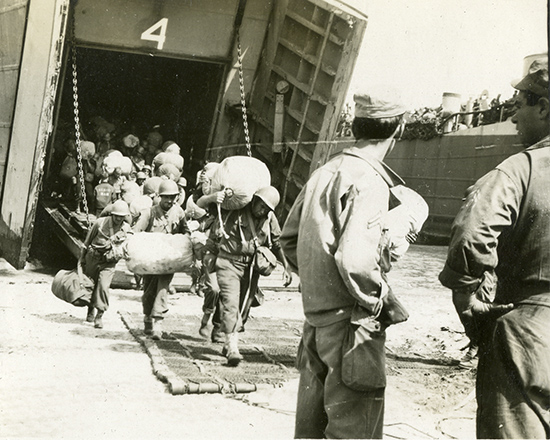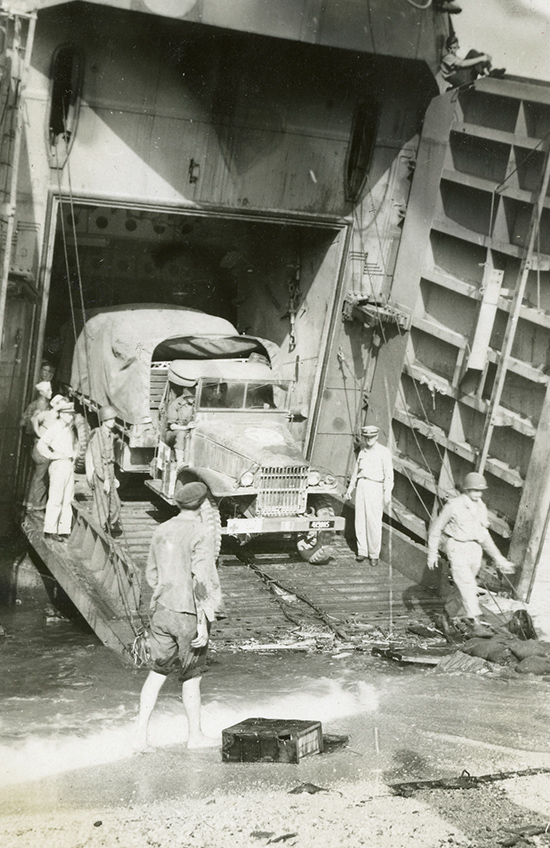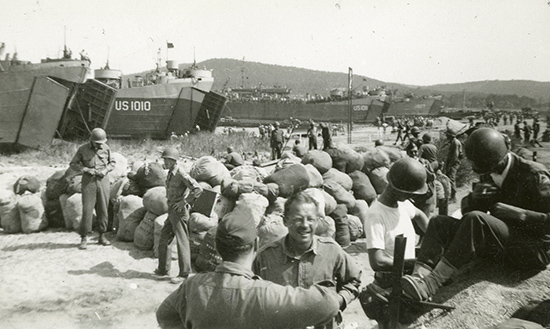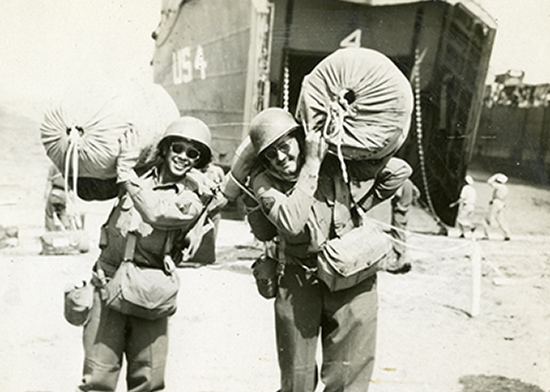 Shook and Baldwin come ashore.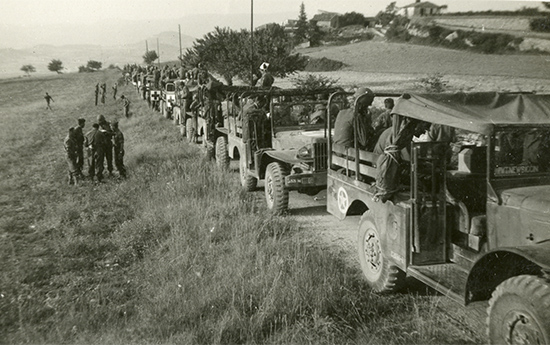 Convoy on the way to Carpentras on August 26, 1944.

August 27, 1944
Southern France
No. 47

Dear Folksies,
            We're still loafing and enjoying the countryside at the moment, and keeping out of the range of the 59th, which is somewhere around.  We've seen some of our boxes, but no men.  And, as we know they are not as yet working, we're going to let them find us when and if they can, and if they really miss us.
            Yesterday Chuck and I hiked the hillside — through pines and low brush much as one finds around Tahoe and Feather River. We made our own trails part of the way and came out a bit scratched up by the brambles.  Today we started out with Roy to hike to a town about 3 to 4 miles from here, but we got a ride, so Roy went on with the truck to visit a friend where the truck was headed, while Chuck and I stayed in this nearby town and had lunch there and stayed several hours.
          The people here again were very friendly — we were invited into several homes, shown the town, given wine to take back to camp, taken through the small hospital, and engaged in conversation all day long.  The pharmacist spoke excellent English, but with all others we spoke French and got along fine.  'Twas a nice town — a Sunday afternoon in the town square — and we had a good time.
        Chuck was looking for a place to get some perfume to send to his wife, and that is how we happened to run into the druggist.  He had some "Eau De Cologne" and gave us each a small bottle of it, refusing to take any money — not even cigarettes, because he said he was so glad the Americans were here.  We felt awful taking anything like that, but he was insulted when we told him we didn't want to take anything without paying for it.  So finally we did take it.  He later chased us down and gave us wine to take back to camp with us — some excellent white wine, and again he wouldn't take anything for it.
          While we were sitting in the square this morning, the local Sunday school was dismissed and as all the little girls came by us they stopped to say hello and to shake hands with us. What a difference from Italy – I repeat!!
          Interesting too, the fact that many of the people in these towns are refugees from the Southern Coastal towns, awaiting return to their homes when their towns have been liberated.
                                                                                        Loads of love,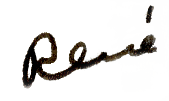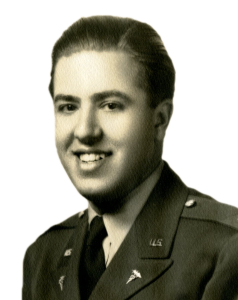 .
Watch for my next letter
September 1, 1944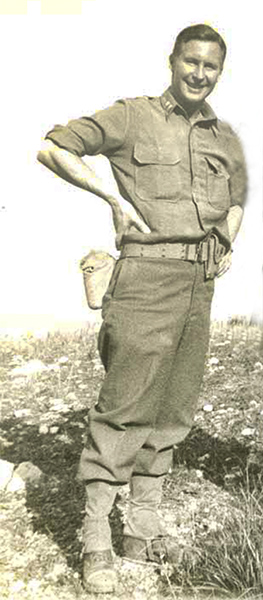 René tells his parents that he went hiking with Chuck Schwartz (above) yesterday. But today got a ride to a town, which was probably Avignon. (The postcard and photographs below from René's photo album were dated August 1944.)

Pont d'Avignon (above and below)

Palais des Papes, Avignon (above and below)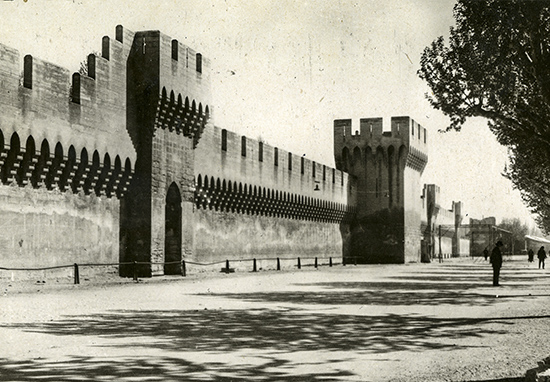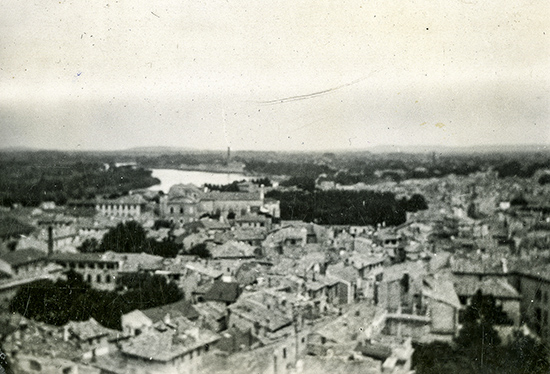 Views from the Palais des Papes, Avignon (above and below)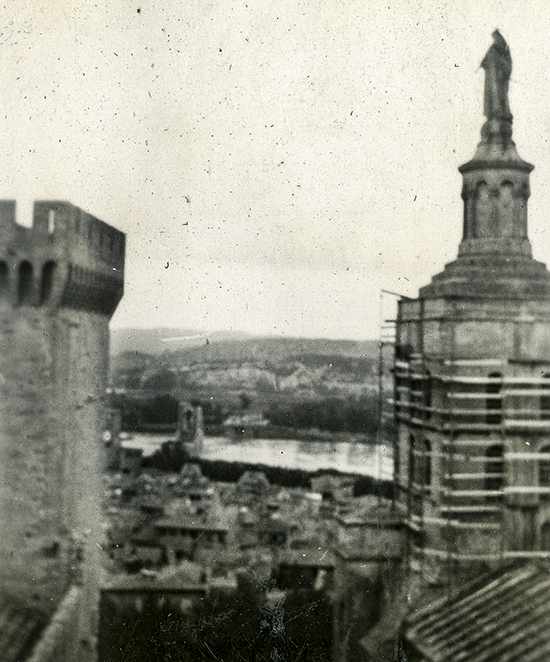 Click here to add your own text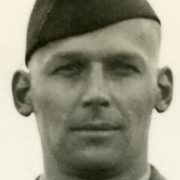 No letter from René today. Here's an excerpt from the journal of Dr. Philip Westdahl about what the 59th was up to in Carpentras around August 28, 1944.

---
---



      We arrived at our destination near Carpentras late at night and the following morning all pitched in to set up the hospital. By late afternoon we started to receive casualties and from that moment on, the shock tent and operating tent were beehives of activity. This continued for four days before other evac. hospitals leap-frogged us and took over the load.

       This was the work we have been waiting for for two and a half years, and the improvement in morale was noticeable throughout the unit. There were a great many kinks to be ironed out before we really functioned smoothly. We were a little slow in running cases through surgery, not only because of our being unaccustomed to rapid technique, but the prepping and anesthesia added here and there to the backlog of patients awaiting surgery. From time to time there were as many as 50 to 60 patients in the shock and pre-operating tents.

       The shock tent functioned beautifully. Patients brought in in extremis were immediately and adequately transfused, many receiving 1000cc blood and 2 units of plasma, and arrived in surgery in excellent condition.

       The cooperation and willingness of the entire staff to help and work hard was most gratifying.


       By far the majority of our cases were German prisoners, and except for waiting until our own boys were taken care of, their care was excellent. The time interval between injury and surgery was in many cases 48 hours, particularly among the Germans. Many of them lay in the field, abandoned by their own troops, and were picked up 24 hours later. Delay in waiting for surgery due to the volume accounted for the 48 hours. Consequently there were a few gas gangrenes, some of which required amputation.

       Most of the wounds were multiple shell fragment wounds, produced by bombing and shelling. These were treated by the usual wide debridement and vaseline open dressing. In most respects it is a very sickening type of surgery – cutting away dead skin and muscle and removing fragments of bone and metal. Often the resulting defect would extend from hip to the knee and down to the femur, leaving a wide, gaping wound. If cleanly debrided, however, these could be closed by secondary suture within 5 to 10 days, often with very satisfactory results.


.

Watch for René's next letter on
September 1, 1944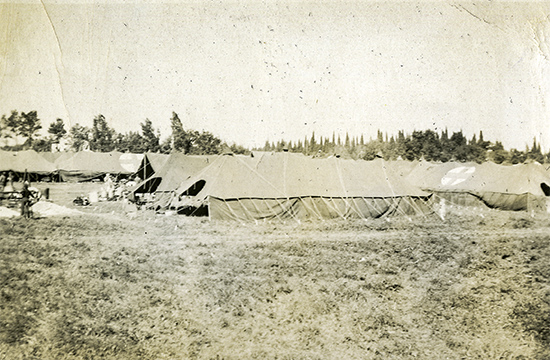 Hospital area Carpentras.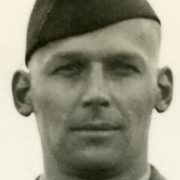 No letter from René today. Here's an excerpt from the journal of Dr. Philip Westdahl about what the 59th was up to in Carpentras around August 30, 1944.

---
---



      My most interesting case was a shell fragment wound in a German, which perforated the left chest and diaphragm and the large bowel at the splenic flexure. The latter was mobilized and brought out as a colostomy, exteriorizing the perforations. My most disheartening cases were two arm amputations, both Germans, done within the space of an hour. Such cases cause one to reflect  on the absolute ridiculousness of war — why should civilized human beings be forced to kill, cripple and disfigure one another?


        Another ridiculous aspect is the fact that our boys do their best to kill our enemies and we, as doctors in the same army, do our best to save them, often giving them blood from our own troops and plasma from our own civilians.
The Germans on the whole are less arrogant than in our African days, but enough of them still possess the stubbornness of the so-called master race to make us realize how important it is for the Allies to maintain a rigid and constant surveillance upon them for generations to come. Any further attempts at re-arming and aggression must be stopped emphatically, with force if necessary, in their incipiency.


          I fear that many of our own fighting boys little realize or share this feeling. What then can we expect from those at home who have never seen our enemy or witnessed the havoc of war. It might be that we shall be forced to rely on the Russians, British and French. Their hatred is understandable.


.

Watch for René's next letter on
September 1, 1944

Surgery in Carpentras, France.