May 16, 1944
No. 25

Dear Folksies,
         Saturday afternoon we had a good baseball game with the same Headquarters outfit that beat us the first day that we played. This time we did better, coming from behind to whip them in the last inning. They've challenged us to another game, and we will undoubtedly oblige.
         Sunday I baked on the beach in the P.M. and yesterday was out there again. Now they have put a raft out quite a ways and one can swim out there, relax for a while and then swim back in.
         Today am taking things easy. The men are having a hard-ball baseball game this afternoon, so will probably watch them.
                                                                                         Loads of love,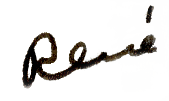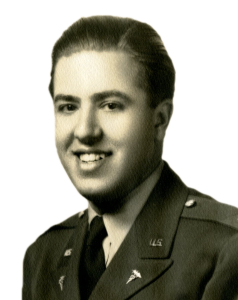 .
Watch for the rest of this letter
May 18. 1944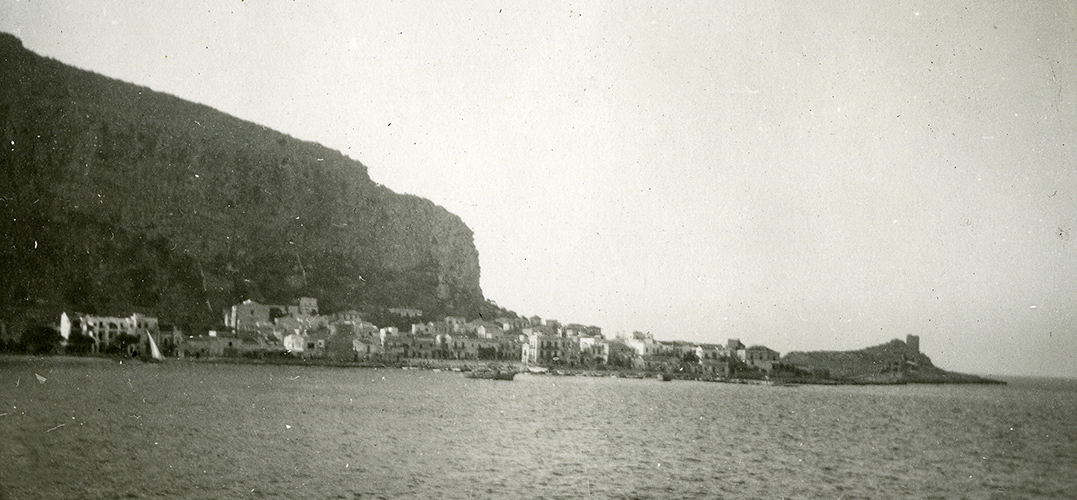 Philip Westdahl writes in his journal about this fallow period after the 59th Evac Unit turned the hospital over to the 154th station group. "[We passed} the time as best we could by playing ball, swimming at Mondello beach, going to shows or reading and writing at night. I know of no more frustrating feeling than to be left behind sitting around doing nothing while there are men fighting at the front, and hospitals almost too busy to handle the volume of casualties, who would be grateful for a relief. During our civilian days we would have given anything for just a few free evenings and a week-end or two with our wives, and now that we have this time we are in such a position that we can't enjoy it and are more than anxious to get buried in work. We continue to hope that we will have our opportunity."

Click here to add your own text
May 18, 1944
Conclusion of No. 25

Dear Folksies,
         I'm Medical O.D. today so have to stick around and it has been most boring. Have caught up on all my reading and nothing else is handy.
         The baseball game the other afternoon was really a good one. Wy played his first game since wrecking his knee and he pitched, pitching a swell game. In fact, he put those balls in so fast that poor Joe Plummer who caught for him has had a sore and swollen hand ever since.
          Yesterday in the P.M. went to the beach and stayed out longer than the rest for Cy Kiernan and I were invited over to the beach club run by the Headquarters gang from town, including Bob Loeb.
            You know, it is funny the number of people we have met who have become convinced that after the war they are going to go out to California and probably settle there. Bob (who is from Charleston, West Virginia) feels that way and Cy Kiernan (from New Jersey) says that he is going to have to move to California out of self-defense because all of his friends will be there.
            I got a letter from Alain yesterday who says that Ilse thinks that the places we've been in here in Sicily are very beautiful and that she likes it even better than the Riviera. Where she gets these ideas I know not??
                                                                                         Loads of love,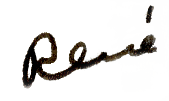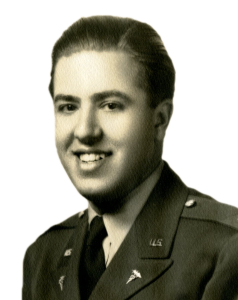 .
Watch for my next letter
May 21, 1944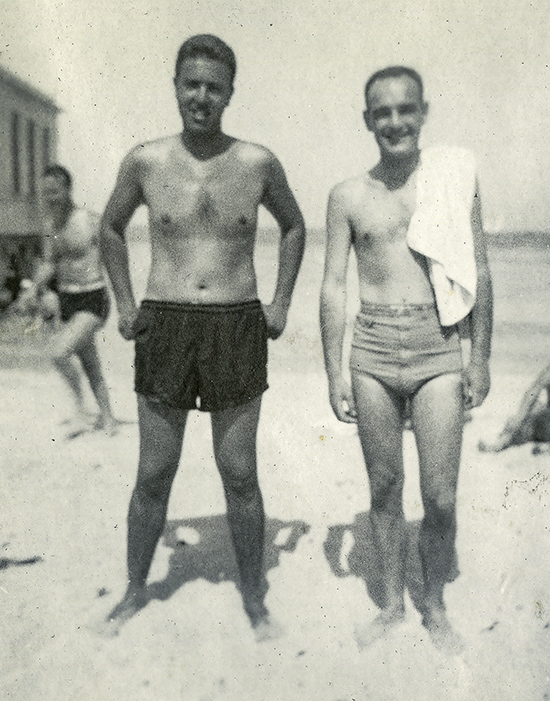 René and Cy Kiernan at the beach.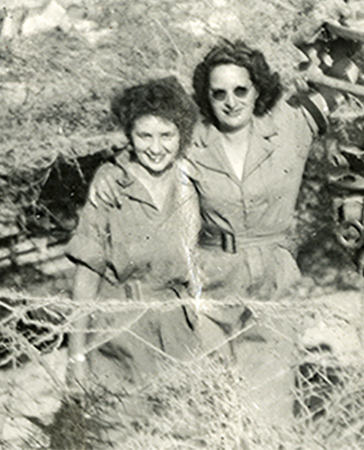 While the doctors were playing baseball and going to the beach, nurses Gert Brazil (on the right in the photo above) and Marion Switzer (on the left) went on an adventure.
Gert told the story years later: "Marion and I were given a week's leave and we were supposed to be in North Africa on leave. Instead, all of the action was in Italy and we wanted to go see some action, because we hadn't seen very much.
Marion said she knew of a Colonel who was running a hotel in Naples, Italy. So, we bummed a ride and got over there. I was scared, because I had never done anything like that — I usually went by the book. But Marion was a darling; she was quite a gal. We would go out to dinner some place and every day was her birthday, so we had to celebrate and sing happy birthday to her.
We finally got to this hotel in Naples. It was a big old place. We stayed there and, of course, there was an air raid that very night. I was worried that if we got bombed out there, no one would know where we were and it would be a real mess."
Click here to add your own text
May 21, 1944
No. 26

Dear Folksies,
            Sorry to hear, Dad, that you have again had teeth trouble. How many does that leave you, anyhoo? Yes, our food is O.K. though there are forever grumbles that one has gotten to take as routine. But then, maybe I'm not so particular as some of the rest – and anyway what good does it do?
            One thing that seems odd, however, regarding food, is that we seem to get practically nothing but fat on the pork chops with only an iota of meat on the bones. It's a wonder that the Army buys that stuff for 'twould seem far wiser for such animals to be sold for lard rather than meat.
            Regarding malaria, we have seen all varieties though very very few of the more serious type – practically all were mild cases of Vivax. Don't remember having had any atabrine-psychoses, I don't think we've had any, despite some pretty good doses in therapy.
            As for rheumatic fevers, we have had relatively few – but, of course, the outdoor life of the soldier overseas is less conducive to that disease than is the city life for those who had previously been in the country – and, of course, barracks like in the U.S. are more city-ish than pup tents, etc.
            As far as eating in local eateries is concerned, it is and it isn't safe. It depends on the place. For a time, every eating place was off limits and then for a while it was O.K. But more recently the former state of affairs has prevailed again. It depends, of course, on the cleanliness of the joint more than anything else. I've never gone in any place without having a look a their kitchen first.
           On our trips, however, we did our own cooking, mostly on that first one, except for two meals at really clean places where other Army or Navy officers had eaten and recommended. On the second trip, however, we ate at the hotel at which we stayed and used our own food supplemented by things that the owners of the hotel got for us. Accomando supervised the stuff before and during cooking, so that we knew we were pretty safe. And, surprisingly enough, in our own outfit we have had little trouble from anything that could be caused by food. Have had only two amebic cases – the one nurse and one of the enlisted men – and no one has ever returned sick from any of the trips we took.
          That, I think, was somewhat of a surprise to all, but it was one of the factors influential in keeping up the trips for as long as we did. Yes, there have been occasional individual outburst of diarrhea, but nothing serious, and certainly not more than would be expected in a normal population of this number.
          No, you are right regarding the parachute jumps: the higher the safer, for it gives plenty of time for the parachute to open. And if the first one doesn't open, then they still have time to have their emergency front chute to open. If they jump from too low an altitude then their goose is cooked rather soon. They also cannot let the chute open too close to the plane, either for of it getting fouled up in the plane. Chuck went off, I believe, from about 900 or 1000 feet just above a field, along with a flock of others.
          Today there is the "All Stars" baseball game – stars of one league against the stars of the other league. Wy and Lefty will be playing, so shall be going out to see them.
            We've taken over the beach club that Skinny St. Claire and Bob Loeb used to have with their gang. It isn't really a club, but a house on the beach, and now our Club runs it with the others still able to use it too, of course. It is a two-story house of about 6 of 7 rooms, a front porch, a back-garden with badminton court, dart games, etc.
          I sort of imagine that this will arrive just shortly before your birthday, Pop, so may I wish you a HAPPY BOIDAY AND MANY MANY MORE.
                                                                                         Loads of love,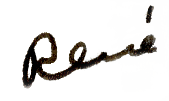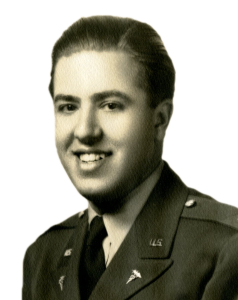 .
Watch for my next letter
June 5, 1944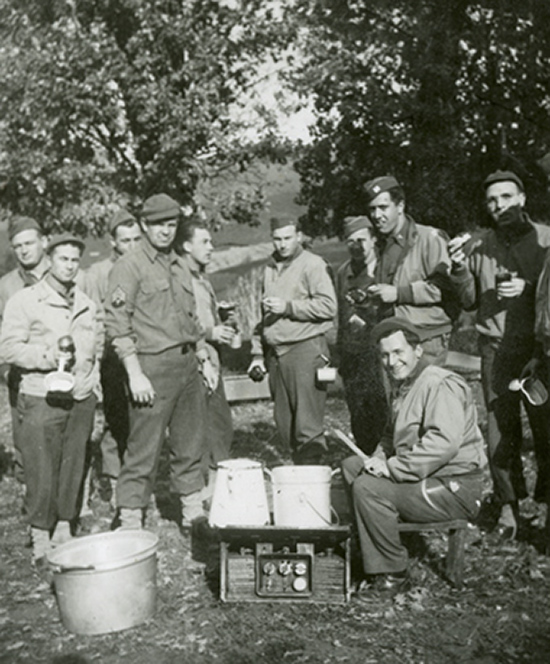 René tells his parents that while local eateries in Palermo may be safe or not, no one got sick on their "road-trips" around the island. Either they ate their own food (above) or Eddie Accomando (shown below standing at the left of the frame while René is seated at the table) supervised the food preparation at local restaurants or hotels.

René is planning to go to the "All Stars" baseball game after he finishes writing his letter home.

Click here to add your own text



            On May 23rd, Bill Drew left this world suddenly and tragically. One of the most likeable, capable and popular young fellows I ever hope to know, his death was profoundly shocking to us and we all felt his loss very keenly. Even as I write this account it is almost unbelievable that he is no longer with us.

            I felt quite close to Bill, having known him since high school days, and was grateful to act as an honorary pall bearer at his funeral. The services were held in a Catholic Church in Palermo, and the presence of the American flag covering Bill's coffin seemed a fine and fitting tribute to a fine fellow.

          At the military cemetery in Palermo, Bill was given the three gun salute of a military burial. Although I like to think of Bill as he was during life, my last memory of him shall be associated with the flag and salute with which he parted from our presence.


.

Watch for René's next letter on
June 5, 1944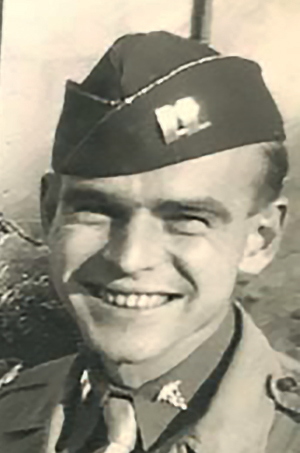 Dr. William F. Drew, known as Bill — shown as Dr. Westdahl wanted to remember him.
This is what Gertrude Brazil remembered about the untimely death of Dr. Bill Drew: "He was getting up at five or six o'clock in the morning to go do calisthenics. Part of the place the doctors were living was bombed out. The staircase was bombed and I guess he fell off and was injured and died."
René will tell his parents more details in his June 13th letter.
Gravesite for Captain William F. Drew at the Sicily-Rome American Cemetery and Memorial in Nettuno, Italy (near Rome).
Photo by John "Jack" Richter



            Shortly after noon on May 28rd, we steamed out of Palermo harbor on a Liberty ship as part of a small convoy accompanied by special sub-chasers, a comfort to all aboard. We weren't sure of our destination, but felt that it would be Naples. We couldn't have asked for a more calm or uneventful voyage and at about 9 o'clock on May 29th passed between the Isle of Capri and the Italian mainland and entered the harbor of Naples.

       I had no regrets about leaving Palermo. We had been comfortable, to be sure, but quite out of the war for many months. It was a decided relief to get out on the water away from the filth and squalor so characteristic of Sicily. Even though the valley and mountains looked beautiful from the ship, the unpleasantness of the city itself stood foremost in my mind as Sicily.

       Capri was a disappointment, as we passed it about a mile or two off shore. It arose abruptly out of the sea, quite mountainous on its southern shore. On the north there was an inlet with the more populated section of the isle sloping down to the shore. From this casual observation it held none of the romance with which it has always been associated. 

       As we came closer to Naples, Vesuvius became more distinct through the haze which overhung the harbor. A faint cloud of smoke was slowly rising from the crater, quite in contrast to the eruption several weeks ago. I began to feel at this point that I had had enough of world traveling. When this war is over and I am back with Georgia and Laurie, I shall be content to stay in California for the rest of my days.

       As Naples itself came more clearly into view, I was impressed by its size, being much larger than I anticipated. The harbor was quite crowded, with many ships lying out in the bay waiting to unload. Several ships lay partially sunk or turned on their side at the wharves, and many of the latter (those on their side) were being used to unload cargo upon. We tied up along-side of one, a former Italian hospital ship that had been scuttled by the retreating Germans.

          The buildings adjacent to the waterfront had the familiar hollow appearance of bombed buildings, but in contrast to Palermo, were not leveled to the ground in  many areas. It's strange, but this has become an almost normal sight by now, and we look upon destruction with a peculiar casualness. The city rose gradually from the waterfront on a rather low hill, church steeples being a prominent feature of the skyline. On the whole, the buildings were much larger than those in Sicily, although not very high.  We were whisked through town in a truck convoy so that my observation was quite brief. I gathered a quick impression that, as a whole, the streets were wider and cleaner than those in Palermo, and a greater percentage of them were paved. The civilians also looked cleaner and better clothed. There was less outward evidence of destruction in the portions of the city away from the harbor. I am certain that my impressions would be altered by a more extensive survey.

        Activity was at a great height with trucks zooming to and from the waterfront and through the city. The streets were crowded with civilians and soldiers. It was particularly interesting to see the various types of uniforms – American, British, South Africans with their red distinguishing shoulder insignia, Australians with their broad-brimmed hats turned up on one side, Ghoumies in their striped robes and turbans, French Africans with their red fez, Frenchmen, Italians – all these made up the Allied forces fighting in Italy.


.

Watch for René's next letter on
June 5, 1944

During the 261 days that the 59th Evac Hospital was located in Palermo, they performed a total of 2,078 surgical cases – for an average of 7.96 cases per day. On October 23, 1943, their surgeons performed 21 cases –  the greatest number of procedures in a 24-hour period while stationed in Palermo.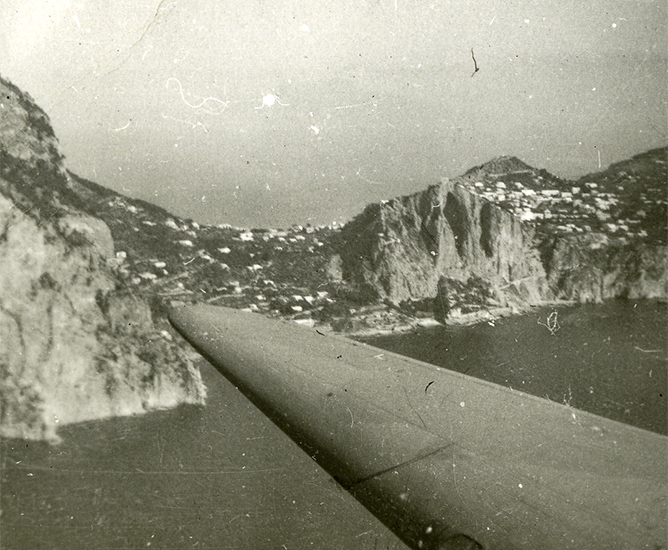 Dr. Westdahl was not impressed by the island of Capri – as he saw it from about a mile or two off shore. Maybe he would have been more impressed if he had seen it from the air.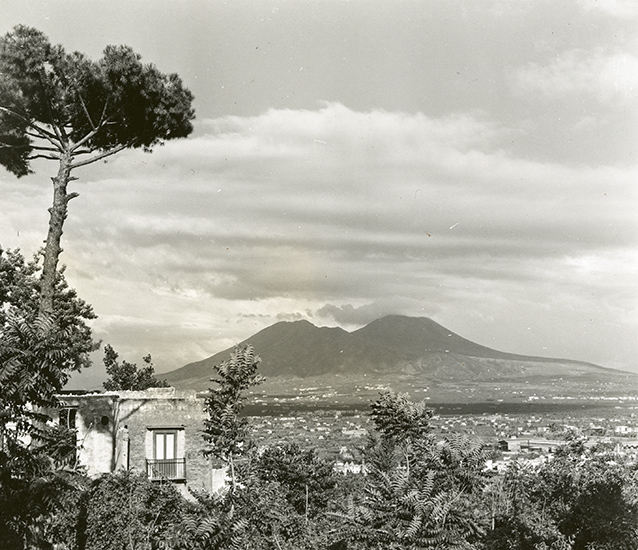 As they came closer to Naples, Vesuvius became more distinct.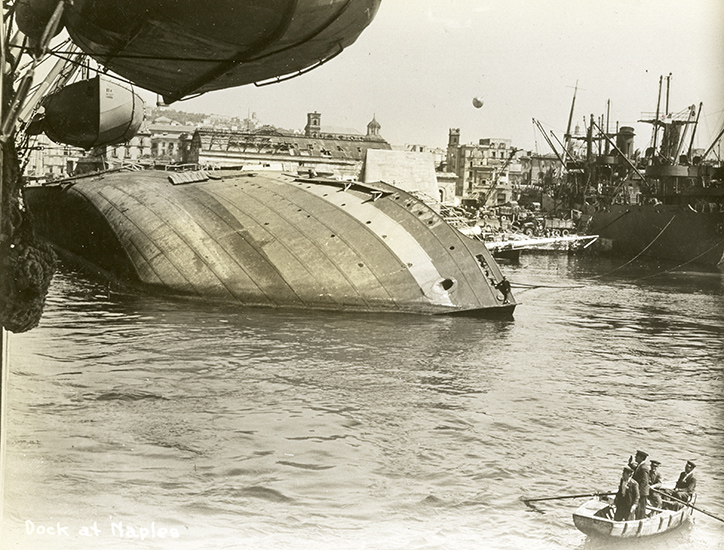 Several ships lay partially sunk or turned on their side in the Naples harbor.




            We left Naples behind us and headed out into the country in a northerly direction. The countryside was quite beautiful at this time of year, all of the fields green and well cared for. It almost seemed as though we were riding through the Santa Clara Valley. Except for occasional groups of British and American troops bivouaced along the way and the destruction of bridges and small towns, there was little evidence of war; no wrecked tanks and guns such as we saw south of Catania, Sicily.

       We crossed the now famous Volturno River where a railroad bridge was down. The small villages along the way showed evidence of a terrific shelling or bombing. Most of the buildings were a mass of plaster and shattered building-stone. Even a single building in a field, probably a former command post, would be hollowed or crumbled. Yet the civilians had returned and were doing their best to reconstruct their homes.

       Activity along the road was at a peak, a continuous stream of trucks, guns and equipment heading for the front; everyone seemed to be on the move. 

       Along the way we were stopped for a few minutes by a traffic jam up ahead and found ourselves along side a few truck loads of German prisoners. I was impressed by their youth, most of them appearing to be in their teens. They seemed not unhappy and had none of the arrogance of the German prisoners we took care of back at Casablanca during the Tunisian campaign. I later verified this by a tough sergeant, an American casualty whom I talked to at the 616th holding hospital. There was also a truck load of civilian casualties, men, women and children, who were a pitiful looking lot. One man was holding the stump of his amputated leg with an expression of painful patience; another man lay in the bottom of the truck with an amputated arm and looked very bad. We were suddenly, in that short stop of a few minutes, brought very close to the reality of war once again.

 

.

Watch for René's next letter on
June 5, 1944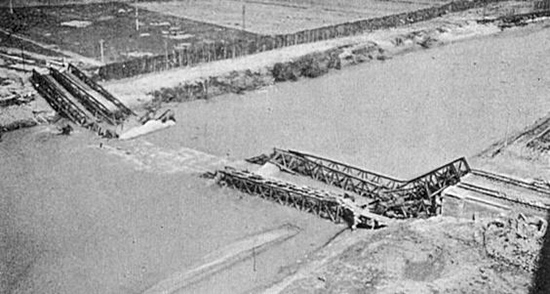 Volturno River with one of its bombed bridges (above). Shown below as it was under reconstruction.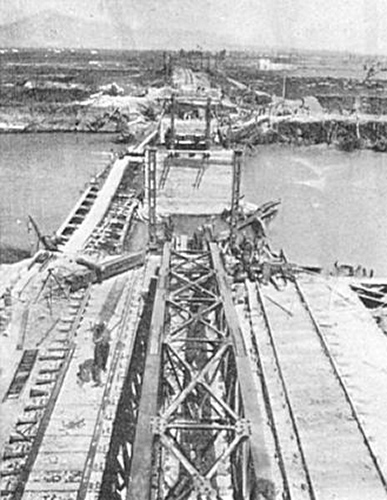 The 616th was acting as a holding hospital just a mile away from the advance point of the hospital train that took patients to the hospitals in the Naples area. The patients had received their primary treatment at hospitals closer to the front and were held at the 616th overnight and loaded on the train the following morning.

         The second day we were there the 616th received about 1000 casualties, most of whom were Americans, but also many Ghoumies and French Africans and an occasional German prisoner. One of these German prisoners was looking forward to being sent to the United States and inquired about getting a job there after the war, and sending for his wife and baby.

        The wounds varied all the way from minor superficial shell fragment woulds to severe compound fractures, chest wounds and abdominal woulds with colostomies.

       When one realizes that 1000 patients a day are coming through this one hospital, it immediately becomes apparent that it is a terrific problem to keep up an army on the fighting front. It will be at least 2 weeks before even the minor wounded cases are back in the fight, and the majority will be out for a period of months. An American graveyard in the vicinity serves as a grim reminder that many of our boys don't even reach the hospital. Life becomes much too cheap in this game of war. I can't help thinking of the thousands of families whose dreams for the future are completely shattered in one brief moment.

      The Ghoumies are an amusing group. They fight for the love of fighting and the money they are paid, as well as the valuables they can pick off their victims. It was hard to keep even the badly wounded ones in bed – they insist on hobbling to the mess line with their blood soaked bandages from head to foot. They describe their fighting with gestures similar to a ten-year-old boy playing cops and robbers. They love to imitate machine guns mowing down the Germans. We can surely be glad that they are fighting with us rather than against us.


.

Watch for René's next letter on
June 5, 1944

Moroccan Goumiers – were soldiers who served in auxiliary units attached to the French Army of Africa and served under French offices. During World War II, they fought in Italy and France.
Dr. Westdahl says that the "'Ghoumies' are an amusing group."