January 21, 1944
No. 1

Dear Folksies,
       Things here continue pretty much the same except that once again we have some boarders. How long they will be with us, we know not. They are just female and I had to move three of my wards-full of patients down from the second to the first floor, so as to accommodate this menagerie. Bill Kuzell has been on leave this week with Paul Stratte, and as a consequence I have taken Bill's wards and have been kept pretty busy. I still am in supreme command of the diphtheria wards and the other day George Wood assisted me in trying to get rid of some of our persistent carriers by yanking their tonsils. George did one and I did the next two.
        Incidentally, George has been swell to me and has taught me quite a bit, letting me do a couple of appendices on some of his patients – no I don't mean more than one appendix per patient. We've gotten to be rather good friends – he's really a peach of a person.
        Roy Cohn was gone for a short time, having gone back to Africa temporarily to take friend Samson's place, as the latter has dermatitis of the hands that would not permit him to operate. However, the dermatitis apparently cleared up rather rapidly and Roy was soon back with us again. Vivian Steger was transferred a few days ago. Why, I know now.
        Our, or I guess I should say "my" basketball team, has had a slump. The boys made me their official manager after I got them in the tournament and then, when I talked them up a great deal and had quite a goodly group to witness their first tournament game, what do they do but play the lousiest game that they had played to date. They weren't really even playing basketball, and as a consequence, they took quite a beating from a team that they should have had no trouble beating. No one was able to play that night at all!
        Then, last night, in the second game of the tournament, they did O.K., but lost by a mere one point. Last night's game, however, was a darn good game and we didn't mind losing that one so much, but coupled with the loss of the first one it kind of leaves us in the cellar so far as the tournament standing is concerned. Maybe they'll do better in the next games, however.
        Of course, one difficulty is that we haven't had any basketball with which to practice — in fact there are very few on the Island, and the only practice the boys have been able to have has been in actual games. At any rate, it isn't an elimination type of tournament, but each team is to play every other team in the tournament and the team who has won the most games out of the 15 games will then be the winner and will travel to Africa to play the winner of the North African basketball tournament. Who knows, maybe the boys will have a winning streak from now on.
                                                                                            Loads of love,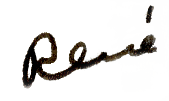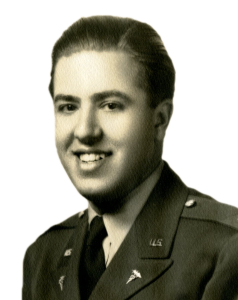 .
Watch for the the rest of this letter
on January 26, 1944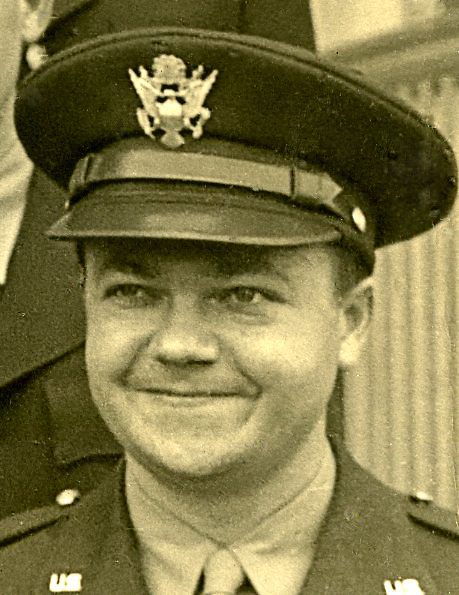 René tells his parents that he has been operating with George Wood.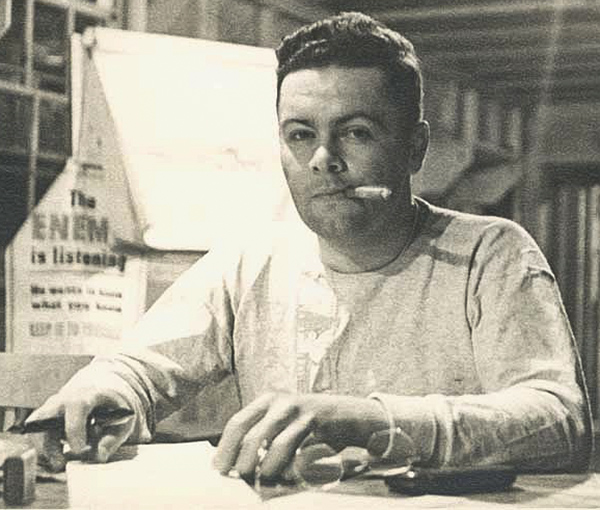 Roy Cohn is back with the unit after spending some time in Africa.

January 26, 1944
Conclusion of No. 1

Dear Folksies,
        You'll be interested to know that we have had weekly medical conferences here, the job of presenting the conferences being alternated between hospitals. Our last one was a really good one, given by Mattie, Bret, Wally and Frank. Heard one at another place last week, and decided I better look up our diphtheria figures, as they do not agree with theirs. Incidentally, we have had two cases of cutaneous diphtheria, which have been very interesting. Russ Klein and George Armanini are writing them up. I have one diptheria myocarditis, which, if I can induce the Sicilians to let me get an EKG, may also be of writable interest.
          Jack Dunlap, who was our Lab Tech Sgt. in Africa, has been one of my roommates here. He's an Evac. Officer and now has a new job, which is that of liaison officer between the unit and the Italian unit we have attached to us – i.e. they were originally prisoners working here under guard, but now they are an Italian service unit. They have three of their own officers staying with us, but, unfortunately, none of the officers speak English and Jack doesn't speak Italian, so it all still has to be done via interpreters.
            I had a little side-trip the other evening — went with Roy Hangar and Al Querhammer. Roy is the Sgt. who went around with me most of the time in my Supply days in Africa and Al is the night man on in Surgery – a former Chicago funeral director, embalmer, etc. Anyway, we set out of here in the old jeep, which has recently had a coat of paint, and went to the town of Tripani where, among other things, we visited the little town of Erice — the "City in the Clouds" as described by Bob Ripley in one of his "Believe it or Not" cartoons. We were there just before the moon came up. It was plenty dark and we couldn't find a thing, but finally we found a door part-way open and a little light coming out of the crack. So Hangar opens the door further and sees a bar with some men (Sicilians) around it so he asked "Does anyone talk English here?" expecting that someone would make a feeble attempt. He gets the answer, "What do you want?" in perfect English and was rather astounded. It turned out that one of the men was the postmaster of the little town (a 1300 B.C. town) and he was formerly of Detroit Michigan and intended going back there after the war. Yes, funny things do happen.
            Yes, Mom, I have picked up some Italian here and there and do fairly well with it at times. I know how the shortage is at home, but deviled ham is always welcome, Mom. However, don't for a minute think that we don't get enough to eat. It is little things like that, however, that do make a difference from time to time. Right now, with our Club, we are living in luxury for we have a couple of little electric plates right in the Bar and though eggs are expensive (15 cents apiece) we manage to get a goodly supply, and at night we have been having fried eggs with or without toast. Have also been having toasted cheese sandwiches, which we make on our own toaster – Bret Smart's invention – taking two small electric heaters and turning one upside down and bolting it about 2-inches above the other one – so both sides of the bread get toasted at the same time. 'Tis really neat, and, as I have said before, we are considered to have the best Officers' Club Bar and Snack Room in the whole area.
                                                                                            Loads of love,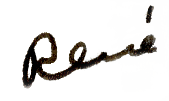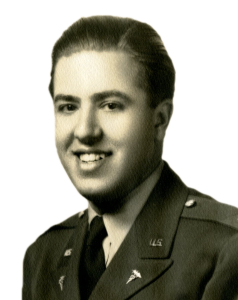 .
Watch for my next letter
on February 5, 1944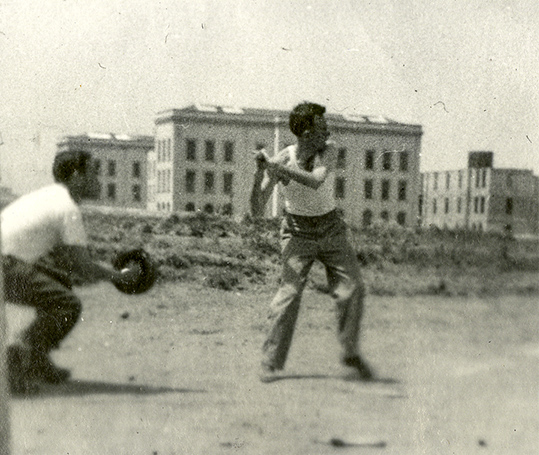 Russell Klein recently wrote up two cases of cutaneous diptheria, but still had time to take his turn at bat in the baseball game.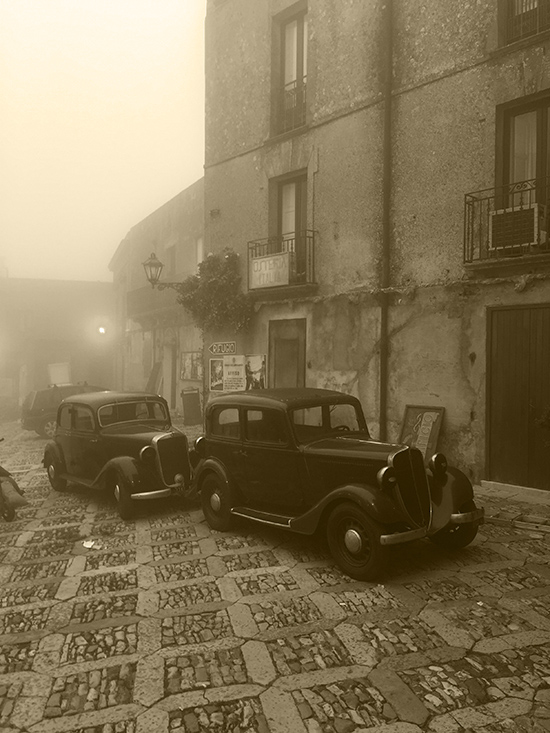 One evening Roy Hangar, Al Querhammer and René took a jeep to go visit the "little town of Erice — the 'City in the Clouds.'"
(Photo courtesy of James Campbell)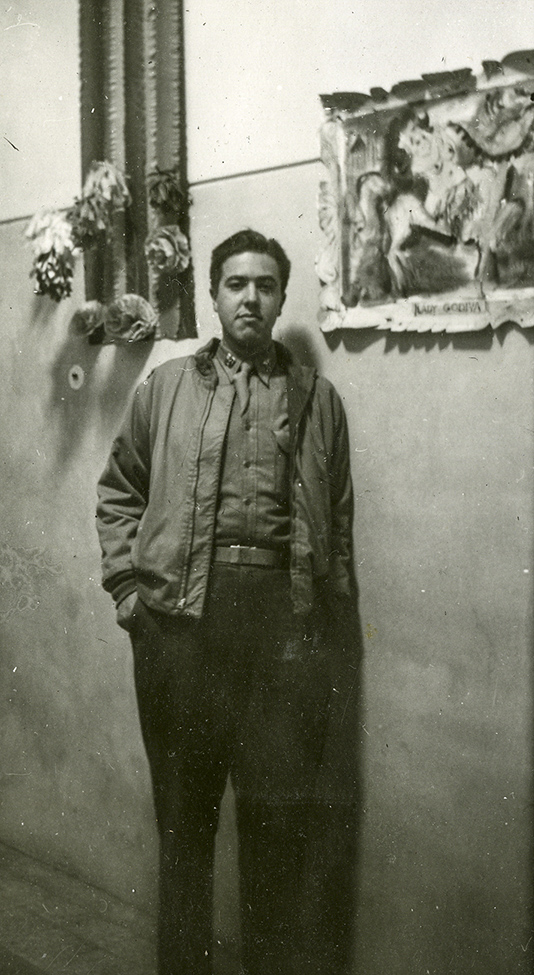 René at the Officers' Club.

Unbeknownst to René, on January 28, 1944, Yvette Baumann Bernard (his second cousin) and her husband Jean-Guy Bernard were arrested by the Gestapo in their apartment in Paris.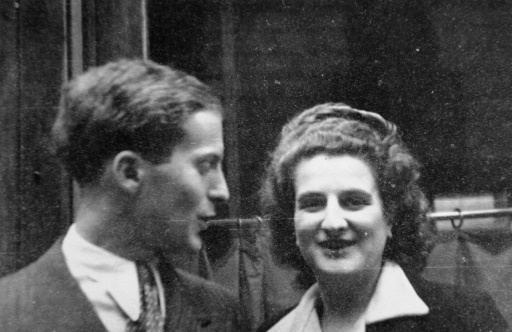 Both held senior positions in the Resistance, and Yvette, who was 25 years old, was 8 months pregnant.
---
In an interview in 1980, Yvette recounted what happened that night:
"When they knocked on the door, it was a Sunday night, the 28th of January 1944 in Paris. We were arrested at rue Boissy d'Anglas. Jean-Guy had a secretary who had been arrested three weeks earlier, so we had left the apartment. She was interrogated, but said nothing and we thought we could return. It is at that moment that she talked. I believe that she was horribly tortured. I never wanted to see her again and I could never bear to hear her name. It was not her fault, but she could have committed suicide – others had done that – it would have been better. 
Anyway, they knocked. I was in the kitchen and Jean-Guy opened the door. It was a very little apartment with two rooms and a kitchen. When I didn't hear anything, I went into the other room. Jean-Guy was sitting in a chair with his hands bound behind his back. I had three or four pistols pointed at me. They were plainclothes types, including a woman, and I realized afterwards that I had seen her before on the street. Some were French and one or two were Germans."
---
To read more about René's French relatives, click here.
Yvette Baumann Bernard and Jean-Guy Bernard on their wedding day– October 8, 1943