Here are excerpts from a letter that Lois McFarland wrote to family back in California.



August 25, 1943
Palermo, Sicily
Dear Gang,
           I've been trying to write to you for ages, but, golly, we've been so, so busy. I never do anything but work, eat and sleep. And the whole night – from 7 to 7, I'm constantly on the go.  I'm still on nites, though I have hopes of coming off before long. At present, we have over 1,100 patients and the majority are malaria. I'm lucky to be on the surgical ward – for I like this work far better than medical – though we have some pretty gruesome cases. Ren is working in Receiving now and likes it better than having wards – though the hours are longer and the work harder. At the moment he's not feeling too well – has that famous G.I. upset (polite name) again. I've luckily escaped another bout with it since my first experience.
            Bob Hope was here the other day; but working nites, I missed his shows. Everyone who went enjoyed them greatly.
          I haven't had much sleep lately. Day before yesterday, I had 3 hours (10 to 1 off and on). Must've been the heat; but I simply couldn't stay in bed longer. And yesterday, Trudy, Buddy and myself, went to town after breakfast and didn't get back till 2:30, so I had about 2-1/2 hours sleep,
          'Twas the first time any of us had been out of the hospital area since our first day here, and we had a grand time. We started into town about 8:30, only a few blocks and peeked into every little shop we passed. There weren't many, but most of them were pure junk. Scads of religious pictures and wall hangings and statues; lots of confectionery shops with very little to offer; lemonade stands as frequent on the corners as in N.Y.C.; fruit, candy and pastry, and almond vendors parked on the sidewalks. The fruit is mostly grapes and prickly pears, then tiny plums (that look like apricots) and melons, and some green pears and peaches, and lots of figs and lemons. The candy is mostly a kind of almond brittle, only the caramel part always is dark and a little scorched, and always sticky because it's so hot. The pastry sold on the street is something that is deep-fat fried and looks like do-nuts and croquettes. Have been afraid to try any; and it's been so hot, it doesn't appeal to me.
They have quite a bit of ice-cream, but it's more like sherbet; and of non-descript flavor. You can only eat it on the Q.T. as it's against the rules now, and the M.P.s will pick you up.
           We stopped first at a little confectionery shop and bought a piece of candy apiece, the size of a cookie, for 7 lire. 'Twas very good, very sweet, a maple and chocolate flavor and full of chopped almonds. We stopped at another such shop and bought a piece of luscious-looking chocolate candy – only it was lousy. Tasted like a stale cookie. Then we saw several people eating ice cream cones, so we sherlocked around the corner into a little alley, 'till we found the source. The people were thick around the stand, and were buying them for 3 lire; and when we came up, the young fellow served us first – over the heads of the others and gave us each a double portion for 5 lire. The cones were nearly like at home.
            There are an amazing number of people who speak English here – having lived in the States several years. Or others that come up and try to tell you they have a brother in Brooklyn! Almost every other guy has a brother there, it seems!
           The people aren't a bit shy about staring at us – as we walked down the street, they'd stop in their tracks and stare. Or a group would stop chatting and all of them turn around and grin at us. One gal, with a child clutching her hand, came alongside us and walked there, her eyes glued to our faces and grinning from ear to ear.
            I can parles to the people just a little – by putting an Italian accent to my French. And I can understand them quite well, if they speak slowly enough – for so many of the words are very similar to French.
           Some of the girls are very attractive and well-dressed. Most wear shoes or sandals with about a 2" or more platform. The whole populace are short in stature, and I feel like a giant along side them.
            Oh, but the best looking thing here are the civil police. They're a handsome and romantic lot and taller than the average and very striking in their snappy uniforms. They derive their authority directly from the King and are non-political. The allies recognize their status and so they continue to hold their positions – and actually have been a tremendous aid to us in maintaining law and order in the City.
                                              My love to all,
                                                               Lois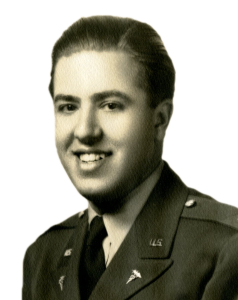 .
Watch for René's next letter
August 27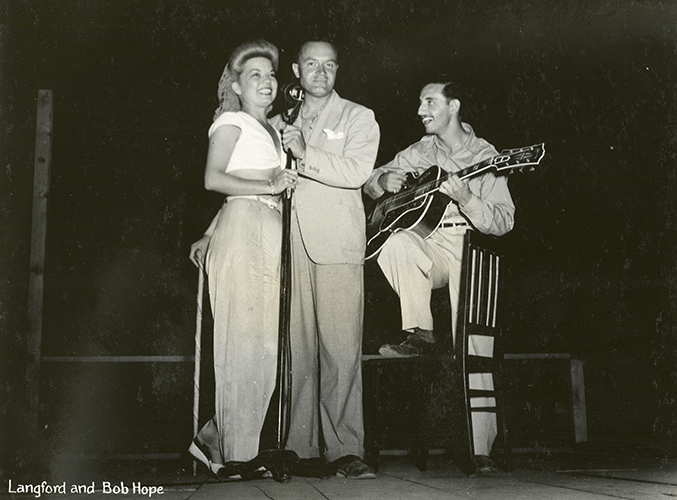 Because Lois has been working nights, she wasn't able to go see Bob Hope's show.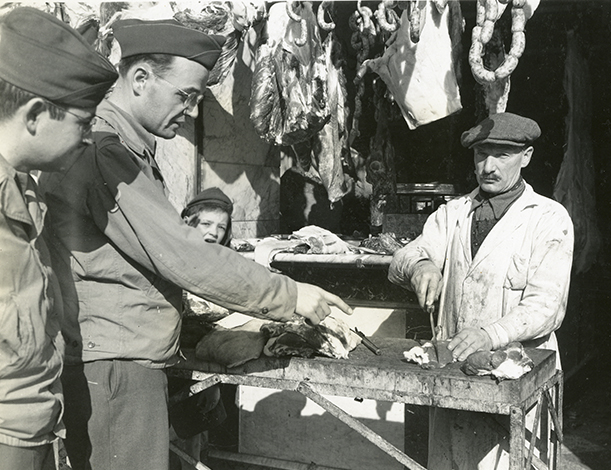 Lois tells her family about the various street vendors in Palermo.

August 27, 1943
No. 52
Palermo, Sicily
Dear Folksies,          
            Since my last letter, I've been kept plenty busy. After the first several days of running around at various headquarters, arranging for medical corps prisoners to work in the hospital, etc., things slackened up, and as the hospital was awfully busy, I was put in the Dispensary and Ambulatory Dressing rooms, and also helped Eddie Welles in Receiving.
            A couple of days ago, however, Eddie became sick and so I had to take over Receiving completely. It's interesting – far more so than previously, but it is also about ten times the headache that it used to be. We have a fast turn-over and with Reilly continually boluxing up things by giving us mis-information as to the number of beds available, putting up and taking down beds all in the same day, etc., it has had us going round and round. This morning it took one of the Sgts. and myself exactly 4 hours to straighten out the census of the hospital. Yesterday, we had gotten one figure from the nurses on the wards, another from Reilly, another from the head nurses in the various buildings, and still another from the Registrar. If that ain't a headache, let me know what is.
            Several days ago we lost poor Cy Johnson. He had to be evacuated to Africa as he developed severe asthma. I imagine he will be sent back to the U.S. on the basis of both that and his ulcer. We may also lose three of our nurses: Irene Gallagher, Fran Powers and Bessie Lawrence. They were in an auto accident and came out with busted pelves, and Fran had a big laceration on her leg. I say "may" as there is still a little argument, but they undoubtedly will go in the next few days.
            Did I tell you that Sterba is here, running the quartermaster depot from which we have to draw supplies. He tried to be tough on us, but actually he is darned lenient.
            A couple of days ago Bob Hope was here and he gave several shows, one of which was at the hospital that is right next door to us, but unfortunately when I got un-busy it was too late to go there. All the boys say that he was swell, as was his whole show.
            I had some of my pictures developed and some I shall be able to send home in a while, but the best ones, some of the invasion, I know not if I can send as yet – despite the fact that the very same pictures were published back home in the papers by Herb White, the A.P. photographer that we had aboard the ship. Incidentally, he took my picture along with the other fellows, and he thought it would appear in one of the S.F. papers, but I guess it didn't – might get it from A.P.
Loads of love,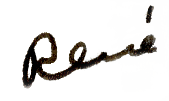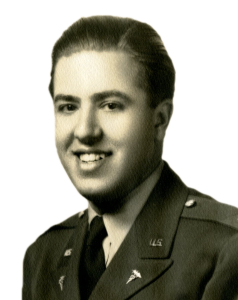 .
Watch for the rest of this letter on
August 31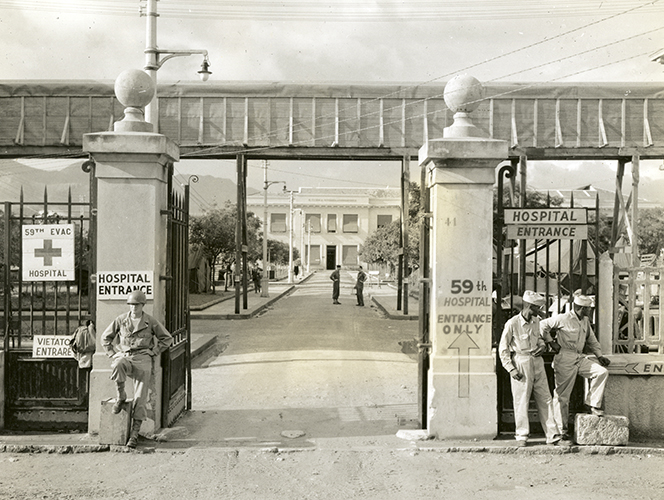 On August 30, Phil Westdahl, MD, wrote in his journal: We have taken care of many casualties occurring in the vicinity. A P-38 pilot who made a crash landing and miraculously lived and is now doing fine; 32 boys from a truck which went over a bank, 6 died, the others treated for shock, fractures, head injuries, etc. Six boys from a shell explosion, 2 died, the others badly shot up. A belly-gunner in a Fortress shot through his face over Italy at noon and landed here as an emergency by his fellow crew members at 1:45PM. He died 5 hours later, a blessing. Seeing this poor fellow and so many more that have been so badly wounded and died in our hospital really brings the futility and stupidity and bitterness of war really close to home. Not bitterness for the actual enemy boys who are doing this to our boys. I can't help but feel that they are fighting for what they have been taught is right even though it is not in our eyes, but bitterness for those responsible for involving the world in such a war.
August 31, 1943
Continuation of No. 52
Palermo, Sicily
Dear Folksies,          
             I have been rather on the punk side the past few days. Friday the 27th, I felt only fair, but not bad. The next day, however, I developed a constant mid-epigastric dull pain, which lasted all day. My temp. began to climb in the afternoon and by 8 P.M. I had 101.4 and Lois and others convinced me that I should go in the hospital then, instead of waiting until the morning, as I wanted to do. I had a mild headache with the temp. and so acquiesced. However, the next day I awoke feeling fine and couldn't get a temp over 98. Yesterday, with temp. still normal and feeling good, Sewell let me out. And then, darn it, a few hours later I got the same bellyache back again. I've had it on and off during the day, but today 'tis O.K. and I think I'll live.
           A lot of the gang have been ill on and off. None have had real malaria, but apparently have had sand-fly fever. Others have had re-occurrences of their dysentery, etc.
           I told you in my last letter that the three gals who were in the car accident were going back to Africa. Well, only Irene and Bessie went back. Fran Powers seems to be doing O.K. and they decided to keep her and see if she won't be well before we pull up stakes, if we ever do.
           Oscar Carlson wandered in here day before yesterday. He is located very close by. Bam's friend Westmoreland is also close by, as are the boy friends of many of the gals.
Loads of love,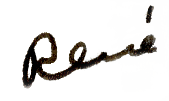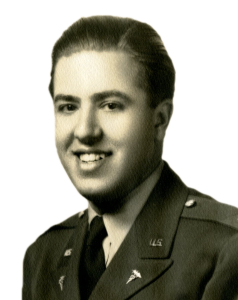 .
Watch for my next letter on
September 2

René in front of the hospital in Palermo. In today's letter, he tells his parents that he was inside the hospital overnight – not as a doctor, but as a patient.

On August 29, Phil Westdahl, MD, wrote in his journal: "WHAT A DAY! Our first rain and it really comes down in torrents. Every roof in every building leaking like a veritable sieve. Most of the rooms, with tile flooring, are converted into shallow swimming pools with cots, tables and chairs practically ready to float. The whole gang is in a turmoil moving stuff into a few remaining dry spots in the halls. We scramble up to the roof and have a great time replacing broken and displaced tiles. Now we wait for more rain to test our repair job."