July 16, 1943
No. 47

Bizerte, Algeria
(His parents think he is still in Casablanca)
Dear Folksies,    
         Unfortunately there isn't much that I can say at the present time, but nevertheless I wanted to get a brief note off to you to tell you that I'm still fine, never felt better. In fact, the only things lacking are Lois and you folks.
         Have not been particularly busy, in fact, have enjoyed a sort of vacation – tho' I must admit that I would rather be vacationing with you at Lake Tahoe now, than be where I am – if it's a vacation they want to give, they can send me to Tahoe, says I.
          The last few days I've wondered whether you have saved pictures or articles that emanated from this part of the globe. I surely hope so, for I imagine that later on they will be interesting for us to see. Hope you have saved the June 14 Life magazine and others.
          Yesterday, being Bastille Day, we had a little celebration here. We were with some French Officers and as we had them to lunch, our cook made a swell cake and used a 10cc syringe to decorate the cake with chocolate icing and writing — saying on it, "Joyeux 14 Juillet," and put a little French flag at the bottom. The Officers were most appreciative, and were sort of bubbling over.
          Hope you had a swell vacation and that by now you are all well rested and ready for the work that undoubtedly faces you again.               
                                                                                                              Loads of love,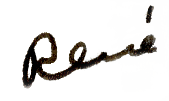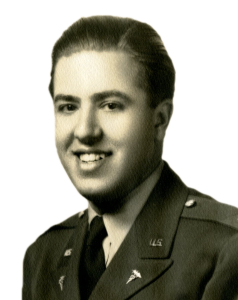 .
Watch for my next letter on
July 17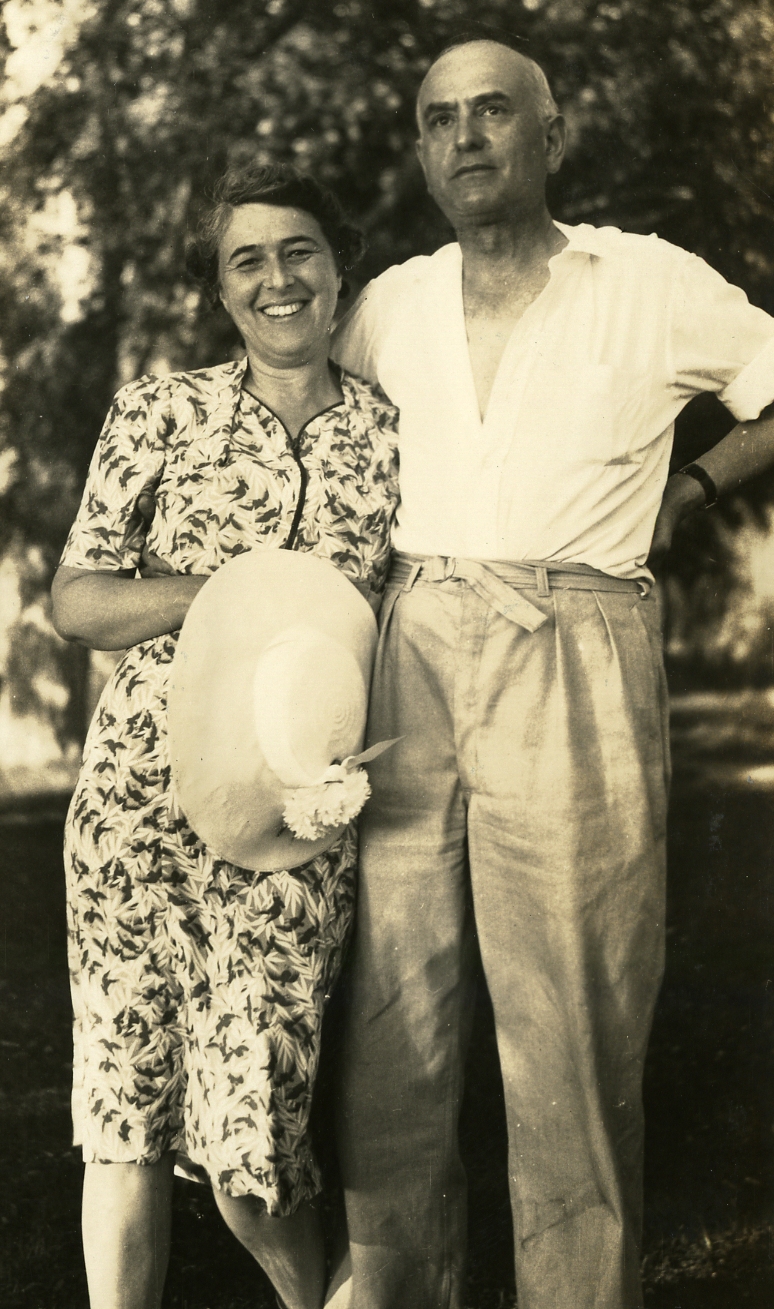 René wishes he were on vacation with his parents at Lake Tahoe.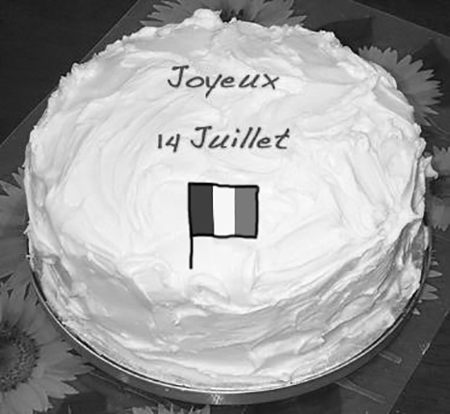 René tells his parents about the cake their cook made for a Bastille Day lunch attended by some French officers. He described it as looking like this one.

July 17, 1943
No. 48

Bizerte, Algeria
(His parents think he is still in Casablanca)
Dear Folksies,    
           Yesterday I finally managed to get some mail from you, tho' with the mail situation still messed up, I see that I'm missing one of Mom's letters and some of Dad's. All were certainly most welcome, as that was the only mail in 3-1/2 weeks – I haven't received any from Lois and wonder whether she has gotten mine.
        Thanks for the birthday wishes, but as I've told you, my birthday was officially postponed and I think Lois' will likewise be postponed a few days anyway.
        Perhaps, however, she has already received the packages you mention. I hope so.
                                                                                                              Loads of love,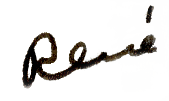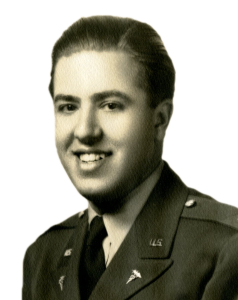 .
Watch for my next communication on
July 20

René tells his parents that both his birthday (July 12) and Lois' (July 21) are officially postponed until the couple is able to be together again. René and Lois have been apart since June 20, when René and the rest of Cohn's Courageous Commandos left the camp at Casablanca.

René's journal entry for July 20, 1943…

---
---



         Got back after midnight July 16, and stayed in the outer harbor until morn, coming in around 8 A.M.

            Again we loaded up after the many hours it took to clean out our tank deck – what a time they had shoveling out the sand and the hay. I had anticipated that the boys and I would not have to make another trip, particularly as there were actually so few of the ships bringing back patients. However, I was unable to get any info on it and so after loading that night, we pulled out around noon the next day, the 18th. This time we had a rather normal load – had some of the rear echelon bunch of the Rangers, some more of the 15th, the 10th and the 20th, and a couple of other odd outfits. Had nothing but big trucks, a few half-tracks and trailers.

            Had another uneventful trip, but somehow the commander of the convoy went awful slowly and we didn't get in until around 3:30 P.M. When we got in this time there were several ships still in the harbor and there were oodles of ships, all kinds, out off the beach about a half mile. I was surprised to see that several of the LST's that were in had diamonds on their sides and when I began searching carefully with my binoculars, I was able to pick out Bret's, Ham's, Pete's, Russ's and Ralphs' ships. I was able to pick out Bret on the bridge of his ship and also saw Pete on his.

            Finally, when it was dark, we were told to come into the harbor and this time we really unloaded in a hurry. 'Twas just under two hours. As it was too dark to venture forth, we just had to stay on the docks and weren't able to go up into the town at all.

            I was told by the Major who was Port Commander that the reason the diamond ships had been in Licata was that he had sent for them to come back up from their port at Gela to take a whole flock of prisoners back, as he didn't know whether we would be in again that day or the next and their stockade was getting awfully full. On the few ships that came in just before we were allowed in, he had loaded 3000 prisoners.

            The Major also told me about the taking of Porto Embadoquo. He said that after it was taken, it was thought that it had been well cleaned out, and as a consequence Major Miles and some Navy Captain went in to inspect the place. As they entered through a small pass, snipers opened up on them with a machine-gun, killing Major Miles and wounding the Captain. Some Lt. who was in the rear, went in with a jeep and brought both of them back, under fire of the snipers, but by then the Major was already dead. The captain was going to recover, they thought.

            We got out of the harbor in a hurry when we got a message that a torpedo-bomber was expected that night. We finally left around 2 A.M., having another uneventful return, getting back early in the A.M. on the 20th.

            During the whole third trip, the Captain had had difficulty with his digestion – having burning in his stomach, a hungry feeling, some nausea and then an episode of cramps and diarrhea. I gave him phenol and atropine and bisodol, but didn't seem to help much. Diagnosis: Gastric Neurosis. He was pretty well tired out, not used to such a strenuous ten days with so little sleep, and with his disposition it was pretty bad dealing with him – his poor officers had a hell of a time.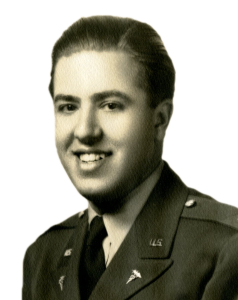 .

Watch for my next communication on
July 21

While René is making his third round-trip between Bizerte and Sicily, most of the 59th is still in Casablanca.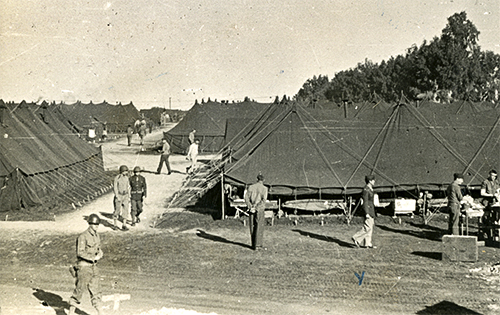 On July 18, Dr. Philip Westdahl reflects in his journal: "As I sit here on this balmy evening overlooking the blue ocean and the white low buildings in the foreground, I can readily understand how this city was named Casablanca, 'White House.' Our stay here, though prolonged and rather uneventful, has been rather enjoyable. At this time of day, with the blue sky and water and a cool breeze blowing in from the ocean, it is truly a beautiful country. Our experience has been one that will live with me the rest of my days."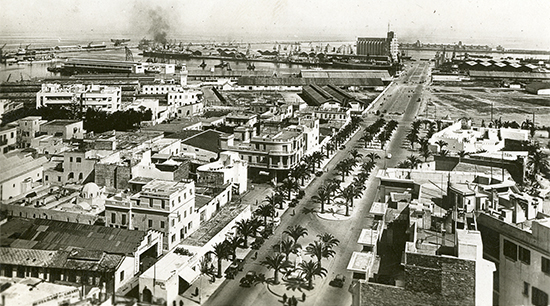 On July 20, Dr. Westdahl records in his journal, "7AM – The last of the 59ths pulls out of Casablanca at the crack of dawn. The old hospital area is as smooth and barren as that memorable Christmas Eve night when we first took it over. Our convoy consists of about 50 vehicles, mostly radar units we are moving to the front for the air corps. The officers are riding in amphibious jeeps and they are terrifically hot without tops and no cross ventilation. The water in our canteens gets so hot we can hardly touch it to our lips. We made the mistake of taking hard chocolate which very promptly liquefied."

René's journal entry for July 21, 1943…

---
---



         Coming into the harbor at Bizerte on the A.M. of the 20th, with the Captain running the ship, we scraped our propellers somewhere on the side of the channel, thus taking a chunk out of one of the propeller blades. Then the Captain turned the ship over to Mr. Mockbee to bring into dock – realizing that he himself was in no condition to do so.

             After lunch, I took the Captain up to the 56th to see what could be done about him. Told the situation to Lt. Col. Winans who immediately said that he thought te Captain ought to be in the hospital for a few days. The Capt. was agreeable, so we went back to the dock to make arrangements for him to get his toilet articles. Back up at the hospital, the Capt. was handed a pair of pajamas and a bathrobe, he turned to me like a little kid, and said, "I don't think I have to get undressed, do you, when I'm only here for observation?" That almost floored me, but I said, "But, Captain, you have to go to bed to sleep tonight, don't you?" He finally agreed, but the minute he stepped into the ward, he was just about ready to go back to the ship again. What a contradiction in his make-up! He had been talking in a hopeful tone before, on the way up to the hospital, really hoping that he would be sent back to the U.S. Then he is in the hospital for a few minutes and he wants to get out.

            Anyway, I left the Capt. to the mercy of Major Rippey and Col. Winans and headed back to the ship. However, as I started to leave the hospital, I caught sight of a general, and knowing that Col. Blesse of the 56th was the brother of General Blesse, Medial Head of Allied Forces here, I figured that the general I saw was Blesse. So, I went up to him and told him who I was, and that I'm from the 59th and was, I hoped in the next few days going to be taken off the LST and sent back to the 59th. I wondered if he could tell me where the 59th was or where it would be. He said that it should be leaving that day from Casa, for Algiers. And then, he surprised me by asking, "What, you're still on an LST?" When I told him I was, he said that we were only supposed to have made one trip. I told him that we were all set up to make a 4th trip. He said he would see about it right that evening.

            So, I returned to the ship and found that we wouldn't be going out for another trip for a couple of days anyway, because it would take that long to fix our propeller. That was O.K. with me as that third trip had been awful monotonous. That evening we went into the Lake with the ship and everyone enjoyed the evening and the next A.M., in the Captain's absence.

       On the night of the 20th, who should come aboard but Mr. White (Herb White is his name). He was back from Algiers and in grand spirits. When we took so long to get back, or so we thought, he had visions of having others beat him with pictures, etc. to the States. He was especially fearful that the British might beat him and have pictures of the British landing on Sicily before the Americans. But, when we saw his face on his return, we knew he had had it in the bag. In fact, it was far better than he could have ever dreamed it would be. He had somehow managed to talk himself into transportation from Bizerte to Algiers the Monday morning when we returned. In fact, the Navy gave him a private plane all the way there, so when he got to Algiers there was no one ahead of him and he got eight pictures and a story off right away over the Radiogram. And then his other pictures went by plane that same day, back to the U.S.

            He said they all turned out good, and his 8 pictures and story were in the Tuesday, July 13th morning editions of all the papers in the U.S. And, in a few days he got a radiogram from A.P. congratulating him on such a scoop, for his pictures beat all others, not just by a little, but by four whole days. Apparently no others had been able to get plane transportation to Algiers and he had it all over them. He said that all the other pictures should have been in the Sunday editions of all the papers, i.e. Sunday the 18th. Herb was headed back to Sicily to get in on some more activity, and as we weren't going just then, he left us to get on another ship.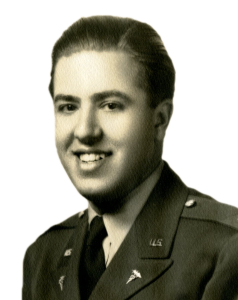 .

Watch for my next communication on
July 23

LSTs – short for Landing Ship, Tank or tank landing ship. It is the naval designation for ships built during World War II to support amphibious operations by carrying tanks, vehicles, cargo, and landing troops directly onto shore with no docks or piers. Shown above "with mouths open" and below being loaded in Bizerte.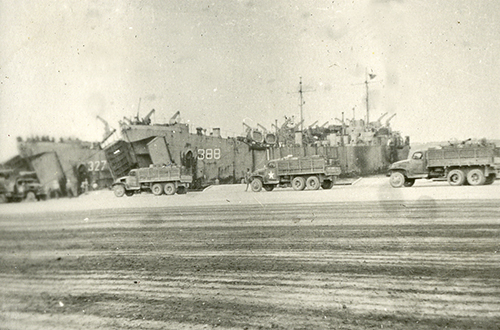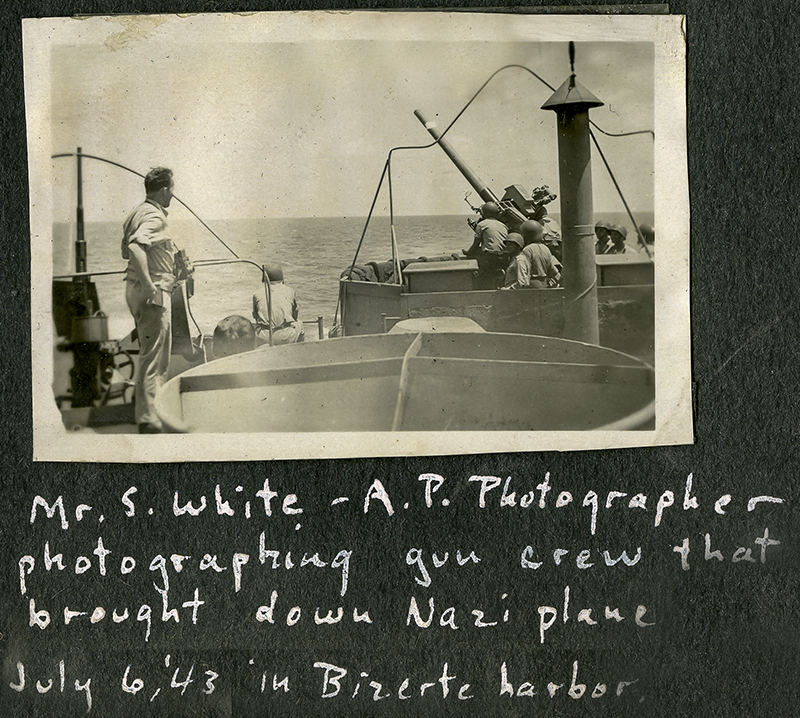 Photo above shows Herb White – the AP photographer René mentions in his journal entry.
Below is one of his photos – on the front page of the New York Times on July 13, 1943.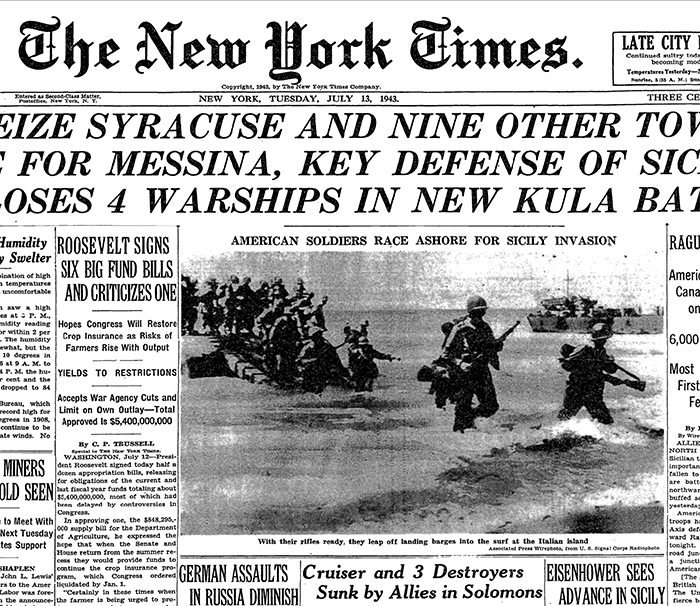 On July 21, Dr. Westdahl writes in his journal about the journey he and the rest of the 59th are taking, "Today we traveled as far as Guercif, a nondescript little green spot in the midst of barren dry desert. It is hot, dusty, windy – washed my shorts and socks after dinner and they were dry, but brown with dust in 15 minutes. Passed through Fez and Taza today. Both beautiful towns in the Atlas mountain valleys. The land in these valleys is extremely fertile and the broad wheat fields are beautiful. Here we saw the first tractors and large multiple bladed plows and threshers. However, occasional individual Arab women and children are seen cutting and threshing by hand. Some are even picking over the fields already cut by the tractors, just as did Ruth in the book of the old Testament of that name. As always, we are seeing Biblical scenes re-enacted."

René's journal entry for July 23, 1943…

---
---



       On July 21, I went in from the Lake after lunch and went up to the 56th. I talked with Col. Winans first and then with Major Rippey, who informed me that the Capt. had left about half-hour before – having talked himself out. They had fluroscoped him with Barium meal and found nothing, as expected. It was only then that I had an opportunity to tell them more about the Capt. his actions, etc. Col. Winans agreed with me that the Capt. would very likely return if sent out on another trip, i.e. return to the hospital. Major Rippey was a little doubtful. However, both definitely agreed with my diagnosis.

       On the 22nd, the Captain asked me to go to the 56th and invite Major Rippey and Miss Riggo (his nurse) to bring another one or two officers and some of the nurses for dinner on June 23. While I was at the 56th, I found out that the General was still there, so I went in to see him. He was surrounded by about 4 full Cols. And I don't remember what else – but I went up and asked him what he had to report – whether we would be relieved or not. He said that his executive officer, some Col., had arranged to contact Admiral Connally to get us off the ships, as he wanted us to rejoin our outfits so that we could shove off from Algiers in no time, if needed. The General was flying that afternoon to Sicily.

       That afternoon I returned to the ship and loafed around in the shade – what little there was. That had been pay-day for the ship's company, so I wasn't surprised when, later that night, Fuqua handed me $350 to keep for him, to put in the QM Savings when we got back. The dice sure are good business partners for him.

        On the 23rd, still no word as to when we were to be relieved. However, saw the flagship and found out that Admiral Connally was back, so, from Lt. Grady, found out that the wheels were grinding and we should know by the next day. I wonder!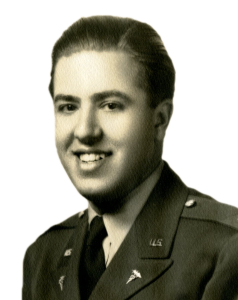 .

Watch for my next letter on
July 30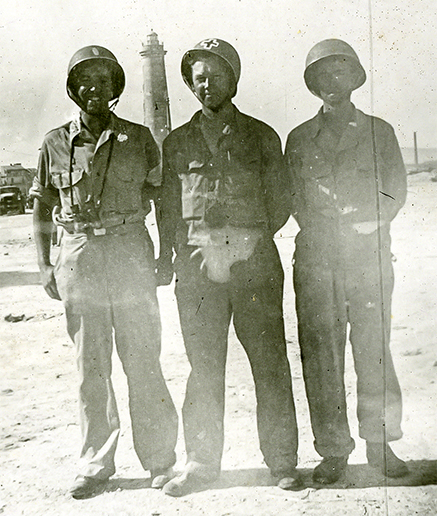 (Left to right) René with Q. Fuqua and Bernie Herrington


On July 23, Dr. Westdahl writes in his journal about the journey he and the rest of the 59th are taking, "The valleys and rolling foot-hills between Tlemcen and Oran are a sight for sore eyes – absolutely beautiful vast wheat fields and grape vineyards with rich dark soil. All along the line, even in remote little spots, the Arab and French children hail us with the V for victory sign. We have our first glimpse of the Blue Mediterranean at Oran; at this point it doesn't compare with San Francisco Bay."

July 30, 1943
No. 49
Bizerte, Algeria
Dear Folksies,          
            The mail finally caught up with us and the whole outfit is now reunited. All, incidentally, hale and hearty. Roy and our gang officially rejoined yesterday, but I had been with the Col. on the night of July 25th, one gang arrived the following A.M. and then George and others yesterday. Collie immediately put me to work in a job similar to the first few days at the end of December, i.e. unloading our stuff. I had to drive the Col's car around after some things, so naturally I had to have a passenger!
            We are now settled on the side of a hill in an olive grove that affords a slight amount of shade, with emphasis on the slight. Our bivouac is near the "ghost-town" near which Eddie and I have been on and off for the last month.
            I'm having some difficulties with this typing, as I am sitting on Fran's bed in Lois' and Fran's tent, and the wind is whipping through and blowing the paper every which way. And now Lois decided I had to have an interlude, so she came over on this side of the tent to do some tickling! Ouch! Ha! Ha!
            To answer Dad's letter about the razor-blade swallower [in René's letter of May 21] – the pieces were probably about ¼ inch in diameter – about 10 pieces for one blade. No he doesn't regurgitate them, as we could see the ones he had swallowed for the show, and then the ones he swallowed directly under the fluoroscope. The former were somewhere in the duodenum and ileum by the time we got the fluoro going.
            And thanks for the 6 more rolls of film. I took 3 rolls worth recently, but am waiting for our X-ray dark room to be set up to develop them.
            Intermission – Lois is sitting across from me with a blue bandana tied at the top like rabbit ears – looks like Blum's little Dutch Gal. Reminds me of the good chocolate sodas – my, oh, my.
 Loads of love,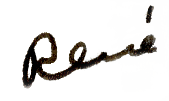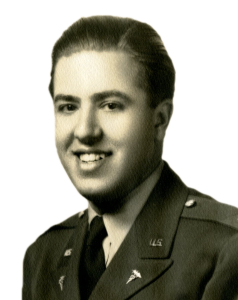 .
Watch for my next letter on
August 16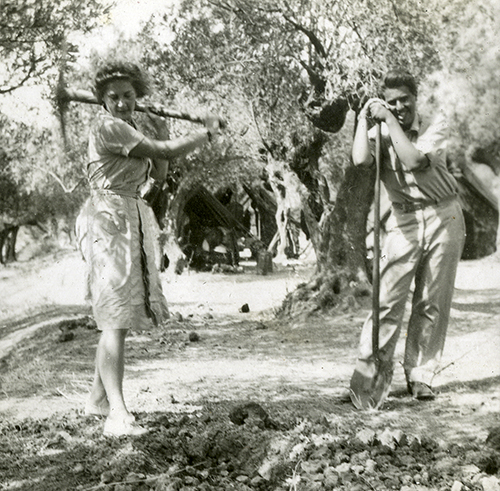 René looks on while Lois (above) and Fran Trembley (below) do some serious digging.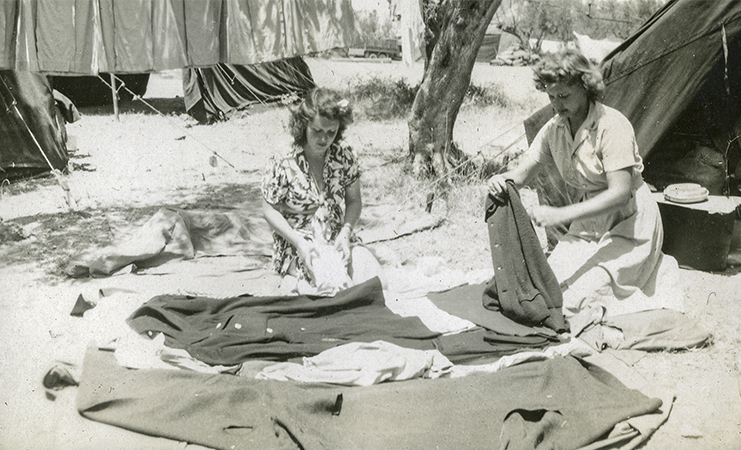 Fran (left) and Lois (right) repack their bedrolls in Bizerte.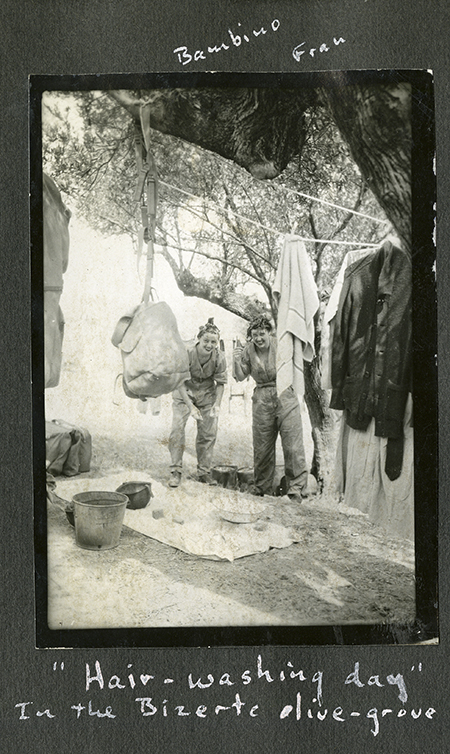 Charlotte Bambino (Bam) (left) and Fran Trembley (right) wash their hair in an olive grove in Bizerte.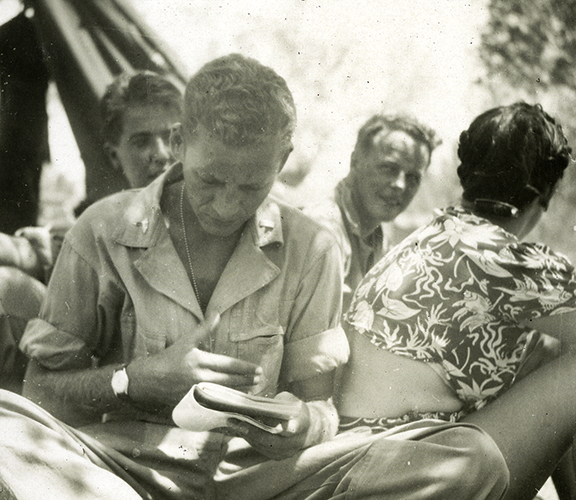 René, Hal Williams, Paul Stratte and Fran Trembley (from left to right)


On July 29, Dr. Phil Westdahl wrote in his journal, "The highlight of our arrival in Bizerte was to be greeted by the boys who left us many weeks ago — 'Cohn's Courageous Commandos,' and we are thankful and happy to see them all well and in good spirits. We learn that they were divided into groups of 1 officer and 3 men assigned to individual assault boats carrying equipment on the night of the invasion. Their job was to evacuate casualties back to Tunis – their embarkation point. They tell of exciting and interesting incidents occurring, but fortunately enough, casualties were only 3% of the expected 15% and many of these were fatalities, rather than wounded, so that actually each officer only handled about 5 to 10 wounded men."