June 29, 1943
No. 44

Bizerte, Algeria
(His parents still think he is in Casablanca)
Dear Folksies,    
          Please excuse the delay in writing – it has been unavoidable. I imagine that Lois has written to you in the interim, so that you haven't been entirely without news from this side of the world.
          A couple of days ago I bumped into one of the boys from Lois' Uncle Tom's outfit. Tom is no longer with them, having been ill – overwork, his blood pressure, etc. He's been reclassified, and is now headed for Washington, where he is to have some pretty good position in the War Dept.
          Have been eating pretty darn well the last few days, but in general have taken things very easy. However, prior to these last few days I was kept plenty busy and consequently was not able to get any letters off to you. Roy kept us on the go pretty much, but naturally we didn't mind. He is really swell to work under.
          We've done some more swimming, once in nice fresh water, but more recently in water and sand similar to Carmel. Nice warm, clean water. There's nothing that makes one feel any better on these hot days than to be able to go swimming. How's the Tahoe water this year?
          Bumped into Stratte several days ago and he intended to rejoin the boys in a couple of days. He acquired a cute native pup who followed him all over the place.
                                                                                                                                                  Loads of love,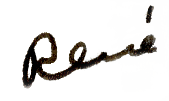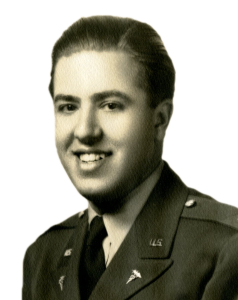 .
Watch for my next letter on
July 4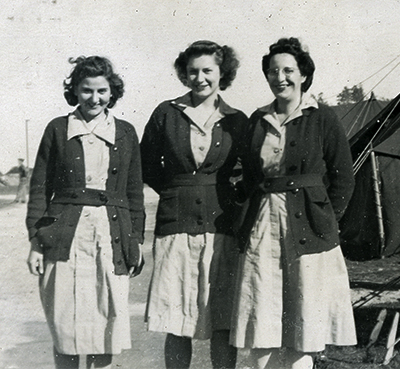 René can't't tell his parents that he is in Bizerte, Algeria while Lois is with the rest of the unit back in Casablanca. Surely René is missing Lois – pictured here in the middle with fellow nurses Ann Scheisman on the left and Gert Brazil on the right.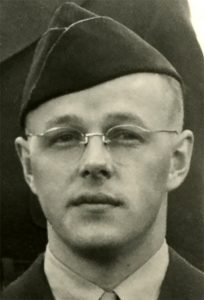 René tells his parents that he bumped into Paul Stratte, but he can't and doesn't tell him where he saw Paul.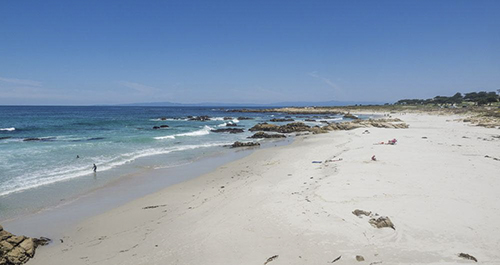 René tells his parents that he went swimming at a beach with water and sand that reminded him of Carmel.