May 20, 1943
No. 31a

Dearest Bobsy,
            On the night of the 17th, there was quite a party – all the medical gangs from this neck of the woods. Everyone all dressed up, i.e. all except the persons for whom the party was given. They appeared in sun-tan uniforms with field jackets on, whereas everyone else had their best pinks and blouses on. The stupidity of a receiving line was further emphasized – the line trailing all over the floor, with side-lines joining in every so often. After that was over, the liquor and sandwiches flowed freely, however, the champagne was the only decent drink they had and they rapidly ran out of that. They had two bands – one inside and one outside, both of them good.
            They had a show made up of a couple of good Negro singers. There also was a fellow who used to sing with Dick Jurgens' band, who was very good. But the best act was put on by the Lt. who was also Master of Ceremonies. He did an imitation of Hirohito and also of Corporal Adolf. Both were excellent.
            Tuesday was Lois' day off and as the day wasn't too bright and sunny we decided not to go swimming, and instead went downtown, took some films to be developed, got a few things at the PX, had ice-cream at a tea room with Bert Halter, Pete Joseph and George Armanini. The ice-cream is only ice-cream of a sorts. They put out coffee ice-cream and so-called vanilla ice-cream, and also their specialty named after the establishment. The latter is like a fruit sundae, with orange colored ice-cream and a few slices of pineapple and half an apricot. It's hard to describe the taste of the ice-cream, it sort of has a burnt almond taste to it, also is a little bit bitter and orangey.
            After having some of this ice-cream-fruit combination, we went up to the new Officers' Club that has just recently been opened. It's very nice there, some comfortable chairs and couches, and numerous magazines from various places. It's sort of a combination of Officers' and Civilians' Club, for it used to be the Auto Club of this place and so the old members still remain as members. They also have some billiard tables and card tables there, and in a few weeks, they are probably going to begin serving regular meals there. It's really very nice.
            We stayed there, just loafing for about an hour and then walked to one of the eating places, the same place we had been to the night of the parade. Had some good fish and chicken, and, by golly, some cherries.
            'Tis now 2 P.M. and Lois and I just finished writing – golly, see what her presence does to me. Of course, having her hold one hand and typing with only one hand isn't so conducive to good typing. I meant to say I just finished "reading" your 8 pager. It took us just short of an hour to read it, but, golly, how long did it take to write?
            Gosh, I can just picture your sitting on the "end" and talking to Mom and Dad late into the night, with Mom falling asleep every 10 or 15 minutes. Does she still wake up and claim that she hasn't missed a word of conversation? Interesting that Dad has turned into such a good "listener."
            Especially happy to hear that you are going to take a real vacation and not have a lot of other things on your mind – but really vacate!! After all, toots, the strong positive tuberculin reaction you got doesn't just mean nothing, you know. A good three months rest is undoubtedly what you need, and need badly, for you certainly don't want any lesion you may have, no matter how small that may be, to start to get the best of you. A good vacation, with plenty of rest and sleep, mountain air, no worry, and a minimum (if any) smoking, should amount to a good health insurance for you. How about it?
            I appreciate your concern, but outside of being plenty anxious for this mess to be over, and being lonesome for all of you and for San Francisco – well, to date, we certainly haven't had any hardships. So, don't think that we have! We've really had an easy life of it. Of course, that doesn't go for the boys further front.
            It's now 5 P.M. and I have written this letter in fits and starts – between seeing patients, running over to x-ray to see films, etc. One of our sergeants just was brought in, having been riding horseback, and like a fool, racing the horse in an area he shouldn't have. As a consequence the horse went over, he got partially loose, and then the horse rolled over on him, fracturing his leg just above the ankle. Such is life! Then there's the guy who has made some 30 successful parachute jumps, who stumbled over a curb the other day and fractured his ankle!!                                                                                                                     
                                                                                                       Lots of love,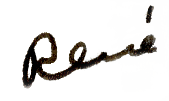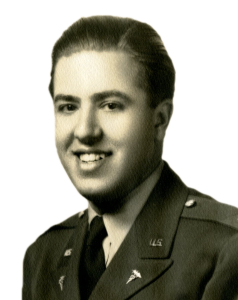 .
Watch for my next letter on
May 21

Some scenes from downtown Casablanca, where Lois and René went on Tuesday with Bert Halter, Pete Joseph and George Armanini.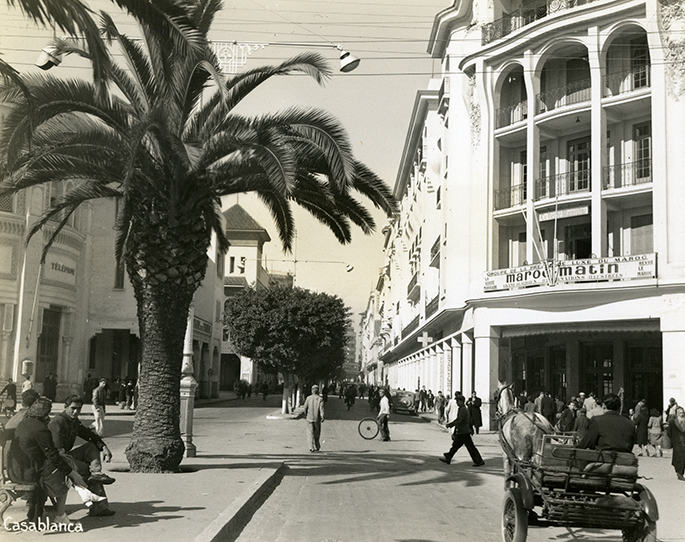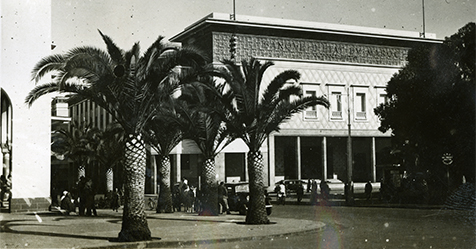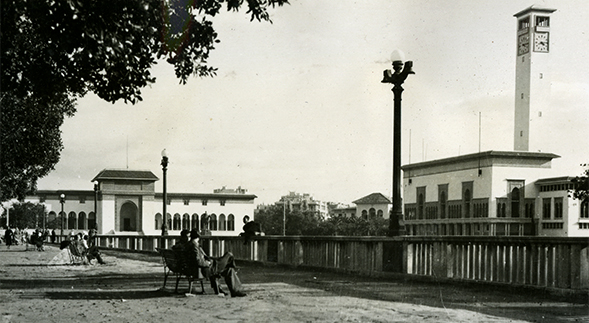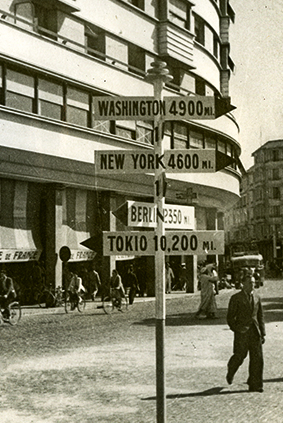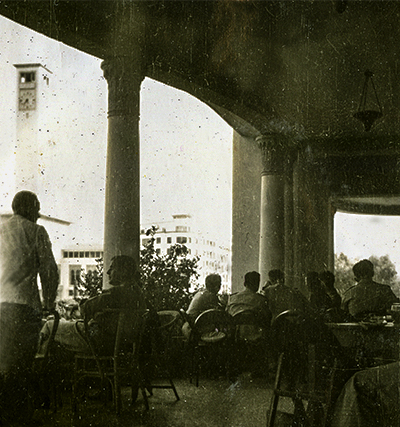 René tells his sister about the new Officers' Club in what used to be Casablanca's Auto Club building.

Sounds like the Cast Room is getting a lot of business lately.
May 21, 1943
No. 32

Dear Folksies,
            Last night there was an "All Negro Revue" put on out in our area. The master of ceremonies, a colored boy who used to perform at the Cotton Club in New York, was the best of the bunch with all his side-cracks. They had a couple of fellows who sang, one who played the harmonica, a couple of tap-dancers and a couple of supposedly dopey fellows who did their own very fancy and screwy manual of arms with their rifles. Then there was the one who chewed and swallowed razor blades and also fire. George Davis was skeptical, as were we all, so Wally Greene, Collie, Carroll Russell, Davis and a couple of the nurses, Lois and I, went into the fluoroscopic room and had him repeat his swallowing of the razor blade as we followed the course of the particles (about 10 pieces for one blade, each about 1/4″ in diameter) down into his stomach alright — so he was no fake!!
            Gee, Lois gets some of the craziest patients. There was one who said that the flies come in the daytime, the mosquitoes relieve the flies at night, and the flies relieve the mosquitoes in the morning, "Gee, what a world, everyone's on relief." This same patient was discharged day before yesterday, but on his way to the Evacuation tent, a distance of some 50 yards, he got lost. He landed on a truck that took him to town, came back for supper, went out again, came back finally around 1A.M., feeling pretty high. Then when Mattie asked him in the morning what happened, he said he met a French girl and she wouldn't show him the way back to the hospital.
 Loads of love,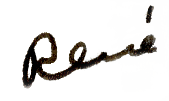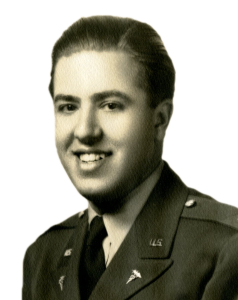 .
Watch for my next letter on
May 23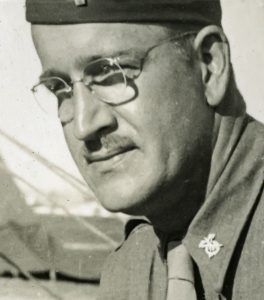 George Davis was skeptical of the performer who appeared to chew and swallow razor blades. So, he and the other skeptics – Wally Greene, Col. Collie, Carroll Russell, René and Lois and a couple of other nurses – had the guy repeat his feat while being fluroscoped.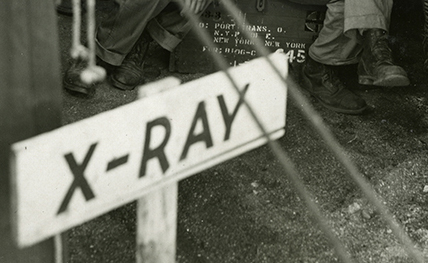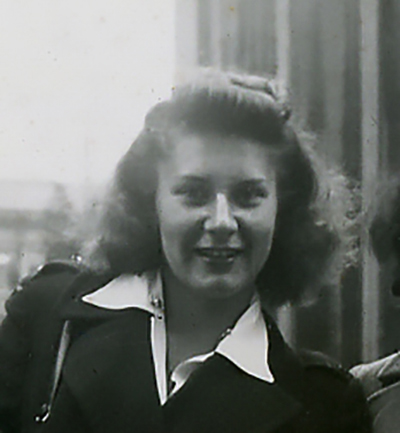 René tells his parents that "Lois gets some of the craziest patients."

One of Lois' patients, who had just been discharged from the hospital, went into town and didn't get back to camp until 1A.M. Mattie (Dr. Carleton Mathewson, pictured above) asked him what had happened. Read the patient's response in René's letter.

May 23, 1943
No. 33

Dear Folksies,
            Lois' face is now all cleared up. She has just a tiny scar at the angle of her jaw. Apparently what happened was the bloomin' grasshopper came down like a dive-bomber, colliding with Lois, leaving a small piece of one of its legs embedded in her cheek. She thought she got it all out right away, but probably did not. As a consequence, she developed an abscess at that spot, so compressed it and compressed it some more. Finally, Roy opened it up, stuck a tiny clamp inside and managed to get the core out – following which it healed up rapidly.
            I'm glad that Alain finally sent you the Xmas present, but golly, I didn't give him enough money to get you such a regal present as you describe. Maybe he was trying to make up for the delay.
            The other day turned out to be not such a good day, so we did not swim, just loafed around and took things easy – wrote a couple of letters, had showers and then spent most of the evening talking with Roy Cohn. He was telling us about India and his experiences there – in general discussed a lot of things, having a very interesting evening.
            Yesterday was a nice day, but we had to both work. Last night, Lois and I played bridge against Collie and the Col. They won the first two rubbers, but we made a comeback in the end and beat them.
 Loads of love,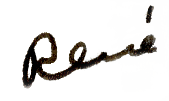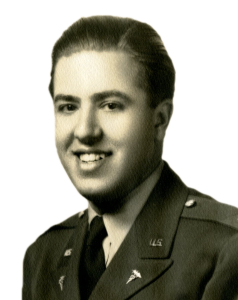 .
Watch for my next letter on
May 24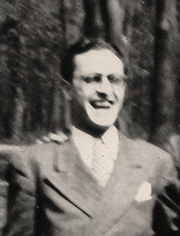 In the fall of 1942, René sent money to Alan Dreyfus, his French cousin living in New York, so he could buy a Christmas present for René's parents. But that present (we don't know what it was) didn't reach René's parents until sometime in the spring of 1943.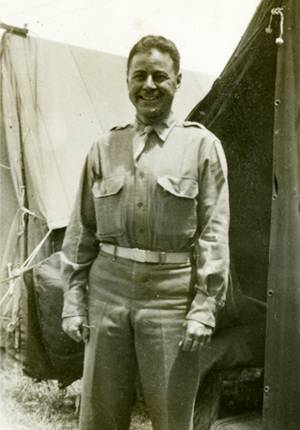 René and Lois spent most of one evening talking with Roy Cohn and hearing about his experiences in India. As a Rockefeller Foundation Fellow from 1939 to 1941, Roy helped establish a major hospital in Bombay, India.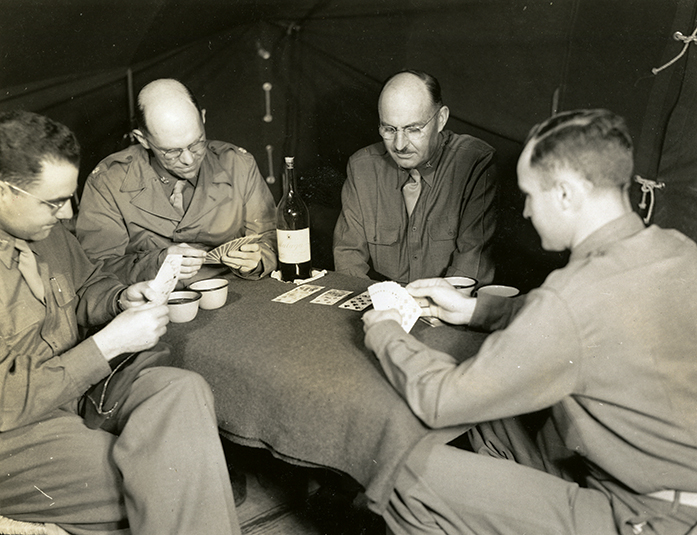 Last night René and Lois played bridge against Collie (Major William Collie) and the Col. (Oral Bolibaugh) … and beat them. In the photo above, Collie (second from the left) and the Col. (third from the left) are playing cards with George Armanini (far left) and another member of the 59th.

May 24, 1943
No. 34

Dear Folksies,
        It is now 8:30 P.M. and both of us are sitting here in the Rec tent with typers while most of the gang have gone to the show. But there is one table of bridge, with Drew, Bryner, Hamilton and Gerbode hard at it.
        We went swimming this afternoon and fell asleep getting baked, consequently developing an acute case of dopiness and laziness. However, as you see, we finally got up enough get up and go to pound on the typers.
        It was really swell up there today, not too much of a crowd, a fairly cool breeze, and swell big waves. The water, however, was somewhat on the muddy side, but not too bad.
        Tomorrow is Lois' day off so we will most likely adjourn to the beach again – this time earlier in the day, in the A.M. if possible, if we can fineegle a ride up there with one of the trucks or ambulances that daily comes down from up there to dump some poor unfortunates on our doorstep.
 Loads of love,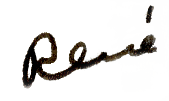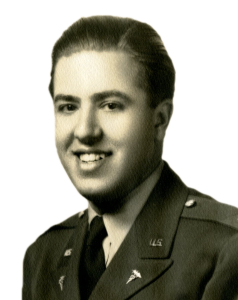 .
Watch for my next letter on
May 25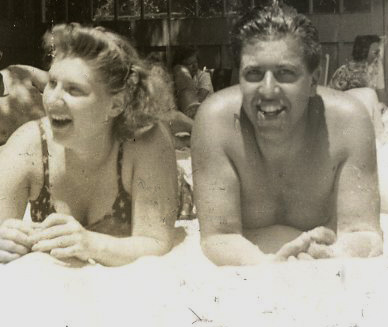 After swimming and sunning all afternoon, Lois and René spent the evening typing in the Rec. Tent while four doctors – Drew, Bryner, Hamilton and Gerbode – played bridge.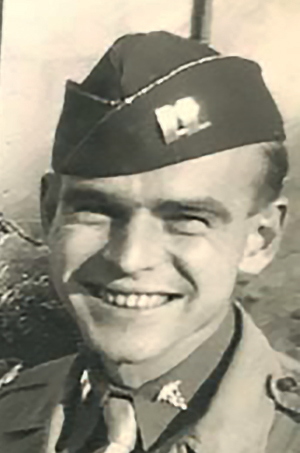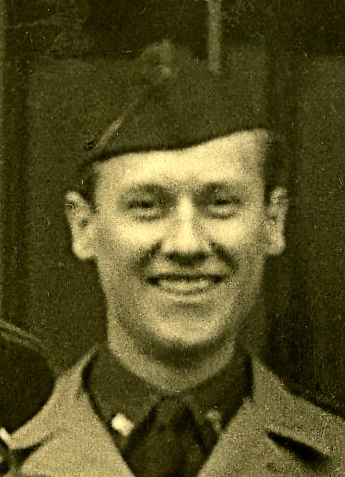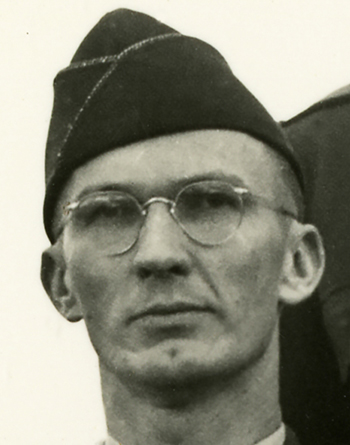 May 25, 1943
No. 34a

Dearest Bobsy,
            Today we had a fine time at the beach – it was a beautiful sunny day with just the right amount of breeze and the beach wasn't too crowded. In fact, about the only people there were 59ers. Only a few of the officers went this time, as there apparently was something else doing downtown that the bunch went to. Only Halter, Blasdel, Chappie, Escamilla and Hal Williams went and Frenchy and Lois were the only nurses.
            We spread our blankets on the beach and proceeded to relax and let our skins soak in the ultra-violet. After becoming adequately roasted we then ran for the water. Golly, the water was really almost too warm today. There wasn't even that first little shock that one usually has on getting into any water. Maybe the dirt that was swirling around in the water had some heating effect on it. The waves today were the best they have been and one could be carried for quite a little ways if one caught them just right. There was more of a pull today, however, and we started at one end of the beach and when we were ready to get out we found we had been pulled clear to the other end of the beach – anyway we weren't pulled out!
            Tonight both of us are sort of tired, and Lois is glowing, but not with emotion or anything like that – but good old sunburn. Her face, as she sits beside me, banging away on my little typer, is lit up like a fire-house, and the shine from her little mid-riff, if it were exposed for any but me, would light up this whole Rec tent. She has gotten fancy and did not like her old red bathing suit, so she ripped up her red and white striped dress and made herself a combination sun-suit and bathing suit, and it being a two-piecer, her midriff was exposed today for the first time. Yep, it almost looks like a ripe tomato. Which reminds me, that is, speaking of food, we had some real-honest-to-goodness-fresh-hearts-of-lettuce yesterday. They say it was from Salinas. I wonder?
            I happened to look in my little date book, and realizing that your thesis is finis, I can just picture you in cap and gown once again, walking in that swell open-air amphitheater, walking down the tree-covered paths, to take your seat among all the rest. I feel guilty that I'm not there – I think you are going to have to go on and get a PhD or some other degree so that I can be there at least once. When I think what a really bum time you had of it at your last graduation with Marie-Louise and I both away, with France going boom and all, I hope that this time your cap-and-gown ceremony will mean more to you and leave happier memories with you. Sure, physically we are a long distance from you this time as well, but in thoughts we are right beside you as you walk down those aisles. Two years has made quite a difference, don't forget! France has made a wonderful step back up the ladder; Africa belongs in toto, to the Allies, Jacqueline is safe in England, all of us are well, etc., etc. so have a good time, for we'll be downing some of that French sparkling champagne, all for you, on your graduation day.
                                                                                                                           All our love,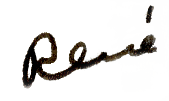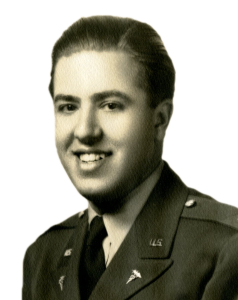 .
Watch for my next letter on
May 27

Bob Escamilla was one of the gang that went to the beach today.

René told his sister, Bobsy, about the "Real-honest-to-goodness-fresh-hearts-of lettuce" salad they had yesterday.
René is picturing his sister Bobsy in her cap and gown "walking in that swell open-air amphitheater, walking down the tree-covered paths" at Stanford, to receive her masters degree.

He says that he and Lois will be "downing some …French sparkling champagne" to celebrate Bobsy's graduation day.
May 27, 1943
No. 35

Dear Folksies,
         The other night I figured up how much letter writing to you I have done while I was on the various services and it's really indicative of the amount of work I had each time. The last two weeks of working in Supply my average was 1/2 page per day, on Medicine it was 5/6; on Communicable Diseases it was only 4/11; on Orthopedics it was 3/5; and now in Receiving it has been 1 per day.
         Yesterday, while "working hard" here in Receiving, I suddenly felt myself being moved and rocked as if I were on the stormy sea. When I opened my eyes enough to get a clear picture of what was going on I found that, having fallen asleep on the litter we always have up for emergencies and for belly exams, two of the boys were unable to resist the temptation and had picked the litter up and were giving me a ride. They bounced me around outside the tent until they had worked up quite a little sweat. I wonder what the Colonel would have thought had he seen the performance!
         Day before yesterday we intended going to the beach early in the day and for once, by golly, we didn't get any patients here from the camp that is near the beach, so, after we waited around a while to hitch a ride, George came up and said he would take us there. So, at about 10:45 A.M. we arrived at the hotel that is right by the beach. Lois had been told that a Lt. Col. was staying at that hotel (it having been taken over by the Army), a Lt. Col. who had known her father very well when both were in San Diego. His name is Lt. Col. Wurfel. We stayed talking to him for about forty-five minutes.

        What a place that "hotel" is! It's very much like Coronado or Del Monte. It has a lot of beautiful flowers around, with grass lawns, two nice porches, a swell dining room, marble floors and walls, very good furniture and all in all it must have been quite a nice resort before the war.
        Col. Wurfel is up there recuperating from a busted appendix and peritonitis. They didn't yank his appendix the time it busted, so they are going back in for it in another week.
        After our visit we walked down to the beach and proceeded to get baked. The water was cooler than it had been the day before and really made one feel swell, however, they hadn't run the vacuum cleaner through the water as yet. After all the sun we've been getting, Lois's face again has that Ft. Ord tan, and she looks healthier than any time since we left Ord.
        Mom, the Red Cross has really been doing some good work over here – not the kind of work I expected they would be doing, but they certainly have done a lot for morale. I've told you before how they come out and give the patients tooth brushes, gum, magazines, etc., and how they have set up a few different places in town for the men to go.
        They have a beautiful Red Cross Center where they have lounging room for the men, plenty of books to read, a piano, and dances and other entertainment several times a week. Then, as I've told you, they took over one of the French theaters and have been showing movies there for some time, running 4 shows per day. Just in the last couple of days they have given the theater back to the French and have taken over a newer and larger theater. The business has been so heavy that many have had to stand at the French theater, so now there ought to be plenty of room for all. There is even talk that at this new theater, in what used to be a bar on the second floor, they are going to serve ice-cream and sandwiches and cold drinks. It really ought to be something when it does get going. This new place is air-conditioned, which is a big improvement over the other theater. Oh, yes, I just now saw in the paper that they have a good-looking gal at the Red Cross Club who does nothing but answer questions – some of the questions listed are a kick, obviously something so the soldiers can talk to the gal. See, that's some more of the things that the Red Cross does for morale.
        Speaking of the "paper" – the Army prints a regular newspaper over here now. At first it was a weekly paper of 8 pages, but now they put out a 4 pager daily. 'Tis called the "Stars & Stripes." It has all types of news and kind of keeps one up on the news very nicely, as one isn't always around the radio when the news is broadcasted.
        I don't know who provides it, but the patients have gotten Coca-Colas every other day for a few days – none of the men or officers, just for the patients.
 Loads of love,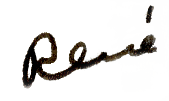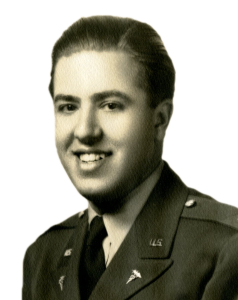 .
Watch for my next letter on
May 29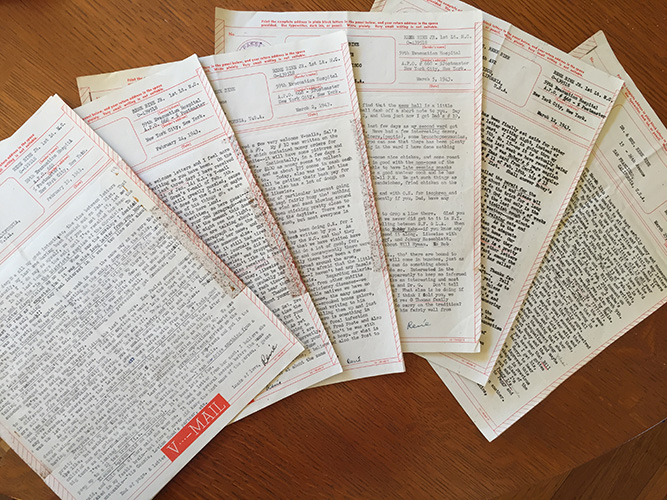 René figured out that his letter writing output varied according to the service on which he was working at the time.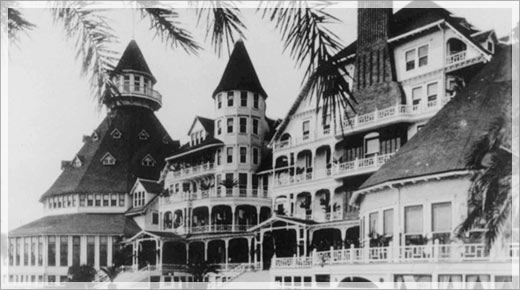 The "hotel" by the beach in Casablanca reminds René of the Hotel del Coronado near San Diego. (Pictured here)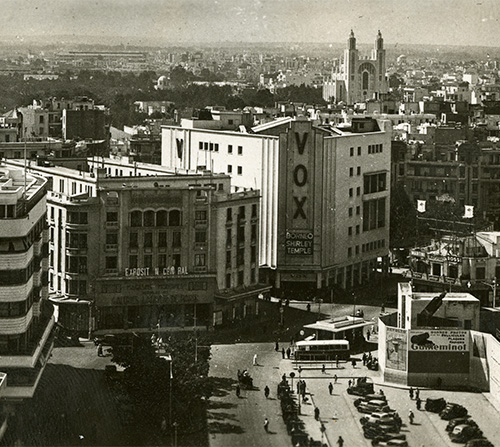 The Red Cross took over one of the French theaters in town and has been showing four movies per day.

Now that "The Stars and Stripes" has gone from a weekly 8 pager to a daily 4 pager, René says it "keeps one up on the news very nicely."

May 29, 1943
No. 36

Dear Folksies,
            So thrilled you liked the book cover, Mom. Perhaps we shall be able to pick up a few more odd things. However, the town has been picked over pretty well and prices have gone up pretty high. One has to do quite a bit of looking and haggling to get anything worthwhile anymore.
            Glad you were finally able to get films for us, Dad. It is now absolutely impossible to get any here, and the printing has gone from bad to worse. Sooo, the more printing paper we get the more we can print in our own dark room and the better pictures we will be able to get.
            Lois has had the giggles the last few days. She blames it on poor Carroll Russell. She says all she has to do is look at him and she bursts out giggling. He really is a kick, comes out with some of the screwiest remarks every so often, and of course, Lois is his best audience.
            Yesterday we both realized that there was one thing we hadn't written to you about. Lois has a new ring – one of the drivers gave it to her. He made it by pounding out a two-bit piece. It turned out very well, a plain silver band. She wears it as a guard for her other ring, and, of course, when she first wore it, there were numerous cracks and queries, which were really funny.
            Last night we went to our new theater. It's really quite spacious and the seats are far more comfortable than those in the old theater. The show was "The Sea Hawk" with Errol Flynn. It was in old Doug Fairbanks style – the time of the Spanish Armada moving on England. 'Twas pretty good. One thing we miss, or rather two things, I should say, are Mickey-Mouses and Newsreels. Have only seen one newsreel since we have been here. Perhaps they don't think it worthwhile to show those, as news would be a few months old, but still I think they would be interesting.
            We have really been laughing at Lois' family because they have been writing so much about the picture of her that someone had seen in the Newsreel – and about all the fuss they have been making to find out what theater the newsreel is playing etc. etc. For, as you no doubt have found out by now, 'tain't Lois at all! Heck, the closest she has been to a plane was this A.M. when some screwball flew over the camp and if he had let his wheels down he could have easily taken the top off the surgery tent. I think the nut was a cousin of one of the nurses, one who is kind of a flibberty-jibbet, a flitter-flutterer, if you know what I mean.
            One of Lois' patients the other day yelled out of the side of the tent, "Hey, Eddie!!" He was calling Eddie Welles, who, it turned out, went to school in Riverside with this patient. 'Tis just like the time when I went downtown and bumped into a cousin of Bill Newsom's who was a 1st Sgt, at one of the warehouses. Both he and Bill were surprised to find each other here.
            Ho, hum, things are mighty quiet today – in fact, have been for the last several days. My boys have become traffic cops after a fashion – they have been directing customers to our neighbors before they even get to my desk.
                                                                                                                                                  Loads of love,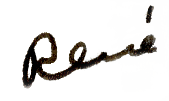 ---
May 29, 1943
No. 37
Dear Dad,
            Enclosed is another money-order for $100. Would have sent it sooner but with change to sun-tans; buying a few things; laundry and cleaning bills; and other people being short of money (i.e. some of the men, for whom the cards were not so lucky), etc. I have had to delay.
            Incidentally, I once queried as to what you were doing with the money – whether Wells or the U.S. is paying interest or whether you have had need of it?? No answer! Are you getting cagy?
 Loads of love,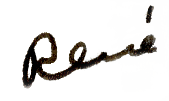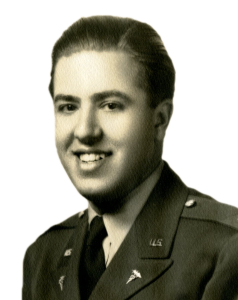 .
Watch for my next letter on
May 30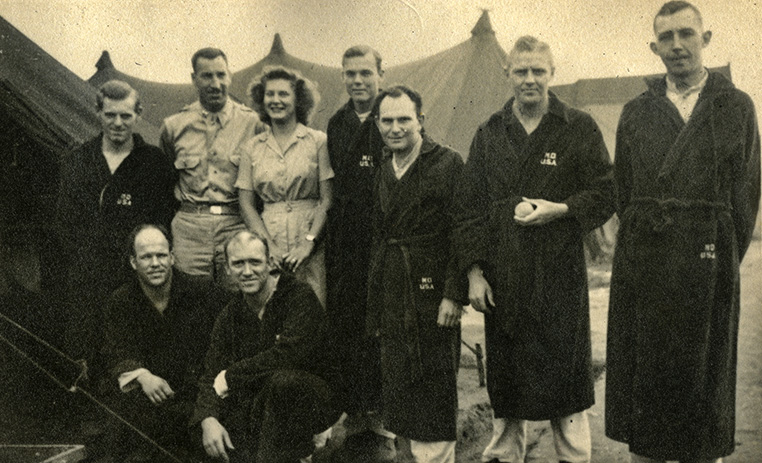 Dr. Carroll Russell and Lois with some of their patients. René says that Carroll gives Lois the giggles. Carroll "really is a kick, comes out with some of the screwiest remarks every so often, and, of course, Lois is his best audience."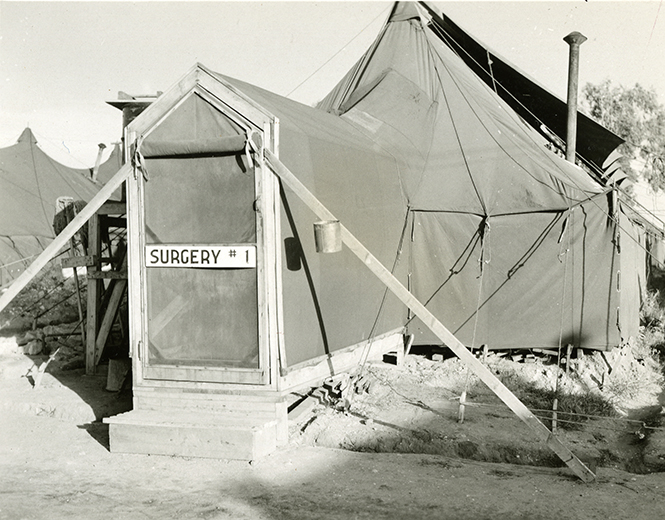 "Some screwball flew over the camp and if he had let his wheels down he would have easily taken the top off the surgery tent," René explains.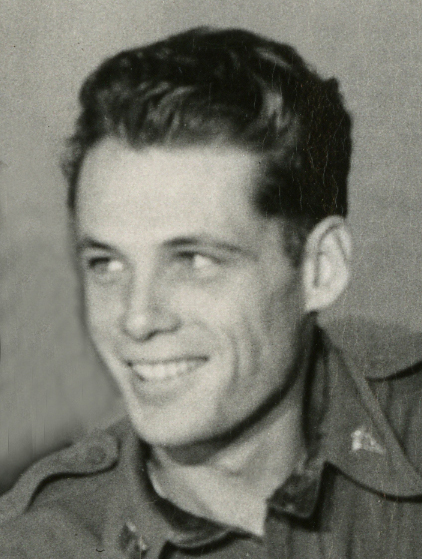 One of Lois' patients turned out to have gone to school with Dr. Eddie Welles in Riverside.