November 20, 1942

Dear Folksies,
     My sore throat and snozola are on the mend. I still cough occasionally, but much better after four good night's rest. Everyone around here seems to have had the same bug or virus, for there have been a lot of them on the ailing list. One of our nurses is in the hospital with a laryngitis, but will be O.K. in another day or two – at least O.K. enough to travel with us.
      I have spent the last three days doing practically the same thing – seeing patients in our dispensary for about an hour in the morning, then going back and doing what is commonly known as "bunk fatigue." I have slept some during that time, but have also read a bit.
      Yesterday 5 of our nurses got orders that they were being transferred out of the unit.
      A. was sent to Walter Reed Hosp. because of a trichomonas infection that had failed to clear up on several weeks of therapy at the hospital here. The catch, however, is that, it took 2 weeks to get the order of transfer to the hospital there, and during that 2 weeks her discharge cleared up and her last 2 cultures and slides were negative.
      B., a good kid, friend of Lois, Fran, Bam, etc. was sent to Camp Mead Hospital in Maryland. She was in the hospital for pyelitis and retention. She isn't very healthy, having had a spinal fusion at some previous date. She will be missed, but for her own good the transfer is O.K. She probably would never come back if she did go overseas with us.
      X. will not be missed – somewhat on the psycho side.
      Y. is a young gal who, however, went to too many parties and did a bit too much imbibing.
      Z. supposedly has a bad ankle and kidneys, besides too much of a desire for alcy and throwing herself around.
      I'm not sure whether I told you that Chuck Schwartz' wife had a baby gal about a week ago. After Chuck passed around the cigars, everyone came out with a big cheer, first for him, and then, just as at a football game, with "Come on Drew!!" Well, yesterday morning, Drew finally was able to pass cigars around himself – also a gal!
      Next ones in line are Stratte (Dec 15) and Welles (Dec 23) and then there are several others, such as Westdahl, Escamilla, Williams, Hamilton, Carlson, Huff, and I believe Russell. So far, with Kahn and Sterba also having had gals, it looks like some of the rest are going to have to have boys to take care of those gals in the future.
      The latest item of issue to us has been wool caps – little beanies with visors. It's beginning to look like we're prepared for most any kind of weather.
                    Loads of love,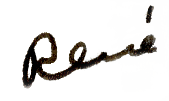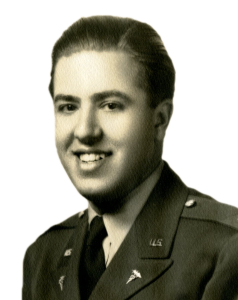 .
Watch for my next letter
November 24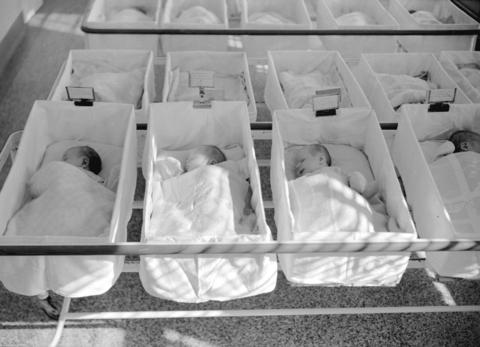 Four babies have been born to wives of René's colleagues in the 59th…with nine more on the way!

November 24, 1942

Dear Folksies,
As we waited to depart Camp Pickett on Monday, it was pouring and with all the stoves out, we sat around our barracks and headquarters on a couple of tables that were left – all beds, foot lockers, etc. having been taken out in the afternoon. We all sat round with coats on and slowly froze. Bill Newsom and I played bridge for about 5 hours straight with Russ Klein and the Padre – played until we were practically sick of the game. But there wasn't anything else to do.
We finally left at about 11 P.M. and the train, at least, was pretty warm. Gil Bishop and I utilized two seats between us and put suitcases and coats as padding between the seats and then tried to curl up and sleep. Only actually slept in fits and starts.
We stopped at Washington around 5:30 A.M. and managed to get something warm to drink and walked around to stretch our limbs. The rest of the trip was fast as we had an electric engine and we got into Kilmer around 11:15 A.M. What a way to travel!
                    Loads of love,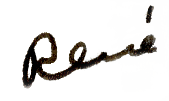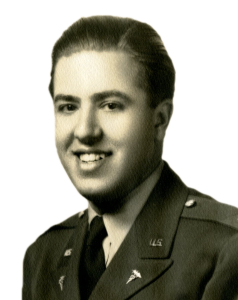 .
Watch for my next letter
November 26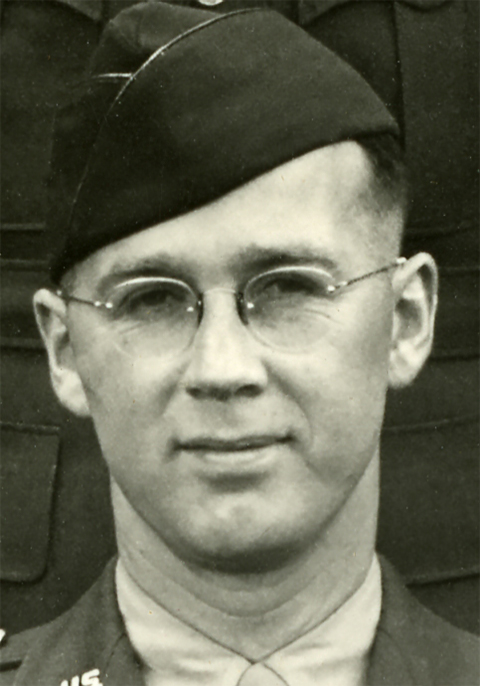 Back at Camp Kilmer, New Jersey

November 26, 1942

Thanksgiving afternoon
Dear Folksies,
       Things have changed considerably, but N.J. is still a big mud hole, though walks etc. have been improved. Living quarters this time are comfortable, not just large room barracks, but rooms for two, as we had at Ft. Ord.
       I'm in with Marv Kahn and we have a pretty good set-up. Distance from gals, however, is considerable – about a 15-minute walk.
       The rules are now stricter, as they by rights should be. Passes have just been limited in the last week and now can only get off 12 hours – 10% of the outfit at a time. That, therefore, means 20% per day.
       Each person thus gets off every fifth day. Lois and I got fixed in the same group O.K., and our first time off is Monday from 7 A.M. to 7 P.M. I may try to get to Alain, and possibly he could come down during the day on Sunday.
       What we're going to do around here, other than read, write, play cards, and possibly hike, I know not.
       I think the best piece of wearing apparel that I own is the helmet you made me, Mom. It's wonderful in this weather – despite the fact that it may look funny. Who cares as long as one's ears don't fall off!
       The gals are restricted very strictly – in by 11 P.M., can't go anywhere on Post at night without a male escort. They have, at least, a little decent furniture in their "lobby" – something they've lacked at all other times.
       We had a very good turkey lunch today – the food here is better than before.
                    Loads of love,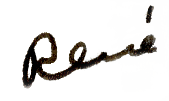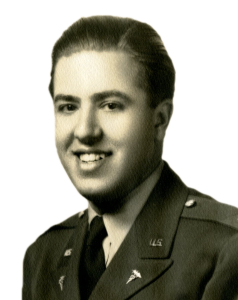 .
Watch for my next letter
November 28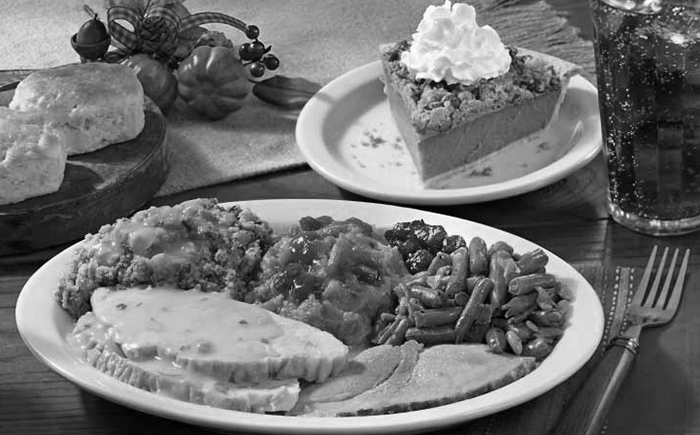 Thanksgiving meal
.
Photo by Alcinoe via Wikimedia Commons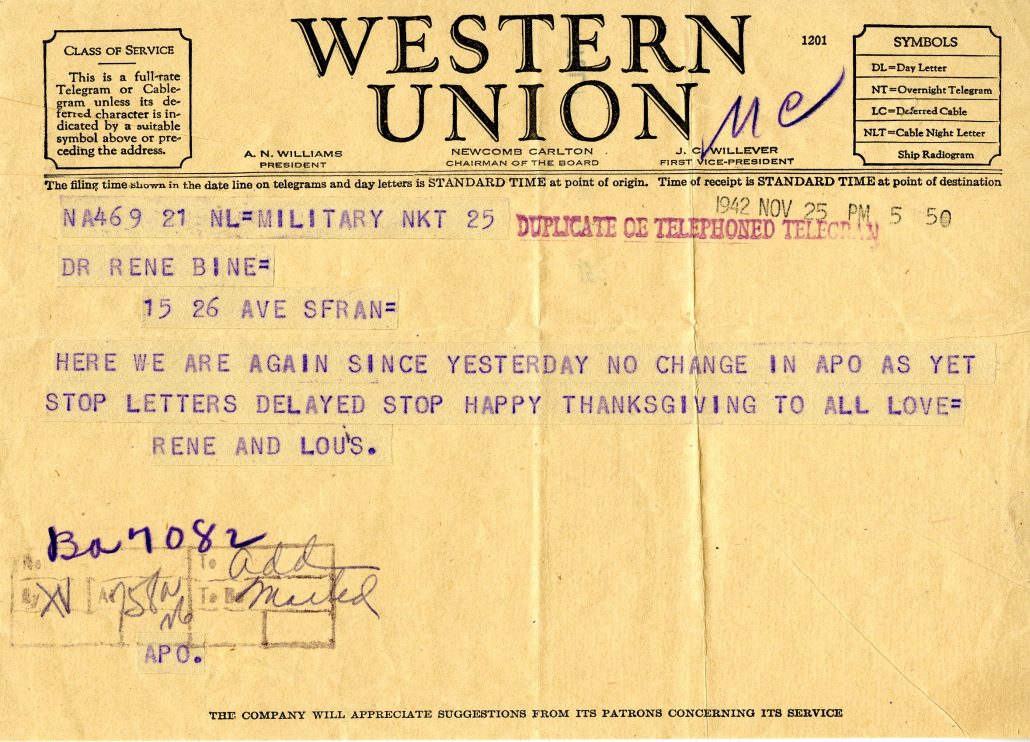 Telegram René and Lois sent yesterday to René's parents.

November 28, 1942

Dear Folksies,
       At the moment I'm listening to the Army-Navy game and I kind of imagine you are doing likewise. At least it kind of feels good to believe that you are — that despite actual land distance, we're not really 3000 miles away.
       It hasn't rained for the last 3 days, but there has been quite a wind, and with nothing around this area, such as hills, to slow the wind down, it really blows, and it is cold!! Despite the fact that I probably look like a goon, I've been wearing the helmet Mom made me and boy is it swell – no cold ears or cheeks. I got a good angora wool scarf for only $1.50 and also got Lois a similar one. With that and the helmet, I've been pretty well protected.
       The routine apparently is going to be 1 hour of sports in the A.M. and then a 10-mile hike every afternoon, except weekends – the same is going to apply to the gals. Of course, it's going to be a little hard on the guys who are off from 7 P.M. to 7 A.M. the night before and who really use that time in activity in N.Y.
       Yesterday morning's story along that line was really funny: It seems that at 6:45 A.M., yesterday, Cy Kiernan and Sid Shapiro came to the Penn Station in N.Y. to catch the 6:45 A.M. train back to camp. They then found Elmer Chappell, who asked them if they had seen Hal Williams at all. They had not, and asked Chappie if Hal hadn't been with him. Yes, he had, but somehow he lost him at the Penn Station, when he turned around for a minute. When asked what time he last remembered seeing Hal, Chappie said, "Well, it was 4 A.M. or maybe 3 or 2 or 1 A.M." They all finally got on the train and when they got back to camp, they found Hal sound asleep in his bed in the barracks.
       This was Hal's story: Somehow he found himself on the train, at just what time he knows not, and then later discovered the train didn't stop until Philadelphia. When he awoke there he found a little dog licking his face and a beautiful blond asleep on his shoulder. Somehow he managed not only to get her name, address and a picture, but he borrowed $3.00 to get back to camp, as Chappie had all the money there had been between them. How's that?
       Well, the boom was lowered on the 59th again — this time Miss Nicholls, the chief nurse got the bounce. What excuses His Highness used with officials in Washington, I know not — in fact, Nicky doesn't know either. Apparently Nicky wouldn't just be his "yes girl" and would state her opinions without too much hesitation. He just can't stand not having his fingers in all pies and can't stand anyone disagreeing with him in any way — even when he's wrong, which happens plenty. Nicky has certainly been efficient and all the gals not only mind her, but like her tremendously. There was plenty of mutiny last night — all the gals wanted to transfer. Perhaps the Colonel just wanted to get rid of her because she wouldn't accept his advances — who knows?
       The new chief nurse is the oldest of the other Reserve Nurses – Mary Diffley. She was a supervisor in surgery or in surgical wards at St. Mary's Hospital. It's also a dirty deal for Irene Gallagher who has been Nicky's unofficial assistant all along, for his highness expects Irene to teach Diffley all of the record-keeping, etc. Irene gets nothing for it – in other words, she'll do all the work and Diffley will get the raise in rank and pay. Such is life, if you can call it that!
      But, by golly, when you hear news as we heard yesterday afternoon – of the French bravery – I guess we certainly can stand a few such minor hardships. That business was certainly a surprise to me – 'tis too bad that that harbor had such a narrow outlet that they couldn't get the ships out, as 'twas certainly a terrific loss of material and men. But it certainly was "the epic story of the war." I wonder if any Americans would have had the guts to do what some of the Frenchmen did – firing on their own ships – at each other, to make sure the Nazis wouldn't get them. I'm going to be interested in Alain's reaction to all this.

                    Loads of love,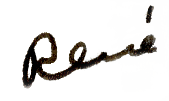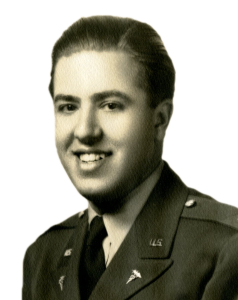 .
Watch for my next letter
December 2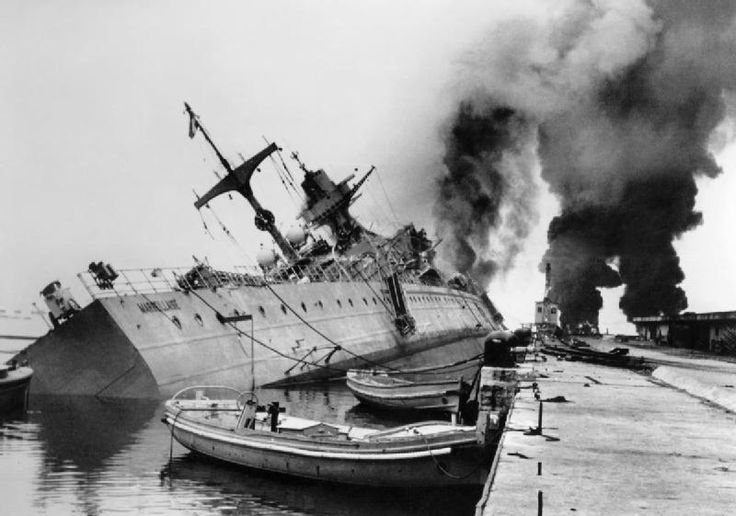 According to World War II Today, on November 11 "as German and Italian troops encircled Toulon, the Vichy Secretary of the Navy, Admiral Auphan, ordered Admiral Jean de Laborde and Admiral André Marquis to:
– Oppose, without spilling of blood, the entry of foreign troops in any of the establishments, airbases and buildings of the Navy;
– Similarly oppose entry of foreign troops aboard ships of the Fleet; find settlements by means of local negotiation; and
– If the former proved impossible, to scuttle the ships.
The decision was forced on the 27th when German tanks approached the Naval base. The French managed to scuttle the greater part of their ships: 3 battleships, 7 cruisers 15 destroyers, 13 torpedo boats, 6 sloops, 12 submarines, 9 patrol boats, 19 auxiliary ships, 1 school ship, 28 tugs, 4 floating cranes. The ships were not just scuttled but damaged so significantly that they were put beyond use. Only 4 submarines, 3 destroyers, 39 small ships were successfully seized by Germany. Casualties amongst the French were 12 killed and 26 wounded."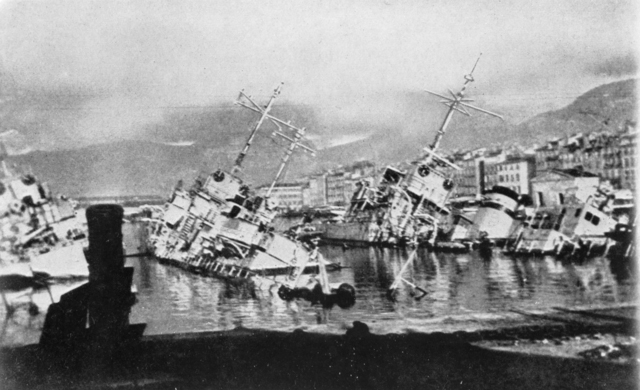 René comments: "When you hear news as we heard yesterday afternoon – of the French bravery – I guess we certainly can stand a few … minor hardships. That business was certainly a surprise to me – 'tis too bad that that harbor had such a narrow outlet that they couldn't get the ships out, as 'twas certainly a terrific loss of material and men. But it certainly was 'the epic story of the war.' I wonder if any Americans would have had the guts to do what some of the Frenchmen did – firing on their own ships – at each other, to make sure the Nazis wouldn't get them."