August 21, 1942
New York City

Dear Folksies,
       Yesterday we took the 6 P.M. train from the Camp and got into N.Y. at 7 P.M. Bob and Bam, George Sterba and Fran Trembley and Lois and I stuck together and we went to the Commodore Hotel where the gals got one room and we got one.
       From there the 6 of us proceeded to Therese's where Lenny and Babs were also waiting for us. After having cocktails there we all went out to a small place for dinner. Then the 6 of us walked on Broadway until we were tired.
       The gals had to go back this morning because there had been a mix up in the grouping and they had to forfeit these 12 hours so as to be in the same group as Bob and I from now on.
       Slept late and then came alone here to Babs and Lenny's place, which is just off 181st street in Washington Heights. I just had breakfast here with Babs a while ago.
                    Loads of love,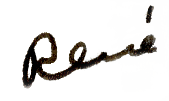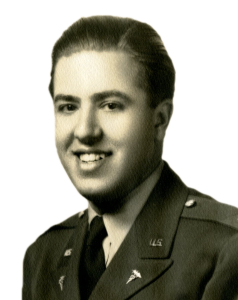 .
Watch for my next letter
August 22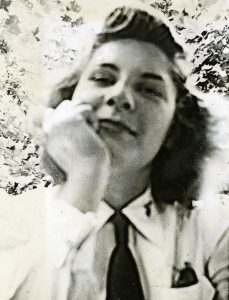 August 22, 1942
Saturday, noon
Camp Kilmer, New Jersey
Dear Folksies,
       I made the train back to Camp just in time – arriving back with a whole trainload of others at 5:30 P.M. It was so darn hot here that I jumped into a cold shower, didn't bother to dry off, lay down on my bed and went to sleep for a couple of hours. Finally awakened around 9 P.M.
       I will probably phone you tonight so some of this may be old stuff to you by the time you get it.
       The mail situation is awful. I have received only Dad's original letter and Mom's letter of the 15th. Some of the boys have the feeling that regular mail is better as it goes right thru, tho' taking 5-6 days. They think that there is so much air-mail that they can't handle it all and consequentially the important mail takes precedence and the rest may wait a couple of days before getting taken. How is the mail getting to you? I've written every day and sent them air-mail, and I wonder how long it takes for you to get them.
       Tonight we are going into New York again and are going to try to see a show if possible. The Commodore Hotel has a nice system whereby they get tickets and special rates for officers at almost any place in New York – cutting off the cover charges in many places.
       Right now I am in Headquarters and as I spied an unbusy typer, I pounced upon it, as it is much less effort to pound on it than to hold a pen between sweaty fingers and try to think at the same time. As I've told you before, I don't have to think when typing.
                    Loads of love,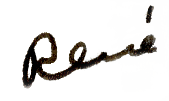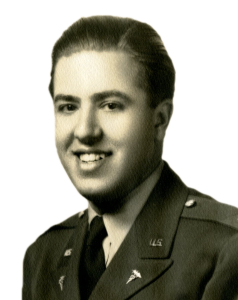 .
Watch for my next letter
August 24th

August 24, 1942
Monday

Camp Kilmer, New Jersey

Dear Folksies,
       Today is the first really nice day we have had here. The sun is shining brightly but it is relatively cool. Somewhat like a nice day at Tahoe. It rather suddenly became cool around midnight and we all woke up and pulled on blankets for the first time since we are here. We have been sleeping for the most part au naturel, tho' once or twice have slipped under a sheet. It was really a change last night!! I wish it would stay this way the whole time we are here.
       After writing to you on Saturday noon, I loafed around again, reading some but in general doing nothing but sweating. We left on the 5:22 P.M. train and got into NY at 6:10 P.M.
       This time we went to the Hotel Pennsylvania, which is right across from the station. Got tickets for Porgy & Bess for that evening and thoroughly enjoyed it. We had seats in the front row!
       Following the show we went to Barney's Steak House to eat. Had wonderful steaks for only $1.35. Then came back to the Penn where we got into dance for a little while to Glen Gray's orchestra, for nothing.
       Got up fairly early – i.e. 7:30 A.M., that is, Lois was the only gal to get up that early and Marv Kahn and I got up at that time also. Had breakfast, the 3 of us, at an Automat, and then took an open top bus out Riverside Drive to the end of the line, which was at a park whose name we could not find out. We walked around this park for a while and then headed back.
       We went to see Bob Jacobs at John Jay Hall on 116th St. We didn't know until we got there that John Jay Hall was part of Columbia Univ. until the Navy took it over.
       We had no trouble seeing Bob, tho' I was a bit confused by Naval customs as they consider the Hall a ship and consequently when you "board ship" you have to salute the stern where the flag is flying – of course we couldn't see the flag and had to be told that one end of the building was the stern. It was most confusin'.
       After lunch Lois and I went to the top of the Empire State Bldg. It was free for Army and Navy people yesterday. What a view!! While we were on the outdoor porch and observatory on the 86th floor it started to rain – to really pour – and the wind was blowing with plenty of force. However, the rain stopped just as suddenly as it had started and the view was far clearer than it was before the rain. From there we could see the Normandie on its side and also the Queen Mary and Queen Elizabeth, which were alongside of the Normandie in the docks.
       Took our time at the Empire and then got the 4:10 P.M. train home. Most of the gang was on the same train.
That's all!!!
                    Loads of love,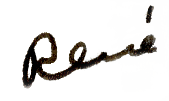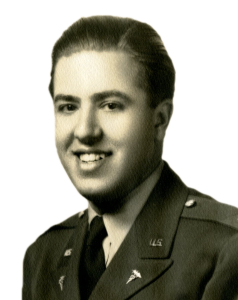 .
Watch for my next letter
August 25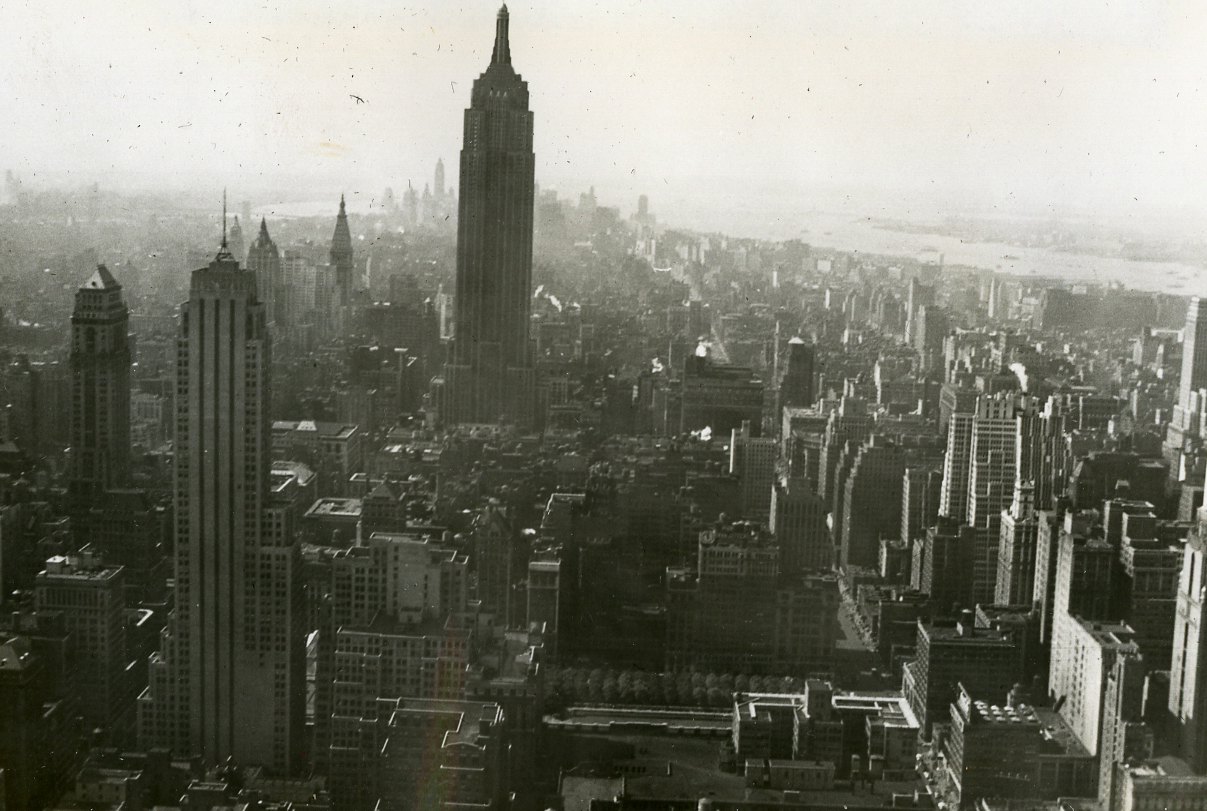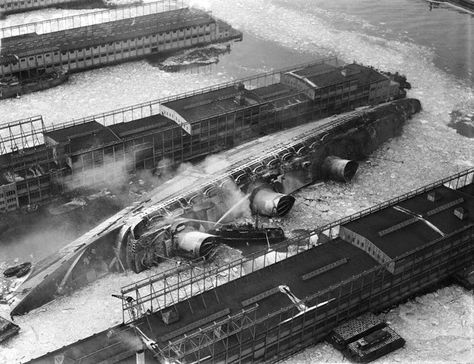 A passenger ship built in France in the 1930s, the SS Normandie was seized in 1939 by U.S. authorities at New York and renamed USS Lafayette. While being converted into a troop ship, the liner caught fire on February 9, 1942. Badly damaged by the fire, it capsized and came to rest on the mud of the Hudson River.
August 25, 1942
Tuesday

Camp Kilmer, New Jersey

Dear Folksies,
      Yesterday we took the 5:22 P.M. train to New York again and went directly to the Commodore Hotel. Got half price tickets to see "Priorities of 1942". After getting our tickets we went to the "Brass Rail," otherwise known as the "Continental Café." There we had arranged to meet Lenny and Babs for dinner. We had a nice time – 8 of us together for dinner formed quite a party. It was good food and not too expensive.
       The show was nothing but vaudeville – was good, was funny, but not wonderful. It was worth the half price tickets of $1.00 apiece, but not much more.
       After the show we went to the Bal Tabarin Club which is right across from the theater. Danced a little there. Then walked to the Waldorf-Astoria where we went up to the "Starlight Room." No cover charge at these places for men in uniform, so all we had to do was sit down, dance, and pay for one drink. Xavier Cougat's orchestra was there and it was swell music. Finally back to the Commodore at about 2:45 A.M.
       This morning when Lois woke up (7:15 A.M.) she phoned me and we got up while the others slept. Had breakfast and then walked all the way up to 5th Avenue to Central Park. Went through the Zoo there and then walked back to Radio City where we took one of those tours through the whole works. It was a beautiful clear day and when we got to the top of the RCA building we had a wonderful view of the whole City and the country for miles around. The Queen Mary and Elizabeth and the Normandie were far easier to see from there than from the Empire State.
       After lunch we went to the Battery and then over to the Statue of Liberty. Another nice view and rather interesting place. We took the elevator as far as one can (10 stories) and then walked up the narrow, winding staircase to the top of her head. What a walk. It was worse than climbing a landing net. The stairs were too narrow for my big feet and the width was just barely enough. Surprisingly enough there was quite a crowd and the going was slow.
       Got back here again at 5:30 P.M.
                    Loads of love,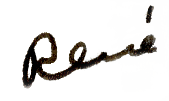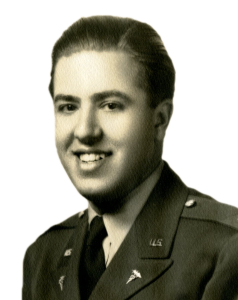 .
Watch for my next letter
August 26

August 26, 1942

Camp Kilmer, New Jersey

Dear Folksies,
      You asked about Alain driving into the ditch. It was only at a speed of 1-1/2 miles per hour and consequently we nestled very gently into it – possibly one reason why it was hard to get out. We went straight into it and then just sat there and laughed. Naturally, the only scratches we got were on the soles of our feet as we walked along the gravel road over towards the entrance of the hospital where our truck was sitting and where our sergeant was sitting laughing at the spectacle – and then he laughed harder!!
       As Alain said, the picture was really something, but unfortunately none who watched us thought to take a picture. It was rapidly getting dark but at the time that we went wading it would have still been light enough to get a big picture.
       Lois, also, was most disgusted that she hadn't been around when the performance first started because she certainly would have taken pictures. Yes, we were also drips – in fact, Alain's shirt was so wet when we went into the lobby of the nurses' quarters, Charlotte Johnson (one of the nurses from Stanford) went and got one of her woolen undershirts for Alain to wear.
       As for Alain's work: He says he does darn near everything around the place. He sells, interviews and also cleans up the joint. Apparently it is a rather small place but doing better as time goes on. He likes the work alright, but certainly not as much as the work he used to do.
       He lives in a house with some family in Trenton. For a while he was registered as 1A in the draft, but now he is apparently registered in 4C – i.e. as an Alien. His draft board, however, seems to change its mind rather frequently and he does not know how long he will be in that classification. He figures he will be in the army before too long.
As you may remember, when Alain was with us three years ago he had no desire whatsoever to fight. He had nothing particular against the Germans at that time, no more than most of us who were considering the concentration camp angle more than anything else. Now, however, he feels a distinct hatred for them — not just because of what he went through, because actually he fared very well at the hands of the Germans. He would like to be able to kill every one of them now. His feeling arises primarily from what he has heard about the concentration camps, and from what the Germans have done in occupied zones. He feels that the thing to do is to clean them up very thoroughly from the top down to the bottom.
       After Alain had been captured, he was kept in a prison camp some ways out of Paris. Sanitary conditions were poor and food was very poor. The German soldiers ate the same poor food but had more of it, of course. Alain was the first in camp to come down with dysentery and consequently was lucky enough to be sent into Paris to the hospital. Others who followed him on the sick list at that camp were kept at the camp because by then the dysentery had achieved epidemic proportions.
While he was gradually recuperating in the hospital he heard that all doctors, nurses, and orderlies were being released from the prison camps, so he very nicely managed to forge papers making himself a hospital orderly. Then, when he returned to the prison camp he waited a day or two and went up to one of the German officers and told him that he was an orderly and showed the papers and he was released almost immediately.
       Before he got ill, while he was at the camp, he was used as an interpreter between the Germans and the English. The Germans apparently did not know English though some of them knew French. Most of the men did not know French, however. Alain had only one incidence of bad treatment at the hands of a German soldier. Apparently they broke all rifles that they captured. Well, Alain's rifle being an 1876 model had its wooden parts pretty solid, consequently, all the banging against stone, etc., did no good, and Alain, rather naturally, started to laugh rather uncontrollably. For this the irate soldier kicked him. Other than that and the poor food, the treatment was O.K. Of course, that was a prison camp and not a concentration camp — there is a whale of a difference.
       Alain got out of Paris by being disguised as a brakeman on a freight train — a position he was gotten into by Raoul. He was given a lantern and seated on top of a tank car. He had to swing that lantern for about 100 miles and his only quivering was when they just were crossing the border between occupied and unoccupied zones. He then got to Marseilles and went by boat from there to Martinique and finally to New York. I did not get the details as to price, how he had money, etc., as a lot of my talking with him was in the lobby of the nurses' home where others were interested in what he was telling about France and his experiences.
                    Loads of love,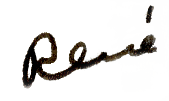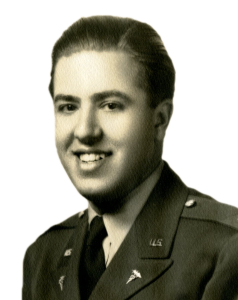 .
Watch for my next letter
August 28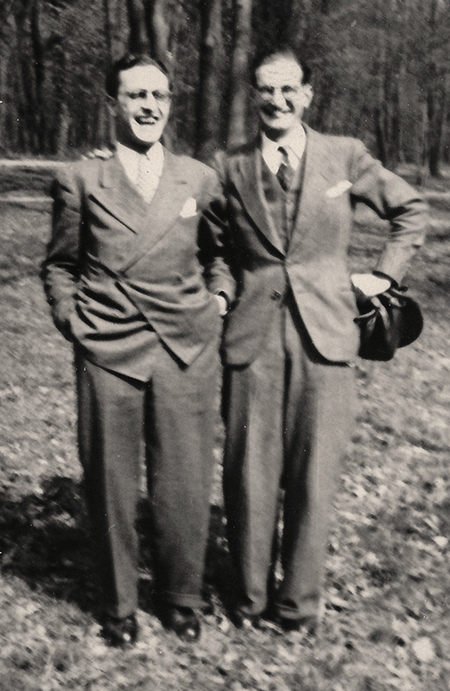 Alain Dreyfus (left) with his cousin Jean-Pierre Baumann in 1938. Alain was 23 years old at the time. Both Alain and Jean-Pierre are second cousins of René.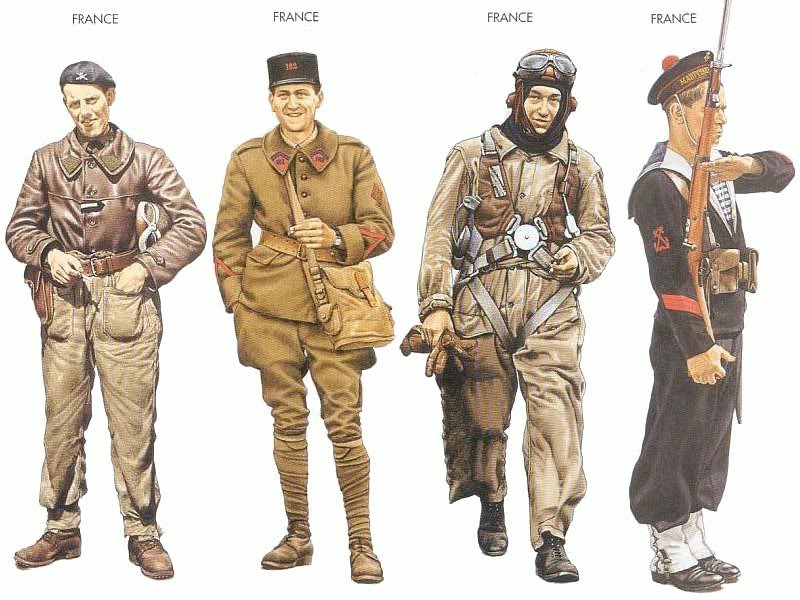 World War II French military uniforms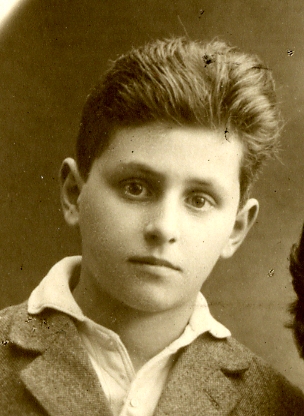 August 28, 1942

Camp Kilmer, New Jersey

Dear Folksies,
After writing on Wednesday noon, I loafed around here, took cleaning to the cleaners, etc. Then Lois and I took the usual 5:22PM train and went directly from the Penn Station to 181st Street where Lenny and Babs live. We had a very nice steak dinner; looked at the pictures Lois and I brought up for them to see; and then played bridge until around 11:30 P.M. After we left, Lois and I decided we would have some fun and get driven around Central Park in one of those old-fashioned horse carriages. It was fun. Then to the Roosevelt Hotel this time.
We got up yesterday around 8 A.M., had breakfast, did a little shopping at Woolworths, and then took the subway out to the Montefiore Hospital to see Sara Mack.
After leaving Sara, we asked the doorman at the Hospital how to get to the Bronx Zoo. He told us but said it was quite a walk if we intended walking. From the directions he gave us, however, we figured that it was really probably a good walk for a New Yorker but would be a minor distance for us. Well, actually, it turned out to be a pretty good walk but as it was not too warm, we enjoyed it very much.
We got to the Zoo and walked all around it. It is really a swell zoo – in many respects just like the new Fleishhaker Zoo. The Monkey Isle at Fleishhacker's, of course, cannot be beat but the areas where they have the lions, the deers, etc. at the Bronx are really swell. The whole thing was most interesting. What particularly intrigued us was that there were so many areas where they had birds – pelicans, cranes, and other small and large birds – in enclosures that had fences only about 2 ft. high with no tops other than the sky, and yet the animals stay there most peacefully – why they do not go and fly away I cannot understand. No, they did not have big weights on their necks either, and I don't think that their wings were clipped, sooooo????
At the moment we are on another "alert" but apparently we are not "it" and anticipate that we will again be off tonite. I hope we are as we have a date for dinner with Helen and Mischa tonite.
I was sorry not to be able to talk to all of you on the phone Wednesday nite but it is practically impossible to hear any of you if more than one are on the phone at your end. What would be better would be for all to be in the same room and time yourselves, giving each about 30 seconds. Actually that is a pretty long time and I know that ordinarily we all talk much less than the allotted 3 minutes.
                    Loads of love,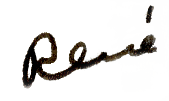 P.S. Now the wives are beginning to show up. The first one here was Carroll Russell's wife Loretta. She came because her family is in N.Y and she intends to live here. Then Marv Hodgson's wife came, as she has family in Pennsylvania, so she may stay also. Now 9 wives are here of the 27 in the unit. Wally Greene's story, however, was the funniest. His wife was up the Redwood Highway and when she got back, she found that many of the wives had gone. She decided she wasn't going to miss a trick, so she hopped the next train. The first thing Wally knew about it was when she phoned him from New Brunswick. He practically had to be revived.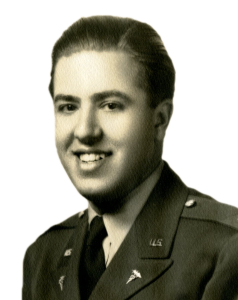 .
Watch for my next letter
August 30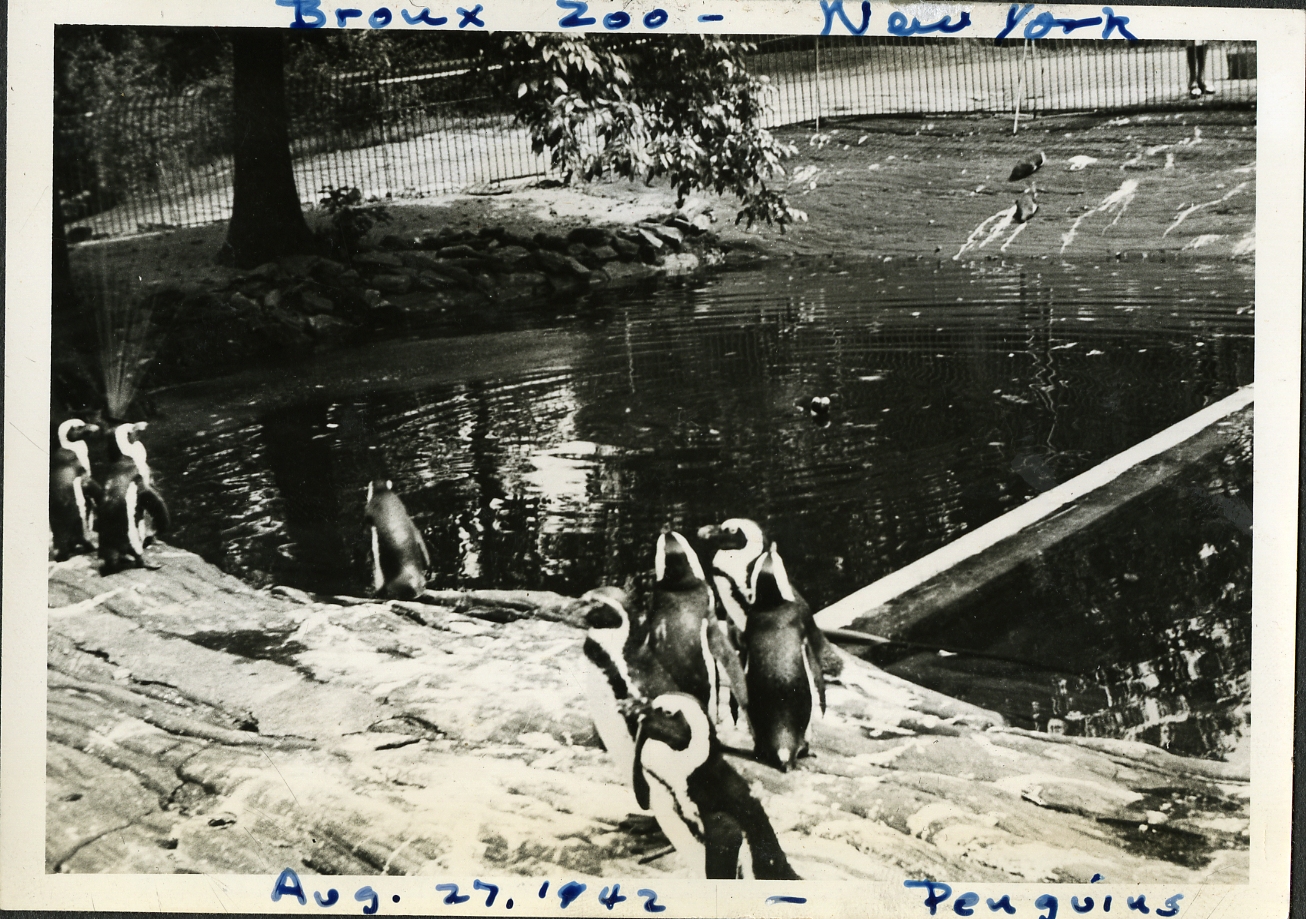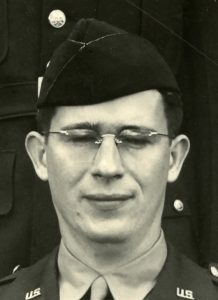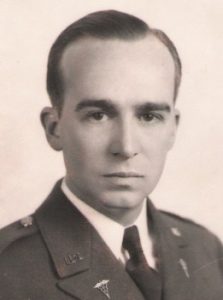 August 30, 1942

Camp Kilmer, New Jersey

Dear Folksies,
      After writing on Friday I walked around here a bit and then at 4 P.M. the definite news came that at retreat the "alert" would be off. Consequently we got ready and awaited retreat. Took the usual train and arrived in time to pick up some pictures we had had developed at the Penn Station Drugstore.

      Went up to Helen's. We had a swell dinner and it really felt darn good to have a home cooked dinner. Some of the restaurants here are wonderful but somehow there is quite a difference between eating in a restaurant and eating in a home.
      Lois has a cousin who has been in training now at West Point for only 2 months. He is the son of Colonel Monroe of the 15th Infantry who I met with Lois in Carmel. Lois had written to Putnam Monroe saying she would like to see him and also West Point. She got an answer Friday morning saying that Saturday would be a good day, so that is what we planned to do yesterday.
      We got up at 7 A.M. and took the 8:15 A.M. train to West Point. We got there at 9:45 A.M. and walked around looking for the hall where Put had written to ask for him. We found that he was busily engaged in parading so we went over and watched the parade. 'Twas just like in the movies. We got quite a thrill out of it for the boys really look nice in their gray and white uniforms.
      After the parade we walked around a while longer and then went back to Grant's Hall and called Put. He was only able to be with us for about an hour as he had to eat lunch with all the others and we had to leave by 1:20 P.M. to make connections with the correct train back to camp. He told us quite a bit however, in that short time.
      The 1st Year boys at the Point get to do just nothing. They have only a few minutes of free time each week and are kept busy with drilling, classes, etc. There are plenty of dances there during the year but the 1st year boys are not allowed to go to any of them – except at Xmas, when they have their one dance.
      They get demerits for all kinds of little things. If they do have any visitors and even put their arms around a chair in which a girl is sitting they get demerits. If they actually put their arms around the girl, then they would really get the demerits piled on them. They also get demerits if they fail to salute an officer, whether they saw him or not. That really makes things funny, because I darn near wore my arm out returning salutes. They even salute you as they walk behind you, whether you can possibly see them or not. It really goes from the sublime to the ridiculous.
      We continue to hear all sorts of rumors concerning ourselves. In fact there is even one rumor that Washington didn't even know we were here and may send us back to California. That, I am inclined to doubt, however. Another one is that they have finally decided to agree with us that an Evac. Hosp. as set up now is too unwieldy and consequently they are going to turn us into a General Hospital. Everything, as you see, is all mixed up.
      'Tis all for now.
                    Loads of love,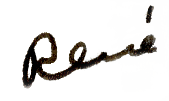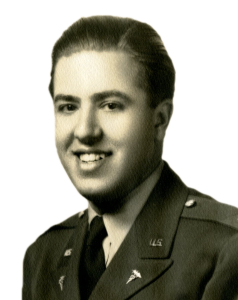 .
Watch for my next letter
September 1