Here's are excerpts from a letter that Lois McFarland wrote to René's parents and his sister, Barbara (known as Bobsy).



April 6, 1943

Dear Mommie, Dad, Bobsy and all,
            Today is my day off, so I'm waiting for your son to finish up his work and sign out to someone, so we can go downtown for the afternoon. I haven't been in town for about 6 weeks now, and I'm anxious to get away from the hospital area for a little while.
            We're apparently getting some new personnel, so we can operate as a station hospital – 1000 beds instead of 750. At the moment, René is orienting a new doctor with his isolation wards, and then he will be able to go back to the surgical side. He's glad of that, and he'll undoubtedly still be called as a consultant on some communicable cases.
            By golly, even now, when we're trying to spend a quiet evening in the rec tent, every time the phone rings, I inwardly jump. And a too large percentage of the time it is for him. But that is one of the things I'll just have to get used to.
            Last nite we had a movie in the rec tent, "Son of Fury," with Tyrone Power. It was grand just having a movie again. We have a few big, comfortable leather chairs and Ren and I were sitting in one together. Then the phone rang, and he had to leave to do a spinal on a new meningitis case. But it was the most awful lonesome feeling, even in the crowded room, when René left. He was gone about 45 minutes and got back for the end of the picture. Right then and there I decided I'd have to put lots of effort into adapting myself to be a good doctor's wife!
            Today is the one-year anniversary of the unit's activation and the doctors' going to Ft. Lewis. So they are having a big stag dinner party tonite, with some native dancing girls for entertainment. So, René tells me – I'm a little skeptical, tho', because I'm forever being teased about this, that and the other thing, I never know when they're telling me something in seriousness, or just kidding. But René said he didn't care too much to go (honestly – I didn't say a thing, and wouldn't have minded in the least!) so he's taking calls for several of the others tonite. I fear he is going to be one busy cookie again.
            René looks just wonderful these days and has been exceptionally well. He was over his laryngitis in a few days and hasn't had nearly as many spells with his nose and sneezing as he had in the East. He looks a little thinner, but just as healthy as can be.
            I hope you're all well and happy and not worrying about us, or our hardships. Really, we have very few inconveniences, probably no more than you all are putting up with at home now.
                                              With loads of love,
                                                               Lois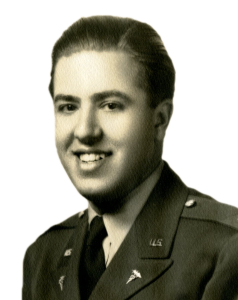 .
Watch for René's next letter
April 7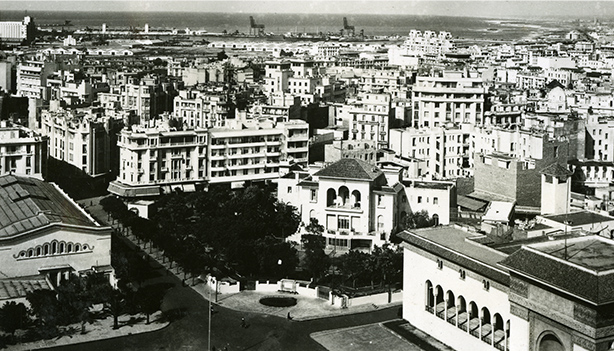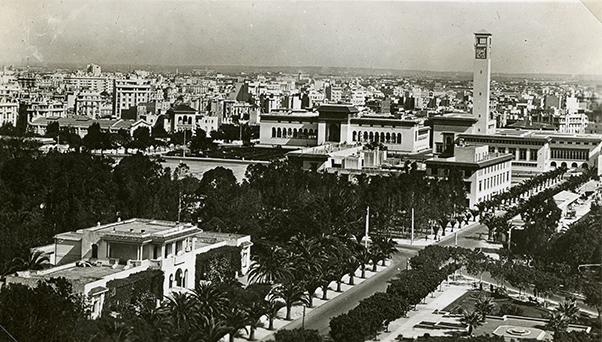 Lois is looking forward to going to downtown Casablanca with René, when he gets off duty this afternoon.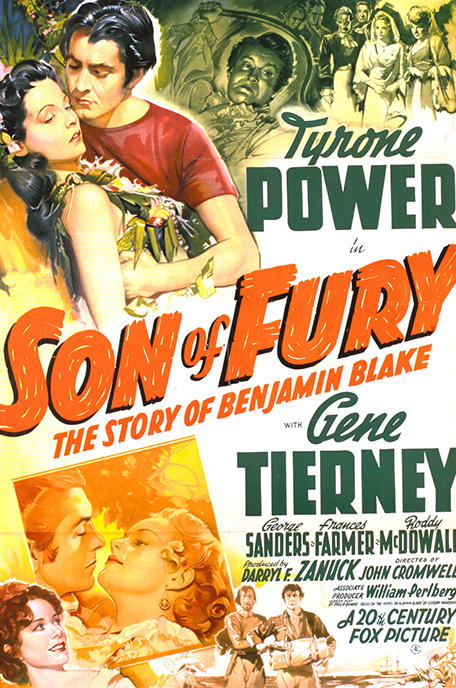 Lois and René watched "Son of Fury" in the "rec tent."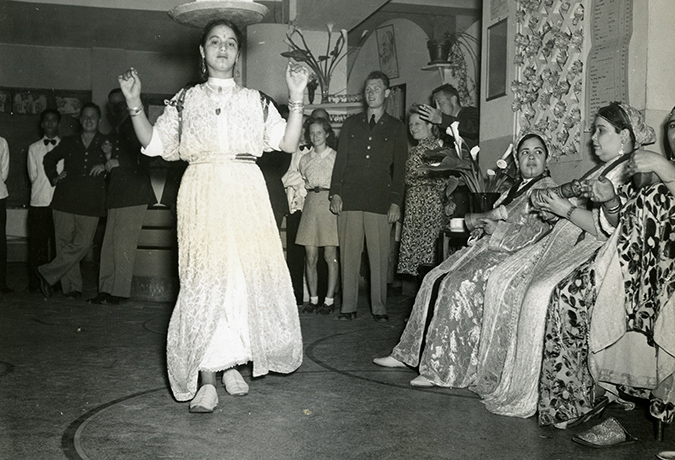 A big stag dinner party to celebrate the one-year anniversary of the activation of the 59th evac unit will feature native dancing girls for entertainment – or so Lois has been told.

April 7, 1943
No. 19

Dear Folksies,
          Yes, I'm sometimes bad and sometimes good, this time having been bad and having let so many days slip by since the last letter. I have really been busy. After getting back to work on the 29th, I found we had another meningitis case and then right that same day we got another one in. Two days ago we got still another one and this one is almost as bad as the two that Bert and I took care of at San Francisco General during the last month or two that we were there. We've been pouring in the sulfa, but he is still pretty bad tonight.
          Poor Bambino, she and one of the ward boys had an awful night taking care of that fellow – he was thrashing around all over the place and when you consider the difference between caring for a patient in a nice steel bed on which you can put side-boards, and caring for the same type of patient on a canvas cot with sheets as the only restraints, it is a little difference.
          Imagine tiny Bambino trying to hold down an irrational patient – surprisingly enough she does a good job. Aside from such cases, as long as I am on the subject, I've had some pretty sick measles, but they are doing fine now. We've had a great many laryngitises and some bronchopneumonias with the measles, but all do well by about the 4th or 5th day. We also had one mild meningo-enchaphilitis from mumps, with 1,000 cells in his spinal fluid, but he recovered rapidly in about 3 days.
          Pete Joseph is at the moment ill, having come down with what is apparently a pneumonia similar to what Sewell Brown just recovered from. Pete is doing O.K. from all reports, however.
          Because of Pete's absence and the loss by transfer of Paul and Oscar, the Surgical Service is short, so, as of today I am an orthopedist and anesthetist. If this keeps up I will have had quite a well-rounded-out experience for which I will not be sorry.
          I have turned over Isolation to another officer who belongs to the outfit that is at the moment running the Venereal section that is attached to us – a separate section. However, very likely the other medical boys will share the wards that I have been running, splitting them up, and Sewell, as long as he is back, instead of acting just as consultant, will have to run a ward or two besides. Oh, oh, last report as of a minute ago is that the meningitis boy I was telling about in the above paragraph, just died.
 Loads of love,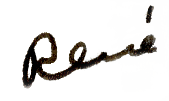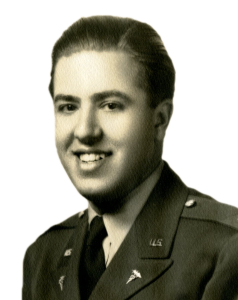 .
Watch for more of this letter on
April 10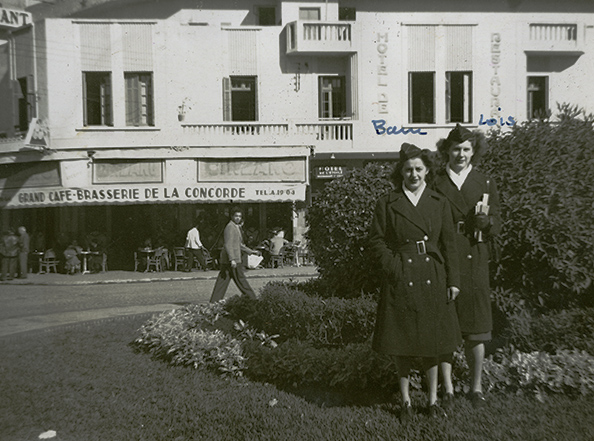 Bam (Charlotte Bambino) and Lois McFarland in Casablanca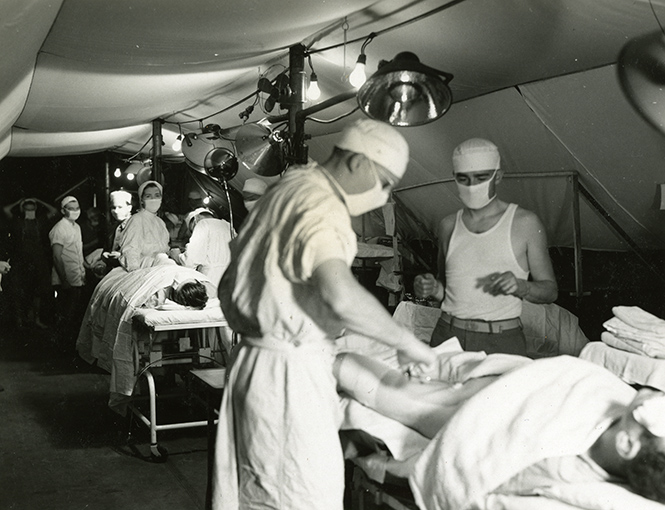 April 10, 1943
Continuation of No. 19

Dear Folksies,
         First of all, let me assure you that both of us are feeling right in the pink again. I am not working nearly as hard on the ortho and anesthesia service as I did on Isolation, but, of course, on the latter service I had one peculiar trait, in a thing like that, I like to run the whole works or none, so I ran the whole works and really got run. Now the other boys are having their run of cases and getting their fill, tho' in the dept. things are slowing up. Yesterday I gave 5 spinals and one sodium pentothal.
         I have an update on Pete Joseph. He has measles, and apparently his "pneumonia" was one of the prodromal signs, symptoms, and what have you.
         At present we are rationed rather small amounts of candy, but actually 'tis adequate. There are really plenty of cigarettes – 4 cartons per month per person, and 30 cigars per person per month. Candy is limited, but as I said before, more appreciated, and then, of course, Lois still can make fudge from time to time.
 Loads of love,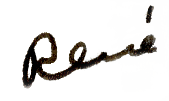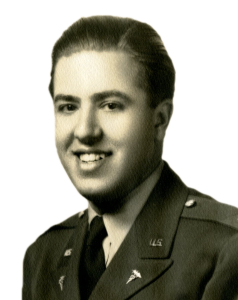 .
More of this letter to come on
April 12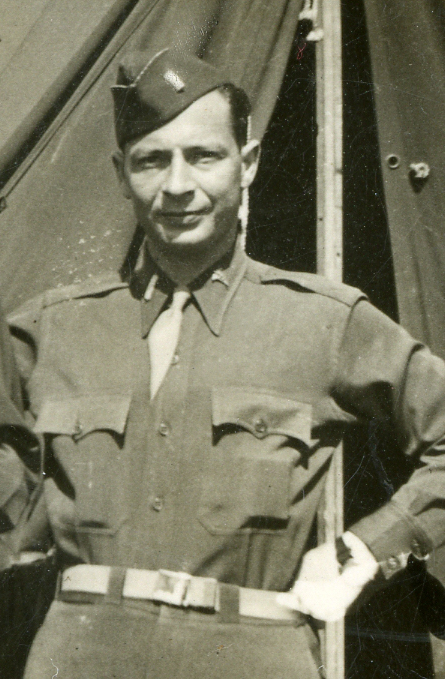 During World War II, cigarettes were not only included in rations, but also sent to the troops for free. Cigarette ads suggested that the American public should send cigarettes to troops overseas.
        Thanks to all the readers who have been part of this first year of "Dear Folksies" … and a special thanks to those who have shared their thoughts with me about my father's letters.

       This website is a tribute not only to my Dad, but to all of the members of the 59th Evacuation Hospital Unit.  So, to celebrate this one-year anniversary, here is a photograph of the doctors (and the chaplain) who were in the unit when René wrote his first letter home on April 11, 1942 from Ft. Lewis, Washington.
       You have gotten to know many of them this past year — stay tuned for their next adventures.

All the best,
Linda

---
---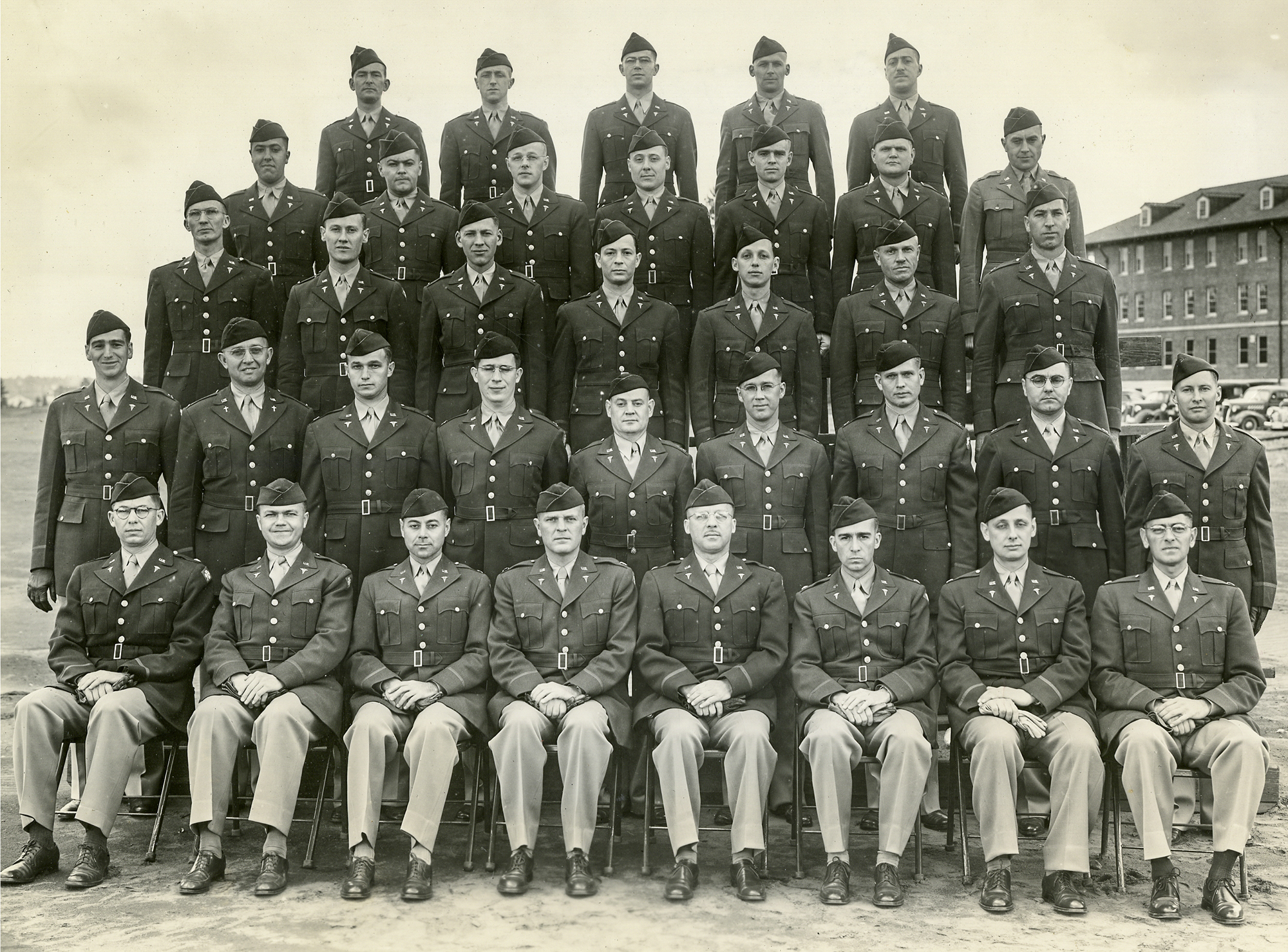 Doctors & Chaplain of the 59th Evacuation Hospital Unit
Ft. Lewis, Washington – April 1942
(Click photo to enlarge)


Top Row: Capt. Edward Blasdel, 1st Lt. William Newsom, Capt. Sewell Brown, Capt. Philip Westdahl, Capt. Bert Halter

Second Row: 1st Lt. René Bine, Jr., 1st Lt. William Kuzell, 1st. Lt. Paul Stratte, 1st. Lt. Leonard Schmitz, 1st. Lt. William Drew; 1st Lt. Oscar Carlson, 1st. Lt. Nelson Bell

Third Row: 1st Lt. James Hamilton, 1st Lt. Sergius Bryner, 1st Lt. Harold Williams; 1st Lt. Peter Joseph; 1st Lt. Robert Treadwell; Capt. Elmer Chappell, Capt. Carroll Russell

Fourth Row: Capt. Ralph Cressman, Chaplain Joseph Clark, Capt. Louis Huff, Capt. Marvin Hodgson, Capt. Emile Schuster, Capt. Russell Klein, Capt. Bret Smart, Capt. George Armanini, Capt. Charlton Schwartz

Front Row: Major Frank Gerbode, Major George Wood, Major Roy Cohn, Lt. Col. Carleton Mathewson (Mattie), Lt. Col. William Reilly, Major Wallace Greene, Major Roberto Escamilla, Major Phillips Johnson




April 12, 1943
Continuation of No. 19

Dear Folksies,
       I have about $180 plus $40 in Traveler's Checks on hand, so I shall wait a little and then send some on. I am waiting to see what new stuff might have to be bought when we change into summer clothing, instead of the woolens that we are still wearing.
       The PX here is getting things rather adequately and I really can't think of many things that I would want that they aren't able to get here. However, one thing I would like is a good pair of dark glasses – I have mine but I recently split the frame and have it taped together. So, if you can manage to pick up a good pair, I would like one. Good camera film and printing paper for films are hard to get, and in fact impossible to get now, so the more of that you can pick up, the better.
       Pete Joseph is doing better, as is Cy Johnson. Gee, I don't believe I told you about Cy. He has a nice duodenal ulcer, and though 'tis a reason for sending men home, he doesn't want to and they are treating him conservatively at the hospital. Boston therapy I guess. Anyway, he is doing fairly well. This morning, George Wood had his gall-bladder and two nice-sized stones yanked out of him at the same place. He wanted Mattie to do the job, but the other C.O. wouldn't allow such an interchange. George has been bothered for a few weeks and Mattie said that when opened he had a subacute gall bladder with two fairly large stones, none in the duct and no swelling of the duct, but some minor thickening of the head of the pancreas, probably from the inflammation.
       George Davis' promotion party that we had was really pretty good. Those there were: The Col., Collie, Cane, Cohn, Fadley, Chappell, Davis and me. The females were, in order of "withs": Irene Gallagher, Johnson, Bambino, Delpech, Ann Dunn, Liz and Lois. We had a large table at one of the restaurants out a ways, had specially cooked steaks an all-around specially cooked meal. Had plenty of wine and some champagne.
       Hamilton, Bill Newsom and I rotate being on call for anesthetics for 24 hours in a row, and thus we only work there one of our 3 days – from one noon to another. The other day the phone rang and Roy Cohn had a case he wanted some Pentothal given to, so he could manipulate a fractured femur. I barely got done with that when Mattie had an appendix that needed a spinal. And so it goes.
       Besides being on anesthesia call and besides having the one ward that I have now, I am Louis Huff's assistant on the surgical team that is on call about once every 7 days. The other night I fixed up a gunshot wound of the foot and a dislocated elbow, but otherwise nothing exciting happened.
       Down in Isolation they now have about 4 different guys running the place and things have slacked off somewhat. I'm glad that I'm out of there now, but it was good activity for a while. While I'm on that kind of a subject, I thought you'd be interested to know what Chuck Schwartz said to me the other day. He told me that he'd rather have Lois on his ward than anyone else, because she isn't afraid to do anything on her own on the ward, and now all he has to do is order I.V.'s to be gotten and though the officers give them on all the other wards, Lois is the official I.V. giver on the wards she works on – and it seems she never misses.
 Loads of love,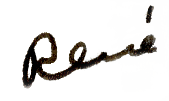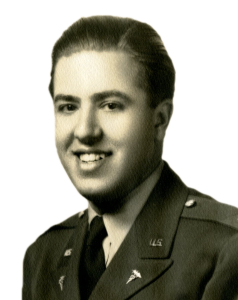 .
More of this letter to come on
April 13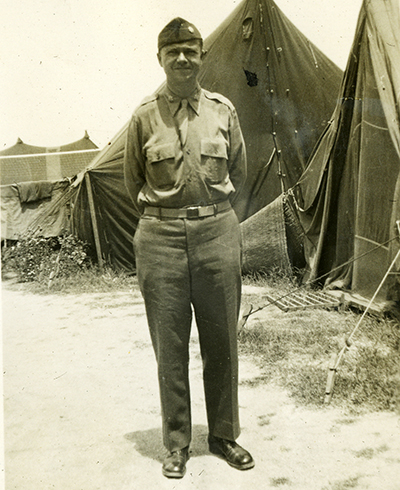 George Wood had his "gall-bladder and two nice-sized stones yanked out of him."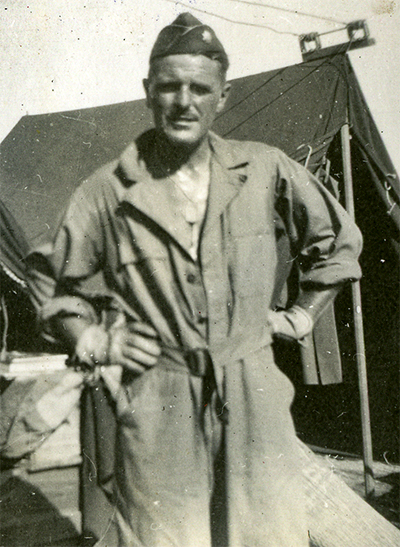 George had wanted Mattie to do his surgery, but that wasn't allowed.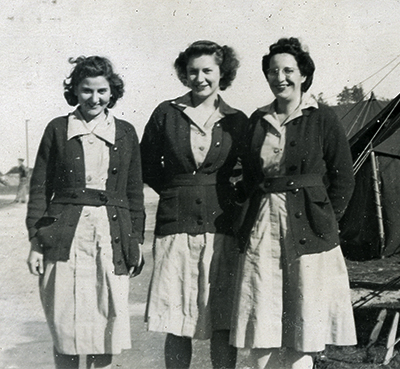 René proudly tells his parents that Chuck Schwartz told him that "he'd rather have Lois on his ward than anyone else, becuase she isn't afraid to do anything on her own on the ward." Lois (in the middle) with Ann Scheisman (left) and Gert Brazil (right)

Click here to add your own text
April 13, 1943
Continuation of No. 19

Dear Folksies,
        Last night ago we had quite a soiree — not quite a night at the opera, but anyway some singing at the local theater. The program began with a movie, "Three Loves has Nancy" with Janette Gaynor, Robert Montgomery, and Franchot Tone. And speaking of "Tone" it was awful funny because it was all in very rapid French and the voices were not of the preceding three people, or if they were, they certainly disguised their voices, and yet the way they talked in the picture they seemed to be saying the French words alright, with appropriate French gestures, etc.
        After the feature movie, there was a colored cartoon in American and then 45 minutes of almost constant singing by the formerly well-known Josephine Baker, who is now aged 42 but still has a fair voice, good figure, and plenty of stage personality. She apparently is now married to some French Officer and lives some miles from here. Mattie had seen her before in the U.S. and says she started in N.Y. and then didn't go so good, so she went to Paris where she made a hit but then got married and finally ended up down here.
        She sang both French and American songs, alternately, and received quite a good response from the audience. The audience even sang with her on a couple of them. She sang Alain's song, the one he sang to us on the way down to Santa Barbara a few years ago, and which he also sang to Lois in N.Y.: "Darling, je vous aime beaucoup, je ne sais pas, just what to do." She applied that to the soldier who landed here first a couple of months ago, and who was trying to make a hit with the French gals. She also sang: "J'ai deux amours, mon pays, et Paris." All in all it was pretty good and the evening was enjoyed by all.
 Loads of love,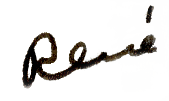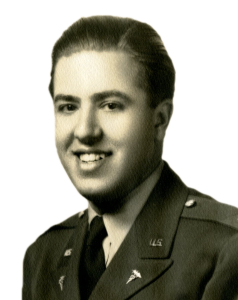 .
The final part of this letter to come on
April 14

René and Lois enjoyed a performance by Josephine Baker, who sang American and French songs.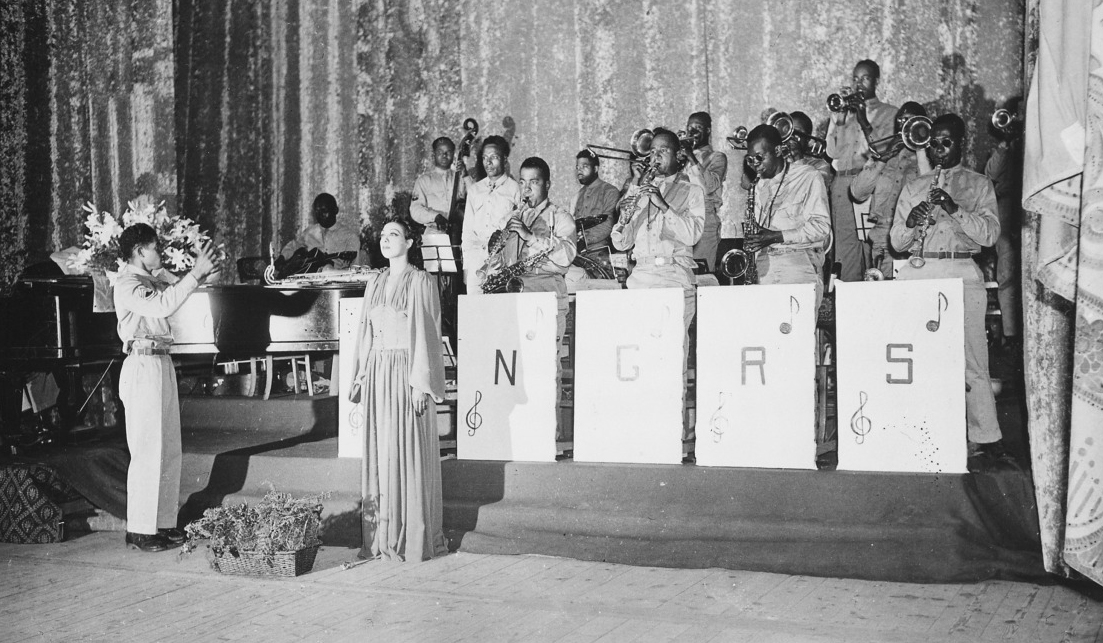 April 14, 1943
Final portion of No. 19

Dear Folksies,
          Yesterday Lois and I went down to the beach for the whole afternoon, as it was her day off and I wasn't on call. We stayed down there, not swimmin' as it ain't safe, but in bathing suits getting, we hope, a tan. We had been down there with George and Liz last week for a few hours and even had a picnic dinner with us. See, our connections with the Mess Dept., tho' unofficial, are really very nice.
          The gang down here are really screwballs. The boys here are heckling me and insisting that I mention specifically that I mean Davis, Bine and Fadley. But actually, besides those crazy three, plus Cohn, who really should be included as he spends an awful lot of time down here bedeviling us, arguing with George, etc., I DO MEAN the Supply Gang. They are continually wandering into our tent, raising cane with us, getting us up in the morning and in general heckling us. Of course, they do a hell of a lot for us: they are all plenty good amateur cooks and someone manages to have something cooking at most any time of the day or night. Of course, they are in a position to do things for the mess boys so vice-versa. Because of the familiarity down in this department and with any of the boys who do wander down for things, our area is probably among the most un-military of military establishments.
          If the Col. only knew the friendliness and supposed lack of military "courtesy" that goes on down in this neck of the woods, he would probably be having cat fits. But, gee, it's so darned much fun, I'm sure glad that I've been living down here instead of in "officers' row."
          Of course, I doubt if there are more than a couple in the whole detachment who don't know that Lois is "reserved" – and especially down here they don't hesitate to say things at any time. I get all sorts of remarks and news about Lois coming up at any time. For instance, just now Wy starts looking through the files and says, "Ah, I haven't got the property receipt for the month from Ward 15 — I'll have to go right up and give "Spanky McFarland" the devil for that." So, up he goes, and reads her the riot act and she starts giving him the devil for not having a better mattress for one of her patients who has a sore back up there. So Wy comes back with the remark that if she would come down and get me away from his typewriter, maybe he could do some work. And so it goes!! Round, and round!
          The other day Lois was in her bathing suit, getting a sun bath up in the nurses' quadrangle, in one of her nonchalant poses with her legs up on the sandbags and her head on the ground. The boys down here have a pretty good view up there since they took down one of the night-nurses' tents. All I heard around here was, "You better tell 'Spanky' that she better move, for we can't get any work out of the boys down here at all as long as she stays up there like that." It goes on like that day in and day out. Now the non-coms are going to have a dance next week and all the nurses are invited, so I'm getting razzed about that.
 Loads of love,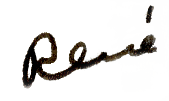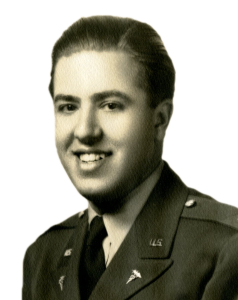 .
Watch for my next letter on
April 15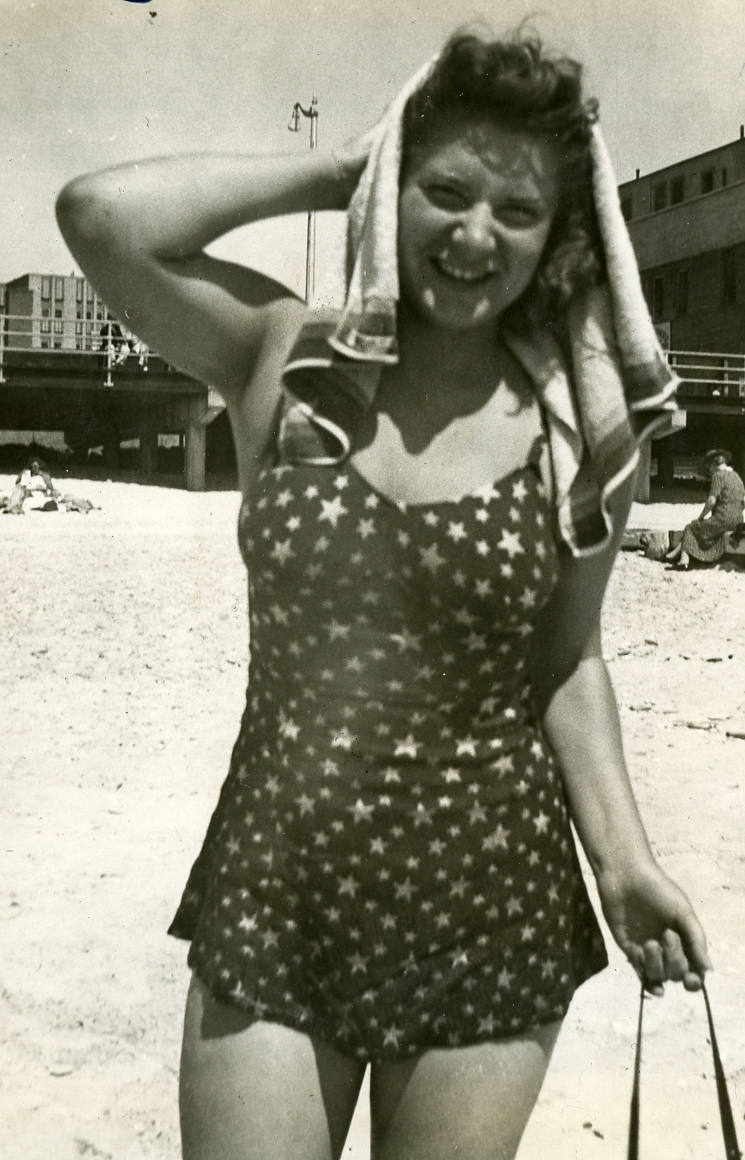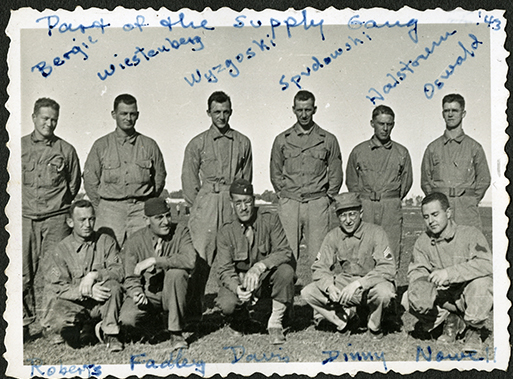 Part of the "Supply Gang" — the "gang" René describes as "screwballs."

"The Col." – Oral B Bolibaugh. René says that if he only knew "the friendliness and supposed lack of military courtesy" that goes on in the supply area, "he would probably be having cat fits."